How To Start A Dropshipping Business On Shopify
How to start a dropshipping business on Shopify is the most searched keyword on google in 2022 and will still be in 2023.
Dropshipping business has proven over the years to be one of the most accessible and convenient types of online business to set up and run without pumping in much capital or a lot of supervision, and this is because most of the tools and platforms used in dropshipping business are automated.
Suppose you still need help understanding what dropshipping business entails, in simple words.
Table of Contents
In that case, it means selling products you don't have in stock, nor do you handle packaging, shipping, or returns in case a customer complains about shipping delays or a broken item.
It saves you the headache of running an entire warehouse, keeping up with inventory, and paying for offline bills which may occur from your storage facility, electricity, and even a few workers around.
In other words, dropshipping business is a life saver for entrepreneurs who want to start their online business but need more capital or help to come up with cash to buy stocks.
You can start dropshipping from anywhere in the world, but this doesn't mean you will enjoy the freedom dropshipping comes with for a store owner living in the United States.
Each demographic has challenges regarding payment gateway, shipping, platform access, and marketing obstacles.
Still, you can generally dropship from the comfort of a Rural home in the Maasai Mara or the balcony of your Atlanta Villa.
Before we delve into how to start a dropshipping business on Shopify in detail, have you ever asked yourself if dropshipping was for everyone and what are some of the must-have requirements to start a dropshipping business?
Dropshipping business requirements
These requirements are meant to make your dropshipping business journey smooth and less tedious in running and managing your store.
You need a store or website: You need a platform to host your products and showcase them to potential customers. It also helps you with order fulfillment, product updates, and managing your finances in the admin section.
Since we are talking about Shopify in this guide, they offer $1 Per month for the next three months.
When you sign up now, you will access everything Shopify offers for only $1 for 3 months instead of the regular price of $29 monthly. So sign up here to start enjoying this offer today.
Sign up for a free trial and enjoy 3 months of Shopify for $1/month on Select Plans.
Dropshipping Supplier: Now that you have the store out of the way, your next headache is finding a supplier for your dropshipping products, not just any supplier but a reliable for that matter, one that ships products on time and has good communication skills.
Most dropshipping stores have failed because they need to secure a reliable, flexible supplier to work with any terms agreed between the interested parties.
You want to avoid being part of the statistics, hence the need for a reliable supplier who can swiftly dropship products to your customers and handle returns without causing much havoc.
When starting, you can choose to go with Aliexpress suppliers; even though the shipping time takes forever (45 days ), they are flexible to work with any dropshipper despite the number of products ordered daily, and their Epacket delivery  Services cover almost 100 plus countries.
You can also utilize the help Dser Aliexpress dropshipping app, a product sourcing tool designed by the Aliexpress team to help dropshippers connect with suppliers and find hot-selling dropshipping products.
Dsers helps automate the order processing, offers to track information, and gives the dropshipper power over his store by ensuring they control the product movement and directly contact the supplier.
The Dsers app can merge suppliers and even replace a supplier if he runs out of stock; they come in handy at a minimal fee.
Some private suppliers will only work with dropshippers after meeting a set of rules of engagement, e.g., minimum order quantity or deposit cash with them fast before they ship out products.
Payment Gateway: You remember when I said dropshipping could not be the same in all places? Well, this is what I meant.
Payment processors are very strict regarding demographics; hence, each processor has locations or countries they operate. Therefore, you must reside in the countries listed on their terms and conditions to activate the processor in your store.
A payment processor like Stripe is only available for a few countries; the same applies to Shopify payments; hence, getting Stripe for non us residents is a bit hectic, but one can still use PayPal business in their Shopify store.
Paypal has a lot of restrictions when it comes to dropshipping business as they term it a high right business; hence frequently close down accounts or put on hold money which in turn interferes with the day-to-day running of a dropshipping store.
You need basic marketing skills. It's no longer a secret that you can make sales through organic posting on social media or using the latest UGC posting technique on TikTok.
But for a dropshipping business to scale quickly and maintain profitability, unless the UGC product has gone viral, it must be supplemented by paid advertisements, including TikTok marketing, Facebook ads, and even google Adwords.
Basic marketing skills like doing audience research, designing ad creative using free tools like Canva, or just installing and activating facebook pixel are something one must have. If not, one must learn.
When you start a dropshipping business, you don't want to be 100% clueless about what's happening around you that may directly or indirectly affect your business.
Take this opportunity to learn basic marketing skills, and there are step-by-step online courses like the Facebook ad library, which covers how to run Facebook ads.
You can also type in youtube; there are thousands of courses to choose from; the same applies to email marketing, which comes in handy for retaining customers and converting the undecided potential ones into actual sales.
Customer service skills are a must; the goal is to convert potential into sales and offer top-notch after-sales support to avoid chargebacks and disputes.
You must learn how to calm down a customer whose products have taken more than the indicated delivery date to reach them or whose product has arrived broken or not as described on the products page.
Yes, the above is possible since you need to contact the product production, packing, or shipping. The supplier, on the other hand of the chain, can decide to send broken products or wrong products to the customers.
So it's upon you to solve the issue and always put the customer first.
You can follow up later with the supplier. At this point, you must compromise and offer incentives or discounts to the customers, such as keeping the product ill, shipping another one to your address free of charge, or here is x discount on your next purchase.
The customer is always right, and with dropshipper, they are forever right; even if they are playing games, you don't handle the product, remember?
Legal Business documentation: Depending on your business location, you may need to register your e-commerce business to access certain services or apps.
It often happens with international dropshippers who own Shopify stores but live outside the US or UK.
As a dropshipper, you may need to obtain a business registration or license to access a payment gateway like Stripe or PayPal as a non us resident.
In this case, one can opt to register for LLC in the US, which is very expensive compared to setting up a limited company UK business registration which costs less and is very fast.
For instance, if I were to run a dropshipping store by the name dropshippingit, I would go for UK business registration, use Non-UK residence privileges and then register a company under the Prestige package, which allows non-Uk ecommerce store owners to register UK limited company without having to go or live in the Uk, this cost less than, which sits less than $100.
My business would be registered as Dropshippingit Limited; this process takes at least 72 hours with less documentation required, unlike setting up A LLC in the US, where a lot has to be provided to register LLC.
I prefer UK company formation since they provide more than just a registration but services needed to run a successful ecommerce business as an international store owner.
The package comes with a UK office address and VAT services at your disposal.
Full Document for Memorandum & Articles
Company Certificate of Incorporation
Company Share and Member Certificates
Physical London Service Address
Confirmation Statement Service
Physical Registered Company Office
London Business Address
VAT Registration You use at any time
First Confirmation Statement
Call Answering + Business Telephone Number
Free Business Bank Account
24/7 Free Online Company Manager
A Free Domain Name for your business
You can take it a notch higher to get a Monthly paid UK phone number and a dedicated company secretary who handles your paperwork and other duties you wish.
A registered UK limited company allows you to access or sign up for Wise as a UK registered company which means you will enjoy everything a UK resident enjoys, including getting a WISE credit card.
You can also sign up on PayPal and other sites; above all, you can run your Shopify store as a UK residence, which gives you access to Shopify payments and other apps restricted for international store owners.
There is an online offer running now; click here to get your UK company set up today.
I combined all these and used a strong VPN to be safe to avoid IP address issues.
NORDVPN is the best to ensure your IP address is covered and you are running your business on a secure network; this is helpful to avoid disruption in using services that are not available in specific countries.
Tiktok marketing is the trend, hence the need to have your business register and get UK or US mobile phone numbers, which will help you sign up on social media and verify.
Virtual mobile numbers can make calls and receive sms, top-up credit/airtime, and it works seamlessly, just like your regular phone. 
You can get Uk Using 1st formations Company, which offers UK phone numbers for cheap international calls and social media usage.
Other documentation is needed, like Proof of address, ID/passport, or driving license to help with Identification or verification from sites like PayPal or TikTok.
So let's look at creating a Shopify store from scratch to finish.
Setting Shopify Account and Store.
Now that we've discussed the requirements of starting a dropshipping business on Shopify let's create the store itself.
The process of a Shopify store is easy; Shopify provides 3 months offers that cost only $3, yes you heard that right,
It means you sign up now for $1 /3 months, which means at the end of the 3 months, you would have spent $3 only instead of the usual $29 per month plan.
It offers you time to learn how Shopify works and for ad testing and finding your niche. It is an excellent allowance to get your finance together and run a successful dropshipping business on Shopify with fewer obstacles.
So, try out this Shopify offer for a $ 1/3-month plan, or click the image below.
Choosing Shopify Plan:
The plan you choose on Shopify depends entirely on the number of staff you want your store to have, the features, access, and other elements in terms of support.
There are 3 main plans on Shopify pricing, starting from the basic to Shopify advance ranging from $29-$266 monthly.
You can also start a free trial and enjoy 3 months of Shopify for $1/month on select plans. Sign up now.
Bring your business ideas to life for $1/month On the Shopify Platform. Click the Image Below.
The difference between the Shopify pricing plans is the credit card rates, the number of staff accounts, the inventory locations, and the shipping discounts.
So when choosing a Shopify plan, you must weigh what you want in teams of functionalities and features. So here is a complete comparison between Shopify basic, Shopify plan, and Shopify advance.
Take a look at the below image to make a decisive choice as to the plan you want for your Shopify store.
Setting up your account
To sign up for a Shopify store account, you need a working email; preferably, a gmail account works best; you must be 18 years and above, depending on your location.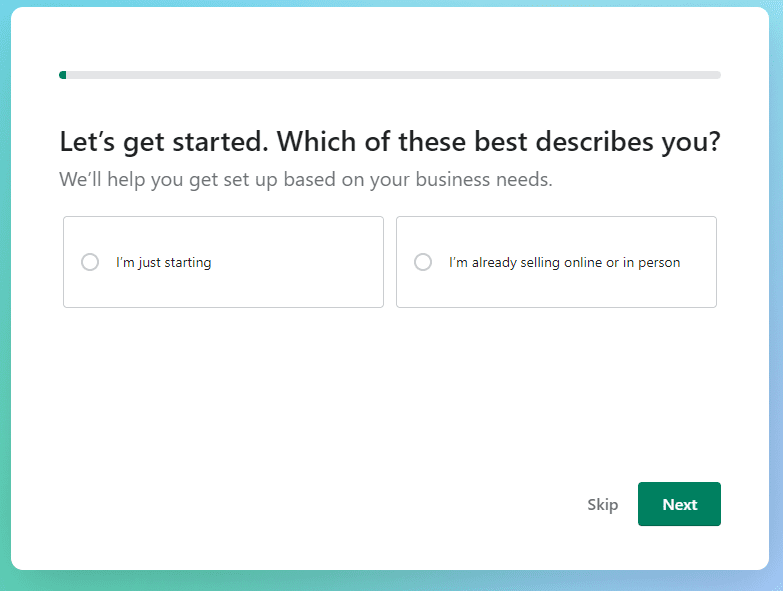 The next step would be adding business information like store name, physical address, and phone number and filling out a few onboarding questionnaires to help Shopify understand your business more.
At this level, have your payment methods shipping information ready; we will configure them later, but at least have an idea of how much you want to charge for shipping which is needed for different shipping zones.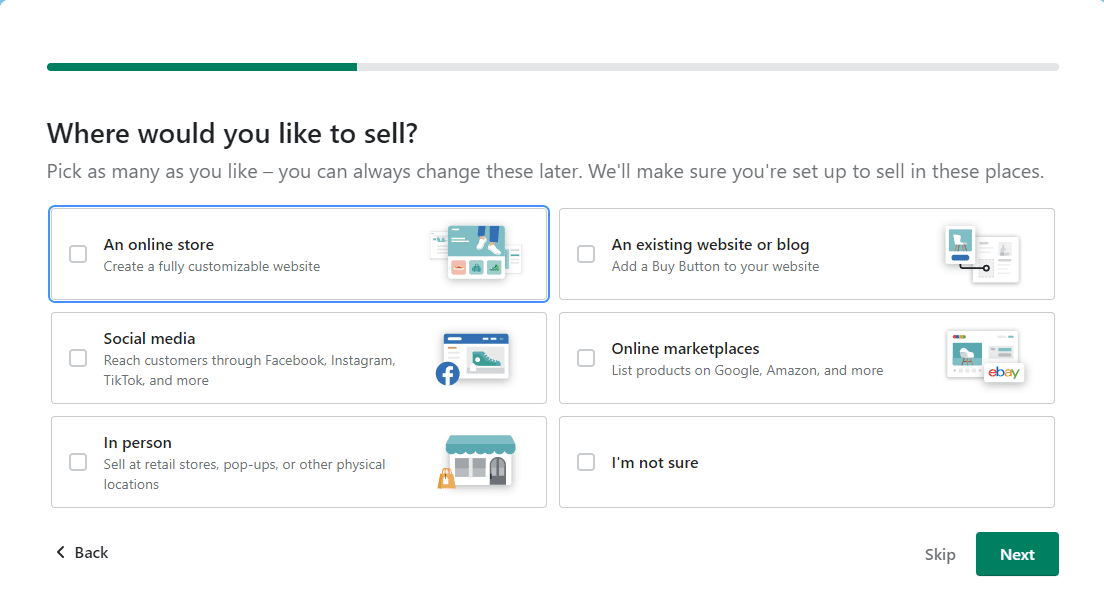 Still, generally for drop shipping, we advise a free shipping method worldwide; even if the product charges for shipping on Aliexpress or from your private dropshipping supplier, we prefer to cover the shipping fee as part of the product selling price.
How To Design Shopify Store
Shopify store design or setup is a bit technical, and it involves Shopify themes, apps working on the homepage display, and having everything set up and ready for launch.
After entering your information, the next phase is installing a Shopify theme.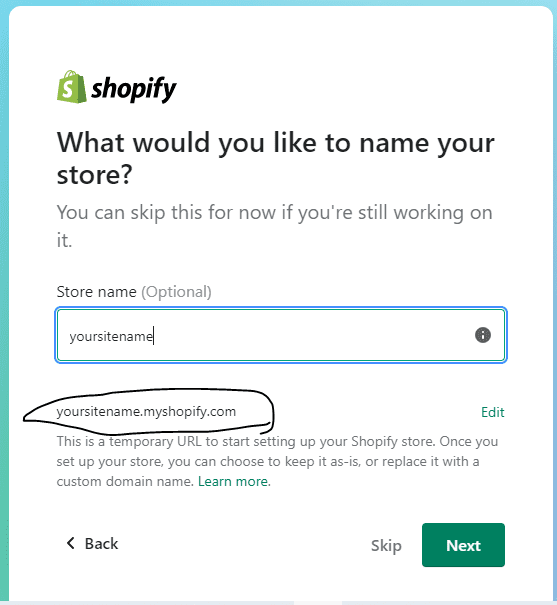 I assume you have already chosen your Shopify store name, which ends with yoursitename.myshopify.com, which you can change later to a premium domain name dropshippping.com.
A domain name costs about $15 per annum on Shopify, while you can buy the same from a third-party domain provider like Namecheap, which cost about $10 per year.
It doesn't matter where the domain is hosted; with Shopify, you can transger the domain name to Shopify hosting and make it your default domain name for your Shopify store.
Choosing a Shopify theme for your store
There are over 90 free Shopify themes that you can install and use without paying anything; the only obstacle is they need advanced features and limit creativity compared to paid Shopify theme, which ranges from $90-$350.
The latest, most installed, free Shopify theme is Refresh; this is the new kid on the block and very professional but works best with one product, a Shopify store, suitable for branding and scaling one focus store.
If you don't have the budget, you can go for the Debutify theme, one of the best dropshipping themes developed by a dropshipper named Rick Hayes.
Debutify theme saves you money, and it has over 54 add-ons (apps) that are prebuilt and are accessible with the money you download and activate the theme on your store.
These add-ons are independent apps sold on the Shopify app store and can cost around $700 per month if all combined.
Debutify theme offers a free trial and version, which means you can use the theme for a lifetime without paying anything; you only upgrade anytime you want.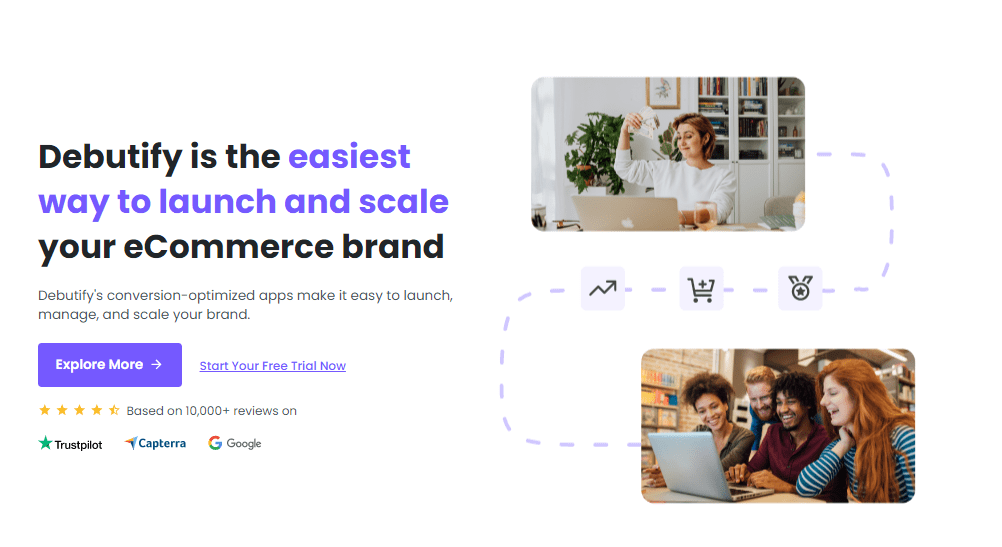 I recommended going with the paid version because it gives your store wings to fly and brings out the professional side of running an online business without installing thousands of apps in your store, which reduces your site loading speed and makes it spammy.
Try the Debutify theme today.
Installing a theme is easy and very quick. When the upload is done, you can activate the theme; at this point, you can start customizing your theme with your final store outlook in mind.
To edit and rearrange your store section and access the themes setting, click on online store> themes> customize.
It will open the theme customizer, and you can edit your theme store section, drag and drop it with Debutify, add your store logo, activate add-ons, and design Shopify how you wish.
You can design your store slider images and other Graphics like logos and social media kits using Canva.
How to add products to Shopify
There are two options for adding products to your store, depending entirely on your business model.
If you are selling physical products, you can as well click on products>Add product which gives you the option of writing a product description, entering the product name, images and tagging the product in the right collection,
You set up product pricing, edit the product URL and push the product to the store front end.
But in our case, we are not going the manual route since the dropshipping business model comes with dropshipping apps that help source products, import products, edit products, and push them to the store within minutes.
Dsers dropshipping app is designed to help Aliexpress with the Shopify product importation and fulfillment process.
It means it helps dropshippers find product and import them to their store, edit, and after sales; it imports customers' details back to Aliexpress, places the order, ship, and provide tracking information, all in one click.
Meet Dsers; if you still need to install it, head over to the Shopify store app, search for Dsers, install it and complete the lining process with the Aliexpress platform.
Dsers chrome extension is needed to enjoy the one-click import process rather than doing it manually on Dsers dashboard link insertion section.
With the Dsers chrome extension, you click on the product you want to be imported, and it's done within seconds.
Store owners can edit product variants, delete unwanted branding, and write product descriptions.
The best and quickest way to write ecommerce product descriptions or Shopify store content (about us and other pages) is by using Copygenius AI, which is explicitly designed to write killer copies for products and other content on any ecommerce store.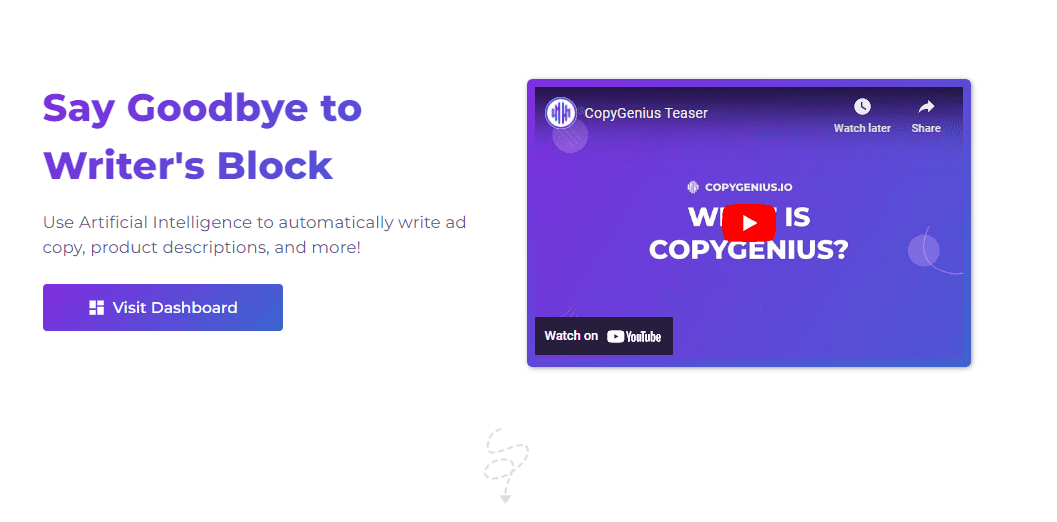 Copy genius is trained to automate Shopify store tasks like writing product descriptions and other store content so you can say Goodbye to Writer's Block.
Copygenenius is easy to use and comes with 5000 free credits, which generally can write everything in your Shopify store.
However, one can update since you will need ad copies and other content produced for your marketing.
Try Copygenius today.
Finding a dropshipping supplier or product source
We have the required app installed, and the Shopify theme activated, and it's time to find a dropshipping niche for your store.
There are over 10,000 niches to choose from for your eCommerce store half of these are flooded and promise failure for beginners.
The rest are either with the highest chargeback or disputes due to size and material-related cases.
There are a few hot-selling niches or products dropshipping beginners can start with; these niches are high in demand, have low competition and have wow effects, and, above all, offer solutions to a problem or address a specific concern.
There are many ways of finding hot-selling dropshipping niches with free and paid options, but I recommend using Nichescraper.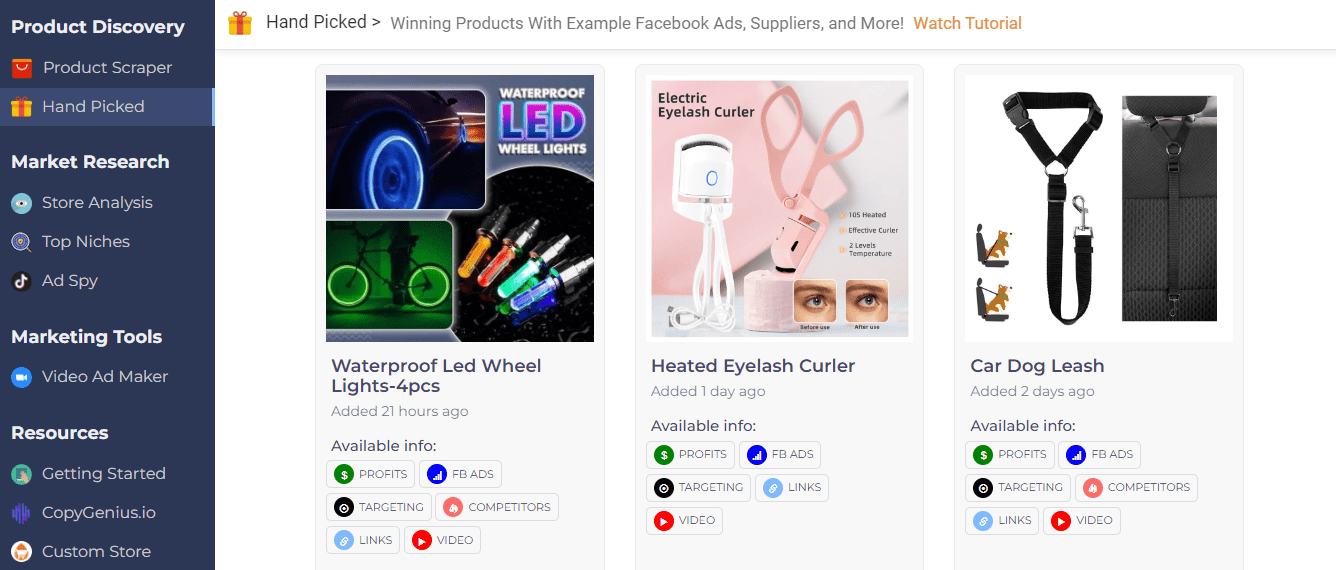 Nichescaper was designed by a former Facebook developer who quit his big-paying job as an Instagram story developer to start his dropshipping journey and launch Dropshipping SAAS business like Nichescraper product hunting Tool.
Eric Smith developed Nichescraper to help shorten the product research time and gives the beginner a platform where all hot-selling dropshipping products would be accessed on the dashboard.
Nichescraper uploads dropshipping products with high potential, uprising, and viral dropshipping products to choose from for your store.
You can browse through daily products, analyze the graph competition, the number of stores selling the products, how to target the audience, and also the product creatives.
Nichescraper has helped thousands of dropshippers start and run successful dropshipping stores since they give you ready-to-test products.
You can try Nichescraper for yourself and then share your experience with us.
You can also use the versions like finding trending products on TikTok using hashtags like #tiktokmademebuyit or #amazonfinds and others.
Before you start importing products, you need to define your product focus by identifying the type of niche or product you want to store to sell and the target market for your niche.
Take your time researching potential suppliers and browsing through different suppliers on a marketplace like Alibaba, Alixrepess, and other dropshipping suppliers.
In most cases, we use Aliexpress for dropshipping on Shopify, and they have a million databases of suppliers that are very convenient in communication and product delivery.
Aliexpress products take forever to deliver to customers, so we recommend switching to private suppliers after getting enough sales.
You can use Aliexpress for data purposes but use private suppliers for fulfillment and other logistics.
Conclusion
As we conclude how to start a dropshipping business on Shopify, ensure that shipping and payment gateways are set up and ready to go.
Dropshipping is a journey, don't torment yourself if you don't get it right the first time; keep trying and testing new products and niches.
You can switch from dropshipping business to print on demand, try a few designs, and see which one works.
If you find your winner in either dropshipping or print-on-demand, stick to it and scale it up.
Thank you for reading.
Small Request
Kindly share it with your friends. Especially the ones you believe need this information. Sign Up Now and Get your first 3 months for only $1 monthly.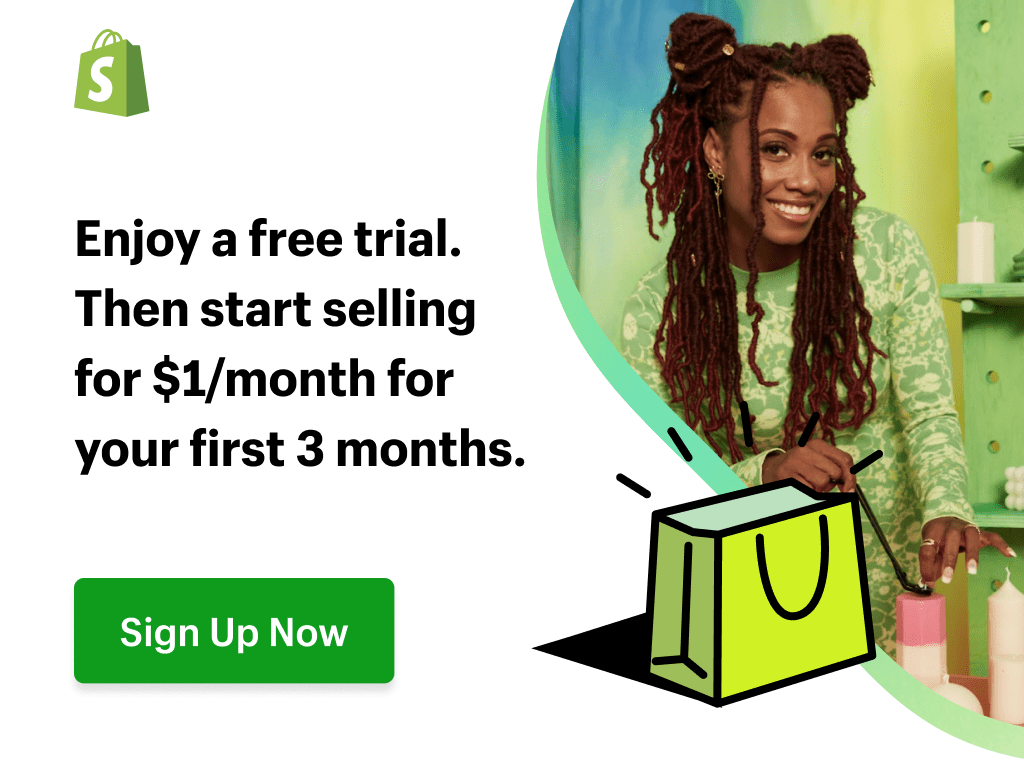 Sharing this information with others can make a huge difference. You may ask why.
Well, the truth is, my main aim is to provide the best information about drop shipping for both beginners and experienced dropshippers.
And I plan to continue doing so for as long as I can.
I would also like to thank those who support my work by reading and sharing my content.
Trust me, when you take your time to share, it will greatly help me and others who need this information.
Here are some great suggestions:
Pin it
Share it on another blog.
Share on Facebook (Share it with friends and even on Facebook groups)
Tweet it
Stumble it
This will only take a few seconds of your time, and I would appreciate it.
I appreciate you a lot. Thank you!
Join my Shopify dropshipping group mastermind and follow my blog to learn more about Shopify tips, dropshipping guides, tricks and checklists, and e-commerce in general.
If you enjoyed and learned something from this post, you can get me updates for free!
I send out email newsletters about new blog posts, tips, and tricks to help you grow your dropshipping business, new YouTube videos to give you more insights into the e-commerce market, and much more.
If you enjoyed reading this, you could also join my Facebook group. Thank you for reading how to make money dropshipping online from the comfort of your home.
Click here to Join My Facebook Mastermind Group