Shopify Markets – A One-Stop Shop for Selling Globally
Shopify Markets is a revolutionary global commerce solution that enables you to sell to everyone online—all from a single store. The promise of international commerce necessitates that you go global by default, integrating Shopify Markets.
Tools To Speed Your Global Growth
Scale and optimize your international strategy by having access to everything you need to locate, create, and manage international markets quickly.
Features of Shopify Markets
Currencies
Languages
Domains and SEO
Payment methods
Duty and import taxes
Market areas that can be customized
International pricing controls
Market-specific control Over inventory and fulfillment
Smart settings
More customizations
Shopify Markets Features Summary
Conclusion
For ages, maximizing the potential of global commerce was essentially reserved for the few, the top companies with the biggest budgets capable of mastering an ever-changing marketplace that becomes more challenging each year.
Understanding the different aspects of international selling, such as currencies, languages, pricing, domains, payment methods, duties, shipping, and compliance, and their bearing on the customer experience, is a difficult task in and of itself, let alone when you're running an entire business.
Global retail e-commerce sales reached $4.28 trillion in 2020. By 2024, that figure is predicted to have increased by 47% to a breathtaking $6.3 trillion; it's a massive pie that we want all of our merchants to grow in.
However, Shopify figured that doing so would need a complete rethink of today's cross-border experience—one that is free of several more region-specific storefronts and the corresponding time and resources required to manage them all.
Shopify realized that selling overseas needed to be more accessible, efficient, and straightforward than selling locally.
Shopify Markets enables you to scale and optimize your international strategy by providing everything you need to easily find, create, and manage international markets from inside your Shopify admin.
Establish a global presence without the need for dedicated personnel to manage your global systems or delve into the nitty-gritty of the new markets you're entering.
You can implement the following functions with Shopify Markets:
Scale your business faster with settings that automatically optimize it across markets—making global the new normal by default.
With just a few clicks, open up your market and customer base.
Drive sales through market-specific purchasing experiences
Everything you need to grow your eCommerce business internationally
Market-specific buying experiences simplify your international customers' browsing and buying process by delivering familiar shopping experiences that convert in each market.
With a world of possibility at your fingertips, you seek solutions, not further complexity. Shopify Markets simplifies global expansion for merchants of all sizes, allowing you to focus on growing your business rather than your to-do list.
Conversion language helps you increase sales. But how?
Providing a smooth store experience for your international customers is crucial for international expansion. A localized shopping experience identical to the native experience — regardless of location — ensures that your store is welcoming, relatable, and intuitive.
Shopify Markets enables you to localize your online store by providing customers with unique, relevant experiences across currencies, languages, domains, and payment methods that build trust and increase conversions.
Currencies
Convert your storefront's prices for international customers to over 133 different local currencies.
International customers want to shop in their native currency smoothly.
According to Shopify data, retailers that sell their products in the customer's native currency saw an increase in conversion rates of about 40%.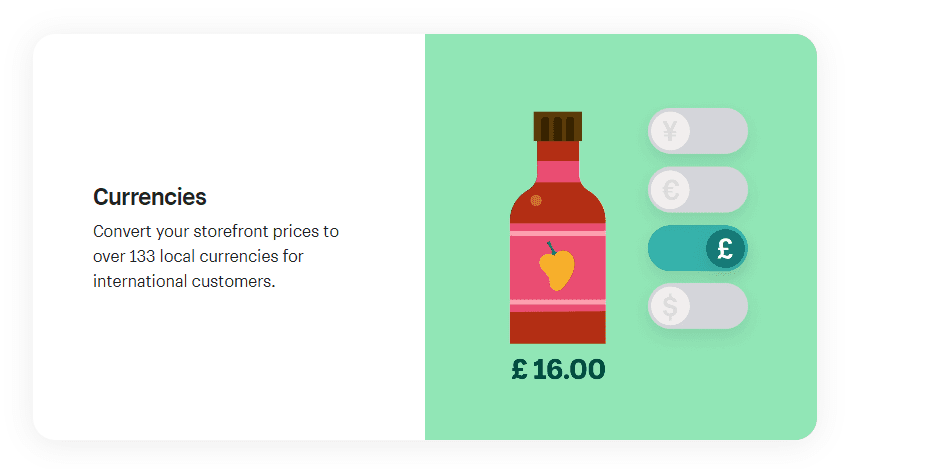 Shopify Markets automatically converts your storefront prices into 130+ international currencies using Shopify Payments and rounds them up depending on the most current foreign currency rates.
As a result, international customers are more likely to complete a transaction. From the online store to the checkout process and through to notifications and refunds,
Shopify offers a consistent multi-currency experience to international buyers, allowing them to buy confident purchases from your store.
Languages
Translate the content of your store to make international customers feel at ease.
Localization of your site's language has the potential to make or break global sales; it creates a positive customer experience from the first impression to checkout.
According to a poll of over 8,700 global consumers in 29 countries, 65% prefer to shop online with content in their native language.
Furthermore, 40% will not even buy from websites in other languages.
Shopify Markets streamlines the process of translating your store by integrating third-party translation programs that allow both manual and machine translation.
(Support for native translation control within the Shopify admin will be available shortly.) Languages, like currencies, operate uniformly throughout your store.
The data indicates a 13% relative boost in conversion when buyers are shown a store translated into their native language over the default language.
Domains and SEO
Present yourself in the applicable language and currency to international customers wherever you sell.
Do not overlook the importance of a robust international domain strategy for optimum effect with international customers.
International domains boost your store's visibility on search engines for international consumers, assist in attracting new customers, and aid in the conversion of your store.
Shopify simplifies establishing a region-specific domain strategy by automatically creating subfolders when a new market is created.
It means that your market in the United States can be found at example.com and your market in Canada at example.com/en-ca.
Additionally, you can specify a market with a subdomain (ca.example.com) or a country domain (example.ca).
Whichever option you pick, Shopify will automatically include the appropriate SEO tags to ensure that your international buyers see the right domain in search results.
Should buyers land at the wrong domain, the Geolocation software can route them to the appropriate market based on their IP address.
Payment methods
Provide your customers with simple, direct, and secure payment methods.
Payment methods used online can have a significant impact on purchase decisions. Customers in some places choose to pay with alternative services that they are familiar with and trust, which differ globally.
Consider North America, where credit cards are highly preferred over digital wallets such as Shop Pay, PayPal, and Apple Pay.
By contrast, several European countries rely heavily on bank transfer-based payment methods.
Over 69% of transactions in the Netherlands are conducted via a local payment method known as iDEAL.
Offering local payment methods to your international customers can significantly increase conversion. For instance, adding the payment option, Bancontact resulted in a considerable rise (150 basis points) in the number of Belgian buyers.
Once you've shown prices in several currencies, Shopify Markets makes it simple to incorporate popular European local payment methods into your checkout, which can help reduce abandoned carts.
This is a big investment area for Shopify, and they intend to increase support for popular payment methods throughout the world soon.
Duty & import taxes
Calculate import fees automatically through the checkout process to ensure absolute cost transparency and prevent customers from being shocked by unexpected delivery expenses.
International buyers may be confused whether additional duties, taxes, and other costs will apply to their purchase or how much they will be required to pay in total—which can result in less-than-optimal customer experiences, parcel refusals, and chargebacks.
Duties and import taxes, therefore, are critical aspects of your international commerce strategy.
By collecting duty and import taxes at checkout, Shopify Markets enables international customers to have a positive experience with your business.
Such provides your customers with a clear picture of their overall cost at checkout and eliminates unpleasant surprises during delivery—all while ensuring business in each market in which you operate.
Global expansion on your terms
Global growth without guesswork enables you to optimize your international strategy quickly with data-driven settings that boost conversion and customer experience.
Shopify Markets enables you to monitor and manage your settings in one location and quickly assess your market's performance to make the best business decisions. At a glance,
Shopify data contains options, settings, and recommendations to help you navigate your international strategy and eliminate the ambiguity associated with global scaling.
Market areas that can be customized
Custom markets enable you to define important market segments for your business by creating a single country market or grouping various countries together.
Shopify Markets enables you to manage your international business in any way you see fit.
Based on the nature of your business, it may be more cost-effective to handle nations or regions collectively rather than individually, allowing you to consolidate your strategy and expand more globally without duplicating your localization work.
For instance, you may wish to establish a single market for all of Europe or the Asia Pacific—you may do so while still offering prices and payment options in local currencies to your buyers in those markets.
International pricing controls
Pricing controls provide you greater control over your international pricing strategy by allowing you to specify market-specific prices.
One size does not necessarily fit all—this is applicable with pricing as much as anything else. The method that works in your primary market is unlikely to work in every market you wish to expand.
Shopify Markets enables you to get substantial control over your pricing strategy by allowing you to define custom product prices per market from a single store.
Suppose you want to change your store's profit margins in international regions to account for the different shipping costs. In that case, you can easily do so by making rapid percentage-based modifications by market.
Alternatively, suppose you need to set specific prices for specific products in specific regions based on your agreements with resellers or retailers in that region. In that case, Shopify Markets enables you to do so—both within the admin and via a product CSV.
Market-specific control Over inventory and fulfillment
Global inventory locations enable you to service customers in some markets depending on the location of your inventory.
Suppose you have warehouses or inventory locations in many regions. In that case, Shopify Markets enables you to surface the applicable inventory to your online store based on the inventory locations that ship to a given market.
For instance, if you have a US warehouse that ships exclusively to North America and a German warehouse that distributes exclusively to Europe, buyers in Europe will only view inventory from the German warehouse.
This can assist you in avoiding circumstances when you oversell inventory since you have various warehouses in different markets.
Smart settings
An automated market optimization resource uses out-of-the-box conversion setups automatically optimizes international markets based on data and changing market conditions.
Keeping abreast of shifting market conditions and international best practices is a full-time job in and of itself and one that you shouldn't have to do in addition to everything else you're doing.
That is why Shopify Markets leverages data and insights from nearly one billion international Shopify orders to assist you in quickly entering new markets and increasing conversions.
Market analytics enables you to track your performance across markets, enabling you to forecast demand and establish goals.
When enabled, smart settings continuously analyze the performance of your business in activated markets and make automatic adjustments and optimizations to achieve the greatest outcomes.
More customization
Customizing the pricing and fulfillment of your store by the market is only the beginning. Shopify will soon release new functionality that will give you greater control over your international market experience and operations, including the following:
Market-specific content: Go beyond translation by presenting your customers in specific markets with unique material.
Market-specific product catalogs: Tailor your offerings to market preferences, seasonality, and laws.
Payouts: Depending on your business's individual needs, route payouts earned in various currencies to various bank accounts.
Shopify Markets Early Access Summary
Get all you need to sell to anyone online in one convenient store.
Features included with all Shopify plans:
Manage your sales from each market from a single location
With Shopify Payments, you can sell in 133 currencies.
Integrate Shopify Payments to offer local payment alternatives
Sell in up to ten different languages
Create custom domains to maximize search engine visibility
Intuitive configurations that optimize market operations
Additional features available on the Advanced Shopify and Shopify Plus subscriptions include the following:
Calculate and collect duty and import taxes at the checkout.
Using Shopify Payments, create custom pricing for each market.
Market-specific catalogs and storefront
Oversee fulfillment locations on a market-by-market basis.
Fees for international transactions
0.85% cost per order when using Shopify Payments to calculate duty and import taxes; 1.5 percent fee when using an alternative payment provider
A 1.5% fee is added to each order when the currency is converted.
Fees for using local payment methods are included in the international payment processing fees charged by Shopify Payments. To
Conclusion
International selling's future is here.
Global e-commerce is no longer an option; it is necessary, and your business's success, and possibly even its future, are dependent on it.
That's the reason Shopify has made selling abroad easier than ever before with Shopify Markets: to secure your business's global success in ways never previously possible—all without needing any experience or coding.
Start selling globally now. Try Shopify for free and take the first step toward growing your business internationally.