What Can You Sell On Shopify: (Types Of Products)
Are you strapped to embark on a Shopify selling journey? Fantastic! But before setting up your online store, let's address a critical question: What can you sell on Shopify? When you think about selling online, physical products likely come to mind. While that's a mainstream choice, there's a whole world of possibilities beyond tangible products.
Think experiences, rentals, online courses, and digital products are unique business concepts for exploring on Shopify. If you're still weighing your options, you've come to the right place. Let's get to the diverse products you can sell on Shopify and unleash your entrepreneurial potential.
Table of Contents
What Can You Sell On Shopify?
Shopify, a versatile platform, offers many options for businesses to sell various products and services. Let's explore some examples of what can be sold on Shopify:
Physical Products: Shopify enables the sale of an array of physical products. The possibilities are endless, from fashionable clothing and cosmetics to delectable foods and drinks, vehicles, and more.
Niche Products: Shopify provides a platform for businesses to cater to niche markets. You can sell travel accessories, health, and beauty products, eco-friendly items, vegan products, pet accessories, and more. Niche markets often offer a passionate customer base that seeks specialized products.
Customized Products: The print-on-demand business model has gained significant traction, and Shopify seamlessly integrates with it. Entrepreneurs can create and sell customized products, from stationery and wedding invitations to trendy t-shirts. This approach allows for design-focused, unique products that cater to individual preferences.
Digital Products: With the rise in digital consumption, selling digital products on Shopify has become increasingly popular. You can offer digital downloads such as fonts, installations, digital gift cards, music, ebooks, and software, opening up a vast market of tech-savvy customers.
Experiences: Shopify extends its reach to the realm of experiences. Whether selling event tickets, live stream access, or even rentals for unique experiences, Shopify empowers businesses to tap into the demand for immersive events and memorable adventures.
Services: Shopify isn't limited to physical products alone. It also provides a platform for selling various services. Whether it's service appointments, consultations, classes, workshops, quotes, estimates, assessments, or even accepting donations, Shopify caters to service-based businesses.
In sum, Shopify is a platform facilitating the sale of a vast range of products and services. From digital products, physical products, and experiences to niche items, customized products, and services, Shopify powers entrepreneurs to explore their business ideas and reach a global audience. With its user-friendly interface and robust features, Shopify provides a robust foundation for building and growing successful online stores.
Why Should You Sell on Shopify?
Why should you pick Shopify as your preferred platform for selling products? Let's highlight the compelling reasons that make Shopify the go-to for your business:
Ease of Use: Shopify boasts a user-friendly interface, allowing anyone to create an online store from scratch without coding skills. With its intuitive design, you can quickly set up your store and launch your business to the market in no time.
Affordability: Starting at just $29 monthly for the Basic plan, Shopify offers excellent value for money. Despite its affordability, you can access robust features that power you to build and grow your online store efficiently.
Mobile Friendliness: Given today's mobile-dominated world, having a store that looks impeccable across various devices is crucial. Shopify ensures that your online store is fully optimized for mobile browsing, offering a seamless shopping experience to customers on smartphones and tablets. By staying on top of the mobile shopping trend, you can effectively engage with a broader audience and boost your sales potential.
Excellent Customer Support: Shopify understands the significance of reliable customer support. Their technical assistance is available 24/7, so should you seek help whenever you need it—whether you have questions, encounter technical issues, or require guidance, Shopify's dedicated support team is there to assist you at every step.
Sign up for a free trial and enjoy 3 months of Shopify for $1/month on Select Plans.
With Shopify as your eCommerce platform, you can access a user-friendly, all-in-one solution that streamlines building and managing your online store. Given its ease of use, exceptional customer support, affordability, and mobile friendliness, Shopify lends a solid foundation for your business to thrive in the competitive digital landscape.
Choosing the Best Products to Sell on Shopify
Several criteria can guide your decision-making when choosing the best products to sell on your Shopify online store. Consider the following factors to help you identify products with high potential:
Popularity and Demand: Assessing the popularity and demand of a product is vital. Look for products with significant market demand and trends with your target audience. Conduct market research, analyze consumer behavior, and identify products that align with trends or solve specific problems.
Profit Margin: Evaluate the profit margin of potential products. Consider the cost of sourcing or manufacturing the product, shipping fees, and other associated expenses. Look for products with a reasonable profit margin that allows you to cover costs, invest in marketing efforts, and generate a sustainable income.
Product Knowledge: Your familiarity and expertise in a particular product category can significantly affect your success. Consider your passion, knowledge, and experience when picking products to sell. Understanding the product and its target audience can lend a competitive advantage, allowing you to provide better customer support and create more compelling marketing campaigns.
Competition: Analyzing the competitive landscape is essential. Identify products with a manageable competition level, more so for new or niche businesses. Conduct competitor research to evaluate their pricing, marketing strategies, and unique selling points. Differentiate your offers through a unique angle or positioning that sets your products apart.
Seasonality: Understanding the seasonality of a product can help you plan your marketing campaigns and estimate annual sales potential. Some products have higher demand during specific seasons or holidays. By factoring in seasonality, you can align your product offerings and promotional endeavors to maximize sales during peak periods.
With the profit margin, popularity and demand, seasonality, competition, and product knowledge nailed, you can make informed decisions about the best products to sell on your Shopify online store. In other words, you want to conduct thorough research, analyze market trends, and continuously monitor and adapt your product offerings to stay relevant in the dynamic eCommerce landscape.
Read Also:
Best-Selling Products
When selling products on Shopify, several best-selling items are in various categories. Here's a glimpse of the top products to sell in each niche market:
Health and Wellness Products
Preventive and Personalized Medicine Products: Herbs and other preventive healthcare items are popular.
Personal Care, Beauty, and Anti-aging Products: Skincare products, hair care products, and anti-aging solutions are highly sought after.
Nutrition and Weight Loss Products: Customized foods, weight-loss supplements, and meal replacements are in demand.
Fashion and Apparel Products
Women's Clothing: Tops, dresses, sleepwear, suits, and ethnic wear are in high demand.
Men's Clothing: Jackets, blazers, suits, jeans, and sports apparel are popular.
Kids and Baby Clothing: Casual, formal, and baby clothing items like bodysuits and trousers are popular.
Personalized and Customizable Products
Stationery: Storage and filing products, paper-based products like greeting cards and notebooks, and drawing and writing instruments are sought after.
Photobooks: Wedding photobooks, kids, and family photobooks are popular choices.
Cards: Personalized greeting cards, especially folded and Valentine's Day cards, are top sellers.
Calendars: Both electronic and paper wall calendars are in demand.
Sustainable and Eco-friendly Products
Tote Bags: Eco-friendly tote bags, especially personalized ones, are in high demand.
Organic Clothing Line: Organic cotton products such as shoes, socks, pants, and t-shirts are gaining popularity.
Mugs: Mugs are a great eco-friendly alternative to disposable cups.
These are but a few examples of the best-selling products in each category. You can drill further within these niches and land unique products that cater to your target audience. Market research, identifying trends, and eyeing consumer preferences lend an edge in the competitive Shopify marketplace.
What Makes a Good Product for Your Shopify Store?
Certain factors contribute to their success when choosing products for your Shopify store. Consider these critical criteria to offer a good product that sells well:
– Weight and Size
Choose products that are lightweight and easy to pack for shipping. Keeping them under 1-2 kilograms helps minimize shipping and storage costs.
– Pricing
The optimal price range falls between $10 and $50. Products over $50 could lead to customer hesitation, while items below $10 may result in minimal profits.
– Seasonality
It's reasonable to sell products with year-round demand. Avoid items with limited use in specific periods, such as winter or Christmas holidays.
Remember pricing, weight, size, and seasonality; you can increase the chances of selling attractive products to customers and profitable for your Shopify store.
Examples of Intangible Products Sold on Shopify
On Shopify, you can sell various intangible products alongside tangible ones. Here are examples of intangible products that can be successfully sold on Shopify:
Consultations: Services like coaching, therapy, or legal advice.
Event Tickets: Admission to concerts, conferences, or workshops.
Memberships: Exclusive access to content, courses, or communities.
Digital Gift Cards: Redeemable cards for products or services on your website.
Online Courses: Learning programs covering diverse topics like cooking, coding, or marketing.
Donations: Contributions to charities or non-profit organizations.
Fonts and Installations: Digital products like fonts, installations, and software.
Rentals: Equipment, space, or vehicle rentals.
Leveraging Shopify, you can successfully sell intangible products like memberships, online courses, digital products, consultations, event tickets, rentals, and donations. The platform offers flexibility in catering to a wide range of intangible offerings.
Wrapping Up
The world awaits, and so does your triumphant journey on what you can sell on Shopify. You don't follow? Explore the ease of creating an online store with Shopify's affordability, seamless mobile experience, and affordable plans. Choose products based on popularity, profit margin, seasonality, competition, and product knowledge.
What's more! Optimize pricing and shipping by considering weight and size. Explore unique niches and print-on-demand options. Shopify offers round-the-clock customer support, allowing entrepreneurs to transform their dreams into tangible achievements.
In conclusion, Shopify is an unparalleled platform, powering businesses to venture into diverse market horizons. The possibilities to thrive are boundless, from tangible delights like fashion, health products, and eco-friendly novelties to intangible treasures like memberships, consultations, and online courses.
FAQs
Q: What products can I sell on a Shopify store?
Shopify offers a versatile platform for selling various products, including fashion, apparel, health, wellness, sustainable, eco-friendly, and personalized items, offering endless possibilities for your store.
Q: What is the best item to sell on Shopify?
The best Shopify item depends on market trends, customer demand, and expertise. Popular categories like fashion, health, wellness, and personalized products offer potential success. Consider profitability, competition, seasonality, research niche markets, and target audience preferences.
Q: Can I sell anything on my Shopify store?
Shopify offers diverse product options but has restrictions on regulated goods, illegal items, and intellectual property violations. Familiarizing oneself with Shopify's guidelines and terms of service ensures compliance and avoids potential issues. As long as you stick to it, Shopify allows a wide range of products to sell on the platform.
Q: What can I sell on Shopify to make money?
Shopify offers income-generating opportunities for selling products with market demand, profitability, and growth potential. Conduct thorough market research, identify profitable niches, and offer products that resonate with your target audience. Optimize marketing strategies, provide excellent customer service, and stay updated with industry trends to increase your chances of success.
Small Request
Kindly share it with your friends. Especially the ones you believe need this information. Sign Up Now and Get your first 3 months for only $1 monthly.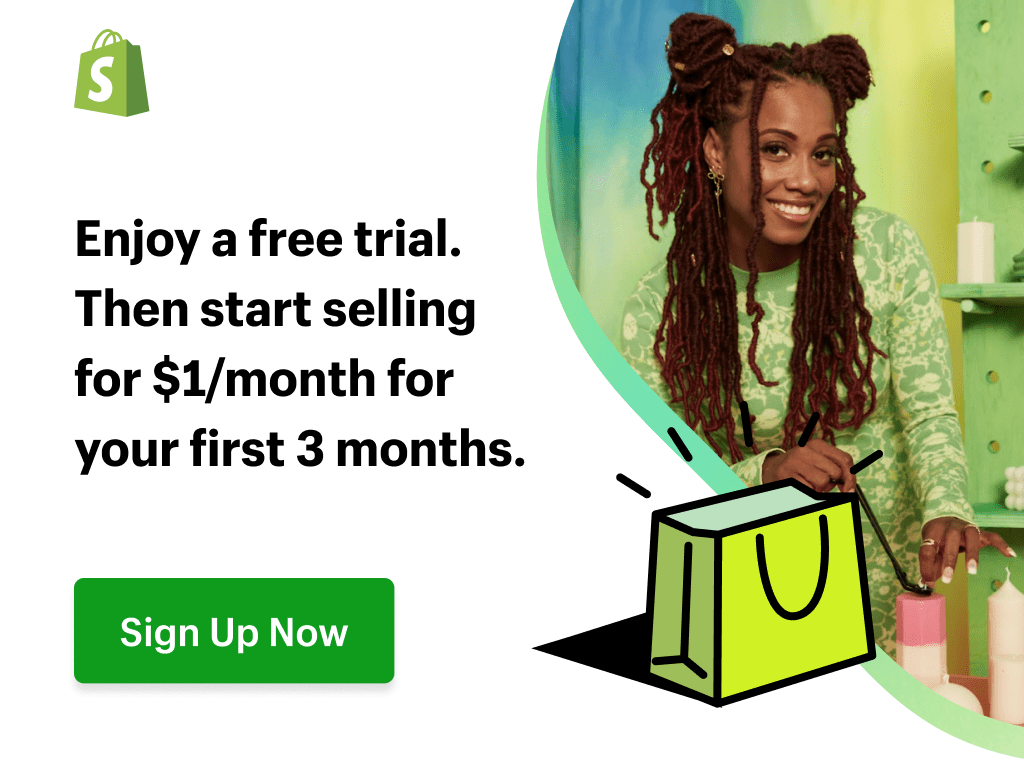 Sharing this information with others can make a huge difference. You may ask why.
Well, the truth is, my main aim is to provide the best information about drop shipping for both beginners and experienced dropshippers.
And I plan to continue doing so for as long as I can.
I would also like to thank those who support my work by reading and sharing my content.
Trust me, when you take your time and share, it will greatly help me and others needing this information.
Here are some great suggestions:
Pin it
Share it on another blog.
Share on Facebook (Share it with friends and even on Facebook groups)
Tweet it
Stumble it
This will only take a few seconds of your time, and I would appreciate it.
I appreciate you a lot. Thank you!
Join my Shopify dropshipping group mastermind and follow my blog to learn more about Shopify tips, dropshipping guides, tricks and checklists, and e-commerce in general.
If you enjoyed and learned something from this post, you can get me updates for free!
I send out email newsletters about new posts published on the blog, tips and tricks to help you grow your dropshipping business, new YouTube videos to give you more insights about the e-commerce market, and much more.
If you enjoyed reading this, you could as well join my Facebook group. Thank you for reading how to make money dropshipping online from the comfort of your home.
Click here to Join My Facebook Mastermind Group