12 Secrets To Creating The Best Online Store Design
If you want to start selling online or improve your current eCommerce setup, you'll want to read this post! Here we reveal ten secrets to creating the best online Store design. 
From layout and navigation to fonts and colors, we cover everything you need to know to create a website that converts browsers into buyers.
So what are you waiting for? 
Start designing your perfect online store today!
What makes an excellent online store design?
Many factors go into making a high-converting online store. Some of the most important include making sure the layout is easy to navigate, the colors are appealing and visually stimulating, and the fonts are easy to read.
Additionally, it's essential to ensure that all the necessary information is easily accessible, such as the store's shipping and return policies.
Another critical element is creating a sense of trust and security by prominently featuring accreditations and certifications and using secure payment methods.
Finally, it's important to keep the overall design consistent across all store pages to create a cohesive shopping experience.
Factors To consider when designing Online Store.
Designing your online store is critical in ensuring your business is booming. Consider several factors when designing your store, including the layout, colors, and fonts.
To create an effective online store, you need to make it visually appealing and easy to navigate. You also must ensure that your store's layout and design are consistent with your branding.
1. Choose the right eCommerce platform
The first step to creating a perfect online store design is to choose the right eCommerce platform. 
Many different platforms are available, so do your research and find one that fits your needs and budget.
Shopify is one of the most popular eCommerce platforms on the market, and for a good reason! It is easy to use, has a wide range of features, and is affordable. 
Plus, it has a built-in blog feature that makes it easy to share your products with the world if you love blogging and SEO. 
If you're looking for an easy eCommerce platform with all the features you need, Shopify is a great choice.
If you're looking to start or improve your eCommerce setup, sign up for a 14-days free trial. 
With Shopify, you can create a website that converts online browsers into real buyers.
Plus, with its easy-to-use platform and wide range of features, you can't go wrong with Shopify.
2. Colour Scheme
Color psychology is very important for online store design. The right colors can help set the tone for your online store and influence shoppers' emotions. 
Make sure to choose a color scheme representing your brand and making customers feel comfortable and confident when shopping.
The color scheme you choose for your Shopify store depends on your niche and store type.
For example, a children's clothing store might want to use bright colors like yellow and pink, while a kitchen supplies store might want to use earth tones like green and brown.
You can also use complementary colors to create a visually appealing design.
Choosing the right fonts and colors
When it comes to fonts and colors, there are no hard-and-fast rules. But some guidelines will help you create an attractive and cohesive design for your online store.
First, choose a typeface that is easy to read. Sans serif fonts like Arial or Helvetica are generally a good choice, as they are simple and legible. Avoid using too many different fonts in your design – just one or two should be enough.
Second, pay attention to color combinations. For example, when choosing colors, try to stick to two or three primary colors, with a few accent colors thrown in for good measure.
Avoid creating a jarring or overwhelming effect by using too many bright colors at once.
It's also essential to make sure the color scheme matches the overall tone of your store – if your store is geared towards young adults, for example, you wouldn't want to use pastel colors which might seem juvenile.
3. Logo and Branding
Your logo is one of the most critical elements of your online store design. It should be simple but memorable and represent your brand well.
Use the same logo and branding throughout your online store, from the header to the product pages. It will help create a cohesive look and feel for your shop.
We recommend using Canva for your store graphic needs, from logos, sliders, and social media templates.
4. Layout and Navigation
Your layout should be easy to navigate, with clear menus and links. Make sure your product pages are well-organized and easy to read, with large images and concise product descriptions.
Investing in a premium and responsive Shopify theme is important to creating a top-notch online store. 
It will give your store a professional look and feel and ensure that it displays correctly on all devices. Many great Shopify themes are available, so take your time and find one perfect for your business.
You can use the free Shopify themes available on the Shopify theme store or pay for the premium Shopify themes.
You can also use the free Shopify themes available on the Shopify theme store or pay for the premium Shopify themes. Whichever route you choose, ensure the theme is responsive, so your store looks great on all devices.
Your layout and navigation should be easy to understand and use. Shoppers should be able to find what they're looking for quickly and easily without having to search through a lot of clutter. Use clear headings and concise labels to make it easy for shoppers to find what they need.
5. Images
Images are essential to online store design, so use them wisely. Choose high-quality images representing your products well, and make sure they load quickly on all devices. You can also use hero images on your homepage to capture shoppers' attention and introduce them to your brand.
6. Typography
Use typography carefully in your online store design. Choose fonts that are easy to read and match your brand's style, and use only a few fonts simultaneously. You can also use typography to add visual interest to your pages.
7. CTA Buttons
CTA buttons (or call-to-action buttons) are essential for online stores, as they allow you to prompt shoppers into taking specific actions like adding a product to their cart or signing up for your mailing list. 
Make sure your CTA buttons are visible and easy to click, and use compelling copy that encourages shoppers to take action.
Your calls to action (CTAs) should be clear and concise, urging customers to take the next step in their purchase journey.
Make sure they're easy to see and tempt customers with discounts or special offers.
8. Product Pages
Your product pages form critical parts of your online store, so ensure they're well-designed and easy to navigate. 
Include high-quality images of your products, along with precise descriptions and pricing information.
Be sure to highlight any particular features or discounts available and provide customer reviews if possible.
I use Jasper to write highly converting product pages, about us pages, and store content. You can try out Jasper AI and cut your work by 99%.
Jasper Ai helps you write 10x better content highly optimized at a fraction of the cost of a human copywriter. It's a piece of software that uses artificial intelligence to generate winning marketing copy…on demand…in under 30 seconds.
9. Checkout Process
The last thing you want is for customers to abandon their carts during checkout.
Ensure your checkout process is straightforward, with all the necessary information displayed.
Include progress indicators, so customers know how far along they are in the process, and provide easy payment options like PayPal or Amazon Pay.
The checkout process is another vital part.
The checkout process is another essential part of your online store design.
Make sure it is easy to use and understand and that all the information shoppers need is displayed.
Use a secure payment gateway to ensure your customers' data is safe, and offer various payment options to make it easy for them to purchase your products.
10. Customer Support
Make sure you provide excellent customer support throughout the shopping experience.
Offer live chat or phone support, so shoppers to get help if they need it and respond to queries promptly. It will help ensure a positive shopping experience for your customers.
No one ever expects problems when shopping online, but something will inevitably go wrong.
That's why offering customer support is important 24 hours a day, seven days a week.
It will ensure that customers can get help anytime they need it.
11. Trust Factors
If you're looking to increase your online store's conversion rate, one of the best things you can do is focus on your trust factors. Your customers need to feel confident that their information is safe and that their purchases will be processed smoothly.
There are a few things you can do to boost your store's trust factors and improve your conversions:
Use a secure payment gateway.
Display trust seals from reputable organizations.
Use a credible domain name and SSL certificate.
Offer customer support.
Display positive reviews and testimonials.
Use a secure checkout process.
Offer a variety of payment options.
Ship products promptly and track them carefully.
Provide detailed product descriptions and images.
Make it easy for store customers to contact you with questions or problems."
Get started with Shopify dropshipping.
Shopify has the apps and tools to connect you to reliable dropshipping suppliers. Jumpstart your business with Shopify Today.
Try Shopify free for 14 days; no credit card is required.
12. Testing and Optimization
People shop online via mobile devices, so it's important to ensure your store is optimized for mobile browsers. 
Use a responsive design template or create separate store versions for mobile and desktop users.
Your store loading speed should be fast on both mobile and desktop devices.
Use a content delivery network (CDN) to speed up the loading process and ensure all your images are correctly formatted and sized.
You can also choose a Shopify plan with the best hosting features and functionalities.
If you're looking for a platform that can help you with your ecommerce store design, Shopify is a great option.
You can choose a plan with the best hosting features and functionalities, so you can focus on creating a beautiful store that sells.
Test your online store design extensively before launching it to the public.
Try different layouts and navigation schemes, and experiment with different colors and fonts until you find something that works well.
Use analytics tools to track how shoppers interact with your store and make changes as needed to improve the overall experience.
Conclusion
A well-designed online store can make all the difference in increasing sales.
These 10+ secrets will help you create a store that looks great and is easy to use for your customers.
If you're looking for a platform that can help with your ecommerce store design, Shopify is a great option.
You can choose a plan with the best hosting features and functionalities, so you can focus on creating a beautiful store that sells.
Small Request
Kindly share it with your friends. Especially the ones you believe need this information. Sign Up Now and Get your first 3 months for only $1 monthly.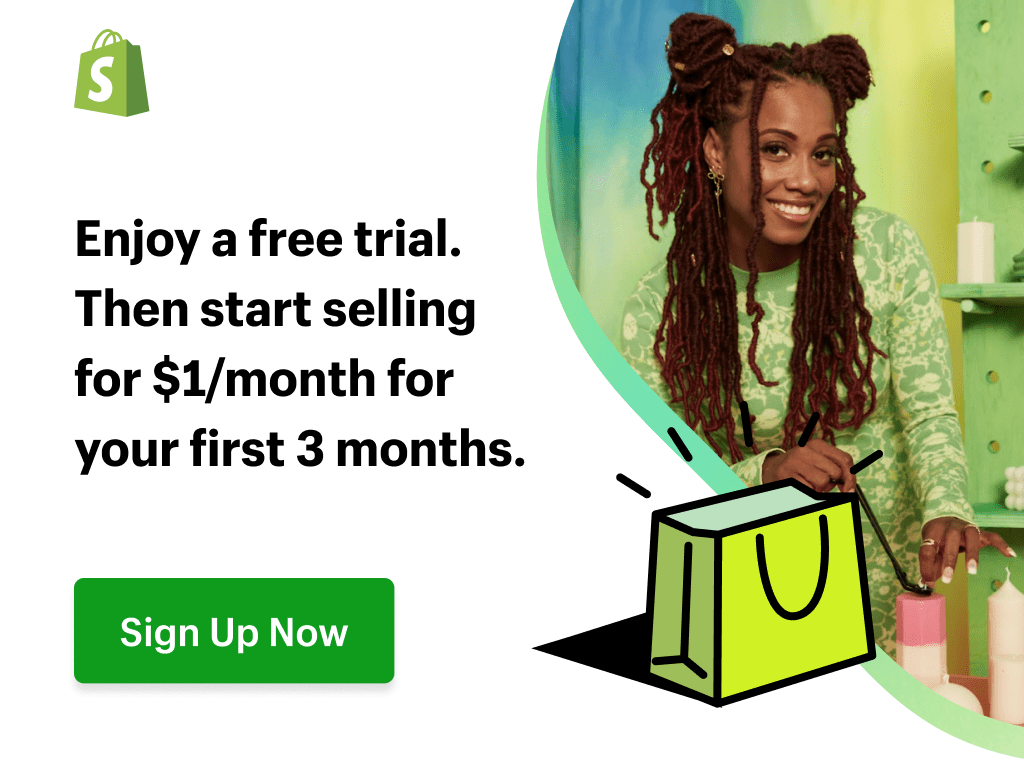 Sharing this information with others can make a huge difference. You may ask why.
Well, the truth is, my main aim is to provide the best information about drop shipping for both beginners and experienced dropshippers.
And I plan to continue doing so for as long as I can.
I would also like to thank those who support my work by reading and sharing my content.
Trust me, when you take your time to share, it will greatly help me and others who need this information.
Here are some great suggestions:
Pin it
Share it on another blog.
Share on Facebook (Share it with friends and even on Facebook groups)
Tweet it
Stumble it
This will only take a few seconds of your time, and I would appreciate it.
I appreciate you a lot. Thank you!
Join my Shopify dropshipping group mastermind and follow my blog to learn more about Shopify tips, dropshipping guides, tricks and checklists, and e-commerce in general.
If you enjoyed and learned something from this post, you can get me updates for free!
I send out email newsletters about new blog posts, tips, and tricks to help you grow your dropshipping business, new YouTube videos to give you more insights into the e-commerce market, and much more.
If you enjoyed reading this, you could also join my Facebook group. Thank you for reading how to make money dropshipping online from the comfort of your home.
Click here to Join My Facebook Mastermind Group