Can You Use Square With Shopify? (Smooth Integration)
Many e-commerce merchants often wonder: can you use Square with Shopify? Yes, but not natively; it requires a few extra steps, as Square and Shopify Payments offer separate tools for accepting payments and optimizing the customer experience.
In this incisive guide, we flesh out the unique aspects of Square and Shopify Payments. Further, we demonstrate how to use Square with Shopify to maximize these platforms' combined benefits. So, let's lean in and learn how this integration can elevate your e-commerce business.

The Square-Shopify integration is an ideal marriage of two e-commerce giants. The pairing allows you to streamline business processes, reduce costs, and improve customer service. This setup allows you to accept customer payments on both platforms without leaving the dashboard.

Moreover, with Square, you can take advantage of its integrated point-of-sale system, which allows customers to pay in person with their credit cards or cash. This integration can significantly speed up the checkout process and reduce lines. Plus, all payments are processed securely and reliably – no more worrying about compromised data or rejected payments.
Table of Contents
Can You Use Square With Shopify?
While Square and Shopify are direct competitors, and their native integration may not be straightforward, several third-party app providers have bridged the gap between the two platforms. These providers have developed innovative solutions to sync data and automate processes, enabling businesses to use Square with Shopify effectively.
Businesses leveraging these integrations can harness the combined power of Square's payment solutions and Shopify's robust e-commerce features to optimize your operations and enhance your customers' experience.
Square vs. Shopify
– Payment Services Comparison
Regarding payment services, both Square and Shopify offer small business owners the ability to process credit card payments without needing a separate merchant account. However, there are some critical differences between the two platforms.
Square, unlike Shopify, is free to use with processing fees included. On the other hand, Shopify requires a monthly subscription fee to access its customization services. The cost of your processing fees will depend on the pricing plan you choose for your Shopify optimization solutions.
– Shopify development
Regarding payment processing, both Square and Shopify are PCI-certified and provide robust fraud prevention measures and end-to-end encryption. They also work with all major credit card networks, such as Visa and Mastercard. However, it's worth noting that Square is not available as a payment gateway on Shopify due to its status as an assertive competitor in the industry.
To integrate Square with Shopify effectively, you can explore third-party programs like:
Which offers synchronization between the two platforms.
– Shopify integration
One advantage of using payment service providers like Square and Shopify is that they manage merchant accounts on their customers' behalf. This means you don't have to worry about setting up and managing your merchant account, saving you time and money. However, it's essential to familiarize yourself with the terms and conditions of service for both Square and Shopify to ensure compliance and avoid any potential account freezes or terminations.
In sum, Square and Shopify offer robust payment solutions for small businesses. While Square provides a free-to-use platform with integrated processing fees, Shopify requires a monthly subscription but offers extensive customization options. The understanding the distinctions between the two and using third-party integration tools, you can effectively derive the benefits of Square with Shopify and enhance your e-commerce operations.
Read Also: How To Set Up A Shopify Store: (That Sells)
How to Set Up Square with Shopify: Step by Step
Setting up Square Shopify Integration requires a few straightforward steps to sync data and ensure seamless integration. Take advantage of the powerful combination of Square and Shopify to elevate your online business presence. Follow the steps below to integrate Square with Shopify successfully:
Step 1: Installing AutoSync for Square App
Log in to your Shopify store.
Navigate to the "Apps" section in the sidebar menu.
Click on the "Customize your store" button at the top of the screen.
A new tab will open with the Shopify app store. Search for "Square" and hit enter.
Look for the "AutoSync for Square" app and click on it.
Install the AutoSync app for Square Shopify Integration by clicking the "Add app" button.
Proceed to click on the "Install app" button.
The app will be installed in your Shopify store.
Step 2: Connecting to the Square Account
Click on the "Connect Square" button.
You'll be prompted to log in to your Square account and grant permission to access Shopify data in a new pop-up window. Provide your credentials accordingly.
The items will now appear in the app if both Shopify and Square products have the same SKU number.
Congratulations! You have completed the Square to Shopify Integration setup process. With these simple steps, you are ensuring efficient data synchronization and streamlining your e-commerce operations. This integration opens up opportunities for managing inventory, processing payments, and enhancing the customer experience.
Ways to Use Square with Shopify
While there is no native integration between Shopify and Square, several workarounds allow seamless integration and data synchronization. These third-party apps provide efficient solutions to connect Square with Shopify, enhancing the customer experience and streamlining your business operations. Let's explore three popular options:
– Zapier
Zapier is automation software that enables you to connect Shopify and Square using triggers and actions. With Zapier, you can automate data transfer between the two platforms and perform actions based on specific triggers. For example, you can create an automation to add customers to an email retargeting group when they abandon a shopping cart. To get started, sign up for a Zapier plan, which ranges from free to $799 monthly. After authenticating your Shopify and Square accounts, you can set up trigger-based automation according to your business needs.
– SkuIQ
SkuIQ simplifies the process of adding your Square products to Shopify. This app consolidates data from Square and Shopify, allowing you to manage all your products from a single dashboard. You can easily sync item names, variants, stock-keeping units (SKUs), and inventory levels. SkuIQ also provides analytics and insights to monitor your store's sales and performance. To use SkuIQ, sign up for a plan starting at $35.00 per month (billed annually) or $49 per month (billed monthly). Higher-tier plans offer increased order processing capacities, with a 30-day free trial available.
– Webinology's Checkout Republic App
Webinology, a certified Shopify Partner, offers the Checkout Republic App. This app seamlessly connects Square Payments with Shopify, ensuring a smooth checkout experience for your customers. The integration is transparent, with no redirects or delays during payment. To install the app, visit the Checkout Republic website, fill out the form with your Shopify shop URL, username, and password, and pay the one-time $500 setup fee. Additionally, expect a $30-per-month usage fee for ongoing support and maintenance.
With these third-party apps' leverage, you can effectively integrate Square with Shopify, bridging the two platforms' gap and max the benefits of their combined functionalities. Decide the solution that best aligns with your business requirements and budget, and unlock the full potential of Square and Shopify working together seamlessly.
Read Also:
Top 5 Benefits of Using Square with Shopify
Several notable benefits can enhance your e-commerce operations by using Square with Shopify. Here are the top five advantages:
1. Seamless Integration: Square integrates with Shopify, combining powerful features for efficient inventory management, payment processing, and synchronized sales data, enhancing overall efficiency and effectiveness.
2. Popular Payment Method: Square is a widely accepted payment method for CBD and Functional Remedies retailers. By integrating with Shopify, retailers can offer customers secure, reliable payment options, leveraging Square's popularity.
3. Identical Checkout Page: Square's checkout page seamlessly integrates with Shopify, ensuring customers a consistent and familiar experience during the checkout process.
4. Linked to Store's Domain Name: Square integrates with Shopify, linking the checkout page to your store's domain name, enhancing brand trust, and providing a professional shopping experience for customers.
5. Customizable Checkout Page: Square with Shopify offers customizable checkout pages, allowing for field addition, removal, and design changes to suit your business requirements and branding. This flexibility ensures a seamless and adaptable checkout process.
Final Word
Can you use Square with Shopify? Square and Shopify integrate to improve customer experience, streamline inventory management, and optimize payment processing. This integration suits industries like CBD and Functional Remedies, offering a professional and secure online shopping experience. Customize checkout pages to align with brand requirements, unlocking potential and driving business success.
In conclusion, integrating Square with Shopify offers a powerful solution for online businesses. While there may not be a native connection between the two platforms, third-party apps provide seamless integration and data synchronization. By using apps like Webinology's Checkout Republic and SkuIQ or leveraging automation tools like Zapier, you can combine the strengths of Square's payment solutions with Shopify's robust e-commerce features.
FAQs
Q: Can I use Square on my Shopify store?
Square can integrate with the Shopify store using third-party apps like Checkout Republic and SkuIQ, leveraging the strengths of both platforms without native integration.
Q: How do I link Square to Shopify?
Link Square to Shopify using Webinology's Checkout Republic or SkuIQ apps, providing step-by-step instructions for installation and integration, enabling easy data sync between the two platforms.
Q: What are the benefits of using Square with Shopify?
Square integrates with Shopify for efficient inventory management, streamlined payment processing, and synchronized sales data. It's a trusted payment method for CBD and Functional Remedies retailers. Shopify's checkout page remains consistent, and customization options are available for tailored experiences.
Q: What third-party apps can be used to integrate Square with Shopify?
Third-party apps like Webinology's Checkout Republic, SkuIQ, and Zapier enable seamless data synchronization and enhanced functionality between Square and Shopify, optimizing e-commerce operations.
Q: Is Shopify better than Square?
Shopify and Square are e-commerce platforms with different functions and features. Shopify offers customization options and features, while Square focuses on payment processing and secure transactions. The choice depends on business requirements and nature.
Q: What card reader works with Shopify?
Shopify supports various card readers, including Square's, but as a competitor, Square's card reader is unavailable as a native option. Third-party integrations or apps synchronizing between the two platforms are required to use it.
Small Request
Kindly share it with your friends. Especially the ones you believe need this information. Sign Up Now and Get your first 3 months for only $1 monthly.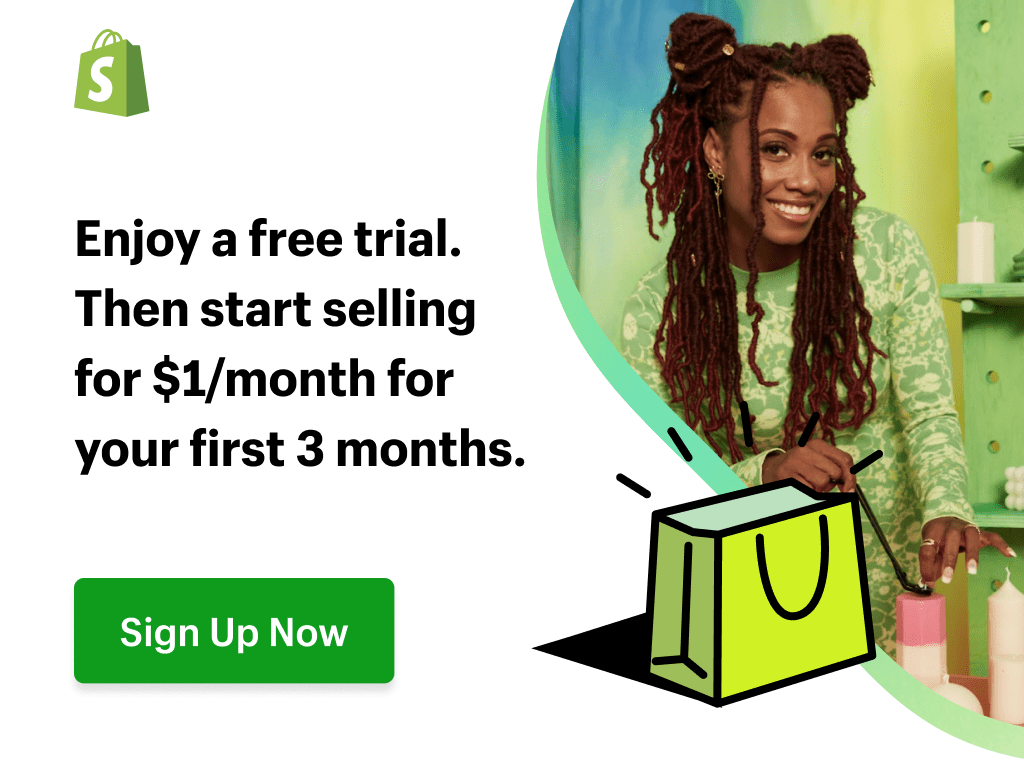 Sharing this information with others can make a huge difference. You may ask why.
Well, the truth is, my main aim is to provide the best information about drop shipping for both beginners and experienced dropshippers.
And I plan to continue doing so for as long as I can.
I would also like to thank those who support my work by reading and sharing my content.
Trust me, when you take your time and share, it will greatly help me and others needing this information.
Here are some great suggestions:
Pin it
Share it on another blog.
Share on Facebook (Share it with friends and even on Facebook groups)
Tweet it
Stumble it
This will only take a few seconds of your time, and I would appreciate it.
I appreciate you a lot. Thank you!
Join my Shopify dropshipping group mastermind and follow my blog to learn more about Shopify tips, dropshipping guides, tricks and checklists, and e-commerce in general.
If you enjoyed and learned something from this post, you can get me updates for free!
I send out email newsletters about new posts published on the blog, tips and tricks to help you grow your dropshipping business, new YouTube videos to give you more insights about the e-commerce market, and much more.
If you enjoyed reading this, you could as well join my Facebook group. Thank you for reading how to make money dropshipping online from the comfort of your home.
Click here to Join My Facebook Mastermind Group