How To Set Up A Shopify Store: (That Sells)
Here's a comprehensive guide to help you set up your Shopify store quickly and easily, with the best tools to enhance your online business. In today's fast-paced world, shopping habits have shifted, with more people turning to online platforms for convenience and access to a global market.
Enter Shopify, a major player in the world of e-commerce. The best part? You don't need specialized skills to start – just set up and go. While anyone can figure out how to set up a Shopify store, there might be a few setbacks for beginners. But don't worry; here, we'll demystify the process and share some e-commerce hacks, proving that anyone can do it.
Now, how much does it cost to set up a Shopify store? The answer might surprise you – it's free! This makes it a perfect way to test the waters of e-commerce without breaking the bank.
You may have landed a profitable niche you're passionate about or just started your own business. Or, you could be a seasoned business veteran looking to expand into the digital arena. Your situation notwithstanding, this guide will equip you with everything you need to set up your Shopify store and make it truly remarkable. Are you ready to take your business to new heights?
Table of Contents
Why Set Up a Shopify Store?
So why Shopify? When starting an online store, the budget plays a significant role. Shopify might not be ideal for large businesses due to its upfront costs. However, for small business owners and self-employed entrepreneurs, the initial investment in developing a decent website may seem high, but it's likely to pay off in the future.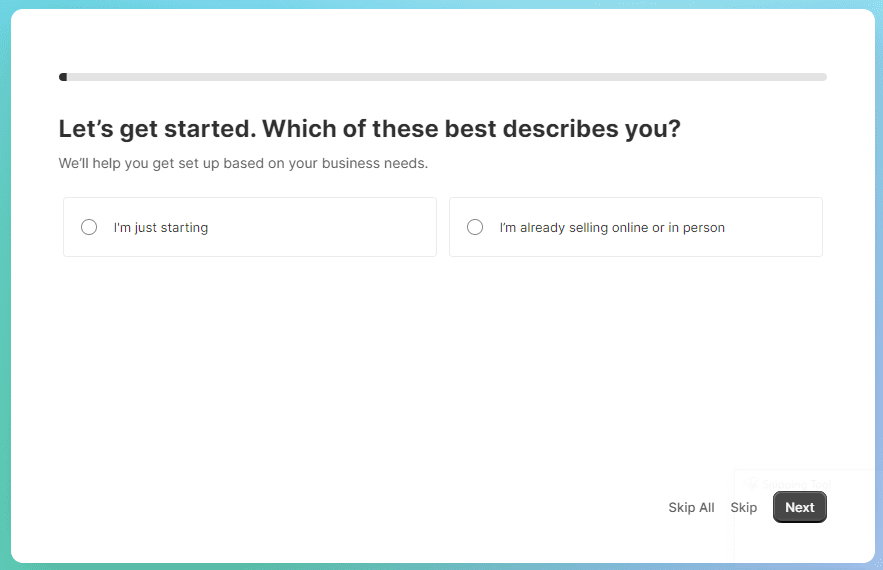 While Shopify pioneered Software-as-a-Service (SaaS) solutions for digital entrepreneurs, it's not the only option available. There are numerous Shopify alternatives with various features, some specialized and some general. Despite the competition, many entrepreneurs still consider Shopify as the best choice for several reasons:
Users can easily set up Accelerated Mobile Pages (AMP), improving site performance and user experience.
The platform boasts diverse design options and e-commerce tools to cater to different business needs.
Shopify's point of sale (POS) app is highly regarded for its usability and efficiency.
Shopify sites are more mobile-friendly, catering to the growing mobile shopping trend.
Shopify is the largest e-commerce platform, offering extensive resources and a broad user base.
Cross-channel selling is seamless with Shopify, enabling businesses to reach customers across multiple platforms.
While competitors like WooCommerce and Etsy exist, Shopify remains a top choice for e-commerce websites due to its user-friendly nature and robust features. WooCommerce, as a WordPress plugin, may offer more complexity and challenges for e-commerce novices, making Shopify a better option for beginners.
On the other hand, Etsy caters to a specific audience, specializing in craft and handmade products. While it can be suitable for some businesses, Shopify is preferred for those looking to start dropshipping or a comprehensive online store.
Wix is another alternative, excelling in general all-purpose websites, but it falls short in e-commerce compared to Shopify.
Amazon and eBay are well-established giants in the e-commerce space, but they function as marketplaces where sellers compete for customer attention. In contrast, with Shopify, business owners have complete control over their online stores, enabling them to stand out and create a distinct brand identity.
Although using marketplaces like Amazon and eBay as additional sales channels can prove lucrative, a Shopify store is entirely owned and customizable, allowing businesses to build a unique online presence and market directly to potential customers.
Sign up for a free trial and enjoy 3 months of Shopify for $1/month on Select Plans.
With over 800,000 vendors choosing Shopify, it has become the gold standard for independent online stores. Many manufacturing and craft businesses have thrived using Shopify, making it a reliable and long-lasting choice for entrepreneurs looking to establish a successful online venture.
How to Set Up a Shopify Store
Let's set up your Shopify store and get you up and running in no time – it's a quick and easy process that will take about 15 minutes or less.
Here's the gist: Start by visiting Shopify's home page and clicking the "Get Started" button at the top right corner. This will lead you to a simple form where you must enter your email address, password, and store name in the provided boxes.
You might be wondering if you need to hire Shopify setup experts. Well, not at this stage – you can save money for more complex tasks. Plenty of free advice is available from experienced individuals who generously share their insights in this blog post.
While setting up your basic Shopify store, you'll find all the guidance you need here. However, if you encounter more complicated issues down the line, that's when considering a Shopify expert might come in handy.
We set up a profitable Shopify store that delivered within 5 working days. Check it out
Now, a detailed process involves the following steps:
Register for your free Shopify trial. Take advantage of the Shopify trial and build your store for free for 2 weeks without any charges or limitations. The registration process is straightforward and doesn't require a credit card.
Start a free trial today and enjoy 3 months of Shopify for $1/month Instead of $39/month on selected plans. Sign up now
Get your content and designs ready. Prepare your logo, product list, descriptions, photos, and content for your pages. If you're unsure what to sell, easily use Dsers to import and dropship products from AliExpress.
Choose a theme. After creating a Shopify account, find the perfect theme for your store. Shopify offers both free and paid themes suitable for various business goals. Choose a theme that aligns with your brand and business objectives. We do recommend the Debutify theme.
Add products. Start adding products to your store, ensuring you provide all the necessary information for each product, including variants like size and color. For large product catalogs, consider using CSV files for bulk uploading.
Create collections. Organize your products into collections, serving as categories to ease customer navigation. You can also use automated collections based on set filters for more extensive inventories.
Create pages. Build essential static pages to establish trust and legitimacy for your online store. Prepare your content and insert it into different sections using the theme editor.
Create the navigation. Craft a simple and easy-to-understand menu (navigation) with your created pages to help customers navigate your store.
Set up your payment and shipping options. Configure payment collection options, such as Shopify Payments or PayPal, and set up shipping methods for a seamless buying experience. Consider using Stripe for secure card payments.
Insert content into your theme. Enhance your store's design by adding links or menus to the header and inserting photos and text into selective sections. Customize your logo, fonts, colors, and other elements in the theme settings.
Check and test. Before going live, thoroughly test all essential flows, including making a test order, checking for spelling errors, verifying image quality, and ensuring all links work correctly.
Publish your store
Connect your store's domain, make it the primary one, and deactivate the password to make your store visible to other users. Click "Publish my theme" in the Shopify admin to finalize the process.
Congratulations! Your Shopify store is ready to welcome customers and kickstart your online business journey. This marks the first step into the wide world of e-commerce.
Make a Product in Shopify
In the e-commerce sphere, products are the lifeblood of your Shopify store. Without them, your store remains a mere empty husk, lost in the vast expanse of online obscurity.
Before stocking your Shopify store with products, there are essential steps to take:
Provide information about yourself and your store, establishing a solid foundation for your online business.
Setting basic standards for product listings and customer transactions ensures a seamless shopping experience.
Set up your domain to enhance your store's visibility and accessibility to customers.
To add products to your store, navigate to the "Products" tab in the Navigation Menu and click "Add Product" in the center of the Products window. The form that appears requires comprehensive information. Invest your efforts here, as it dramatically impacts how easily customers can find your store on the vast world wide web. Moreover, a well-detailed product listing can make your offerings more appealing to potential buyers.
Putting effort into compellingly presenting your products is crucial for the success of your Shopify store. Therefore, make your products shine and leave a lasting impression on your online customers.
Shopify Test Order
Before you can finally launch your online store, it's crucial to test the checkout process to ensure everything works seamlessly.
Here's how to set up a Shopify test order:
Go to "Settings" and then "Payment Providers."
If you have an active credit card gateway, turn it off before activating the "Bogus Gateway" for the test order.
In the Shopify Payments section, click "Edit" and then "Deactivate."
Click on "Other," type in "Test Order," and click on "Deactivate."
From the "Accept credit cards" section, click "Add a Provider."
Select "Third-party credit card provider" from the "Provider" drop-down menu, scroll to the "Other" section, and choose "(for testing) Bogus Gateway."
Click on "Activate" to complete the process.
Now, with the Bogus Gateway activated, you can place a test order on your online store using the following details:
Name on Card: "Bogus Gateway"
Credit Card Number: Enter 1, 2, or 3 to simulate different types of transactions.
– Enter "1" for a successful transaction
– Enter "2" for a failed transaction
– Enter "3" for an Exception (generates an error message)
Remember to revert the settings to accepting actual orders when you finish testing.
In conducting test orders, you can identify and correct any potential issues before they impact your store and sales.
Additionally, can you integrate the software with Shopify to streamline your business operations? This integration allows you to manage materials, inventory, and orders across all sales channels, including Shopify. You'll benefit from features like automatic sales tax calculations, efficient order shipping schedules, and optimized inventory management, saving you time and ensuring a smooth customer experience.
With everything set up correctly, your Shopify store is ready to thrive, attracting customers and maximizing your business potential.
What's Next for your Shopify Store Setup?
Felicidades on setting up your Shopify store and getting the basics in place! Now comes the exciting part – unleashing unadulterated awesomeness and passion to attract your ideal customers and turn them into your biggest fans.
As a Shopify setup expert, planning and strategizing for success is essential. Here are some necessary steps to take your store to the next level:
Marketing: Get the word about your store using social media platforms like Facebook, Instagram, and Twitter. Invest in eye-catching photography and appealing posts to showcase your products. Consider collaborating with influencers on Instagram to reach new audiences effectively.
Get Creative: Stand out from the competition by offering unique experiences to your fans. Consider hosting workshops or events to provide value beyond just selling products.
Boost Shopability: Continuously work to enhance your store's shopping experience. Use various Shopify apps to offer sales, promotions, new currencies, and suggested items to engage customers and encourage purchases.
Success-Proof Your Inventory: As your sales grow, ensure you have a proper Shopify inventory management system to avoid issues when handling a flood of orders. Proper inventory management is crucial to maintaining smooth operations.
Remember, business is like a chess game, so plan and think ahead. Invest time, effort, and creativity into your Shopify store to create a thriving online business that brings you success and fulfillment.
So, unleash your passion and make your Shopify store a magnet for customers who can't resist being your biggest supporters!
Shopify Setup Checklist
To ensure your Shopify store makes a maximum impact, follow this checklist:
Choose a short, catchy, and unique name for your store, making it easily memorable for your potential customers.
Add a few products and variations, assigning a distinct SKU to each product variation for efficient inventory management.
Begin with a free theme and customize it to match your brand's identity and business goals, creating a visually appealing and cohesive online store.
Opt for the basic payment plan initially, and as your store grows and expands, consider scaling up to more advanced payment options.
Conduct a Shopify test order to ensure that your checkout process and payment gateway function smoothly, providing a seamless shopping experience.
Elevate your store's professionalism by purchasing a custom domain name, making it easier for customers to find and remember your store.
In heeding these steps, you'll set the stage for a successful and impactful Shopify store that leaves a lasting impression on your customers and drives growth for your business.
Final Thoughts
In sum, use marketing and creativity to stand out in the competitive landscape. You want to leverage social media, influencers, and workshops to build a loyal fan base. Streamline inventory management for exponential growth.
Craft a brand that resonates with your audience through compelling photography and unique experiences. Build your Shopify store with passion and zest, thinking like a chess player, anticipating moves ahead, and striving for improvement.
In conclusion, mastering how to set up a Shopify store is the key to unlocking the world of e-commerce success. From choosing a captivating store name to curating a diverse product range, each step plays a pivotal role in capturing your audience's attention. Customizing your theme and optimizing payment options lay the groundwork for a seamless and engaging shopping experience.
FAQs:
1. How much does it cost to set up a Shopify store?
Shopify offers cost flexibility with a 14-day free trial and various pricing plans for businesses growing, starting with essential features and scaling up to advanced functionalities.
2. How do I start a Shopify store for beginners?
Start a Shopify store with a free trial, customize your theme, add products, set payment and shipping options, and conduct a test order.
3. How to customize the design of your Shopify store?
Customize Shopify store design with free themes built-in editor, and explore the app store for extensive customization and brand identity reflection.
4. How to set up payment and shipping options on your Shopify store?
Set up payment options in Shopify admin by selecting the appropriate gateway and entering the required information. Create shipping zones and methods by selecting the best providers.
5. Can I set up a Shopify store for free?
Yes, Shopify provides a 14-day free trial, allowing store setup without charges and offering pricing plans.
6. How do I create a Shopify store?
Create a Shopify store by clicking "Get Started" on the Shopify website, setting up your store, customizing your design, adding products, and configuring payment and shipping options.
Small Request
Kindly share it with your friends. Especially the ones you believe need this information. Sign Up Now and Get your first 3 months for only $1 monthly.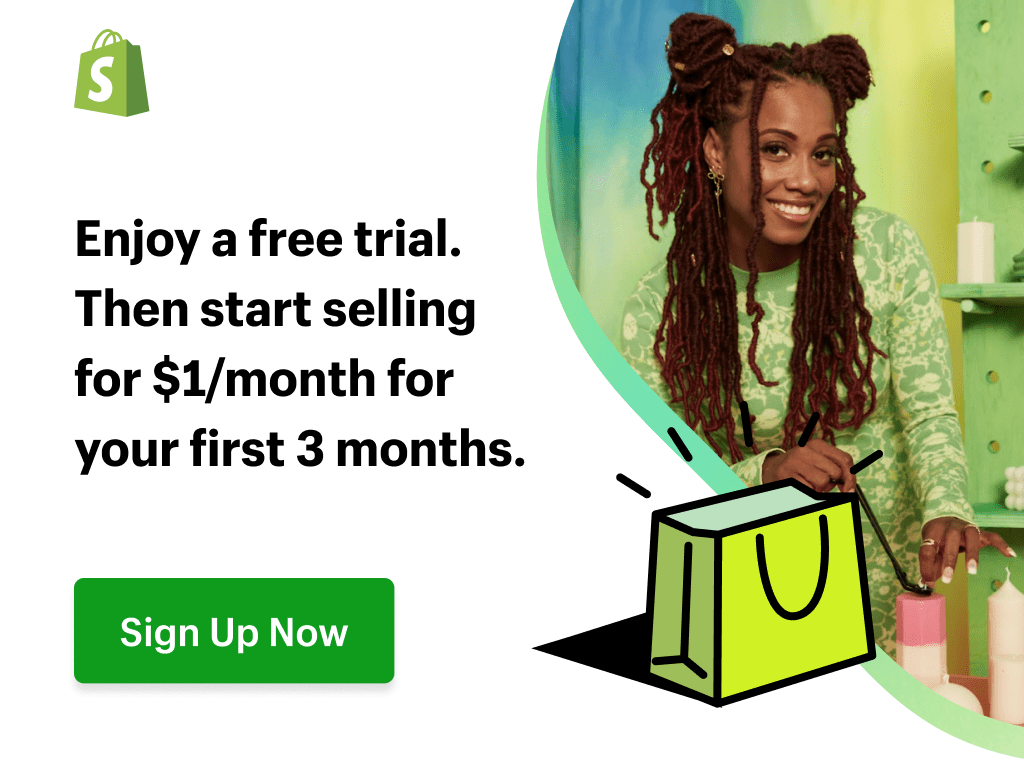 Sharing this information with others can make a huge difference. You may ask why.
Well, the truth is, my main aim is to provide the best information about drop shipping for both beginners and experienced dropshippers.
And I plan to continue doing so for as long as I can.
I would also like to thank those who support my work by reading and sharing my content.
Trust me, when you take your time and share, it will greatly help me and others needing this information.
Here are some great suggestions:
Pin it
Share it on another blog.
Share on Facebook (Share it with friends and even on Facebook groups)
Tweet it
Stumble it
This will only take a few seconds of your time, and I would appreciate it.
I appreciate you a lot. Thank you!
Join my Shopify dropshipping group mastermind and follow my blog to learn more about Shopify tips, dropshipping guides, tricks and checklists, and e-commerce in general.
If you enjoyed and learned something from this post, you can get me updates for free!
I send out email newsletters about new posts published on the blog, tips and tricks to help you grow your dropshipping business, new YouTube videos to give you more insights about the e-commerce market, and much more.
If you enjoyed reading this, you could as well join my Facebook group. Thank you for reading how to make money dropshipping online from the comfort of your home.
Click here to Join My Facebook Mastermind Group