Do I Need To Register My Dropshipping Business?
Many aspiring entrepreneurs are lured by the allure of self-employment and the freedom to build their businesses. Dropshipping presents itself as an enticingly simple pathway to achieve this end. With minimal startup capital and a relatively quick and affordable registration process, it is the ideal option for e-Commerce beginners.
But the question lingers on; is dropshipping as straightforward as it comes off? What should newcomers to the eCommerce space anticipate should I opt to register my dropshipping business?
To register your dropshipping business, you can navigate the process swiftly and inexpensively. Take advantage of online resources and local government agencies that guide business registration. Following the necessary steps and fulfilling the legal requirements allows you to establish your dropshipping enterprise relatively quickly.
However, as with any other business venture, it's noteworthy to recognize that while dropshipping simplifies certain aspects of running a business, it comes with challenges. Therefore, as an eCommerce beginner, it's crucial to approach dropshipping with a realistic mindset.
If you harbor thoughts of starting a dropshipping business, the registration process can be relatively simple and cost-effective. Success in the world of dropshipping goes beyond mere registration, though. By melding the ease of dropshipping registration with a diligent approach to your business, you can pave the way for a prosperous entrepreneurial journey.
Table of Contents
Critical Considerations Before Registering Your Dropshipping Business
Before proceeding with the registration process for your dropshipping business, it is consequential to lay a solid foundation by keenly planning and strategizing your business idea. This involves evaluating various aspects, including your product range, to set your business apart in a saturated online market. Opportunities for untapped niches can arise from unforeseen societal shifts, innovative discoveries, or legal changes.
Remaining vigilant and spotting profitable market gaps early on can prove advantageous. Thorough research and analysis of market data are indispensable when shaping your company and picking the product range. After all, offering a product only makes sense if there is a predictable demand.
– Reliable Suppliers
One critical aspect of dropshipping is the selection of reliable and reputable suppliers. You have limited control over the delivery process since you won't be handling the goods yourself, and they will be directly shipped to your customers. Hence, it is essential to establish trust in your suppliers regarding punctuality, attention to detail, and the quality of packaging.
– Business Plan
Crafting a comprehensive business plan is a vital step in building your dropshipping business, even if you don't plan to seek external financing or grants. A well-structured business plan helps identify gaps in your concept or financial calculations. It provides a clear overview of purchase prices, additional expenses (such as taxes or customs duties), and how sales prices should be determined. Depending on VAT rates becomes crucial if your customer base extends across different countries.
– Hands-on approach-Putting it together
As you register your dropshipping business, remember that proper planning and attention to detail are the cornerstones of success. Develop a unique selling proposition, establish a network of trustworthy suppliers, and create a well-structured business plan considering various financial inputs.
Meticulously factoring and incorporating these factors into your business plan demonstrates a thorough understanding of the market, costs, and pricing strategies. This comprehensive approach ensures you are well-prepared to navigate the challenges of running a dropshipping business.
Read Also:
Dropshipping and Business-the Legal Imperatives
Registering your dropshipping business is essential to draw legal legitimacy for your company. The trade regulations in your country, such as Germany's Gewerbeordnung (GewO), encompass the legal framework. According to §1 Abs. 1 GewO, anyone can engage in business activities.
Typically, registration is a prerequisite for self-employment, with exceptions granted to freelancers like writers, artists, architects, and those engaged in primary production, such as agriculture, forestry, viticulture, and animal husbandry.
However, it is critical to note that a trade registration is still required even if you sell your agricultural products. In the case of dropshipping, the situation is unequivocal. Trade registration is invariably mandatory since it constitutes a profit-oriented self-employed endeavor that does not fall under the abovementioned exceptions.
Registering your enterprise is paramount to ensure compliance with legal obligations and to uphold the integrity of your dropshipping business. Adhering to the trade regulations specific to your jurisdiction demonstrates a commitment to operating within the established legal framework.
Complying with trade registration requirements instills credibility, develops trust with customers, and safeguards the long-term viability of your business. Register your dropshipping business to set the stage for success in the dynamic eCommerce sphere. You can't overlook the importance of legal legitimacy, nor should the legal aspect overshadow your entrepreneurial aspirations.
How Can I Register a Business; Key Requirements for Running a Legitimate Dropshipping Operation
In business opportunities, dropshipping stands out as an enticing venture. With no worries about inventory management, shipping logistics, or product storage, dropshippers can earn a share of the profits while allowing their business to operate on autopilot.
But does it all sound too good to be true? Many individuals ponder the legality of dropshipping, seeking assurance that this business model aligns with legal frameworks. Let's set the record straight: dropshipping is a legal and valid business model in nearly every country worldwide. It offers numerous advantages for entering the eCommerce arena:
Reduced Barriers to Entry: Unlike traditional eCommerce ventures, dropshipping requires minimal startup costs, making it an affordable pathway into online business without incurring overwhelming debt.
Cost-Effectiveness: You need not fret about shipping or storing products with dropshipping. Your trusted suppliers handle these logistics, reducing operational expenses compared to traditional eCommerce models.
Flexibility: The adaptability of dropshipping became evident during the COVID-19 pandemic when eCommerce sellers had to pivot and adjust their offerings. Dropshipping empowers you to change products swiftly and cost-effectively, ensuring you meet evolving market demands.
How Do I Register My Dropshipping Business?
While dropshipping presents various benefits, navigating its legal complexities can prove challenging, particularly when catering to a global customer base. To establish a resilient and legitimate business, you must structure your operations correctly and adhere to best practices specific to dropshipping.
To start on the right path, allocate time for meticulous planning and consider consulting with a legal professional. Running an ethical business is paramount, and staying on the right side of the law is equally crucial. But how can you register your dropshipping business and ensure compliance?
– Insurance, limited legal form…
Typically, business registration occurs through the responsible trade office or regulatory body. This process can be completed online in many cities, streamlining the registration experience. Individual registration fees range from 15.00 to 60.00 euros, depending on the federal state.
However, it is crucial to understand that you assume personal liability as an individual in this scenario. You will be liable for your assets if the business faces setbacks, such as financial difficulties leading to bankruptcy. Thus, considering available reserves and individual risk tolerance, it is prudent to consider suitable insurance options or explore alternative legal structures such as a German GmbH, AG, or UG.
By thoughtfully addressing these requirements and seeking appropriate legal guidance, you can confidently set your dropshipping business on a path to success. Upholding ethical practices and maintaining compliance with the law are integral to building a resilient and legitimate venture.
Dropshipping Success Beyond Business Registration
While getting a trade license is vital in establishing your dropshipping business, several other aspects require keen attention to guarantee a thriving and efficient operation. Here are fundamental considerations to keep in mind:
Finding the Right Shop Software: With many options available for dropshipping entrepreneurs, thorough research is essential. Take the time to evaluate different software solutions, considering their functionalities and compatibility with your business needs.
Legal Compliance: Legal obligations must be fulfilled once you've chosen a suitable shop system. Ensure compliance with imprint requirements and meticulously develop clear and comprehensive terms and conditions. Starting on the right legal footing will save you from potential complications.
Commercial Logistics: Before launching your business, address vital operational questions. Determine optimal order quantities from manufacturers, establish efficient protocols for handling returns and warranty claims, and devise packaging solutions prioritizing product safety and presentation. Additionally, devise secure and convenient payment methods to facilitate smooth transactions.
Establishing Supplier Relationships: Connect with reliable and reputable suppliers and thoroughly assess their delivery timelines and the quality of their products. Timely deliveries and superior product quality contribute to customer satisfaction and the overall success of your dropshipping venture.
Crafting a Marketing Strategy: It's essential to develop an effective marketing strategy to ensure your target audience understands your offerings. Consider various marketing channels, such as social media, content marketing, and paid advertising, while factoring in the associated costs to optimize your budget allocation.
International Shipping and VAT Considerations: Determine which countries you will be shipping to and familiarize yourself with the corresponding VAT regulations. Adhering to applicable tax requirements is essential for maintaining compliance and avoiding legal complications.
You can set a solid foundation for long-term success by addressing these considerations and registering your dropshipping business. Thoughtful planning, diligent research, and a comprehensive approach to operational and legal aspects will position your business for growth and profitability.
Starting Dropshipping without an LLC
When venturing into the world of dropshipping, you must ask whether you require a Limited Liability Company (LLC) for your business. While the necessity of an LLC may vary, subject to your location and specific circumstances, getting the right business licenses is typically a requirement for dropshipping businesses.
Different cities and states may have different regulations regarding business licenses for dropshipping enterprises. It is consequential to familiarize yourself with your area's local regulations and requirements to determine whether an LLC or other business entity is necessary.
For those operating on mainstream eCommerce platforms like Shopify, it is necessary to review the specific guidelines and policies on dropshipping. While an LLC may not be a strict requirement, it is consequential to comply with the platform's terms of service and any applicable laws.
To ensure legal compliance and protect your business, take the time to research and understand the local regulations governing dropshipping. Consulting with a legal professional or business advisor can provide valuable insights and guidance tailored to your situation.
While an LLC may not be mandatory in all cases, establishing a formal business entity can offer various benefits, such as personal asset protection and enhanced credibility with suppliers and customers. An LLC can provide additional legal protection and separate your finances from your business activities.
EIN for Dropshipping on Shopify
When and Why Do You Need It?
When starting your dropshipping journey on Shopify, you won't immediately require an Employer Identification Number (EIN). However, obtaining an EIN becomes essential for fulfilling tax obligations as your business progresses.
While an EIN may not be necessary for the initial stages, it plays a critical role in various tax-related tasks as your dropshipping business grows. This includes online federal tax payments, tax return preparation, submission, and the distribution of payroll and tax documents.
As your business expands and generates income, it becomes necessary to comply with tax regulations and accurately report your earnings. An EIN helps streamline this process by providing a unique identifier for your business when dealing with the Internal Revenue Service (IRS) and other relevant authorities.
Getting an EIN is relatively straightforward and can be done through the official IRS website. Note that the specific requirements and regulations around EINs may vary depending on your location. Therefore, research and understand your jurisdiction's tax laws and guidelines.
By obtaining an EIN for your dropshipping business, you ensure that you meet your tax obligations, maintain proper financial records, and operate in a compliant manner. This helps you avoid potential penalties or legal issues and establishes a professional image for your business.
Remember, as your dropshipping venture gains traction and success, it is imperative to adapt and meet legal and financial requirements. Registering your dropshipping business and securing an EIN are consequential steps toward ensuring compliance with tax regulations and setting a solid foundation for long-term growth.
Commonplace Dropshipping Compliance Issues
If yours is a dropshipping business, you must prioritize compliance with various legal requirements to ensure you stay on the right side of the law. While dropshipping itself is legal, there are specific areas where compliance is non-negotiable. Let's explore the most common compliance issues you need to address:
– Consumer Protection Laws:
While you may not manufacture the products you sell, you are still responsible for their quality and safety. Complying with consumer protection regulations is essential to ensure the satisfaction and safety of your customers. Familiarize yourself with the relevant regulations in the areas where you conduct business.
– Copyright Laws:
To maintain compliance, avoiding selling counterfeit goods and infringing copyright laws is crucial. Take steps to ensure that your suppliers do not ship counterfeit items, as you could be held liable for intellectual property rights infringement if such goods are delivered to your customers.
– Tax Laws:
As with any business, dropshippers must comply with tax regulations. This includes collecting and remitting applicable sales taxes, fulfilling income tax obligations, and accounting for customs and duties when importing goods from overseas.
– Licensing Laws:
In the United States, many states mandate that retail businesses, including dropshipping companies, hold valid business licenses and sales tax permits. Familiarizing yourself with your state's requirements and obtaining the necessary permits to operate legally is crucial.
– Truth in Advertising Laws:
As a retailer, you are responsible for providing accurate information about your products. Misleading marketing practices can lead to legal issues. To maintain compliance, ensure your advertising efforts align with the truth in advertising laws and accurately represent your products.
You can establish a trustworthy and legally sound dropshipping business by attending to these key compliance considerations. It is crucial to thoroughly research and understand the specific regulations for your jurisdiction and industry.
Of importance, compliance is an ongoing commitment. You want to regularly review and update your practices to ensure continued adherence to evolving laws and regulations. In proactively attending to compliance issues, you safeguard your business's reputation, protect your customers, and foster long-term success.
Take the time to familiarize yourself with the above compliance considerations. Doing so lays the foundation for a legally compliant and ethically responsible business.
Key Takeaways
In conclusion, if you're asking yourself, "Do I need to register my dropshipping business?" the answer is yes, and it's just the first step towards building a resilient and legitimate enterprise. Operating a dropshipping business requires diligent attention to compliance matters.
You can establish a trustworthy legal venture by understanding and adhering to tax laws, licensing requirements, copyright regulations, consumer protection laws, and truth in advertising laws.
Prioritizing compliance is crucial for safeguarding your reputation and long-term success in dropshipping. Register your business confidently and prioritize compliance to protect yourself and your customers, positioning yourself for sustainable growth.
FAQs:
1. What do you need to do before starting a dropshipping business?
To successfully dropship, register your business, use suitable research software, consider commercial aspects like order quantity, returns, packaging, and payment methods, and develop a well-thought-out marketing strategy to attract potential buyers and increase brand awareness.
2. Is dropshipping a valid business?
Dropshipping is a legitimate business model enabling entrepreneurs to sell products without inventory or fulfillment. As long as legal requirements are met, it offers a scalable path for e-commerce success.
3. What not to do when starting a dropshipping business?
Starting a dropshipping business requires legal compliance, quality control, and a well-thought-out marketing strategy. Ensure tax laws, licenses, and copyright regulations are followed to avoid legal issues—partner with reputable suppliers to ensure product safety. Develop compelling campaigns and track marketing efforts to maximize success.
4. Do I need a business name for dropshipping?
A unique business name is crucial for dropshipping ventures to establish brand identity, credibility, and customer recognition. Choose a name that aligns with your vision and values and check availability to avoid being used by another company.
Small Request
Kindly share it with your friends. Especially the ones you believe need this information. Sign Up Now and Get your first 3 months for only $1 monthly.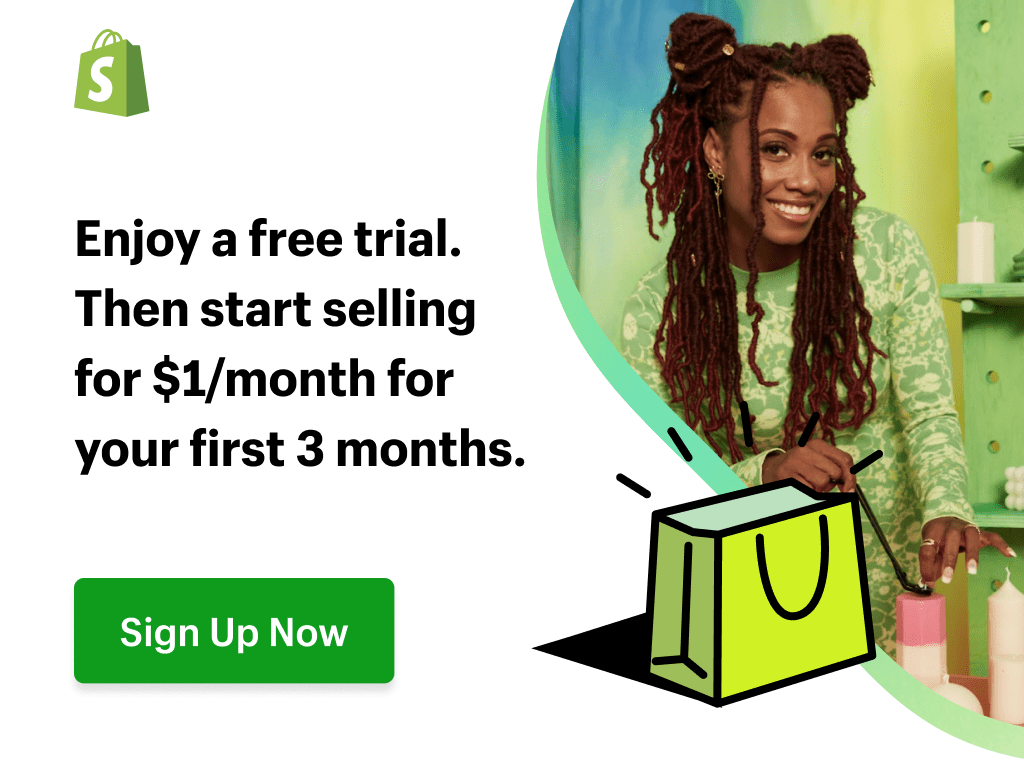 Sharing this information with others can make a huge difference. You may ask why.
Well, the truth is, my main aim is to provide the best information about drop shipping for both beginners and experienced dropshippers.
And I plan to continue doing so for as long as I can.
I would also like to thank those who support my work by reading and sharing my content.
Trust me, when you take your time and share, it will greatly help me and others needing this information.
Here are some great suggestions:
Pin it
Share it on another blog.
Share on Facebook (Share it with friends and even on Facebook groups)
Tweet it
Stumble it
This will only take a few seconds of your time, and I would appreciate it.
I appreciate you a lot. Thank you!
Join my Shopify dropshipping group mastermind and follow my blog to learn more about Shopify tips, dropshipping guides, tricks and checklists, and e-commerce in general.
If you enjoyed and learned something from this post, you can get me updates for free!
I send out email newsletters about new posts published on the blog, tips and tricks to help you grow your dropshipping business, new YouTube videos to give you more insights about the e-commerce market, and much more.
If you enjoyed reading this, you could as well join my Facebook group. Thank you for reading how to make money dropshipping online from the comfort of your home.
Click here to Join My Facebook Mastermind Group