How To Dropship On Shopify (5 Easy Steps)
Do you want to learn how to Dropship on Shopify? When starting a business, the two most scarce resources are time and capital. Since most startups wait to profit, the entrepreneurs have to dig deep into their pockets to cover staffing costs.
Table of Contents
That's why dropshipping is ideal for first-timers just starting a business. Business owners can save money and devote more time to advertising when they hire a third company to handle production, storage, and transport.
Many folks are still lost when presented with this model. For that reason, we decided to put up this detailed manual. So keep reading to find out how dropshipping functions, where to find dependable suppliers, and how to promote your dropshipping business.
What's dropshipping?
Using the dropshipping model, business owners can sell products from their online store but have those products made, stored, and shipped by a third-party dropshipper.
Since the business owner is usually only compensated for products after they have been sold, overstocking is rarely an issue.
Dropshipping can be a terrific alternative if you're starting in the business world. It frees up resources that can be used in marketing, allowing startups and small businesses to try out new products (and product lines) without taking on the financial and time commitment associated with owning and manufacturing them.
Dropship On Shopify in 5 steps
Find a Dropshipping Niche
Other retailers already sell your products if you employ a print-on-demand or dropshipping model for selling private-label items.
So how do shopkeepers stand out in today's competitive retail environment? They accomplish this by stumbling across a profitable dropshipping niche.
As an illustration, the coffee industry is highly saturated. However, you have a considerable advantage if you're the only one selling vegan coffee.
If you were to niche further, say, in selling vegan coffee to millennial baseball enthusiasts, you'd find yourself in an even more uncontested competition.
A niche market is a specific subset of a broader market with distinctive demographics, buying habits, and other characteristics.
For example, the niching strategy allows smaller enterprises to lessen competition by focusing on a narrower subset of a larger market.
However, it's more complex than coming up with a particular audience demographic. To find a profitable niche, you must first make sure there is an audience for your product.
This is how:
Google Trends: Much like its keyword planner, it contains a wealth of data on what people are searching for and can track that interest over time.
Facebook Audience Insights: About 2.9 billion people use Facebook every month, and their interests, demographics, and online activity can be gleaned from the data made available by Facebook's audience insights feature.
Google Keyword Planner: The potential number of profitable niches you can explore with the help of Google's Keyword Planner is infinite, given that Google processes billions of queries daily.
Determine your target audience
You'll want to research your potential customers after you realize there is a niche for your dropshipping business. With a clearer picture of your intended clientele, you'll be in a far stronger position to make educated decisions about your company's future—from product development to distribution strategies to brand promotion.
You don't need to go to tremendous pains to study your prospective customers, but you should have a solid mental picture of who you're trying to reach.
Find Dropshipping Suppliers
There is no shortage of dropshipping companies, but if you want your checkout process to run completely hands-free, you should look into the dropshipping apps available for Shopify.
Dropshipping orders placed through Shopify are routed directly to the supplier, who labels the order as shipped and (if applicable) adds a tracking number emailed directly to the customer.
In the Shopify App Store, you'll find dropshipping apps. Some of the more well-liked options are as follows:
Print-on-demand apps
Thanks to print-on-demand technology, you can provide truly unique products, setting your store apart from the competition.
Shirts, totes, and notepads may all be personalized with your designs. Check out these print-on-demand apps if this is the route you want to pursue.
Modalyst
Modalyst is an app developed by Shopify that helps merchants sell and import products into their online store. As well as designer labels like Calvin Klein and Dolce & Gabbana, Modalyst provides curated lists of emerging labels. The lowest monthly price for a paid plan is $35.
Spocket
Spocket is a dropshipping app that works in tandem with AliExpress and Shopify to facilitate the import of products for sale.
DSers
Using DSers, AliExpress merchants may find, import, and modify supplier-provided product data. Among its many useful functions is a lookup to find similar products sold by different AliExpress dropshippers is very useful. Plans start at $19.90 per month for the paid tier.
Build your ecommerce store
Picking a dropshipping supplier is the first step in establishing your online store. Once you have settled on a reliable dropshipper, you can start building your ecommerce business.
Sign up for a free trial and enjoy 3 months of Shopify for $1/month on Select Plans.
Log in with your Shopify account.
Get things rolling by signing into your Shopify account. The Shopify free trial allows you to establish a fully functional store, should you not have done so already.
Get your domain name set up.
Before launching your store, you must add a domain name if you haven't done so already. Remember that choosing a business name and domain that connects with your target audience is crucial to the success of your dropshipping business because of the importance of standing out from the crowd.
Here are a few suggestions to help you choose a catchy name for your store:
Name availability: The disappointment of discovering that the perfect domain name is already in use can be avoided by first checking its availability. See if the domain name you want is still available.
Be different: A generic shop name will be easily forgotten, so try to stand out. Create something that stands out from the crowd and reflects your niche.
Keep it short: Names should be kept to a minimum in length because they are easy to learn, pronounce, and spell correctly.
A unique domain extension: If YourStoreName.com is already used, try using a different domain extension. Shop,.store, or even a more niche one, like. Shoes.
Import products into your Shopify store
After establishing your online store, you may begin importing products from your dropshipping app. Test out the app's catalog by scrolling through the available items. Products and accompanying descriptions may be imported directly into your Shopify dashboard, where they can be edited. Be sure to factor in shipping expenses when determining your margin.
Market your dropshipping store
Dropshipping businesses often struggle to make their first sale without a solid marketing plan. Dropshipping's primary perk is that it frees you up to focus on marketing instead of order fulfillment.
With so many vendors in the dropshipping space, standing out from the competition requires a unique selling proposition in the form of carefully curated product offerings that appeal to your customer base.
Some suggestions for promoting your dropshipping business are as follows.
Identify your demographic on social media.
Undoubtedly, social media can be a powerful promotional tool for local companies. Spending caps on paid advertising campaigns are typically flexible, making it simple to limit spending. However, much can be done on social media without spending money on advertising.
SEO campaign
Google per second handles roughly 100,000 searches. Since search engines drive nearly one-third of all website traffic, being more visible is crucial for local businesses. Luckily, there are several free Search Engine Optimization (SEO) solutions out there, allowing businesses to keep their online advertising budgets manageable.
Use email marketing
You can keep in touch with your customers indefinitely by sending out emails. Providing helpful information about your products through email is an excellent method to spread the word about them. Marketer's Revenue Cycle Report found that email marketing had the highest ROI across all digital marketing channels.
Final Thoughts
The time to launch your successful dropshipping store is now. Because products are only paid for and shipped after they are purchased, dropshipping on Shopify can be a fantastic method for entrepreneurs to save money.
In addition, dropshipping free business owners to concentrate on sales and promotion by delegating production, storage, and distribution to a third party.
Dropshipping on Shopify FAQs
Shopify dropshipping suppliers, where can I find them?
You can research the suppliers of the brands you prefer to see if they provide dropshipping, or you can use a trusted dropshipping directory or network like AliExpress. For more, check out The 13 Best Dropshipping Suppliers for Shopify and dropshipping integration software on the Shopify App Store.
Does Shopify allow drop shipping without inventory?
Yes! Using a dropshipping service requires a product to sell, but it frees you from the hassle of maintaining a physical stockpile. This is because, with Shopify dropshipping, inventory is stored offsite and shipped only when an order is placed.
How much money can be made dropshipping from Shopify?
Profitability in dropshipping on Shopify is high due to the lack of inventory risk and the fact that products are only shipped once they have been purchased. Therefore, your sole outlays will be for your Shopify subscription, domain name, and advertising.
Can I rely on Shopify for dropshipping?
Regarding e-commerce platforms, Shopify is without a peer for dropshipping businesses. Instead, Shopify apps connect directly to suppliers across networks like Amazon and AliExpress, automating the shipping process by producing, stocking, and shipping products on your behalf at a low initial investment.
Small Request
Kindly share it with your friends. Especially the ones you believe need this information. Sign Up Now and Get your first 3 months for only $1 monthly.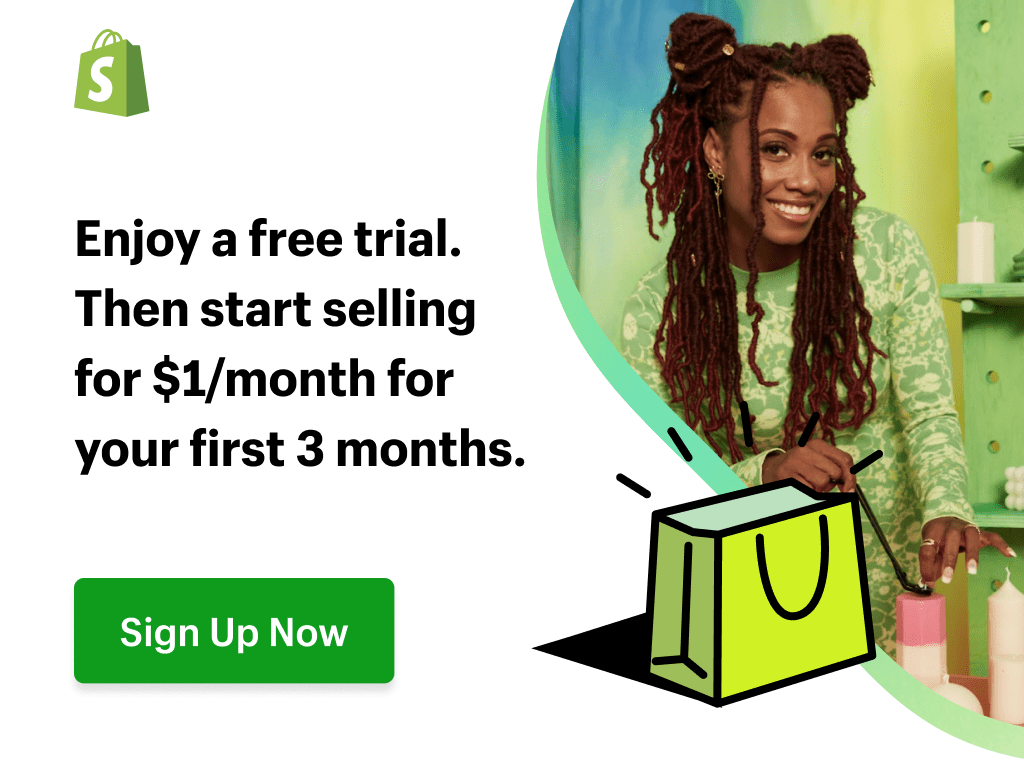 Sharing this information with others can make a huge difference. You may ask why.
Well, the truth is, my main aim is to provide the best information about drop shipping for both beginners and experienced dropshippers.
And I plan to continue doing so for as long as I can.
I would also like to thank those who support my work by reading and sharing my content.
Trust me, when you take your time and share, it will greatly help me and others needing this information.
Here are some great suggestions:
Pin it
Share it on another blog.
Share on Facebook (Share it with friends and even on Facebook groups)
Tweet it
Stumble it
This will only take a few seconds of your time, and I would appreciate it.
I appreciate you a lot. Thank you!
Join my Shopify dropshipping group mastermind and follow my blog to learn more about Shopify tips, dropshipping guides, tricks and checklists, and e-commerce in general.
If you enjoyed and learned something from this post, you can get me updates for free!
I send out email newsletters about new posts published on the blog, tips and tricks to help you grow your dropshipping business, new YouTube videos to give you more insights about the e-commerce market, and much more.
If you enjoyed reading this, you could as well join my Facebook group. Thank you for reading how to make money dropshipping online from the comfort of your home.
Click here to Join My Facebook Mastermind Group