What Is The Actual Dropshipping Startup Cost?
Let's take a look at a frequently asked dropshipping question: What's the actual Dropshipping Startup Cost one needs to start a dropshipping company?
Technically, it would help if Dropshipping Startup Cost is $0.00.
Forty-five minutes of spare time is all that stands between you and a dropshipping store if you use the right combination of Shopify 14 days free trials and starter plans, as well as a willingness to look the other way around and hope for the best when it comes to product quality.
But, as the Big Book of English Expressions says, just because you can, does not mean you should.
This post will break down the inevitable costs that any (legitimate) dropshipping shop would have to bear to get started.
If you read to the end, you'll have an itemized list of your startup expenses, as well as recommendations from dropshipping entrepreneurs on what to expect.
Don't just sit around waiting for someone else to do it. Hire yourself and start making decisions.
Do you have plans to start an online business and ask how much is Dropshipping Startup costs?
Then you are in the right place because that is what we will talk about here today.
The truth is that starting a dropshipping store can cost more or less money, depending on how you approach the entire process.
There are plenty of factors to consider when starting a dropshipping store, such as picking a niche, selecting the products, choosing suitable suppliers, launching the store, and marketing.
The other ones include fulfillment of orders and superb customer support.
As you can see, there are crucial factors to consider, but the good thing is that this is the kind of business which you can start with very minimum capital and reap big in the long run only if you do the right thing.
So, how much does it cost to start a dropshipping business? The good news is that the right way to start doesn't require massive capital from you.
You can start with meager costs and then scale up as your business continues to make sales, strengthen your brand, and keep on adding more products.
Another alternative that you can consider is using third-party services that require money upfront, and these are typically referred to as "middlemen."
They are the companies that charge you fees to access some of their products for sale.
The significant drawdown of these companies is that you may lose a lot of money, which hinders your success as a dropshipper.
Here is how the middlemen structure looks like:
Manufacturer -~ Supplier -~ Distributor (Middlemen) -~Your Store -~ Buyer
We highly recommend avoiding using the middlemen when starting your dropshipping business because it's usually the wrong approach that generally ends badly.
When conducting your research before launching your store, you will come across plenty of companies that charge high fees to start a dropshipping business.
Often, such companies are middlemen whose primary goal is to charge you high fees to access necessary for building your online dropshipping store and sell products that belong to them.
Whenever a company charges such high costs for someone to start their dropshipping store, know that their main aim is to get money off you since they assume you don't have any experience.
Without a doubt, online retailers have reduced the barrier to starting a company.
You can connect to vendors worldwide and sell their goods without ever having to hold inventory. It's a fantastic setup.
People can get carried away, fantasizing about a six-figure company that doesn't require any investment.
The problem is that starting a profitable company has never been free, and it still isn't. Even while using dropshipping.
What is Dropshipping?
Dropshipping is an ecommerce business model that encourages entrepreneurs to open an online store and sell goods without first purchasing inventory.
Only after a sale is completed do you pay your supplier, who then ships the goods directly to your customer.
You can connect your shop to hundreds of vendors and interests by using a marketplace like Oberlo.
You wouldn't need a reverse mortgage, so you will need to invest cash into your dropshipping business before it puts money into your pocket.
"Be prepared to lose at least $500 before you begin to turn a profit. Opening a physical retail store costs nearly $10,000 before any income is generated, so investing $500 in an ecommerce business is a very small investment that will change your life."
Cost of Starting a Dropshipping Business
How much does it cost to start a dropshipping business? It can cost you $0.00 to start a dropshipping store if you use a platform like Shopify.
Shopify offers a free trial for 14 days, where you can launch your store and start selling the products.

All you need to do is conduct research, choose your niche, source the products from reliable suppliers, and start selling them.
Once the 14-day free trial period is over, Shopify will require you to pay $29/month for the basic package.
You will also get $100 free credit from Google for marketing your store and get traffic from potential customers.
You can also choose to buy a domain that can cost about $14/year, which has the name of your store for branding purposes.
Sourcing and linking with suppliers don't cost you anything.
Shopify is a very convenient eCommerce platform used by thousands of other eCommerce stores since it helps to make work easier for you in managing your dropshipping store.
You need to ensure that you build an appealing dropshipping store that will attract visitors and feel that they can fully trust your brand.
It is not a must for you to have the best design; all you need to do is make sure your store looks good and well-presentable with all the features outlined perfectly, and the products should have excellent descriptions and reviews.
You can always import reviews from the suppliers, and there are apps on Shopify which you can install to help you with reviews importation.
One huge advantage of the dropshipping business model is that it doesn't cost you any money to source for products you want to sell.
You can do this by yourself, provided you've selected your niche. Once you have your niche planned out, the next step is to source products from suppliers with high ratings and ones that you can fully trust.
You have to remember that not all suppliers can be trusted, which is why you need to be highly keen when choosing suppliers during product sourcing.
Building a dropshipping business is like building a brand that will last for long. To achieve this, you have to make sure everything is done correctly. Choosing the wrong suppliers might negatively affect your business.
Therefore, that is one crucial thing you have to keep in mind if you want your brand to succeed and make 7-figure sales consistently. Customers need to know that they can trust you and that your brand sells high-quality products.
Here is how an excellent dropshipping business structure should look like:
Manufacturer -~ Supplier -~ Your Store -~ Buyer
Typically, as you start a dropshipping business, The dropshipping start-up cost maybe $0.00, but as you progress and your business continues to grow, you may be looking at various monthly costs.
For example, if you decide to use Shopify and the 14-day free trial period is over, you will start paying the $29/month.
Shopify connects with Oberlo, which helps you source products from suppliers.
Oberlo has a 500 product cap, which may hinder you from scaling once your store starts generating many sales as your brand grows.
Therefore, you would need to upgrade to the Oberlo monthly package, which costs $29.90, and this totals $58.90/month recurring.
The good thing is that you only pay for the domain once a year. These are monthly recurring costs, excluding marketing costs.
There are marketing costs if you decide to market your products on social platforms such as Facebook, the most popular one, Instagram, and Twitter.
You can also use Google ads for marketing your store, which is also a very lucrative marketing method.
Alright, the most stripped-down top version of a dropshipping store would include:
We're starting with Shopify because it's the most widely used ecommerce platform. And Oberlo because, it is the most used dropshipping app that helps connect Aliexpress to shopify.
There is good news! Shopify offers a 14-day free trial! After that, it will cost $29 per month, but you can start for free.
So Shopify takes care of the shop portion of the equation.
Now for the dropshipping part.
Oberlo offers a free option in perpetuity. There is a 500-product limit, so you won't be able to scale with it. You'll most likely need to upgrade to the Basic package, which costs $29.90.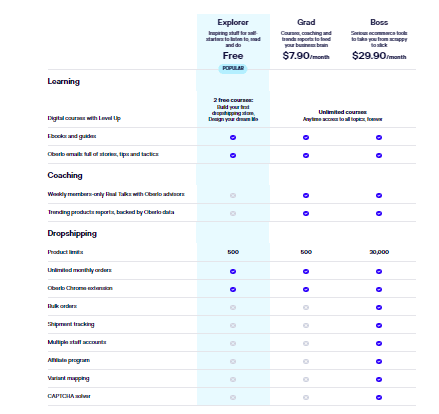 But you can at least get started before handing over your credit card information.
If you're serious about dropshipping, there's one more thing you'll need to purchase: a domain.
You can easily buy a new domain through Shopify – they'll ask you about it during your trial – for $14 per year.
You can as well buy domain name from a third party domain name provider then connect it to your Shopify store.
Okay, so if you do it cheap and filthy, the costs of launching your store will be as follows: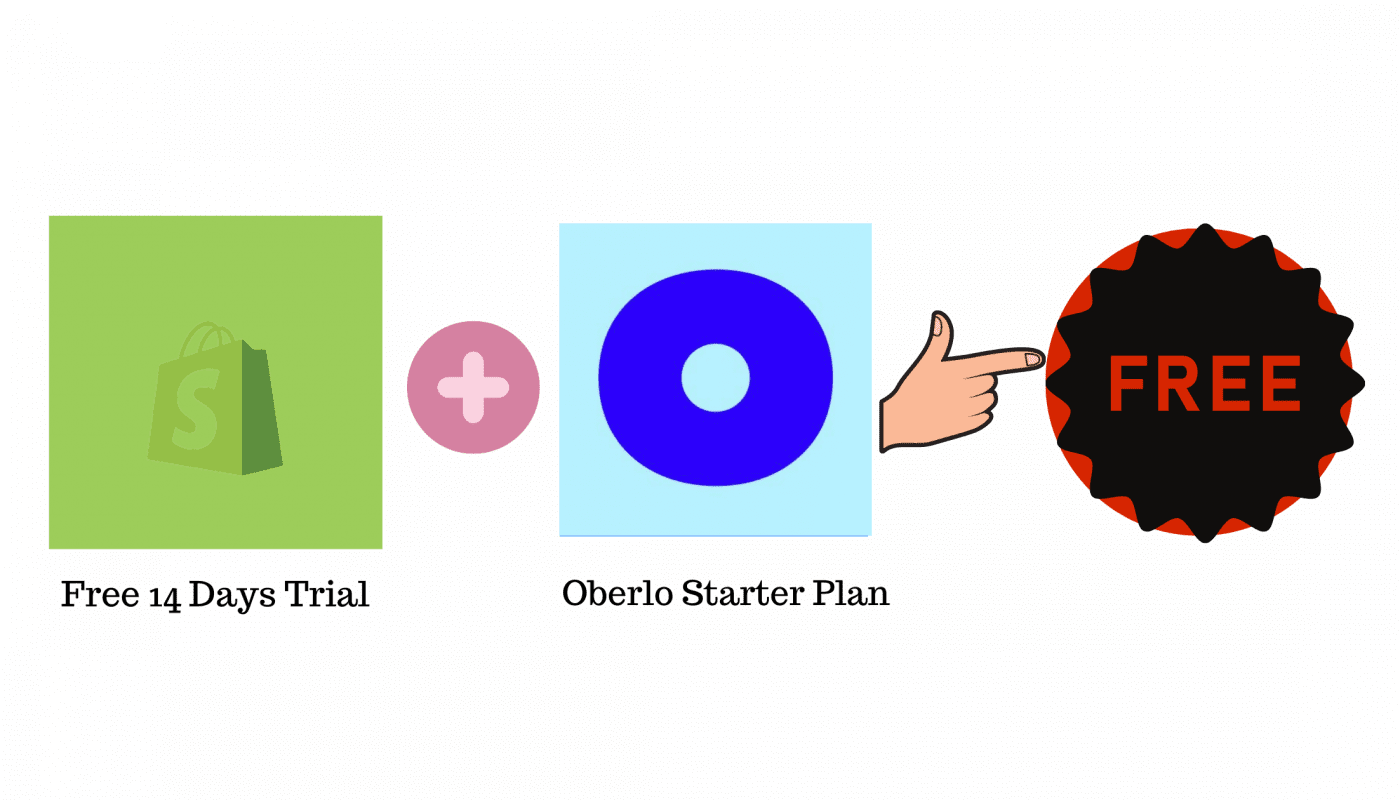 Then, with a little sprucing up, we have: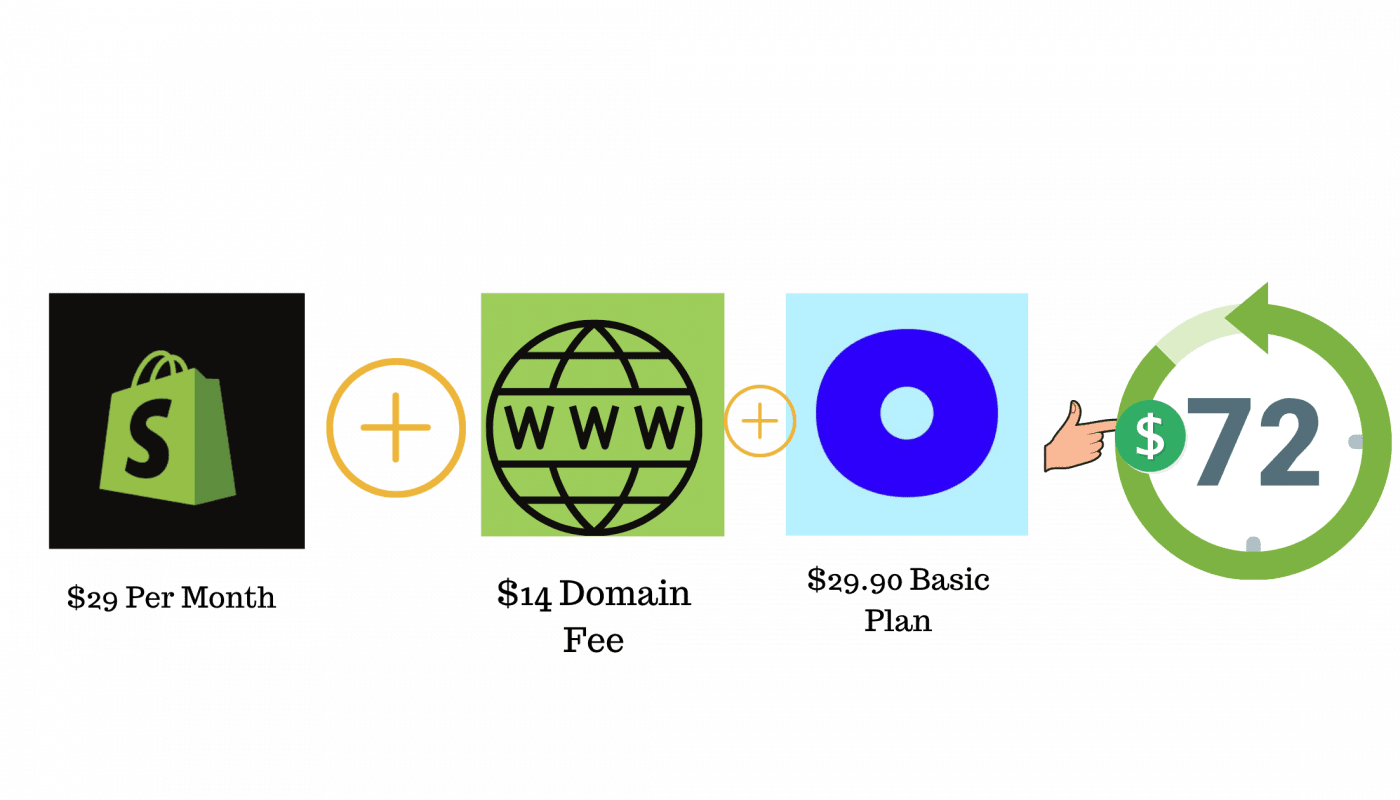 After that, we'd be looking at $58.90 per month – the periodic Shopify and Oberlo fees, minus the $14 domain fee.
Custom prints, logos, and website designs should not cost hundreds of dollars for your first store.
Your startup expenses should be kept to a minimum. Your only out-of-pocket expenses will be the purchase of your product and the registration of your domain.
You can use Google and Shopify's free trials to build a personalized email address and get your shop up and running.
You can take personalized photographs and videos of your brands to use on product pages, commercials, and product reviews. This is simple to do with any modern smartphone."
Dropshipping Costs
This is the "eat your veggies" part of starting a dropshipping business: Nobody will compel you to order your dropshipping goods, just as no one will force you to eat your vegetables daily.
But you should still go ahead and do it.
The great thing about dropshipping is that you never have to touch the products you're selling. While this may solve one of commerce's most challenging problems – having excellent products to sell – adds a new set of factors.
Specifically, you have no control over the product's quality, timeliness of delivery, or the packaging's appearance.

It allows you to explore the manufacturers. After placing your order, for example, you can inquire, "When can I expect my order to arrive?" And, when it arrives, does it live up to your expectations? Is it flawed in any way? Would you like to buy it?

You can use your ads to attract interest in your shop once you have them on hand. Display them. Photograph people are carrying them. Inquire with your friends about their thoughts (and how much they'd be willing to pay).

So, how much would it cost you to eat your dropshipping vegetables? You don't have to buy every variant of every product.
If you sell yellow, red, and blue dresses from the same supplier, you can probably get by with only one color. However, it is a good idea to order at least one item from each supplier whose goods you intend to sell in your shop.

Let's say this would set you back $75.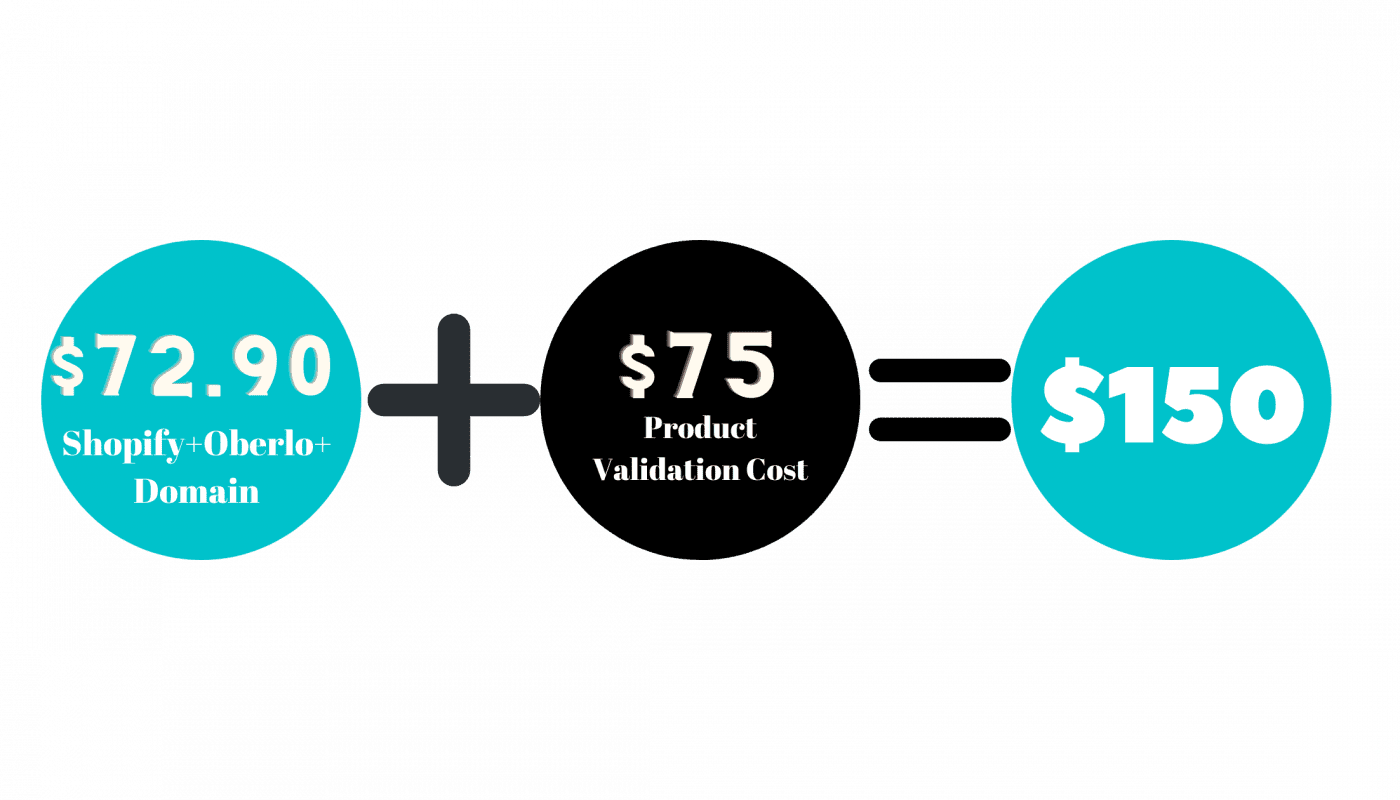 It is primarily an up-front expense, but when combined with the store infrastructure expenses mentioned above, our dropshipping company balance sheet looks like this:

So far, we can anticipate paying approximately $150 by the end of the first month.

When you run a dropshipping company, you won't be in charge of inventory; instead, your vendors will ship your goods directly to your customers' homes.
With this in mind, placing a test order for goods you want to sell is always a good idea. This will allow you to go through the entire purchase process in the same way that your clients would when they place an order.
You'll be able to review the product quality, shipping times, and standards, and take customized product photos yourself, which will greatly assist you in taking your store to the next level."
Startup Store Enhancement Costs
Okay, that $72.90 you spent on your website will only get you so far. To get all of the features you need, you may need to install apps.
Shopify and Oberlo, for example, do not provide a default way for you to offer volume discounts on purchases. Sure, there are alternative solutions. You will sell a "product" that is five items bundled into one at a lower price than purchasing five individual items.

However, you do not want to develop your company on workarounds. You want your supermarket to be simple to navigate for your customers and simple to run for you.
And, on occasion, the best solution is to pay for and install Shopify apps.
The Shopify App Store is brimming with apps for just about any tweak, enhancement, or upgrade you can think of.
Let's take a perfect look at some of the most common features that shop owners want and a small sample of the apps that will make them a reality.
Cross-selling and Upselling
Bulk Pricing Apps
Exit Intent Apps
You don't need any of this, so let's say you want to be able to offer consumers a discount if they buy ten products rather than just one.
A bulk pricing app appears to cost about $20 per month, so we'll add that to our beginning costs.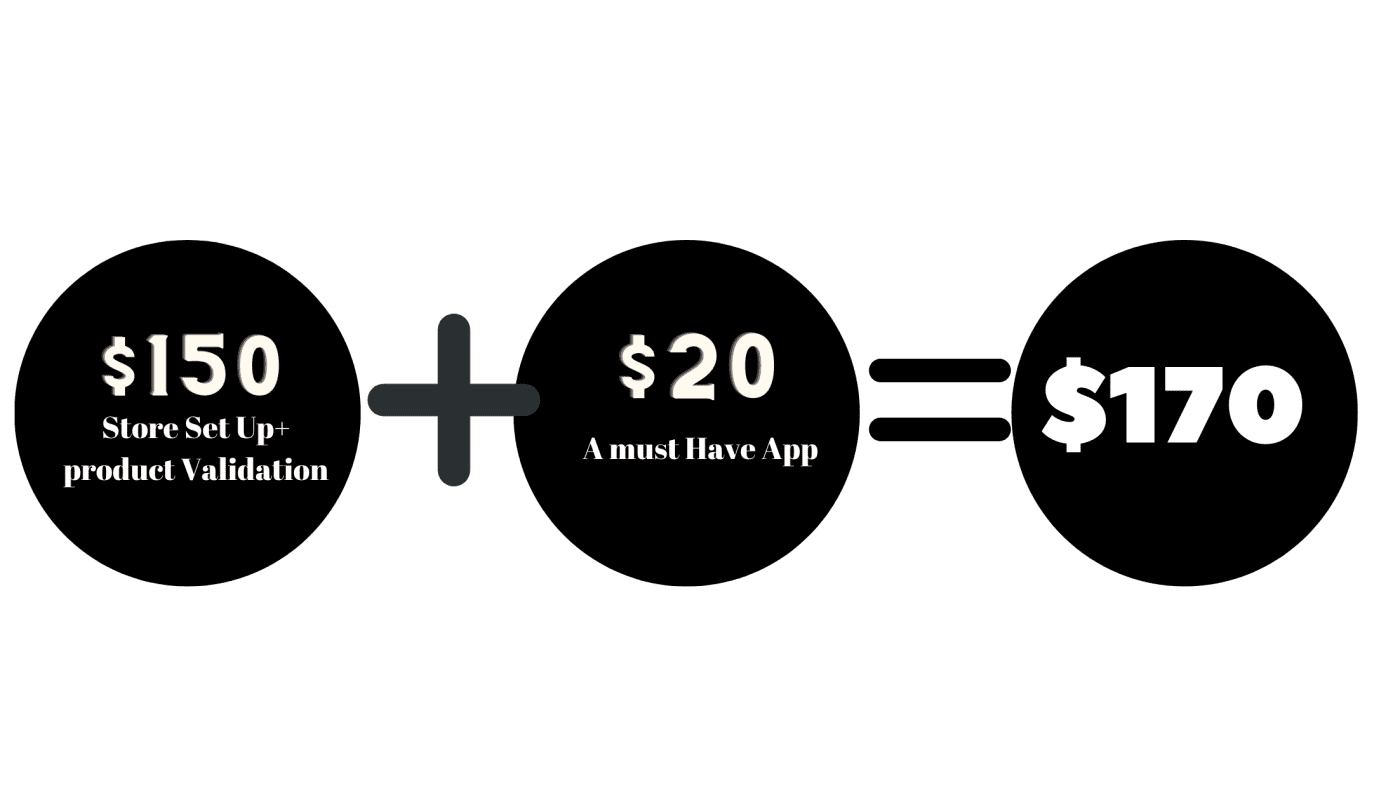 After the first four to six weeks, we're up to about $170.
When it comes to running a dropshipping business, you also have to consider the marketing aspect. You need to market your products to generate sales.
Marketing helps to get your brand out there for customers to know about you and see the kind of products that you are selling. Usually, you have to be comfortable losing at least $500 before you start becoming profitable.
Opening a retail store can cost about $10,000 before you started seeing some profit.

Therefore, spending at least $500 on an eCommerce store is a minimal investment because you can scale it with time and make you more money in the long run.
However, for your first store, you need to find ways to keep costs low, and some of the methods include avoiding spending money on custom logos, photos, and website designs.
Try to keep things as simple as possible, and then you will change gradually with time as you continue growing your brand.
Dropshipping Startup Cost: Product Marketing
So far, everything we've looked at has had a price tag tied to it. Marketing is not one of them.
It's impossible to estimate how much money you'll need to spend on advertisements. However, we can make specific observations to get a rough approximation.
In ecommerce, the average worldwide conversion rate is between 2 and 3 percent.
It would vary depending on the niche and region, but let's assume a conversion rate of 2.5 percent.
That means that if you have 200 people come into your shop, you would expect five of them to buy something.
So, how do we get 200 people to our store? Promotion.
Because Facebook is currently the most popular marketing channel for dropshippers, let's look at driving 200 visitors to your shop from Facebook.
According to WordStream, the average click-through rate (CTR) for Facebook advertisements is 0.9 percent. Assume your promotions are successful, and you have a CTR of 1.0 percent.
So, to attract 200 customers to your shop, your advertisement would reach 20,000 people.
The cost of 20,000 impressions varies depending on who you are targeting: Reaching out to American Facebook users would be more expensive than reaching out to Singaporean Facebook users.
In Q4 2017, the average cost per thousand impressions (CPM) was $12.45, according to marketing software supplier AdStage. Let's call it a clean $12.50.
We now have an equation with which to work:
(20,000 divided by 1,000) Multiply by 12.50 equals $250.
Based on these averages, we arrive at the cost of $250 in Facebook ads to create five Facebook sales.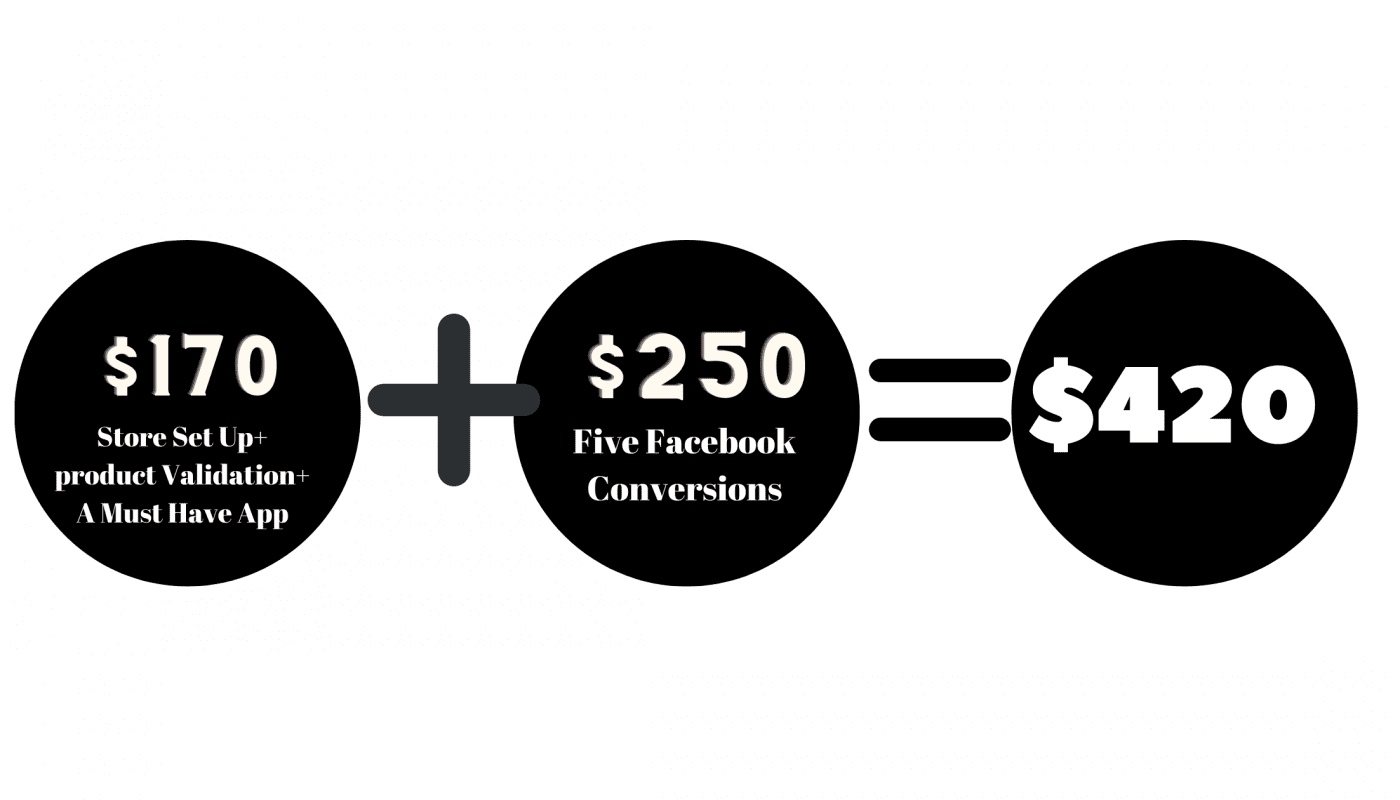 Of course, there are levers you can pull to manipulate these numbers and maximize your profit. First and foremost, create great advertisements.
The higher your advertisements' quality, the more likely people will click on them, and the lower your cost per click (CPC).
We've very much got you covered if you want to do some research on delivering high-impact advertisements.
You can also choose to target nations with lower CPM rates. Other dropshippers have found success in countries other than the obvious ones; don't feel obligated to target the US, UK, Canada, and Australia.
Finally, you can take steps to improve your store's conversion rate and average order value.
Creating easy-to-navigate product pages, for example, is one way to get people to convert after they've gotten drawn to your shop.
It would increase the 2.5 percent conversion rate we mentioned previously.
Apps for cross-selling and upselling can also be used to boost average order value.
These will cost you some money, but with a few nice upsells per month – hardly an unrealistic goal – they will pay for themselves.
Dropshipping Startup Cost on Other Platforms
Apart from Shopify, there are also other platforms where you can dropship products and establish a stable dropshipping business.
So what the dropshipping startup cost on these platforms?
Amazon Dropshipping Costs
Pricing for Amazon dropshipping starts at $20/month. The good thing is that Amazon offers the tools that simplify your work as a seller and make the experience better.
Amazon also provides a spreadsheet that you can download to get all the information about inventory and orders.
Amazon dropshipping also allows you to modify product pricing and quantity easily.
However, the only disadvantage is that Amazon has put restrictions that prevent you from selling on the platform.
The only way to sell on Amazon is through their FBA program. FBA stands for "Fulfillment By Amazon," whereby you connect with suppliers who then ship products to the Amazon warehouses where they are fulfilled and shipped directly to buyers once they make orders.
The FBA program is quite costly to get into and start, which can be a massive hindrance if you have a low budget.
eBay Dropshipping Costs
Another alternative platform to consider is eBay. eBay is a great and convenient platform that you can use to kick-start your dropshipping business, and it doesn't involve a lot of costs.
So, how much does it cost to start a dropshipping business on eBay? There is a listing that you need to pay to have your products listed on the platform.
The good thing is that they offer a free option in case your product ends up not selling. But the starting price for the product is supposed to be between 0.01 to 99 cents.
To drop ship on eBay, you must register an account, add products and let buyers start bidding on your products.
The best bidder wins the product you are selling, and then they complete the purchase. eBay is an auction site where you can sell anything from cars to household goods, among other products.
Another disadvantage of eBay is that they require sellers to fulfill orders directly from a supplier's warehouse.
You cannot purchase items from another marketplace that ships products directly to customers.
They are very strict with this policy, and they state that they might remove your listing if you do this.
Alidropship Startup Costs
Alidropship is another platform that you can use to launch your dropshipping business.
It is a popular platform similar to Shopify, plus it is very convenient and affordable. With Alidropship, you won't have to pay any monthly recurring costs.
Alidropship offers different ways to kick-start your dropshipping business. One of the methods is that you can buy their plugin for $89, which works well with WordPress.
Once you install the plugin in your WordPress dashboard, it allows you to link with AliExpress and source products from suppliers.
Another option is that Alidropship offers options whereby you can order custom-made stores at different prices depending on the packages you choose.
These packages include;
1. The basic package – costs $299, and if you add their hosting, which costs $48. The total startup cost would be $347.
2. Advanced package – Costs $499 plus their hosting, which is $48. The total startup cost for this package would be $547.
3. Ultimate package – Costs $899 plus their hosting, which is $48. The total startup cost for this package would be $947.
The above three packages each come with different features. Of course, the ultimate package includes a lot of features.
However, each of them offers you the option of having your store designed by professionals, payment method configured, social profiles created, and domain plus website setup.
Your only job would be to get your store once it is done and start marketing the products. The store is designed according to your preferences and the niche that you choose.
The cheapest way to start your dropshipping business with Alidropship is to buy the Alidropship plugin, set up your site through their free website themes and WordPress hosting, and purchasing a domain for your site.
However, this will require a lot of work and skills from you.
How Profitable is Dropshipping?
The question that most people ask is whether dropshipping is a profitable business model. The answer to this question is a resounding yes!
However, one thing you need to know is that dropshipping is not a get-rich-quick scheme.
You can't just launch the business today and expect to make thousands of dollars tomorrow.
Similar to most other businesses, it takes time and effort to start reaping the fruits of your labor in this business.
It would help if you were willing to learn and work hard to make considerable profits consistently. Luckily, nothing is impossible.
Conclusions on Dropshipping Startup Costs
Spending money to launch an ecommerce store only hurts if we (a) expected it to be free and (b) forgot that we are doing it to make money.
When thinking of a realistic Dropshipping Startup Cost without having in mind the types of apps you want to install or Shopify themes and your dropshipping budget hurts the head more than helping.
Remember that the money you make to open your shop is an investment.
And if we're investing in stocks or opening new stores, we do so because we expect a return.
And you already know that if you stick with ecommerce, you'll never be able to stop pouring money into your shop.
After your price breaks app has done its job, you should consider getting a cross-selling app.
As your Facebook campaigns grow in size, you'll want to invest in marketing automation software.
And we haven't even mentioned email marketing, premium Shopify themes, logo design tools like Canva, or – well, let's leave it at that.
It's difficult to predict how much your returns will be or how long it will take to recoup them.
However, as your spending rise into the double digits, triple digits, and beyond, keep in mind that there is no particular such thing as a free lunch. In any case, it's not a decent company.

When you begin to produce sales, you must use your profits wisely. Set aside a portion of your total income to cover the costs of returns (every big company will have returns!) and any unexpected expenses that may occur.
I would suggest reinvesting as much of your remaining earnings as possible into the growth of your company. It will get divided into two halves.
The first step is to improve your company's infrastructure, including everything from website design to email marketing software.
Some of these services are expensive, but if you start making a profit, they will significantly impact your conversion rates and customer retention.
It will, in turn, save you money in the long run and allow you to be more aggressive with your paid ads than your competitor because you can calculate the lifetime value of a customer vs. the profits of a single sale.
Thanks for reading this detailed Dropshipping Startup Cost,it is my prayer it answered most of your Dropshipping Startup Cost questions that you heard before you came across this post.
Drop in the comment below if you have any other issue related to Dropshipping Startup Cost ,I will be more than glad to answer .
Get Your Premium Dropshipping Store TODAY!
With our customized stores, perceiving what works becomes a thing of the past. No more fussbudget; on your part, all that's needed is to replicate one of the successful stores and start bringing in money.
Summing Up Your Complete Dropshipping Store
Our team builds your online store from start to finish
We help you select the most productive niche
We make an exceptional design to your liking
A personal manager guides you through each progression
No work nor experience is necessarily needed from you
You have access to a turnkey business to derive profit
All you require for a successful launch :
Fast-moving Products
Functional Website
Winning Ads
Customized Store
and more
Hire me today CLICK HERE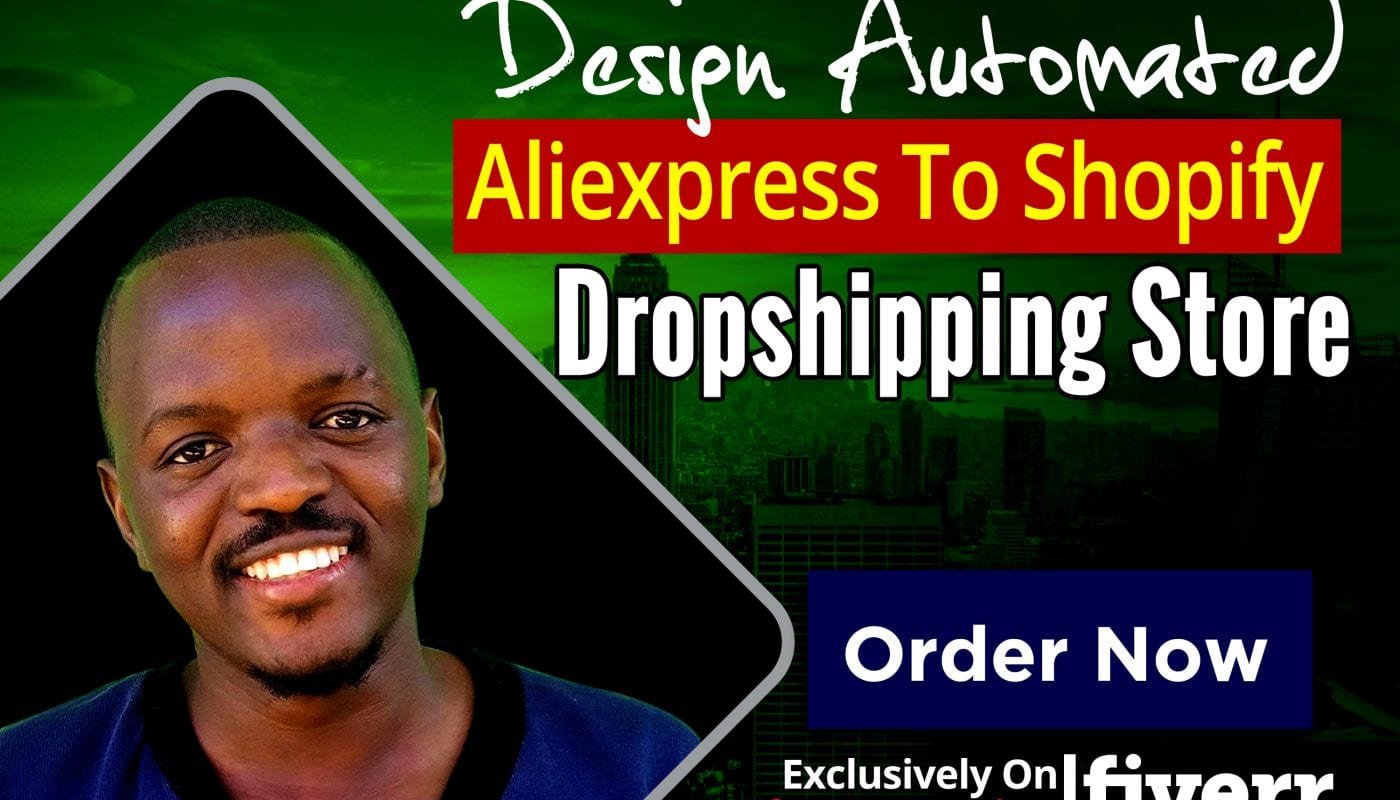 Small Request
Kindly share it with your friends. Especially, the ones you believe really need this information.
Sharing this information with others can make a huge difference. You may ask why?
Well, the truth is, my main aim is to provide the best information pertaining to drop shipping for both beginners and experienced dropshippers.
And I plan to continue doing so for as long as I can.
I would also like to thank those who support the work I do through reading my content and sharing.
Trust me, when you take your time and share it will help a lot not only for me, but also other people who may really be in need of this information.
Here are some great suggestions:
Pin it
Share it on another blog
Share on Facebook (Share it with friends and even on Facebook groups)
Tweet it
Stumble it
This will only take a few seconds of your time and I would really appreciate.
I appreciate you a lot. Thank you!
Join my Shopify dropshipping group mastermind and follow my blog to learn more about Shopify tips, dropshipping guides, dropshipping tricks and checklists, and e-commerce in general.
If you enjoyed and learned something from this post, you can get updates from me, free of charge!
I send out email newsletters about new posts published on the blog, tips, and tricks to help you grow your dropshipping business, as well as new YouTube videos to give you more insights about the e-commerce market, and much more.
If you enjoyed reading this Shopify email marketing post, you can as well join my Facebook group. Thank you for reading how to make money dropshipping online from the comfort of your home.
Click The Image To Join My Facebook Mastermind Group
.