15 Best Ecommerce Platforms Comparison And Ratings
14.
15 Best Ecommerce Platforms Comparison And Ratings
Before the emergence of the internet, if you needed to run a shop, you'd require a physical brick-and-mortar location. Welcome to the Best Ecommerce Platforms review.
The 15 Best Ecommerce Platforms That I Absolutely Love
That meant launching a business had the markings of a cumbersome process. Mind you, not all would-be entrepreneurs had the liquidity needed to buy their building.
Now, we are living in a slightly different era. The evolution of the internet has ushered in a vibrant industry, where creativity and passion are more rewarding than real-estate.
In this age of the internet, everyone can start a company without ever having to fuss about physical foot traffic. But still, you need a location (home base) for business with the difference being that here, you only set up a virtual store, rather than a physical one.
eCommerce platforms are synonymous with how business owners carve out a segment for themselves in the new digital landscape.
With a tool like Magento, Volusion, or Shopify, sellers can forget the days of restrictive sales on eBay or Amazon in favor of eCommerce sites on which you exercise autonomous control over.
The only problem?
Selling online has become such an accessible, efficient, and cost-effective avenue to generate bucks in the digital arena that everyone craves a piece of the pie.
And that has led to the mushrooming of companies all asserting to have the best online platforms to offer today's small businesses.
Inundated in so much choice, how do you decipher the platform that's right for you? have you ever asked yourself what's the best Ecommerce Platforms?
Choosing the Best eCommerce Platform for Small Business
Choosing the best eCommerce platforms is akin to picking a suitable physical address for your brick-and-mortar store. There are several angles to Consider, from the site's reputation to the kind of support you get launching your business live.
For some companies, the right platform would be one that lets them build something truly creative for their eCommerce store.
For instance, you may prefer an open-source website builder with a user-friendly backend that allows you to experiment with cart abandoned recovery, inventory management, plus different kind of web hosting.
Conversely, if you're a newbie in the world of eCommerce business management, then you want to swop the open-source eCommerce platform for a hosted solution.
These user-friendly tools often make for less problematic for beginners, as they come with various in-built tools like support for unlimited products, drag-and-drop, and free themes.
To sift through some of the top performers contained herein, consider the following are crucial points.
Crucial Considerations for eCommerce Platform
Price/Budget: whereas there's more to an eCommerce platform that price, as a small business, you want to hesitate to take on any extra cost.
Most small businesses need useful eCommerce tools ranking on a relatively low-price tag. Today most open-source & hosted systems come with the free version you can try before committing, good riddance!
Backend & tools: In running your online shop, what kind of support would you need?
The Best Ecommerce Platforms features anything from app management for mobile devices, support of CSS and SKUs, or WordPress plugins. Make sure in your backend; you get to access everything from inventory management to content management.
Scalability: By the fact that your business is small today doesn't mean it will remain so next year.
On the backdrop of the company's growth, you may need support for digital product selling, new payment options, and unlimited products. Ensure that your platform can scale well, with a minimal learning curve.
Speed & performance: If pages do not load fast, businesses get it rough trying to convince folks to buy their products. Regardless of the number of products on your website, the number of plugins, add-ons, and other features you use; just ensure you can sustain the performance of your site with good hosting.
Ease of use: A lot of backend documentation and drag-and-drop builder for editing your eCommerce solution enhances better ease of use. Remember that hosted solutions offer better comfort than their open-source counterparts.
User experience: Much as building your storefront experience needs to be right; equally, you need to consider your customers' experience too. For instance, is your cart easy to use? How easily does it get with your online store navigation? Can you provide a range of payment gateways?
Marketing tools: Is your eCommerce platform able to assist you in drawing new customers and retaining the existing ones? Some tools come with access to stuff like email marketing systems, SEO tools, and abandoned cart recovery. Everything from marketing tools to content management can help enhance the bottom line.
Customizations: Open source-platform offers more customization options than hosted systems. But still, you can change the appearance of your eCommerce store in most cases leveraging themes and real-time editor. Check what customization options exist.
So lets jump right into this list of Best Ecommerce Platforms.
The Top eCommerce Websites Tools for Small Businesses
Now that you know some of the key pointers to look out for in tools for building your eCommerce website, we can audit some of the leading contenders in the market.
Remember that some of these tools make for top-ranked products available for small business owners. But that doesn't necessarily make them the right option for you.
Every business is unique, after all.
WooCommerce
WooCommerce is one eCommerce solution that has drawn the attention of businesses across the globe. Other than being incredibly accessible, easy to use eCommerce solution, WooCommerce runs on the WordPress Content Management System (CMS)- a software running a majority of the internet.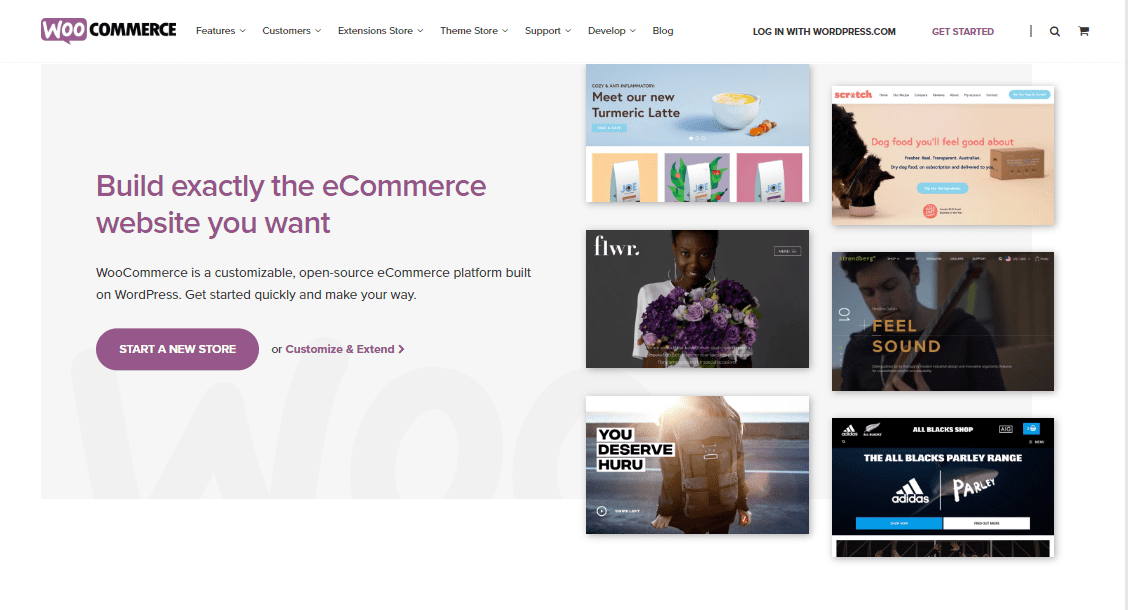 And since WooCommerce runs on top of such a great content management system, it's easy to get assistance and guidance when building your online store on WooCommerce.
Similar to other plugins for your WordPress blog, WooCommerce simply links with your existing WordPress website. The system comes with an array of excellent official extensions as well that you can deploy to ease the running of your website.
For instance, you can select from advanced themes and for your storefront, and tweak with tools for dropshipping as well. And because WooCommerce is open source, it's incredibly flexible, but again, to use it, you'd need a lot more technical know-how.
WooCommerce, unlike plenty of the other eCommerce platforms on the web today, comes with built-in blogging, and the option to take unlimited orders.
Pricing: As an open-source solution, you get yo use WooCommerce free of charge. But you'd have to pay for hosting and payment gateways. Forthe above reasons, we had to feature woocommerce as one of the Ecommerce Platforms.
Merits:
Unlimited products & orders
Runs on WordPress
No limits on how much you can sell
Add all the additional features that you want.
Affordable, though you have to pay for hosting
Broad themes selection and customization options
Volusion
Currently, Volusion qualifies among the better-known options for eCommerce on the market; it's a perfect fit for businesses in search of growth opportunities.
Volusion grants you access to everything you'd need to launch a complete online shop.
Volusion features enable it to provide in-depth data reports. Plus, you find in one place everything you'd need to monitor site performance successfully.
With Volusion, you get the opportunity to grow your business at a pace that suits you, although the pack has some missing features. For instance, the package doesn't come with any blogging tool, a grave setback in honing your marketing strategy with a content management system.
Plus, Volusion is affordable, starting with a $29/month basement price.
Volusion best-suit folks who seek to get creative & explore new opportunities for future scalability It's packed with fantastic tools, including SEO elements that let you attract more customers online.
Volusion is a nice feature to make it into our list of Best Ecommerce Platforms
Pricing: For personal package, price starts from $29/month, but you can knockoff up to 10% by committing to an annual subscription.
Merits:
Access to built-in SEO tools
A lot of payment processing options included Pay Pal & Stripe.
In-depth reporting tools
Unlimited products options
Automated Tax & shipping calculation
Access to custom editing via CSS
Cons:
No blogging options
Limited free themes for selection
Volusion payment available only in the US
Each plan has bandwidth caps.
Shopify
Increasingly, it's getting almost impossible to talk about online and eCommerce sales without mention of Shopify.
The Shopify site provides some of the best sales features in the market, with an array of robust industry-leading tools and a massive market brimming with plugins.
If you intend to sell online in earnest, Shopify's devoted eCommerce platform is sure amongst the best options available.
Shopify is a software that you pay for the use of its Saas model, and it' s-particularly modeled to assist those who seek to build the ultimate online store.
It gives plenty of advanced sales tools linked with alternatives like Squarespace, Wix, and comes with an SSL certificate for security too. You get access to 24/7 customer support, integrated payment processor, and discount codes.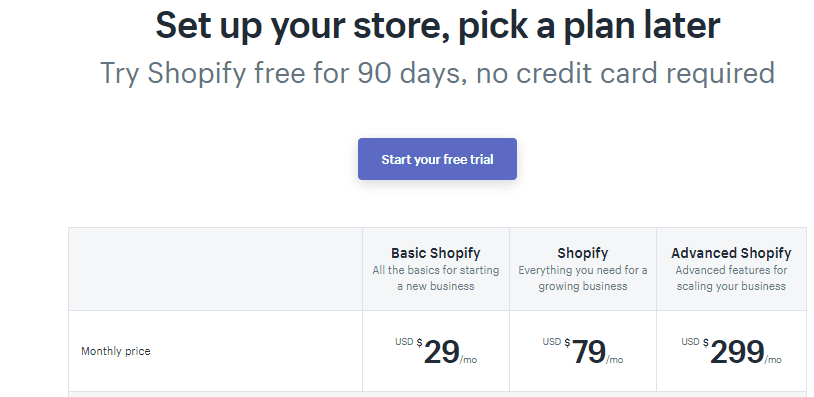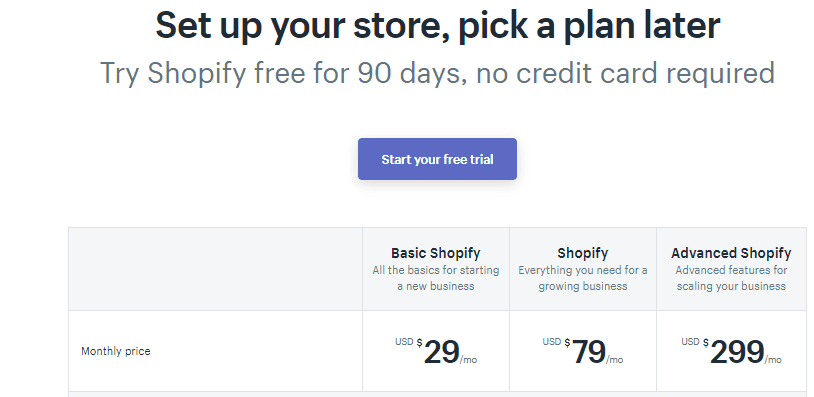 You can also sync your orders and inventory across sales channels such as Amazon and eBay, and there's also the opportunity to access new sales routes, like dropshipping with plugins.
Best Ecommerce Platforms list cant go without mentioning the ecommerce giant like Shopify.
Pricing: A free 90 days trial followed up by $29/month for the Basic Shopify plan. At $299/month, you get access to the Advanced Shopify plan.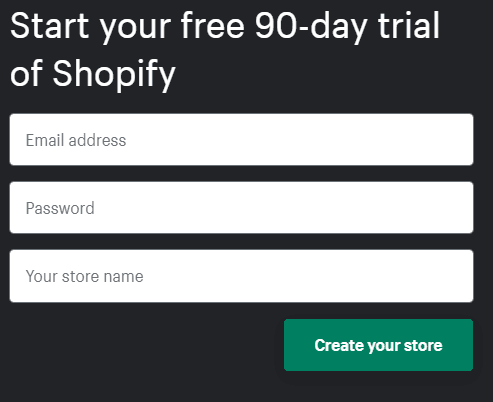 Merits:
Availability of free trial to help get started
An array of themes
Massive amounts of plugins for selection
Unlimited products on all plans
Fantastic for all kinds of business
Integrated payment options
Cons:
Limited blogging platform
Fees can dramatically hit the roof.
SquareSpace
If you want an eCommerce that lets you combine your online selling strategy with your offline sales, then Square Online Store, a site-building technology from Square, is worthwhile checking out.
If you have a Square POS system, you get to build a website for free. And since Weebly powers this store builder, that means you get the same customization limitations that come with Weebly store.
Checkout : Shopify vs Square: Definitive Ecommerce Platform Comparison
Similar to the Weebly store building solution, as a newbie, Square Online Store offers ease of use as you try to launch your online store. And in no time, you can start building your highly professional looking.
And because everything perfectly integrates with your Square POS system, you have access to inventory management too. When anything sells online, it updates your inventory in the backend.
Also, Square employs artificial intelligence designs with its store builder, and in that way, you get exceptional experience without having to dig deep into your pockets.
You find it easy as it can get with adding features and products to your store; plus, with the allowance to get started on a free plan, you've nothing to lose.
Pricing: Free plan gets you started with an option to upgrade to more advanced store experience.
Merits:
Impeccable if you're already using the features of Square ecosystem
Combines online and offline selling
Great for AI design
Easy to use for newbies
Incredible for inventory management tools
Cons:
Limitations in customization options, specifically with the checkout
Limited payment processing options
GoDaddy
For small businesses, it's critical to find an eCommerce and website hosting solution that's easy to use. After all, it's likely you do not have time learning how to use the platform.
Again, small businesses rarely have the additional funding to pay an expert.
Through ADI, GoDaddy simplifies the process of building your shop. What's more, it provides support for more industries than several of its competition. With Artificial Intelligence Design built-in, you can employ GoDaddy to quickly and easily design something that best-suit your specific niche.
But even as you gain in speed, often you lose on creative freedom. GoDaddy has a limited range of features for selection, particularly as regards blogging.
For a comparatively low price, with GoDaddy, you get access to one of the easiest to use platforms in the market today through the service can be a bit lacking in some aspects-especially if you are a small business amid vital growth.
Pricing: This solution gives a one-month free trial, but the prices start from around $19.99/month for an Online Store plan.
Merits:
Artificial Intelligence Design support
Convenient & easy to use
Hosting available
No coding knack needed
Excellent speed to get online fast
Cons:
Lacking blogging tools
Limited advanced tools
Limited creative control
Weebly
Put side by side with some of the other eCommerce platforms we've highlighted so far, Weebly is still comparatively an emerging service for today's small businesses. It's best-suited for building a beginner-friendly website online.
You won't need too much time in your hands or skills to get started. Besides, you get a budget-friendly solution with Weebly thanks to its low starter prices.
Lacking with this platform, however, is the scalability that comes with other eCommerce solutions we've covered so far. You won't sell across channels like Facebook or Etsy.
Furthermore, customizing various aspects of your websites, say the checkout page gets harder.
On the positive side, though, Weebly comes with fantastic extra features like blogging and password-protected pages. And it's an excellent fit for businesses looking to sell a couple of products to stand out online.
With this website builder, you get loads of professional-looking themes to sift through. What's more, since Weebly conducts its transactions via Square, you can rest easy because in place, a payment system you can trust.
Pricing: For primary use, you get a free tier, which you can upgrade to Pro version $12/month, that comes with a free domain plus $100 Google ads credit.
Merits:
Beginner-friendly & easy to use
Plenty of responsive themes for selection
Very affordable
Membership area & team collaboration
Extensive selection for integrated apps to pick from
Cons:
Not ideal for international websites
Limited design options-specifically in the checkout page
Squarespace
Squarespace is a perfect cloud-hosted eCommerce platform for businesses seeking a lot of creative autonomy. The website builder resembles Wix, though it comes packed with advanced features like integrating excellently with social media channels.
If you are looking to build an attractive online business or portfolio, then Squarespace does just that. There are plenty of chic and modern templates for selection, and you can alter your style whenever you wish.
Moreover, you get the privilege of mobile-optimized checkout on zero transaction fees on all plans—a free domain on all annual plans, and access to SSL security.
Sadly, you don't get as many eCommerce features as you'd get with the Shopify platform.
Pricing: With Squarespace, you don't get a free plan; however, the prices start at the $18/month, thus, making it comparatively affordable.
Merits:
Free domain on annual plans
24/7 customer support
Excellent social media integration
Lots of templates for selections
Budget-friendly plans
Cons:
Large transaction fees
No market app
Limited payment gateways-only Pay Pal, Apple Pay, or Stripe
Magento
Magento stands apart as one of the most popular eCommerce platforms for successful and established retailers. Already, some of the prominent brands in the world leverage this tool to link with their clients online.
Magento also supports external sales channels like Amazon. With free-to-download software, Magento excellently delivers a next-level sales experience.
Regrettably, as is the case with most of the open-source solutions, to create something exceptional and impressive with Magento, you'd some developer knack or a professional on your team.
Thankfully, in the Magento landscape, you'll find a community of folks willing to liaise with up and coming businesses to create an excellent website.
Pricing: You get a free software download for Magento, although you'd pay for web hosting solutions along with other premium tools. Besides, the tool has an enterprise version, but it cost $15,000
Merits:
Open source for absolute customization control
Flexibility to customize your platform
Excellent for global sites
A large community of developer to liaise with
Versatile Magento marketplace
Cons:
Need to manage your hosting & payment gateways
Expensive to setup
Difficult to use
Ecwid
Ecwid was-molded as a robust platform for eCommerce selling, meant to support businesses that want to sell their products, any time, anywhere.
You get to create an online account free of charge and also, you get to keep it as long as you wish without paying a dime.
Ecwid is best-suited for businesses in search of something to integrate with their existing business page, social network, or website. You get to sync and manage all the storefronts from the same control panel.
Ecwid is a cloud-based platform, meaning it' s-hosted for you, and therefore, no installation required. Also, you can add Ecwid experience on any site via a plugin, including Wix, Joomla, Drupal, and WordPress sites.
Ecwid features a responsive design best-suited for any device, the option to add your site to multiple blogs, social networks, and websites at once and automatic language detection.
You won't incur setup or transaction fees with Ecwid. Besides, you can pick from a host of various ways to accept payments securely.
Pricing: Small companies getting online can opt for the free forever plan-an an excellent option. Alternatively, you can go for the unlimited plan for $99/month to sell anything you want online.
Merits:
Working with the existing website
Automatic language detection
Availability of free and affordable priced premium plans
Options of selling in different marketplaces and social sites
You get to create a mobile app for the app store.
Availability for secure payment options
Cons:
Expensive integrated payment fees
No phone or live chat support for lower plans
Superficial backend stats
Not a standalone or eCommerce (need for website)
3dcart
3dcart looks to offer today's businesses an all-in-one solution for their software eCommerce. The name "3dcart" symbolically captures the company's 3-dimensional view of eCommerce that includes shoppers, store owners, and search engines.
If you search for a solution that offers all the tools you'd need to build, market, and sell from the supreme online website, then 3dcart got your back. You get to enjoy a wide array of Shopping cart software & eCommerce buy buttons.
What's more, there's an incredible inventory system that lets brands easily monitor their sales and products. As regards flexibility, 3dcart makes for an excellent customization tool, with the leeway to modify your theme whenever you wish.
But, 3dcart experience falls short a couple of things. For instance, though you get support for unlimited products, orders, and bandwidth, you won't get help for any mobile app.
Furthermore, much as 3dcart offers SSL technology, a robust apps selection, and more. It's not very user-friendly.
Pricing: Costs start at a comparatively affordable $19/month. If you look for an assortment of tools at the low price tag, then you have a tool here.
Merits:
A robust solution with plenty of customization
Large cope of features, even on the low plan
Affordable pricing
POS for selling offline
15-day free trial
Unlimited bandwidth & products
Cons:
Difficult to set up for newbies
Free themes feel a little dated.
Relatively small app selection
Cons:
Needs some technical knack
Requires third-party payment gateways
BigCommerce
If you intend to build an online store and sell across multiple platforms and channels, then BigCommerce does just for you. Idyllic for smaller businesses in the process of growing larger.
You get a scalable online selling solution with BigCommerce. But the tool's advanced functionality and features can prove a bit difficult to use.
BigCommerce comes with a massive selection of features to explore. Meaning, the majority of the functionality you'd need already embeds on your software.
Again, you won't have to rely as profoundly on app platforms, as is the case with Shopify. You can sell on eBay, Square, Amazon, Pinterest, Instagram, or Facebook, BigCommerce will help grow your business while maintaining expenses relatively low.
BigCommerce provides extensive sales features for selection; just ensure you've got the know-how or the talent in your team to help you make the most of all the privileges this platform has to offer.
Moreover, you can unleash some incredible SEO tools to help with building your site's online presence via Google.
Pricing: BigCommerce basement pricing plans start at $29.95/month. It's cost-effective considering the number of features that you get at this price.
Merits:
In-built visual merchandising tools
Zero transaction tool
Product reviews & ratings
Unlimited bandwidth, storage, and products
A large pool of free apps for selection
Perfect for selling across multiple channels
Cons:
limited free themes for selection
The pricing gets a bit difficult for comprehension
Not as easy to set up as some tools
Wix
Wix counts amongst the best options for eCommerce stores in terms of performance and value for money.
Even for newbies, Wix lends absolute creative autonomy over your site, thereby delivering a remarkable experience.
Wix eCommerce plans come with loads of features that entail mobile-optimized performance, hundreds of templates, and a drag & drop store builder.
What's more, you get a secure checkout system, an array of payment solutions for selection. Using the store manager makes it possible to create stunning product galleries. Also, on your backend, you've got the platform to calculate shipping and Tax.
Ok, you won't find the most advanced website builder with Wix, it's perfect for newbies getting started.
Cost: If you don't have a problem displaying Wix ads on your site, you get a Free ad version. But using a Basic Business Plan at $23/month, you get to sell products.
Merits:
High-quality themes to help customize your store
Free plan
Huge apps & plugins selections
Lots of discount & coupon options
Customers have multiple secure payment options.
Cons:
No option of exporting your data
As an open-source, it's hard to add extra functions.
Limited eCommerce features
Ekm
Presently, in the eCommerce market, EKM doesn't get as much attention as WooCommerce and Shopify options. But that's not to say EKM isn't warranting your attention.
Founded in 2002, EKM makes for one of the first platforms to appear in the UK. The remarkable solution is akin in style to Shopify and packs exceptional features.
The service specifically best-suit sellers in the UK, though you can use EKM across the globe.
EKM comes as a full all-in-one eCommerce solution that provides all that a small business would require to sell online, and that includes aspects like payment options and domain name.
And if you need a wide range of customization options, you get to select from over 100 themes. All these features from the free domain to SSL certificate, you find them on all plans.
And since the service bases in the UK, its customer support equally locates in the UK, and so in case you operate as an international business, it poses a problem for your brand.
Cost: You get up to 28 days to on the free service from which you update to a premium starting from $32.49/month VAT inclusive.
Merits:
Access to excellent online service
Access to unlimited products
You can add WordPress to your site.
You do not incur a transaction fee
You get amazing features
SSL certificate & free domain
To your account ready, you get a 3-month account manager.
Cons:
Comparatively, the prices cost a bit expensive.
The support bases in the UK
All plans incur VAT
Big Cartel
Big Carte loften gets endorsement as amongst the best tools for more prominent companies seeking to build a profitable online presence. And that emanates from the fact that the Big Cartel requires a significant amount of coding know-how if look to make the most of it.
The pre-built design and theme options come entirely lacking themselves. But that alone ought not to deter exploration of this solution for your small business.
Big Cartel makes for an excellent choice for artists or creative companies-particularly if you happen to have lots of coding experience or know someone who does.
You get a free plan with this solution that lets you start selling free. If you deal in small-scale selling, such as selling one-off pieces of art-then Big Cartel does just that for you.
Much as Big Cartel needs steep knowledge around CSS HTML & JavaScript, still worth consideration owing to its free plan. Remember; you'd get what you pay for; for instance, you don't get blogging tools, limited design support, and no PCI support as well.
Pricing: You have access to the free plan, or upgrade to a paid version of Big Cartel from $9.99/month.
Merits:
Free plan for small businesses
Use of custom domain
Excellent for creative businesses
Quick set up
Handy for selling products digitally & in-person
Cons:
Limited payment options-Stripe or Pay Pal
Limited themes for selection
No PCI compliance, blogging or advanced support
Needs a decent amount of know-how
X-Cart
X-Cart asserts to top the list of the best eCommerce platform for businesses looking for a high-performance open-source solution.
Lets find out why X-cart has made it to the list of Best Ecommerce Platforms in this ecommerce sites review.
Contrasting other paid solutions, X-Cart is exceptional since it only charges a one-off license for the software. Not unless you opt for the X-Cart hosted solution, you won't incur the monthly payment.
Modeled as a pure avenue, convenient to start selling online, the X-Cart solution fits small businesses that look to maintain costs a low as possible. And the free version of the software can help resolve the suitability of X-Cart.
Read Also:
X-Cart also comes with a limited theme selection.
Cost: You have a free plan. However, to get a feel of its pricing plans, you'd first need to create an account.
Merits:
One-off fee
You import/export inventory data
Lots of great editing tools
Excellent for international sales
Effective SEO features
Easy WordPress integration
Cons:
Ambiguous pricing
Full support attracts additional costs.
You'll need your web hosting.
Limited themes selection
Final Word: Best Online Platform for Small Businesses
Whichever way you decide on a website builder to leverage your small business all boils down to your set objectives. The 15 options highlighted in this post all have their exceptional privileges.
For instance, businesses looking for sales-specific elements have their solution with Shopify's specialist functionality. Or the company needs something that offers plenty of creative autonomy, then Volusion is an incredible choice, as is Squarespace.
BigCommerce gives you all the functionality you'd need in the line of multi-channel selling, Square lets you combine online and offline trading, and GoDaddy is easy to use. Moreover, Wix offers value for money.
So. Which eCommerce solution best-suit your small business?
There many factors that we weigh in order to give you a list of Best Ecommerce Platforms. There are other ecommerce platforms out there that didnt make it on this compilation of Best Ecommerce Platforms.
So if you feel there is a worth opponent to the 15 Best Ecommerce Platforms mention on this review kindly comment below.
Small Request
Did you enjoy this post? Kindly share it with your friends. Especially, the ones you believe really need this information.
Sharing this information with others can make a huge difference. You may ask why?
Well, the truth is, my main aim is to provide the best information pertaining to drop shipping for both beginners and experienced dropshippers.
And I plan to continue doing so for as long as I can.
I would also like to thank those who support the work I do through reading my content and sharing.
Trust me, when you take your time and share it will help a lot not only for me, but also other people who may really be in need of this information.
Here are some great suggestions:
Pin it
Share it on another blog
Share on Facebook (Share it with friends and even on Facebook groups)
Tweet it
Stumble it
This will only take a few seconds of your time and I would really appreciate.
I appreciate you a lot. Thank you!
Join my Shopify dropshipping group mastermind and follow my blog to learn more about Shopify tips, dropshipping guides, dropshipping tricks and checklists, and e-commerce in general.
If you enjoyed and learned something from this post, you can get updates from me, free of charge!
I send out email newsletters about new posts published on the blog, tips, and tricks to help you grow your dropshipping business, as well as new YouTube videos to give you more insights about the e-commerce market, and much more.
Click The Image To Join My Facebook Mastermind Group