How To Get Instagram Verified Badge: 100% Free Hack
The Instagram verified badge is a social media status mark that is difficult to secure and cannot be bought, making it valuable and pricey. It is hard to get Instagram verified badge if you don't meet the criteria required, in this guide, we show you the best ways to get verified on Instagram.
According to a February 2020 poll, 73.4 percent of Instagram accounts with more than 1 million followers had a "verified" badge. 22.4 percent of the accounts in the category below that one (those with 100,000 to one million followers) were verified.
According to the study, only 0.87 percent of the accounts with 1,000 to 5,000 followers were verified.
If you run a business Instagram account, you may find, "How can I get my account verified?" Most social media platforms offer some "verification" feature that allows users to acquire that desired checkmark in their profile picture:
But why do you believe you need to have it verified? How difficult is it? This tutorial will answer your questions and better understand how Instagram validates accounts. This will make getting your account verified easier.
Why Should You Become An Instagram Verified User?
According to the data, nearly all Instagram accounts with many followers are verified. For example, if you want to stand out from other Instagram users, you might consider having your profile verified. Verified accounts are more trustworthy than unverified accounts, receiving 33% more engagement on average.
Below are some more reasons why you should get verified:
It puts an end to the use of forged identities. The principal purpose of the verification badge is to make those who claim to hold user accounts truly do. Followers and visitors can see that you are not a fraudulent account by glancing at the blue check displayed on your profile.
It demonstrates your reliability. When Instagram users find that you run the business account for a brand they trust, they naturally regard you more credible and trustworthy. The blue tick is a status symbol that indicates that your account is interesting and worth following to other users.
You will be able to use more advanced functions. Swipe Up is a feature that both businesses and influencers crave. Sharing links in Instagram Stories leads to higher engagement, and sales can benefit your Instagram marketing. Usually, you need at least 10,000 followers to use this feature; however, you can use it even if you don't have that many if your account is verified.
Accounts that have been verified are given more weight in search results. Last but not least, if your Instagram account is verified and users search for content in your category on Instagram, you have a better chance of appearing higher in the search results:
This implies you have a better chance of gaining new followers directly from the Instagram app's search results and increasing brand chance.
You may believe that verifying will be difficult, even though several benefits exist. Does it? Let's take a short look.
Is It Difficult To Obtain An Instagram Account Verified?
The good news is that verifying your Instagram account is relatively simple, as demonstrated in the video below. The bad news is that it's not always easy to obtain acceptance for something.
It's no secret how Instagram accounts are verified. Here are the requirements that your account must meet to follow these rules:
Authentic. You must be a real person, a public personality, or a government-registered business. You will need legitimate business documentation and identification to prove it.
Unique. Multiple accounts under the same person's or business's name are not permitted (unless they are language-specific accounts). Instagram does not monitor accounts associated with popular topics, such as memes or with fans.
Complete. When applying for the job, you must have a public Instagram profile with a bio and a profile image and be active. These are the minimum needs. The phrase "be active" is not defined, although it could suggest that you routinely post, share, or comment on content.
Notable. This is the most challenging part for most people. If you want your account name associated with a "well-known, highly searched for" person or brand, it should stand out. Instagram only looks at accounts that have been mentioned in the press. It does not consider paid or promotional content.
In addition to Instagram's terms of service and community guidelines, these rules apply. If you meet these requirements, you won't need a particular order of followers to be verified. Instead, you can submit a request for verification as soon as you sign up and complete your profile.
How to Obtain the Instagram Verified Badge
1. Begin Your Request.
Open the Instagram app and navigate to the section for your profile. When you're on your profile page, tap the hamburger icon (three lines) in the upper right corner of the screen, and then select Settings.
The "Request Verification" option is near the bottom of the page that provides all of your selections.
Step 2 begins once you tap it once.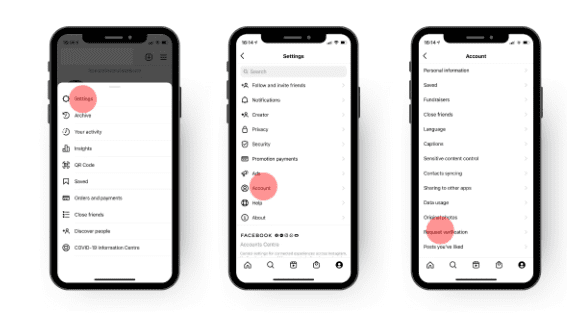 2. Include Information About Your Business.
Following that, you'll need to fill out the information about your business, such as:
Your full name or the name under which you do business. This must be demonstrated by a picture ID card, such as a driver's license, or formal business papers, such as articles of organization or utility bills (for physical stores).
You can demonstrate your significance by selecting the category of your industry and the audience you wish to attract. You will also be required to provide a list of any other or extra brand names by which people may be familiar with you.
Supporting links: Add links that support your argument to show that it makes sense. You can connect them if you have other verified social media accounts here. You can also include links to any news pieces or press releases that feature your brand, your website, and any other non-promotional connections you believe would be helpful.
3. Make What You Can.
After filling out the data on the verification application, click the "Submit" button. Congratulations, your request has been sent.
Instagram will notify you in your account's Activity feed whether or not your application was accepted within the next 30 days. The Instagram verification badge will appear on your profile if this is the case.
How to Obtain Verification
Before you apply for the coveted blue badge on Instagram, keep the following guidelines in mind to improve your chances of acquiring a verified account:
It would be best if you did not buy a badge.
Get some genuine followers to follow you.
Complete your profile
Follow the rules that the community has established.
Get media attention.
A Badge Ought Not to Be Bought.
Instagram users are not permitted to buy, sell, or otherwise give their verified badge to another account. Do not believe any account claiming to be able to obtain you one for free or a "little fee."
Make the most of Instagram. Engage badges, followers, likes, and comments are all terrible things. If you do this, your account may be banned.
Get Some Real Followers To Follow You.
Instagram followers should not be purchased. Instead, pay attention to the growth of your account that occurs on its own. It will be obvious if someone has bought followers since their account will have many followers but little activity.
Most of these "followers" are bots or dormant accounts with no interaction with your brand. Because your posts receive little response, they won't show on explore pages or your audience's newsfeed.
It makes no difference how many followers you have regarding verification. Having active followers, on the other hand, can be beneficial. The following are some ways to increase Instagram followers:
If you utilize the proper hashtags, your profile will be exposed to people interested in certain things.
Publish many types of content on Instagram, such as Instagram Stories, Instagram Reels, and posts to your feed.
Running giveaways
Using every available option to promote user-generated content
Take care of your profile's grid.
Putting together information that can be easily shared
The number of Instagram followers who follow you matters, but they are also a community. Even if your account isn't verified, having real followers will help you make more purchases, drive more traffic to your website, and grow your influence in your field.
Complete Your Profile
Complete profiles are something that all verified accounts have in common. Each has a brief and exciting Instagram bio, a striking profile image, an external link (to either their website or a Linktree, which links to many sites), and very well-crafted Story Highlights.
Without a doubt, every Instagram account has an identical profile layout. But each Instagram bio is unique, which is the short line that shows beneath the user's name. So Instagram users will read your bio to decide whether or not to follow you, making it stand out.
The bios of verified accounts achieve several things, including:
Show off what the brand is all about.
Send out a call to action to get people to take action.
If you want to make a good first impression of your brand and attract people to follow you, your profile should be interesting.
Give your users to contact you.
Create a distinct method of selling your product or service.
Bring to light the most important business information (brand name, category, company overview)
Follow The Rules That The Community Has Set.
As long as your brand is consistent and you only share your content that is fit for public viewing, you probably already follow the community guidelines and can check this box to confirm it.
To be more specific, Instagram has provided a shortened version of the issues addressed by the community guidelines:
We hope that Instagram will continue to be an authentic community where people can share and receive ideas.
Please help us make this community. You should only share the photographs and videos you have taken and always follow the law. Respect other Instagram users. Do not engage with them or publish explicit content.
Instagram can and will punish accounts that do not follow these basic rules, regardless of how big or little the brand is.
Read Also:
Get Media Attention.
Join forces with a public relations (PR) agent or firm, or even a journalist, who may assist you in becoming more well-known in your sector.
For example, some advertising firms use Facebook's Media Partner Support features. With these features, agencies can use a portal to send requests and have their accounts verified.
To be in the news, you must engage in activities people are interested in. What information is interesting to your market can vary depending on the market, but here are some ideas to get you started:
Participate in or organize a local event (for charity or otherwise)
Make a cameo appearance on a podcast or other kind of media.
Make it clear that you will give money to a good cause once or regularly.
Publish a white paper or other unique information relevant to the audience you are attempting to reach.
You can raise brand awareness and gain media access by engaging in activities with which your brand has nothing to do. For example, when the Instagram verification team searches through various news channels to assess whether you are prominent or not, they will find you there.
How to Handle Not Being Verified
Even if you follow all of the above advice, there is still a chance that Instagram will reject your application. So, what happens next? Try some of the following:
Check that the verification requirements are met.
Even if it appears to be an easy assignment, you must have met the four key requirements: it must be real, unique, complete, and important.
Ensure that the business document you utilize demonstrates your legitimacy is the greatest. Close and delete any old accounts you may have made. Compare your profile to other verified users to see how complete it is.
Finally, Google your brand name. The issue may be that you can't find anything else outside your website that discusses it.
Try again, this time with your ponies.
Even if Instagram declines your verification request, there is still a chance that they will accept it. After 30 days, you can make a period. However, be patient because submitting more than one period within 30 days will be denied your request.
Rather than hoping to get approved within the next 30 days without making any adjustments, it would help if you used that time to figure out how to increase your prospects utilizing the tips above.
Use Alternative Means To Demonstrate Your Authenticity.
If you cannot obtain a blue check, there are various ways to demonstrate the legitimacy of your brand.
Instagram suggests linking your account to your official website, Facebook page, YouTube channel, or Twitter account to show that you own your brand. Creating video content that shows you or your team at work behind the scenes is another method to demonstrate the authenticity of your brand.
Giving followers a look at how your business operates daily is an excellent way to develop their trust while still adhering to the rules for using different forms of content to reach a larger audience.
Don't Fuss If You Can't Verified.
Obtaining the Instagram verification mark is a crucial step forward for your company (or any other social media platform, for that matter). It demonstrates that your account is engaging enough to follow and interact with. However, getting the application approved may be difficult despite all of the advantages.
Learning the fundamentals and expanding your brand beyond your small social group is critical. If you follow the suggestions in this article, you will grow closer to fulfilling those requirements.
Even if your account isn't verified, you can still make money on Instagram by driving traffic to your e-commerce site, opening an Instagram shop, becoming an affiliate for a brand, or doing anything else.
Instagram Account Verification FAQs
How can I become verified on Instagram?
Open Instagram and sign in with the account you want to verify.
Tap the image of three horizontal lines.
Choose Settings > Account > Request Verification from the drop-down menu.
Please give the requested information and sign your name below.
After completing the form, you must send it and wait thirty days for a response.
What is the bare minimum of followers required for my Instagram account to verify?
Instagram does not provide the official phone number required for verification. According to one study, accounts with as few as 1,000 followers may be eligible for a verification badge. It was also discovered that the number of followers an account had had a direct account with how probable it was to receive a verification badge.
Is it possible for an individual to have their Instagram account verified?
Instagram verification can be verified by either a person or a small business. The profile must be related to a real person or business and cannot be linked to any other Instagram account that claims to be affiliated with you or your business.
What is the cost of having your Instagram account verified?
You can submit your request for verification for free via the Instagram app. Some companies will verify your identity for a price, but using them is not good.
Small Request
Kindly share it with your friends. Especially the ones you believe need this information. Sign Up Now and Get your first 3 months for only $1 monthly.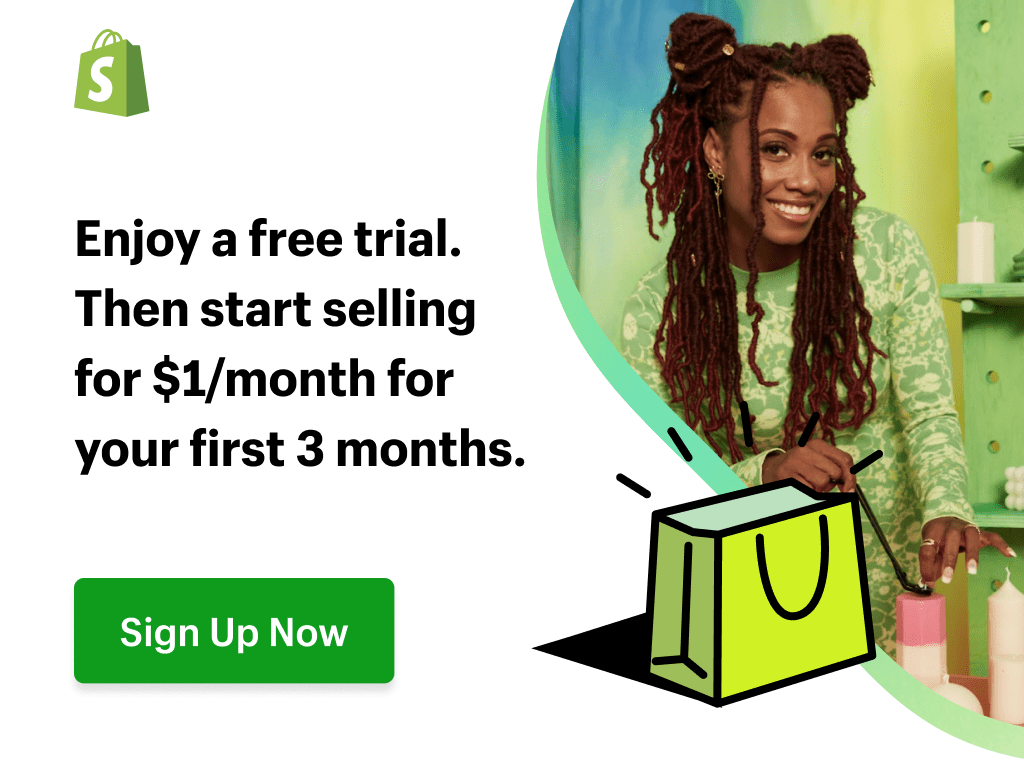 Sharing this information with others can make a huge difference. You may ask why.
Well, the truth is, my main aim is to provide the best information about drop shipping for both beginners and experienced dropshippers.
And I plan to continue doing so for as long as I can.
I would also like to thank those who support my work by reading and sharing my content.
Trust me, when you take your time to share, it will greatly help me and others who need this information.
Here are some great suggestions:
Pin it
Share it on another blog.
Share on Facebook (Share it with friends and even on Facebook groups)
Tweet it
Stumble it
This will only take a few seconds of your time, and I would appreciate it.
I appreciate you a lot. Thank you!
Join my Shopify dropshipping group mastermind and follow my blog to learn more about Shopify tips, dropshipping guides, tricks and checklists, and e-commerce in general.
If you enjoyed and learned something from this post, you can get me updates for free!
I send out email newsletters about new blog posts, tips, and tricks to help you grow your dropshipping business, new YouTube videos to give you more insights into the e-commerce market, and much more.
If you enjoyed reading this, you could also join my Facebook group. Thank you for reading how to make money dropshipping online from the comfort of your home.
Click here to Join My Facebook Mastermind Group