5 Tips To Growing Dropshipping Store And Making Sales
You can stick to improving your store for as long as you want and never run out of ideas. In the final chapter of this series, now that you have made it here, we look at some ways you can keep working hard and make even more money. We'll look at how you can stay on track, have fewer abandoned carts, and create a sharper, more trustworthy store, in shot Growing Dropshipping Store and making more sales.
Many things are constantly changing in data, platforms, and strategies. You'll always have new data, platforms, and strategies to look at and incorporate into your strategy.
You never stop learning, growing, and improving when you start your own business. That is entrepreneurship 101.
There are many things you should know before opening your own store. We've already gone over the fundamentals. So here are some things you can do next.
After a while, you'll be able to look back and evaluate your progress and see where you can improve.
1. Working On The Abandoned Cart Dread
The worst thing is knowing that someone added something to their cart to leave your website and never returning.
In our previous post, there were some pointers on how to get customers who abandoned their shopping carts to return with email marketing. If you use email, you should try it because it can be very effective.
It's not just that you can do these things. So let's look at some ideas to email.
a). Establish why customers abandon their shopping carts
There are a plethora of reasons why people do not complete a purchase. The first step in repairing your website is determining why it isn't working.
Shipping is too expensive, according to Statista, which surveyed the reasons why people don't buy things.
Is there a shipping fee? If you believe that lowering your prices or offering free shipping will encourage more people to buy, consider doing so.
If you have a great deal on shipping, make sure to put it somewhere where people can see it. As an example, you could put it on your homepage and product pages:
Consider the following top reasons, as well as some ideas for how to address them:
Discount code: The discount code does not work, so I cannot obtain the discount. To ensure that your discount codes work, you should test them yourself.
Shipping: It takes a long time for the order to arrive. If so, how do you get the packages to your house? So, if that's the case, there's not much you can do about it. You can, however, look into other suppliers who have warehouses closer to where the majority of your customers live.
Credit card or shipping info: You'll have to re-enter your credit card or shipping address. Make sure that you follow the instructions on your website. Then, make any changes to make the checkout process as quick and simple as possible. For example, customers can save their credit card and email information to complete their transactions faster the next time they buy your store.
b). Make an Exit Offer
Exit offers provide store owners with one more opportunity to persuade a customer to purchase something before leaving their website.
You may have seen exit offers like this on ecommerce stores on the internet in the past:
But how does an "exit offer" happen?
It will appear when a user appears to be about to leave the site. You can use the popup to offer the shopper something important, such as a discount code. This may entice them to stay and use it.
Hack!
You can get an app from Shopify's App Store, such as Wheelio, used in the preceding example. You can then use it. It will function properly in your establishment.
C). Make People Feel Urgency.
Make it more important for customers to get what they want. This can be done in a variety of ways.
One method is to hold a flash sale, where products are discounted for a limited time. For example, if you buy something within the next 24 hours, you can save 25%.
2. Fine-Tuning Your Facebook Ads
Now that you know what's going on let's look at how you can improve your Facebook ad campaigns.
a). Split Test
A split test is a method of running the same ad campaign twice, but with a minor change, to see how well it performs for you.
When you split-test your ads, you can keep improving them to work better for you over time. In the long run, this will save you money on Facebook advertising by making your money go further.
Far too many people make a great Facebook ad campaign and then abandon it.
Please do not do this.
Some businesses have cut their advertising costs by 96 percent by changing the copy on Facebook! So there's no way to know what works best until you try it.
As a bonus, the Facebook Ads Manager makes running a split test a breeze.
You can quickly set up a split test by clicking the "Create split test" toggle. Then, Facebook will split your budget evenly between your two ads and let you know how well they work.
b). Spend a Quarter of Your Marketing Budget on Retargeting.
This is referred to as retargeting. When a customer visits your website but does not buy purchase, you show them an ad for the product they were looking at in your store.
Customers recognize your brand because they've already visited your website, making them more likely to purchase from you.
Spend about a quarter of your total ad budget on "retargeting" to get people to return to your site. If you sell high-priced goods, you should probably spend more of your ad budget on retargeting ads.
Why?
Because customers may need to look at your product a few more times before making a purchase decision.
A product that costs less than $50 is usually enough to make a customer buy it for the first or second time.
A $150 product, on the other hand, may require a few more ads to help a customer decide if they're ready to buy.
c). Keep Your Ads Up-To-Date
It's good to tweak your ads and make new ads regularly.
After all, it's good to practice. It also aids in the stability of low-frequency scores. So even if you do a fantastic job with your advertisement, it will eventually lose effectiveness.
Even so, you don't have to start from scratch every time.
You can keep the same people while changing your offer, image, and copy to appeal to a new group of people. When you start new advertising campaigns, make sure to apply the lessons you learned from split testing.
3. Handling Customer Complaints
Customers are more likely to share their positive or negative experiences with businesses now that the internet and social media have made it easier for them to do so.
People dislike dealing with customer complaints, but they can be an opportunity for you and your company to shine. This is your chance to make a customer who will be happy and loyal for a long time.
Hack!
Some say it costs seven times more to acquire a new customer than to retain an existing one. Others may argue that it costs up to 25 times as much. Customer service is critical, which is why it is so important.
No matter how good your customer service is, there will always be a few people who don't like it. As a result, you must be prepared for them before they occur. So here are some approaches to dealing with them.
a). Remain calm and acknowledge them by listening.
Sometimes your customer needs to blow off some steam. Try not to worry about it. It makes no difference if you believe their ideas are incorrect. No matter how wrong your ideas are, you should listen to them all and not talk over or interrupt them. When listening to a problem, you must be honest with yourself.
b). Acknowledge the Problem
After listening to them, acknowledge the issue and repeat it to them so they know you understand. You can demonstrate to your customer that you listened by paraphrasing and repeating what they said. This shows them that you are aware of the issue and care about them.
c). Apologize and Thank Them
As difficult as it may be at first, putting your pride aside and apologizing to your customer will put you miles ahead of the competition. When you say apologize, you do not necessarily agree with the customer but accept responsibility.
e). You Want to Ask Questions
The best way to start an honest conversation with your customer is to ask them questions they haven't already answered. Start by being courteous, listening, acknowledging, and apologizing to your customers. This will help you gain their trust.
f). Make it Fast!
Find a quick and flexible solution to the problem so that it does not take too long. Don't implement a solution that you can't follow through on. It will only cause you to fall behind. For example, giving the person a small gift card or a discount on future purchases may be helpful. You could also consider giving them the item for free or a better deal on their next purchase.
g). Follow-up a Week Later
Keep in touch a week after your initial interaction.
Another benefit is that it demonstrates your genuine concern. Say sorry again during this follow-up, and make sure you've completed all of their requests. Satisfied customers are more likely to return and tell their friends and family about your excellent customer service.
4. Customer Support Team
When brands grow, a lot of businesses require help.
Many dropshippers have grown so large that they have hired virtual assistants to help them manage their customer service. So how could you not notice that their lives have become much simpler?
Guru-Inspired Insights
They say that customer service is essential because if your company grows and you don't have any customer service staff, your emails will pile up, and you won't be able to handle them. They now sell more than 200 tickets per day, so they have more to sell.
"They switched to a customer service ticket system, so we can now handle many tickets." "At the moment, we have three to four agents working with ticket sales." It would help if you also considered hiring someone to help you with order fulfillment, as this can be a lot of work in a short period.
5. Your Store's Credibility
People are more likely to trust a trustworthy store.
Nobody will buy from you if your store is filthy. So make sure that doesn't happen by following these simple steps!
a). Sweat the small details.
"Take care of the little things, and the big things will take care of themselves," the saying goes.
Check the minor things that make people trust faith in you. The following are some of the most common issues and solutions.
| Common Problem | The Fix |
| --- | --- |
| Pages take a long time to load | Use a Shopify app like PageSpeed Guru to speed up the loading speed of your site. |
| Broken links and pages that don't work are some of them | Go through every page to make sure your site works the way you want. |
| Spelling errors | Use an online tool like Grammarly to see if your text has any mistakes that you can fix. |
| Unprofessional, low-quality images and graphics. | Try to find new photos on the internet (always ask for permission) or take your photos if you can. |
| A messy, cluttered design | Look for a Shopify theme that will make your store look better. |
| Confusing shipping times or prices | Shipping and FAQs should be more clearly stated on your product page and other pages, such as shipping or the product itself. |
These minor things may appear insignificant, but they make people uneasy and lose trust, lowering your conversion rates in the long run.
b). Demonstrate your social proof!
Reviews and testimonials are the best way to demonstrate to others that you have many friends. Then you can include them on your product pages to show that other people like them as well.
eCommerce 101
Cialdini used the term "social proof" when writing about how to be more influential; in simple terms, it refers to the fact that the thoughts and people of others influence people.
If you don't have any reviews, you can try the Shopify app AliExpress Reviews Importer to get some. For example, if you have AliExpress products in your store, it will search for and show AliExpress reviews.
c). Demonstrate Seriousness About Security
A major cybersecurity problem is not something to be trifled with. For example, leaks and hacks can expose personal and financial information, leading to theft, fraud, or even identity theft.
Before people buy from your store, they must be able to trust your website enough to accept the risks that come with doing so.
To put them at ease, use a payment system like Stripe, PayPal, or Apple Pay that is secure and familiar to visitors to your site. Then, make sure to show that you use these well-known brands.
It doesn't take long to enable these logos in the Shopify platform's backend. Instead, go to your theme's "Customize" section and select sections. Then, in the footer, select "Show payment icons."
Before doing anything else, use a Shopify app like McAfee Secure to automatically check your site for malware, viruses, and other potentially harmful things. For example, you can display the McAfee Secure badge to visitors when your site is secure.
d). Display Your Return Policy
When you have a good return policy, your customers don't have to worry about putting their money at risk when they buy from you. What if they don't like it? 🙂 In case it breaks::)
Furthermore, generous and clear return policies instill confidence in customers. We are so confident that you will enjoy our products that you may return them at any time if you do not. We'll even pay for the return shipping.
Do it if you want to make a return policy that you can be proud of! It should then be easily accessible on your website, ensuring that every visitor sees it.
Make sure your return policy is visible on the product and checkout pages. Target Dry appears to do a good job of this on their product pages.
Read Also:
e). Attend Concerns In Detail On a FAQ Page.
Neither you nor your customers should be in any doubt. When they buy something, it should be easy, clear, and comfortable for them at every step. This is where a FAQ page can help.
If you can't put shipping or return information on your product pages because you don't know-how, you can create a page that answers frequently asked questions.
Begin with simple questions, such as:
How long does shipping take?
What if I cancel my order?
Can I change my order?
What is the return policy?
Can I track how my order is being delivered to me?
You can add more questions that your customers ask you to the list over time.
People find it easy to use because it is simple and provides clear answers to common questions they ask when shopping.
The Bottom Line To Growing Dropshipping Store
So, there you have it; our time together is over.
I hope you're feeling great and ready to start making money with your new dropshipping store right now!
Then, of course, I hope you never lose the fire and passion that drives you to learn and grow. So I apologize for sounding cheesy; that's how I'm feeling right now.
There will be days when you can't take it any longer. Days when you want to throw everything away and return to your safe job at the office.
Never give up!
If you have a little patience, persistence, and practice, you can be another dropshipper who makes money while sipping margaritas on a beach in Mexico.
Small Request
Kindly share it with your friends. Especially the ones you believe need this information. Sign Up Now and Get your first 3 months for only $1 monthly.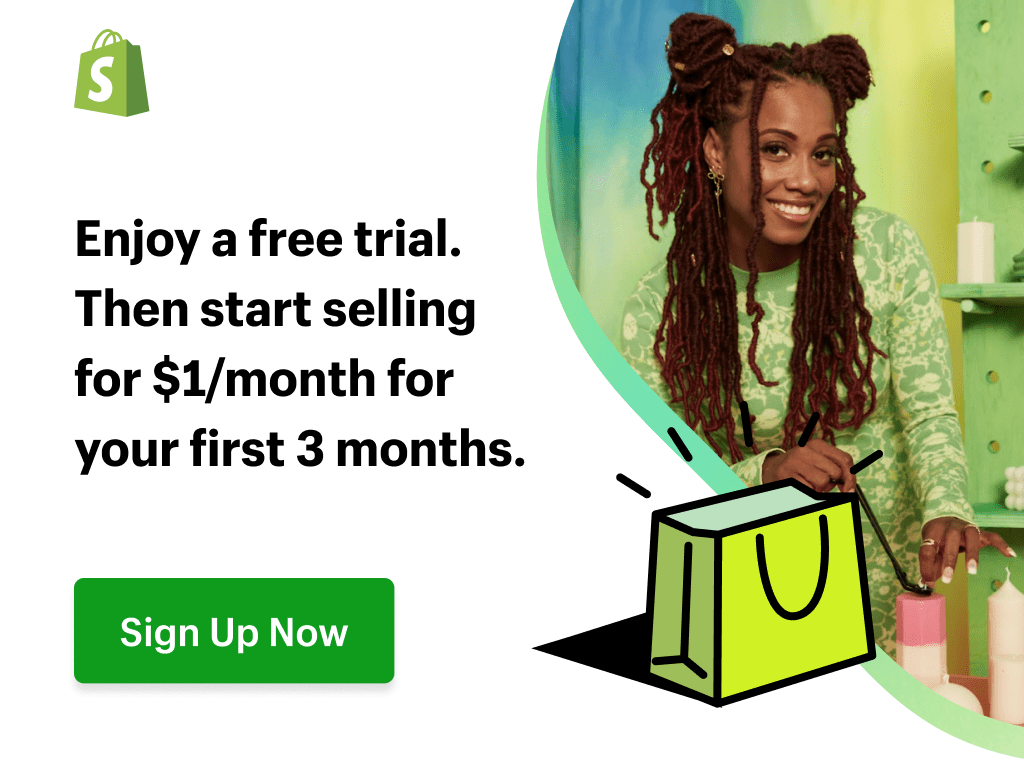 Sharing this information with others can make a huge difference. You may ask why.
Well, the truth is, my main aim is to provide the best information about drop shipping for both beginners and experienced dropshippers.
And I plan to continue doing so for as long as I can.
I would also like to thank those who support my work by reading and sharing my content.
Trust me, when you take your time to share, it will greatly help me and others who need this information.
Here are some great suggestions:
Pin it
Share it on another blog.
Share on Facebook (Share it with friends and even on Facebook groups)
Tweet it
Stumble it
This will only take a few seconds of your time, and I would appreciate it.
I appreciate you a lot. Thank you!
Join my Shopify dropshipping group mastermind and follow my blog to learn more about Shopify tips, dropshipping guides, tricks and checklists, and e-commerce in general.
If you enjoyed and learned something from this post, you can get me updates for free!
I send out email newsletters about new blog posts, tips, and tricks to help you grow your dropshipping business, new YouTube videos to give you more insights into the e-commerce market, and much more.
If you enjoyed reading this, you could also join my Facebook group. Thank you for reading how to make money dropshipping online from the comfort of your home.
Click here to Join My Facebook Mastermind Group