How To Grow Dropshipping With Social Media Marketing
Have you ever asked yourself How to grow Dropshipping with Social Media Marketing?
Social media marketing is more pertinent now than it has ever been. Today, the proportion of people who use social media exceeds 3.5 billion, and the count is steadily ramping up.
So, How do you Grow Dropshipping With Social Media Marketing?
In addition, people spend nearly three hours per day on sites such as Facebook, Instagram, Pinterest, Twitter, and other sites such as YouTube, to name but a few.
Every day, many people shop for products on social media. On Instagram alone, it's estimated that more than 130 million people click on the little shopping bag icon each month to learn more about ecommerce items.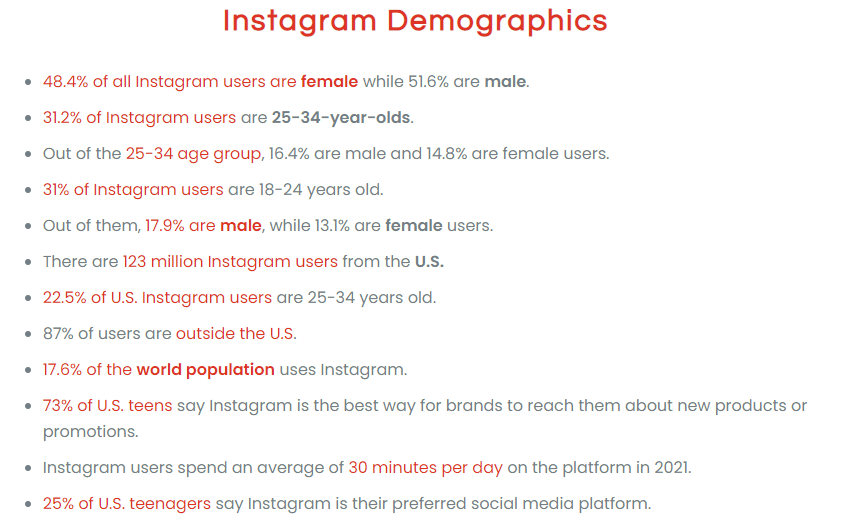 This series will discuss using social media to increase sales and make your store go viral.
We'll look at the top channels; you can gain more followers and get more engagement from your followers. This will help you make more sales, so keep it here.
So, how do you go about posting bloody awesome content?
When considering using social media for marketing, you can divide it into organic content and paid tactics.
| Organic Content | Paid Method |
| --- | --- |
| Organic content refers to non-paid posts such as photos, videos, stories, and comments. It's a catch-all term for all of these things. Your social media marketing strategy should begin with these posts because it will be easier to make sales if you can keep your fans interested naturally. | Things you pay for, such as platform advertising. Influencer marketing is also a good paid strategy. To get the influencer to work with you, you'll have to pay or give them something for free. This chapter is about influencer marketing, which we'll talk about later in the text. |
| | |
Setting goals for your social media strategy is an excellent way to know what you want to accomplish. A typical company's goals may include:
Getting your products out there and making money
To increase your number of followers and engagement, do the following:
Making connections with potential customers and other brands
Raising the profile of your brand.
Let's look at how you can use social media to get your audience to come to your event and meet all of your goals!
Posts People Love
You can create posts that people will enjoy if you follow these guidelines. This is the most important rule to remember when using social media:
People don't want to hear about your products all the time. So if your every post is "Hey, buy this!" you'll lose a lot of followers (or never get any in the first place).
Use social media to get people talking to one another. Show them things that are of interest to them. You must also do this in a fun, creative, and enjoyable manner.
Hack!
Aspects you can post about include:
Respond to frequently asked questions about your company's field or its own.
Show people "behind-the-scenes" content to see how you do what you do.
If you have new blogs, ebooks, or infographics to share, you should talk about them.
It's a good idea to have a "takeover" where one of your employees or an influential person posts their content for a day.
Make a poll or ask for their feedback on your company to get their thoughts.
Users can create a contest or win something if they make a post or story that includes your account's name or a brand-themed hashtag.
If you have a unique brand, post memes that are funny or go viral:
If you have a lifestyle brand, post inspirational quotes on your website.
If you want your content to be exciting and unique, here are some more tips for creating content that your customers will enjoy and want to read.
Keep the same "vibe." For example, if your brand is about high fashion, you should make that all of your images are of high quality and show elegance and sophistication. So don't be afraid to show your brand's quirky or humorous side.
Get information from your friends and enemies that could be very important to you. Look at what's trending by looking at the most popular posts from other brands, your biggest competition, leaders in specific niches, and the most popular accounts on the platform to understand what's going on. Unleash your curious side.
To give you with your project, try using free templates. Check out these Instagram templates.
Keep track of when you should post. The best times to post vary depending on the channel. Now is the time if you don't want to post on Instagram on Sunday but want to post on Facebook.
Stories, Hashtags, and Live Videos
Tips for using hashtags, stories, and live videos in your business.
There are a lot of features that are very popular on a lot of different social media sites that they all share. In this class, we'll cover three critical topics: hashtags, stories, and live videos!
Check out this rundown of what you can do and where you can do it.
| Feature | Platforms |
| --- | --- |
| Hashtags | Facebook, Instagram, Twitter, Pinterest, LinkedIn, TikTok, Snapchat |
| Stories | Facebook, Instagram, and Snapchat are the most popular social media platforms. |
| Live Video | Facebook, Instagram, Twitter, and TikTok must have at least 1,000 followers |
Pointers on using these features, which you can use on any platform.
Hashtags
If you look around these days, you'll notice hashtags all over the place. They indicate to users that your posts are what they want to read.
On the other hand, many users only look for content based on its hashtags. So, if your posts are about a trending topic, include the hashtag.
Do the following to get your message in front of people who are interested in what you have to say:
You can search directly in the search bar of the content you're viewing to find popular hashtags and see what other people post on social media.
When you look at a #summer hashtag on Instagram, you can see the best and most recent posts and similar hashtags. You can use these hashtags as suggestions.
You can also use excellent tools like Keyword Tool to generate hashtags based on your keywords. These tools provide some results for free, but if you want to get the most out of them, you must pay for more detailed lists.
It's also good to create a branded hashtag and use it frequently. For example, your company may have its hashtag. It could also be an event, campaign, or promotion.
Stories
People are fascinated by stories. These are more exciting and fleeting ways to share with your followers because they disappear after 24 hours and aren't visible on your main profile or feed. The psychology behind this is spot-on: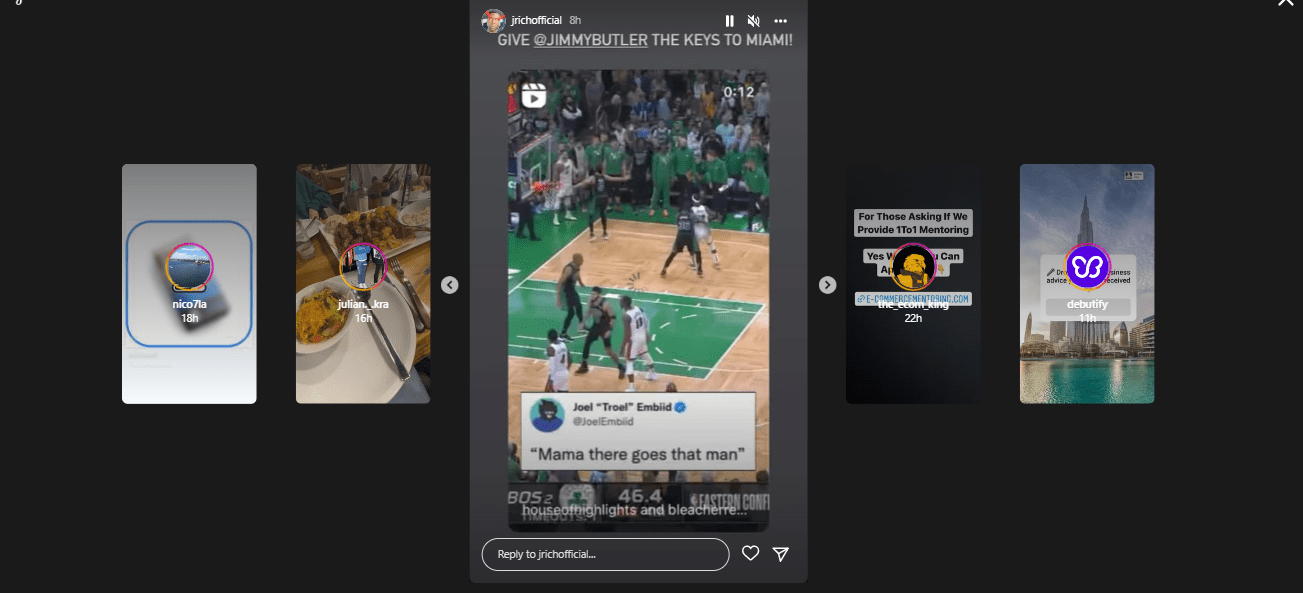 Stories are an excellent addition to your social media marketing strategy. These posts can cover more timely or in-depth topics or do not fit into a regular post.
Every Monday, Chubbies, a men's clothing brand, has a fun "Welcome Back from the Weekender" series. It's a collection of stories that make for a fun news show.
Live Video
A "live broadcast" is a video that allows you to interact with your audience. For example, if you're at an event or discussing something timely, this feature is handy.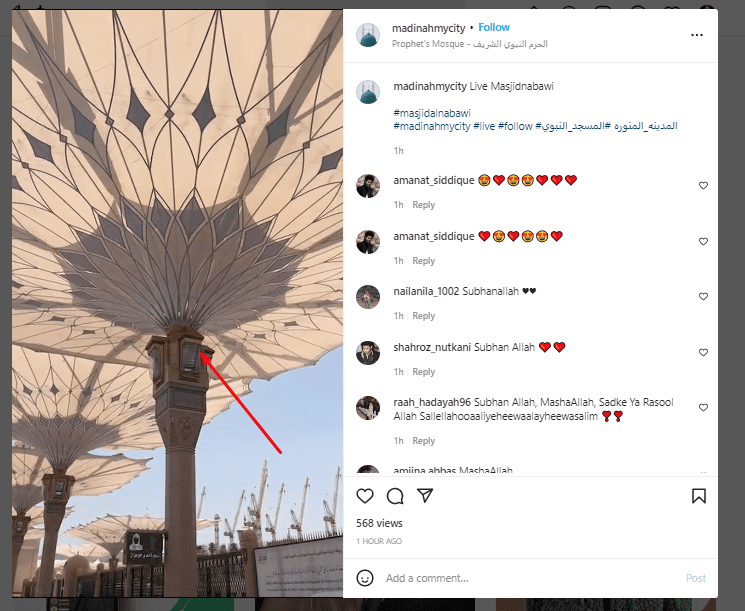 It's also great for having real-time chats with your followers, such as explaining something or asking for their opinion on something.
The slick thing about live videos is that your story will show first in your followers' story feeds on some platforms, such as Instagram, and when they open the app, they'll receive a notification that it's happening.
Hack!
Share sure you don't use the live video feature unless you have something truly good or interesting to show. People may not want to use your website if they believe you are wasting their time.
Now, let's talk about Facebook and Instagram, two of the most popular and powerful platforms: Facebook.
Facebook.
Facebook is by far the most popular social media site right now. In the United States, two out of every three adults use it. That was quick.
Part of the reason it's a good idea to boost your dropshipping business is that it will help you make more money. Furthermore, if you want to run ads on Facebook or Instagram in the future, you must first create a Facebook business page! So let's get started!
Hack!
The next chapter in this series will show Facebook Ads, so stay tuned. So don't let go of your boots.
Creating a Facebook Business Page
Before you start marketing on Facebook, make sure you have a business page. You'll need this to use business features like Facebook ads and Facebook Insights, so make sure you have it. Furthermore, your audience will regard it as more credible than if you had not done it.
This is how you do it.
1. To start, click this link or go to "facebook.com/pages/creation" while logged into your own Facebook account. "Get started" is under "Business or brand." To begin, simply click on it.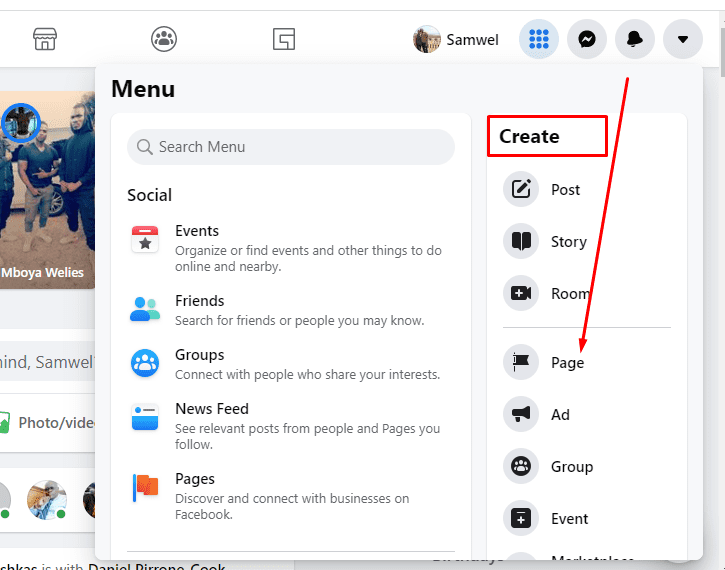 2. Give your page a name and a category before clicking "Next." You can select "e-commerce website" if you wish. It does not have to be only one type of business. You can select from various things such as health and beauty, home decor, electronics, a women's clothing store, and much more. Fill in the blanks with whatever works best for your niche and products – you can do this with up to three different things. Then click "Go."

3. Finally, upload a profile picture. The logo is used in almost all businesses. You can, however, use a photo or icon that represents your brand. Upload a square image so it doesn't look strange.
4. Next, include a cover picture. Make a banner similar to the one in Chapter 6. You can also use a graphic that advertises an event that you want people to know about, such as the one you made in Chapter 6.
It should be 1200 x 628 pixels in size and should be eye-catching and consistent with the rest of your store's design.
You can use Canva to choose from existing Facebook cover templates which you can edit and customize to fit your brand.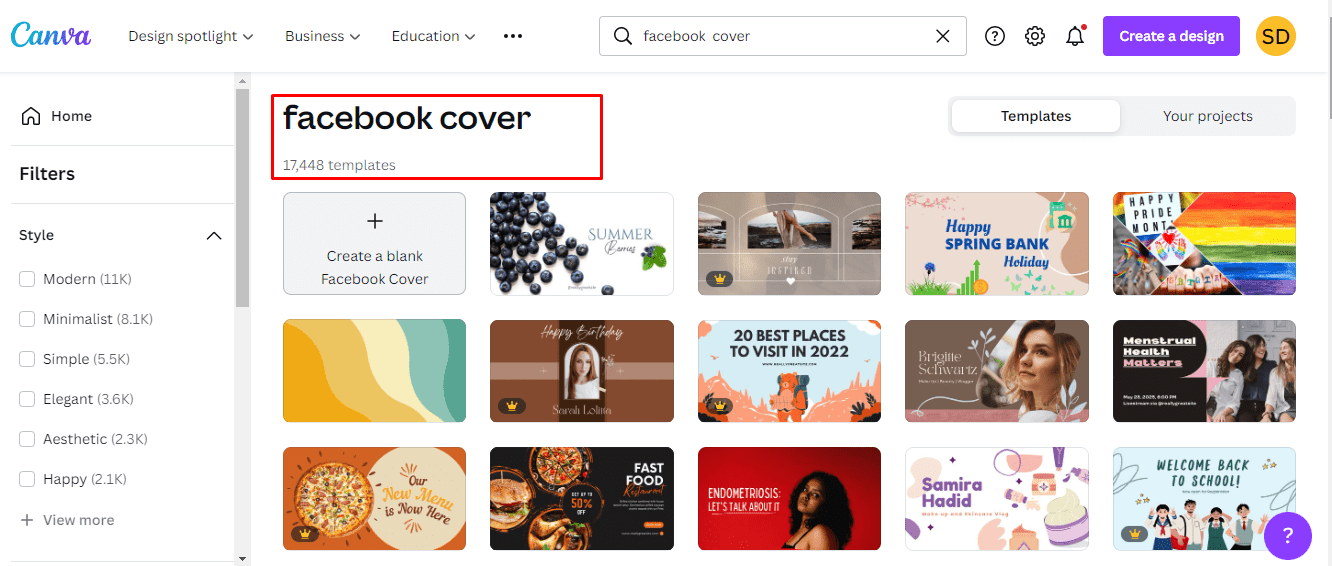 5. Fill out your information in the "About" section on the left sidebar. This includes your website address, company story, and contact information.
Facebook Insights
You can use Facebook Insights to see how well you're doing.
Most social media platforms allow you to look at essential statistics about your account for free. These statistics include the number of people who follow you, the number of people who view your posts, and how engaged they are with them. Then you can keep the party going by making more posts like this one.

You can also see demographic information about your followers, which will help you find your ideal customers on each platform. These built-in analytics tools are a good place to start when you're just getting started.
Click the "Insights" tab on your Facebook business page.
Instagram
An In-Depth Explore of Instagram
Instagram isn't far behind Facebook in second place. The same thing can happen with Instagram, which can be an excellent tool for businesses looking to boost their reputation and sales.
The majority of people said Instagram helps them decide whether or not to buy something.
Creating an Instagram Business Profile
With Facebook, you'll want to have a business profile rather than just a personal one, as you do now. A good business profile can be made by adhering to simple rules. So let's look at how to make one and improve on one that already exists.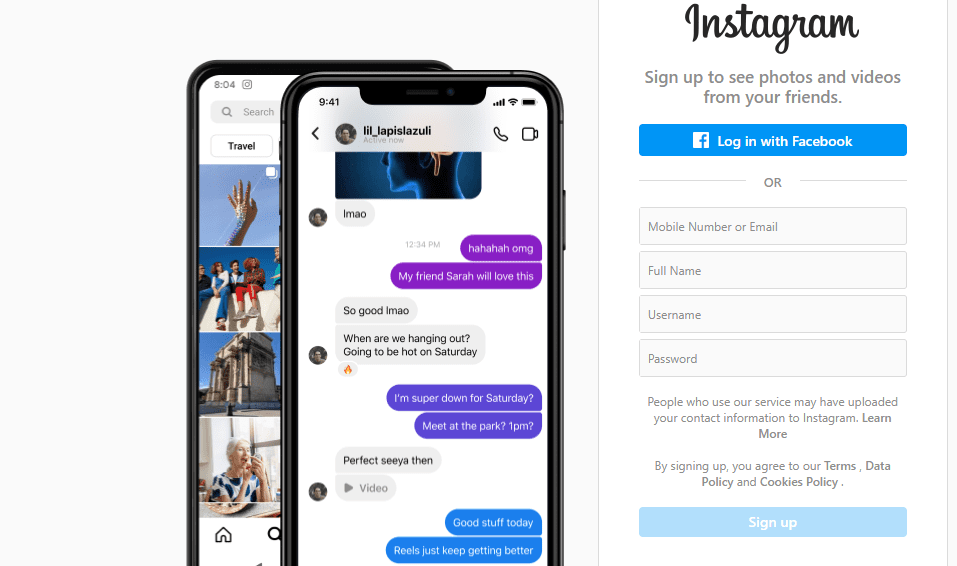 There are two things you'll need to create an Instagram business profile:
1. To begin, you'll need an Instagram account. This could be your personal profile or a new one created just for this purpose. Creating a new Twitter handle with your company's name is the most effective way to increase your brand's visibility. That isn't the only reason it looks better and is more professional.
Handle: The name you give yourself on a social media site is your handle. It is common for handles to start with the @ symbol. On Instagram, the handle can be @Dropshippings, and on Twitter, the handle is @dropshippingit.
2. The second thing you must have is a Facebook business page for your company. Instagram requires this for security reasons. We just talked about everything you'll need for this step if you're lucky. 🙂
Without further ado, here's how to make an Instagram business account.
1. The first thing is to sign in to Instagram on your phone using your company's handle. Instagram doesn't allow you to do this on a computer, which is unfortunate.
2. Next, click on the circle icon in the bottom right corner. When the screen enlarges to fit it, a new menu will show. Look for "Settings" in the bottom right corner and click on it.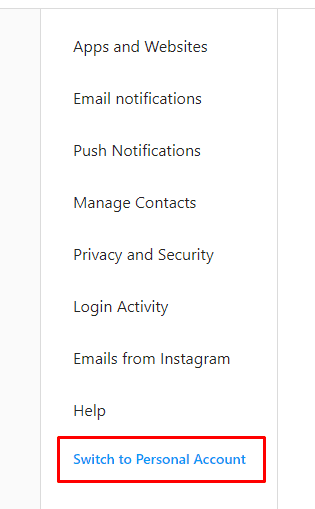 3. Scroll down on the Settings page until you see "Switch to Business Profile."
4. Instagram will then ask you to link the account to your Facebook business page and update your account's public contact information, such as your email address, phone number, and location. If you put private information on your profile, it will be visible to everyone, so don't do it.
We've compiled some guidelines for creating a good Instagram profile.
Stay true to your brand. You should use the same colors, fonts, and images on your website and other social media accounts.
Rather than taking a picture, use your logo as a photo. This is the quickest way for users to recognize you. You can use a branded image or icon, but make sure it matches the rest of your brand.
Make your bio about your customers, not your business, because that's what your customers care about. Describe what you plan to do to help people. Your brand's account could state, "It's a big world. We share amazing travel photos." Look at it through the eyes of our photographers.
Use your bio to promote yourself: Do you have a lot of big sales, events, or content going on right now? In your bio, include a link to it.
• Include a link in your bio so that users can look at your site. Users should get a sense of your brand from your bio, whether through a link to your website, a specific sale or piece of content, or a content aggregation tool like Linktr.ee or LikeShop.
Put emojis in your bio. Brands commonly use emojis. They are a quick way to convey a message in a picture because they're also very fashionable!
Instagram Insights
Instagram Insights can help you keep track of how well you're doing on the platform.
Like Facebook and many other social media sites, Instagram offers free analytics. You can see how well your profile and posts are performing. When you look at this, you will notice three different types of analytics:
Activity. You can see how people act when they are in your profile.
Content. It measures how well your posts, ads, and stories perform for you.
Audience. How many people are visiting your website, and what they are looking for
Tap the three-line icon at the top right of your screen, then select "Insights."
Alternative Platforms
You should also consider other platforms.
While you should try Facebook and Instagram, there are many other platforms you can use to help your business.
Let's look at five of the most popular to see who came in second. Then, we'll go over some of the major points and distinguishing features of each and some things to look at when making your decision.
Pinterest
Features
Users create "pins," which are collections of photos and links they find interesting while browsing the web.
People in the United States between 30 and 49, mostly women, are frequent users.
322 million active users per month
Takeaway
Because of how Pinterest works, it's an excellent way to drive traffic to your website. Make sure that your target audience is the right fit for your message.
Read Also:
Snapchat
Features
An app that allows you to share photos and videos with others and send messages.
All posts, or "snaps," vanish as soon as users see them.
90% of users are between the ages of 13 and 24.
Every day, 190 million users use the service, but not all.
Twitter
Features
Each tweet must be 280 characters or less, so don't post more than that.
A fast platform where tweets come and go quickly, similar to Twitter
Many people use it for customer service.
62% of users are between the ages of 35 and 65.
330 million users are active every month.
Takeaway
This is an excellent way to communicate with your clients if you want to provide excellent customer service. However, if you're going to make a big difference in marketing, you'll need to tweet several times per day. Consider how much money and time you have.
TikTok
Features
Only a video-sharing app with a 15-second video limit.
There are a lot of chances for it to go viral, but it can be boring marketing content.
41% of Gen Z users are between the ages of 16 and 25, a sizable number for people of this age group.
There are 500 million users worldwide.
Takeaway
This is a good choice if your target audience is Gen Zers and you have a young, fun brand. You must also be able to create entertaining and engaging videos, as this is the only type of content that can do so. Learn how to run ad marketing.
LinkedIn
Features
This is primarily for users who work in the field; every profile is a résumé or CV.
As of this writing, Facebook is the second most popular B2B platform (business-to-business).
It is used by 37% of US adults between 30 and 49.
More than 660 million users are using the service in more than 200 countries.
Takeaway
As long as you have an extensive network of contacts in the business audience, this could be a good option for people who are older and more interested in business. Otherwise, it's probably not worth your time or money.
How to Gain More Followers
Many people wish to increase their lot of followers. But how do you go about doing so? Because it takes a lot of time and effort, as well as a lot of great content, the answer is:
Hack!
Ensure that you do not buy fake followers for your social media accounts! Three of the most important reasons are as follows:
Having fake followers is pointless because you will not make any sales from them.
In this case, your brand will look bad. There will be little engagement, which will make poorly on your company.
It will make you appear untrustworthy to potential customers and partners.
It is against the codes of many platforms to do this.
Here are some things you can do right now to get more people to follow you on all of your social media pages.
1. Team up with another business to host a giveaway.
The first step is to host a contest with another business.
As a business, collaborating with another company to host a contest or giveaway can be highly beneficial to your followers.
In this case, the idea is that if both of you have similar customer profiles, you'll both get high-quality followers. So, during the competition, you want everyone who enters to like the post and then do something else, such as follow or tag it.
2. share the content of other businesses.
This is a clever and natural way to spread the word about your company. They're likely to reciprocate when you mention another business and promote their content in your post.
They may sometimes follow you back and promote your business as well. Followers who follow them will look at your profile.
It's easy to share things with your friends when using social media sites like Facebook and Twitter. For example, there is a "Share" button on Facebook and a "Retweet" button on Twitter.
For Instagram, you'll have to do it yourself or use an app like Repost for Instagram to repost things you see. This app is great for Instagram because it allows you to select the accounts you want to repost from quickly. As a bonus, it tags the original profile with a link to the content, giving it credit for writing it.
3. Shoutouts: Give and Receive
In this case, you ask a business in your industry if they would like to post your content, and in turn, they post yours. There are numerous methods for giving and receiving shoutouts.
Canon allows photographers who own a Canon camera to use the hashtag #MyCanonStory in the description of their Instagram post to give it a shoutout.
Canon frequently shares some of the best work from photographers they have assisted. Consider the following scenario:
The company also posts about itself on Facebook.
4. Captivate Your Audience
Write captions that will entice your audience to read them further.
Many people check their Instagram feed when they're bored or looking for something to do, and they do it frequently. By writing interesting captions, you can entice this audience to follow you and become your fans.
The goal is to tell the story or show the emotions informing your video or image.
If the video or image is focused on a product, the caption is a good place to summarize what you're discussing in the text. It's important to explain why people should care, and don't forget to include a few emojis.
Posts with strong captions can help bring your company's personality and story to life. The most important thing is to write copy that makes people want to read it and believe they need what you're offering.
Influencer Marketing
Influencer marketing is a strategy for increasing sales.
Influencer marketing is one of the most popular ways to get your business noticed on social media.
Influencer marketing: Influencer marketing is a type of social media marketing in which you work with people who have many followers on social media. They then promote your brand or products on their own social media pages. Influencers are individuals or groups who have many followers, usually in a specific field, and many people who like what they do.
Influencers have a loyal following of people who enjoy what they write about. It doesn't matter what industry you work in: they're there. Influencers can also be found on pretty much any social media platform you can think of.
Finding the right influencers for your brand can help you gain more followers, increase sales, and make your brand more well-known. The most important thing is to find the right people to assist you.
When Audible's Canada branch collaborated with tech influencer @thetrendytechie, they came up with this idea. She discusses what she's listening to and why she likes Audible in her post posts in her typical style.
A foodie example: Mrs. T's Pierogi's collaborated with Ashley C. of @spoonfulflavor to make new content. It was Ashley's idea. She created a recipe for the pierogies and shared it with her followers, encouraging them to make it for themselves.
Users on Instagram who want home-cooked meals but don't have a lot of time to spend in the kitchen will be able to find the post with the hashtag #easyweeknightmeal.
It's also common for brands to work with influencers to help each other spread the word about contests and giveaways.
Recipe creators on the FeedFeed website collaborated with DeLallo Foods and furniture company Room & Board to host a contest with prizes from all three companies.
Furthermore, the image used to promote the contest is an actual entry: a beautiful and tasty appetizer spread created by one of The Feed Feed's followers.
Hack!
That concludes our introduction to social media marketing. The following chapter will discuss using Facebook Ads to take your social media strategy to the next level.
Small Request
Kindly share it with your friends. Especially the ones you believe need this information. Sign Up Now and Get your first 3 months for only $1 monthly.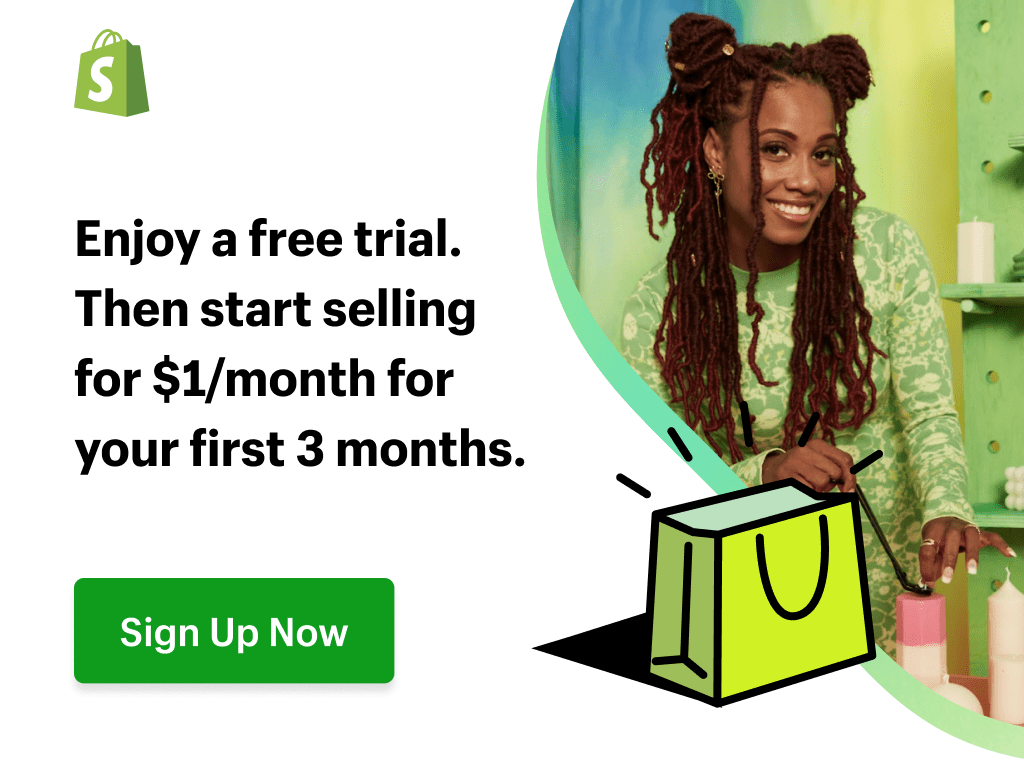 Sharing this information with others can make a huge difference. You may ask why.
Well, the truth is, my main aim is to provide the best information about drop shipping for both beginners and experienced dropshippers.
And I plan to continue doing so for as long as I can.
I would also like to thank those who support my work by reading and sharing my content.
Trust me, when you take your time to share, it will greatly help me and others who need this information.
Here are some great suggestions:
Pin it
Share it on another blog.
Share on Facebook (Share it with friends and even on Facebook groups)
Tweet it
Stumble it
This will only take a few seconds of your time, and I would appreciate it.
I appreciate you a lot. Thank you!
Join my Shopify dropshipping group mastermind and follow my blog to learn more about Shopify tips, dropshipping guides, tricks and checklists, and e-commerce in general.
If you enjoyed and learned something from this post, you can get me updates for free!
I send out email newsletters about new blog posts, tips, and tricks to help you grow your dropshipping business, new YouTube videos to give you more insights into the e-commerce market, and much more.
If you enjoyed reading this, you could also join my Facebook group. Thank you for reading how to make money dropshipping online from the comfort of your home.
Click here to Join My Facebook Mastermind Group