How Much Does Shopify Cost Monthly (Hidden Charges)
In this comprehensive guide to understanding the cost of Shopify monthly, we delve into the intricacies of Shopify's pricing structure and explore the benefits and drawbacks of each plan. For example, asking how much does Shopify Cost monthly On the face of it is an invitation to shed light on the value that Shopify offers businesses.
As an entrepreneur or business owner, it's crucial to understand the financial investment required to leverage Shopify's powerful e-commerce capabilities and take your online store to new heights.
Amidst the challenging economic climate, it's comforting to know that Shopify continues to deliver exceptional value to its users. Furthermore, Shopify has continually enhanced its platform by introducing many remarkable features, solidifying its position as one of the top e-commerce builders. Through extensive research, we have found that Shopify remains a top contender in the market and shows continuous improvement year after year.
Table of Contents
Understanding Shopify's Pricing Tiers
Shopify's pricing tiers are strategically designed to meet businesses' diverse needs at different growth stages. With each tier offering a distinct range of features and capabilities, Shopify empowers you to select the plan that perfectly aligns with your requirements.
At the heart of Shopify's pricing lies three distinct plans, each catering to different business needs. From the basic option, starting at $29 per month, to the advanced package, priced at $299 per month, Shopify offers a range of features and functionalities that can propel your online business forward.
While Shopify may not be the most budget-friendly option in the market, its value-for-money score has experienced a significant boost, increasing from 3 out of 5 to an impressive 3.6 out of 5 in recent research.
By carefully considering Shopify's pricing plans and weighing them against your business requirements, you can make an informed decision that aligns with your budget and goals.
While Shopify may not be the cheapest option, its comprehensive suite of tools, design flexibility, and sales channels make it an excellent investment for businesses seeking to thrive in the competitive online landscape.
Now, let's delve into the various plans available, unveiling their associated costs and shedding light on the unparalleled value they deliver to your e-commerce venture.
How Much Is Shopify?
Which Shopify plan is best for me, and notably, how much does Shopify cost monthly? Well, those make for too many questions in a sentence.
It's consequential to bear in mind that all of Shopify's plans come with a transaction fee unless you choose to utilize Shopify Payments, which reduces the fee for the Starter plan to 5% and eliminates transaction fees for the Basic Shopify, Shopify, and Advanced plans. Now, let's get to a comprehensive breakdown of the features and benefits offered by each plan.
Shopify Starter ($5/month)
Introducing the Shopify Starter plan, tailored specifically for entrepreneurs who leverage social media platforms like Instagram and Facebook for their sales. Priced at an affordable $5 per month, this plan provides a mobile-optimized experience without a publicly visible website. Instead, you'll have a store link to share on your social media pages, enabling seamless transactions.
Despite its budget-friendly cost, the Shopify Starter plan offers essential features such as unlimited product listings, blogging capabilities, free SSL certificates, and abandoned cart recovery. However, it's important to note that this plan does have certain limitations.
Discount codes and reporting functionalities are not included, and you will incur the highest credit card transaction fee among all the plans, amounting to 5% plus 30¢ USD online. Embrace the convenience of social media selling with the Shopify Starter plan while being mindful of its restricted scope and transaction costs.
Shopify Lite
Price: $9 per month
Shopify Lite is an affordable solution for businesses selling products through their existing website or social media platforms. With a monthly price of $9, it offers an entry-level option to seamlessly incorporate a "Buy" button into your website or Facebook page. Despite not providing a full online store, Shopify Lite grants access to Shopify's payment system, enabling you to accept credit card payments easily.
Basic Shopify
Price: $29 per month
Basic Shopify is the perfect choice for individuals and small businesses embarking online. It is priced at $29 per month and provides a comprehensive online store with unlimited product listings. This plan offers a range of essential features, including the ability to create discount codes, manually process orders, and access 24/7 customer support. However, higher-tier plans for more advanced functionalities, such as gift cards and professional reporting, may be worth considering.
Shopify
Price: $79 per month
The Shopify standard plan, priced at $79 per month, is tailored for growing businesses seeking enhanced functionality. Alongside all the features available in the Basic Shopify plan, this tier offers professional reports, gift cards, and abandoned cart recovery. These advanced capabilities prove invaluable for optimizing sales strategies and enhancing the overall customer experience, empowering businesses to thrive in their respective industries. With the standard Shopify plan, you can leverage industry-leading tools to propel your online business forward and stay ahead of the competition.
Advanced Shopify
Price: $299 per month
The Advanced Shopify plan, priced at $299 per month, is specifically designed for businesses that operate at a larger scale and require more sophisticated features. With this plan, you can access advanced reporting capabilities, third-party calculated shipping rates, and the ability to create custom reports.
This lets you analyze your business data effectively and make data-driven decisions to drive growth. Furthermore, the plan includes all the essential features like an SSL certificate, blogging, cart recovery, discount codes, and gift cards.
What sets the Advanced Shopify plan apart is its incredibly low transaction fees. Online transactions incur a fee of 2.4% + 30¢, while in-person transactions have a fee of just 2.4% + 0¢. This cost structure makes it an ideal choice for companies generating monthly revenues exceeding $10,000.
While the price may seem steep, businesses utilizing this plan often offset or even exceed the monthly cost through the benefits of additional features and lower fees. By investing in the Advanced Shopify plan, businesses can position themselves for success, capitalize on advanced analytics, and stay ahead in the competitive market.
Shopify Plus
Price: $2000/month
Shopify Plus is the ultimate solution for corporate stores and enterprises seeking top-of-the-range support and extensive features. While the advertised starting price for Shopify Plus is $2000 per month, obtaining this plan involves contacting the Shopify sales team to discuss your specific requirements.
Beyond the apparent difference in monthly pricing, several other factors must be considered. One notable aspect is the credit card rates, which experience a slight decrease as you opt for higher-tier plans. Additionally, transaction fees significantly reduce as you move up to more advanced plans, allowing you to optimize your profit margins. Another valuable feature exclusive to Shopify Plus is the abandoned cart recovery tool, a highly effective resource in automatically maximizing your profits.
By embracing Shopify Plus, businesses gain access to unrivaled support and an expansive range of features tailored to the complex needs of corporate stores and enterprises. This plan empowers businesses to elevate their operations, enhance customer experiences, and achieve unparalleled success in their industry.
Shopify Pricing vs. Competitor Pricing
When comparing Shopify's pricing to its competitors, one might assume it would be significantly more expensive due to its robust features for growing or larger stores. While it is true that Shopify's cheapest paid plans tend to fall on the higher end of the price spectrum, it's vital to consider the overall value and accessibility offered.
When you examine the best value plan rather than just the cheapest, you'll notice that the monthly cost difference is relatively small. Shopify maintains a competitive entry price point, albeit slightly higher than its competitors by a few monthly dollars.
The financial angle: One of Shopify's closest rivals, BigCommerce, offers a starting price that is remarkably close to Shopify's (with just a $0.95 difference). However, there are financial pros and cons to consider with each platform. Shopify imposes an additional 2% transaction fee for purchases made outside of Shopify Payments, whereas BigCommerce doesn't charge any extra fees. On the other hand, BigCommerce's cheapest plan doesn't include abandoned cart recovery, a feature offered by Shopify.
Businesses can make an informed decision based on their specific needs and priorities by carefully evaluating the pricing structures and included features. Despite slight variations in cost and offerings, Shopify and its competitors provide valuable solutions for ecommerce success.
Additional Shopify Costs and Expenses
In addition to the Shopify monthly subscription fees that grant access to Shopify's core functionalities, it's crucial to consider the potential for additional costs and expenses based on your specific business requirements. Here are some common expenses that you should take into account:
#1. Transaction Fees
When running an online store on Shopify, transaction fees are incurred for each sale made through your store. The specific fees are applied depending on the pricing plan you have chosen. However, utilizing Shopify Payments as your preferred payment gateway can eliminate or reduce these transaction fees, providing a cost-saving advantage for your business. By leveraging Shopify Payments, you can optimize your profit margins and allocate your resources more efficiently, ultimately contributing to the overall success of your ecommerce venture.
#2. App Expenses
When building your online store on Shopify, you have access to a vast array of apps and plugins that can enhance and customize your website's functionality. While some apps are free, many come with a monthly or one-time cost. It's crucial to assess these apps' value to your business and consider their associated expenses when planning your online store's budget.
With over 6,000 apps in the Shopify App Store, you can find solutions to increase conversions, improve search engine rankings, boost social media sales, and streamline product fulfillment processes. These apps provide valuable tools for optimizing your store's performance and achieving your business goals.
It's important to note that the pricing plans offered by Shopify do not cover the costs of these third-party applications. However, depending on your store's needs, you may employ several apps, which can result in a cumulative monthly expense.
It is not uncommon for a Shopify store to allocate hundreds of dollars each month toward app expenses. Therefore, it is prudent to consider these fees when evaluating the overall cost of using Shopify for your business.
By carefully selecting and evaluating the apps you integrate into your online store, you can ensure that the expenses incurred are justified by their value and functionality. This strategic approach allows you to optimize your store's performance while effectively managing your budget.
#3. Theme Purchases
To personalize the aesthetics of your online store, Shopify offers an array of free and premium themes. While free themes are readily available, investing in a premium theme between $100 and $200 can contribute to creating a distinctive and professional brand identity.
While not essential, premium themes provide a broader range of customization options, enabling you to curate a visually captivating and tailored storefront that resonates with your target audience.
By carefully selecting a theme that aligns with your brand's values and objectives, you can elevate the visual appeal of your Shopify store, enhancing its overall user experience and reinforcing your brand's credibility.
#4. Shopify Email Hosting
With Shopify's email hosting feature, you can manage your email campaigns directly on the platform without coding. In addition, you can easily create visually appealing and engaging emails to connect with your audience by utilizing email hosting templates.
The best part is that Shopify offers a generous allocation of up to 10,000 free monthly emails. However, should you exceed this limit, the cost is only $1 per 1,000 additional emails sent, which is a worthwhile investment considering the value it brings to your marketing efforts.
If you need more clarification about email hosting, you can explore its capabilities during Shopify's free trial to experience its benefits firsthand. First, streamline your email marketing and enjoy the convenience of integrated email hosting with Shopify.
#5. Shopify Domain Name
Secure your online presence with Shopify's domain registration service. For a competitive price starting at $14, you can register a domain name for a 1-year duration. Take advantage of Shopify's user-friendly domain name page, where you can effortlessly search for your business name and check its availability. Securing a domain that aligns with your brand is crucial for establishing credibility and attracting customers.
Explore the possibilities and ensure your chosen domain reflects your business identity. Don't miss out on the opportunity to claim your unique online address through Shopify's convenient domain registration service.
#6. Shopify Payments
When processing payments on Shopify, you can use a third-party provider or Shopify Payments, which is Shopify's payment solution. Using Shopify Payments eliminates the need for additional transaction fees charged by third-party providers, allowing you to avoid extra costs.
Here's the breakdown of transaction fees based on the Shopify pricing plans:
– Shopify Basic: No additional transaction fees
– Shopify (regular): No additional transaction fees
– Shopify Advanced: No additional transaction fees
– Shopify Plus: No additional transaction fees
By using Shopify Payments, you can bypass the 2%, 1%, 0.5%, or 0.15% transaction fees associated with Shopify Basic, Shopify (regular), Shopify Advanced, and Shopify Plus, respectively, when using third-party payment providers.
Choosing Shopify Payments as your payment solution makes financial sense as it helps you avoid these transaction fees, ultimately saving you money and simplifying the payment process for your online store.
Considering this aspect when evaluating the overall cost of using Shopify and deciding which payment option best suits your business needs is necessary.
#7. Credit Card Fees
When processing credit card payments, fees are an inevitable part of the transaction process. Whether you're conducting online or offline purchases, credit card fees are charged by payment providers such as Shopify Payments or third-party gateways. These fees are calculated as a percentage of each transaction and can vary depending on your chosen plan and payment provider.
It's important to note that credit card fees are separate from transaction fees and are paid by merchants to their payment processors. These fees cover collecting payment from customers' banks and depositing it into the merchant's bank. While merchants have no control over these fees, they do have control over the credit card rates by selecting their preferred payment processor.
For online transactions using Shopify Payments, the credit card rates/payment processing rates are as follows:
– Basic Shopify Plan: 2.9% + 30 cents per transaction
– Shopify Plan: 2.6% + 30 cents per transaction
– Advanced Shopify Plan: 2.4% + 30 cents per transaction
It's worth noting that these fees are applied per transaction, not per item sold. So if a customer purchases multiple items in a single transaction, the 30-cent fee is only charged once, not on each item.
Please remember that if you use Shopify's Point-of-Sale system for in-person sales, the credit card rates are lower than those for online transactions.
Shopify Payments is available in various countries, including the United States, Puerto Rico, Canada, the United Kingdom, Ireland, Australia, New Zealand, Hong Kong, and Singapore. However, if your business is located outside these countries, Shopify integrates with over 70 payment processors, allowing you to accept credit cards from customers worldwide.
Understanding the credit card fees associated with your chosen payment processor is essential for effectively managing your business's financials. By evaluating these fees alongside your sales volume, you get a better feel of How Much Shopify Cost Monthly; and make informed decisions about payment processing options that align with your needs and budget.
#8. Shopify Point of Sale (POS)
All Shopify plans, excluding Shopify Starter, offer comprehensive point of sale (POS) features to support your business operations.
If you have a physical store and need to accept in-person payments, consider adding Shopify POS Pro to your plan. This upgrade allows you to enhance your in-store checkout experience and access advanced POS capabilities.
Shopify POS Pro is available monthly at $89 per location, providing additional functionalities tailored for brick-and-mortar retail.
With Shopify POS Pro, you can streamline your in-person sales processes, manage inventory effectively, and provide seamless customer service at your physical storefront.
By incorporating Shopify POS Pro into your Shopify plan, you can optimize your business operations and offer a seamless online and offline shopping experience.
You want to factor in the additional cost of Shopify POS Pro when considering the question 'How Much Does Shopify Cost Monthly?' as an aspect of the overall expenses of using Shopify for your business.
Read Also:
#9. Shopify Discounts
Shopify offers enticing discount options for those who subscribe to their annual plans. In addition, you can take advantage of significant savings by opting for the annual or biennial payment cycle.
While these discounts aren't prominently displayed on the pricing page, they can make a notable difference:
– Enjoy a 10% discount when you pay for one year in advance.
– Unlock an impressive 20% discount when you pay for two years in advance.
Imagine selecting the regular Shopify plan priced at $79 per month. By paying for an entire year upfront, you'll save $94.80. If you decide to commit for two years, your savings will increase to $186.60.
These discounts allow you to reduce your overall expenses and allocate those savings toward other aspects of your business growth.
Take advantage of these cost-saving options and maximize your budget while enjoying annual plans' robust features and additional benefits.
Securing Shopify discounts is a smart move that allows you to optimize your investment in this leading ecommerce platform.
Final Thoughts
In conclusion, understanding the pricing structure of Shopify is crucial for businesses seeking to establish a successful online presence. In addition, you can align your budget and requirements with the appropriate features and support by exploring the various pricing plans, such as Basic Shopify, Shopify, and Advanced Shopify.
Shopify Plus offers enterprise-level solutions for larger businesses, with discounts of up to 20% when paying annually or biennially—Additionally, factor in additional costs such as transaction fees and app expenses when calculating your investment. Shopify's user-friendly interface, extensive app store, and seamless payment integration make creating a robust online store easy.
Visit Shopify's website and explore the pricing options to determine how much Shopify costs monthly to empower your business and embrace the opportunities of ecommerce.
FAQs:
1. How much does Shopify cost monthly?
– Shopify offers various pricing plans to cater to different business needs. The Basic plan starts at $29 per month, the Advanced plan starts at $79 per month, and the Enterprise plan requires contacting their sales team for pricing information. Prices are subject to change, so check Shopify's official website for the most up-to-date pricing details.
2. What are the different Shopify pricing plans?
– Shopify offers different pricing plans to accommodate businesses of all sizes, including Basic Shopify, Shopify, and Advanced Shopify. Each plan offers varying levels of functionality and support, allowing businesses to choose the one that aligns with their requirements and budget.
3. How much does Shopify cost monthly in USD?
– Shopify's pricing is available in USD; the monthly cost depends on your chosen plan. The Basic plan starts at $29 per month, the Shopify plan starts at $79 per month, and the Advanced plan starts at $299 per month. It is consequential to review the pricing details on Shopify's website to get an accurate estimate.
4. What is the Shopify Starter Plan?
– The Shopify Starter Plan is not included among the main pricing plans offered by Shopify. Instead, Shopify offers a Lite plan, an entry-level option for businesses that want to sell products on an existing website or through social media channels. The Shopify Lite plan costs $9 monthly and provides features like accepting credit card payments, selling on Facebook, and accessing basic Shopify functionalities.
5. What is Shopify Lite?
– Shopify Lite is a plan offered by Shopify that provides a simplified version of their ecommerce platform for businesses that want to sell products without having a full-fledged online store. It costs $9 monthly and suits businesses looking for a lightweight solution to start selling online.
6. What is Shopify Payments?
   – Shopify Payments is a built-in payment gateway that allows merchants to accept credit card payments directly on their online store. It integrates with the Shopify platform and provides competitive transaction rates, simplifying the payment process for merchants and customers.
Small Request
Kindly share it with your friends. Especially the ones you believe need this information. Sign Up Now and Get your first 3 months for only $1 monthly.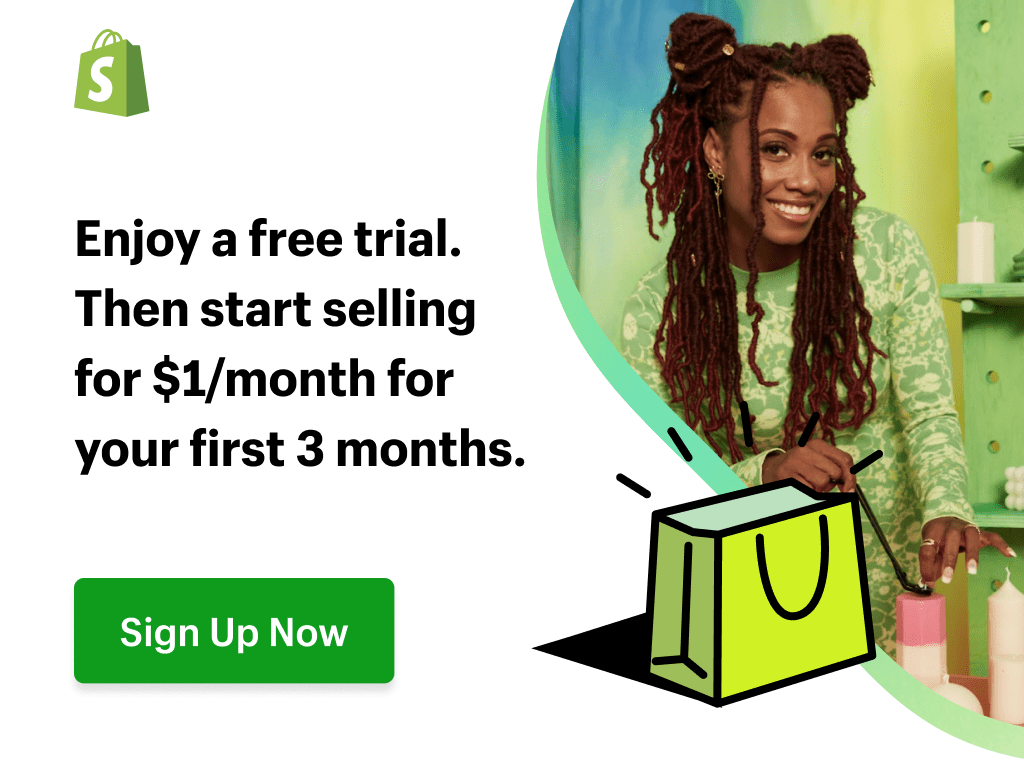 Sharing this information with others can make a huge difference. You may ask why.
Well, the truth is, my main aim is to provide the best information about drop shipping for both beginners and experienced dropshippers.
And I plan to continue doing so for as long as I can.
I would also like to thank those who support my work by reading and sharing my content.
Trust me, when you take your time and share, it will greatly help me and others needing this information.
Here are some great suggestions:
Pin it
Share it on another blog.
Share on Facebook (Share it with friends and even on Facebook groups)
Tweet it
Stumble it
This will only take a few seconds of your time, and I would appreciate it.
I appreciate you a lot. Thank you!
Join my Shopify dropshipping group mastermind and follow my blog to learn more about Shopify tips, dropshipping guides, tricks and checklists, and e-commerce in general.
If you enjoyed and learned something from this post, you can get me updates for free!
I send out email newsletters about new posts published on the blog, tips and tricks to help you grow your dropshipping business, new YouTube videos to give you more insights about the e-commerce market, and much more.
If you enjoyed reading this, you could as well join my Facebook group. Thank you for reading how to make money dropshipping online from the comfort of your home.
Click here to Join My Facebook Mastermind Group