How To Add Free Shipping On Shopify: (Zones & Rates) 
"I don't want free shipping," says no customer ever. This statement encapsulates the undeniable appeal of offering free shipping to customers. In e-commerce, free shipping has proven an effective strategy for increasing conversions and soaring sales.
As a Shopify seller, your ultimate goal is to profit, but that's not to say you should skimp on providing value to your shoppers. Paying for shipping is a major pain point for customers, and as a Shopify store owner, it's wise to give them what they want.
Knowing how to add free shipping on Shopify store is crucial, but even more important is using it as a strategic tool to enhance your business. The key is to strike a balance where you can offer free shipping while ensuring profitability.
In this article, we will delve into the free shipping space, explore why it's essential to offer it, and how you can leverage it as a potent strategy to boost conversions and drive more sales. So, without further ado, let's uncover the secrets of successful free shipping implementation on Shopify.
Table of Contents
Why Add Free Shipping on Shopify?
Why should you add free shipping on Shopify? The answer is simple: it ensures that customers complete their orders and choose to buy from you. However, the benefits don't end there. Free shipping also builds customer loyalty, encouraging repeat purchases and fostering long-term relationships.
It's worth looking at your competitors and other brands in your niche to see if they offer free shipping. Even if they don't, you'll gain a competitive edge by providing this enticing perk. Offering free shipping on Shopify creates a win-win situation for merchants and customers. Customers feel more comfortable making purchases when they don't have to worry about shipping costs, leading to increased sales and higher average order values.
The benefits of offering free shipping are clear—it attracts customers and boosts order values. However, it's important to note that free shipping does come at a cost to your business, especially for perishable or specialty products.
Read Also: What Is ePacket Delivery? Everything You Need To Know
Shipping costs can quickly accumulate, but that doesn't mean you should always pass them on to your customers. Offering free shipping has numerous advantages, including:
– Reducing Cart Abandonment
Statistics show that high shipping fees are a principal reason for cart abandonment. By offering free shipping, you can overcome this hurdle and increase the chances of customers completing their purchases.
According to the Baymard Institute, high shipping fees are the top reason for cart abandonment. A report by Annex Cloud reveals that up to 61% of shoppers are likely to abandon their carts if they encounter additional costs like shipping fees. LinkedIn data indicates that around 50% of online shoppers in North America are inclined to abandon their carts if they encounter shipping costs.
These statistics emphasize the importance of offering free shipping to customers. It serves as a powerful incentive that entices shoppers to make a purchase.
– Standing Out from the Competition
In a market dominated by players like Amazon, offering free shipping can be a significant differentiating factor for your store. Providing free shipping becomes a compelling selling point if your competitors charge for shipping.
– Increasing Average Order Value
Studies have shown that customers are more inclined to add items to their Cart when they know shipping costs are eliminated. While you may not generate revenue directly from shipping, offering free shipping often results in an overall increase in sales.
– Building Customer Loyalty
When you offer free shipping on all orders, you create a sense of trust and convenience. Customers are more likely to return to your store for future purchases, knowing they can enjoy free shipping without additional costs.
– Encouraging Email Sign-ups
By offering free shipping for orders above a certain threshold, you can motivate customers to provide their email addresses to take advantage of the discount. This lets you connect with customers, inform them about new products and special offers, and foster long-term engagement.
If you opt not to offer free shipping, many shoppers will continue searching until they find a store that offers the desired product with free shipping. By incorporating free shipping into your Shopify strategy, you can attract customers, boost sales, and cultivate lasting relationships with your audience.
How to Add Free Shipping on Shopify
Adding free shipping to your Shopify store is a straightforward process that can be done through your account settings. When it comes to setting up free shipping rates on your Shopify site, you have three options to choose from:
– Offer Free Shipping on Everything
– Offer Free Shipping by Weight
–       Offer Free Shipping at the Cost 
Offer free shipping on everything, by cost or weight, to attract customers and remove barriers to purchase. Set minimum order values, encourage customers to add more items, and offer free shipping based on weight ranges for items with different shipping requirements.
Adding free shipping to your Shopify store is a breeze regardless of your chosen method. As a Shopify merchant, you can determine the shipping rates for your products and define the criteria that make customers eligible for free shipping. Your shipping rates will typically fall into the "Free Shipping Rates."
Here's a step-by-step guide on how to add free shipping on Shopify:
Log into your Shopify admin dashboard.
Go to "Settings" and select "Shipping and Delivery."
Choose the shipping profile you want to modify and click "Manage rates."
To add a free shipping rate, click "Add rate" where you want to implement it.
Set the "Price" field to 0, indicating that there will be no charge for shipping.
Click "Done" and then "Save" to apply the changes.
Follow these simple steps and effortlessly incorporate free shipping into your Shopify store. However, consider your business needs and customer preferences when choosing the best free shipping strategy. Free shipping effectively enhances the shopping experience, attracts customers, and drives more sales on your Shopify store.
Sign up for a free trial and enjoy 3 months of Shopify for $1/month on Select Plans.
Other Ways To Set Up Free Shipping Store
In addition to the methods mentioned earlier, there are a few more ways to add free shipping on Shopify store. These options provide additional flexibility and customization to meet your business's and customers' unique needs. Let's explore these alternatives:
– Store Pickup and Local Delivery Apps
By utilizing store pickup and local delivery apps available for Shopify, you can offer customers the convenience of online ordering with the option to pick up their purchases in-store or have them delivered locally. This saves time, reduces shipping costs, and gives customers more flexibility in choosing their preferred delivery method. These apps often have features like scheduling pickups and tracking progress, enhancing the overall customer experience.
– Flat Shipping Rates
Implementing flat shipping rates streamlines the checkout process for your customers. You can set different flat shipping rates for various regions or countries. For example, you can establish specific shipping rates for deliveries to Canada, the United States, Europe, or any other part of the world. This approach simplifies the shipping cost calculation and ensures a consistent customer experience across different locations.
– Calculated Shipping Rates
Shopify allows you to integrate third-party shipping calculators into your store. By leveraging these calculators, shipping rates are automatically calculated at the checkout based on the specifics of the order, such as weight, dimensions, and destination. This ensures that customers are charged the accurate shipping cost, eliminating any guesswork or potential under- or overcharging.
– Cost-Based Rates
You can set up free shipping based on a minimum order value, known as cost-based rates. For instance, customers must spend over $100 to qualify for free shipping. This approach is commonly used on e-commerce sites and can incentivize customers to add more items to their Cart to meet the free shipping threshold. To implement this:
Visit your Shopify admin and go to Settings > Shipping and Delivery.
Click on the shipping profile where you want to add a free shipping rate and select Manage.
For each shipping zone where you want to offer free shipping, click Add Rate.
Enter a name for the Rate, such as "Free shipping."
Set the price field to 0.
Click Add Conditions and choose Based on order price.
Specify the minimum order price.
Click Done and Save.
– Weight-Based Rates
If you want to provide free shipping for orders that exceed a certain weight, you can use weight-based rates. For example, you can offer free shipping for orders over 30kg. This option is beneficial for stores that sell products with varying weights. By displaying the accurate shipping rate based on the weight of the order, customers will clearly understand the shipping costs. To set up free shipping based on weight:
Go to Shopify admin > Settings > Shipping and Delivery.
Select the shipping profile where you want to add a free shipping rate and click Manage.
Click Add Rate for each shipping zone where you want to offer free shipping.
Provide a name for the Rate, such as "Free shipping."
Set the price field to 0.
Click Add Conditions and choose Based on item weight.
Specify the maximum weight for free shipping.
Click Done and Save.
By exploring these additional methods, you get to tailor your free shipping strategy to align with your specific business requirements and enhance the shopping experience for your customers. Implementing free shipping on your Shopify store boosts customer satisfaction and increases the likelihood of higher conversions and repeat buys.
Factors to Consider Before Offering Free Shipping
Before deciding to offer free shipping on your Shopify store, there are several factors you should consider. By keenly analyzing these factors, you decide whether offering free shipping aligns with your business goals and financial capabilities.
It's essential to weigh the benefits against the potential drawbacks and find a balance that maximizes customer satisfaction while ensuring the sustainability of your business. Take a look at the following considerations:
How much profit are you willing to lose?
When you provide free shipping, you absorb the cost of shipping the products yourself. This could reduce your profit margin. Before committing to free shipping, consider how much profit you will sacrifice.
Is the free shipping offer worth the hassle?
Evaluate whether offering free shipping improves your conversion rate and other vital metrics. Analyze the impact it has on your sales and customer satisfaction. This will help you gauge the effectiveness of free shipping as a strategy for your Shopify store.
What transaction fees do you pay?
Factor in any additional fees associated with your transactions, such as duty and credit card fees. These expenses can impact your profit margins when offering free shipping.
How much are carriers charging for shipments?
Consider the costs charged by carriers for shipping your products to customers. Offering free shipping doesn't eliminate these costs, so it's necessary to understand how they will affect your overall expenses.
Apps to Promote Free Shipping On Shopify Stores
Various apps are available to promote and drive sales to enhance the visibility and effectiveness of your free shipping offers on your Shopify store. These apps can help you create engaging messaging and visuals to capture customers' attention. Here are some popular apps you can consider:
Privy: Privy offers a range of features, including pop-up templates, product announcements, and abandoned cart recovery. It also allows you to set up a free shipping bar that boosts average order value and cart conversion rates.
Hextom Free Shipping Bar: This app enables you to create a bar displaying messages like "You're only $5 away from free shipping," motivating shoppers to spend more to unlock free shipping perks.
Essential Free Shipping Bar: With this free tool, you can add a shipping progress bar to your Shopify site, encouraging customers to reach the free shipping threshold.
Free Shipping Bar + Cart Goals: This app provides an announcement bar to promote free shipping and engage users. It also allows you to set cart goals and customize the offering without coding.
Free Shipping Goal Bar: Increase order values with this app that displays free shipping goal bars in real-time. It offers vibrant animated designs that can be tailored to suit your store.
Flair product badges + labels: Flair simplifies the process of highlighting free shipping by adding eye-catching product badges. These badges, such as "Free Shipping," help attract customers' attention and boost conversion rates.
All-in-One Discount on Cart: Although primarily a discount promotion app, this tool enables you to add custom messages to shoppers' carts, such as "Spend $10 more to get free shipping." It can be used effectively to incentivize customers to increase their order value.
With these apps, you can effectively promote your free shipping offers and encourage customers to take advantage of them. Remember to choose the app that best fits your needs and aligns with your store's branding and objectives.
Read Also:
Bonus Tips
Offering free shipping on Shopify can boost sales and keep customers returning for more. However, it is essential to consider the actual shipping cost before offering it to customers. Factor in all fees to calculate the shipping cost, and consider factors such as package dimensions, product weight, delivery zone, delivery time, insurance value, and customs and duties.
Optimize packaging by reducing packaging volume, vacuum-sealing products, and choosing the smallest box possible. Try using different delivery service providers to get more shipping discounts. Shopify Fulfillment services can help cover free shipping costs while maximizing margins. Offering free shipping on a promotional basis can boost sales, especially during the holiday season.
Limiting free shipping offers to specific countries or regions can protect margins long-term. Enable free shipping for certain products and order values, setting requirements for customers to qualify for free shipping.
Offer free and express shipping options, allowing customers to choose between fast shipping or low costs. Offer holiday and event-based promotions during these periods to boost sales.
Lastly, make free shipping an exclusive offer on Shopify, allowing customers to choose which items they want to receive. This approach allows Shopify to focus on customer needs and preferences, ultimately boosting sales and customer loyalty.
Final Word
The decision to add free shipping on Shopify is strategic and requires careful consideration. While it can be a practical tool to boost sales and customer loyalty, it's consequential to calculate the shipping cost and assess its impact on your profit margins.
Shopify's shipping settings allow you to set free shipping thresholds, customize rates, and offer targeted promotions to specific customer groups. Optimize packaging, explore delivery service providers, and utilize Shopify's Fulfillment services to maximize margins.
In conclusion, focus on providing value and convenience while driving sales. Implementing free shipping strategically differentiates your store, attracts more customers, and increases conversions. Employ free shipping as a marketing tool while considering financial implications. Max the advantage of free shipping to unlock new opportunities and cultivate customer loyalty in ecommerce.
FAQs
Q: How do I give free shipping to certain customers on Shopify?
To provide free shipping to specific Shopify customers, create customer groups or use tags to differentiate them. Set a specific shipping rate for each group or tag, allowing loyalty rewards and targeted promotions for specific segments.
Q: Should I have free shipping on Shopify?
Offering free shipping on Shopify can boost sales and attract customers. However, it's crucial to consider factors like profit margins, shipping costs, and business goals. Calculate shipping costs and target market, and evaluate the impact on the bottom line before deciding on free shipping for your Shopify store.
Q: How do I set a free shipping threshold?
Setting a free shipping threshold in Shopify allows you to offer free shipping to customers with a specific order value. To set a rate based on order price, navigate to Settings > Shipping and Delivery, select the shipping profile, click "Manage rates," add a new rate, name it "Free Shipping," set the price to 0, and specify the minimum value required for free shipping.
Q: How do I set up shipping on my Shopify store?
To set up shipping on your Shopify store:
Navigate to Settings > Shipping and Delivery.
Manage shipping profiles and rates, offering options like flat, calculated, or weight-based rates.
Customize rates based on location, order price, or item weight.
Integrate third-party calculators and explore Shopify's fulfillment services for efficient shipping processes.
Small Request
Kindly share it with your friends. Especially the ones you believe need this information. Sign Up Now and Get your first 3 months for only $1 monthly.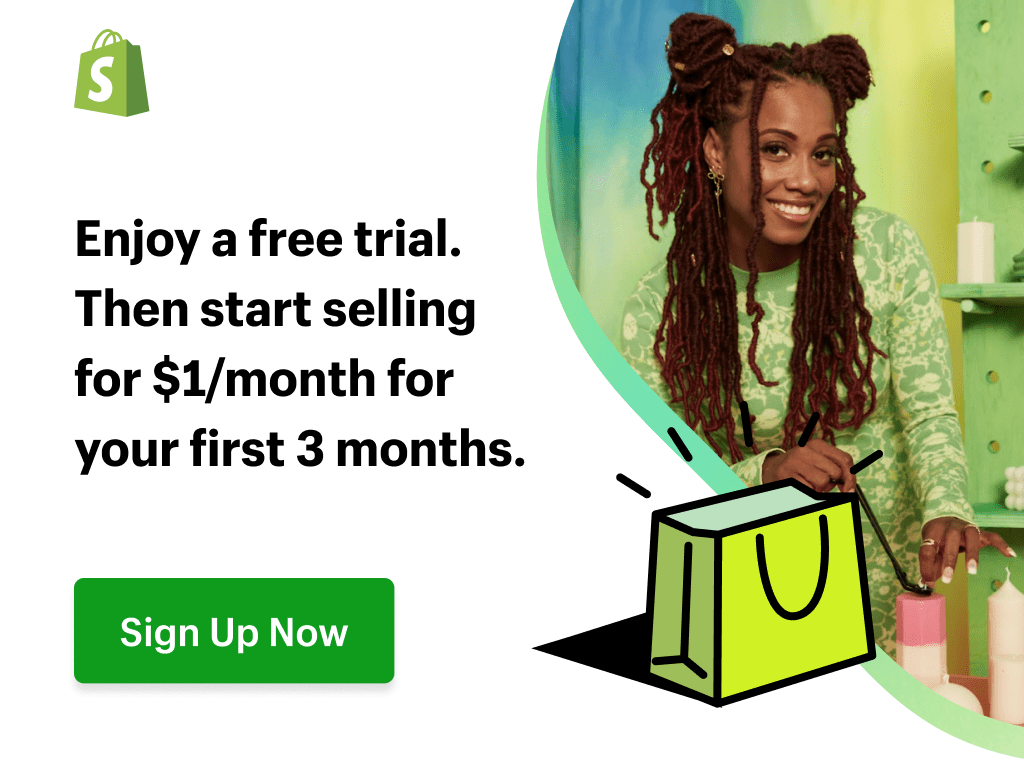 Sharing this information with others can make a huge difference. You may ask why.
Well, the truth is, my main aim is to provide the best information about drop shipping for both beginners and experienced dropshippers.
And I plan to continue doing so for as long as I can.
I would also like to thank those who support my work by reading and sharing my content.
Trust me, when you take your time and share, it will greatly help me and others needing this information.
Here are some great suggestions:
Pin it
Share it on another blog.
Share on Facebook (Share it with friends and even on Facebook groups)
Tweet it
Stumble it
This will only take a few seconds of your time, and I would appreciate it.
I appreciate you a lot. Thank you!
Join my Shopify dropshipping group mastermind and follow my blog to learn more about Shopify tips, dropshipping guides, tricks and checklists, and e-commerce in general.
If you enjoyed and learned something from this post, you can get me updates for free!
I send out email newsletters about new posts published on the blog, tips and tricks to help you grow your dropshipping business, new YouTube videos to give you more insights about the e-commerce market, and much more.
If you enjoyed reading this, you could as well join my Facebook group. Thank you for reading how to make money dropshipping online from the comfort of your home.
Click here to Join My Facebook Mastermind Group