How To Use Shopify Collabs (The Ultimate Guide)
Shopify Collabs, a new feature made to bring merchants and content creators even closer together, was launched in mid-August 2022.
At its most basic, it is an app you add to your Shopify store to create your community of influencers. In practice, this means creating a page with a form for content creators to fill out if they want to work with your brand.
When you step back, it's easy to see that this small app has great potential.
Table of Contents
Influencer marketing services, or content creators to promote your products and brand, have become essential to any good marketing strategy.
For example, products have flown off the shelves worldwide thanks to people as small as "nano-influencers" and as large as "celebrity juggernauts."
The platforms that these influencers use have taken notice.
Instagram, Facebook, and TikTok have their versions of creator marketplaces where brands can find and hire content creators.
Likewise, it is not a novel concept for Shopify.
Shopify Collabs makes finding people with many influencers who can promote your brand easy. It indicated in October 2020 that its services would be linked to TikTok.
A year later, Shopify announced that Spotify users could sell their Shopify products directly through their Spotify accounts. Shopify announced a similar collaboration with YouTube in July 2022.
Take Action
Build your Ecommerce website with Shopify Today!
Shopify offers customizable themes, unique apps, and vital tools to start selling online. Try Shopify free for 14 days; no credit card is required.

Shopify has been relentlessly pursuing the creator community for a good reason. Influencer Marketing Hub predicted the "creator economy" market would be worth $104 billion in 2022 in its Influencer Marketing Benchmark Report 2022.
With such rapid growth and so many marketers jumping on board, it's only natural that Shopify would join the fray.
So, it's no surprise that Shopify purchased the Dovetale influencer app in April. It was a very successful app for connecting influencers and marketers, and Shopify Collabs is based on it, but with a few changes and new features.
The Shopify Collabs and Dovetale Differences
Dovetale
Shopify
It has a new look and a new name. The brand "Dovetale" has been removed from the functions and features, now known as "Shopify Collabs." Shopify Collabs is still an app you must add to your store, but its design now matches the Shopify brand. The Shopify shopping bag has replaced the Dovetale feather.
You do not need to log in to the app separately. To use Dovetale's services, you had to sign in. That no longer occurs under the Shopify brand. Instead, install the app and log in to Shopify as usual. You do not need to create separate accounts for your staff. You could add a team manager to Dovetale to help you keep track of your influencers. This was distinct from the employees who had access to your Shopify store. Your Shopify admin can now manage all of your staff's permissions.
Creators can find your brand more easily. In Dovetale, content creators had to apply through your application page. However, with Shopify Collabs, content creators can use a separate Shopify search engine to browse brands and find relevant products for their target audience.
All messages will be sent to the email address you have listed on your Shopify account. This is distinct from the email address linked with your Dovetale account when Dovetale was its own company.
The domain name of the application pages will be changed from Dovetale to Shopify. This will be adjusted automatically, and links to your Dovetale page will redirect to your Shopify page.
It is free. Dovetale's cheapest starter plan cost $99 monthly before Shopify purchased it. But on the other hand, Shopify Collabs is accessible to all Shopify users.
How Do Shopify Collabs Work?
Shopify Collabs connects content creators with Shopify merchants in its most basic form. Content creators promote a merchant's products, and merchants enable the content creators with money or free stuff. This can be divided into three parts:
Find customers using the Shopify Collabs Discover influencer platform.
Getting applications via your merchant community page,
Compensate your content partners with affiliate links, gifts, or cash.
1. What's the Shopify Collabs Discover Influencer Platform?
The Shopify Collabs Discover platform is simply a database of content creators worldwide and Shopify merchants connected to the Shopify Collabs app.
Merchants can use this influencer platform to search for content creators who can help them promote their products. Similarly, content creators can use the platform to search for brands to promote to their followers in exchange for money.
2. What's a Shopify Collabs Community Page?
Your Shopify Collabs campaign revolves around your community page. Content creators can find out more about your store and what it offers here and apply to work with your brand.
Getting the right creators to create content for your brand is about creating a clear, easy-to-use community page. Sell your brand, but be clear about what you expect from your partners and what they can expect from you.
There is a sign-up form on a community page, and you can choose which questions to ask via your Shopify admin. Demographic information is required for your products to reach the appropriate people.
3. How do You Compensate Content Creators?
Affiliate links: Shopify Collabs affiliate links are used to track the sales generated by each content creator. Each author has an affiliate link; when a customer purchases something after clicking on an affiliate link from a creator, the creator typically receives a commission.
Gifts: One way to express gratitude to content creators is to provide them with gifts or merchandise. This is especially important if you want them to create content with your product, for example, cosmetics or clothing.
Cash: A one-time payment to make a specific piece of content is probably the most common way to pay a content creator. You can also discuss how long it should be active and the fee.
Shopify Collabs' Benefits for Merchants
They can come to you instead of looking for content creators. Influencer marketing works best when the right product is paired with the right audience.
Previously, brands would look for content creators in creator marketplaces and search for them. However, Shopify has turned this process on its head.
Shopify's strategy is based on an influencer marketing platform called Shopify Collabs Discover, which includes all of the brands that have joined Shopify Collabs.
Influencers can use this platform to find products they believe interest their target audience. After all, content creators are the most familiar with their target audiences.
It's a place where everything comes together. With Shopify Collabs, you can use your Shopify admin to send gifts, create affiliate links, and pay creators. Your affiliate program also allows you to manage applications and track sales.
Shopify Collabs' Benefits for Creators
It's easier to find brands to work with. For example, creators can use Shopify Collabs to search the Shopify database for brands that match the interests of their target audiences. This should result in more relevant products, sales, and affiliate commissions.
Working with brands is simpler. When you find a brand you like, you can reach it through an online application form. This form was made to assist brands in gathering all of the information required to make an informed decision.
This is especially important when working with smaller brands with less experience. They typically go back and forth as they determine precisely what information they require, such as demographic information, traffic data, etc.
Getting Started with Shopify Collabs
1. Get and install the app.
Go to the Shopify App Store and click "Install."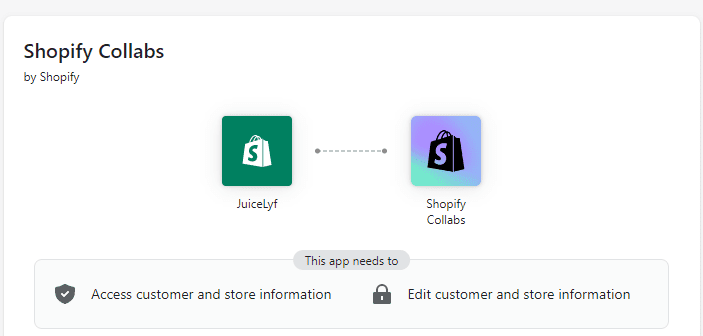 2. Open an account
A Shopify Collabs account is easy to set up; only three steps exist.
Navigate to your Shopify admin panel and select Settings, then Apps and Sales Channels.
A list of your installed apps should appear; open Shopify Collabs.
Review the Shopify Collabs terms and conditions. You can start building your creator community when you agree to the terms and conditions.
3. Set up Your Community
In short, your community page is where creators can learn about what you do and apply it to work with your brand.
On the Shopify Collabs dashboard, click Edit your application page. There are five parts to this.
3.1 Application
Page design: Add your logo and select a background and button color.
About your brand: Add a title, a short description, and the text for your buttons here (your call to action).
Collab Benefits: Explain to content creators what they will gain from participating in your program. Make a list of the advantages and disadvantages of working with your brand.
Images: Include images of your products or others demonstrating your brand's essence. You can also get these images from your Instagram account. (A 10-minute guide for beginners to Shopify product images is also available [2022].)
3.2 social
This is where you can specify the social network platforms creators can utilize when applying.
There are six social networks to pick from: Instagram, YouTube, Twitter, Facebook, TikTok, and Twitch.
Toggle the on/off switch to select the networks you want to use.
Brands can identify which influencer platforms to accept applications from.
3.3 Profile
This is where you tell applicants what information you require from them.
The first name, last name, and email address are already set and cannot be changed.
Demographic options include the date of birth, location, and gender. You can use this data to match your target markets with content creator candidates.
You can also include more contact information, such as a phone number and a shipping address.
Finally, select which of the creator's social handles you want them to give you, the same social networks mentioned earlier.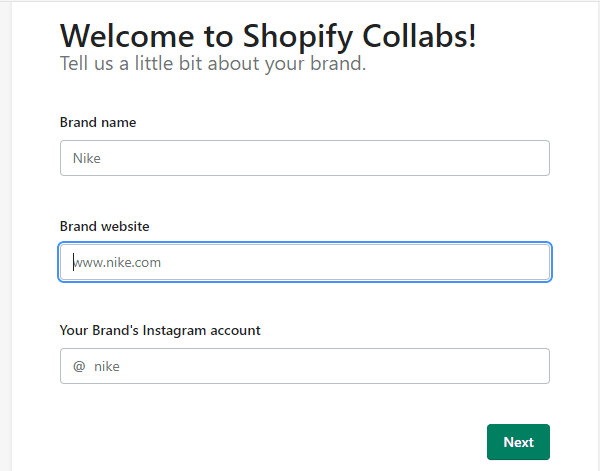 3.4 Survey
This is where you ask your applicants questions to determine whether they fit your brand well.
This form is interactive; you can add or remove questions as you see fit.
Questions can have short answers, long answers, multiple choices, or choices from a drop-down menu or radio buttons.
You can rearrange your questions by using the arrows on the side.
3.5 Share
At this point, your community and application pages should be set to your liking. All remains to inform people that your content creator community is open for business and accepting new members. You have three ways with Shopify Collabs.
Include a link to your application page on your website: Copy and paste it into your blog, website, or social networks.
Add it to your Shopify store. The address of your website should already be in this field. You only need to add a title and click "Create Page." This is being added to your store right now. You'll still need to add it to your navigation menu.
Include a widget in your store. You can put this floating widget at the bottom left or right of your website. You can also change the text on the label and the button's color.
To complete, click the Save and Finish buttons.
So that's it! Your Shopify Collabs community is now operational. The only thing left is waiting for content creators to start coming in. If you want to be more proactive, you can use the Shopify Collabs Discover platform to search for creators.
Discovering Creators through Shopify Collabs Discover
In a nutshell, Shopify Collabs Discover is where you can look for content creators to help promote your brand. It can be found in the top navigation menu of your Shopify Collabs dashboard.
A Shopify Collabs Discover search is divided into the search parameters and the search results.
1. Search Parameters
You can specify how, where, and what you want to search for here.
Platform Selector: Use this to select the social network you want to search. You can use Instagram, YouTube, Facebook, Twitter, or Twitch. You can also search a blog database.
Search Bar: Depending on your selected platform, the Shopify Collabs Discover search bar has several ways to narrow your search.
Keyword: Search the database using specific search terms. You can narrow this list by going to the settings menu and choosing only particular locations to search. For example, on Instagram, you can search by usernames and display names, bios, posts, or a combination of all four. Different social networks provide different options.
Location: Use this to search creators in a specific area. For instance, if you're selling maple syrup, you might only want to contact Canadians. You can narrow your search, like a keyword search, by choosing only specific areas. Depending on which social network you use, you may be unable to search by location.
Hashtag: This search parameter lets you look for social media posts with specific hashtags. You can also narrow this down by the number of hashtags: none or more, one or more. Specify a time frame: the last 14, 30, 90, or 180 days.
Username: You can search using any of the first three together or by username; you can search for a specific user or just part of a username.
Category: You can also search by category on Facebook and YouTube.
Mentions: On YouTube and TikTok, you can also search for mentions. As with hashtags, you can specify how many times a search term must appear before it counts: zero or more, one or more, or all. You can also search for the last 14, 30, 90, or 180 days.
Results Filter: Once you've completed your search, depending on the platform you used, you'll be presented with several options for narrowing your search.
Search in/exclude lists: This setting lets you exclude creators from previously made lists; you can also use this option to search for items in previously made lists.
Required accounts: This allows you to find creators who work on multiple platforms; for example, if you want an influencer who is popular on both Instagram and TikTok.
Following: You can also narrow your search by how many followers an influencer has; this is useful if you want to reach a specific size while staying within a budget.
Metrics: Data is required to make sound decisions. You can select from the options below: average engagement, average likes, average views, total likes, total comments, total shares, total views, average retweets, average peak viewers, Alexa rank, and post frequency.
When you conclude searching, you should have a list of the creators who created something.
2. Search Results
It's just as important to look at the results as it is to set the parameters.
The Shopify Collabs Discover influencer marketing platform search results contain helpful information.
It was a little clunky then, but you can combine three aspects to sort your results.
Metrics: These can vary depending on the platform, but they can include the following: following, average engagement, average likes, average views, total likes, total views, average shares, average comments, average retweets, average peak viewers, Alexa rank, & post frequency.
Growth: This lets you select the time range from which you want to pull data, either the last seven days or the last thirty days.
Sort: This changes the order of the results based on growth, the metric you've chosen, the followers pool a creator has, or the reach a blog post receives.
Sort through the content creators and either contact them directly via their social media channels or add them to a list for later.
Final Thoughts
Read Also:
That's pretty much it! The Shopify Collabs app does not have everything. Many more features make incorporating influencer marketing into your marketing strategy easier. But these are the fundamentals, and they should be sufficient to get you started and on the right track.
Shopify aims to provide economic independence to this new generation of entrepreneurs. Regardless of the size of the total creator economy, which is estimated to be worth more than $100B*, most creators struggle to make money & become self-sufficient.
Only 4% of content creators work full-time. ** Finding brands and forming partnerships as solo creators is time-consuming, and creators would rather spend their time doing what they love—engaging with their audiences.
The creator economy offers merchants a new way to find new customers when acquiring customers has become increasingly complex and expensive. Audiences look to creators for product recommendations they know they'll enjoy.
Influencers and content creators are excellent ways to spread the word about your brand and increase sales. Unfortunately, the Shopify Collabs make this process a little easier by bringing merchants and creators together in a way that hasn't been done before, at least not to the extent that Shopify desires.
This is an excellent new app with a lot of promise. Combined with a beautifully designed Shopify store made with GemPages' drag-and-drop editor, you can use it to boost sales, increase conversions, and build trust in your brand.
Small Request
Kindly share it with your friends. Especially the ones you believe need this information. Sign Up Now and Get your first 3 months for only $1 monthly.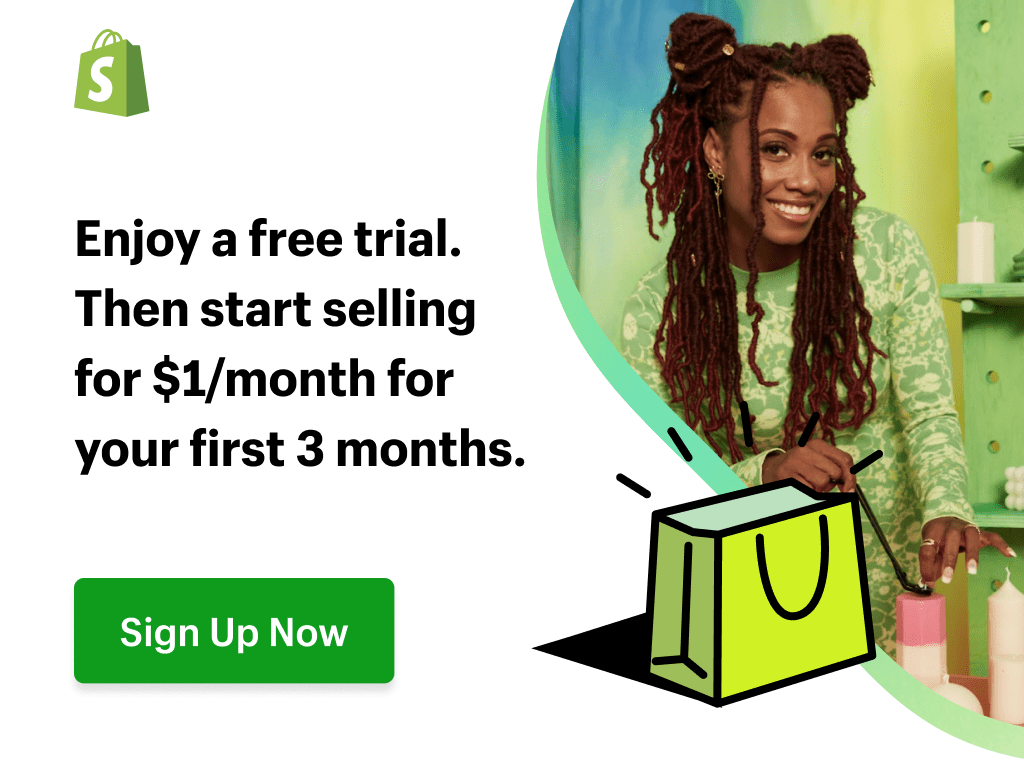 Sharing this information with others can make a huge difference. You may ask why.
Well, the truth is, my main aim is to provide the best information about drop shipping for both beginners and experienced dropshippers.
And I plan to continue doing so for as long as I can.
I would also like to thank those who support my work by reading and sharing my content.
Trust me, when you take your time to share, it will greatly help me and others who need this information.
Here are some great suggestions:
Pin it
Share it on another blog.
Share on Facebook (Share it with friends and even on Facebook groups)
Tweet it
Stumble it
This will only take a few seconds of your time, and I would appreciate it.
I appreciate you a lot. Thank you!
Join my Shopify dropshipping group mastermind and follow my blog to learn more about Shopify tips, dropshipping guides, tricks and checklists, and e-commerce in general.
If you enjoyed and learned something from this post, you can get me updates for free!
I send out email newsletters about new blog posts, tips, and tricks to help you grow your dropshipping business, new YouTube videos to give you more insights into the e-commerce market, and much more.
If you enjoyed reading this, you could also join my Facebook group. Thank you for reading how to make money dropshipping online from the comfort of your home.
Click here to Join My Facebook Mastermind Group