Top 7 Free Invoice Generator Tools For Use
What are the Top Free Invoice Generator tools in 2023? Any freelancer or small business owner knows how hard it is to create and keep track of invoices.
An invoice generator simplifies the billing process and is one of the easiest ways to handle this. These invoice generators will help you with your invoicing needs.
They are also free, which is excellent for any budget. The best solution for you will depend on your specific needs and the complexity of your invoices:
Shopify Invoice: The Best Free Shopify Invoice Generator For Store Owners
Zoho Invoice: The Best Free Invoice Generator Overall.
ZipBooks: The Best Free Invoice Generator for Occasional Invoices
Sunrise: The Best Free Bookkeeping Software with Invoicing Features.
Square: The Best Free Invoice Generator for Accepting Payments at the point of sale (POS) and Online.
PayPal: The Best Free Invoice Generator for Mobile Devices
Invoice Ninja: The Best Free Invoice Generator fit for Sending out many bills.
Invoice Generator: The Best Free Invoice Generator for sending Invoices without Creating an Account.
Shopify Invoice: The Best Free Shopify Invoice Generator For Store Owners
Shopify Invoice Generator is a tool designed to help businesses and individuals manage their invoicing needs.
This online service enables users to generate professional-looking invoices with just a few clicks, making it easy and convenient to keep track of billing transactions.

Additionally, Shopify Invoice Generator offers a range of helpful features, including customizable templates, address book integration, and automatic bank deposit options.
Whether you are an entrepreneur looking to streamline your invoicing process or a freelancer looking for an efficient way to keep track of your billable hours, Shopify Invoice Generator has everything you need to get the job done.
Shopify invoice generator makes life enjoyable and easy when billing and collecting money. Try Shopify Invoice Generator Today.
So why wait? Start using Shopify Invoice Generator today and take control of your billing needs!
Zoho Invoice: The Best Free Invoice Generator Overall
Zoho Invoice is free invoicing and billing software for small businesses. It includes a free invoice generator, an estimate generator, a revenue forecaster, an income tax calculator, an expense report generator, and a stock-keeping unit (SKU) generator.
Zoho Invoice works with other Zoho apps and Stripe, PayPal, Google Drive, and Dropbox, and supports easy-to-use and works with many different currencies and languages.
Core features
Self-service client portal: Your customers can log in to the portal to view and pay invoices, and you'll be notified. Users can also share project information with clients, accept or reject estimates, and leave comments and feedback.
Customizable invoices: Choose an invoice template and change the logo, font, and colors to make it your own.
Zoho Invoice boasts a full-featured mobile app that you can use on your Apple Watch. It lets you bill customers using the time tracking widget and send them invoices, estimates, and account statements via iMessage.
Multiple currencies and languages: Not only can you send your invoice in the customer's currency, but you can also choose from several languages.
Time and reimbursements: Time, mileage, and billable expenses can all be tracked and added to invoices.
Invoice Creation
You can create invoices in Zoho by hand or import them from other systems. For example, you can create invoices that come out regularly or ones that don't.
For instance, Zoho Invoice will automatically send recurring invoices via email at your chosen date and time. On the Invoicing tab, you can make one-time invoices.
Pros
The ability to automate processes like discount calculation and addition
Accepts multiple currencies and languages
There is no limit to how many clients you can invoice.
Integrates with Zapier to give access to thousands of popular business apps.
invoice templates, you can change
Set up invoices ahead of time
Cons
Invoice templates cannot be edited on the mobile app.
Some functions necessitate developer knowledge.
Extensive features make it more challenging to use.
Pricing
Zoho Invoice is now completely free, with no hidden costs or contracts.
Evaluation Report
Zoho Invoice is a complete website for invoicing for small businesses and startups. It is flexible and easy to use, with intuitive features & a powerful mobile app that lets you create invoices on the go.
It also works with several Zoho products, such as an expense report generator. Of course, you will always have free access to many advanced features, like the ability to track time and send invoices in multiple languages and currencies.
ZipBooks: The Best Free Invoice Generator for Occasional Invoices
ZipBooks is free cloud-based invoicing software for small businesses. In addition to invoicing, it can track time and expenses. It is easy to use and is designed in a way that makes sense.
Its Starter plan has many features, such as connecting a single bank account and keeping track of as many customer and vendor details as you want.
ZipBooks also has a unique feature that gives each invoice created an "Invoice Quality Score" that shows which parts are most important to get paid faster. ZipBooks is best for occasional invoicing because you have to type each invoice, which takes time.
Core Features
Customizable invoices: ZipBooks offers a variety of invoices that can be sent as PDFs or set up to automatically create a link for your customer to use in accessing the invoice.
Late payment reminders: The functionality to send late payment reminders to customers is a useful feature that helps you keep track of your accounts receivable (A/R).
Ease of use: ZipBooks is often praised for its ease of use, and its user interface is intuitive and color-coded.
Invoice Quality Score: ZipBooks creates the Invoice Quality Score so you can see how your invoices rank on a scale from 1-100. The higher the score, the likelier you will get the best results, like getting paid on time.
Time and project tracking: Time can be tracked by multiple activities, projects can be created and given to customers, and specific tasks can be added to these projects. With the Smarter and Sophisticated plans, you can pay for these features.
Invoice Creation
You can manually invoice your customers through ZipBooks or set up a subscription for recurring billing that you can change to customize your needs. For example, you can add a logo, save your invoice as a PDF to email, or print it and send it. ZipBooks will also create a link for your customer to use to access the invoice:
Pros
Invoices can be changed in many ways;
It's easy to use;
You can send as many invoices as you want;
You can keep track of time and projects;
It works with other popular programs.
Cons
The free plan necessitates the entry of invoice details each time.
No inventory management feature
iOS-only mobile app
There is no sales tax field on the invoice form; it must be entered manually.
Pricing
ZipBooks' free Starter plan lets you send as many invoices as possible, accept digital payments through Square or PayPal, and manage as many vendors and customers as possible. Two plans cost money and have more features:
Smarter: $15/month for up to five team members, includes everything in Starter and the functionality to schedule recurring invoices, save invoice line items, & track time.
Sophisticated: $35 per month for an unlimited number of team members, everything in Smarter, plus the capacity to tag by location, project, or custom and to customize your chart of accounts.
Evaluation Report
ZipBooks is a robust accounting program that is easy to use. It makes accounting less complicated by automating as many steps as possible. It is also specially designed to offer you business advice & health scores based on the information you enter.
Even though it isn't perfect in some ways, like managing inventory, ZipBooks is easy to use and does a great job of keeping track of time. The free Starter plan is excellent for new businesses or businesses that want to save money without giving up accounting capabilities.
Sunrise: The Best Free Bookkeeping Software With Invoicing
Sunrise is free accounting software that is easy to use and lets you send as many invoices as you need to your customers. Its invoice template can be changed to match your company's logo and colors. For example, you can easily set up payment reminders for invoices that are overdue or keep coming up.
Sunrise also has a main client portal where clients can see their bills and pay them. It also has excellent features for small businesses and freelancers, like sending custom invoices with your logo.
Core Features
Customized invoices: You can make invoices using a template that includes custom fields and automatic price calculations. You can also offer discounts and set up invoices that come out regularly.
Double-entry accounting: Sunrise carries a complete general ledger that lets you do double-entry accounting. You also get to customize your chart of accounts & opening balances.
Support for multiple currencies: This feature lets you bill your customers in their preferred currency.
The mobile app for Android and iOS from Sunrise lets you see, create, edit, and track the status of invoices. You can also send invoices and receive payments right from your phone.
Invoice Creation
Sunrise supports four sales forms: invoices, estimates, quotes, and recurring invoices. Even though there is only one invoice template, you can change the layout, customize a logo, and change the background image if you want. You can also say what kinds of payments you will take, like cash, checks, bank drafts, Stripe, PayPal, or Square.
Pros
Allows for an unlimited number of users and businesses
Send invoices, quotes, estimates, and recurring invoices
Complete the bookkeeping system
The ability to charge late fees on invoices
Monitor time and projects
Supports multiple currencies
Cons
There's no way to keep track of time or projects.
There's only one invoice template.
Figuring out sales tax can be complex, especially when doing business between states.
Not being able to charge customers or projects for costs
There aren't many reports.
Pricing
A plan called Sunrise Plus, which costs money, has more features than the free Self-Service plan. For example, it costs $14.99 monthly and includes a free trial of 14 days. The Sunrise Plus plan has alerts, cash flow insights, and automatic expense categorization. Multiple businesses and users can use it, and Stripe, Square, and PayPal can be used to accept payments.
Evaluation Report
Sunrise is a good choice if you want to keep simple, basic books for a low price. It is easy to use and has most features that a freelancer or small business might need. Even though it doesn't have advanced features like tracking time and inventory, it makes up for that by letting you customize invoices, estimates, and quotes.
Square: The Most Effective Free Invoice Generator for POS & Online Payments
Square works with almost every ecommerce platform, making it an excellent choice for accepting payments at POS and online. It also lets you send estimates that can be easily turned into invoices and share contract templates with your invoices.
You can check on the status of your invoices from any digital device using the free Square Invoice mobile app. Square also lets you make invoices that come out regularly, schedule invoices to be sent later and set up automatic reminders to pay.
Core Features
Invoice customization: You can change how your invoices look through your account settings. These include adding a logo, picking a color, adding a custom message or return policy, & choosing whether or not to show your address.
Item library: Square lets you create a library of your products and services to make creating invoices faster. Once you have an item in your library, you can add it to any invoice.
Invoice scheduling: For your convenience, Square lets you send recurring invoices and schedule your invoice to be sent at a future date.
Mobile app: it matters not where you are; the Square Invoices mobile app lets you send digital estimates and invoices, track payment status, send reminders and accept payments.
Invoice Creation
You can send invoices from your mobile device or your Square dashboard. Choose "Create Invoice," fill in the details of your invoice, and add it; customize how you want by changing the color and adding a logo. You can see how your invoice will look to your client by previewing it. Once you've sent the invoice, it's easy to know when it was seen and paid for:
Pros
Send unlimited estimates and invoices for free.
Recurring and future-dated invoices
Automatic payment reminders
Ecommerce capabilities for sales
Strong mobile app
Cons
Limited invoice customization options
Limited reporting
Unable to edit an invoice after it has been marked as paid
Pricing
You can send as many estimates and invoices as you want for free, and the only time you'll be charged is when you accept credit or debit card payments. The fee for processing the transaction is 2.6% plus 10 cents per transaction.
Evaluation Report
Square is the best way to sync payments made online and in person. It comes with ecommerce features for online sales and POS hardware that lets you accept payments in person or later from an invoice. For example, you can send invoices using Square Invoices or the POS app. With Square's item library and other features, such as recurring invoices, invoicing customers is quick and easy.
PayPal: The Best Free Invoice Generator for Mobile Devices
PayPal, one of the most well-known names in online payment processing, is a mobile-friendly invoice software that lets you create and send invoices in minutes on any digital device. You also save online invoice templates for fast entry, send automated payment reminders, check your account activity, and give refunds while on the go.
Once you log in, you'll see a tab for invoicing. PayPal will use information from your recent contacts to generate the invoice. With big buttons and easy data entry, the invoice editor is easy to use on a mobile device. Therefore, you need a PayPal business account to use the invoicing features.
Core Features
Mobile app: PayPal's mobile app makes it easy to send invoices.
Ease of use: A user-friendly display and easy-to-understand navigation are great for new businesses or people who don't know much about computers.
Batch invoicing: PayPal lets you send up to 100 invoices at once, which speeds up the process of making invoices.
Support for multiple currencies: You can bill your customers and get paid in 25 different currencies.
Invoice Creation
You can create a free invoice that looks professional in PayPal, and your customers can pay even if they don't have a PayPal account. Go to Tools and then Invoicing after logging in. When you click "Create Invoice," all you need is the email address of the customer to send the invoice. They can safely pay with a credit card, debit card, or PayPal Credit.
Pros
Batch invoicing capability
You can personalize invoices using your logo, contact information, and custom fields.
Send unlimited invoices
The ability to track invoice status and enable recurring payments
The software provides security and integration with multiple platforms and marketplaces.
Cons
A free bank transfer can take a few days, and you must pay 1% if you want your money immediately.
You have limited access, and your account could be closed anytime, which could freeze your money.
Pricing
Sending invoices and making a PayPal account are both free. For example, transferring money to a linked bank account is also free, but same-day instant transfers cost an extra 1%, up to $10. In addition, PayPal's payment processing fees incur 2.9% plus 30 cents per transaction.
Evaluation Report
When you use PayPal to send an invoice, the process is quick and easy, & you get to create an invoice with just a few line items or a more complex one that lets you include tips, partial payments, or photos. The customer gets the invoice through their PayPal account, whereupon they can pay either through a credit card, debit card, or PayPal balance. Because it's easy to use, PayPal is an excellent choice for making invoices on your mobile device.
Invoice Ninja: The Best Free Invoice Generator for Recurring Billing
Invoice Ninja makes an excellent tool for small business owners who send out a lot of invoices because it can handle bulk invoicing and set up automatic payments for customers who buy from them often.
Say you sign up for the free user plan. In that case, you can manage up to 100 clients and an unlimited number of invoices. You will also have access to advanced features like branded invoices, auto-billing, time tracking, & direct payment integration with more than 40 payment gateways.
The downside is that each invoice has a watermark that says "Created by Invoice Ninja," unless you pay $10 per month to upgrade to the paid plan. This lets you have an unlimited number of clients and gives you access to ten professional-looking invoice templates.
Core Features
Client Portal: Invoice Ninja gives your clients a place to open and look at your invoices and make payments. You can also see whenever a client has opened your invoice and check the status of payments.
Bulk invoicing: You can use this time-saving feature that enables you to send the same invoice to multiple customers.
Automatic payments: You have the option to set up automatic payments for regular customers and automatic reminders for late payments.
Time tracking: Invoice Ninja has a free time tracker that you can start from your online account or by downloading an icon to your desktop. Click to add your time to an invoice after you've finished the task.
Fully customizable. There is also a free, open-source version of Invoice Ninja that can be installed and customized locally.
Invoice Creation
The real-time PDF creator in Invoice Ninja lets you see precisely what your invoice will look like as you create it. The text shows up immediately when you enter details like service descriptions or payment information. You also get to create a custom domain URL for your online invoicing. Payment gateways like Stripe, PayPal, WePay, and Authorize.net are all supported.
Pros
Free and open-source software
Allow credit cards, PayPal, ACH, and Bitcoin.
Accepts multiple currencies and languages
Set up recurring customer payments to be made automatically.
Send invoices to clients with just one click.
Mobile application
Cons
Project management tools
Unless you upgrade to a paid plan, the Invoice Ninja watermark will be on your invoices.
Insufficient inventory
Reports are scarce.
Pricing
There are three plans for Invoice Ninja, and one of them is always free. All of them have an unlimited number of invoices and estimates, as shown below:
Forever Free is free and includes up to 100 clients for one user. It costs $0 per month.
Ninja Pro: $10 per month, includes an unlimited number of clients and the ability for one user to remove the Invoice Ninja logo from invoices.
Enterprise: $14 per month, includes advanced invoice customizations, up to 20 users, and unlimited clients.
Evaluation Report
Invoice Ninja is software that lets you send and manage invoices, bills, and payments through the cloud. It's not just an invoice maker, though. It also comes with simple CRM software for managing tasks and stock. Users can start from scratch or use templates to create professional invoices. The software also works with over 50 payment gateways, such as PayPal and Stripe.
Invoice Generator: The Best Free Invoice Generator (Sending Invoices Without an Account)
With Invoice Generator, you can create invoices, send them to clients, and accept payments online without making an account and logging in. Enter the required information, upload your logo, and choose the tax, shipping, and discount costs, if any. Because Invoice Generator doesn't save copies of the invoices you create, you won't be able to keep track of your accounts receivable. Instead, you can choose how you want to be paid when you make the invoice. Lastly, Invoice Generator lets you add links for PayPal, Venmo, and Square Cash.
Core Features
Ease of use: Since there is only one main page to navigate, creating and sending invoices to your customers has never been easier.
Payment links: You can add PayPal, Venmo, and Square Cash payment links to any invoice.
Customizing invoices: You can add your logo to invoices, but there aren't many ways to change them.
You don't have to sign in to create and send invoices. This is the only option in this buyer's post that doesn't require you to create an account. An invoice Generator makes for a great opportunity if you need to bill customers quickly.
Invoice Creation
Invoice Generator makes it easy to create an invoice. Fill out the template with all the information you want on your invoice. For example, you can download a PDF or use the free Invoiced Business Network to send invoices to your customers when you're done. Once you've signed up, you can safely send digital invoices to your customers.
Pros
You don't need an account or sign in to make an invoice.
Able to add payment links for PayPal, Venmo, & Square Cash to invoices
You can add tax, shipping costs, and discounts
Simple interface
Invoice from any device on the go.
Cons
Unable to save invoices
It does not track outstanding receivables
Limited invoice customization options
Pricing
If you want more features than what Invoice Generator has, you should consider upgrading to Invoiced. It starts at $500 per month and gives you unlimited cloud-based access to invoices, credit card payments, & the ability to see when customers look at an invoice. You will also have a full CRM and dashboard for billing.
Evaluation Report
Invoice Generator is a web-based tool for making invoices. Its best features are its simplicity and the fact that you don't have to sign in to receive or send invoices or payments from customers through PayPal, Venmo, or Square Cash.
If you want to use customer relationship management (CRM) tools and a dashboard, you might want to upgrade to Invoiced, the parent company of Invoice Generator.
When to Use Bookkeeping Software
FreshBooks is a good option if you need more than just invoicing because it is full accounting software with great invoicing. Think about accounting software if:
Recording income and expenses to file a tax return
Cash flow monitoring
Managing vendor bills
Analyzing profit and loss from specific projects
Printing financial statements for banks, insurance companies, and other interested parties
How to Evaluate Free Invoice Generators
Several factors are considered when evaluating the best free invoice generators. Among these factors are the following:
Free forever: Prioritize free invoice generators, not just for a limited time.
Limits on invoices: Check to see if each program has a limit on the number of customers or invoices you can send monthly and if you can email invoices from the program.
Templates: Most let you change some things about the invoice, but we considered how much you could change, like whether you can add your logo, change the color scheme, or add a personal message.
Sales tax: We looked into whether sales tax can be collected and tracked to make sales tax filings and payments easier.
Reports: The different types of reports, such as an aged A/R report, a balance of customer summary, or a list of unpaid invoices, can be the focus of this section.
Automation: Any features that automate repetitive tasks, like setting up recurring invoices & creating items that you can add to invoices without retreating the whole description, were looked at.
Payment: The functionality to accept short payments from customers, or payments that are less than the amount due, was also considered. We also looked into whether or not you could send a credit memo and use it to pay for future invoices.
Functionality: You should look at the level of skill needed to use these invoice generators, which ranges from basic to requiring developer skills.
Inventory management: Even though it wasn't a deal-breaker, we looked to see if the software had a way to manage inventory.
Mobile app: If there is a mobile app, we check to see if you can create and send invoices from your device.
Read Also:
Final Thoughts
It's crucial to your cash flow that you bill customers for the goods and services you sell. An invoice generator is a great option if you are on a tight budget or just starting a small business with few expenses.
Each option lets you create invoices that look professional and, in many cases, enables you to accept payments online. The best option for you would be one that best fits the needs of your business.
Small Request
Kindly share it with your friends. Especially the ones you believe need this information. Sign Up Now and Get your first 3 months for only $1 monthly.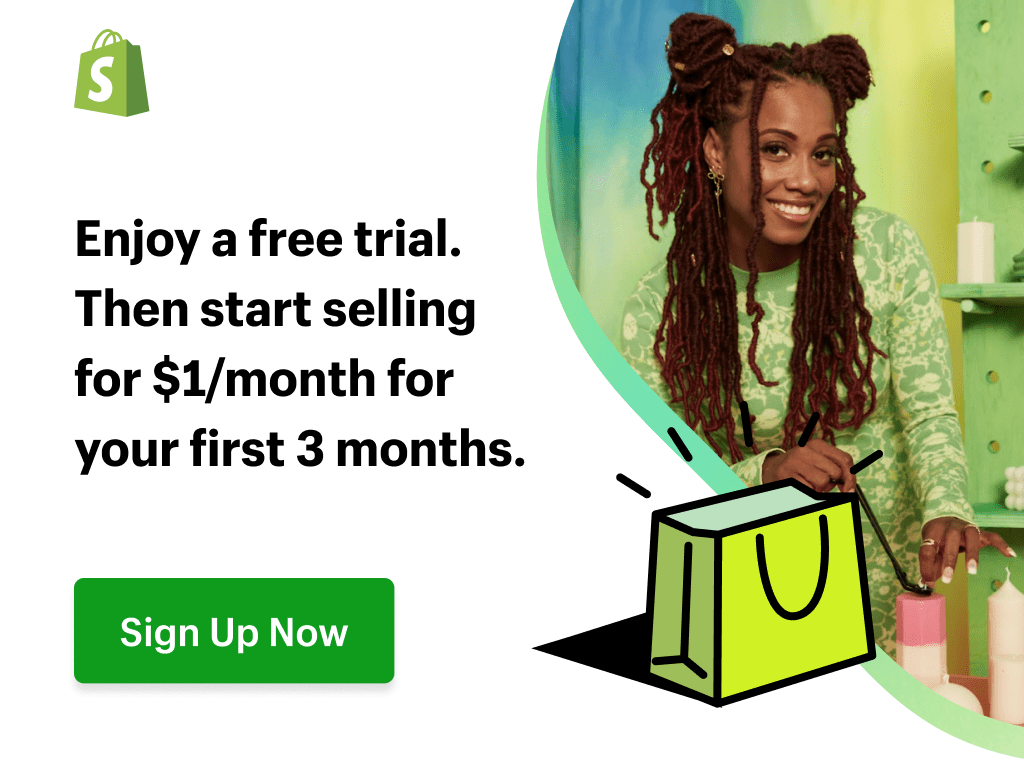 Sharing this information with others can make a huge difference. You may ask why.
Well, the truth is, my main aim is to provide the best information about drop shipping for both beginners and experienced dropshippers.
And I plan to continue doing so for as long as I can.
I would also like to thank those who support my work by reading and sharing my content.
Trust me, when you take your time to share, it will greatly help me and others who need this information.
Here are some great suggestions:
Pin it
Share it on another blog.
Share on Facebook (Share it with friends and even on Facebook groups)
Tweet it
Stumble it
This will only take a few seconds of your time, and I would appreciate it.
I appreciate you a lot. Thank you!
Join my Shopify dropshipping group mastermind and follow my blog to learn more about Shopify tips, dropshipping guides, tricks and checklists, and e-commerce in general.
If you enjoyed and learned something from this post, you can get me updates for free!
I send out email newsletters about new blog posts, tips, and tricks to help you grow your dropshipping business, new YouTube videos to give you more insights into the e-commerce market, and much more.
If you enjoyed reading this, you could also join my Facebook group. Thank you for reading how to make money dropshipping online from the comfort of your home.
Click here to Join My Facebook Mastermind Group