Top 20 Websites For Selling Online (Free Marketplaces To Sell On)
Looking to sell your trendy jewelry, kitchen equipment, or other products online? You have two options to make a profit. Option one is creating your own eCommerce website, which requires significant time, money, and marketing efforts.
However, for most people, option two is the better choice. You can easily sell your products and reach a broader customer base using existing eCommerce sites and apps.
Several top websites for selling online can help you achieve your goals. These platforms provide a convenient and effective way to sell your products without needing a standalone website. Whether you want to declutter your living space, earn additional income from handcrafted items, or expand your business, these eCommerce sites and apps offer a range of features to meet your needs.
By leveraging the power of these platforms, you can maximize your profits and connect with potential customers. From established marketplaces to specialized platforms, some options cater to various niches and product categories. So, let's explore some of the top websites for selling online and discover the ideal platform that suits your requirements perfectly.
Table of Contents
Top 20 Websites For Selling Online
Here, we present a curated list of the top 20 renowned websites that cater to various products, ensuring you'll find a suitable platform for your needs. These top websites for selling online encompass a wide range of categories, allowing you to showcase and sell just about anything you have to offer.

#1. Shopify
If you're looking for an easy-to-use and reliable platform to create your online store, Shopify is the top choice. With over four million sites using Shopify as of November 2022, it has established itself as a trusted and widely adopted solution.
For a monthly fee of $39, Shopify provides a comprehensive package that includes everything you need to run your online business. This includes your website, a blog, SSL certificates for secure transactions, abandoned shopping cart recovery, social media sales channels, and other powerful tools and perks. With Shopify, there are no hidden fees or initial setup charges unless you opt for a different payment gateway.
Shopify is renowned for its user-friendly interface, making it accessible even for beginners. In addition, their customer service is exceptional, ensuring that you receive prompt assistance whenever needed. To further enhance your store's functionality, you can leverage various Shopify apps, including wholesale marketplaces like Handshake, to customize your store and meet your specific requirements.
Start a free trial today and enjoy 3 months of Shopify for $1/month Instead of $39/month on selected plans. Sign up now
Ready to launch your online store? With Shopify, you can have your store up and running in under 30 minutes. Benefit from their robust features, intuitive interface, and dedicated support to create a successful online business. Join the throng of entrepreneurs who have chosen Shopify as their preferred platform for selling online and start your journey to ecommerce success.
Looking for a reliable and high-traffic platform to sell your products? Look no further than Amazon, the powerhouse of online shopping. With a staggering rate of over 400 products sold per minute, Amazon has earned its reputation as a trusted go-to website for shoppers worldwide.
One of the critical factors contributing to Amazon's success is its commitment to verifying sellers and ensuring the authenticity of products. By maintaining a rigorous process, Amazon has built customer trust and reliability. Shoppers know they can expect prompt delivery of desired items when they buy from Amazon.
Sellers can opt for a professional selling account to access the full range of benefits and services on Amazon. This requires an application process and a monthly fee of $39.99. Additionally, there are fees associated with each item sold.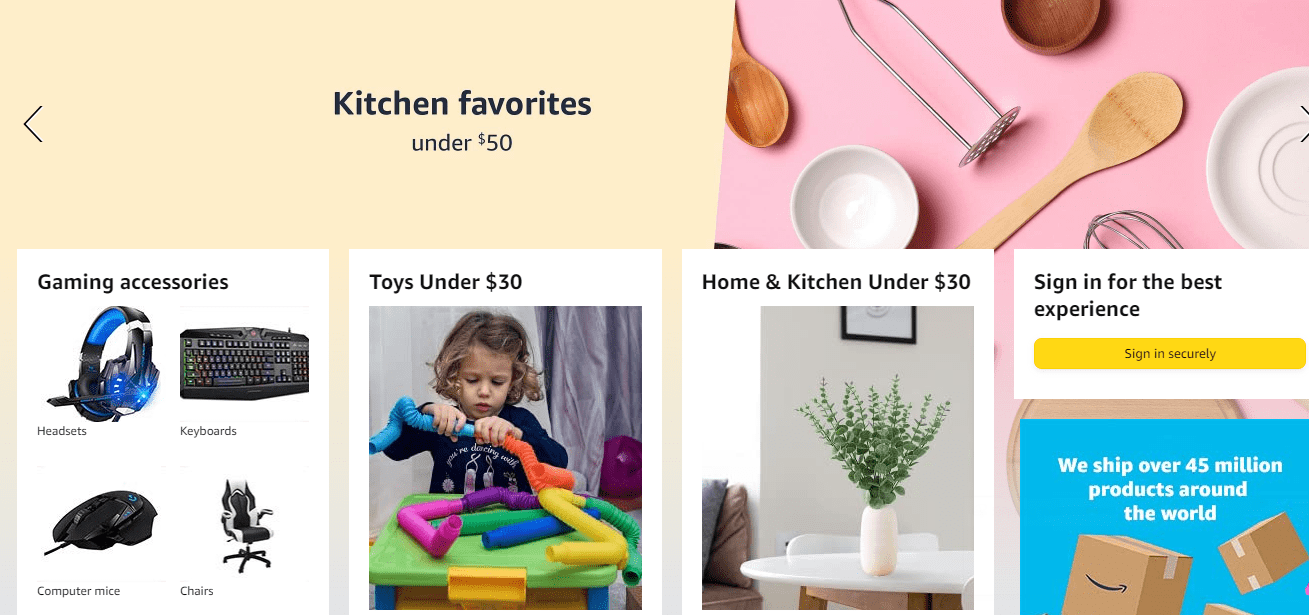 However, if your selling volume is lower, you can have an individual seller account with no monthly fee. The individual seller account charges a 99¢ per item fee, along with percentage fees based on the category of your item.
Selling on Amazon offers numerous advantages, especially for moving large quantities of products or gaining exposure to a vast audience. The platform's immense popularity and extensive customer base make it an ideal choice for expanding your business.
Join the successful sellers on Amazon and tap into its unparalleled reach and customer trust. Take advantage of the platform's robust features and resources to maximize your sales potential. Start selling on Amazon and unlock a world of opportunities for your products.
In October 2016, Facebook Marketplace was launched to foster local buying and selling communities; one of its exciting developments is its increasing support for ecommerce merchants.
Facebook has partnered with renowned online selling platforms, including Shopify, to enable online merchants to establish a presence on Marketplace. Users can seamlessly sell their products locally by leveraging familiar back-end systems like Shopify while effectively managing their inventory.
The best part is that Facebook Marketplace does not charge any listing fees, providing a cost-effective selling platform for merchants. However, it is important to adhere to the specific requirements and guidelines set forth by Facebook as a merchant in Marketplace.
Facebook Marketplace allows merchants to tap into a vast network of potential buyers within their local communities, leveraging the power of social connectivity. With the support of strategic partnerships and an easy-to-use interface, Facebook Marketplace continues to evolve as a top online destination for selling a wide range of products.
Talk about a secure and trustworthy online selling platform, and VarageSale might be the perfect choice for you. Developed by a former elementary school teacher from Toronto who was frustrated with scams and fake listings on classified sites, VarageSale prioritizes safety and legitimacy.
To ensure a reliable and transparent selling experience, VarageSale requires sellers to create a Facebook-verified profile. This step ensures that merchants use authentic profile images, real names, and personal bios, giving buyers confidence in their transactions.
One of the standout features of VarageSale is that it allows members to sell products online for free. As a seller, you can easily create listings with descriptive headlines, detailed descriptions, and attractive product photos. Interested buyers can reserve items and arrange offline meetups to complete the exchange or conveniently make online payments using Stripe.
As of the latest information, VarageSale does not charge any fees to sellers for using the platform or conducting transactions. This means you can enjoy the benefits of selling without worrying about additional costs cutting into your profits.
With VarageSale, you can join a community-driven platform prioritizing safety, legitimacy, and hassle-free transactions. Embrace the simplicity and security of VarageSale to sell your items online and experience a platform designed with your peace of mind. Start selling on VarageSale and discover a trusted space for buying and selling in your local community.
#5. Redbubble
Are you an independent artist looking for a platform to sell your work? Look no further than Redbubble. Established in 2006 in Australia, Redbubble is an online marketplace and print-on-demand service designed for artists like you.
With Redbubble, over 700,000 designers and artists worldwide have found a platform to showcase and sell their high-quality, original clothing and accessories. The process is simple: open a Redbubble shop, upload your designs, and let the platform handle the rest.
Redbubble partners with trusted third-party producers who print your designs on high-quality products and handle the shipping process to your customers. The best part? Redbubble offers its services free of charge. However, each product has a base fee associated with it. You can set your desired profit margin for each product as a seller.
By leveraging Redbubble's vast reach and global community, you can connect with art enthusiasts who appreciate and support independent artists. Open your Redbubble shop, unleash your creativity, and start monetizing your artwork efficiently. Join the thriving community of artists on Redbubble and turn your passion into a profitable venture.
#6. Poshmark
If you want to sell your fashion items and connect with buyers who share your style, Poshmark is the ideal platform for fashion enthusiasts. With a staggering statistic of selling one product in the United States every second, Poshmark has established itself as a go-to marketplace for fashion lovers.
Poshmark's unique selling proposition lies in its ability to connect buyers with people whose styles they admire. Whether you have new or secondhand clothing, accessories, or home decor items, Poshmark provides a platform to showcase and sell your fashion-forward products.
When it comes to fees, Poshmark has a straightforward structure. Listing your items on the platform is free, allowing you to showcase your inventory without any upfront costs. Once you make a sale, Poshmark charges a commission. For sales below $15, the commission rate is $2.95, while sales exceeding $15 are subject to a commission rate of 20%.
By leveraging Poshmark's vast user base and fashion-focused community, you can effectively reach potential buyers who appreciate your style and aesthetic. Start selling your fashion items on Poshmark and tap into a thriving marketplace that celebrates individuality and personal style.
Bonanza. is a versatile online marketplace where you can sell anything. Despite being relatively new, this Seattle-based company has quickly gained traction and boasts a thriving community of over 50,000 sellers offering 35 million different items.
One of the standout features of Bonanza is its minimal fee structure, which is based on the Final Offer Value. This value is calculated by combining the buyer's payment with the portion of the shipping fee that exceeds $10. For example, if you sell an item for $20 and charge $12 for shipping, the Final Offer Value would be $22. In this example, your selling fee is 2.5% of the Final Offer Value, amounting to a mere 77¢. The same rules apply for items sold above $500, with an additional flat fee of 1.5% on the amount exceeding $500.
Bonanza is an ideal platform for sellers seeking to avoid listing fees. Setting up your shop is effortless, and you only incur fees when you successfully make a sale. This user-friendly Marketplace provides a seamless experience for buyers and sellers, making it an attractive choice for entrepreneurs.
Join the thriving community of Bonanza sellers and tap into their expansive customer base. Showcase your products, pay minimal fees, and enjoy the ease of use offered by this promising online selling platform. Start selling on Bonanza and unlock new opportunities for success.
Handshake, a wholesale marketplace powered by Shopify, is a hub for connecting suppliers and retailers. Whether you have a brick-and-mortar store, an online shop, or both, Handshake provides a platform for retailers to join and discover curated suppliers. If you have unique products, you can apply to become a wholesale seller on Handshake.
What sets Handshake apart from other online selling sites is its seamless integration with Shopify, the leading ecommerce platform worldwide. This integration allows wholesale creators and retailers to streamline their operations by managing inventory, tracking sales, and fulfilling new orders all within the same ecommerce ecosystem they may already be using. Unlike wholesale marketplaces that often require manual CSV uploads and tedious maintenance, Handshake simplifies the process and provides a more efficient solution.
With Handshake, you gain access to a vast collection of unique and non-mass-produced products carefully selected to cater to the unique tastes of consumers. By leveraging the power of Shopify's robust features and capabilities, Handshake empowers wholesalers and retailers to optimize their business operations and streamline their workflows.
Join Handshake to experience the benefits of a wholesale marketplace that connects you with reputable suppliers and integrates seamlessly with Shopify. Embrace the convenience and efficiency of Handshake to expand your wholesale business and unlock new opportunities in the ever-evolving world of ecommerce.
Ruby Lane is widely regarded as the premier online selling site and shopping forum for vintage and antique items. It was voted as the top recommended-selling venue a few years ago.
Setting up a shop on Ruby Lane is free, and you won't incur any fees for listing your products. However, if your shop has 50 items or more, a monthly maintenance fee is $54. Additionally, Ruby Lane applies a service fee of 6.7% on the total purchase order, excluding sales tax.
This platform is designed to bring together collectors and enthusiasts who appreciate unique and valuable items. If you specialize in selling antiques and collectibles, Ruby Lane offers a niche marketplace tailored to your needs. It's essential to be mindful of the associated fees, but the potential for reaching a targeted audience of passionate buyers makes it a worthwhile choice.
Discover the allure of Ruby Lane and showcase your vintage treasures to a community of discerning collectors. Whether buying or selling, this online site provides a dedicated space to indulge in your passion for antiquities and find like-minded individuals who share your appreciation for the past.
#10. Newegg
Looking for a reliable online retailer to sell your tech-related products? Look no further than Newegg. Despite its name, Newegg has been a prominent player in the ecommerce industry since its establishment in 2001. With a vast range of electronics available at affordable prices, it has become a go-to destination for tech enthusiasts.
What sets Newegg apart is its Newegg Marketplace, where you can list your tech products and gain access to a massive audience of over 40 million customers across 20 countries. Whether you're selling gadgets, accessories, or components, Newegg provides a platform to reach a broad customer base.
When it comes to pricing, Newegg offers flexibility. For example, you can opt to be billed per item or take advantage of their elite membership starting at $29.95 monthly. With the membership, you unlock additional benefits and features to enhance your selling experience.
It's important to note that Newegg charges a commission on sales, varying based on the product type. Rates range from 8% for video game consoles to 14% for accessories. While this commission is a consideration, the exposure and potential sales opportunities on Newegg's platform make it a compelling choice for tech sellers.
Join Newegg's ecommerce shop and tap into their established customer base, competitive pricing, and extensive Marketplace. Start selling your tech products on Newegg and connect with millions of customers looking for the latest electronics.
Looking for a versatile and wide-reaching online selling platform? eBay is the original online Marketplace connecting buyers and sellers since 1995. With eBay, you can sell almost anything, from antique treasures to unique crafts and unconventional items.
When selling on eBay, it's important to know the associated fees. For example, there is a non-refundable fee for listing an item, and if you choose to list the same item in multiple categories, an additional "insertion" fee applies.
In addition to the listing fees, there is also a "final value fee," a percentage of the selling price, typically ranging from 10% to 12% in most categories. This fee also includes a percentage of the shipping costs. The exact fees vary depending on factors such as the product type, quantity, and categories in which it is listed, as well as the shipping details.
eBay boasts impressive statistics, with over 1.7 billion listings and 135 million users worldwide as of 2021. It offers a vast buyer network and an opportunity to reach a broad audience for your products. However, it's important to note that eBay is generally perceived as less trusted than other platforms like Amazon.
With eBay, you can tap into a diverse customer base and sell your unique items to a global audience. Embrace the platform's flexibility and extensive reach to showcase your products and attract interested buyers. Start selling on eBay to unlock a world of selling possibilities.
Etsy stands out among the top websites for selling products online, catering to a niche market like Ruby Lane, focusing on handmade goods, art, collectibles, and antiques. With billions in annual sales, Etsy is a lucrative online seller platform.
To list an item on Etsy, there is a nominal fee 20¢ per listing. Your item will remain in your shop for up to four months or until it sells, whichever comes first. When a sale occurs, Etsy charges a 5% transaction fee and a processing fee of 3% plus 25¢, which may vary depending on the seller's bank location.
For sellers based in Canada or the US, the transaction fees apply only to the listed price, excluding sales tax. However, if you charge customers a separate shipping fee, Etsy will deduct 5% of the shipping charges.
Etsy's reputation as a reputable and well-known platform for online selling is well-deserved. Its user-friendly interface and established standing in the online selling community make it an excellent choice for showcasing and selling your products.
Join the thriving Etsy community and tap into a dedicated audience seeking unique, handmade creations. Whether you're an artist, collector, or craftsperson, Etsy offers a trusted marketplace to connect with buyers who appreciate the beauty and value of your creations.
Chairish, an emerging online consignment store, specializes in high-quality furniture and home décor. It provides a seamless platform for listing your items, and as with any consignment store, Chairish takes a percentage of the selling price.
The percentage Chairish retains depends on the final sale value of your item: 20% of the first $2,500, 12% of the next $22,500, and 3% of the subsequent $15,000. For example, if you sell an item for $40,000, you'd retain $35,350.
The best part? Listing your items on Chairish is free. Once you list your items, Chairish's curators review them to ensure they meet high standards. They also enhance your provided photos to make your item look its best before making it available.
Shipping logistics are also taken care of by Chairish, relieving you of the burden of shipping large furniture pieces. Alternatively, you can arrange your shipping.
Chairish is an exceptional online selling site for those looking to sell furniture and home décor. Its commitment to high standards provides an ideal marketplace for discerning buyers and collectors seeking quality pieces for their spaces.
Do you want to sell your unused smartphone or camera? Swappa is a trusted online marketplace designed to buy and sell tech gadgets. The platform has established a strong reputation by effectively filtering out trolls and fraudsters.
Consequently, they thoroughly scrutinize listed items, ensuring a hassle-free experience for buyers and sellers who offer products in good working condition.
One of the standout features of Swappa is that it doesn't charge any seller fees for creating listings. However, if you want to enhance the visibility of your listing, you have the option to feature it for a nominal $5 fee. Transactions on Swappa typically occur through PayPal, which charges sellers a fee when buyers pay. Nevertheless, Swappa boasts one of the lowest fee structures among all the marketplaces available.
Additionally, Swappa offers a local selling option called Swappa Local. This version of the platform allows you to connect with buyers in your community, making it convenient to sell your tech gadgets locally.
Swappa provides a reliable and efficient platform for selling tech gadgets, ensuring a trustworthy and transparent marketplace experience for sellers and buyers alike.
Established in 1995 by Craig Newmark, Craigslist is a simple and user-friendly online platform that primarily functions as a forum. Initially focused on providing local information for the San Francisco Bay Area, it has since become a popular destination for online selling among individuals and even some businesses.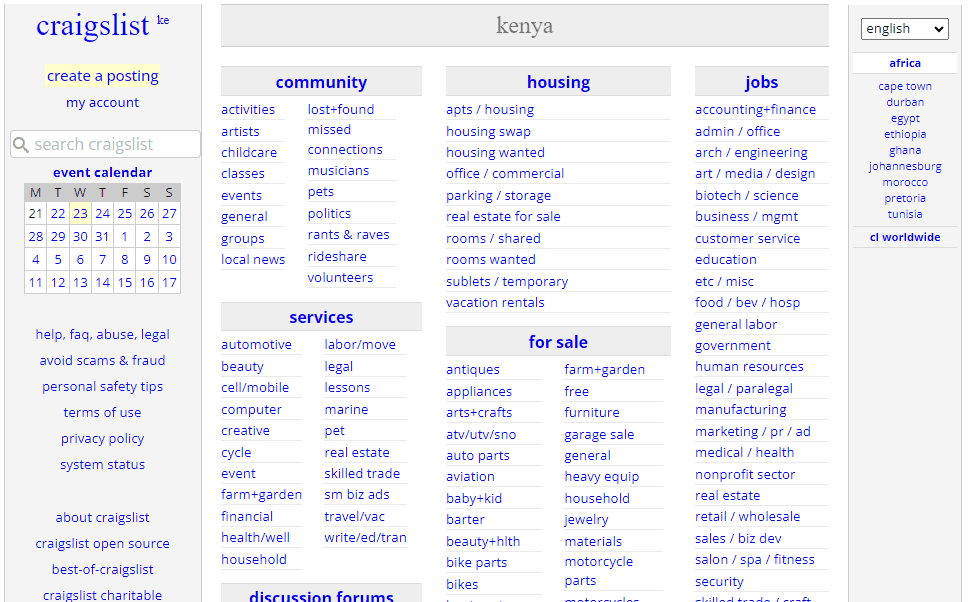 However, it's important to note that Craigslist has its drawbacks. One significant downside is the prevalence of scams and the limited recourse available to users when dealing with fraudulent activities. The platform operates with a "you're on your own" approach, making it a higher-risk selling site than others.
Craigslist is particularly well-suited for those who prefer selling locally and conducting in-person transactions. It offers an opportunity for individuals to capitalize on market arbitrage, where some buyers take advantage of purchasing items at lower prices and reselling them at a profit.
While Craigslist may lack certain safeguards and support systems, its simplicity and broad reach continue to attract users seeking to buy and sell items within their local communities.
Nextdoor is a unique online platform that fosters community engagement, similar to Craigslist. It serves as a forum where neighbors can connect, share information about local events and neighborhood happenings, and even address concerns like traffic issues or organizing block parties.
In addition to being a neighborhood hub, Nextdoor provides a convenient and free space to sell items online. Like other platforms such as Craigslist and Facebook Marketplace, no listing or membership fees are involved. However, transactions on Nextdoor require meeting the buyer in person to exchange the items.
One notable advantage of Nextdoor is its emphasis on user accountability and privacy. Users must sign up and create an account to participate on the platform, adding a security layer. As a result, Nextdoor tends to be a safer environment with fewer instances of scams compared to other platforms.
Nextdoor offers a seamless blend of community engagement and online selling, making it an appealing choice for those looking to connect with neighbors and sell items within their local area.
Read Also:
Key Takeaways
In conclusion, several top websites offer unique opportunities and cater to specific niches when selling online. From VarageSale and Handshake for specialized marketplaces to Ruby Lane for vintage and antiques, Etsy for handmade goods, Chairish for high-quality furniture, Swappa for tech gadgets, Facebook Marketplace for community-oriented selling, and Nextdoor for local connections—each platform brings its own set of advantages and considerations.
While the choice ultimately depends on your specific needs and preferences, weighing factors like fees, buyer and seller protection, user experience, and the target audience is crucial. Whether you're a collector, artisan, retailer, or simply looking to declutter, these platforms provide diverse options to connect with buyers and make profitable sales.
Now armed with knowledge about these top websites for selling online, assess your inventory, determine your target audience, and select the platform that aligns best with your goals. In addition, you want to showcase your products, tap into thriving communities, and unlock the potential for financial gain.
Lest you forget, success lies in choosing the right platform, presenting your products effectively, providing excellent customer service, and building a reliable reputation. With dedication and strategic marketing, you can harness the power of these online selling sites to reach a wider audience, increase sales, and maximize your entrepreneurial journey.
So, dive into the world of online selling and let your products shine on these top websites for selling online. Your next customer might be just a few clicks away, waiting to discover the treasures you have to offer. Seize the opportunity and embark on a rewarding selling experience that transcends boundaries and unlocks new possibilities for your business.
FAQs:
Q: Which online site is best for sellers?
A: The best online site for sellers depends on various factors, such as the nature of your products, target audience, and personal preferences. The article highlights several top websites for selling online, each catering to specific niches. For example, consider platforms like Etsy for handmade goods, Chairish for high-quality furniture, or Swappa for tech gadgets. Assess your products and goals to determine which platform aligns best with your needs.
Q: What is the biggest online selling site?
A: While several prominent online selling sites are prominent, the biggest one mentioned in the article is eBay. With its global reach and extensive user base, eBay offers a wide range of products and attracts many buyers. However, it's important to note that eBay may not be the ideal platform for every seller, especially those focusing on specific niches or seeking a more curated selling experience.
Q: How can I sell my product fast?
A: Optimizing your selling strategy is essential to sell your product fast. Here are a few tips:
Provide high-quality product images and detailed descriptions to attract potential buyers.
Set a competitive price based on market research and the value of your product.
Utilize effective marketing techniques such as social media promotion, targeted advertising, or influencer collaborations.
Offer excellent customer service to build trust and encourage positive reviews.
Use platforms like Facebook Marketplace or Nextdoor for local sales, as they facilitate quicker transactions with nearby buyers.
Q: How can I sell my stuff online?
A: Selling your stuff online can be done by following these general steps:
Choose an appropriate online selling platform based on the nature of your items.
Create an account and set up your seller profile.
Take high-quality photos and write compelling descriptions of your products.
Determine pricing based on market research and the condition of your items.
List your products on the platform, ensuring they are easily discoverable.
Promote your listings through social media, online communities, or targeted advertising.
Respond promptly to inquiries, negotiate with potential buyers, and finalize transactions.
Package your items securely and ship them promptly if applicable, or arrange for local pickup.
Remember, success in selling your stuff online relies on presentation, pricing, marketing, and customer service. Tailor your approach to the platform you choose and the preferences of your target audience to optimize your chances of making successful sales.
Small Request
Kindly share it with your friends. Especially the ones you believe need this information. Sign Up Now and Get your first 3 months for only $1 monthly.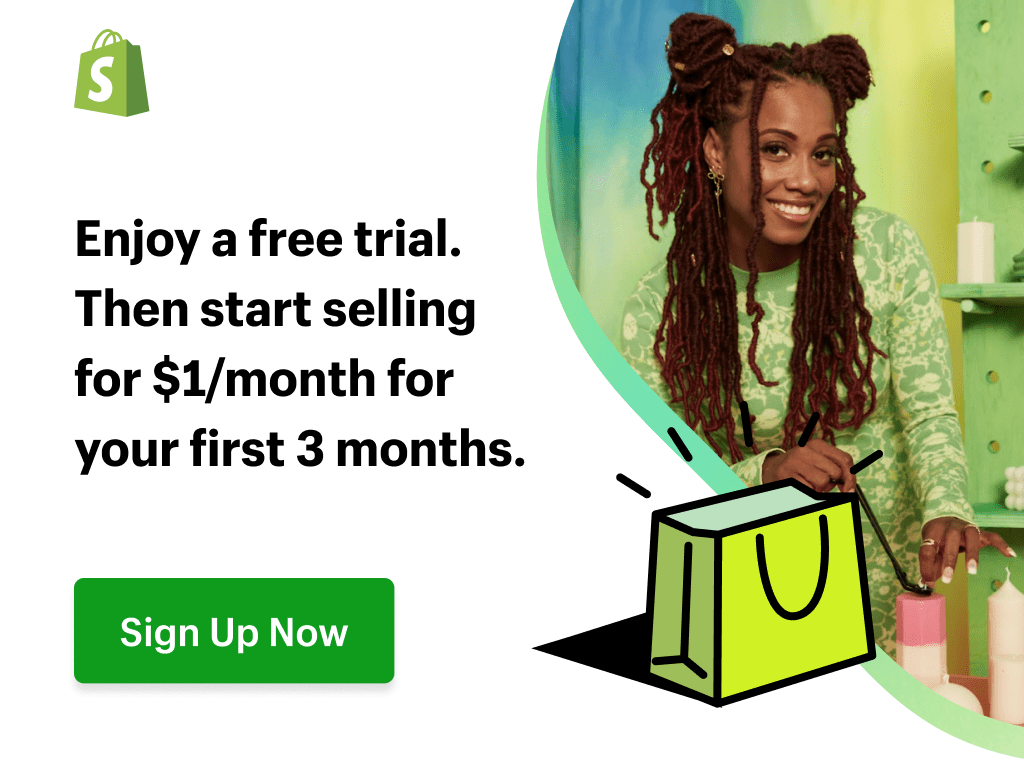 Sharing this information with others can make a huge difference. You may ask why.
Well, the truth is, my main aim is to provide the best information about drop shipping for both beginners and experienced dropshippers.
And I plan to continue doing so for as long as I can.
I would also like to thank those who support my work by reading and sharing my content.
Trust me, when you take your time and share, it will greatly help me and others needing this information.
Here are some great suggestions:
Pin it
Share it on another blog.
Share on Facebook (Share it with friends and even on Facebook groups)
Tweet it
Stumble it
This will only take a few seconds of your time, and I would appreciate it.
I appreciate you a lot. Thank you!
Join my Shopify dropshipping group mastermind and follow my blog to learn more about Shopify tips, dropshipping guides, tricks and checklists, and e-commerce in general.
If you enjoyed and learned something from this post, you can get me updates for free!
I send out email newsletters about new posts published on the blog, tips and tricks to help you grow your dropshipping business, new YouTube videos to give you more insights about the e-commerce market, and much more.
If you enjoyed reading this, you could as well join my Facebook group. Thank you for reading how to make money dropshipping online from the comfort of your home.
Click here to Join My Facebook Mastermind Group