How To Create A TikTok Shop Seller Account
TikTok Shop is revolutionizing the eCommerce industry through its powerful webshop feature that integrates with a regular TikTok account and allows qualified users to sell products or services on their TikTok account.
Today, we recommend creating a TikTok shop as a seller to list and sell your products or services on the TikTok app.
The Tiktok shop ecommerce feature allows merchants and creators on the Tiktok app to list and sell products.
As a seller, your products will be displayed either through:
The in-feed videos on the timelines
Lives streaming
The product showcase Tab
The Tiktok Shop Tab
TikTok offers free listings to sellers, unlike Etsy and other marketplaces.
TikTok shop is only available in a few countries at the time of this publishing.
You can only sign up on the Tiktok shop as a US seller,
Malaysia, Singapore, Thailand, Vietnam, Indonesia, the Philippines
United Kingdom
United States
The Chinese mainland and the Hong Kong SAR Seller (cross-border only)
Brazil, Chile,
Egypt,
Mexico,
Morocco,
Korea,
Kuwait,
Qatar, Saudi Arabia,
South Africa, Turkey, and the United Arab Emirates.
So, let's start by creating a TikTok shop for sellers.
Table of Contents
Login with Your existing Tiktok account
If you already have a TikTok account, you need to sign up on the TikTok shop using your existing credentials.
Go with the login button option and log in with your account details.
Create a TikTok Shop seller account.
To register as a seller for a TikTok shop account, visit the official Tikshop account.
Click 'Starts selling Now' to sign up on the TikTok shop. Your location must be in the US. Once your account is signed up, the account verification will start.
Since Tikok is only available in a few countries, you can Open a US LLC, which gives you the power to open a US Tiktok account anywhere in the world. 
You must also buy a US address, readily available on Virtual Post mail, and a US phone number for SMS code verifications.
If you want to create a brand new TikTok account, you must register for a new account instead of using an existing email or phone number.
Since you are registering a new account on Tiktok, you must use a phone number and email address that have not been used or registered with Tiktok for business or a Tiktok shop account.
That is all you will need to sign up or log in if you need to remember the login details.
Passwords: You must reset your password via email or phone number.
To onboard on Tiktok shop, all sellers are required to have both email addresses and phone numbers verified.
TikTok Shop Onboarding Process
Before you are fully boarded, primary information is required for identification and verification.
At this stage, you must choose the type of business you want your TikTok shop to be required under.
There are about 5 business categories to choose from:
Individual– This option is for you if your business is selling under your name and not a registered business.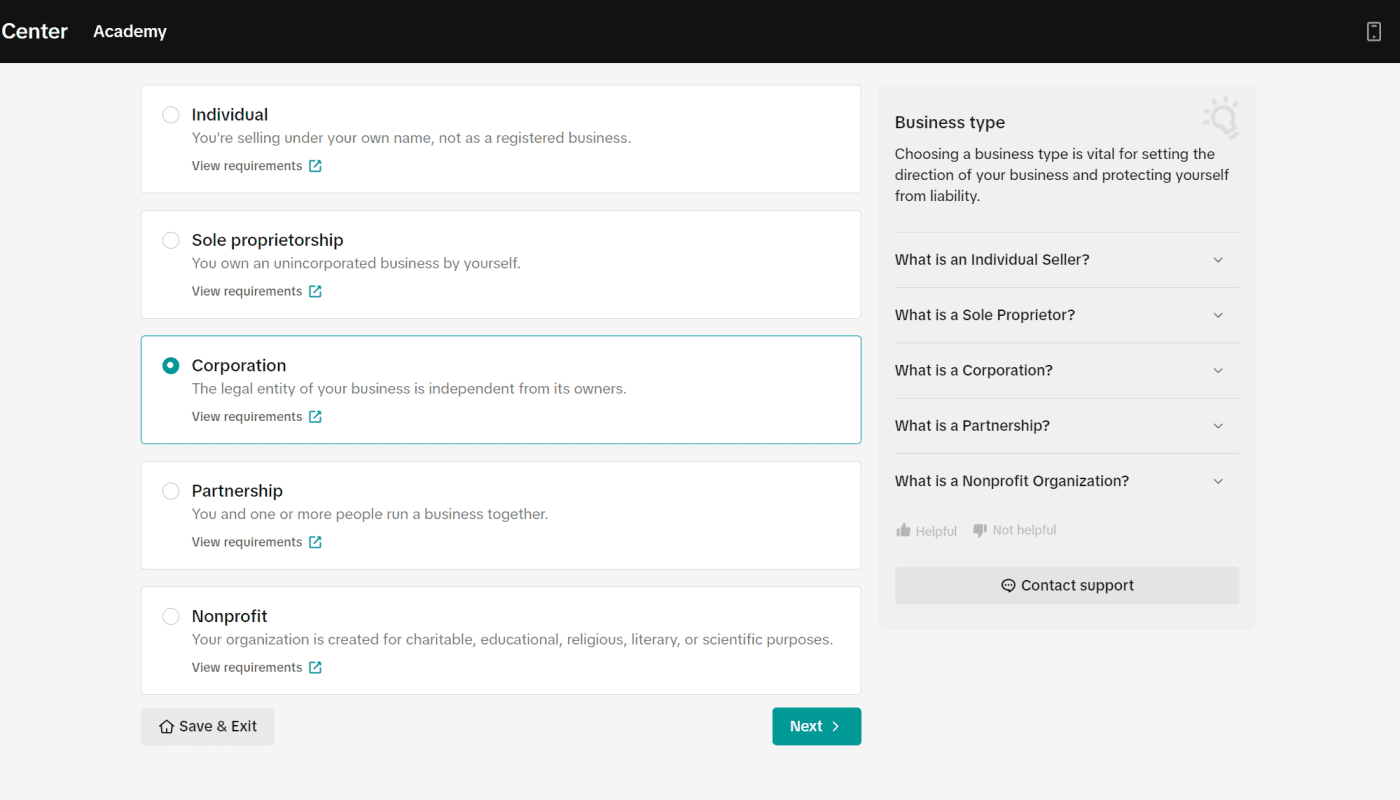 Sole proprietorship– Select this option if you own an unincorporated business; this option registers your TikTok shop as an unincorporated business.
Partnership: This option fits the shop name if one or more people own the business and both run the business together.
Corporation: Choose this business type if the legal entity of your business is independent of its owners. It separates personal life and business.
Nonprofit- Select this option if your business is charitable or educational or your organization is religious or scientific.
Once you have chosen the business type, the following steps must be followed before the boarding process is approved or finalized.
Tiktok Business Information
TikTok shops require any seller who intends to get their application approved to provide the following:
Legal business name
Employer identification number (EIN)
A Beneficial Owner (for Partnership/
Registered business address
ID Verification
As part of the verification, you must upload your Front side ID. For your Documentation ID to be accepted, ensure all the information about you is correct, including clear signatures and high-quality images without any blurred portions.
Your uploaded files must be less than 5MB, and the images or documents should be in JPG, PNG, or PDF format.
The ID type needed is a Driving license, Passport, or ID.
Provide your Residential Address
Please provide your current, accurate residential address, matching the details in your utility bills or bank statements.
A residential address is preferred instead of a company or a BOx address; a PO box is prohibited.
Your residential address verification aims to identify the business beneficial owner or the legal representatives of the TikTok shop.
Your TikTok shop application may be accepted if the requested information is correct.
It is also important to declare if you use any third-party apps or platforms; this lets Tiktok know whether you will work with affiliates or subcontractors.
This disclosure is essential for data privacy. Under US data protection laws, TikTok must understand how the seller will use the data collected from its platform.
Tiktok Personal Infromation
US anti-money laundering regulations (AML) require personal owner information. Therefore, it's essential to provide the personal data of the individuals operating the TikTok shop.
Tiktok shop requires every seller to provide account owner details for verification to conduct business on Tiktok shop.
Depending on your country of residence, you will need a valid passport or driver's license and the last four digits of your EIN, SSN, or ITIN.
Provide a business entity and the last 4 digits of SSN or ITIN.
The following information is needed as part of your ID/Passport;
Your Legal name
Your Date of birth
Valid ID number
YourID Expiry date
Up-to-date Residential address
Your Last 4 digits of SSN, EIN, or ITIN
TikTok's shop aligns with US regulations, meaning sellers must publicly showcase their business addresses on specific product pages.
The address can be either business or residential. If it is residential, ensure that the 'Certify' checkbox is selected; this only partially allows the TikTok shop to display the address.
Choosing Your Shop Name
Choosing your Tiktok shop name is an essential step in the Tiktok shop application process.
The name you choose represents your shop on TikTok as an identifier; hence, choose a unique name that is easily brandable and memorable.
You can use a free, AI-powered business name generator to learn how to choose your TikTok shop name. You will be presented with unique business names which you can use for your shop.
TikTok shop has set guidelines for selecting a shop name on their platform.
The shop name must have a maximum of 40 characters.
The name must not contain any inappropriate language that can be sexually suggestive, racial, or abusive.
The shop name must not include any Tiktok tracker mark or third-party platform name.
Therefore, your shop name must be unique, easy to remember, and a genuine representative of your commercial business.
You can use your username if other shops do not take it.
As mentioned earlier, your Tiktok shop will be displayed to your customers on your Tiktok shop Profile.
You can choose any name to accompany you; you can use the preferred name if you change your mind.
When choosing a TikTok shop name, ensure it is easy to pronounce and remember.
You should draw inspiration from the products/services you sell. A good business name reflects your style and helps with business branding.
You can use letters, characters, and numbers; your store name should be mixed up; you can't use only numbers or symbols as the shop name.
You should select the category that best describes your business and aligns with the products or services.
The business category selected will not impact your future business activities; this is used as an application professional measure for registration only.
Conclusion
Congratulations! If you followed all the outlined processes above, your Shopify store is set up correctly.
You must wait 3-5 working days to see if your application is approved or rejected.
If all the required documents and processes are complete, your Tiktok shop will be approved.
Hence, you can conduct business and explore more about TikTok shop.
Tiktok shops occasionally may require additional documents based on sale volume, and they reserve the rights for admission and seller evaluation.
Small Request
Kindly share it with your friends. Especially the ones you believe need this information. Sign Up Now and Get your first 3 months for only $1 monthly.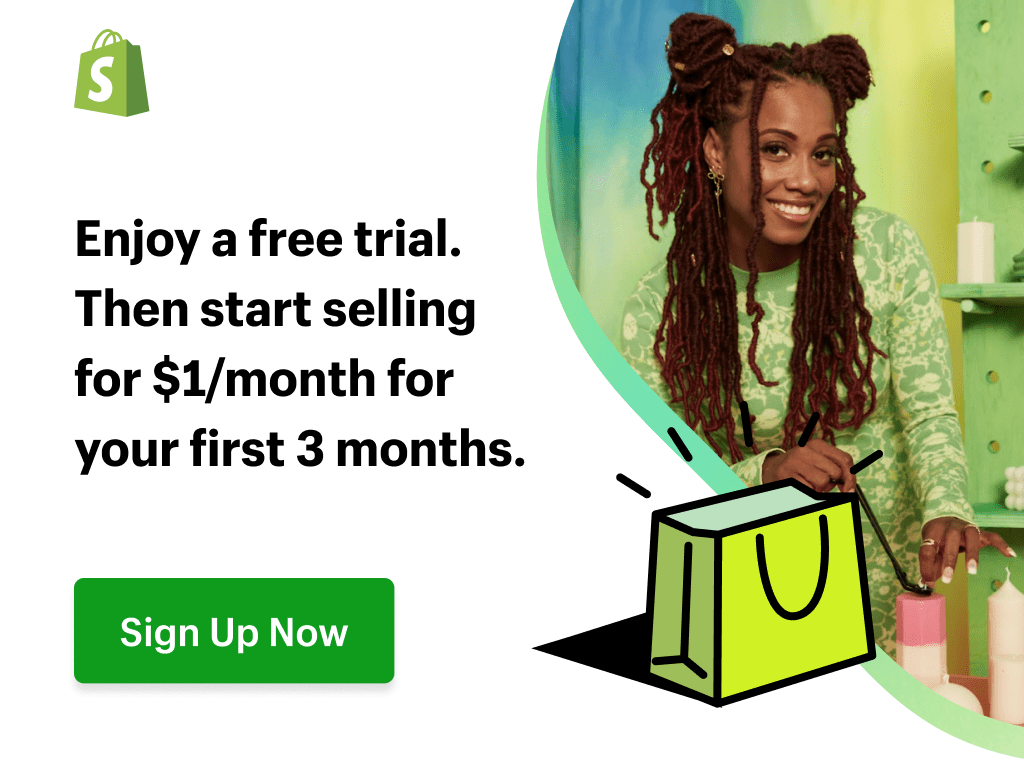 Sharing this information with others can make a huge difference. You may ask why.
Well, the truth is, my main aim is to provide the best information about drop shipping for both beginners and experienced dropshippers.
And I plan to continue doing so for as long as I can.
I would also like to thank those who support my work by reading and sharing my content.
Trust me, when you take your time to share, it will greatly help me and others who need this information.
Here are some great suggestions:
Pin it
Share it on another blog.
Share on Facebook (Share it with friends and even on Facebook groups)
Tweet it
Stumble it
This will only take a few seconds of your time, and I would appreciate it.
I appreciate you a lot. Thank you!
Join my Shopify dropshipping group mastermind and follow my blog to learn more about Shopify tips, dropshipping guides, tricks and checklists, and e-commerce in general.
If you enjoyed and learned something from this post, you can get me updates for free!
I send out email newsletters about new blog posts, tips, and tricks to help you grow your dropshipping business, new YouTube videos to give you more insights into the e-commerce market, and much more.
If you enjoyed reading this, you could also join my Facebook group. Thank you for reading how to make money dropshipping online from the comfort of your home.
Click here to Join My Facebook Mastermind Group