Dropified vs. Oberlo: Which Is Better For Dropshipping
This article here promises to be a final review of Dropified vs.Oberlo the battle of the dropshipping Apps.
The posits of this article seek to lay bare a thorough comparison of these two dropshipping solutions; Dropified vs.Oberlo.
The Dropshipping Plugins: Dropified vs. Oberlo.
Again, you'd ask, why is picking the spot-on dropshipping plugin for my store such an important step?
Well, look at the US case in point, about 80% of grown-ups shop online. Whoa! That's static, and a quartile of those, buy at least monthly, and 16% at least weekly.
Crunching on these numbers will point out to e-commerce store owners that picking on their shipping provider wisely and cautiously is essential.
There are dozens of providers promising all sorts of things; it can be overwhelming looking at them.
Any potential e-commerce store owner needs to realize that this an internet-age, and customers are savvy and research on products, compare prices and read reviews.
So, what do customers often talk about most in the reviews?
Hint: It's your product's quality, dependability, and speedy delivery. Choosing the right provider plays a significant role in establishing a business's success and lets you concentrate on growing other facets of your brand.
What's Dropified?
Thankfully, Dropified's website has a simplified explanation highlighting it precisely what it does.
Briefly, "Dropified is a software app that lets you easily import and manage dropshipped products into your e-commerce store like-(Shopify, WooCommerce)
and then ship those sold products directly to your customers wherever they are across the globe without you physically handling the product."
Dropified's homepage teems with satisfied endorsement and thus appeals to potential customers that if they opt to sign up, they'd be joining a club of over 44k members!
44k plus people can't be, right?
What's Oberlo?
Launched in 2015, Oberlo is among the first dropshipping app to hit the market.
It bases in Lithuania, and their homepage indicates that they help entrepreneurs to locate products to sell, add to your Shopify store and start selling.
Currently, Oberlo shows off on Shopify store an impressive 4.7 star and 8.7 Trustscore on Trustpilot, not bad, huh!
Since its inception, merchants on the Oberlo platform has sold over 85 million products online globally.
Its USP is akin to that of Dropified that affirms: "Oberlo is the lead market for searching and finding products to sell online.
The platform links merchants and wholesalers who ship merchandise directly to customers. This dropshipping considerably minimize the hurdles to entry for entrepreneurs."
How Do They Both Work?
First off, you have to create an e-commerce store on Shopify before using either Dropified or Oberlo.
The exciting bit of using Dropified together with Shopify is that you can integrate with other e-commerce platforms as well, but details on this later.
Upon creating your online store, get to Google Chrome Extension store, then search for either Oberlo or Dropified.
As soon as you find your plugin of choice, install it when the installation completes, research on the product.
Ideally, you ought to see the logo on products. It then begs the question, which drops shippers' partners with Dropified or Oberlo.
In a nutshell, Dropified works in conjunction with market giants like AliExpress, Amazon, and almost 50 other providers in contrast to Oberlo's much more limited choice.
Dropified vs. Oberlo: A Quick Comparison
Pricing
Billed Monthly
Dropified Builder: Which is the cheapest package costs sic ($47 a month) and Dropified Premium which costing ($127 a month). Then the most expensive package is Dropified Black at $167.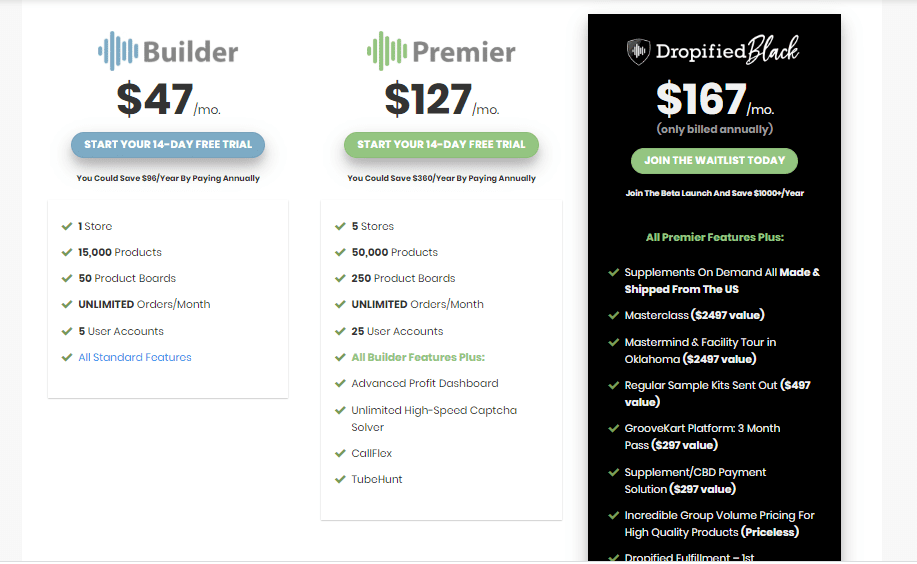 Oberlo Basic Plans: Which are their monthly entry-level costs $29.90 and Oberlo Pro package priced at $79.90 monthly.

Billed Annually
Dropified 'Builder' plan priced at sic ($468) and Dropified 'Premium' package costs sic ($1164)
With Oberlo, customers do not have the leeway of paying for the entire year upfront; sadly, therefore, you don't enjoy similar annual discounts offered by Dropified.
Number of products to list
Dropified Builder permits you to register 15k, and Dropified Premium allows 50k a month.

Oberlo Basic enables a max of 10k products, whereas Oberlo Pro permits 30k products.
eCommerce Platforms Supported
Both Oberlo Basic and Pro supports Shopify.
Both Dropified Builder and Premium supports CommerceHQ, GrooveKart, Shopify, and WooCommerce.
Free Trial

Oberlo has a free 'Starter' package that permits users to upload and vend a max of 500 items, whereas each Dropified priced plan provides a 14-day free trial.
Dropified vs. Oberlo: Similarity
Placement of an unlimited number of orders
Suppliers send product inventory and pricing alerts
Product boards
You have the option of manually processing orders
A step-by-step place order button
Users can edit products in bulk
Users can import product variants to their product page
Users can change the product suppliers for placing order
Creation of product bundles
Manage orders in-app
Automation of marking orders as fulfilled on chosen e-commerce platform
A simple image editor
Shipment confirmation emails get triggered through a chosen e-commerce platform
Users can upload product images
Users have access to US-based products
Users have access to pricing mark up tools
Product description template
User can save AliExpress order ID as an Order tag
Filtering products by ePacket
Users can export orders placed on suppliers' platform
Dropified vs. Oberlo: Differentials of the Two Plugins

Before digging on the differences, it's worthwhile to point out that Dropified contrasts Oberlo with way more automation and elements.

Oberlo's fewer automation and features mean that you may have to fork out more down the line -installation of other plugins, just so your online store to have all the elements needed today and beyond.

So, let's plow through their distinctions.
It's solely Dropified Premium that offers:
Google product feed
Callflex: Provide either a toll-free phone number or local number that customers can call.
Manifold stores
TubeHunt: An intuitive tool that lets you search for videos based on any YouTube category.
It's solely Dropified Basic or higher plans that offer:
AlIExtractor-this is a product search tool for AliExpress.
An auto 'place order' button
Save products to the app or your store.
Users can send info and orders in bulk directly from an e-commerce platform to Dropified.
Users can import product reviews directly from suppliers on to their product pages.
There's an auto place order for bundled products.
Users can save order info inside an e-commerce store on the notes field.
Users can edit the order notes field on e-commerce.
Users can search and filter orders within the app.
Users can autosave AliExpress order ID.
Chrome extension adds the order tracking number to the app.
Users can download product images.
Users have access to an advanced image editor.
Users have access to a Clipping Magic-a tool that removes image background.
YouZign API
Users can custom note to the wholesaler.
Users can add tags to the store when an order gets placed, and the tracking number added.
Users can send custom attributes and notes to the seller.
Users can activate order risk levels.
Users can notification for delayed tracking number syncing.
ePacket ID for several countries.
Users have access to unlimited high-speed Captcha solver.
There's a tool called order audit that draws a comparison between orders placed on your store and the orders placed on the dropshipping suppliers.
Additionally, Dropified Builder perk lacks a profit dashboard while Oberlo has it. Equally, Oberlo Basic plan requires a Decaptcha Captcha solver, whereas Dropified has it.
What Are The Importance of The Differences Between The Two Plugins?

So, are the differences between the two plugins significant? In not so very many words, yes.

Consider their pricing; for instance, for entrepreneurs or smaller brands, after two weeks, Dropified does not offer anything for free.

On the other hand, Oberlo offers dozens of features for free for its users. You won't pay a dime for listing up to 500 items, and you'll have access to:
Pricing automation.
Sales report.
Daily product synchronization.
Automated order fulfillment.

It is quite something for a free perk, right?

However, the focus ought to be on value for money. Dropified perks provide, for example, the Captcha element in the 'Builder' package.
It is essential since the 'Builder' plan's capacity saves time; thus, daily, you do not have to solve hundreds of Captchas manually.

Oberlo Pro provides the same function.

Once again, regarding the time-saving elements, it's worthwhile to note that only Dropified has an auto place order button. It means you can select many orders to get processed simultaneously.
Read Also:

Dropified claims to have created an auto place order button to minimize the number of order windows open in AliExpress, subsequently preventing anti-fraud software from flagging the users, overwhelming the entrepreneur with Captcha, and possibly stalling the IP address of members.
Dropified vs. Oberlo: Websites

Granted, both websites are accessible, carved in a user-friendly language that seeks to appeal to the ordinary store owners.

Therefore, if technical jargon and acronyms put you off, fret no more, both Dropified and Oberlo's sites are easy to navigate.

In a flash, rest assured your queries will get answered.
Both sites, at a glance, easily highlight the benefits using their items. Per-se, you'll experience whether that which gets offered fits your potential present and future business model.

Interestingly, both sites are transparent about their reviews and keen to display their satisfied customers, giving faces, names, direct quotes, and tributes.
Dropified vs. Oberlo: Customer Support

Oberlo has more to offer in the shape of customer support. For example, Oberlo 101 course- a dropshipping hub, marketing hub, free ebooks, statistics hub, podcasts, and video tutorials.

Business owners have the Oberlo YouTube channel to learn about growing the brand, marketing, and using Oberlo extensively.

Additionally, there's a help center running 24/7; customers can email, contact support agents, through live webcast.

Just string a message, and it gets responded to in a given timeframe.
Dropified provides various training videos on fields like the 'Bulk Editing Product,' 'Add the Dropified Extension to Google Chrome,' and 'Dropified Order Fulfillment Process.'

For assistance, there's a string of articles focusing on ordinary topics, FAQ section, and a chatbox to enable ping over your complaints and questions.
Dropified vs. Oberlo: Which One Should You Pick?

Ok, we'll not pick for you, however, in case you are a small brand running e-commerce as a side hustle, you want to opt for Oberlo as an option.

If you settled for Oberlo's free tier, you wouldn't fork out a dime either will you forfeit for other overheads.
Generally, Oberlo comes across as a perfect fit for newbies who are trying their trade in the sphere of e-commerce, or you're a small brand and wish to keep it that way.
Read Also:
It's essential to keep in mind that Oberlo has a monthly cap to orders that you can place, but if you have no qualms with that, then Oberlo is perfectly cut out for you.
However, if you want to grow your brand, possibly Dropified is the better option. It has a lot of integrated elements.
First, the Dropified Builder package is the right choice, and you can always upgrade as your brand grows.
Dropified gives you the flexibility to scale your brand if the need arises.
Have you ever used Oberlo or Dropified? Are you considering to switch things?
Be it as it may, let's known your views on these particular plugins in the comments sections.
So we come to an end of Dropified vs. Oberlo dropshipping app review, you can decide on which app to use for finding your reliable dropshipping suppliers for your Shopify store.