Top 10 Etsy Alternatives For Selling Crafts Online
Etsy has a good reputation among buyers and sellers for handmade, custom-made, or vintage items; there were well over 4.3 million Etsy sellers as of 2022 according to Etsy Revenue and Usage Statistics (2022).
Although it is one of the most popular places to sell crafts online and unique products, it is not your only option.
Whether you want to build your store or sell on top local or international online marketplaces, you have many options.
In this article, we'll look at some of the most popular Etsy alternatives so you can decide which one is right for you.
Online store Etsy alternatives
Do you want to have complete control over your brand? Instead of joining an online marketplace, consider creating your online store. Here are some of the most well-known names in online ecommerce.
Price: Ecommerce plans start at $29 per month, plus transaction fees.
Shopify is one of the largest ecommerce platforms, and Etsy is one of the largest online marketplaces. With over a million users, Shopify is a trusted alternative to Etsy for entrepreneurs who want to create their brand experience from the ground up.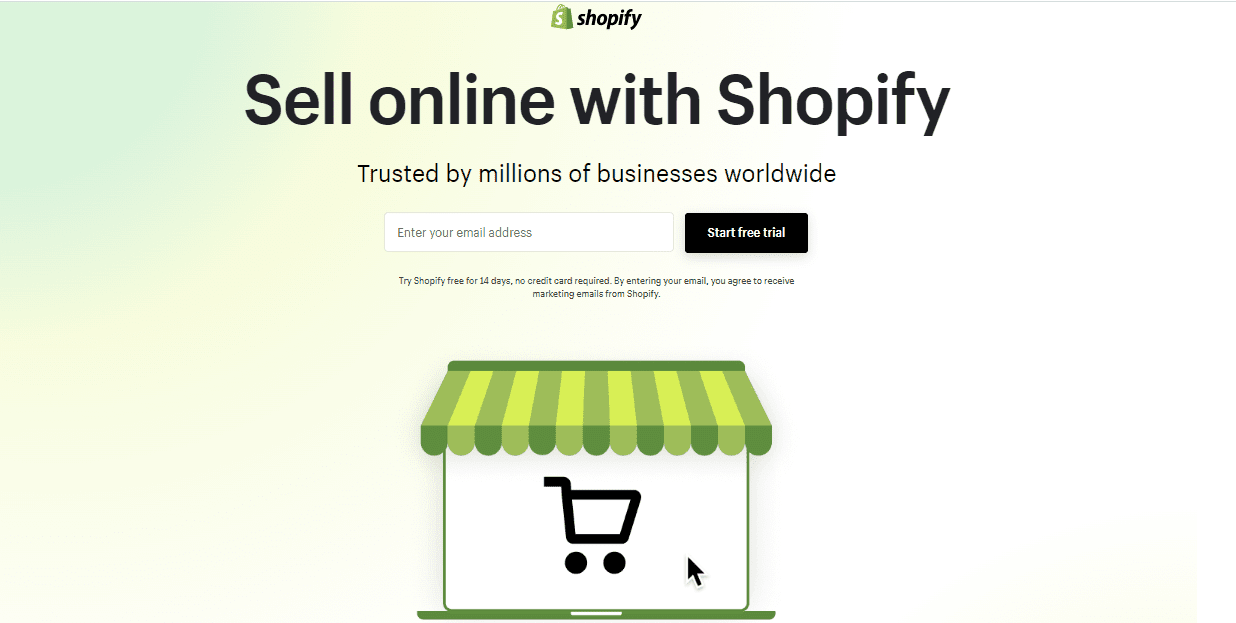 If you're unfamiliar with web design or development, this may appear intimidating, but it's not. You can select from a large number of Shopify themes. Upload your images & text, customize the user experience (UX), and get ready.
The primary aspect to consider is that, unlike Etsy, you will not have access to a marketplace full of ready-to-buy customers.
Instead, you will need to build traffic and customers the same way you build the store. This means you'll need to be prepared for some in-depth online marketing. Shopify has a lot of tools to help you market your business, which is fantastic.
2. Squarespace
Price: Ecommerce plans start at $18 per month, plus transaction fees.
Squarespace is another website that makers can use instead of Etsy. It's easy to stand out online with its beautiful templates, which also look good on mobile. You can use Squarespace's robust inventory system and built-in marketing tools to attract customers.
Squarespace also allows you to import your Etsy storefront, keeping your product URLs and items. This makes it one of the simpler alternatives to Etsy if you want to go it alone.
However, Squarespace requires investment in time and patience to set up, whereas Etsy allows you to create a shop and start selling in under an hour. Still, if you have the funds, you could pay for an outside web design to expedite the process.
Price: Plans start at $9.99 for up to 50 products and are free for up to five products.
Big Cartel, like Shopify, lets you create your online store and brand it with your branding. Its creators designed its tools to make it easier for crafters, artists, and business owners to sell handmade goods.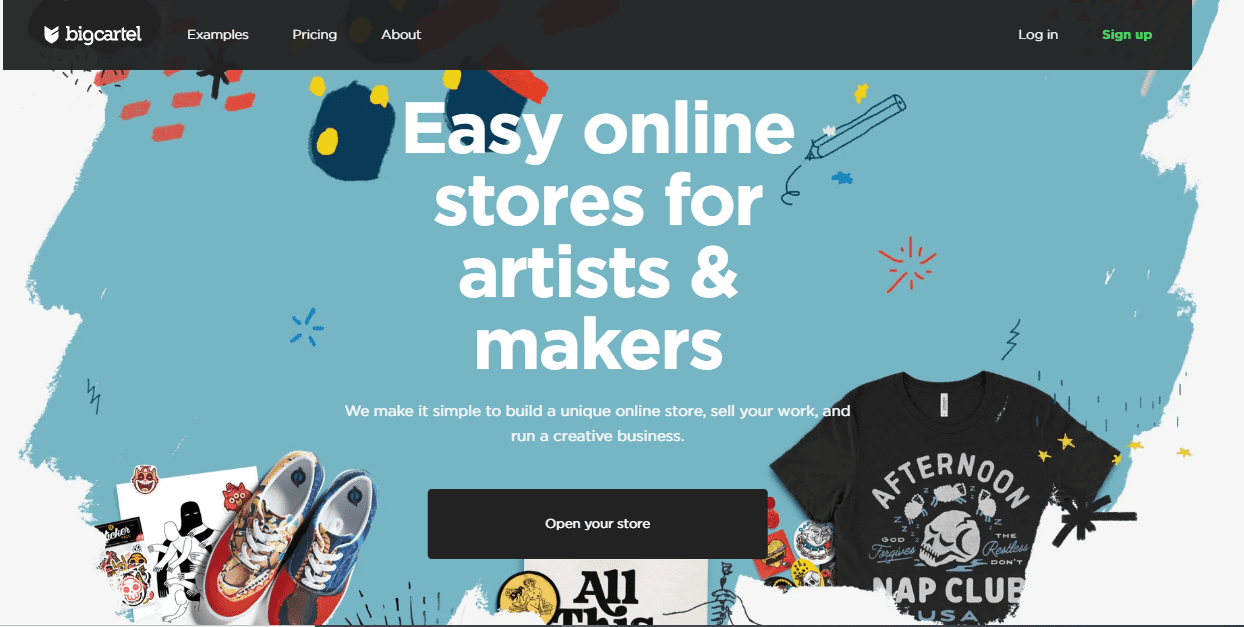 Big Cartel has templates that you can edit to make your brand look unique. There is also an advanced sales tax tool that makes the administrative work of the store owner. The platform also includes several marketing apps that can help you spread the word about your business.
But, unlike Etsy, Big Cartel is primarily an e-commerce platform with no customers. This means you'll have to build your audience and figure out how to keep customers returning.
So Big Cartel makes one of the best Etsy alternatives if you already have a loyal customer base and want to turn your creative skills into a business.
Price: Plans start at $6 per month, plus transaction fees.
If you want a cheaper alternative to Etsy, Weebly is your best bet. This platform includes everything you need to sell products online, such as inventory tracking, shipping tools, tools for finding abandoned carts, gift cards, and coupons.
You can also use the Weebly editor to change the SEO settings on your product pages and the Weebly App Center to add other marketing tools.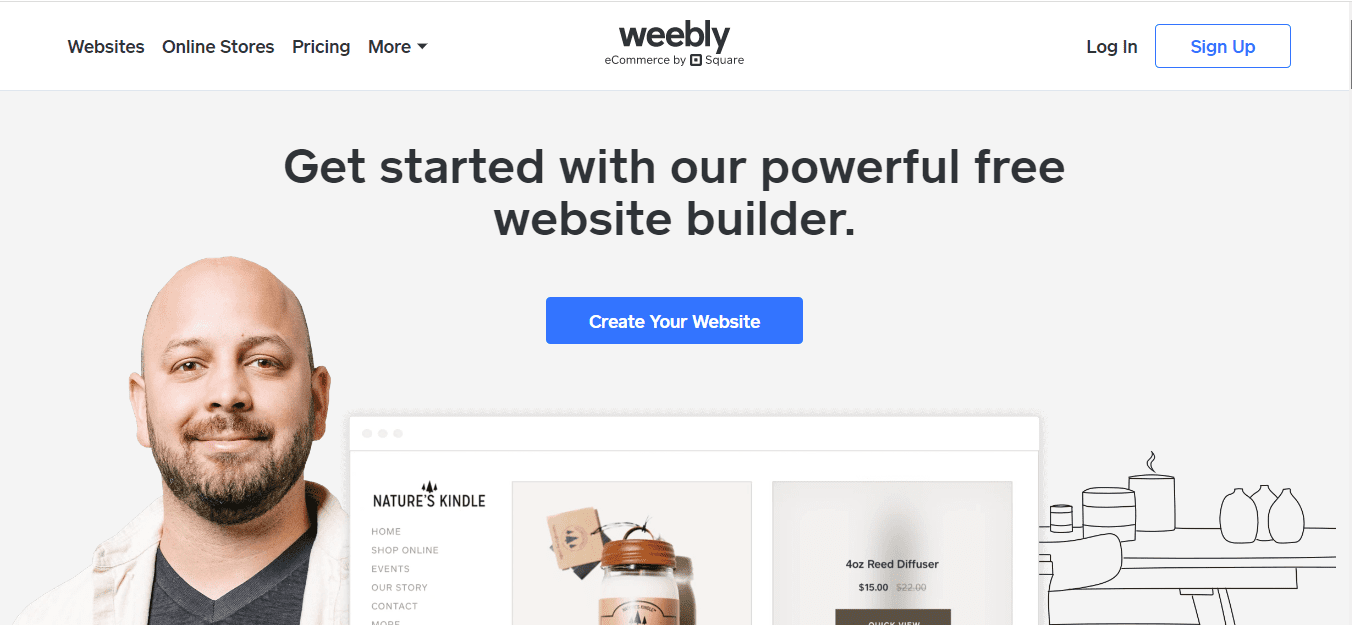 Weebly's templates may not appear as appealing as other website builders. But they're good enough to keep people coming back to your website. Furthermore, you can customize them to your liking, allowing you to change every visual element to suit your branding and design needs.
Read Also: Weebly Vs Shopify
Some of Weebly's Help Center articles are outdated, which is a disadvantage. However, you may have to wait for assistance when you get stuck at a certain point (Weebly's support is good, but not the fastest).
Price: Ecommerce plans start at $17 per month, plus transaction fees.
Wix is a website builder with easy templates and ecommerce features that make it easy to sell handmade and custom-made goods online. In addition, you can track orders, set tax and shipping rules for different locations, offer discount coupons, & accept credit card and PayPal payments on the platform.
Wix also lets you connect to Etsy and maintain your product listings. However, reviews and ratings show that there are issues, such as technical issues and slow loading times. You won't need to migrate if you don't already have an Etsy account.
However, if you want to sell thousands of products, Wix might not be the best option. Using this platform, you can only add up to 100 pages to your website.
There is also no integration for newer sales channels like TikTok, so if you want to sell on popular platforms, you should look into these Wix alternatives.
Marketplace Etsy alternatives
Building your store gives you the most control over your brand, but you must first build your audience.
Online marketplaces have the opposite trade-off: you can reach many people ready to buy; however, you won't have as much control over how they shop.
Let's look at some of the best online markets similar to Etsy.
Price: It's free to join and list products, and you get 15% of all sales made through referrals.
Amazon Handmade was created to compete with Etsy and provide an alternative. According to Amazon, it is a community for only artisan sellers, implying that many shoppers are looking for artisan products.
Amazon Handmade is a thriving marketplace where people can expand their businesses by selling everything from accessories to personal care products to pet supplies. However, it should be noted that Handmade does not yet support digital or downloadable products.
Before joining Handmade, you must first sign up for a $39.99/month Amazon Professional selling account. Then, using your Professional account, you'll apply to be a Handmade seller.
If you are accepted into Handmade, you will not be required to pay the $39.99 fee after the first month.
2. Bonanza
Price: It's free to join and list products, but there's a 3.5 percent fee on all sales, plus an additional 5.5 percent if you use Google Shopping ads.
You can list your products on Bonanza's marketplace or create your online store. This is a great way to gain new customers and retain existing ones while maintaining control over your brand.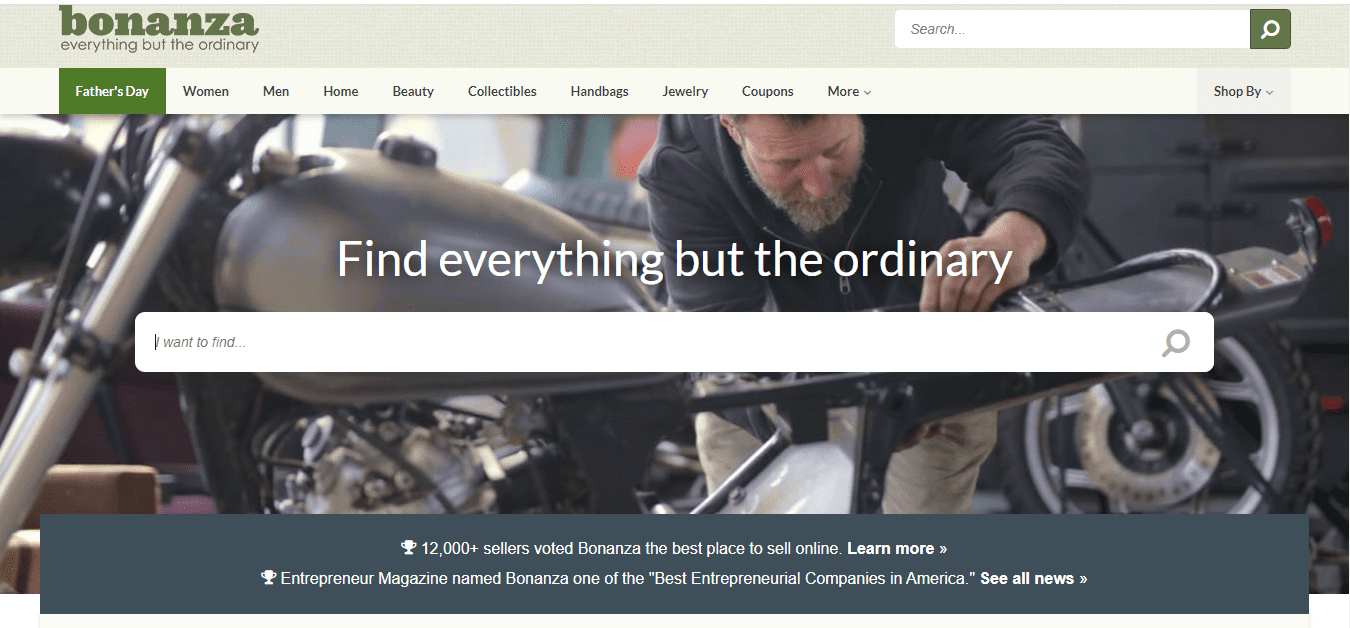 Fees on this platform are also very low when compared to other marketplaces. For example, there is a base fee of 3.5 percent, plus an additional fee if you want to promote your products with Google Shopping ads.
Bonanza provides numerous options for acquiring new customers. For example, you can connect with Bing Shopping and Facebook, be featured on Bonanza's third-party affiliate marketing partners such as blogs and review sites, and use its customer marketing tool to convert one-time shoppers into loyal customers.
Storenvy is a social marketplace for independent brands. You can sell anything from unique jewelry to home goods on its platform. On Storenvy, there are also a lot of sales of books, recorded music, beauty products, and tech products.
Storenvy differs from other sites like Etsy in that it lets you host a free online store on its platform and access to a commission-based marketplace. This means you can sell independently while also reaching people who visit Storenvy's marketplace.
Storenvy, on the other hand, does not have as many visitors as Etsy. It's a great way to get your products in front of people who like independent music, but Etsy may be a better option to reach a larger audience.
Price: A standard shop starts at $9.99 per month, plus listing and transaction fees.
ArtFire is a marketplace similar to Etsy. It, like Etsy, lets you list up a boutique shop where you can sell your products and attract customers from the platform's network of shoppers. It has a strong sense of belonging. Business owners who use the platform can connect, communicate, and offer advice to one another.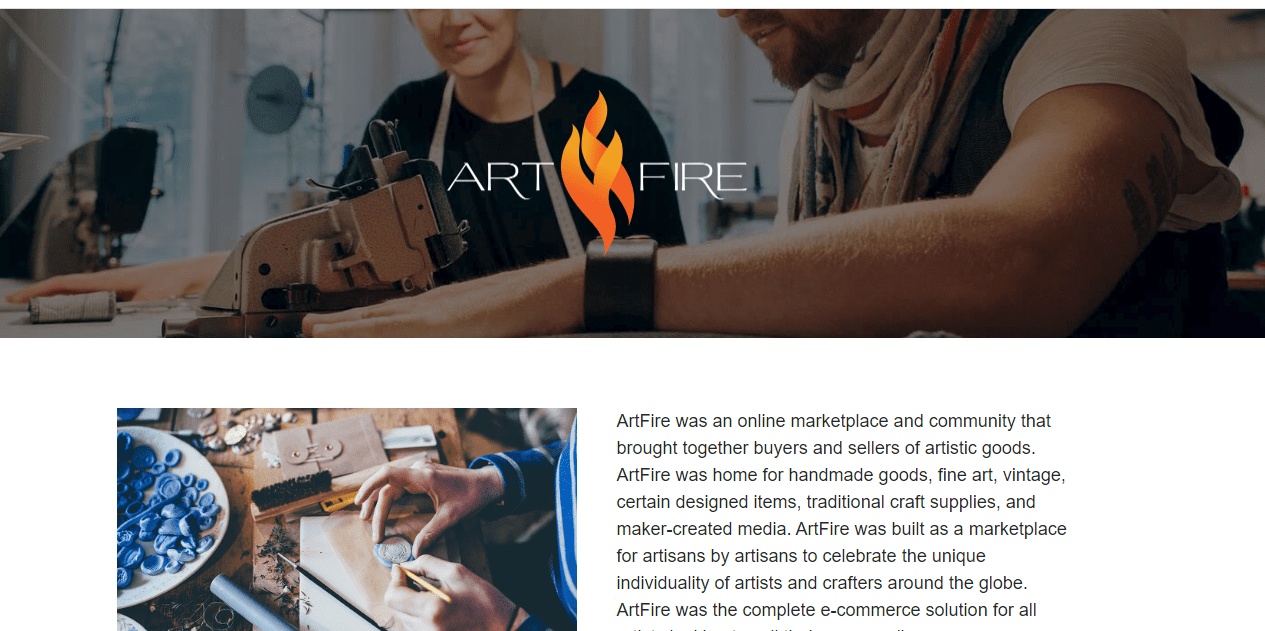 ArtFire's simple platform lets you customize your boutique without touching the code, making it a great choice if you want to get up and running as soon as possible.
Because the platform is intended for handmade and artisan goods, ArtFire will charge a commission if you sell commercial products. This distinguishes ArtFire from Etsy by ensuring that handmade products do not make with cheaper mass-produced items.
Price: $5 per month per sales channel connected
If you want to sell your products on multiple marketplaces, Zibbet is an excellent tool for connecting the dots once you're up and running. It's a unique platform because it acts as a sales channel aggregator. It lets you import products from your existing marketplace accounts, such as Etsy, Facebook, and Instagram.
Once you've connected your sales channels, you can manage them all in your Zibbet account. For entrepreneurs who sell on multiple channels, this can save time and money.
Zibbet enables you to sync your inventory across all channels and update all of your listings at once, eliminating the need to log into each channel to make changes.
Read Also:
Etsy is only the start of your business.
There are many good Etsy alternatives, whether you want to start a store from scratch or leverage the power and reputation of an online marketplace.
Before you start, consider which Etsy alternative will work best for you based on your target audience, time and financial resources, and long-term business goals.
Then make it happen!
Finally, here are the top ten Etsy alternatives for sellers of handmade goods.
Which of these Etsy alternatives will you try first? Tell us in the comments section.
Small Request
Kindly share it with your friends. Especially the ones you believe need this information. Sign Up Now and Get your first 3 months for only $1 monthly.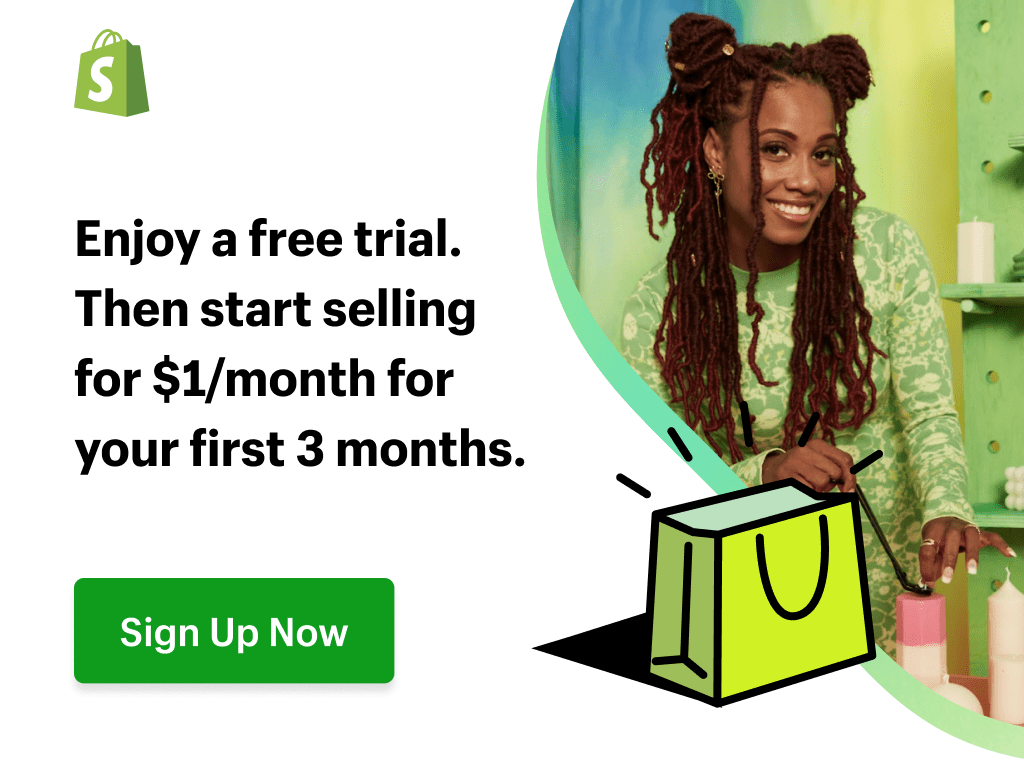 Sharing this information with others can make a huge difference. You may ask why.
Well, the truth is, my main aim is to provide the best information about drop shipping for both beginners and experienced dropshippers.
And I plan to continue doing so for as long as I can.
I would also like to thank those who support my work by reading and sharing my content.
Trust me, when you take your time to share, it will greatly help me and others who need this information.
Here are some great suggestions:
Pin it
Share it on another blog.
Share on Facebook (Share it with friends and even on Facebook groups)
Tweet it
Stumble it
This will only take a few seconds of your time, and I would appreciate it.
I appreciate you a lot. Thank you!
Join my Shopify dropshipping group mastermind and follow my blog to learn more about Shopify tips, dropshipping guides, tricks and checklists, and e-commerce in general.
If you enjoyed and learned something from this post, you can get me updates for free!
I send out email newsletters about new blog posts, tips, and tricks to help you grow your dropshipping business, new YouTube videos to give you more insights into the e-commerce market, and much more.
If you enjoyed reading this, you could also join my Facebook group. Thank you for reading how to make money dropshipping online from the comfort of your home.
Click here to Join My Facebook Mastermind Group