Free Privacy Policy Generator: For Apps And Websites
An online free privacy policy generator grants you a framework for generating a privacy policy for your website that you and your customers can count on. If you aren't a lawyer, writing a privacy policy to protect your business and customers could be a real cause for concern.
Most free privacy policy generators, some of which have been updated to meet the General Data Protection Regulation (GDPR) standards, can help ensure your business follows the law and builds customer trust.
You no longer need a lawyer to draft your privacy policy; with the Shopify Policy generator, your legal pages are sorted within seconds. Try Shopify Privacy Policy Generator today and get a 14-day free trial.
Fill in the fields, and you'll get an email with your business's custom website privacy policy. How you've set up your storefront will include suggestions for what to say and sections you can change. Here, we look at some of the mainstream and free tools you can use to make a privacy page for your website or blog.
Key Features of a Free Privacy Policy Generator
A Free Privacy Policy Generator Should Have the following:
1. Forged for Every Business:
Website
SaaS
Mobile App
Ecommerce Site
2. Complies with Privacy Laws:
UK GDPR
GDP
CCPA and CalOPPA
3. Simple to Use:
Intuitive builder
Embed options
Customization tools
Automatic updates
Why is a Privacy Policy Necessary?
If you collect personal information from your customers, you must have a privacy policy page on your website.
A privacy policy template can create you make a custom privacy policy for your business while also making sure you follow privacy laws around the world, such as:
General Data Protection Regulation (GDPR)
California Online Privacy Protection Act (CalOPPA)
General Data Protection Regulation (GDPR)
California Business Code (CBC)
Any data that could be used to determine a person is considered personal information. Name and last name, email address, phone number, billing and shipping addresses, credit card information, and more.
Online Safety for Customers
For your customers' online security, you need to understand the following:
For your customers' online security, you need to understand the following:
Most free privacy policy generators can help you create an up-to-date privacy policy to protect your business and customers online.
Give the generator your information; it will take care of the rest for free.
The online privacy policy generator lets your business create a personalized privacy policy that complies with GDPR and shows your customers they can trust your site.
Generate Privacy Policy
It's simple to use the privacy policy maker. Get a template for your website's privacy policy and change it as needed.
A privacy policy agreement is the most important legal information for an online business, and you should always have one.
You must comply with the law to collect your users' personal information.
To stay up to date with privacy laws around the globe, use the free Privacy Policy Generator template to create data privacy policies for your business's website or app.
How to Generate Privacy Policy
Using a simple tool, you can create privacy policies for your website or app. Also, it's completely free to use.
Include information about your business
Fill out the forms with the information about your business that is needed.
Include information about your website
Type in the URL of your website so the privacy policy generator can make your policy fit your website.
Your policy on privacy is finished.
Your generator for a privacy policy is done. Copy the policy language that appears on the screen.
Put your policy on privacy on your website.
Put your website's privacy policy in the footer, so it's easy to find and use.
Privacy Policy Page
How do you create a website privacy policy page? A privacy policy page makes people more likely to trust your website, and in many countries, it's the law that you have one. If you collect any personal information, for example:
Names
Email addresses
Shipping addresses (and billing addresses if different)
Account and credit card information
Aspects of a Privacy Policy Page
The information you collect about your visitors. (For example, first name or both names, email address, physical address, alternative contact details, credit card, account, or PayPal information, and any other information related to your relationship with site visitors.)
Where did you get this information?
The reason for asking for personal information.
How will you keep the information you've gathered and kept it safe?
What you use & how you choose to let people know when you change your privacy policy.
Who can view your information? This includes services like email newsletters, software for analysis, and other third-party solutions.
A privacy policy page on your website is a must-have, and a full privacy policy statement must include certain things.
For example, visitors (and search engines) will only trust your website if it has an accurate and up-to-date privacy policy.
This means you might lose potential new customers, and some of your current customers might switch to a competitor who handles privacy issues more professionally.
Besides having a privacy policy, you must keep it up-to-date if you change how you handle information about your visitors.
Create a Free Privacy Policy
Website and Blog Privacy Policies
Most websites & blogs need privacy policies without even realizing it. Make a custom privacy policy for your site to stay on the right side of the law. Our products can be used with different platforms, such as WordPress, Godaddy, and Weebly.
Websites and blogs routinely process personal data about visitors, such as:
Newsletter sign-ups
Customer service communications
Cookies or other monitoring technologies used for analytics, performance, and other purposes
Newsletter sign-ups
E-commerce Privacy Policies
Cookies or other tracking technologies are used for analytics, customer shopping carts, and other intents.
Payment information
Customer addresses
Customer names
Contact information
Privacy regulations for specific industries (like GLBA and FERPA), consumer privacy laws (like CCPA and GDPR), privacy laws that limit the use of certain kinds of data (like COPPA), and organizations like the FTC all keep an eye on how ecommerce businesses use personal data. Also, comply with a free ecommerce privacy policy for your site to ensure it follows global rules and standards.
When writing your ecommerce privacy policy, here are some questions to think about:
Specify how you might share customer information.
Do you accept payments handled by third-party processors? Do you share the customer's information with other third parties, such as Google Analytics, Google AdSense, or delivery services?
How do your website's cookies work?
Cookies routinely collect data elements deemed personal information under numerous privacy regulations. Think about how you might use cookies when writing your privacy policy.
Best Free Privacy Policy Generators in 2023
Your privacy policy says what you do with the personal information visitors give you. For instance, if your site doesn't have a privacy policy, you might be breaking the law and could be sued. Here are some of the top privacy policy generators for making a free page for your website.
Shopify: Top Template for E-commerce
Iubenda: Leads the Pack For Third-party Services
PrivacyPolicies: Top Template for Customization
Get Terms: The Ultimate for Ease of Use
Termsfeed: Best Overall
Shopify: Top Template For eCommerce
Shopify offers a free privacy policy generator that can help ensure your business follows the law. It is simple to use and customize the way your company's products and services work.
Shopify also has a generator for the Refund Policy and Terms of Service. You can use any one of them or all of them.

Pros & Cons of Shopify
Pros
It's designed for e-commerce
All you need to get started is a URL and an email address.
Templates for free
Cons
Not as thorough as some other tools
No specific models
You no longer need a lawyer to draft your privacy policy; with the Shopify Policy generator, your legal pages are sorted within seconds. Try Shopify Privacy Policy Generator today and get a 14-day free trial.
Iubenda Leads the Pack in Third-Party Services
Iubenda isn't just a free privacy policy generator. It also covers how and why you might need to generate policies for certain services, such as:
Google Ads
Mailchimp
Facebook
Mailing lists
Policies can be generated in 10 languages in addition to English. To date, the site has successfully generated over 500,000 policies.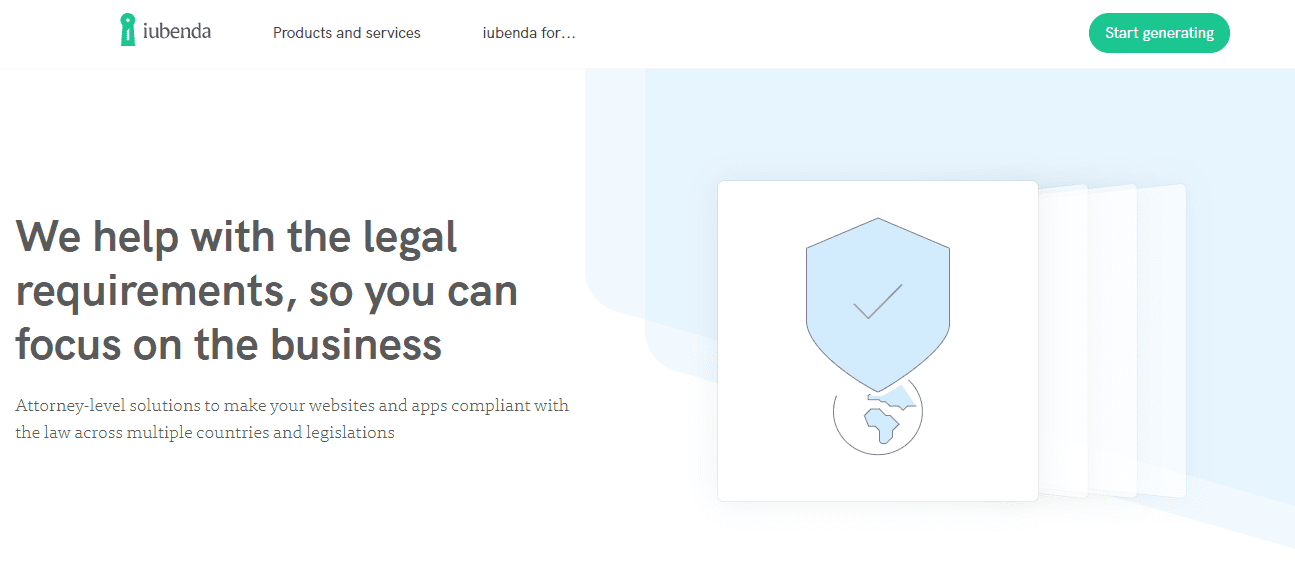 Pros and Cons of Iubenda
Pros
Easy to use
Stacked with features
Cons
Expensive
The Premium Plan has a painful interface
PrivacyPolicies: Best Model for Customization
PrivacyPolicies is an alternative to privacy policy generators that many people use. Businesses pay a small one-business cost, but people can use it for free.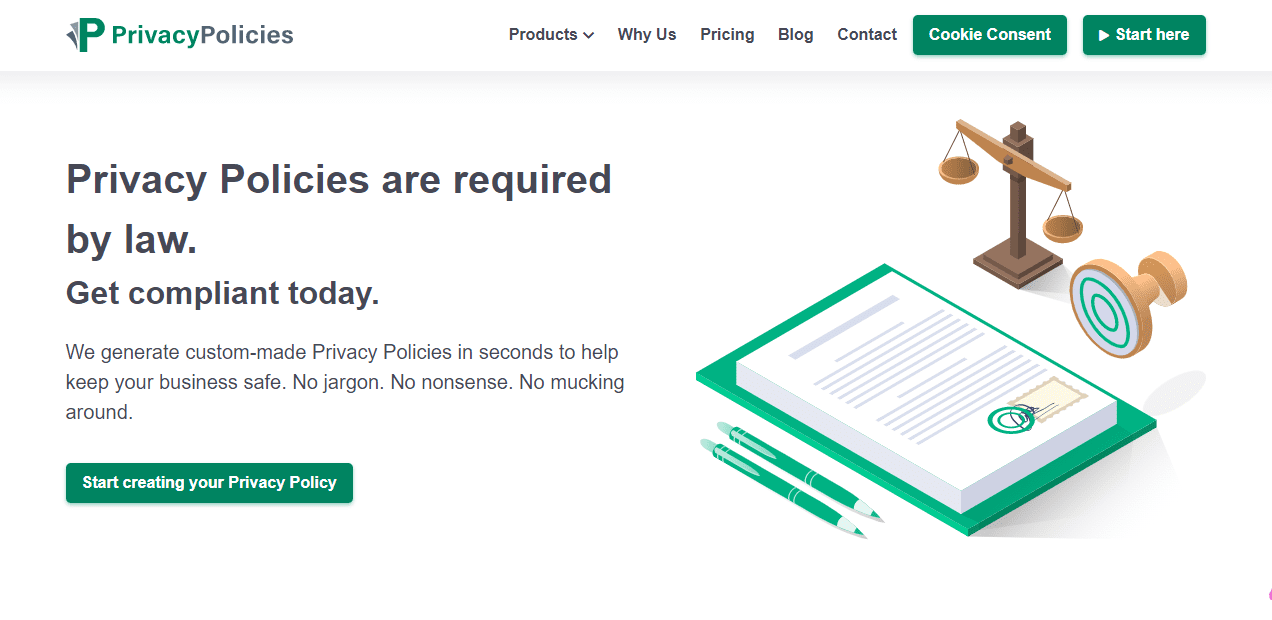 Their main selling point is that you can customize everything about their templates. When you enter your information, the basic template will be changed to meet your needs. This is important because every website and business is different.
PrivacyPolicies.com is free to use, but it works like TermsFeed because some extra features cost money. For example, free users can generate, host, and change a simple privacy policy that covers the following third-party ad and analytics tools: Piwik/Matomo, Clicky, StatCounter, Unity Analytics, Bing Ads, AdButler, & Unity Ads.
Clauses for CalOPPA, CCPA, GDPR, and other third-party platforms, are available for an extra one-time cost. If you choose premium clauses, you can download your privacy policy as an HTML, DOCX, or plain text document.
Even though there is no live help, you can email the customer service team if you have questions or problems with the service.
Pros and Cons of PrivacyPolicies
Pros
Free hosting and downloads
Jargon-free zone
Transparency on prices
Cons
Limited features in the initial plan
Getterms: The Ultimate in User-friendliness
GetTerms is another privacy policy generator that gives a free, standard, and complete privacy policy. It is designed with different privacy policies for SaaS applications, websites, mobile apps, e-commerce sites, and news/blog sites.
GetTerms covers you make basic terms and conditions websites that cover common website issues like compliance, usage, ownership, responsibility, and governance.
Terms have three levels of price. First, a free plan only covers the basics and can be used with all generators except the website generator.
Their standard privacy policy includes rules about logging, cookies, third parties, and the user's rights and responsibilities for their personal information.
In the same way, their comprehensive privacy policy has different rules for device data, user-generated content, commercial content, business transfers, a separate cookie policy, and disclosures that comply with the GDPR, CPPA, and Australian Privacy Law.
GetTerms Pros and Cons
Pros
Third-party access
Third-party access
Cons
Limited features on the initial plan
Termsfeed: Best Overall
Overall, Termsfeed is the best.
TermsFeed makes it simple to generate privacy policies, terms, and conditions, legal disclaimers, end-user license agreements (EULAs), return and refund policies, and other popular forms. Also, it's free to use, except for some app privacy policies and clauses that free users can't access.
Use Google Analytics or a similar monitoring tool, collect social media data, sell things online, show ads, use invisible reCAPTCHA, promote through remarketing services, or show ads on your site. You must also pay an extra fee for the TermsFeed provision that goes with it. At an extra cost, you can also get specific wording for the California Consumer Privacy Act (CCPA), CalOPPA, GDPR, COPPA, or other privacy laws.
Overall, TermsFeed can be used for websites, e-commerce businesses, Facebook apps, software as a service (SaaS) programs, and many other applications.
If you opt for TermsFeed to generate privacy policies or other forms, you'll only have to pay once for any premium services you need. But you won't have to worry about ongoing costs, which makes TermsFeed much easier to use than services that charge fees repeatedly.
Pros and Cons of Termsfeed
Pros
User-friendly interface
User-friendly interface
Price Transparency
Cons
Read Also:
Final Thoughts
Many sites will let you generate your privacy policy page. But it would be best to review everything you want your policy to cover.
Most sites use basic templates, but you'll need to add or change them to make them work for your business. Therefore, we suggest you get legal advice for your professional privacy policy.
It would help if you also looked into the laws in your locale because the law often requires privacy policies. Think of it as protection. For example, you want to avoid getting sued for mishandling your users' personal information.
Use an internet privacy policy tool, but do your homework and get legal help if you need to. Don't think that you've written a policy that covers everything.
Privacy Policy Generator FAQs
What's a privacy policy?
A privacy policy is a legal document that discloses how a business collects, uses, shares, and discloses care information about its customers. Its goal is to tell website visitors what personal information your site or mobile app collects, how it is used, & how it is stored safely.
Is it required by the law to have a privacy policy?
Online businesses globally are required by law to have a privacy policy. A privacy policy is only needed for websites that collect personal information. As a small business, it's easier to come up with privacy policy information that complies with GDPR than to deal with the consequences if you make a mistake.
How does the privacy policy generator work?
Shopify's handy legal generator tools are one example of an eCommerce platform that can help. It includes the General Data Protection Regulation (GDPR) criteria to ensure your business follows the law and builds customer trust. To get started, the tool is simple to use on its own:
Navigate to shopify.com/tools/policy-generator.
Enter your email address and company information.
Wait for your personalized privacy policy to come to your mailbox.
Customize your policy per the suggestions generated.
Why is a privacy policy necessary for my business?
Your website or mobile app needs to have a privacy policy. If you collect personal information from visitors, you are required by law to have one. A privacy policy can help you build trust and be more open with your customers.
How much does generating a privacy policy cost?
Shopify gives businesses a free tool called a policy generator. It's, therefore, free to use. There are policy generators available right now:
– Terms of Service Policy
– Refund Policy
– Privacy Policy
What should a website privacy policy include?
At the very least, your privacy policy should say that your site will collect and store personal information like names, phone numbers, addresses, and email addresses that its users give you.
Your policy should also say that this information is given voluntarily and explain how your site will use it once it is received.
Can I use another person's privacy policy?
Under the GDPR, no two privacy policies should be the same. Your privacy policy's main text will be the same, but it must be changed to fit your site. That's why some, if not all, privacy policy generators generate unique privacy policies.
How much does a privacy policy cost?
When you need a privacy policy, it's a good thing that eCommerce platforms like Shopify have helpful legal generator tools that you can use for free. Enter your information into the required fields, and the tool will immediately create a privacy policy for your business that is tailored to your needs. No legal advice is required.
Do I need a privacy policy for my business?
In the business world of today, your business needs a privacy policy. Importantly, it can keep you and your customers safe.
Small Request
Kindly share it with your friends. Especially the ones you believe need this information. Sign Up Now and Get your first 3 months for only $1 monthly.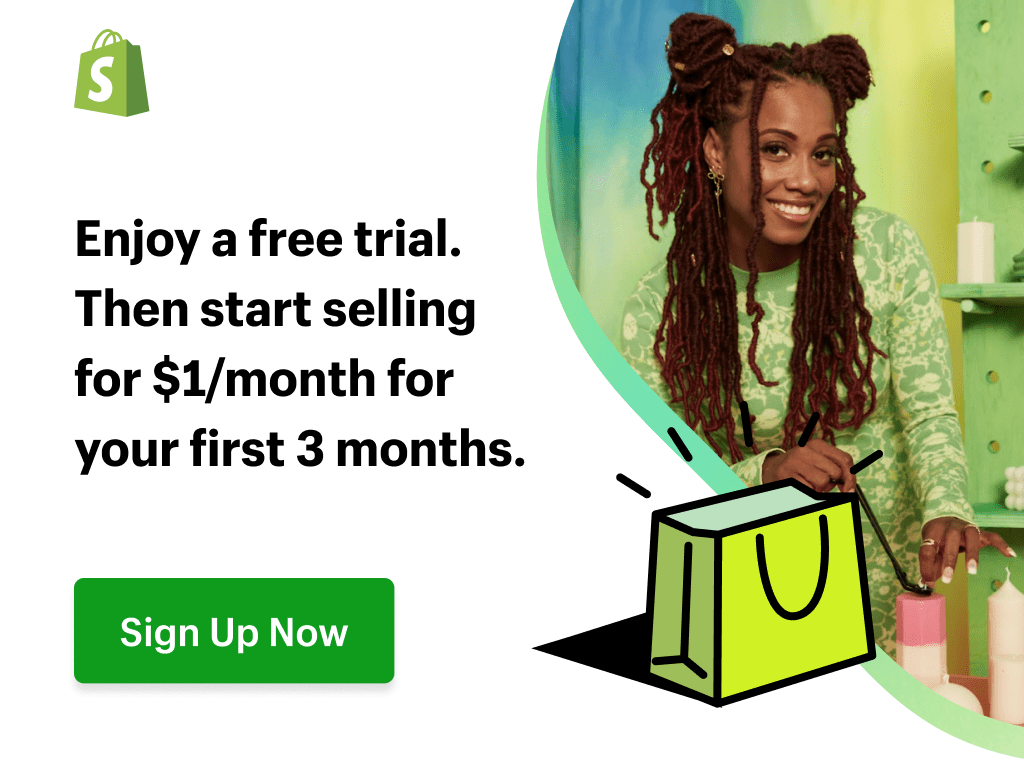 Sharing this information with others can make a huge difference. You may ask why.
Well, the truth is, my main aim is to provide the best information about drop shipping for both beginners and experienced dropshippers.
And I plan to continue doing so for as long as I can.
I would also like to thank those who support my work by reading and sharing my content.
Trust me, when you take your time and share, it will greatly help me and others needing this information.
Here are some great suggestions:
Pin it
Share it on another blog.
Share on Facebook (Share it with friends and even on Facebook groups)
Tweet it
Stumble it
This will only take a few seconds of your time, and I would appreciate it.
I appreciate you a lot. Thank you!
Join my Shopify dropshipping group mastermind and follow my blog to learn more about Shopify tips, dropshipping guides, tricks and checklists, and e-commerce in general.
If you enjoyed and learned something from this post, you can get me updates for free!
I send out email newsletters about new posts published on the blog, tips and tricks to help you grow your dropshipping business, new YouTube videos to give you more insights about the e-commerce market, and much more.
If you enjoyed reading this, you could as well join my Facebook group. Thank you for reading how to make money dropshipping online from the comfort of your home.
Click here to Join My Facebook Mastermind Group