PosterMyWall Review: Is it The Best Canva Alternative
PosterMyWall is an online service that helps you create stunning promotional graphics and videos without needing design skills.
Choose from a wide range of templates, customize them with your text and images, and download or share them online.
Create marketing videos that make people buy stuff. For example, create a marketing video with eye-catching ads that increase traffic and revenue, then post it to your social media accounts or for your email marketing.
Hubspot says that 81% of buyers buy a product or service after watching a marketing video.
An Overview
So, what exactly is PosterMyWall? You won't need a graphic designer if you use PosterMyWall because it's a simple tool that allows you to create your marketing graphics and videos.
PosterMyWall's fantastic social media graphics, high-quality videos, posters, emails, and content for digital signage, among other marketing tools, can help you get the word out about your business.
PosterMyWall's simple interface, hundreds of thousands of ready-made design templates, easy team collaboration, valuable features like a one-click resizing and backdrop removal capability, and simple publishing and sharing options allow anyone to design like a professional.
PosterMyWall features the following categories that enable you and millions of other enterprises and businesses across the world to transform ideas into reality:
Creating With PosterMyWall
Consider how satisfying it would be to make professional-looking marketing graphics and videos in minutes.
PosterMyWall is a tool for quickly and easily creating and sharing social media posts, logos, brochures, flyers, emails, digital signage, and content.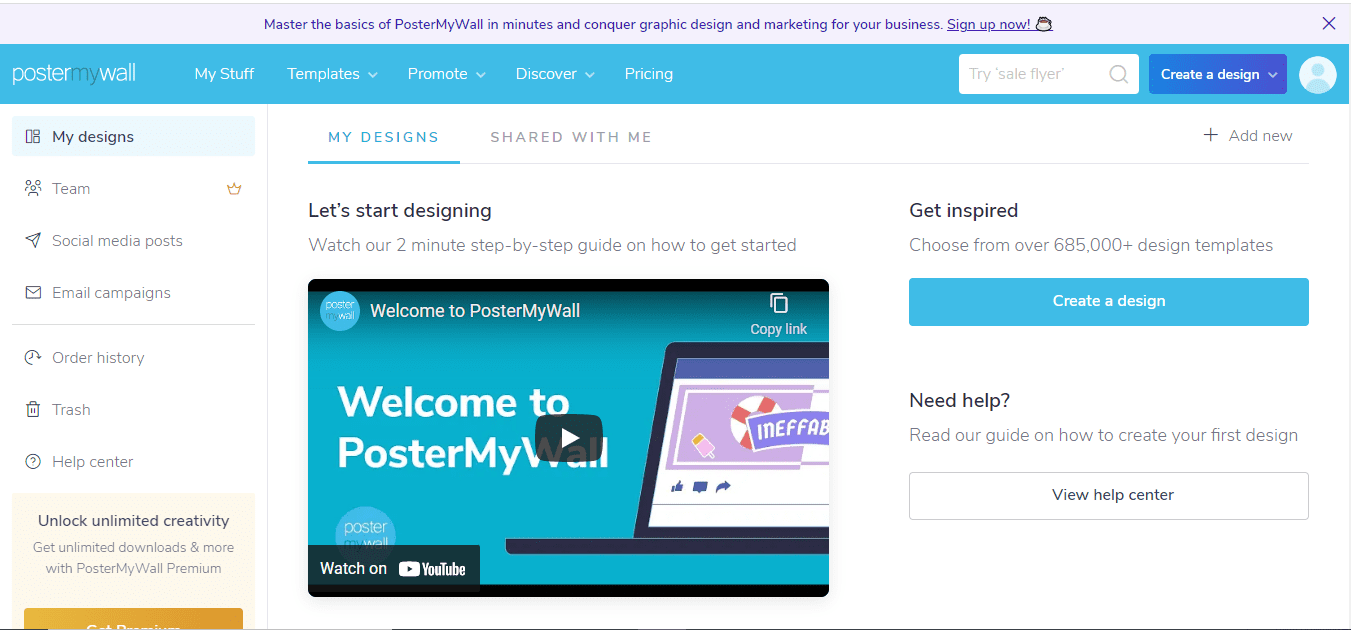 You can find the appropriate style for your brand among the hundreds of thousands of templates available.
It's so easy to use that you'll be a pro in no time.
To start designing with PosterMyWall, choose your desire template , you can browse through the many tempates availlable on the dashboard or you can as well decide to create a adesign from scratch.
Afte selecting your template, click the edit option to start your design customization.
To select an element, click on it. You may change its size, color, and attributes by dragging, dropping, or rotating it. To get rid of something, click the Delete button.
Then, click the "Elements" option to make your design stand out more. Finally, you can add animated stickers and shapes directly from this screen.
You can easily undo any adjustments you've made with the Undo and Redo buttons to make your designs stand.
Click where you want to change the text, and then customize the new text.
On the image of a photo, you can search among millions of stock photographs by typing a word into the search bar or dragging and dropping a photo from your desktop.
Click the Save button frequently to keep your modifications up to date and ensure you can return to your design later. Video can be added the same way an image or an audio clip can. 
You may choose from millions of photos, videos, and audio samples in our libraries.
To save your design, click the download the button. You will be given a second set of options right before the download . You can select the output size, format (MP4, GIF, JPG, or PDF), and resolution. 
You can also immediately export your design to your digital signage, send it as the design of an email campaign, or publish it directly on social media.
It is critical to employ the correct design software for marketing campaigns, whether your objective is to take your marketing to the next level or make more money than ever. Using visually engaging images can help your brand get the most out of its benefits.
Enhanced brand recognition According to one study, "65% of people are visual learners." This implies that individuals recall information better when presented in images, videos, or other visuals rather than text. The fact that "83 percent of customers who have watched a branded video would consider sharing it with their friends" demonstrates that this method encourages word-of-mouth marketing.
 Increases the likelihood that readers will engage with the content: according to BuzzSumo, "Facebook posts with photos get 2.3 times more interaction than those without images," and "Twitter updates with images get 150 percent more retweets than plain text updates."
Enhance retention by employing visual content rather than textual content. According to research, B2C marketers prefer visual content over written content. "B2C marketers use pre-made videos (76 percent), illustrations or images (67 percent), and infographics (59 percent)."
When it comes to digital marketing, pictures consistently outperform words. PosterMyWall is a handy tool if you're having problems creating a focused advertising campaign designs or graphics that is both practical and valuable to your target demographic.
Let us start by determining what the PosterMyWall tool accomplishes. PosterMyWall is an online tool that allows you to create graphics and videos without performing typical work.
If you want to understand how it all comes together, you should be familiar with the following four parts of this page:
My Stuff Page should serve as your "home base" for all intensive and practical purposes. You can always find and retrieve whatever you create and store here. You can also share folders containing your work with others to make teamwork flow more easily.
Create a Design: The website's holy grail is the "Create a Design" option, which lets you start designing.
Site Menu: This part makes it easy to access several critical features, such as your Order History, Edit Profile preferences, log-in and out options, and more.
The Browse option lets you look for various types of design templates.
PosterMyWall provides you with high-resolution files. Paid image downloads have a resolution of 300 DPI and are clear.
This is not the end of the narrative. PosterMyWall allows you to create an email campaign flyer, upload email lists, and send bulk emails to many people for free (up to 100 emails a day), PosterMywall Subscribers get more email sends upto 10,000 monthly.
Subscriptions are available in two levels: Premium and Premium Plus.
How Does Postermywall Differ From Other Online Design Platforms Already Available?
You're undoubtedly wondering what distinguishes PosterMyWall from other similar services. To start, the design templates were made collaboratively by designers worldwide and creators of high-quality stock videos.
Also, here are six other compelling reasons why PosterMyWall is genuinely unique:
With just one click, you can create professional-looking videos using customized video templates. Most importantly, you don't need any prior design skills or any instructions to get started:
Videos can be downloaded.
You will access a vast and diverse set of free, editable templates that can be utilized with still images, moving videos, offline content, and social networking sites.
You can collaborate for free using the cloud, email, social media, or simply copying a link, save and import your work to Google Drive or Dropbox from now on.
Resizing design options are free and unlimited.
You can schedule and post content ahead by selecting the time and date the post will be live. At the stated time, the post will be automatically posted to the selected social media network(s) and the page(s):
Getty Stock provides; professional-looking graphics, videos, clip art, and shapes.
Features Of PosterMyWall
Users may add their text, colors, images, videos, and audio recordings, as well as change the fonts and sizes with the click of a button.
1. Tweaking the Size Across All Platforms
You won't have to start from scratch if you utilize PosterMyWall existing templates because it gives you access to several designs that have already been customized for various platforms. You can also select from over 60 sizes for social media platforms, posters, and advertising banners.
They have template sizes to cater for every platform, they also have free resizing tool which allows users to resize a design they've created for one platform, to different sizes, for free.
2. Publishing and sharing
When your graphics design is complete, you will be able to download it, share it with other Project collaborators , and publish it on social media platforms straight away.
Auto-publishing, on the other hand, is free on platforms like Facebook, Twitter, and Pinterest, albeit only commercial services allow you to plan posts for later dates and times.
3. Content Creation
It had never been more accessible for people with no professional graphic design experience to create gorgeous posters. Make everything from scratch or use a fantastic flyer from PosterMyWall, Element, fonts, backgrounds, and audio clips can all be modified and added to different parts of your graphics.
4. Customization
There have been far more customizing options than I had anticipated recently. For example, you can change the wording, fonts, and images, and you may also experiment with alignment, background image location, and color schemes.
5. Collaboration
Teams may simply share and change their graphic designs and provide feedback and comments. Teams can also organize their work in folders and invite collaborators. In addition, specific folders may be restricted to certain group members. For example, teams with access to features like these can work on many projects simultaneously in a single account.
6. Web and mobile applications
When you consider how difficult it might be to make quick changes to your design, you'll understand how useful mobile apps can be.
Even though the web version of PosterMyWall is well-made, some users prefer the mobile app since it lets them make quick modifications and changes while on the go. So it's just simpler and easier to integrate.
Major Sections & Features of PosterMyWall: At a Glance
Let's look at some of PosterMyWall's most crucial functions and features. The specifics are as follows:
Video creation: Creating a unique video from scratch can be expensive and time-consuming. PosterMyWall, on the other hand, allows you to create videos that look like professionals made them by providing templates already set up to be customized. Because the video generator was made adaptable, you can change an image into a video or the other way around. If you wish to, you can download the videos.
Menu creation tools; Using the menu-maker, you may create menus and other marketing materials for your restaurant, and you can get people interested in the best way possible.
All you have to do is look at the many templates, customize them with your images, videos, and text, save and download the design, and then share it on the marketing channel of your choice:
Because Covid-19 has virtualized the entire world, you can now use the Play on Smart TV option to display digital menus on your screens, and you can simply change the information using your phone or browser.
Schedule content: The "My Stuff" feature allows you to post content to Facebook and Twitter for free. You also have limitless access to templates with built-in schedules, making the design process easy and quick:
Shared photo collections enable you to share logos, brand assets, and stock images with both teams working on your organization's projects and customers working on theirs.
Productivity tools allow you to organize and categorize your designs, making it easy and quick to find a particular design when needed. You can also allow team members to comment on designs and make necessary changes.
Adding audio: You can include any audio you want in your designs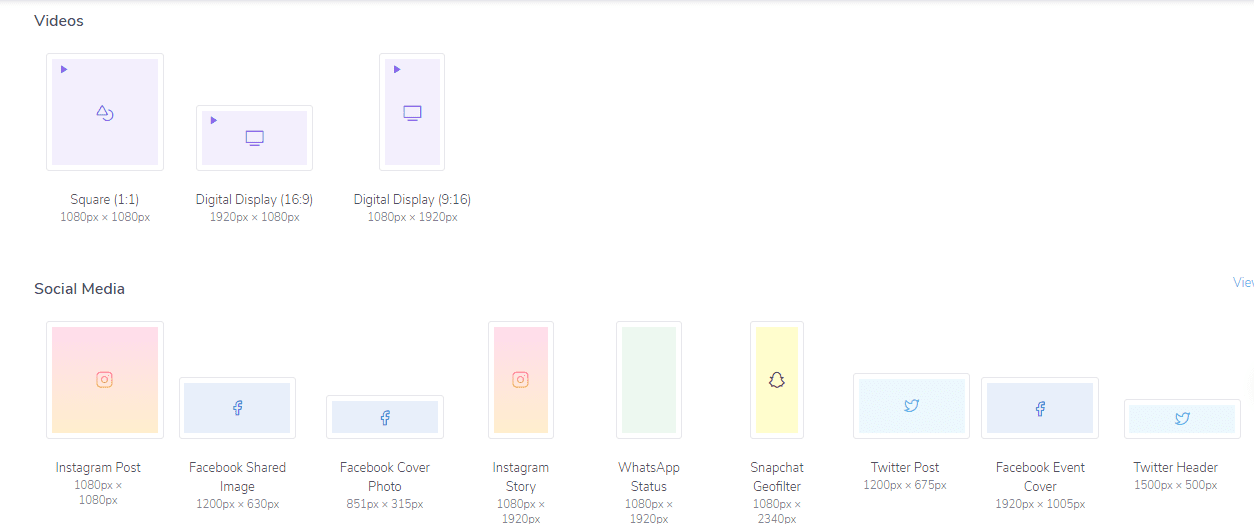 Why We Prefer Using PosterMyWall
Very easy to learn and use.
Provides high-quality prints, downloads, and social media templates, including videos for Facebook, Instagram, and other sites.
Provide preset template sizes for most social networking platforms (Twitter, Facebook, and Instagram).
PosterMyWall offers dozens of customizable templates.
PosterMyWall apps are available for both iOS and Android devices.
No downloads are required for web-based apps.
Helps in the organization of your photo and video collections.
Graphic design does not require any unique graphics.
Easy publishing on social media networks like Facebook
Easy communication among team members
Allows you to work on smart devices such as tablets, smartphones, and so on, allowing you to work whenever and wherever you choose.
Allows you to collaborate with others for free via email, social media, or by copying a link.
Allows small businesses to do things for themselves and make custom designs that look and feel professional.
Affordable PosterMyWall Pricing
PosterMyWall has been around for a long time, but the strangest and most intriguing aspect is finally here: inexpensive costs.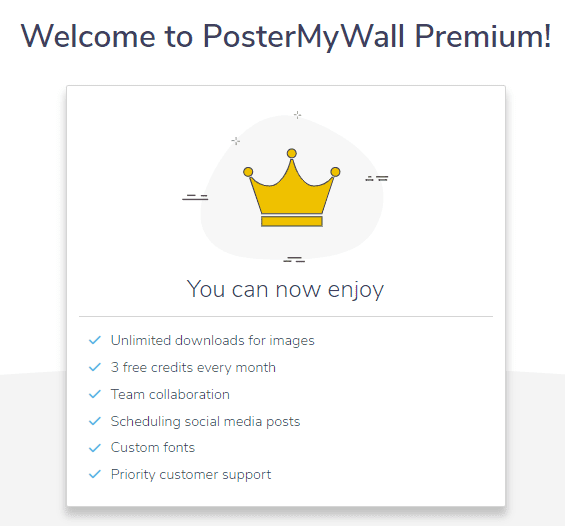 You can select from three distinct options: free, premium, and premium plus. In contrast to the Premium and Premium Plus tiers, billed monthly or annually, the Free tier costs each download. Choosing the yearly plan will also save you money on your subscription.
Beautiful designs. Promotion with little or no work. Have a larger team? Get in contact with PosterMyWall Enterprise for more information.
The Premium subscription costs roughly $9.95 monthly. The best part about PosterMyWall is that you may try it out for free.
Subscriptions offer better download pricing, the opportunity to utilize custom fonts, priority customer service, and assistance with scheduling social media posts and email campaigns while the user is away from their computer.
The Free Package (Pay Per Download)
$0.00
You may download high-quality photos without watermarks from Getty Stocks for $2.00 per image or $14.95 per video download.
Users may make and change any type of visual design by adding their photos and videos, changing text fonts, and more.
Users can access the whole PosterMyWall template library using free stock images from Flickr, Pixabay, and StoryBlocks.
There are no watermarks on basic-quality downloads for social platforms. Watermarks can also be added to other types of graphics.
Social media size downloads are free.
Over a million free video, image, audio, and sticker stock assets
More than 685k templates
Free downloads for social networking sites
Easy to use the online editor
Support: Help Center and video tutorials
The Premium Package ($9.95/month or $99.95/year)
Monthly fee of $9.95 (USD)
All of the features of the free plan, plus:
Premium users can schedule posts on Facebook, Twitter, and Pinterest, and they get access to live customer service via phone and email 24 hours a day, seven days a week.
You can use your fonts.
You can download as many high-resolution downloads as you desire.
Users, teams, and collaborators can upload custom fonts and brand logos to make that all of their social posts have the same branding.
Users can buy credit packs to buy video downloads and images/videos from stock sites such as Getty Stocks (1 credit per image download, 2 credits per video download) and Pixabay.
The Premium Package lets you download as many high-quality graphics as possible without adding watermarks to your photos and videos.
Schedule posts on social networking platforms directly.
Remove background with a single click
Monthly email campaigns that send out 3,000 emails
Download as many HD videos as you want* (with your video clips or video from the Storyblocks stock library)
Support: Via email 7 days/week
The Premium Plus Package ($29.95/month or $319.95/year)
$29.95 per month
All of the features of the Premium plan, plus:
To buy designs from Getty Stocks, users only need credits (1 credit per image download and 2 credits per video download).
Save as many 4K videos as you want.
Premium Plus users receive three free credits every month.
Premium Plus users can print and send their designs within the United States.
Monthly email campaigns that send out 10,000 emails
Email support is available seven days a week.
Who Would Be The Best Fit For PosterMyWall?
PosterMyWall is an excellent option for professionals and businesses with little graphic design experience. To use this tool, you don't need to be an expert in design software.
Instead, you can make stunning graphic designs, promotional videos, banner ads, and more with just a few basic computer skills. PosterMyWall offers practically all of the unique features that can be utilized to make one-of-a-kind graphics and additional tools for exploring.
PosterMyWall is sold as a package that includes everything you need to make posters. This provides numerous advantages and saves you time and money on poster creation.
PosterMyWall is an excellent alternative to the dozens of design programs you would otherwise have to buy separately. Take advantage of PosterMyWall's free package before purchasing, even if you're still unsure if you want to use the service.
PosterMyWall Integrations
Yodeck
Signagelive
ScreenCloud Signage
Raydiant
Poster Booking
NoviSign
Fugo
Display5
PosterMyWall Competition
VistaCreate
Canva
Adobe Creative Cloud Express
PosterMyWall Technical Specifications
Deployment Types: SaaS
Operating Systems: Unspecified
Mobile Application: Apple iOS, Android, Windows Phone, Blackberry, Mobile Web
Supported Languages: English, Afrikaans, Bahasa, Indonesia, Dansk, Deutsch, Español, Français, IsiZulu, Italiano, Nederlands, Polskie Português, Tagalog,
PosterMyWall FAQs
Will I Be Able To Use Postermywall If I've Used More Professional Programmes In The Past?
How could they not? PosterMyWall's pre-designed templates can be customized in ways other programs cannot. For example, the PosterMyWall promo code templates may help you make eye-catching posters with promo codes in only a few minutes.
How Do I Remove The Watermarks That Postermywall Offers?
Free users may be able to remove minor watermarks depending on the circumstances. However, you can download your graphics without any watermarks if you pay for access. Unfortunately, watermarks are not added to the designs of paid Instagram and Facebook users. This is not by design.
Is Postermywall Free To Use?
PosterMyWall does not charge users to sign up for an account or utilize the platform's free features. Instead, paid PosterMyWall users can download higher-quality images and instantly access the website's ever-expanding template collection.
Is Postermywall Safe To Use?
PosterMyWall protects your personal information and graphic graphics confidential. Visit the PosterMyWall webpage and search for anything else they've posted about privacy and security. You can find out more about how the company safeguards your privacy if you do this.
I have a monthly subscription fee. Can I change to a plan that only costs me once a year?
Yes. When you visit the Premium Billing website, you will have the option to change your subscription plan.
How Long Do Credits Last?
If you pay to utilize the PosterMyWall Premium service, your PosterMyWall credits will never expire. However, unused credits from one month are rolled over to the next.
How Do I Approach Someone About Joining My Team?
To add people to your team, go to your account's Premium Billing tab and click the "Invite team" button. In addition, you can invite others on your team to join the Premium or Premium Plus plan.
Read Also:
Summary
Overall, PosterMyWall could be a valuable tool for any start-up or established business that wish to adapt to the internet world and people who don't believe they have any artistic aptitude (for lack of a better term).
Anyone, with or without experience, may rapidly learn how to use the software thanks to its simple editor and extensive library of templates.
Remember that you can use this tool for both personal and business purposes. Even if you don't have the funds to engage a graphic designer, you may use it to produce rapid and appealing results.
Fantastic, easy to use, dependable, inventive, entertaining, and a fair value for money. Your only regret will be that you did not find [PosterMyWall] earlier in your search for a good solution. Instead, we recommend that everyone read it.
You may use a single design to make banners, posters, email campaigns, business cards, and other items that are unique to each person.
Need we say more?
Small Request
Kindly share it with your friends. Especially the ones you believe need this information. Sign Up Now and Get your first 3 months for only $1 monthly.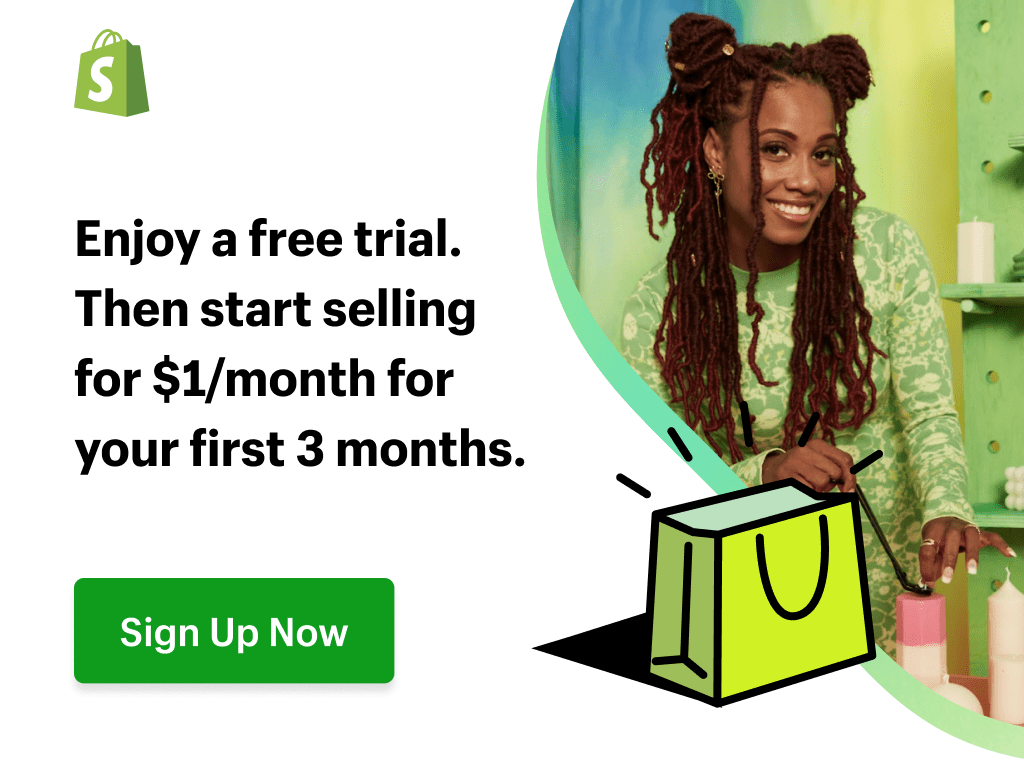 Sharing this information with others can make a huge difference. You may ask why.
Well, the truth is, my main aim is to provide the best information about drop shipping for both beginners and experienced dropshippers.
And I plan to continue doing so for as long as I can.
I would also like to thank those who support my work by reading and sharing my content.
Trust me, when you take your time to share, it will greatly help me and others who need this information.
Here are some great suggestions:
Pin it
Share it on another blog.
Share on Facebook (Share it with friends and even on Facebook groups)
Tweet it
Stumble it
This will only take a few seconds of your time, and I would appreciate it.
I appreciate you a lot. Thank you!
Join my Shopify dropshipping group mastermind and follow my blog to learn more about Shopify tips, dropshipping guides, tricks and checklists, and e-commerce in general.
If you enjoyed and learned something from this post, you can get me updates for free!
I send out email newsletters about new blog posts, tips, and tricks to help you grow your dropshipping business, new YouTube videos to give you more insights into the e-commerce market, and much more.
If you enjoyed reading this, you could also join my Facebook group. Thank you for reading how to make money dropshipping online from the comfort of your home.
Click here to Join My Facebook Mastermind Group