What Is Zipify One Click Upsell Use For? ( Shopify Upsells )
16.
What Is Zipify One Click Upsell Use For? ( Shopify Upsells )
Have you ever asked yourself What is Zipify One Click Upsell Use For? Well, you are on the right page.
Zipify One Click Upsell is an app that allows you to create one-time offers and add them to your products.
These offers can increase sales and encourage customers to buy more products.
This post will discuss how Zipify One Click Upsell works and what it can be used for. We'll also provide some tips on using this app to improve sales. Stay tuned!
Zipify page is a Shopify app that brings out the real worth of your website. It transforms your website into a professional business, more like a company with a value in millions of dollars.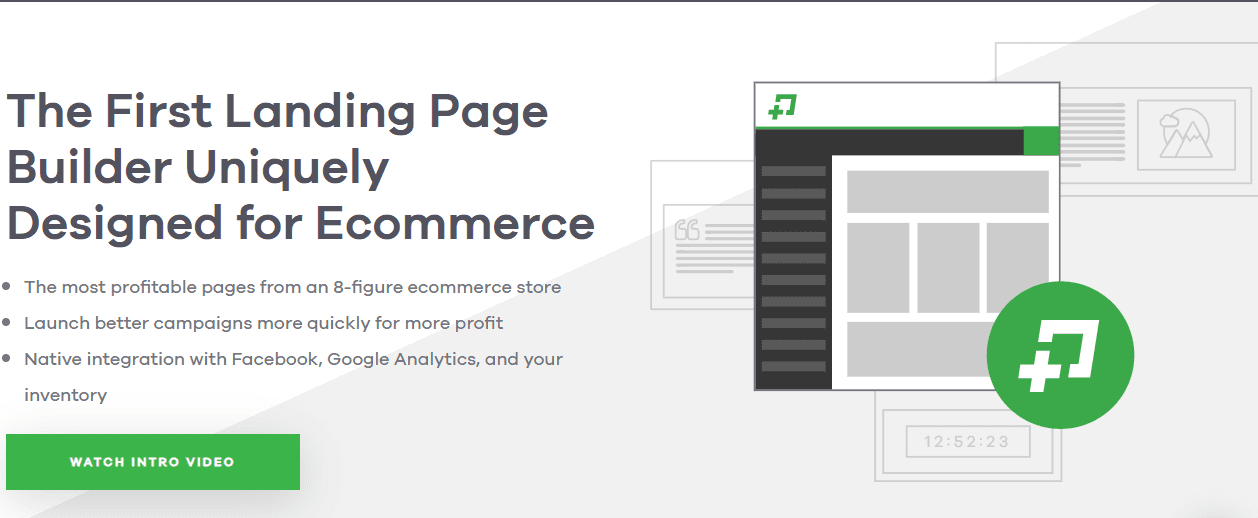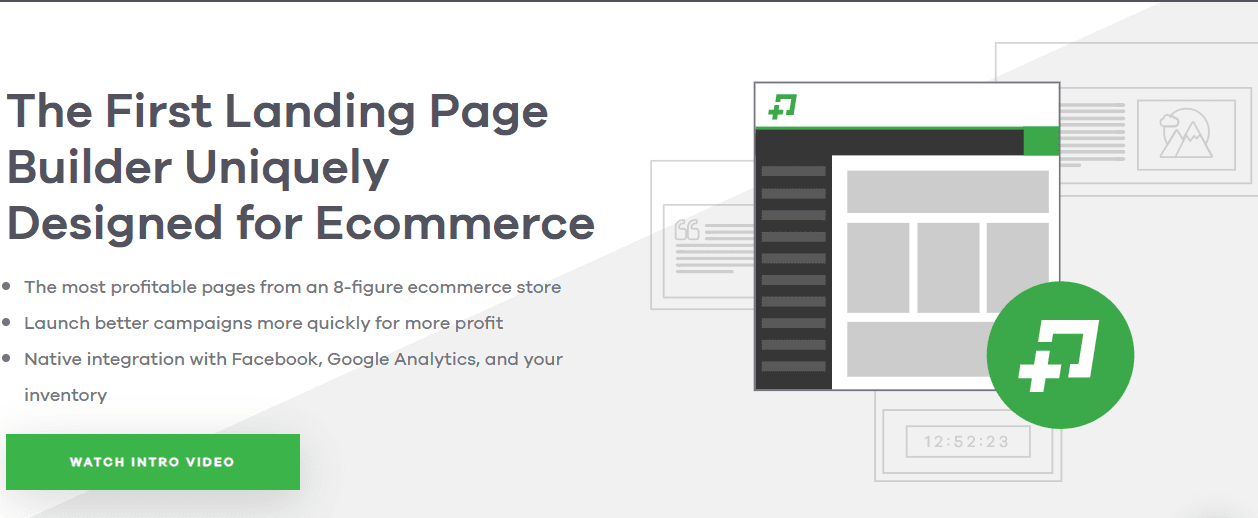 It presents e-commerce activities in a suitable and adaptable way to your site. Now, a new fantastic app has been discovered that dwarfs other Shopify apps, called Zipify apps.
So, What is Zipify One Click Upsell Use For?
Zipify One Click Upsell is an app that allows store owners to increase their average order value by offering customers one-click upsells and downsells at checkout. This can greatly boost your sales and profits and offer your customers more value and convenience.
Table of Contents
What are the Pages For?
You can utilize this incredibly intelligent application to try out all the web features of your multi-million dollar e-commerce site and create your store online.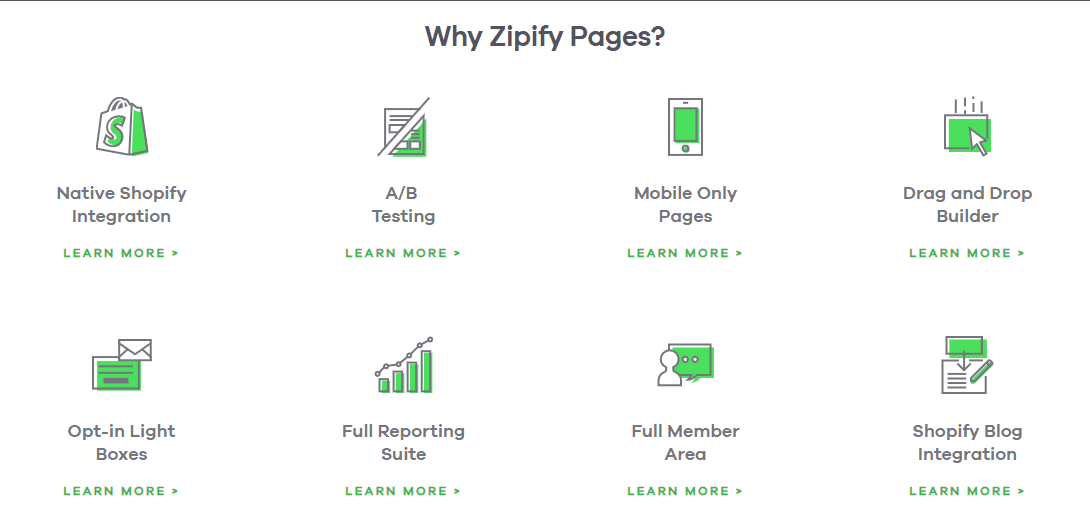 This app has successfully proven itself and has been certified OK. It is not like some random app created by a programmer without in-depth programming knowledge; the masters of the act created this.
Types of Zipify Pages
There exist four styles of landing pages provided by Zipify, each with a clear purpose and, when combined, gives a different effect that would be in tandem with your overall Shopify store.
SALES PAGES – These pages are usually stand-alone, featuring your products entirely and uniquely from your store to increase its sales.
When these pages are used with a persuasive caption like BUY NOW!!! LIMITED STOCK AVAILABLE!!! Or RUSH NOW TO GET, etc., you could turn most visitors into customers.
When to use it?
It is used and most effective with new items, products on sale, seasonal items, promotional items, etc. Alternatively, it could also be used to increase sales of the best seller by highlighting it using sales pages.
LANDING PAGES – These are attractive but very functional pages used in marketing strategy to offer additional or promotional items from your store. These pages can be used to collect leads from your visitors and convert them to future customers.
When to use it? Let's say you want to provide a sales discount, and you wish to do this by issuing coupons. And you could use landing pages to render the tokens in exchange for an email. Also, they can be used to send sign-up data, product discounts, and more to customers or prospective customers that open up your email.
PRE-SELL PAGES – These pages give further descriptions and elaborative information about products to visitors before they make purchases.
Here, exhaustive reports are made on the products, such as the features, benefits, and other relevant information that a customer might require to be convinced to make a purchase.
When to use it? These pages come in where customer education and enlightenment are required for a novel or new product just launched into the market.
You can also use the pages to give an in-depth analysis of your product with testimonials from customers who have used your products in the past and those currently using them.
BOOSTER PAGES – These pages come up only in the Plus Plan. They are two pages that require an email to opt in, and a thank you delivery page.
When to use it? You can integrate your Zipify account with your CRM system and receive live updates whenever someone processes the coupons you have issued and claims them.
Then, you can send those who came in through your sales channel or link a simple thank you page with featured products.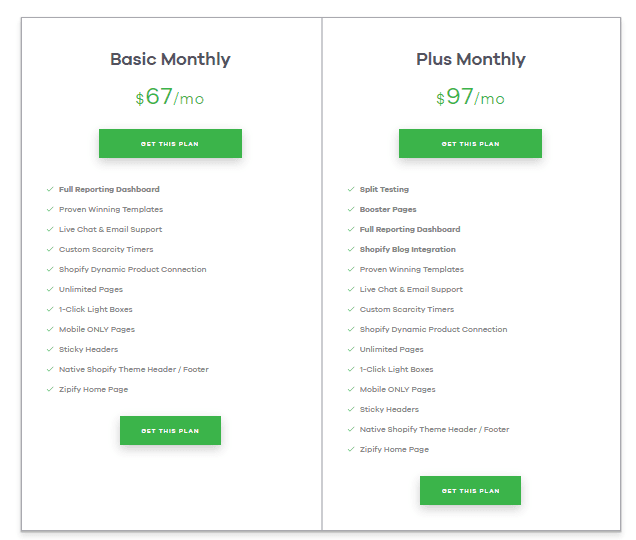 Zipify OneClick Upsell
It has been proven that one of the smartest ways of selling more products is to sell to people already purchasing from you.
This is the idea behind Zipify OneClickUpsell, and it can aid in raking in more after-sales upsells as customers complete their orders.

Zipify OneClickUpsell aids in giving a powerful tool that puts relevant products in the sight of more customers willing to buy.
You could provide a bonus by creating post-purchase emails to get information on product reviews, more sales, and customer engagement.
Try Zipify OneClickUpsell; this has proven to be a veritable sales strategy that increases sales in Shopify stores, so trying it out would be very helpful.
Benefits of Zipify OneClick Upsell
Upselling is a sales strategy that allows you to bring to the notice of your customers more of your products and services, such as add-ons, accessories, upgrades, and more.
If there exist products in your store that go together in pairs or are used together, then the ability to upsell or cross-sell is vital for improving your store's performance.
One of the striking features of Zipify OneClickUpsell is that you would not worry if the customer stays or goes if he/she doesn't want your upsell.
Zipify OneClickUpsell only makes your upsell offers visible after a customer has purchased a product in your store.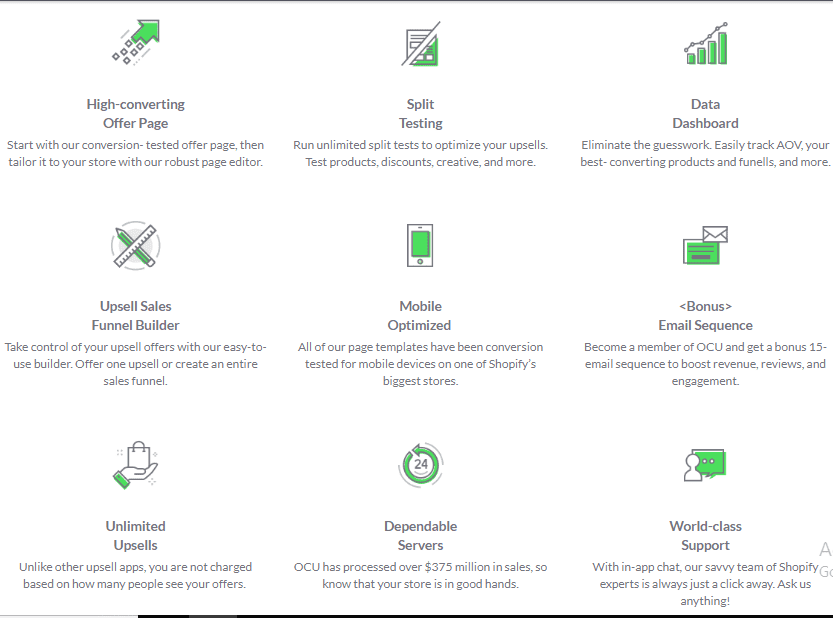 A Shopify app has been discovered by Zipify that makes upsells and downsells visible in sequential order. It means that after the customer has made the purchase and must have completed the payment, they would be shown an upsell, which displays a down-sell if they reject.
Let's take a look at this example:
If you are selling a laptop on your Shopify store, you can create an upsell for a high-quality Laptop bag. If the customer rejects this, you can pop up a laptop charger at a lower price than they might be interested in.
Here are some other characteristics of Zipify pages
They easily replicate the supply channels.
It combines easily with Facebook pixels and also with Google Analytics.
All pages are provided with your Shopify shop.
Illustrated template pages and an eCommerce 8-figure store.
All pages are fully customizable.
They include commencement clocks, videos, and context fields in a single click.
Ziplify's custom Google Analytics spreadsheet and the Facebook Pixel are some of the best Simplify features you will find that are integrated with the Shopify platform.
This means you can easily get the news of your sale from many sources, including clicks on emails, and see how to make landings and conversions. You can even take further steps to move on conversions.

Currently, some of the best content management and/or automation software are as follows: Ontraport, Mailchimp, ActiveCampaign, GetResponse, Klaviyo, Influsionsoft, and Aweber.
One of these software can be integrated with Zipify OneClickUpsell, which may erase the need for subdomains or add-ons to configure your landing page.
With this combination, Zipify becomes a powerful, mobile drag-and-drop landing page creator for eCommerce in the Shopify app market. You can try out the 14-day free test they offer to see if it works for you.
Why is Zipify important if I already have a Shopify store?
Unknown to many, Zipify has a drag-and-drop feature that allows users to add more elements to their pages, making them unique and functional.
Aside from the above benefit, you can also use Zipify to design pages for….
Your Products
Blog Articles
Your Home Page
Landing Pages for Ads
And any other thing that you could imagine!
Another benefit is that you can easily integrate the pages into Klaviyo. It implies that your customers can deliver their mail without any difficulty.
Through Zipify, users can access a button that creates a subscription window, allowing them to get customer emails from the window that pops up. The above method is more captivating than merely designing the input fields on the page.
What are the Reasons Why Zipify is better than any other alternative? They are;
Zipify One Click Upsell
The person who teaches best does the best. Ezra Firestone created Zipify, the same person who designed and implemented the million-dollar brands found in Shopify.
The models and the practical examples used in Zipify presentations are the outcomes of real-life testing determining what receives higher pay. Then again, it also implies that the model library used improves and grows continuously.
Read Also:
Zipify One Click Upsell Review SECOND
You can't compare Shopify to any other landing page creator that is associated natively with Shopify.
So, why is it essential? It enables your visitors to view the pages created without any difficulties or issues associated with your business, and they will not require any new observation of all their activities. When you use external landing page creators, you create a new record that helps you analyze the best course of action.
Furthermore, if you require more functions on the platform, Zipify has got you covered, as it provides you with a one-click post-purchase product with the additional success you need. Are you learning something in Zipify One Click Upsell Review? If yes, let's continue.
Using the one-click upsell app, you can quickly increase half your order size to 25% from the regular 12%. However, it depends on the offer provided. Through the hard work of Ezra and his excellent team, the amount of improvement made was tested and not mere theory.
Benefits
It helps improve your subscription pages by adding good social evidence, product offerings, vacation and holiday sales pages, etc.
It is easy to see all the social evidence across all the pages designed using Zipify.
Select and copy all the profitable pages from SmartMarketer's 8-figure e-commerce store and improve the conversion rates by adding photos to each page.
CONCLUSION
Do you think that the chances for your Amazon business marketing are limited? If yes, consider expanding your business and making it suitable for your e-commerce store. It is past the time of depending on only Amazon.
Zipify One Click Upsell is an app that allows you to create one-time offers and add them to your product pages.
This can be a great way to increase sales if you use it in the right way.
It's effortless to set up, and you can start seeing results in minutes. If you're not using it already, sign up for the 14-day Shopify free trial and see how it can help increase your sales.
This is the time to act in advance. If you desire to develop your online store, then this is the right time to do so.
Was this Zipify One Click Upsell Review helpful? Leave a comment below and click the button below to install the Zipify app.
Small Request
Kindly share it with your friends. Especially the ones you believe need this information. Sign Up Now and Get your first 3 months for only $1 monthly.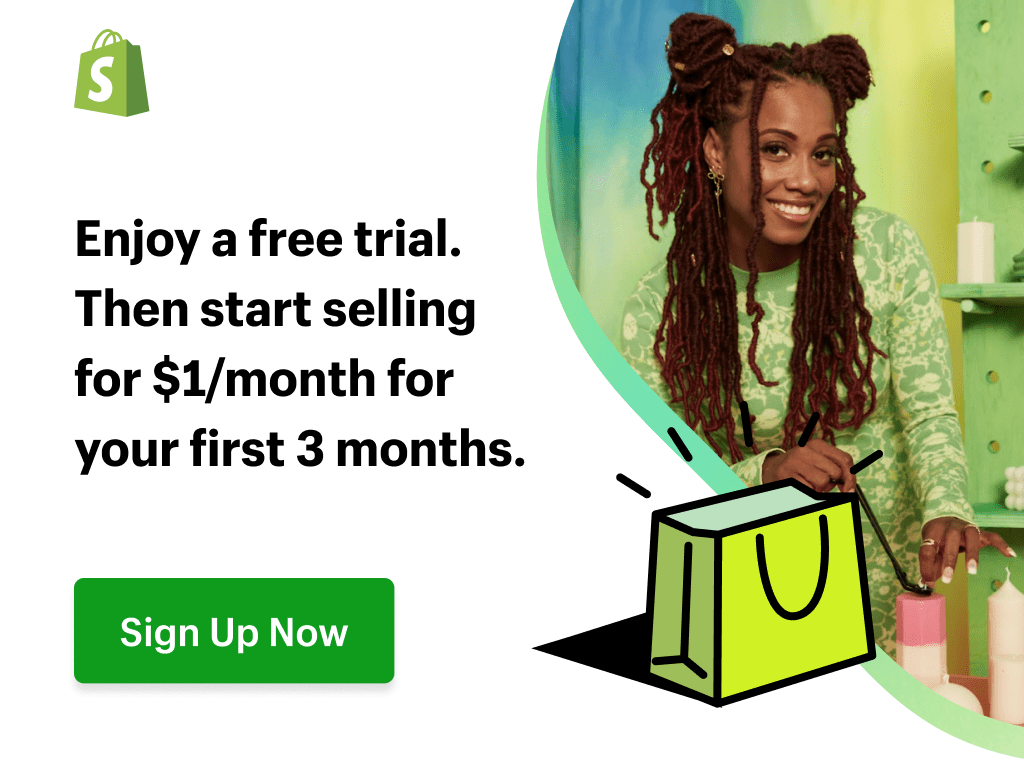 Sharing this information with others can make a huge difference. You may ask why.
Well, the truth is, my main aim is to provide the best information about drop shipping for both beginners and experienced dropshippers.
And I plan to continue doing so for as long as I can.
I would also like to thank those who support my work by reading and sharing my content.
Trust me, when you take your time and share, it will greatly help me and others needing this information.
Here are some great suggestions:
Pin it
Share it on another blog.
Share on Facebook (Share it with friends and even on Facebook groups)
Tweet it
Stumble it
This will only take a few seconds of your time, and I would appreciate it.
I appreciate you a lot. Thank you!
Join my Shopify dropshipping group mastermind and follow my blog to learn more about Shopify tips, dropshipping guides, tricks and checklists, and e-commerce in general.
If you enjoyed and learned something from this post, you can get me updates for free!
I send out email newsletters about new posts published on the blog, tips and tricks to help you grow your dropshipping business, new YouTube videos to give you more insights about the e-commerce market, and much more.
If you enjoyed reading this, you could as well join my Facebook group. Thank you for reading how to make money dropshipping online from the comfort of your home.
Click here to Join My Facebook Mastermind Group