How To Find Unsaturated Dropshipping Products With Adserea AI
We will do an Adserea review today. While you were sifting through thousands of saturated dropshipping products with a 20-buck tool, your competitors found a winner using Adserea, built a store with a high conversion rate, and launched profitable ads. All in just a few days!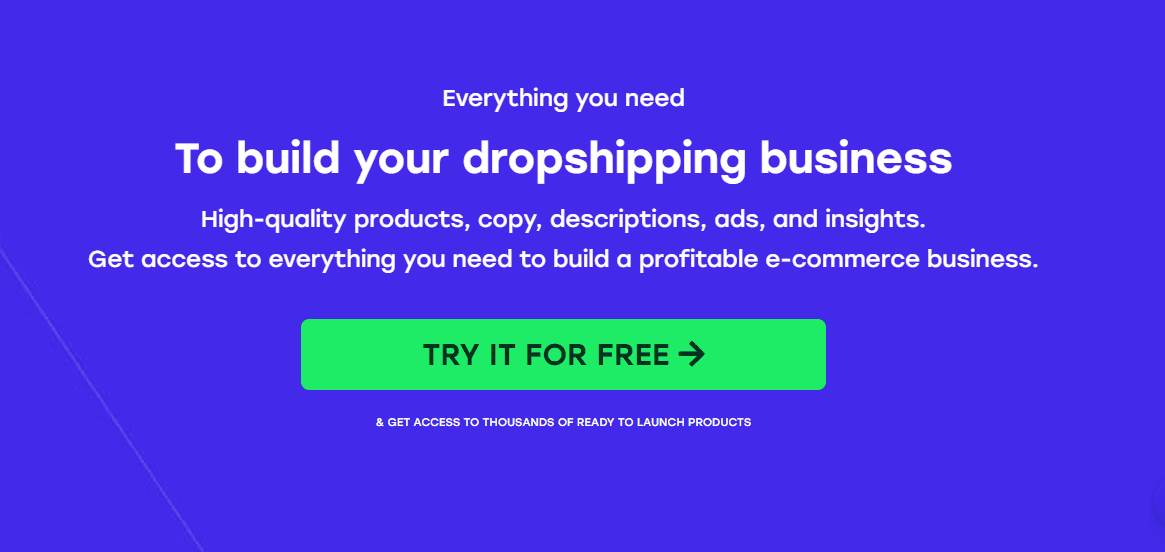 If you want to be successful at dropshipping, you must have the proper tools. If you use the right tool, you will save time and money.
On the other hand, this is NOTHING in comparison to the opportunity cost.
With traditional methods, you will likely need to spend a little more for the tool, say $120 instead of $40.
But when you make $100k monthly, does $80 matter?
That is undoubtedly one of the best investments you will ever make. And, just so you know, this isn't random, meaningless advice from some schmuck.
As someone who has worked in dropshipping for over a decade and built several profitable stores, I will discuss the most crucial aspects of a dropshipping business, and I strongly advocate using Adserea.
They have excellent features to pick from that make it easy to figure out while using the platform.
Tools that can be used for a variety of tasks, such as researching profitable products, creating viral video ads, inspecting retail stores, and so on.
Adserea is a dropshipping tool that aims to give you all that for a fraction of the price, but is it worthwhile to use Adserea?
Does Adserea provide everything you need to start a successful dropshipping business?
In this Adserea review, we'll find out!
What Is Adserea?
Provider of software dropshipping solutions for eCommerce enterprises.
Adserea bills itself as a one-stop shop where you can acquire everything you need for drop shipping in one location.
You can access any portion of the platform from the home screen by using the tabs on the left side of the screen.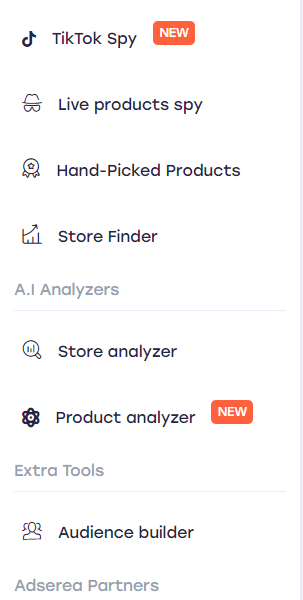 You'll get access to everything you need to build a profitable e-commerce business, including winning products, ad content, product descriptions, ads, and insights. You'll also have access to everything you need.
They want to save you time and money by doing all the legwork.
Adserea even provides strong AI analyzers to give you outperform your competitors.
Adserea Features
Let us begin our Adserea review by looking at what it offers. A quick look around (use the tabs on the left menu to navigate) shows that the platform provides four data-like tools :
(Tik Tok spy
Store Finder
Live Product spy
Hand-Picked Products),
It also has two advanced AI tools (Product Analyzer and Store Analyzer) and an Audience Builder that allows you to create your audiences.
If you like, you can also choose the dark mode.
TikTok Spy
Adserea has developed a new spy tool that searches TikTok for popular products.
Although there is little information on the size of the ads database, once you start utilizing it, you'll know that it's large enough to be beneficial.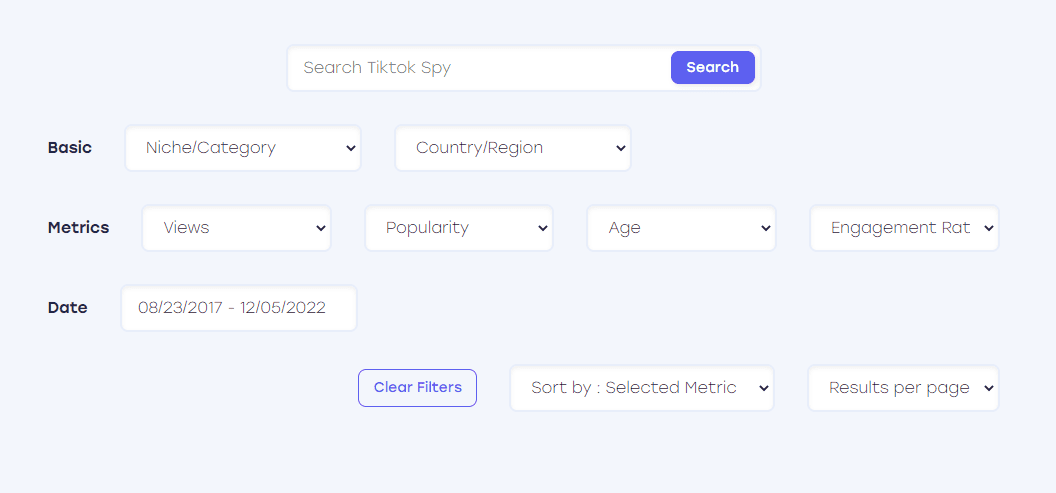 TikTok spy is a super powerful tool. Open any TikTok video in Titkok spy and click on "Find
me this product" On the duration 0:10, The Ai is showing the products that are showing in
video, and if you skip more seconds and click again Search Again, you will see different
Results.
TikTok is a tremendous tool, and selling video ads is where its future resides.
Even though this spy tool seems to have simple filters for very complex data, it nevertheless has enough functions to be helpful.
For example, Tik Tok ads have been impressive recently, significantly exceeding traditional means like Facebook and Instagram.
You can use the Engagement Rate filter to find high-quality ads with a lot of engagement.
You may also modify the age to less than 90 days or more than 100,000 views to display winning products or ads from more recently.
As an example of a tactical hack, you could use TikTok's search function for hunting for posts with the words "get yours here" or "50% off."
Most dropshippers use such words to entice shoppers or target impulse buyers.
When you find a TikTok ad that seems to be decent, you can use Adserea's AI to locate and analyze the actual product being advertised.
Live Products Spy
This is a highly unique research tool, placing a strong emphasis on displaying the most recent products to hit the market.
This could help you find dropshipping stores starting to sell new products that haven't been sold previously.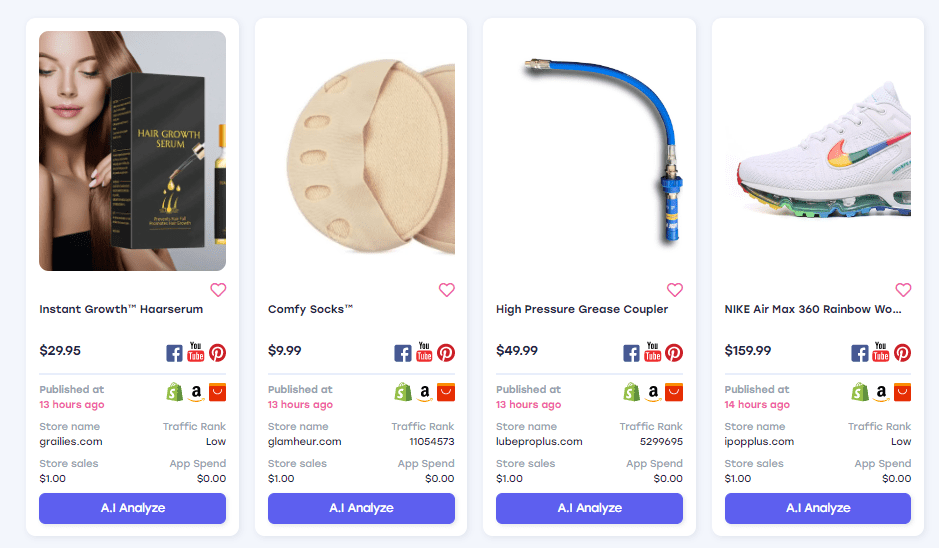 If you're looking for something specific, you can conduct a keyword search for a product. You can also limit your product selection by Niche or Category.
Because of how competitive dropshipping and eCommerce are right now, time is of the essence.
This shows that this tool has the potential to be highly useful.
Hand-Picked Winning Products
Adserea, unlike other dropshipping systems, sends you daily suggestions of hand-picked winning products.
They appear to have over a thousand dropshipping products, so you have a good chance of finding a good product here.
You have access to a library with over a thousand high-demand items that can be sold in various products. You can start selling these items right away.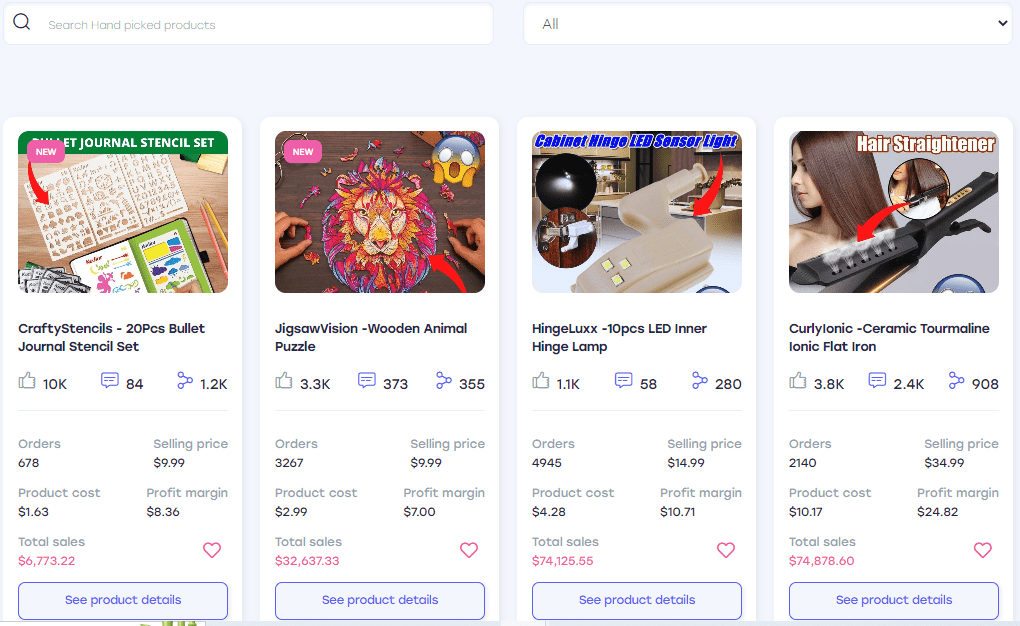 You can add a niche, filter it, and access dozens of products. Then, you can save those products as favorites for later use by clicking the heart icon button.
You can filter by any niche by clicking on categories such as "kids," "jewelry," "fashion," or "pets," and you'll immediately see hundreds of products with full ad content and data.
You can find many products you might be interested in trying by simply looking around for a few minutes. Because the staff is committed to your success and works hard, two new popular products will be added to the site daily.
Using this tool would undoubtedly simplify product research. For example, you could sort the data (perhaps by profit or a number of daily orders) and then look at the information they provide about each product. 
However, if you want to check on new products, go to the dashboard. There, you can find news and updates about the exciting new features, tools, and updates on their way.
If you've found a product you want to sell on your website, you can learn a lot about it by clicking on "Product Details" and looking at the product listing.
This information includes the sale price as well as the profit margin.
You can check information about engagement, analytics, access to dozens of suppliers, the number of products currently in stock, and how well the product has worked for other stores in the last year at the tip of your fingers.
These metrics can help you add a particular profit margin, the product's potential, or know what to expect when searching for a product to sell in your store, and that's just one product.
The tool contains information on every product available for purchase on the platform.
You will receive everything you need for your ad, including the description, ad copy, and video ad for Facebook and Instagram. You will also receive detailed information about your target audience.
Winning Product Details
Adserea also provides analytics, data, and resources relevant to each product it lists.
They provide the item with a distinct brand name, which is required for the dropshipping product model.
They have high-quality product photos, a cost of goods sold, a selling price, and a profit margin. They also have Google Trends for the product, which is valuable data.
They also have links to other useful resources, such as links made by competitors.
In addition, they have vital information about your Facebook ads, such as Breakeven ROAS and 20% Profit ROAS.
They also provide analytics for the AliExpress listing, such as the total number of orders, reviews, and ratings.
Look at the number of likes, comments, and shares to see how engaged people were with the Facebook ad. The Product Real Time Chart makes it much easier to see how a product has grown and where it is heading.
They also provide you with a customized product description, a useful tool. Overall, it's a good description. For example, you could easily copy and paste this into your store to convert site people into paying customers.
Additionally, one GIF is provided. It would be best to break up the text with more photos and gifs to make it easier to read.
They have some great videos that show people using the product and showing how useful it is.

They provide two versions, one with captions and the other without.
Even though space is available, a better ad could be purchased instead of the one with captions. You could also create your advertisement using the clips provided.
The ad's wording is good in this case. To capture the user's attention in 2023, the ad text you write must make a bold claim. However, based on the information they provide, you can perform a daring ability.
Even though the thumbnail is the least important part of a Facebook ad, it does an excellent job showing the product.
Adserea also suggests targeting a specific audience on Facebook, including age, gender, and the interests that should be prioritized.
Product reviews are another service they offer that is very valuable.
Even though they only give you a few options, that should be enough to get you started.
For example, you can download a CSV file, which you can then upload to Loox.
Store Finder
The Store Finder is the next option and does exactly what it says. This tool can search their database of over 6 million online retailers.
You can see an estimate of each store's monthly sales and the products that each store has recently added to its stock.
The best way to use this tool is to make a comprehensive list of profitable dropshipping stores and monitor their activities regularly.
For example, when you find a store that appears to be promising, you can conduct research on the store itself or on each of the products it sells.
Store Analyzer
You can use the Store Analyzer by searching for a store using the Store Finder or manually entering a link.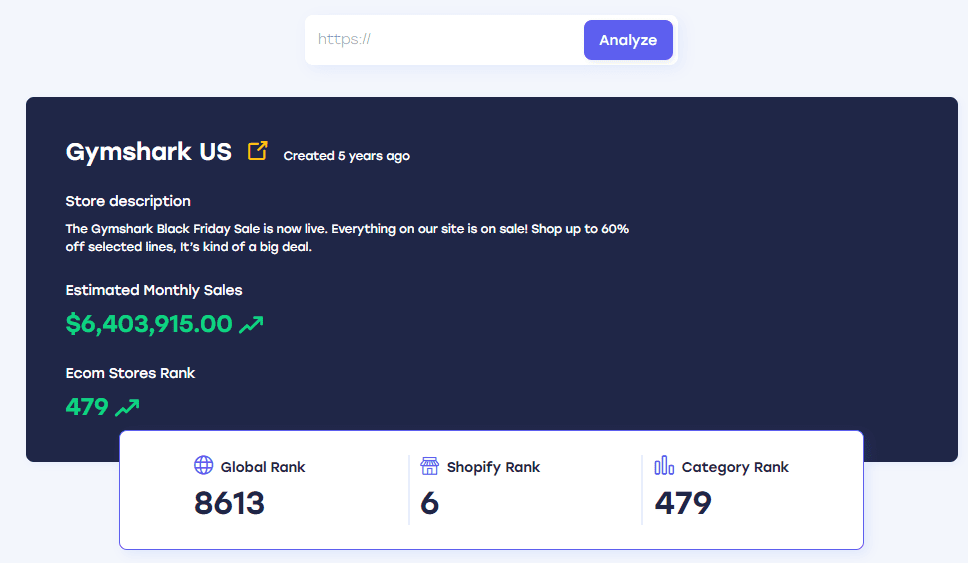 Adserea allows you to see how people interact with social profiles, which is an able profile to know where this store's traffic is coming from.
You can also look at the apps installed on their Shopify store. You can also use this tool to see what new products have been added to this store's inventory.
If a store has already found and grown a successful product, it's a sound bet that these new products will also be successful.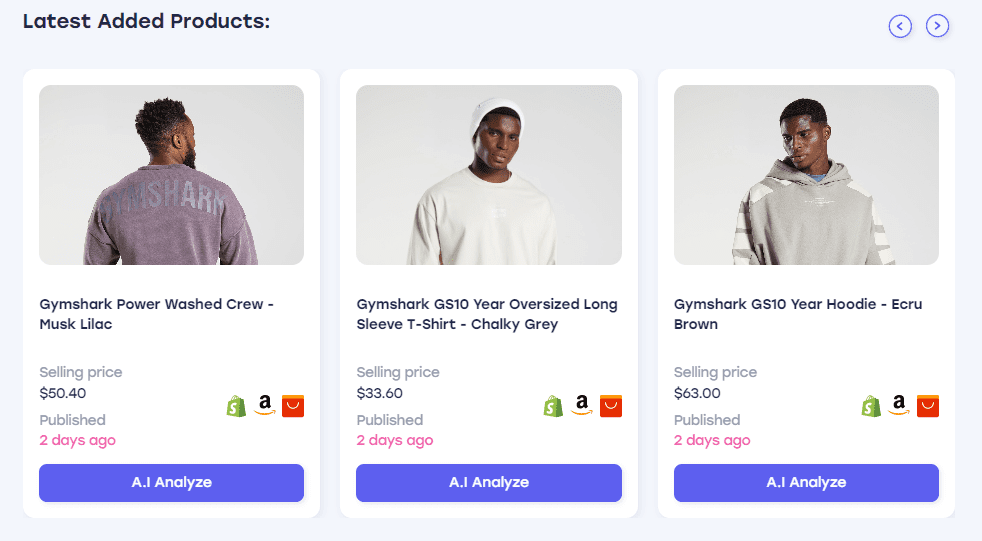 You can also view the most popular products in a store. You can also look at how Adserea's AI analyzes products that seem to have potential.
Product Analyzer
The Product Analyzer is yet another brand-new tool that is both useful and recently developed. This tool provides the first three pieces of information: cost, sale price, and profit.
They also provide other vital information, such as the number of stores and, more significantly, the number of suppliers.
These data are far too many to count, and obtaining them would cost you thousands of dollars.
So if you have the correct data, you can analyze a product with a profit margin that matches your expectations, such as 50 or 60%.
Only some things about the Strength Index are apparent, but based on what I know about momentum, it has something to do with it.
The tool provides a comprehensive and complete analysis of any e-commerce site (Shopify) and the product you select, including all pertinent data. Adserea also analyzes how engaged people are with an ad.
Compare the number of views to the number of likes and comments to determine how interested people are. This will give you an idea of how popular this product is.
They also provide marketing analysis, such as an expected CPA (cost per acquisition).
You can also observe how many different countries are represented in the crowd. For example, Adserea selects the best ads for each product and displays them here.
As a result, it is easy to determine who is selling this product well and what ads are working for them.
In exchange for a product, they provide you with several TikTok ads to view and analyze.
In addition to the average monthly sales, the Orders Trend Chart can be viewed.
As a result, it is easy to determine whether or not a product's sales are increasing or decreasing.
Another indicator available through this tool is the Opportunity Score. They don't state what it is, but if I had to guess, it makes the number of orders at the moment the size of the market as a whole—something akin to a saturation meter, perhaps.
The Opportunity Score is a 10/10, which makes sense given that billions of people might purchase this product. Another tool to figure out what's going on is the Stores Trend Chart.
This makes determining how popular a product is among other dropshipping stores quite simple.
You can see that this product's sales have increased significantly in the last six months, but that growth has slowed considerably in the last month or so.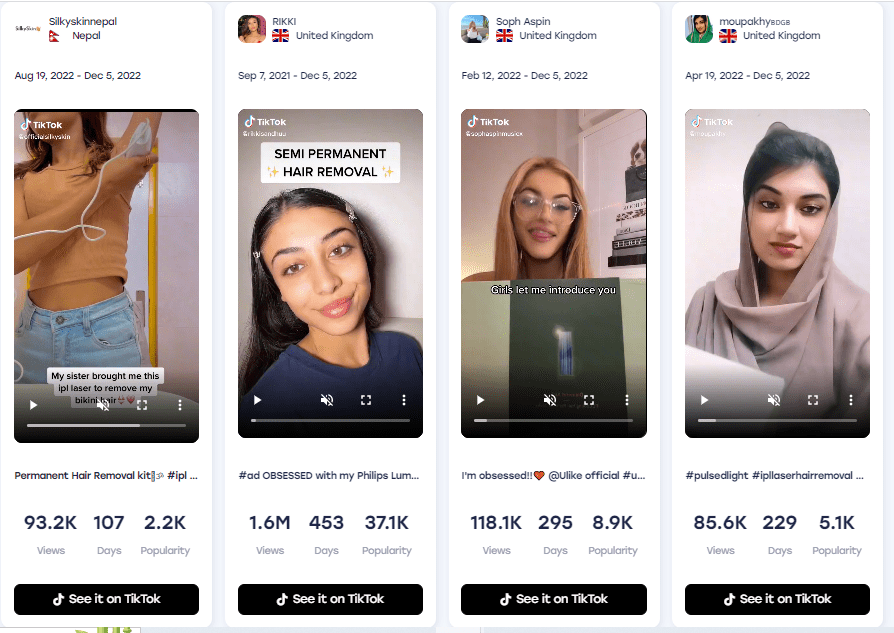 This organization will also educate you about the Top Sellers, which is another helpful information.
You have access to all of your competitors' stores and Facebook ads. This will allow you to observe what works for them efficiently, and you can then utilize those methods in your own business, both in your store and in your ads.
They also feature a Competition Meter and a Geo Distribution so you can better see who you're up against.
Audience Builder
We can use the Audience Builder. Enter your target market or category, and you'll be given a list of interests to target with Facebook ads.
They also have data on Instagram hashtags, which is helpful if you want to work with influencers instead of buying Facebook ads.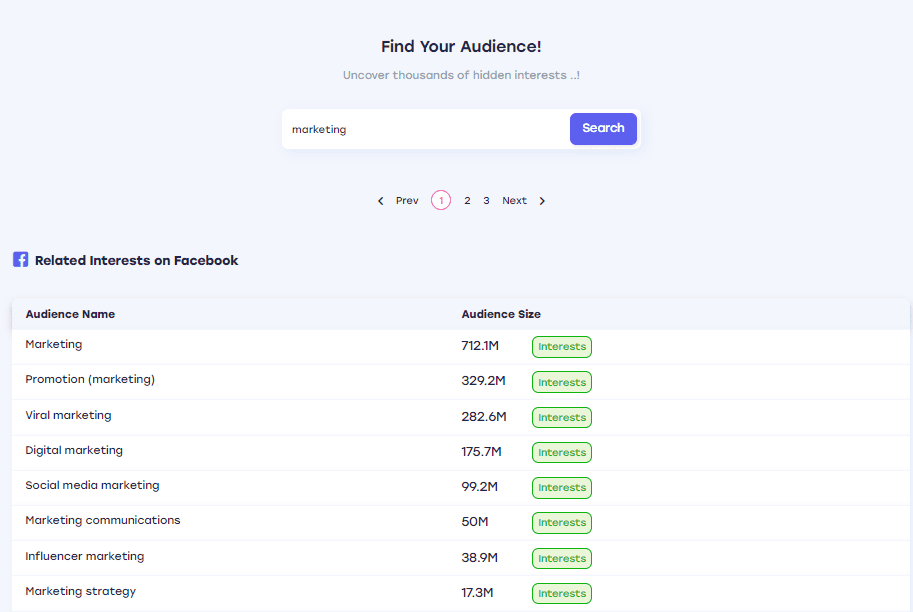 They don't know anything about TikTok people, but it doesn't matter because targeting isn't as crucial on TikTok as on Facebook.
Adserea Pricing
Adserea's pricing is straight. They only have one plan, and the standard monthly price is $19.95 cheaper. You can also get a 35% discount and a free trial.
You'll get immediate access to the following after signing up:
• Adserea A.I Product Analyzer
• Unlimited Store Analyzes
• Unlimited Access to TikTok Spy
• Professional Ad Copies
• Products Added Daily with the Live Product Spy Tool & Ready to Analyze with the A.I Analyzer
• Full Product Descriptions
• Facebook Audience Targeting
• Engaging Video Ads
• All-Powerful Audience Builder
• All-Powerful Ads
• 6 Million+ eCommerce stores data with Store Finder
• 24/7 Customer Support
• 2 New Hot-Selling Products Added Daily
• 1000+ Ready-To-Sell Winning Products

Final Thoughts
Adserea's well-curated selection makes it pretty simple to zero in on a winning product, regardless of whether you're advertising on Facebook or TikTok.
The monthly cost is only $19.95, making it a low-risk investment. You can also receive a discount of 30% in addition to a free trial.
When you use Adserea, you can save more than 90% of your time, effort, and money while boosting your chances of success.
This is only a taste of what the Adserea ecosystem has to offer. Even better, the products on the platform are not a random multiplicity of items.
Instead, they are winning products based on verifiable data and the most recent global trends.
With Adserea's free trial edition, you can test the platform without risking your time, happiness, or freedom.
For a discounted monthly price of $19.95, you'll have unrestricted access to thousands of reliable data points on winning products; new products added every day, ad content, analytical insights, and much more when upgrading your subscription.
Imagine working on the beach for an hour or two, finding the range of products, adding them to your store, and scheduling ads to run while you spend the rest of the day with friends and family for the price of a cheeseburger.
This is what you get from Adserea's seven extremely handy tools (Tik Tok spy, live product spy, Store finder, Hand-Picked products, Audience Builder, Store & Product Analyzer)
Shopify contains a wealth of information and value.
Numerous analytics and features are available to help you develop your store to new heights, and customers may seek assistance at any time of day or night (live chat or email).
You will have more time and freedom in addition to earning more money. But, regarding e-commerce, it's crucial to remember that time is more valuable than money, and neither should be wasted.
If you need more money to spend on advertising, I recommend Adserea. But, based on my more than 10 years of e-commerce experience, I can assure you that the extra money is well spent. If you utilize these tools instead, you will obtain MUCH better outcomes in less time.

FAQs
Does Adserea offer products for Facebook and TikTok ads that have been proven to work?
Yes. Ads on Facebook and TikTok can benefit from Adserea's award-winning products. You can use their TikTok spy tool.
How does Adserea decide which products will be successful?
Teams at Adserea are taught how to use one-of-a-kind tools created in-house. These tools provide them with confidential information on the most popular products on the internet. They also employ a program to track ads from time to time.
How much data is available to Adserea?
They have data on over a million Shopify stores and over a thousand award-winning products.
Is there a free trial version of Adserea?
Yes. Adserea provides a free trial that allows users to try out some of its tools.
Is it easy to get a refund from Adserea?
No. They do not accept refunds due to the product of the things they sell. However, you may easily and quickly cancel your subscription at any time.
Is Adserea legit?
Yes. Adserea use is not only legal but also risk-free.