The Best UGC Creator Platform For E-commerce Brands
As an e-commerce business owner, you understand the need to change your marketing tactics, especially if your current ones are not giving the best ROI.
Thousands of e-commerce stores flood social media platforms with similar advertisement creatives, targeting, and budgets.
Hence, you must find the best UGC creator platform for your e-commerce business to make your marketing stand out and increase conversions.
So, instead of editing and reproducing copyrighted content of the products your store is selling, why not have a UGC creator make a UGC video for your product that will help with marketing and stand a high chance of going viral?
Ecommerce brands need to work with UGC creators. Viral UGC videos can increase stores' CTR and ROAS.
They also help build a strong brand and help products sell faster online.
Today's post will highlight UGC's importance and introduce you to the best UGC creator platform for brands that want to create viral UGC videos and work with professional UGC creators without going big into production or filmmaking.
Table of Contents
What is UGC?
UGC, also known as user-generated content, is an important marketing technique for an e-commerce company that involves creating content.
In this case, the content is primarily videos showcasing the company's product used by a real user (the UGC creator) as social proof.
The UGC creator delivers viral videos based on the instructions given by the eCommerce brand; the client typically provides tasks describing:
Product Position,
The message and Call to Action,
The targeting audience
The scene setup.
Luxury brands and big box retailers have deployed UGC marketing for their marketing and product awareness.
Who is the UGC Creator?
A UGC creator is a freelancer who creates unique sponsored content that appears authentic and designed to showcase a specific product or service.
UGC creators are best known for Creating Viral Videos on most social media platforms like TikTok and Instagram.
UGC creators typically fill themselves with the product as they show how the products work through demonstration and narration from their perspective, giving the content an unaided and authentic feel.
The difference between influencers and UGC creators is that, unlike influencers who record themselves while using the products and then post the videos on their social media, UGC creators create content without registering themselves.
UGC creates and delivers the video to the business without obligation to share the post on their social media platforms unless it's a bonus or added at an extra fee to the company.
UGC creators create content as either customers or from a customer perspective, showcasing their experience with ecommerce brands' products.
When a customer or target audience sees people using the products they intended to buy and saying good things about them, it creates comparisons, acts as social proof, and values the products.
Advantages of UGC Creator Content Creation
Most successful ecommerce brands invest a lot in UGC content for their marketing strategies.
Deploying the use of UGC creators can help your e-commerce business in many ways, including:
Building Reputation and Trust: UGC content helps bridge the gap between customers and brands, increasing customer trust.
Increasing Conversions: If done well, UGC can help a store increase sales or conversions and simplify the buying decision.
Helps save on Marketing Costs: If you hire the right UGC creator to make your videos, then you can rest assured that instead of wasting hundreds of dollars gathering existing ideas, editing, and sometimes buying unnecessary licensing, your UGC creator video is worth the investment, which leaves you with the right to use the content for either commercial or personal use for life.
Why use videos for ecommerce?
Notably, e-commerce brands with video marketing creatives increase their conversion rates by 85%.
A product video is highly successful when done correctly and helps drive organic sales.
90% of customers say watching product videos has convinced them to purchase products they intended to have.
Creating a creative UGC video for your business can significantly change your marketing efforts.
The Marketing statistics indicate that over 4 billion videos are watched daily on the YouTube platform, and about 92% of B2B consume online videos.
How To Find UGC Creators
Suppose you are tired of going the traditional way of filtering through Twitter and Instagram.
In that case, you must choose the route that saves you time and money and offers you unique UGC creators, unlike repeating UGC creators advertised from all the categories.
Ecomvideos: UGC creator Platform for Ecommerce Business
Suppose you want to create viral UGC videos for e-commerce brands or other businesses.
In that case, Ecomvideos is your go-to place for finding unique UGC creators with 10 years of industry experience who can create fantastic content for your product.
Ecomvideos prides itself on creating organic videos by regular folks (creators) without spending thousands on production or filmmaking.
The UGC creators are regular folks like you and me who use smartphones to help brands create authentic videos for their businesses.
The video categories Ecomvideos focuses on include;
Product reviews
How to guides
Unboxing
Personal Vlogs
Funny skits
The focus is on keeping the video genuine and authentic to make the connection between the customer and the product.
Ecomvideos crafts amazing UGC videos for all sorts of business types e, e.g., Saas, apps, retailers, and even digital marketers who want promotional videos created in the form of UGC.
How To Use Ecomvideos
Did you know that most of the UGC videos you've interacted with are courtesy of Ecomvideos?
You can also have your product or business videos created by them. It's simple 3 steps that require no guide, but I'll break it down for you.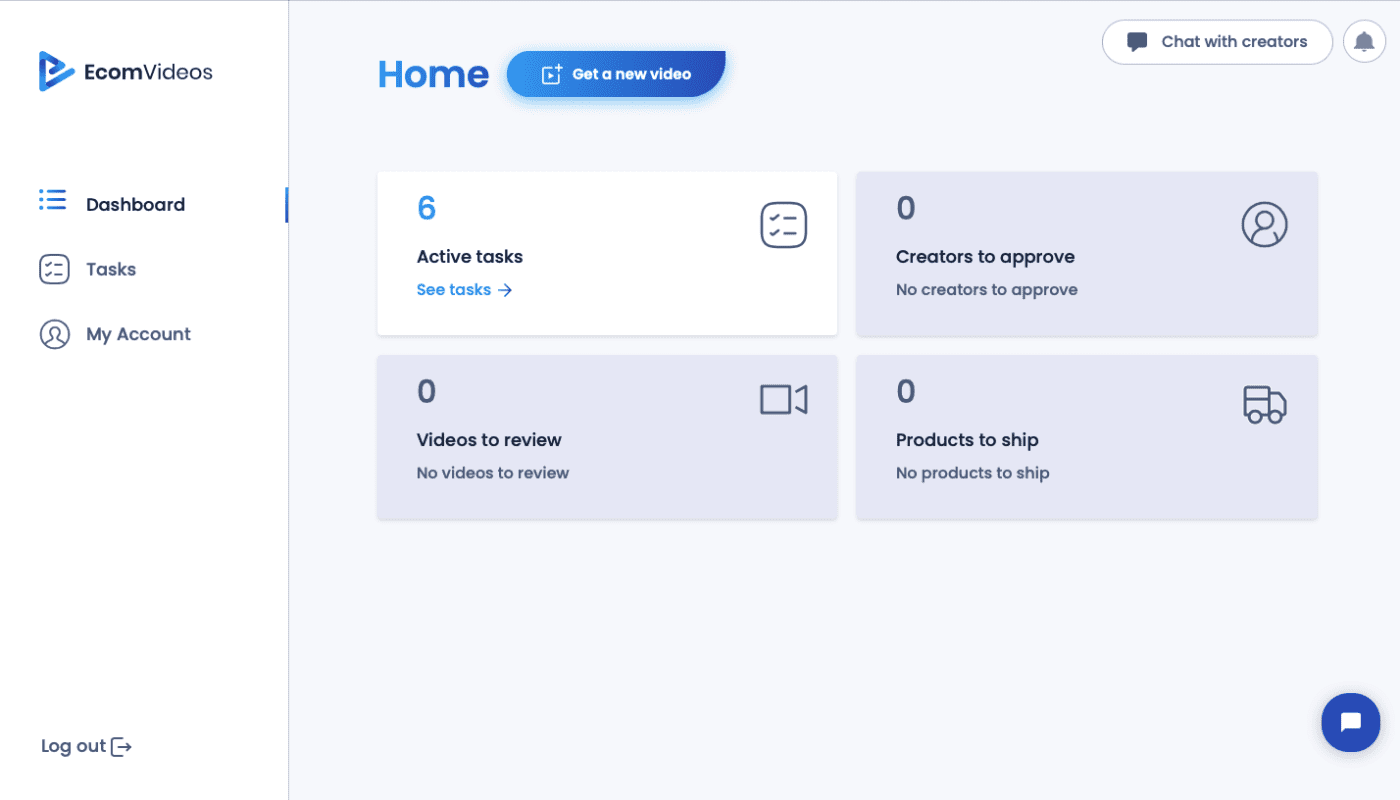 After successfully signing up, a few pieces of information are required before they start crafting your video.
Ecomvideos has experienced copywriters in-house who create viral UGC videos that attract millions of views. Each video takes roughly 3-8 to make.
They take their time to research the product topic, spy on the competition, and analyze trends to create a top-notch, humanized script and storyline for your viral video.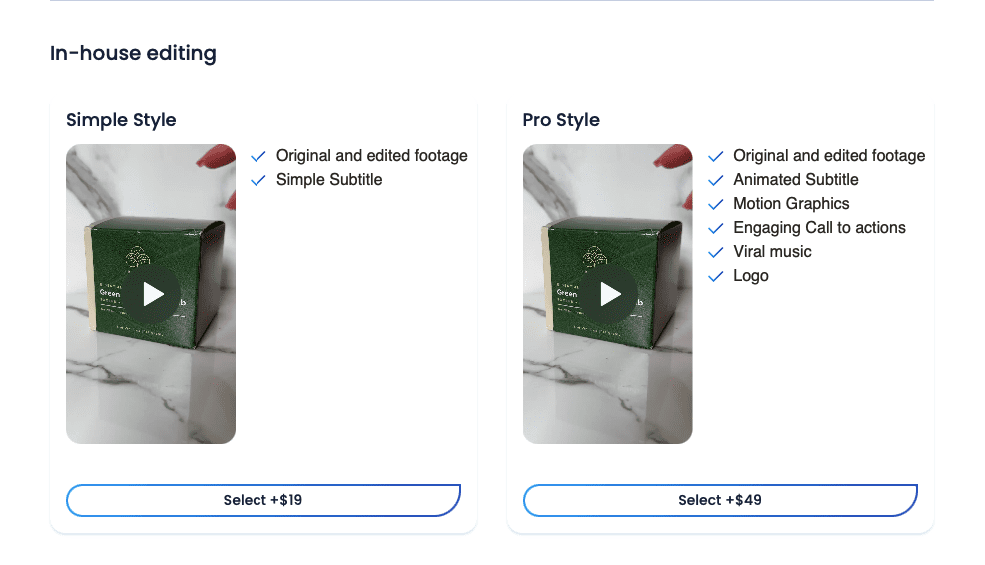 Create a task
Now that you have placed your order, the first thing is to create a task for your UGC creator to follow and deliver the video how you envisioned.
You must provide product details, choose video format and ratio, and select the length of tour videos to be 15 seconds or 1 minute based on your budget.
Your video preferences are essential, and you must provide the correct aspect ratio; your target audience's age, gender, and demographics help Ecomvideo craft a top-notch UGC video.
Ecomvideos has two options to choose from when ordering your UGC videos.; You can either go with;
Basic UGC creators: These are verified UGC creators suitable for creating viral content for your business or products.
The other option is to
Professional UGC creator: The creators of this category are verified and certified by Ecomvideoes. They rank higher in terms of experience, recording equipment, and quality.
Ship your products to Ecomvideos.
After carefully setting up your content preferences, it's time to send the actual products to the UGC creators so they can start creating content for your business.
You will receive the addresses and shipping information for the product delivery.
Read Also: How To Create A TikTok Shop Seller Account
Product delivery to Ecomvideos varies depending on your location, but when received, the content will be delivered to you within 5 business days.
You will have time to review it; if any revision is needed, it will be done at this stage.
Get the Final video!
The last step is getting your final products after revisions. The creator must send you the final video and take photos of the products to be used as video thumbnails.
Ecombideos provides at least 4 thumbnails per UGC video order. They also offer 10-15% discounts on orders above $200 and $500.

If you are unsatisfied with the results even after the unlimited revisions, Ecomvideos provides 100% refunds and questions.
Conclusion
Now that you have created your UGC video, you can rest assured that you own the rights and content 100% and can use it for your commercial and personal needs.
Ecomvideos doesn't have the right to reuse or distribute any content created on its platform after a successful ownership transfer.
If you want to avoid Facebook bans and coronet strikes for using content you don't own, try Ecomvideos and create your first viral UGC content for your business.
Most businesses using Ecomvideos for their UGC content have seen increased ROAS and high click-through rates (CTR).
So whether you are selling physical products, dropshipping, print on demand, or any other type of business, Ecomvideos can help you create high-quality product videos to boost your online presence.
Sign up today and share your experience in the comment section below.