Ella Shopify Theme – Unique Multiple Layouts And Styles
ELLA Shopify theme is an all-in-one Shopify top-notch theme with multiple layouts and styles that allow you to create different structures, satisfy any specific requirements, and provide you with numerous child themes for different business types.
First of all, Ella is an eye-catching, well-designed, responsive template. With the magnificent banner & product blocks on 15 + Homepage layouts, 07 + stunning shopping pages, and 09 + Product pages, it puts your products in the spotlight and helps skyrocket your sales.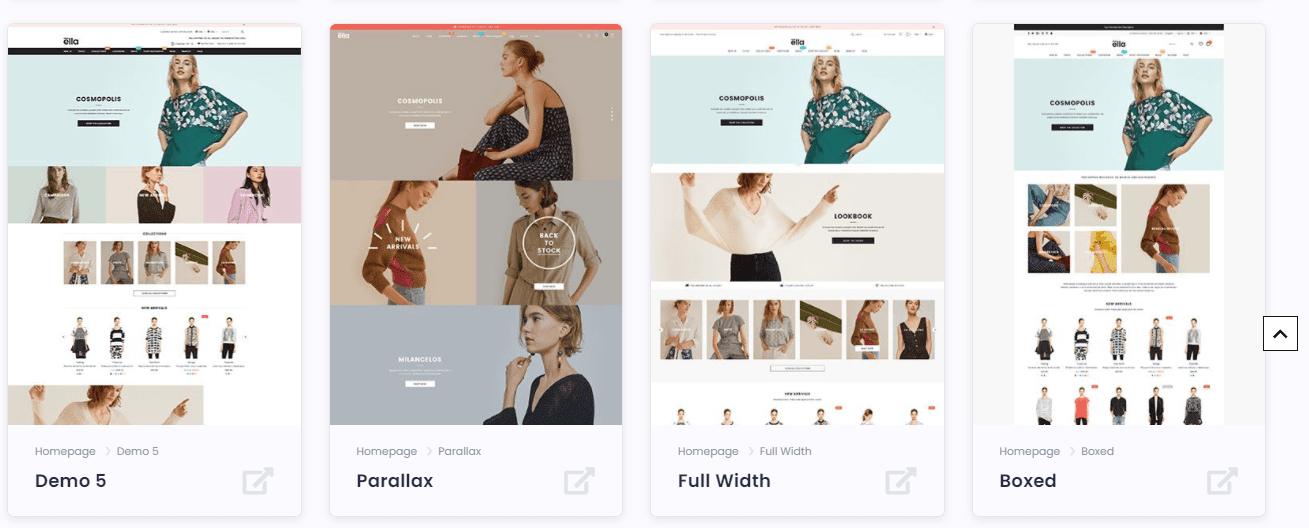 Bundled with a stunning and professional Shopify template design, the Ella theme has been designed to deliver your store's best conversion rates.
Well-designed UI / UX and mobile-optimized design to ensure a smooth mobile experience for visitors.
Ella is a highly adaptive and fully responsive Shopify theme that will have you sorted out with all the contents you need to have, and then some. Every user of Ella expects over eight children's themes and more than fifteen homepage designs.

Category, product, and blog pages are also available for your convenience. In other words, you can practically kick off a new online store with Ella sooner rather than later. Just select from the material that is available and go from there.
Ella's additional specialties include a video slider, GDPR compliance, size chart, one-click checkout, lookbook, wishlist, etc. You can also create your custom header and footer.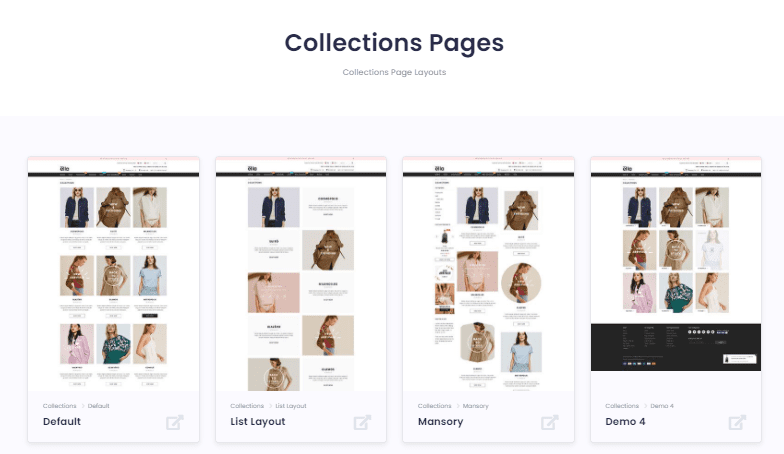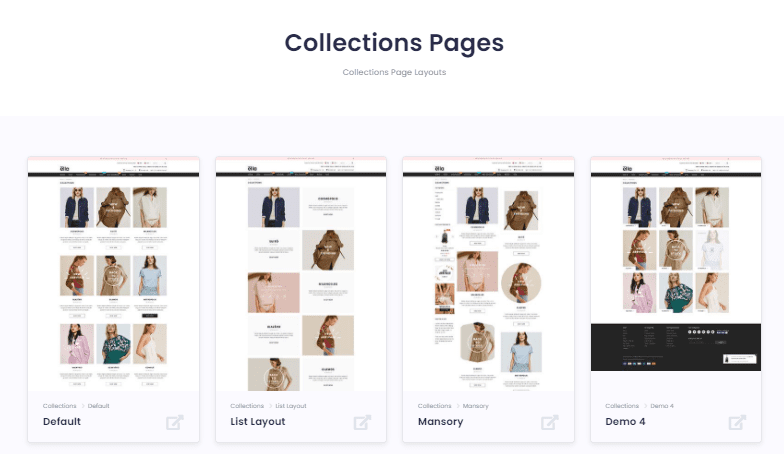 Ella was created with Shopify to help you launch a stylish online fashion and apparel store.
With a big banner section to take advantage of, the default Ella homepage design allows you to easily showcase your best, favorite, and most eye-catching products.
Depending on your needs, the rest of your Shopify store homepage may feature a range of various sections.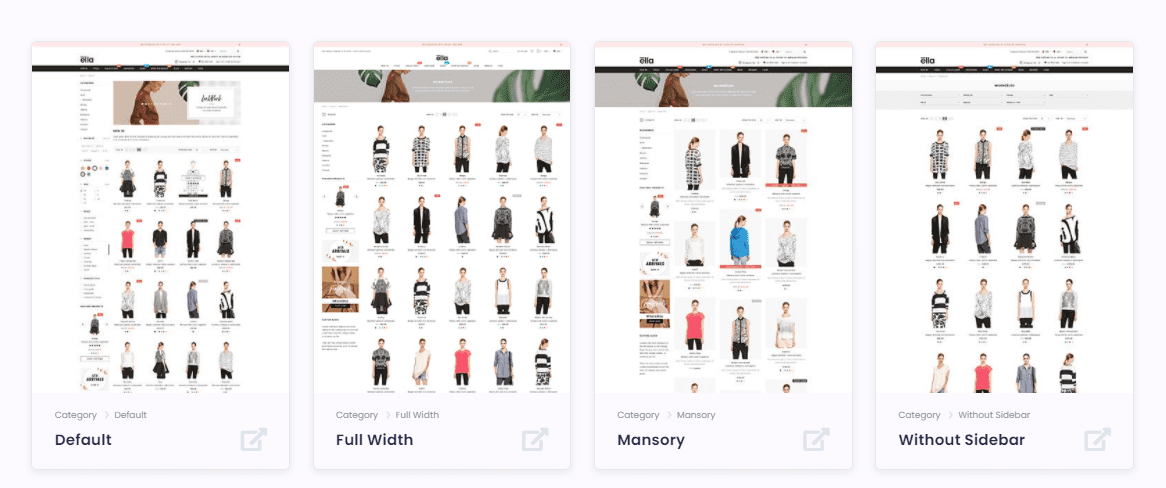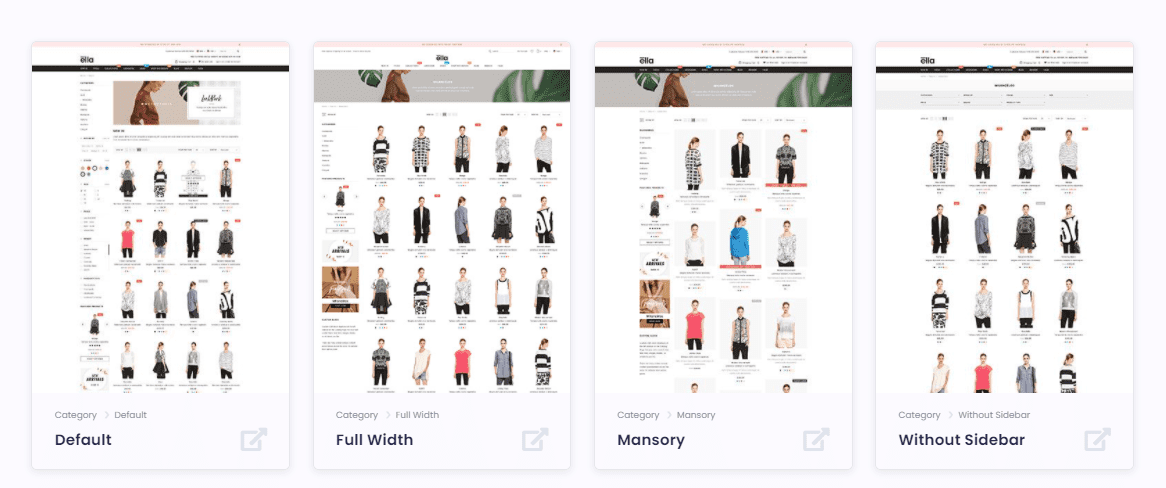 A grid display of your latest products, collection info sections that introduce a new set of products, trending items, and an Instagram feed of your photos are some of the options available to you.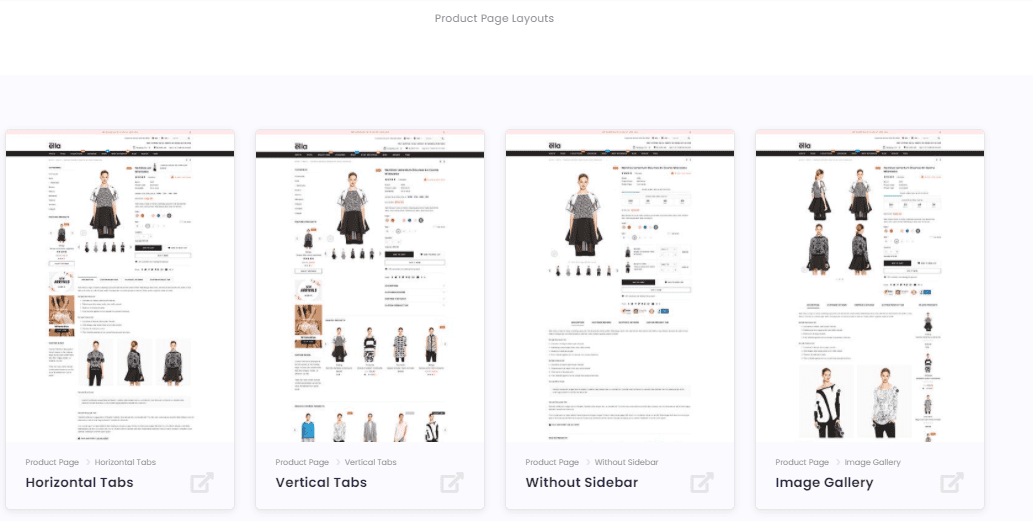 You'll also find a powerful mega menu builder, as well as the pre-built store layouts. You can now add more content to your drop-down menus, including photos and images of the products.
To create custom product collections, you can also use the lookbook feature, complete with a large banner image and introductory text.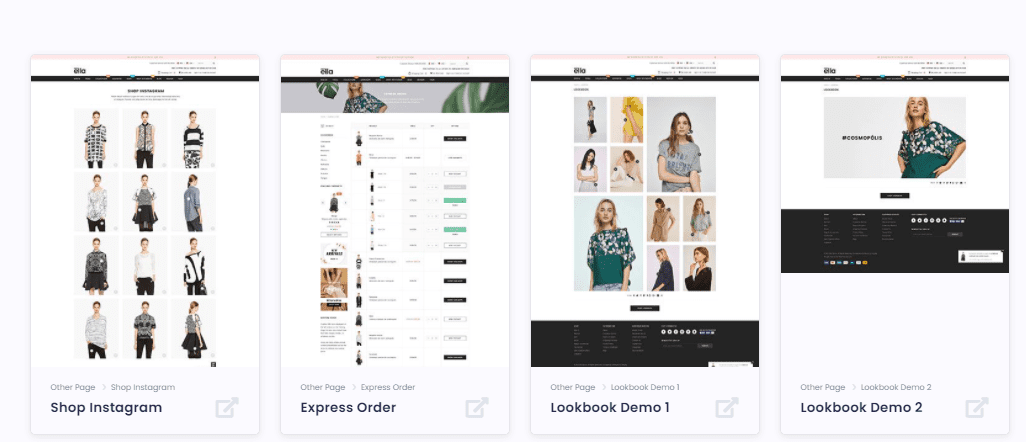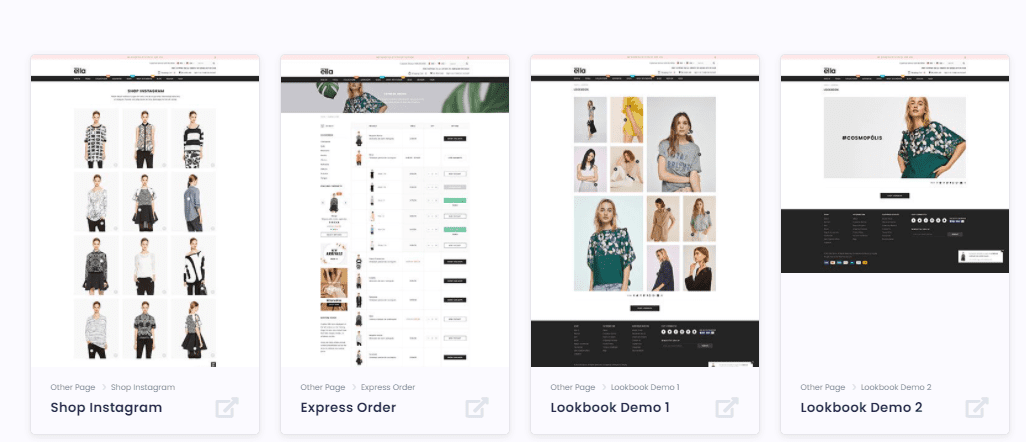 Thanks to the various article templates and layouts, adding a blog to your store is simple.
There is also a useful FAQ template for publishing answers to the questions that may have your shoppers.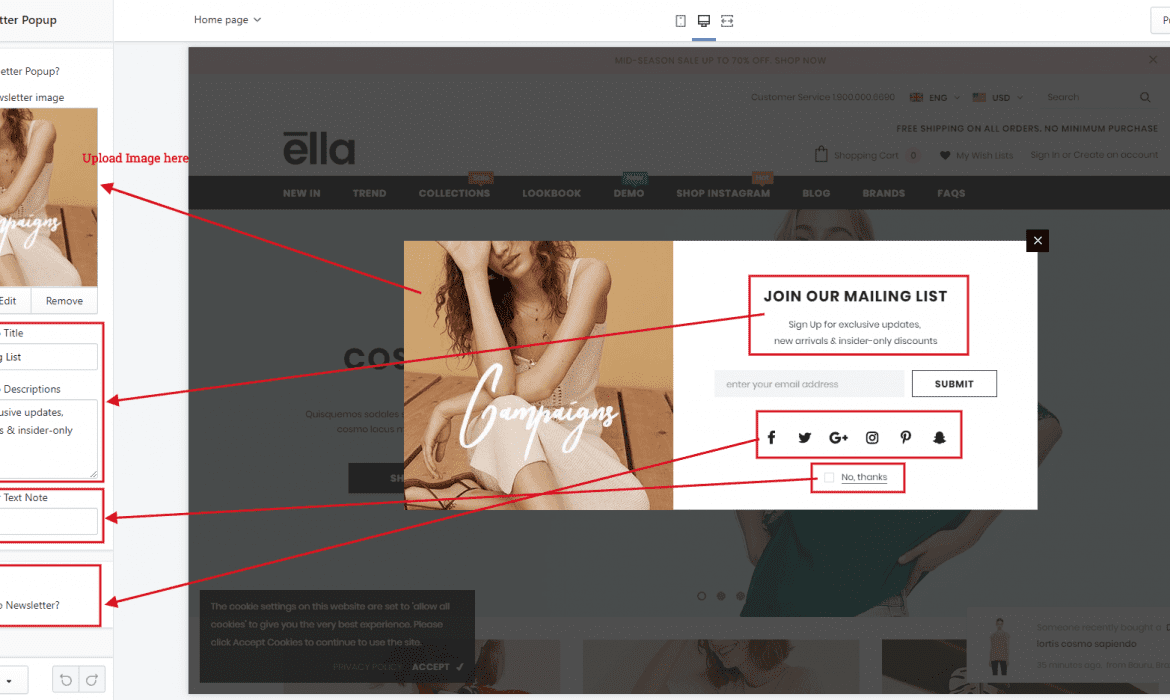 A newsletter popup option form integrates with popular email marketing services such as MailChimp, and a full set of customization options to control your store's colors.
Suppose you choose this theme for your Shopify store. Kindly note that some of Ella theme features you can take advantage of include a drop-down shopping cart menu, which makes it easy for shoppers to see what's in their cart.
Ella is also compatible with 100 percent mobile and cross-browser, ensuring a smooth shopping experience.
With confidence, thanks to Ella, you can start selling fashion or any other goods online.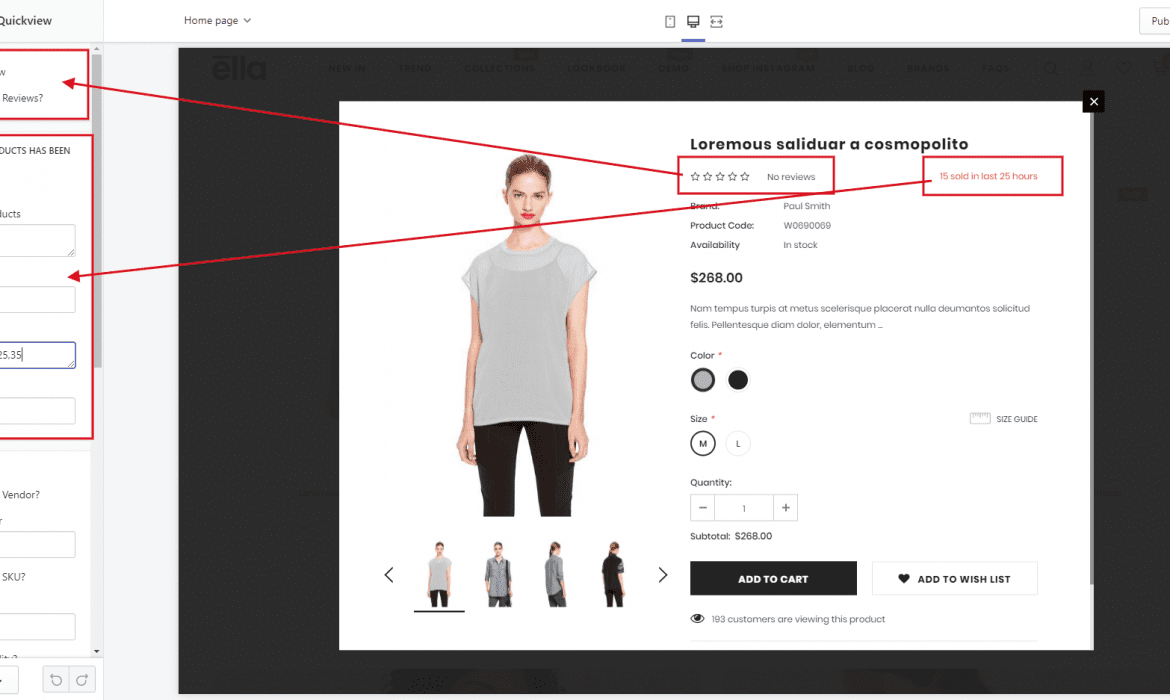 If your store lists products related to fashion and clothing, Ella and her online demo are well worth looking at.
Ella plays a perfect role in showing how well-designed and professional it looks for any shop or business type.
Thanks to its cutting-edge design, your website will never be out of date. Your products are also displayed on the product details page in various beautiful ways, such as in a lookbook, video slider, or image gallery with video and zoom impact.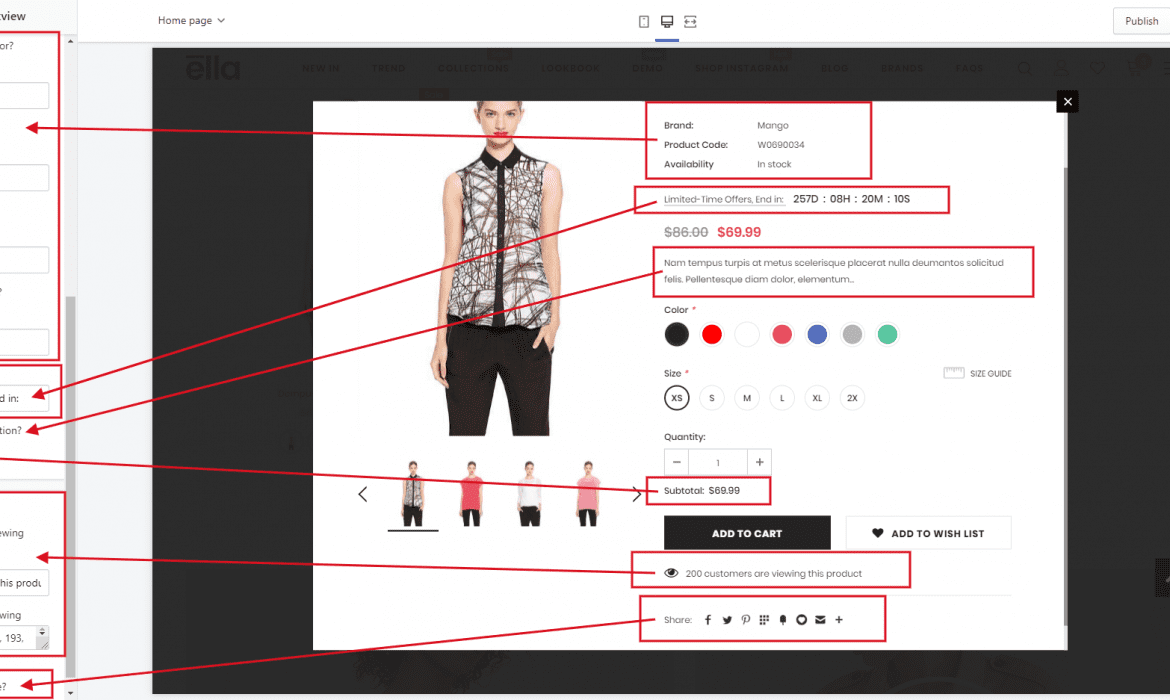 You don't even have to think about page design with 15 + homepage layouts, 07 + stunning shopping pages, and 09 + product pages.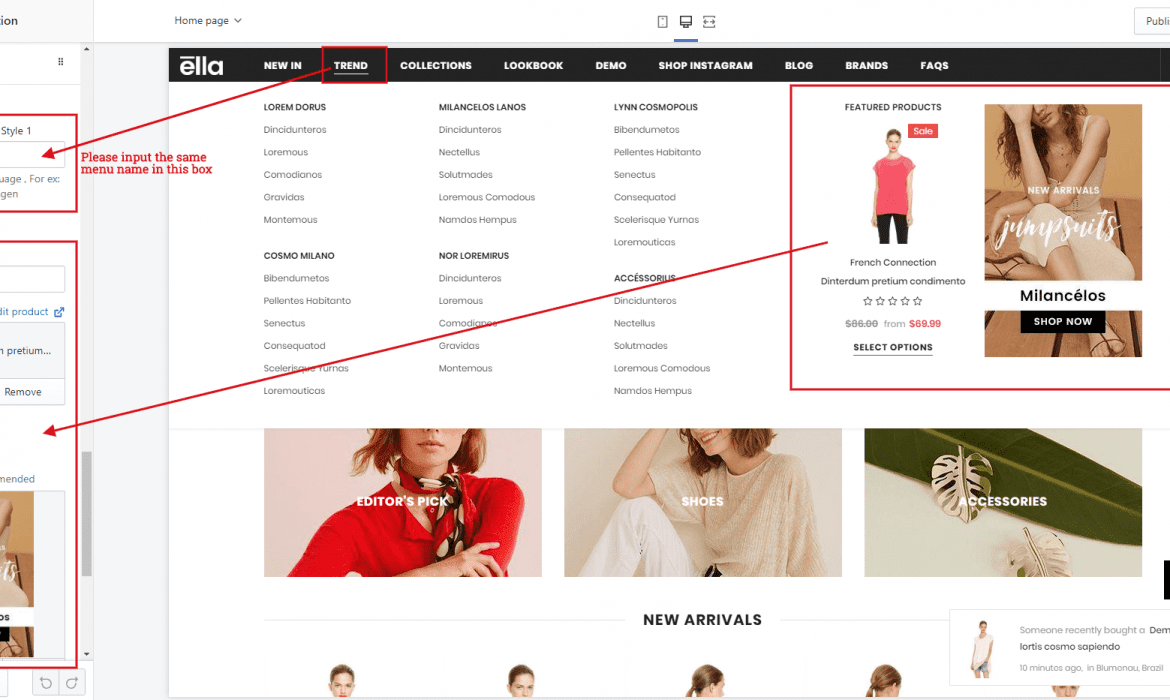 Just use an instant import feature to keep any of it in mind. Use it, and you will see yourself more stunning tools.
What is Ella Shopify Theme?
Ella is a fashion and apparel template that is responsive. It mixes and matches features such as colors, banners, and blocks to create a gorgeous layout.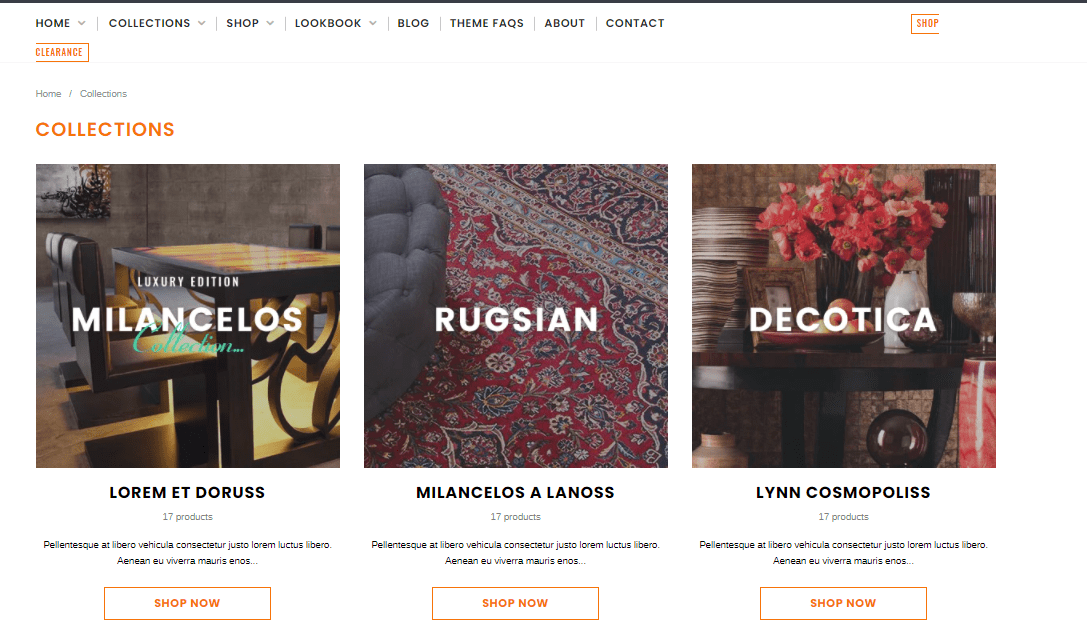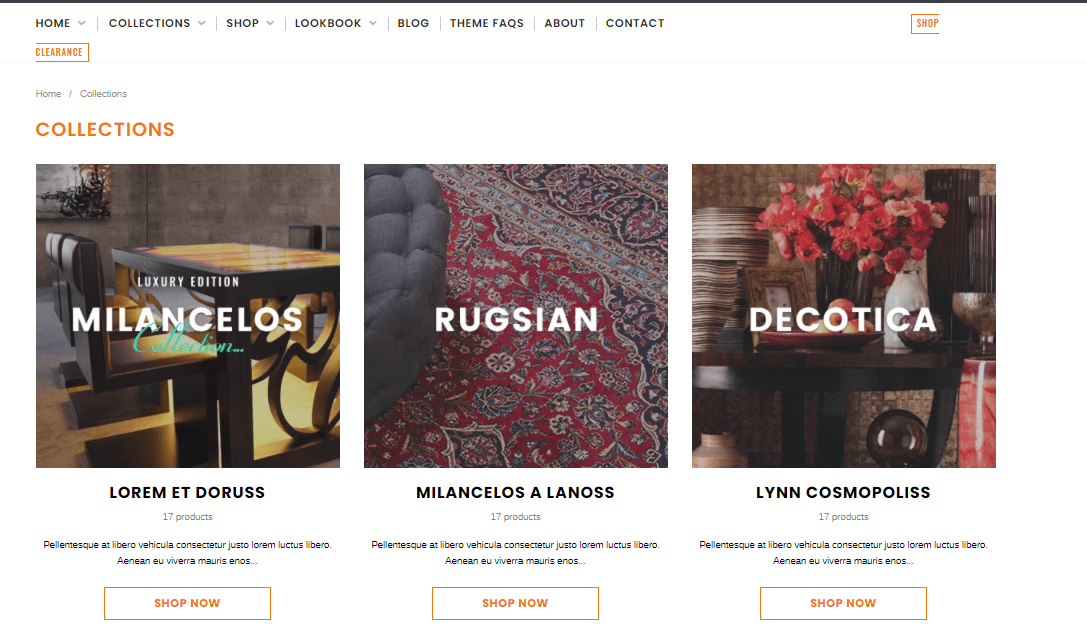 Ella uses a large banner to display the best products and attract the eye of the users. Your website is very much guaranteed to be displayed correctly on all devices using this theme.

Ella is a theme that allows you to handle things handy with multiple layout and styles, great top-notch unique, and eye-catchy store.
Ella theme also fulfills any specific requirements you may have, as well as providing you with a specter of different themes for different stores (In Different Niches)
You'll also find a powerful creator of mega menus, in addition to the predefined store designs.
Now you can add more content, including photographs and product images, to your drop-down menus. To create custom product collections with a large banner image and an intro text, you can also use the lookbook feature.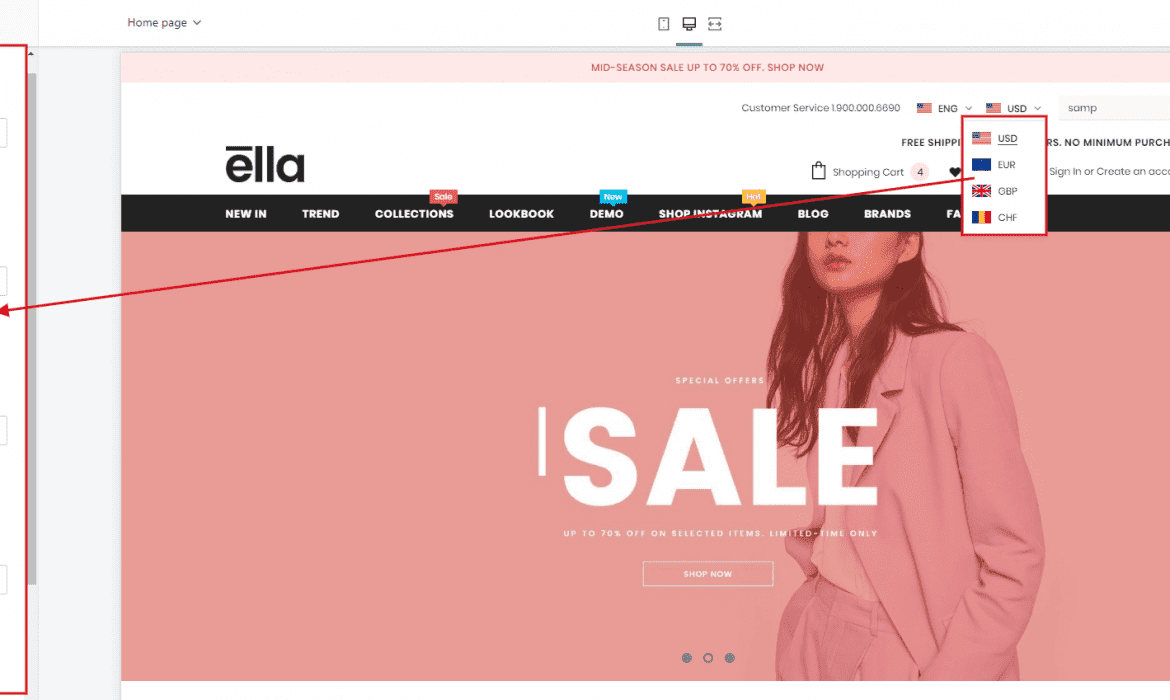 It's easy to add a blog to your business, thanks to the different articles and design models. There is also a useful template for answering your buyers' questions, with frequently asked questions.
Why Ella Shopify Theme?
First of all, ELLA shops theme perfectly and beautifully mixing and matching colors, banners, blocks to give a beautiful look to the entire layout.
ELLA has a large banner to showcase your hottest and newest products to capture your customers' hearts immediately.
Information blocks are nicely and neatly displayed to help your clients find the information they need quickly.
Secondly, the Ella Shopify theme brings you a particular module to show all categories: the Advanced Mega Menu Module Shopify.


On their first impression on the website, this module will help your customers find their wanted items.
What's more, you can easily manage and update all the Shopify Admin Panel Admin Backend information.
The most exciting feature of Ella is its frequent updates. With each passing day, the store gets better and better.
Also, throughout the day, they keep adding new, attractive skins to their collection.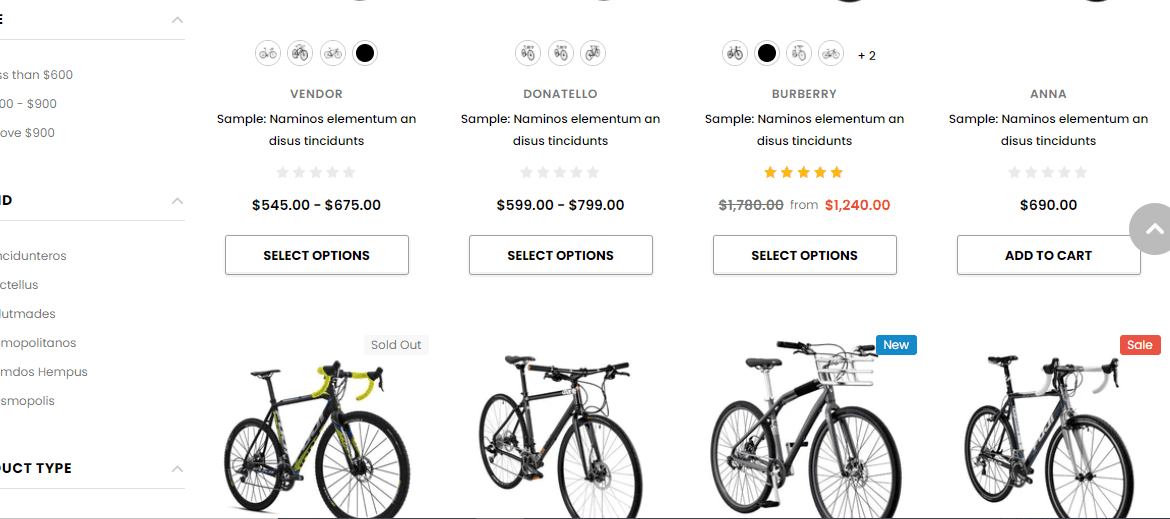 It allows one to easily use the best for festive or holiday seasons or shopping offers among the available alternatives.
Besides, the new Ajax Layered navigation also comes with it.
The Ajax Layered Navigation is an improvement of the use of Tag to filter your products regarding color, size, brand, or price, and these tags can operate simultaneously.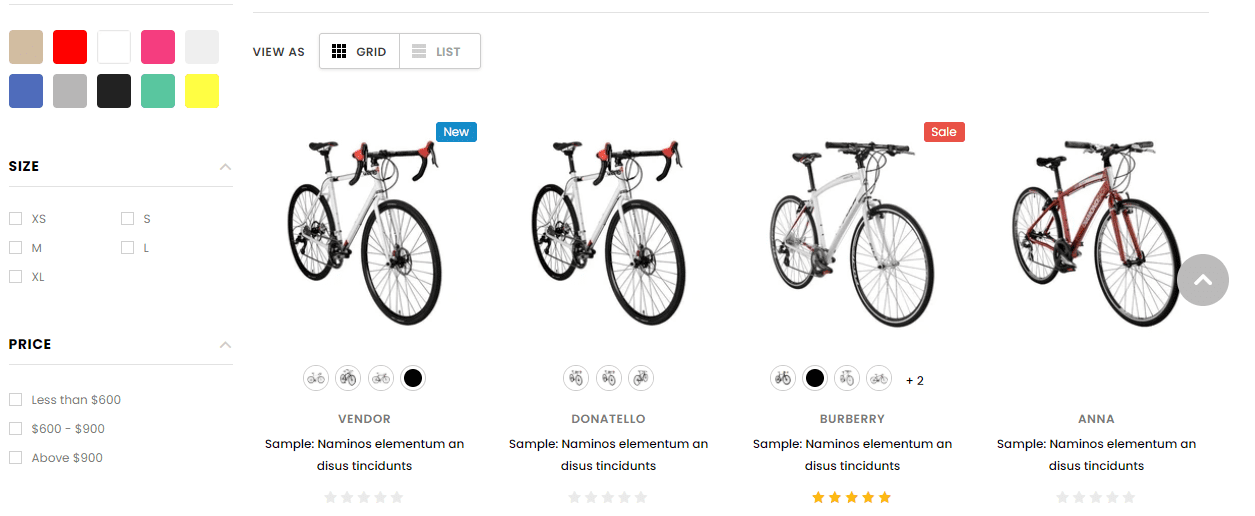 Thanks to this unique feature, your clients will discover their best fit at a glance. Your conversion rate will, therefore, be improved.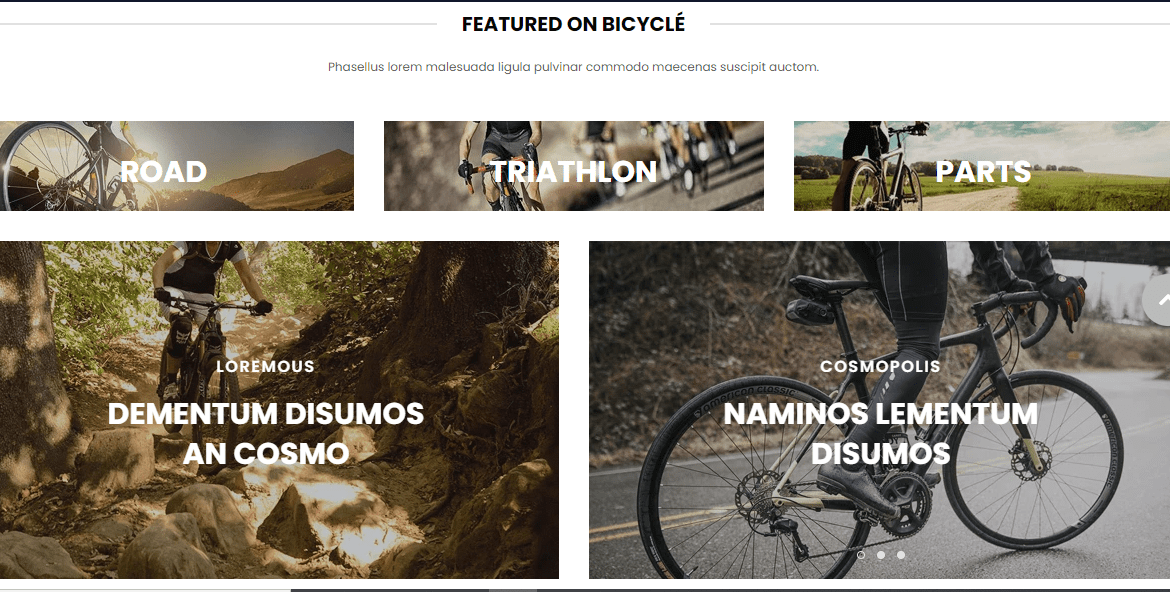 The drop-down shopping cart feature is also included in the Ella Shopify theme. It also supports popups for MailChimp for Newsletter signups.
It also features fantastic color options. Also included here is the Ajax model.
Infinite Scroll Module.
Functions include Ajax grid mode & list mode, product hover & quick view, etc. The Customer Reviews App and size chat also integrated with it.
Ella is one of the most comprehensive Shopify themes, and one finds maximum value for money with Ella with Shopify experts like Cyblance.
Ella updates incredibly regularly, allowing you (or perhaps take advantage of them yourself) to pass on the updates to your client. You'll have to try hard to stick to your original choice with monthly additions to skins' collection!
Ella supports sections on Shopify, which allows you to drag and drop content blocks within your design.
Ella theme Installation
You're wrong if you think installing the Ella Shopify theme is rocket science. Installing this theme on Shopify is a breeze.
You should extract it once you have downloaded the zip file of the Ella theme on your PC.
The file named "sections-ready.zip" should then get uploaded to your Shopify store.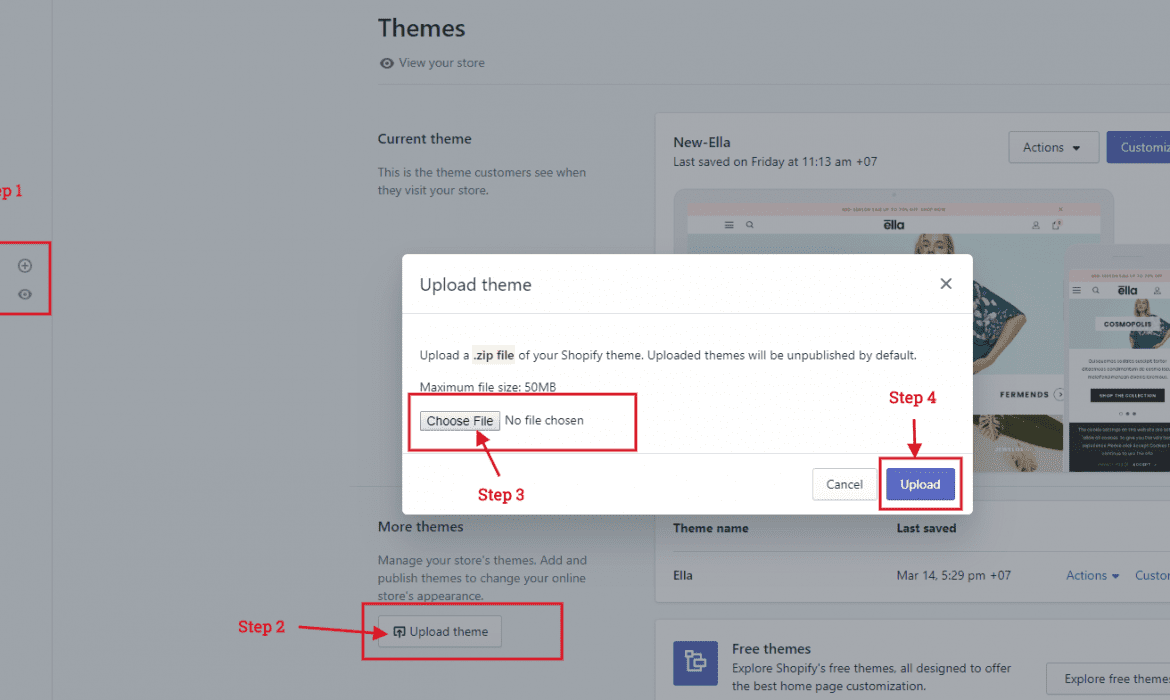 Navigate to the theme section of your admin area to do so. Allow/activate/publish the template once you have installed it.
We recommend that you read the Shopify Manual and familiarize yourself with it. It is an exceptionally well written and detailed guide written by Shopify itself to understand the Shopify platform.
As well as using Shopify in general, it will help you understand many aspects of customization for your theme.
Pricing and support
For users, Ella offers two licenses:
Standard License: $79
The Regular and Extended License fees for extending support to 12 months are equivalent to $15 and $768.75.
Ella theme has a price of $59 for the regular License and a 5-star review (over 4000 reviews to date).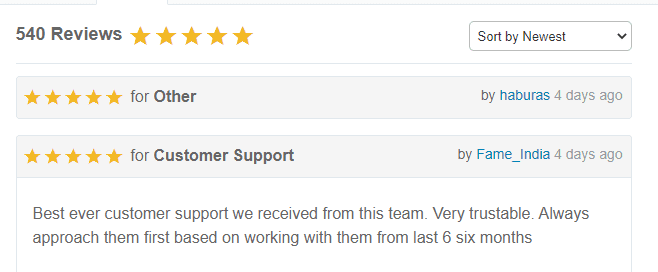 With 16.5k sales, that's the more reason this theme is by far the best-selling theme on the market.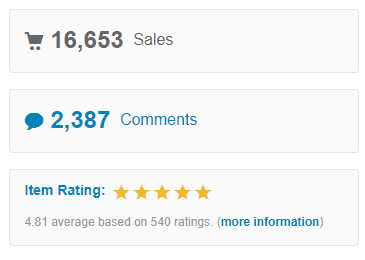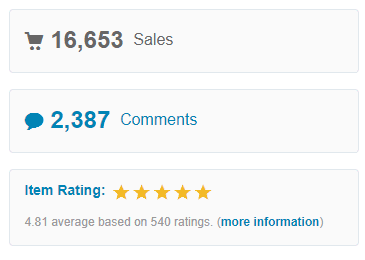 As already mentioned, Ella is cheaper than many templates on the Shopify marketplace.
On ThemeForest.com, this theme price values at $79.
The Ella Developer, i.e., Over 16000 copies of Ella, has been sold by HaloThemes.
Ella is the best-selling and highest-rated Shopify template on ThemeForest. HaloThemes offers its customers ticket/email support.
Features highlighted:
Let's discover in our theme spotlight + full theme features below tons of professional and creative design options as well as Advanced features below;
Here are some of the Ella Shopify theme's neat features.
First, you get more than fifteen homepage layouts, nine product pages, and more than seven excellent Shopify pages.
Next, the optimized design makes it easy for your customers to access their mobile devices from your online shop.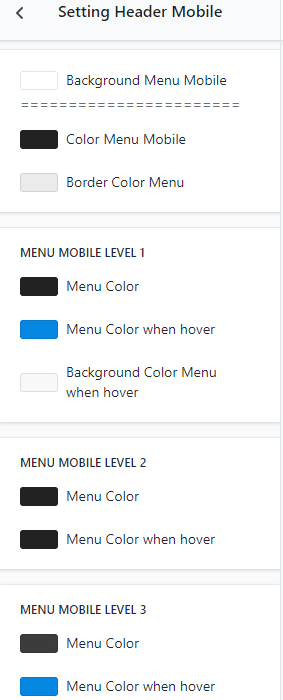 The user experience is superb, with less hassle for customers to easily navigate through the intuitive interface.
The advanced features help to bring your products into the spotlight online.
Pretty fascinating! Aren't they?
Also, Ella typically rolls out a lot of new features, layouts, and updates. Therefore, you're sure to keep up with the constantly changing industry of online marketing.
Visitors on mobile devices can also enjoy smooth shopping experience with Ella with the incredible UI / UX and Mobile Optimized layout.
In our theme spotlight + full theme features below, let's discover tons of professional and creative design options and advanced functions.
While Shopify gives you access to free templates, none of the topics are deemed complete.
Even if you use free templates, you'll even think about buying a premium template one day. Using free themes, in my view, is a waste of time and effort.
Most of the premium themes on the Shopify marketplace have cost more than $100.
A theme like Ella is the cheaper and better alternative to most templates that you will find on the Shopify marketplace.
Ella costs one-third or half of the templates' price for Premium Shopify and offers all features.
It is powered by 13,000 + websites and built with CSS3, HTML5 and bootstrap. Ella has a responsive layout and supports browsers, including Opera, Internet Explorer, Chrome, Safari, and Firefox. Ella theme has features such as
Lazy Loading: This is an online content optimized technique which reduces the loading time and memory usage.
Your store displays product images in the product/category pages, so loading the whole browser is time-consuming.
Instead, Lazy Loading loads only the requested pictures and delays the remaining images until they become necessary. It's not easy to manually add the lazy load feature to a web site.
Although several scripts are available on the web to accomplish this task, the scripts may not work as you would expect.
The Ella Shopify theme provides an option for activating the lazy loading effect.
Why use the Lazy Load feature?
Since online stores display several product images on the product/category pages, it may take time to open in the browser.
It is probably because the server will have to transfer to the visitor's computer the files from the directory of your Shopify website.
Lazy Loading ensures that the client should request only images that should be visible to the user, i.e., only pictures embedded in the header section will ask if only the header section is visible. When the user scrolls down, the remaining images, i.e., images added to the body or footer section, will be displayed.
Newsletter in a pop form.
Some people may like your store. You can use the Ella Shopify theme Newsletter popup module to ensure that these individuals get covered by regular customers or purchase the products you list for sale.
What does the newsletter module mean?
Well, the module Newsletter supports integration with the free email service Mailchimp.
MailChimp will send emails to users on the date/time specified by you once you have set up MailChimp, and whenever the user enters input email in the form and subscribes to your newsletter.
On your Shopify site, you can configure MailChimp to send subscribers the latest deals, offers, etc.
Shopping cart drop-down list
When your shoppers click on the cart icon, the shopping cart block will appear. Therefore, they can easily view their shopping cart status without opening a new page on any page they wish.
Instead of reloading / refreshing the entire page by clicking the "add to cart" button on the website visitor, Ella will only restore the cart icon that displays the cart's number of items. That feature provides the user with a great experience.
It also prevents the entire page from being requested by the browser when the user clicks the 'add to cart' option.
When the customer clicks on the cart icon, a list of cart items will appear in a template drop-down menu. The user can either change their order or continue with it to the checkout form.
New monthly themes
In addition to frequently updating the current themes, Ella releases new Shopify themes every month to satisfy your clients and keep your store looking new.
Play with colors
The Ella Shopify theme allows you to change the color of its various components in the background, foreground, border, hover effect. You can experiment with the colors to know the most clicks received by the color button/links/menus.
Gorgeous Child Themes
The Child Theme is a theme from another theme called the parent theme that inherits all the features and functionalities. When you customize the parent theme, the child theme still retains all of the current functionalities.
Infinite Scroll
Your product might be attractive to a user, and he'll scroll down. You can enable Ella's unlimited scrolling feature to impress the user. The Ella theme's infinite scrolling functionality is SEO friendly.
Cookie popups
Some countries require you to show visitors to the website a notice that your site uses cookies. If you don't follow the country's rules, you won't sell your products there. With Ella, you can enable the cookie pop up within seconds with just a single click.
Galleries and sliders
Images and videos have an essential part to play in the success of an eCommerce website based on Shopify. Ella lets you create both a flexible video and image sliders. It also allows you, with its Instagram gallery module, to show images from your Instagram albums.
Other features
Option to let customers post reviews.
Product image customization
Size chart system.
Layered navigation module powered by Ajax.
Powerful real-time filters.
RTL support (Right to Left languages)
Customizable mega menu.
Grid and List view support.
Google Web Fonts integration
Advanced Mega Menu layouts
Express Order Module
Product quick view/hover view
Over 15 fantastic homepage layouts
Multiple child themes
Several headers and footer options
Over 7 layout options for the category page and more than nine layout options for the product page
Over five blog page layouts and several other custom pages: FAQs, contact us, etc.
SEO-optimized (includes Google's rich product snippets)
GDPR Cookie Popup and several other features
Ella Shopify theme Pros
Feature-rich and intuitive: Ella provides users with several features that are simple to use. As it has a lot of built-in features, you won't have to waste your precious time finding and installing apps.
Easy to customize: The Ella theme is a piece of cake to customize. The user should only adjust the settings to make the template custom.
Compared to other Shopify theme, the price is reasonable
Has 0 highlight features
A category leader in Best Shopify Themes
Best for No particular area
Ella Shopify theme Cons
ThemeForest has a 5-star rating for the topic. Some of the one-star reviews, however, complain about bugs and lousy support for customers.
That said, most of the 5-star reviews are about the excellent customer support provided for the topic, and there are very few low reviews.
Ella Shopify theme Conclusion
We enjoy the Ella theme for various reasons, but the Shopify sections are hard to pass as our favorite features.
You may know a little bit about sections of Shopify, but basically, it involves a drag-and – drops interface to move sections up and down on the homepage.
Not all the Shopify themes sold through Shopify are optimized for that, so it's nice to see one in the library of ThemeForest.
Ella theme has some other fantastic and powerful theme settings, such as the mega menu for huge stores and the layered AJAX navigation to get your customers to the right products quickly.
Included with the Ella theme are quite a few demos, many of which cater to the fashion industry.
To get your site translated and ready for global commerce, you can also use RTL language support.
Ella on the Themeforest marketplace is the most popular and best selling Shopify theme.
It is mainly focusing on the theme of Fashion & Apparel. It includes Mega Menu, AJAX layered Navigation, Customer Page Layout, and a powerful admin panel, making the design easy to setup.
When customers are on their smaller devices, the theme has a mobile design, and you receive some integrated Google Fonts to enhance your typography across your site.
What's great about the mega menu is that on mobile devices, it looks acceptable as well. It is often not the case with eCommerce themes since the small screen doesn't do well with extensive menus.
The mega menu for the Ella theme does not have this problem. The theme also integrates a Flexslider image slideshow, perfect for displaying offers and deals, text, and buttons overlaying.
In addition to the other Ella features that you can use when selecting this theme for your Shopify store, a menu can be found under the Basket menu item, allowing the customer to see their shopping cart contents quickly.
It integrates with popular email marketing services such as MailChimp and some customization options to control your store's colors.
Ella and its online demo are worth the detour if your business includes fashion and apparel products.
Get Ella Theme now and enjoy responsiveness.