How Much Does Shopify Take Per Sale?
Do you intend to sell products on Shopify? How Much Does Shopify Take Per Sale is a question you've never asked yourself. You are now curious about how much it costs to sell on Shopify.
Shopify is undoubtedly one of the most widely used eCommerce platforms available online.
It provides several features and tools that make it simple to launch your online shop front swiftly.
This makes Shopify an appealing choice for large firms like Allbirds and others.
The eCommerce platform Shopify provides enables vendors to set up independent online stores from which they may sell their wares. In addition, it caters to companies of all sizes by providing individualized problem-solving options.
Like other eCommerce platforms, Shopify charges a transaction and processing fee when you sell things. However, these fees depend on the Shopify plan that you select.
If you plan to launch your online store using Shopify, you should familiarise yourself with the platform's transaction costs before you start so that you will be aware of when the fees are applied following each sale.
A wide variety of different factors determines the costs of running a Shopify store. They include, but are not limited to, the initial costs of setting up your store, the Shopify pricing plans you select, and the additional features you want.
This post will examine the Shopify fee structure while analyzing the factors influencing operational costs. Finally, we will successfully crack the topic "How Much Does Shopify Take Per Sale?"
Let's get started right away!
Let's get started.
Table of Contents
How Much Does Shopify Take Per Sale as a Cut?
There is a transaction fee that is deducted from each sale of your products that is processed through Shopify. Nonetheless, the cut could be higher.
You won't be required to pay any of these fees immediately, which is a huge relief. After a successful sale, it automatically deducts.
The higher the plan you select, the smaller the percentage of the total cost you must pay. Because of this, you must select the appropriate floor plan for your store.
What Are the Costs of Selling on Shopify?
As a payment processing fee, Shopify levies a set percentage. Payments can be accepted in a variety of ways while using Shopify.
The processing fee, however, varies for each payment type. So, the amount of the fee that Shopify deducts from your customer's purchase will depend on the form of payment that they use. So let's look at each payment option and the associated processing fee.
International And AMEX Credit Cards – (3.4%~3.9% + $0.30)
Moreover, you can accept payments made with AMEX (American Express) Cards and overseas credit cards. However, the processing costs for these cards are marginally higher than those for standard credit cards. The processing works in the same way as regular playing cards. Shopify deducts a standard 2% from in-store payments, while an additional 30 cents are added to online payments.
Credit Cards (Online Payments) – (2.15%~5.0% + $0.30)
To pay their online expenses, most consumers utilize credit cards. Similarly, they purchase items online using credit cards. In addition, Shopify is compatible with various types of credit cards, including Mastercard, Discover, and Visa.
To receive payments from shoppers, you can set up your preferred credit cards. Shopify charges a percentage of each sale and an additional 30 cents as a store processing fee if shoppers use credit cards to purchase from your store. The processing fees primarily depend on the Shopify plan you select.
Credit Cards (In-Store Payments) – (2.15%~2.7%)
Shopify has a POS (point of sale) feature that enables sellers to sell online and in brick-and-mortar locations. With the help of this feature, merchants can manage both their online and physical storefronts from within a single Shopify account.
Shoppers can also use credit cards to purchase goods from physical stores. The payment processing fee for in-store credit cards is the same as for online purchases. But, you will not be required to pay an additional thirty cents for this service.
Read Also:
Third-Party Payment Processors – (0.15%~5.0%)
Shopify supports more than 120 different payment gateways provided by third parties. These gateways include a variety of EMI, UPI, Pay Later, and e-wallets. You can set up your preferred third-party processors to take payments from shoppers.
Except for customers of the Basic plan, the processing fee for these third-party payment processors is slightly lower than the processing fee for credit cards. The transaction fee for a third-party pay gateway varies depending on your Shopify plan.
How Much Does Shopify Take Per Sale – Pricing
Without discussing Shopify's pricing plans and selling costs, we cannot effectively answer the question, "how much does Shopify take per sale?"
Shopify is an excellent platform on which to start an e-commerce business. Shopify is designed to accommodate businesses of all sizes, from the smallest to the largest.
Because of this, they provide a pricing structure based on tiers so that sellers, regardless of the size of their business, may easily start selling online.
Your Shopify development costs primarily depend on the pricing plan that you subscribe to. Shopify's three pricing plans include the following:
Basic Shopify
Shopify
Advanced Shopify
Each plan includes a unique set of features. There is no free pricing tier available with Shopify.
Before using any plans, you can use the $ 1/3 month free offer.
Sign up for a free trial and enjoy 3 months of Shopify for $1/month on Select Plans.
The Shopify plans also have different transaction fees. Yet, how can you evaluate which plan is appropriate for your business? Currently, they are providing their customers with five different plans.
Let's take a look at the various Shopify plans and the features that are unique to each of them.
1. Basic – $39/month
It has a tonne of features that small business owners will find helpful. Using Shopify's Basic plan, you can build a website entirely separate from your business. This plan includes all the features required to run an online store.
Start a free trial today and enjoy 3 months of Shopify for $1/month Instead of $39/month on selected plans. Sign up now
A branded eCommerce website is one of the features offered by this platform. With this plan, you can add and sell unlimited products. In addition, you can manage all of your sales and inventory from your Shopify account, even if you sell in a physical store.
In addition, it gives you access to various other vital features required to run an online store for your business. Among them are:
A customizable online store
2 staff accounts
24/7 customer service
Support for sale channels
An infinite product listings
The Shopify Basic plan includes features like abandoned cart recovery emails, discount codes, manual order creation, and a free SSL certificate.
If you subscribe to this plan, you will have an easier time managing your physical stores, even if they are located in various places.
The disadvantage of the Basic plan is that you will need access to features like performance reports.
On the other hand, it offers sufficient headroom for expansion, making it an ideal instrument for new businesses. The Basic Shopify plan is ideal if you want to start a new eCommerce business but are on a tight budget.
For all online purchases made using this plan, Shopify levies a transaction fee of 2.9% plus $0.30 per transaction. On the other hand, there is a 2.7% transaction fee for physical purchases.
If you choose to use a payment gateway other than Shopify Payments, you will be charged a fee of 2% on each processed transaction. This fee will be added to the total amount of the transaction.
2. Shopify – $105/month
The Shopify plan is ideal if your small or medium-sized business is experiencing growth and reaching new heights. The plan provides enhanced access to tools and a few more sophisticated features. For example, you can upgrade your existing plan to Shopify from inside the administrative dashboard of your account.
The Shopify plan is the most popular and costs $105 per month. Although it costs significantly more than the $29 Basic Shopify plan, it includes practically all of Shopify's features.
For businesses with more substantial requirements, the basic Shopify plan is appropriate.
This plan includes all of the features available in the Basic Shopify Plan and additional features.
From the two you get with the Basic Shopify plan, you can access five staff logins. You also have the option, under this plan, of allocating goods to any one of five different warehouses or retail outlets.
In addition, you can easily monitor your sale performance and the purchasing patterns of your site visitors, enabling you to make decisions based on accurate data.
Support for payment with gift cards, Shopify POS, and an abandoned cart recovery feature are additional features available on this plan.
Discover the power of unifying in-store and online sales with Shopify POS. Start your free trial today. Click the image below.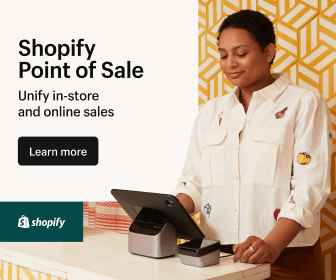 Many Shopify store owners choose the Basic Shopify plan because it includes the most sought-after feature of abandoned cart recovery. 
It is because it successfully increases revenue and conversions from customers you would have lost forever.
Customers interested in purchasing by adding items to their shopping cart but still need to complete their checkout can be followed up using the abandoned cart recovery email feature.
You can use automatic emails with this feature to remind people to complete their orders.
Every online credit card transaction is subject to a fee of 2.5% plus $0.30 under this plan. All in-person card transactions are subject to a 2% fee that you must pay. You will be charged a fee of 1% of each transaction if you choose another payment option besides Shopify Payment.
Growing businesses wanting to scale their operations fast will find the regular Shopify plan ideal.
The fact that the transaction fees associated with the Shopify plan are lower than those associated with the Basic plan is yet another advantage of the Shopify plan.
3. Advanced – $399/month
Shopify's Advanced plan is ideal for commercial eCommerce corps expanding quickly. The plan includes cutting-edge features, advanced reporting, reduced transaction fees, and abandoned cart recovery. In addition, a monthly payment of $399 is required to purchase it.
All of the features offered by the Basic and Shopify plans are included in this plan. You will also take advantage of Shopify's transaction fees, which are far lower than those of lower-tier plans, great advanced features like third-party determined rates, and even more advanced reporting than those of lower-tier plans.
You can integrate third-party shipping providers if you use the option that calculates shipping rates based on those provided by the third party. At checkout, these providers can determine the shipping cost for each customer's items.
The shipping prices that your consumers prefer are then available to them. They also can make use of the most advantageous Shopify shipping savings that are currently offered.
The more advanced report builder gives you an overview of how well your company is doing from a high level of abstraction. With this function's help, you can modify your default reports and create new ones according to your preferences.
The fact that everything is unlimited and there are no limitations on any available features is one of the many things that sets Advanced Shopify apart from other Shopify plans.
It implies that you receive limitless storage, unlimited product listings, unlimited space for publishing videos and photographs of your products, and so on.
It also includes abandoned cart recovery emails. In addition, you have the option to create up to 15 staff accounts. You can also distribute products anywhere between one and eight distinct warehouse locations or retail establishments.
Although this plan might appear expensive at first glance, you can quickly repay most of its cost, if not all, as you use its advanced features and benefit from lower rates.
For each in-person or debit card transaction, the transaction costs on this plan are as low as 2.4% plus $0.30. Therefore, when you use a lower-tier plan, you will only be required to pay a fee of 0.5% rather than the standard 1% when you use a third-party payment service provider.
Because of this, Advanced Shopify is the most suitable for large businesses searching for better order fulfillment and shop administration.
For companies that generate over $10,000 in monthly revenue, the Advanced Shopify plan is ideal.
4. Shopify Starter, Lite, and Shopify Plus
In addition to these three primary pricing plans, Shopify provides others that stand out. Shopify Starter, Shopify Lite, and Shopify Plus are the names of these plans.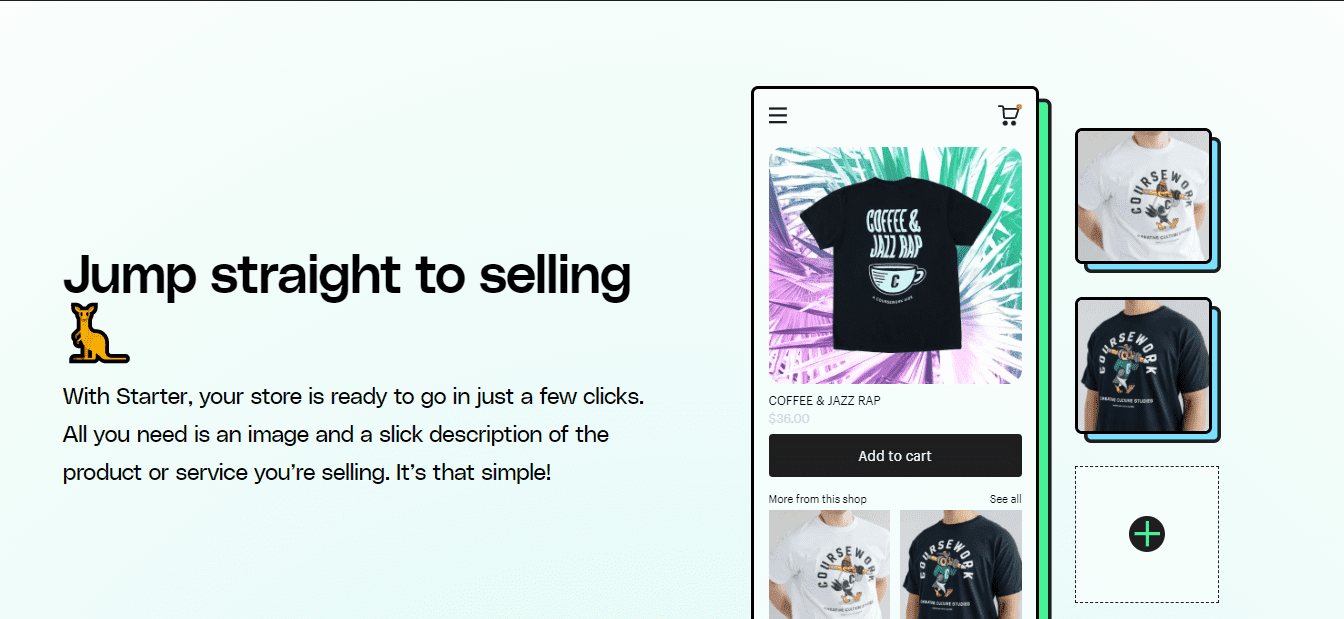 Starter – $5/month
The Starter plan is for merchants and influencers who want to sell products using messaging applications or social media sites. Nevertheless, the plan is only suitable for some people who wish to create a solo website for their company. You can link your social profiles and access eCommerce features as soon as you join this plan.
Fees for online credit card transactions are 5% plus $0.30.
Third-Party Payment Processor Transaction Fees: 5.0%
Shopify Lite
The Shopify Lite plan is the most affordable option available from Shopify. It has a monthly cost of just $9. Nevertheless, there is a catch: unlike the Basic Shopify, Shopify, and Advanced Shopify plans, it does not provide a standalone, fully configurable online store and a trolley.
Instead, Shopify Lite gives you the tools you want to sell your products through an existing website or a social media platform. All that is required of you is to incorporate a "Buy" button onto the platform of your choice.
Using Shopify POS Lite, you can also conduct in-person sales. The Shopify Admin tool, which enables you to check reports, issue gift cards, and split bills, is also available on the Shopify Lite plan.
You will also be required to pay a per-transaction rate of 2.4% on credit card payments in addition to the $9 monthly cost.
For example, if you decide to use a payment service provider that is not affiliated with Shopify instead of Shopify Payments, you will be required to pay a fee of 2% on each transaction.
The Shopify Lite plan is ideal for individuals just getting their feet wet in eCommerce. Now, let's examine the Shopify Plus pricing.
Shopify Plus – $2000/month
As you might have speculated, the Shopify Plus plan was explicitly intended for large-scale eCommerce businesses.
Large businesses and industries are the target market for Shopify's enterprise-level plan. For businesses, it provides customized solutions. In addition, you will receive personalized solutions through Shopify Plus, which will assist you in increasing your conversion rate and sales.
It includes all of the features accessible in the Advanced plan, plus additional features such as automation that saves you a lot of time.
In addition, there is a sophisticated security system, compatibility with various currencies, and features that integrate with third-party software.
In addition, companies that use Shopify Plus receive upgraded features like personalized support services, a dedicated project manager, a launch manager, a merchant success manager, and an account manager, to name just a few. The ability to automate practically anything is Shopify Plus's most significant benefit.
With the Shopify Plus plan, you can manage numerous stores from one location and handle 10,000 orders per minute.
Artificial intelligence (AI) features allow you to customize how you ship products and how customers interact with your store.
Plus, Shopify Price is not set in stone; you will need to speak with customer service to receive a quote for pricing tailored to your business's needs. Depending on your requirements, it costs at least $2000.
Monthly, Annual, and Biannual Costs
All Shopify rates we've reviewed for each plan have been calculated, assuming you'll pay the service monthly. Nevertheless, you should be aware that Shopify provides discounts when you choose an annual, biannual, or three-year plan.
When you sign up for the annual plan, you are eligible for a discount of 10% off the plan's total cost. If you sign up for the biannual or three-year plans, you are eligible for 25% and 30% discounts, respectively. It is a wonderful method for cutting down on the costs associated with your subscriptions.
If, on the other hand, you are new to Shopify and are simply testing the waters, you should try a monthly version. It is done so that you may determine which plan best meets your business needs and whether you should upgrade your plan, stay with the same plan, or downgrade your plan.
When you are sure, however, you can purchase an annual, biannual, or three-year plan, depending on your financial plan's constraints and your business's requirements. In addition, it will help you to reduce your costs.
Additional Shopify Costs
Some costs are always there when getting your Shopify store off the ground. These are a few of them:
Shopify Credit Card Fees
When calculating the total cost of operating a Shopify store, you should also consider the rates charged by credit card companies. It is because it has an immediate impact on your profit margin.
When you accept payments through a credit card, Shopify will charge you a fee. However, because of the increased risk of accepting credit card payments, this fee is typically more than that for using other payment methods.
The Shopify plan you subscribe to also affects the credit card charges.
For example, you will be charged 2.9% + $0.3 and 2.7% for online and offline credit card payments, respectively, on the Basic Shopify Plan; 2.6% + $0.30 and 2.5% for online and offline credit card payments, respectively, on the Standard Shopify Plan; and 2.4% + $0.30 and 2.4% for online and offline credit card payments, respectively, on the Advanced Shopify Plan.
Shopify Transaction Fees
The transaction fees are another category associated with Shopify that impacts your overall operating costs. For example, every transaction completed utilizing a third-party payment service provider carries a transaction fee.
Yet, the proportion of the fee you are responsible for varies on the Shopify plan you subscribe to. For example, you will be charged a 2% fee for transactions made using the Basic Shopify plan, 1% for transactions made using the standard Shopify plan, and 0.5% for transactions made using the Advanced Shopify plan.
You can avoid paying these additional fees if you process payments through Shopify Payments, the company's payment gateway.
Shopify POS Payments
There are two alternatives available to you through Shopify's Point-of-Sale (POS) system if you would want to accept payments from customers in person:
• Shopify POS Lite
• Shopify POS Pro
All Shopify plans include POS Lite. It enables you to manage items, client profiles, and orders. With POS Lite transactions, a fee for in-person credit card transactions is also charged.
Discover the power of unifying in-store and online sales with Shopify POS. Start your free trial today. Click the image below.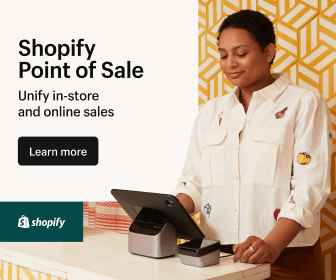 Access to Shopify POS Pro is available for an additional cost of $89 per month and per location, and it may be added to any of the plans currently being offered. Note that even using a credit card, you will still be charged for the transaction.
Website Building Cost
A Shopify website costs money to set up. Branded domain names, themes, and apps will cost you money.
Themes and Design
When it comes to eCommerce, good design counts a lot.
Shopify, to its credit, provides themes that come equipped with capabilities that allow you to completely customize the look of your website, including its colors, style, and layout.
You can choose from more than one hundred free or approximately seventy paid themes. The premium themes cost between $150 and $350.
Domain Name 
Shopify does not mandate that store owners set up or host their domains. Instead, store owners can select from any of the free myshopify.com domains that it offers, and domain names are included in all its plans.
You also have the option of paying for a custom domain name. It will cost approximately $15 per year on shopify or $10 per year on Namecheap.
However, the total cost can range anywhere from $11 to $81, depending on the type of domain you select.
You can link your already-registered domain name to your Shopify store at no additional cost.
Apps
Add-ons and connectors are a necessary component of Shopify since, like practically every other piece of software, Shopify can't meet the requirements of every single business. However, by using apps, you can incorporate features typically not provided by Shopify itself.
You are in luck because Shopify offers more than 3000 apps that you may utilize to improve the operation of your store. While some are free, some cost money.
Shopify Payments
An in-house payment processor for Shopify is called Shopify Payments. It works in tandem with your checkout process. The biggest perk of accepting payments through Shopify Payments is that you won't have to pay any transaction fees while selling items in your online shop. You can add payment options, including credit cards, PayPal, Amazon Pay, cryptocurrencies, and gift cards. Check to see whether Shopify Payments is accessible in your area. If you are not, you can read how to get Stripe for non US resident.
Updated Pricing Plans
The recent pricing plan revisions introduced by Shopify are beneficial to you.
Formerly $29/month, the Basic Plan is now $39/month.
At only $79 per month, down from $105 per month, is the Shopify Plan.
The advanced plan mostly stayed the same and is still $399/month.
Introducing the Starter Plan is another intriguing change that Shopify implemented that you will truly enjoy. With this plan, you can exclusively sell things via social media and messaging applications for as little as $1 per month.
Conclusion: How Much Does Shopify Take Per Sale
You better understand Shopify's pricing systems and the fees that accrue after each transaction.
To compensate for the cost of the payment processor integration, Shopify charges a service fee. Every Shopify plan has its limitations, though. The transaction fees will be lower than those for low-tier plans if you are a member of a premium-tier plan.
Sign up for a free trial and enjoy 3 months of Shopify for $1/month on Select Plans.
You can use Shopify Payments as your payment processor to avoid these transaction fees. You can easily add it to your account because it works with all payment processors and third-party suppliers.
Small Request
Kindly share it with your friends. Especially the ones you believe need this information. Sign Up Now and Get your first 3 months for only $1 monthly.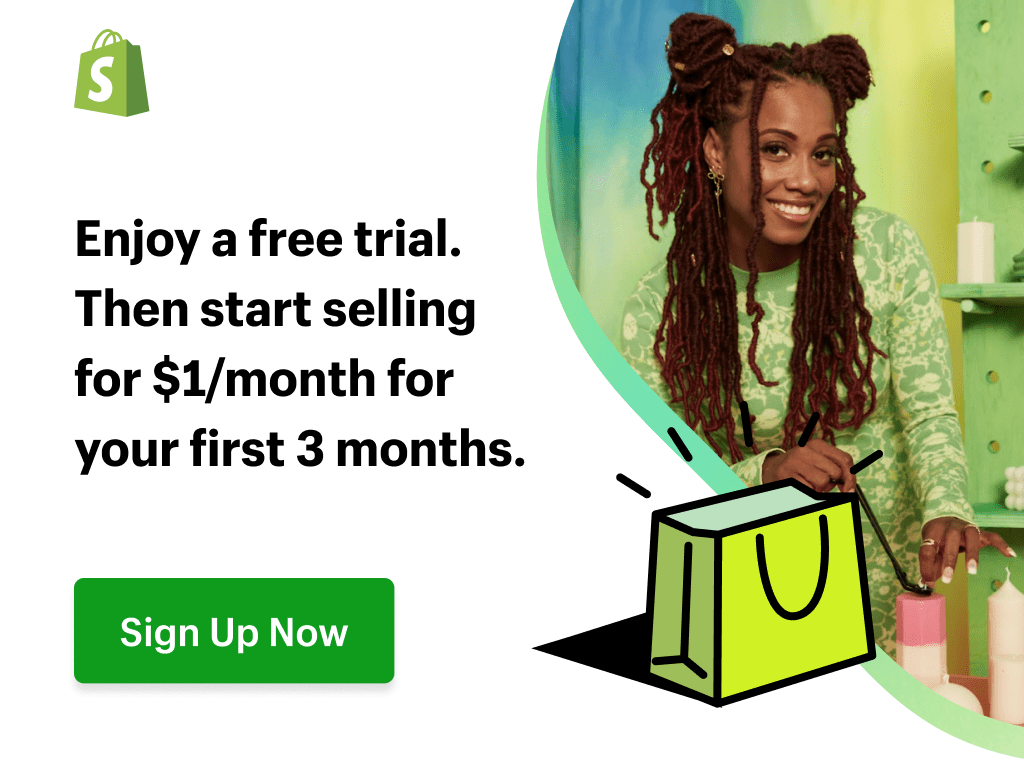 Sharing this information with others can make a huge difference. You may ask why.
Well, the truth is, my main aim is to provide the best information about drop shipping for both beginners and experienced dropshippers.
And I plan to continue doing so for as long as I can.
I would also like to thank those who support my work by reading and sharing my content.
Trust me, when you take your time and share, it will greatly help me and others needing this information.
Here are some great suggestions:
Pin it
Share it on another blog.
Share on Facebook (Share it with friends and even on Facebook groups)
Tweet it
Stumble it
This will only take a few seconds of your time, and I would appreciate it.
I appreciate you a lot. Thank you!
Join my Shopify dropshipping group mastermind and follow my blog to learn more about Shopify tips, dropshipping guides, tricks and checklists, and e-commerce in general.
If you enjoyed and learned something from this post, you can get me updates for free!
I send out email newsletters about new posts published on the blog, tips and tricks to help you grow your dropshipping business, new YouTube videos to give you more insights about the e-commerce market, and much more.
If you enjoyed reading this, you could as well join my Facebook group. Thank you for reading how to make money dropshipping online from the comfort of your home.
Click here to Join My Facebook Mastermind Group