Can You Make Money With Shopify? ( 15 Best Ways)
There are numerous tried-and-true methods to make money with Shopify. Whether you run a small business or want to supplement your income, Shopify can help you make money.
For creating an e-commerce business and an online storefront, Shopify is a great platform. One of the largest e-commerce platforms, it has over a million stores.
Store owners have a significant opportunity to make money, given how many consumers would rather shop online than in-store.
Practical strategies for making money online and marketing products and services can significantly boost sales.
How can you earn money on Shopify when there is so much competition?
I can assist in this situation, and I wrote this tutorial to show you how to make money on Shopify.
Let'sLet's get started.
Table of Contents
Launching Your Shopify Store: Checklist
Shopify is a popular e-commerce platform, but newcomers and seasoned business owners alike can benefit from a few simple pointers on how to make money on the platform.
Follow this checklist before you can start making money on Shopify.
Develop a business plan.
Before investing, give your business idea careful consideration.
Determine your e-commerce niche and target market.
List the digital platforms where you want to promote your brand.
Develop an SEO strategy.
Choose your preferred mode of shipment and payment.
Design a website that is both user-friendly and optimized for search engines.
How To Make Money with Shopify
Making money on Shopify can be accomplished in various ways, including selling physical products or developing a skill set related to the Shopify e-commerce platform. Here are over 15 proven strategies for making money on Shopify.
Monetize Your Shopify Experience
Creating Products From Your Shopify Experience. Use everything you've learned about Shopify to make money. For example, a business blog, a training course, digital marketing materials, or YouTube tutorials are the greatest ways for Shopify business owners to make money.
Shopify Merchants Custom Service
Provide Specialized Services to Shopify Merchants. In addition, you can provide Shopify stores with infinite services. In addition, you may begin offering search engine optimization (SEO) services for larger Shopify stores.
You can provide various services, including marketing, design, copywriting, development, inventory management, and fulfillment.
Leverage Integrated Partnership
Link With Other Shopify Applications To Promote Each Other. Shopify integrations can boost app developers' income. Because each app focuses on a particular set of problems, web designers can use a wide range of resources by partnering with one another across apps.
On their websites or page editing dashboards, other Shopify apps will promote your products when you integrate with them.

On the flip side, this works to your benefit because it allows you to provide as many features as possible, undoubtedly pleasing your clientele.
Resell Vintage High-value Finds
Sell vintage items and thrift store finds. As there is such a large consumer base for vintage and novelty items, it is a business niche that lends itself exceptionally well to being conducted through a Shopify store.
This tactic is excellent if you enjoy discovering unusual vintage items and undiscovered high-value finds!
Sign up for a free trial and enjoy 3 months of Shopify for $1/month on Select Plans.
You can increase the money you make through Shopify by selling the deals you uncover at a higher price.
Sell Print-on-Demand Products
Another excellent way to make money on Shopify is by selling Print-on-Demand products.
You won'twon't need to worry about stocking up while using print-on-demand. Instead of keeping hundreds of thousands of items in stock and hoping that some would sell, you make new ones whenever an online purchase occurs.
The Shopify platform provides all the tools to establish an online print-on-demand business.
Print-on-Demand products include:
• T-shirts
• Towels
• Tank Tops
• Stickers
• Post Cards
• Phone/laptop Cases
• Mugs
• Invitation Cards
• Hats
• Gift Cards
• Calendars
• Books
• Bags
• Art Prints
• Accessories
Make sure that your POD business does not make use of photographs that have restricted rights.
It is optional to have manufacturing facilities or transportation hubs. Your manufacturing work and fulfillment operations, such as keeping your products and delivering them to your customers, can be finished more quickly and efficiently with the assistance of third-party partners.
Here is how Shopify can assist you in making money with print-on-demand services:
You can build a print-on-demand store using Shopify free themes and templates.
Shopify makes it simple to integrate with the top print-on-demand businesses, such as Printful, Printify, Custom Cat, and many more.
Shopify retailers can design embeddable product cards and add checkout buttons to any website using the Purchase Button.
If you already have a website and don't want to build another Shopify store, the Purchase Button is great.
Read Also:
Leverage Shopify POS System
Create and Manage a Conventional Online Retail Location. Although traditional stores offer some of the best opportunities to interact with customers, the rise of online shopping has made it essential to replicate the in-store experience online.
You will require a point-of-sale system to link to your online retail platform. For example, the Shopify POS software synchronizes your online store'sstore's data with your business'sbusiness's data, such as sales, inventory, and more.
Discover the power of unifying in-store and online sales with Shopify POS. Start your free trial today. Click the image below.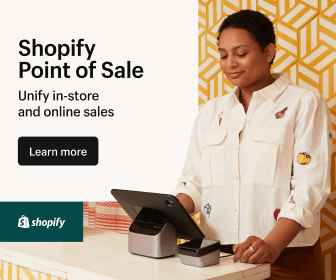 Another excellent way brick-and-mortar firms can start doing business online and earn rapid cash flow is by selling digital gift cards.
When you introduce products for online purchase, local delivery, or pickup, your customers can redeem these gift cards throughout the checkout process.
Since Shopify is a free e-commerce platform, the switch should be free of additional costs for you.
Start a free trial today and enjoy 3 months of Shopify for $1/month Instead of $39/month on selected plans. Sign up now
Yet, the Shopify Capital program can assist you if you are financially bound. With loans ranging from $200 to $1,000,000, the program assists store owners in funding their enterprises.
Sell Digital Products and Art.
Shopify is a fantastic platform for selling art online, regardless of whether you are a painter, photographer, illustrator, or work in other art media.
A different option to curate art is to open an art store where people can purchase prints, digital art, bespoke art, and various handcrafted items.
It's much the same as Etsy; only you can set up a website or sell from your social media page. For example, you may create your website using Shopify that adheres to your design philosophy and aesthetic, making it even more immersive for your customers and fans.
In the Shopify admin dashboard, you must turn off shipping for digital products.
Start an Ecommerce Store.
Helping e-commerce businesses is one of Shopify's core values. So, for example, you may swiftly launch an online business with the aid of the platform.
A blog can be added to your Shopify store to increase organic traffic without paying for website upkeep. Shopify apps can also assist in increasing revenue.
Bring your business ideas to life for $1/month On the Shopify Platform. Click the Image Below.
Make sure to look at the SEO keyword system. For example, you can optimize your business using Shopify'sShopify's web framework if you have several digital platforms.
Shopify, like most other e-commerce systems, has a variety of functionality and pricing tiers.
You can maximize your earnings by taking advantage of services designed explicitly for your business, and the cost of these services varies.
Shopify, Shopify Lite, Basic Shopify, Standard Shopify, and Advanced Shopify are the available options.
Take advantage of Shopify'sShopify's free two-week trial; this will give you sufficient time to set up your online store, operations, and business.
Following the conclusion of the trial period, you will have the opportunity to select the Shopify features that are most appropriate for your online business.
Shopify Affiliate Program
Join the Shopify Affiliate Program. Shopify Affiliate Partners are available to both individuals and publishers. You'llYou'll receive an affiliate link to promote the good or service once Shopify approves your request.
Content writers, influencers, instructors, and anyone who wants to encourage their audiences to start and optimize their companies with Shopify are all eligible for the Shopify Affiliate Program.
To join the Shopify Affiliate Program, you must send your audience to Shopify. When your audience members sign up for Shopify Business Plans, you will be compensated with a commission.
It'sIt's free and simple to join.
Shopify provides its partners with various resources, such as online courses, blogs, guidelines, and sharings on the Shopify community, to assist them in developing audience engagement strategies.
Use the affiliate marketing tools offered by Shopify in conjunction with a website that is laser-focused on providing customers with insightful information. Focus on essential considerations such as search engine optimization and the art of writing articles.
Both the strategy (carving out a distinct specialized market) and the expansion (developing new sectors) should be tailored to your interests and capabilities.
On your Shopify store, you may also offer affiliate products. For example, if you have a large customer base and a demand for various products, reselling products for a commission-based profit allows you to make more money.
Create an Online Course.
One of the exciting and challenging ways to generate money on Shopify is by creating a course.
Take into consideration that creating online courses requires a significant amount of work.
You are required to have substantial experience as well as specialist knowledge. You also need to be able to organize the information you know and write down the recommendations that work the best.
Advertising your services and persuading customers to pay for them is also crucial.
The advantage of creating an online course is that it is a digital product, and making it available to customers costs nearly nothing.
Monetize Social Media.
Another excellent alternative for generating money on Shopify is converting a social media following into an income stream.
When you want to make the most of your product promotion on social media platforms and transform these social media channels into revenue streams, selling on Instagram with Shopify could be the way to go.
Using Shopify'sShopify's standard plan, you can add "buy now" links to your Facebook and Instagram posts. Obtaining successful outcomes from your social media marketing initiatives might provide you with an excellent opportunity to generate more cash.
Facebook, Instagram, Pinterest, and TikTok are social ecommerce networks you can connect your Shopify store to. Using the Shopify App Store integration apps, you can quickly accomplish this.
You may also create Shopify communities for people who enjoy e-commerce and making money.
Working as a social media consultant is another well-liked option to discover how to make money on Shopify. Creators who have succeeded on TikTok and Instagram are now showing their talents.
You will be hired by the businesses as a social media consultant to explore innovative ideas, design content strategy, produce videos, and more. Because you can run your business from your smartphone, it's a lucrative prospect for digital nomads.
Shopify Dropshipping
Set up a Shopify Dropshipping Business Model. Dropshipping is one example of a strategy that may be utilized by entrepreneurs who are working with constrained financial resources to launch successful online retail businesses.
Finding suppliers and entering inventory are no longer necessary with a dropshipping business plan. Instead, your dropshipping provider receives the order details immediately whenever a consumer purchases from your Shopify store. The dropshipping provider will then send the item to your customer.
Women'sWomen's clothing and accessories, jewelry, home and garden, and cosmetics are some of Shopify'sShopify's most well-liked product categories.
A dropshipping business offers you many benefits. First, it enables you to collaborate with some of the world's largest dropshipping suppliers, like DSers.
You can also integrate with other sales channels such as Pinterest, Instagram, and Facebook Ads to market and advertise your products.
Flipping Shopify Shops
Another way to make money with Shopify is to create and sell a store for a profit. If you put in more effort, you will have a better chance of getting results.
You may establish a social media presence and spend on marketing before selling a store to make it more desirable and profitable.
The price you could acquire for your Shopify store is contingent on several things, including the stage your business is now in and the value of the market. For example, beginning Shopify shops can cost as low as $50, while established six-figure stores can cost over $1 million!
Freelance Blogging
By Blogging, Promote Your Freelancing Business, you have come across a business blog that helps brands share expertise, build an audience, generate leads, and enhance sales.
The advantages of blogging include the following:
The development of thought leadership.
The expansion of knowledge.
The sharing of writing skills.
The use of marketing tools.
Anyone can start a blog, produce valuable and appealing content, and then monetize that content.
A few different ways to start a blog:
• Post a list of the products and services currently for sale.
• Educate and Inform readers on critical current issues.
• Engage in conversation with your audience about subjects that interest them and share personal experiences or thoughts.
• Establishing personal-unique identity or brand.
Sell Your Expertise
Sell Your Services and Become a Shopify Expert. The Shopify ecosystem now comprises a market for third-party commerce enterprises and specialists and a prospective market for merchants.
Freelancers and business owners can offer their expertise on various topics to other Shopify store owners through the Shopify Experts marketplace.
• Stock-Keeping Units (SKUs) and Inventory Setups
• Marketing Strategies
• SEO
• Pay-Per-Click Advertising
• Store Design
• Data Analysis
• Store Development
Offer your expertise to Shopify merchants who need it. This action brings about hefty benefits and exposes you to many potential consumers.
Shopify Payments are also quite simple, so you only need to offer a solution and exemplary client service.
Selling Products
Create Your Clothing Line. To make money with Shopify, selling products is the most common option. Apparel and fashion make up Shopify'sShopify's second-largest industry. Clothing business owners can choose from various themes that the ecommerce giant offers.
If you are obsessed with fashion, let your imagination go wild and start your own clothing company. Shopify makes it simple to start your own clothing company, regardless of whether you want to sew the garments yourself or have someone else do it.
You must be inventive to make your company stand out from the thousands of other fashion brands in your area.
Shopify has formed strategic alliances with Printful and Printify, and it provides print-on-demand apps that can assist you in locating manufacturers and printers of clothing. They will also take care of the retail fulfillment for you, meaning you will not need to bother about stock or packing.
In conclusion
Many sellers use Shopify since it provides reliable modes to make money.
Whether you already run a small business or want to start one, you can make money with Shopify.
Create a revenue stream online by taking on freelancing work, opening a dropshipping store, manufacturing your physical products, or writing about the products and services of others. It would be best to have some common sense and the will to see things through.
Establishing a brand or a business requires time, expertise, and marketing. The key to success in the e-commerce is to have a detailed business plan and a marketing strategy.
Small Request
Kindly share it with your friends. Especially the ones you believe need this information. Sign Up Now and Get your first 3 months for only $1 monthly.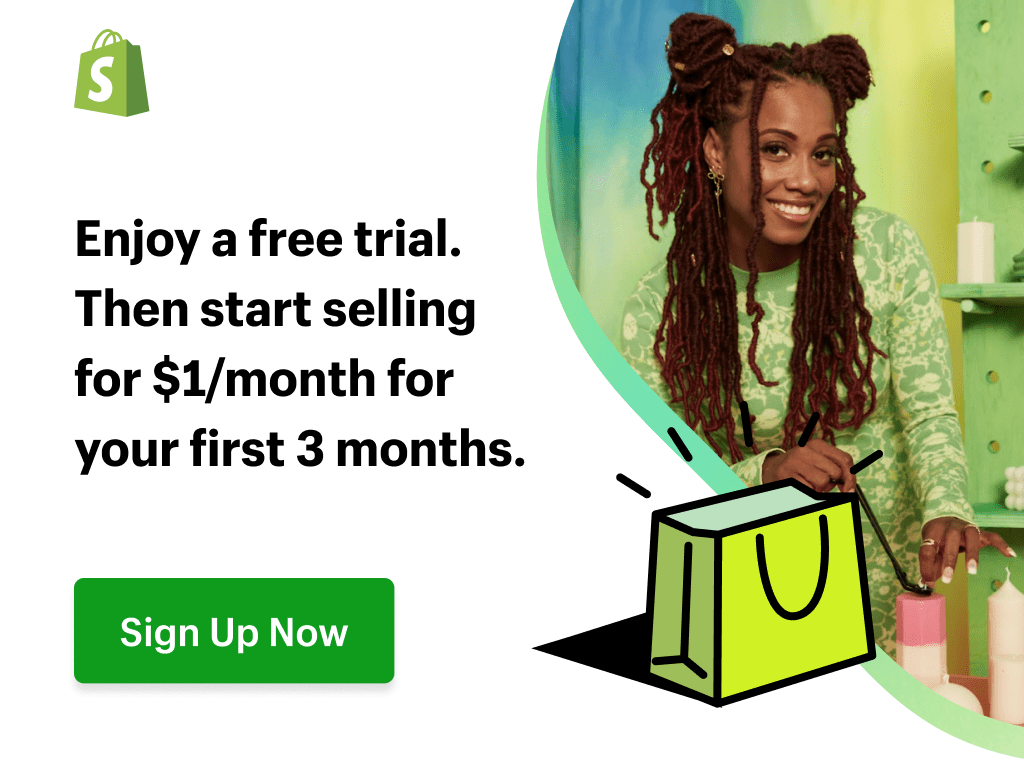 Sharing this information with others can make a huge difference. You may ask why.
Well, the truth is, my main aim is to provide the best information about drop shipping for both beginners and experienced dropshippers.
And I plan to continue doing so for as long as I can.
I would also like to thank those who support my work by reading and sharing my content.
Trust me, when you take your time and share, it will greatly help me and others needing this information.
Here are some great suggestions:
Pin it
Share it on another blog.
Share on Facebook (Share it with friends and even on Facebook groups)
Tweet it
Stumble it
This will only take a few seconds of your time, and I would appreciate it.
I appreciate you a lot. Thank you!
Join my Shopify dropshipping group mastermind and follow my blog to learn more about Shopify tips, dropshipping guides, tricks and checklists, and e-commerce in general.
If you enjoyed and learned something from this post, you can get me updates for free!
I send out email newsletters about new posts published on the blog, tips and tricks to help you grow your dropshipping business, new YouTube videos to give you more insights about the e-commerce market, and much more.
If you enjoyed reading this, you could as well join my Facebook group. Thank you for reading how to make money dropshipping online from the comfort of your home.
Click here to Join My Facebook Mastermind Group