15 Reasons Merchants Prefer Shopify To Wix
Most merchants prefer Shopify to Wix in designing their online store. Do you want to know why? Keep reading.
Shopify and Wix are the most popular platforms for building eCommerce stores.
Start a free trial today and enjoy 3 months of Shopify for $1/month Instead of $39/month on selected plans. Sign up now
Shopify's capabilities and features make it the merchants' go-to e-commerce platform for businesses of all sizes, regardless of these two platforms' target markets.
Wix is the best option for small businesses to set up an online store.
However, it would be unfair to conclude based solely on a statement. To arrive at a more informed verdict, let's examine various aspects, including features, capabilities, cost, and more.
Table of Contents
Overall Comparison In a Snap
Shopify Online Payment Processing Fees range from 2.4% to 2.9%:
3-Day Free Trial of$1/3months offer (click here to get the $1 Offer)
5 GB File Size Limit,
Automatic Tax Calculations,
Real-Time Shipping,
Product Variant (3 Products with 100 Variations/Product),
Transaction Fees, External Payment Gateways (0.5% to 2%),
Mobile Apps (POS for iOS and Android),
Supports Dropshipping and offers unlimited app Integration (6000+), and
Customer Support (24/7 with Chat, Email, and Phone).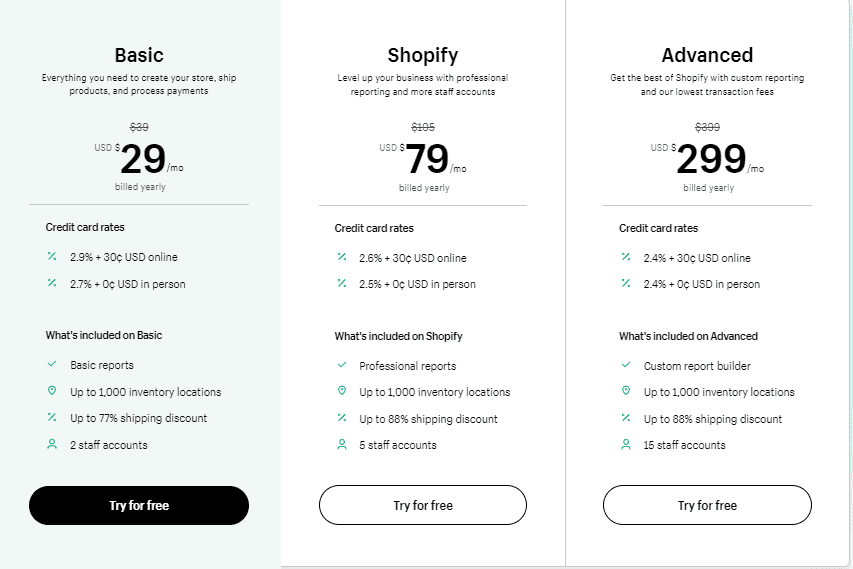 Wix Online Payment Processing Fee 2.9% + 30 cents:
Gift Cards (On Third-Party App),
5 GB File Size Options,
Automatic Tax Calculations,
Real-Time Shipping (US),
6 Product Options (with 100 Product Variants/Products),
Mobile Apps (Wix Owner iOS & Android),
Drop Shipping Limit, 300+ Integrations, Customer Support Limit (Online support with callbacks on Monday to Friday).
Shopify vs. Wix: A Comprehensive Analysis
When picking a platform to launch your online business, it is impossible to decide based on the above checkboxes and numbers. Instead, a wide range of other considerations and your comprehension of them will influence your selection regarding the platform.
Let's Take Them One at a Time:
1. Pricing
Both Shopify and Wix have different ways of making money off of their consumers, each tailored to the specific features each platform provides. For example, examine each service's price plan.
Shopify Starts its eCommerce journey with Shopify Lite, a free plan that lets you add eCommerce features and functionality to your current website.
Adding Buy Button to your device will cost you $9 monthly to accept credit card payments. In addition, Shopify offers three plans for creating a fully functional eCommerce store.
Each plan includes 24/7 support, unlimited product sales, the ability to sell products on online marketplaces, social media, shipping labels, gift cards, abandoned cart recovery, discount coupons, Shopify POS Lite, fraud analysis, and more.
Wix is a platform that provides both free and premium plans for its services. With the Wix branding, the free edition has fewer features.
Not all features necessary for online purchases are included in this release. For example, businesses that require excellent websites but want to avoid accepting online payments should choose one of Wix's four plans.
The plans come with features including an SSL certificate, 3–35 GB of storage, a custom logo, and an events calendar app. These are the plans:
Combo plans start at $16 per month, unlimited plans cost $22 per month, pro plans cost $27, and VIP plans cost $45.
You can choose from three different plans to accept payments online: Business Basic ($27/month), Business Unlimited ($32/month), and Business VIP ($59/month).
2. Ease of Use
For their users, Shopify and Wix are both straightforward to use. But here's how it works when you make a comparison.
Shopify is a specialized eCommerce website-building platform that creates and manages online stores, even for large businesses. The same can be said for its sophisticated features and capabilities, which may initially appear overwhelming.
However, Shopify's user experience is so well-thought-out that you can design your online store in just a few minutes with just a few clicks. Even when working with inventory on a grander scale, the ease of use is maintained.
Sign up for a free trial and enjoy 3 months of Shopify for $1/month on Select Plans.
The eCommerce website construction platform Wix is not. By producing rich content descriptions like blogs, product descriptions, and so on, this tool aids in branding the online presence.
Wix's drag-and-drop tool makes adding templates, designs, and features to your store quick and easy. In addition, the Wix store is better suited for small businesses, so managing a colossal inventory there could be frustrating.
3. Design Options
Shopify provides a wide variety of design and customization options for your store. There are 10 pre-designed website templates available, each with a few different layout options to choose from when you are ready to design the website.
At the same time, for a price that ranges from $150 to $350, you can get your hands on more than seventy premium Shopify themes that will help you showcase your store more effectively.
To set up your online store design, switch to Wix, which offers flexibility in more than 800 online layouts. Adding new colors and buttons may make the store organized in minutes, thanks to the intuitive drag-and-drop interface.
Additionally, Wix supports the Artificial Design Intelligence (ADI) editor, which considers your preferences and generates a ready-made store for you if you need more refined organizational skills.
4. Product & Inventory
Product and inventory are unquestionably the bedrock of any business. Shopify's primary point of differentiation is in inventory management.
The customer experience in your store is influenced by how well you represent your product. For example, users of Shopify and Wix have access to a wealth of features.
Shopify allows you to add three product variations to your store for size, color, or material. To improve your users' experience, you can add names, descriptions, image galleries, and zoom effects to the images.
In addition, Shopify's integration with third-party apps revolutionizes how products are presented and managed, including inventory.
Additionally, Shopify offers various free and paid add-ons that will let you collect reviews, set up Facebook stores, and enable eBay item importers, among other features.
In addition, the customer may see every last detail of the product in real-time thanks to Shopify's Augmented Reality functionality.
Wix allows you to add six product variations to give customers more size, color, and material options. With zoom-in and zoom-out capabilities, Wix also lets you add descriptions, content, and images of products.
Wix guarantees support for 300 third-party apps to expand the store's capabilities. These apps, while useful, will never be able to compete with Shopify's 6000 app support for customization.
5. Sales Channels
You will need your store to make a comfortable living. The more platforms you sell on, the more money you'll make, especially with the increased competition.
Except for the eBay Channel (which can only be accessed through the app store), Shopify connects with Facebook, Instagram, Amazon, Handshake, Messenger, and the Buy Button (which can be added to any website).
Support for additional sales channels, including Google, Walmart, Pinterest, TikTok, Etsy, LYST, and many more, is available by visiting the Shopify app store. In contrast, Shopify doesn't provide as good support for third-party platforms.
6. POS Capabilities
Both Shopify and Wix have their Point-of-Sale (POS) solutions that merge offline and online selling experiences, which is good news if you already have an offline store to sell the products.
You can sell anything from an iPad or iPhone in-store using Shopify POS. You can purchase the hardware directly from Shopify if you are starting a business in the United States, the United Kingdom, Ireland, or Canada.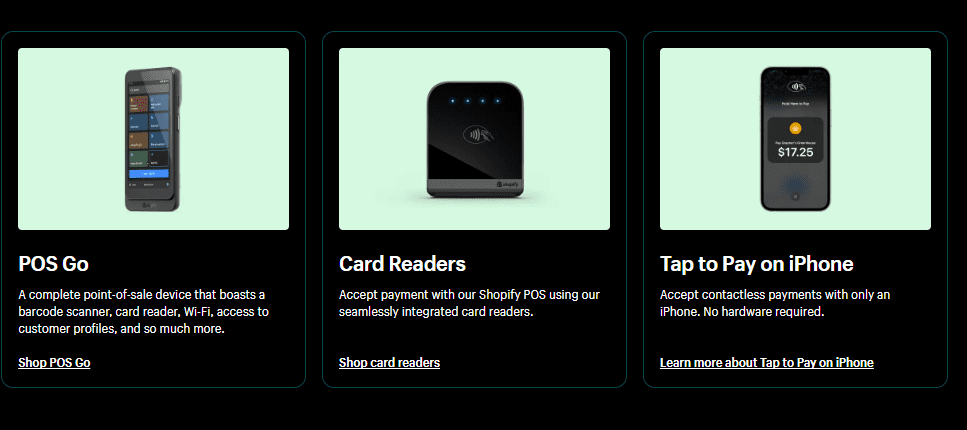 Shopify POS enables you to sell products, collect payments, personalize checkout screens, track inventory, set up customer profiles, send digital receipts, and even allow customers to shop in-store before making purchases online by simply emailing their shopping carts.
Shopify offers a free POS lightweight plan. On the other hand, you'll need to shell up $89 every month to gain entry to features like in-store pickup, intelligent inventory management, and employee logins.
With extra features like local delivery, unlimited staff accounts, curbside pickup, and more, Wix POS provides users with comparable capabilities.
However, Wix POS is exclusively accessible to US businesses that operate in a specific industry. In addition, you will need to pay a minimum of $550 for one of Wix's POS hardware kits—a large sum, no doubt about it.
7. Integration
The capabilities and functionality of eCommerce platforms are transformed by the ability to integrate external systems.
For instance, the integration can add features like lead capture, increased visitor engagement, traffic analysis, improved website design, and additional selling opportunities.
For managing and marketing an online store, Shopify offers over 6,000 integrations.
QuickBooks Sync,
Easy Digital Products,
Facebook Channel,
TikTok,
Back in Stock,
Trustpilot Reviews and more are just a few third-party integration options for Shopify.
To transform the capabilities of an online store, Wix, on the other hand, only gives support for 300 of these integrations. While some of these integrations are free, others charge a fee.
8. Shipping and Carrie Integration Options
Both platforms support reliable shipping and carrier options to deliver orders. Shopify, on the other hand, has built a distribution system that is more streamlined, reliable, and extensive. For starters, Shopify cooperates with a wide variety of shipping companies.
Shopify also offers Shopify Fulfillment Network on top of everything else. Thanks to this network, retailers in the US and Canada can ship their products from fulfillment hubs all across the market. Same-day delivery, reduced prices, free packaging, and much more are all made possible by this method.
On the other hand, Wix offers carrier integration through third-party services like Shippo, ShipStation, and USPS.
9. Customer Logins and Checkout Options
In contrast to other factors, Shopify and Wix offer comparable customer login and checkout options. In addition, the platforms ensure that the store customer logs in or registers before proceeding with Checkout.
Store owners can choose whether registration is required or voluntary in this situation. Customers can also view their order history, order statuses, payment information, shipping information, and other information throughout the Checkout process.
Customers' orders are linked to their email addresses for easy consolidation into their overall account history.
10. Multiple Editors Capability
Are you working with the Team? Multiple editors can be supported simultaneously on both platforms.
Three different plans are available from Shopify, and Shopify lets two people work together simultaneously.
While Shopify Advanced Plan permits up to 15, Shopify Plan allows only five. Additionally, if numerous editors work on the same project simultaneously, the project will be locked for all editors. At the top right corner, the user will instead see a small profile badge of another editor.
Bring your business ideas to life for $1/month On the Shopify Platform. Click the Image Below.
With Wix, there is no upper limit on the number of users or editors working on a project. However, users are also alerted when another editor works on the same project.
There is no limit to the number of editors; however, as the number of editors grows, the platform's backend will get slower.
For that reason, it is one of the potential snares for Wix users.
11. Language Support
We wish you luck in expanding your business abroad. However, to achieve this goal, your online presence needs to offer multilingual support.
Shopify shares this sentiment, so they offer store support in different languages. Visitors can take advantage of the local experience in their language of choice.
However, you'll need to use a third-party app costing you about $20 monthly. To make the store more accessible, you can add up to 20 languages.
When it comes to languages, Wix provides support for a variety of them. Your URL, however, will be the same for all languages, making it less search engine friendly for users.
12. SSL and Checkout
Shopify and Wix provide SSL encryption for their users in all plans. Customers will Checkout the products on your domain when they use both platforms, increasing their trust in you.
13 – Tax Systems
The users of both platforms also have the upper hand in this area.
With or without taxes, Shopify lets you display the price of the products. By establishing automatic tax rates for each country and market, Shopify will make the practice more practical.
Thanks to this time-saving feature, you can devote more time and energy to other aspects of your business.
In the Wix Store, you can also choose whether taxes are included in the prices of your products. The tax computation is very comparable to Shopify's.
You can avoid paying taxes on products that enjoy tax relief from the government by using special tax rates, which you can obtain by defining the product category. The feature, however, is only available with the Business Limited plan and higher.
14. SEO
Which Platform Improves Your SEO Rankings the Most? You may add titles, headings, descriptions, 301 redirects, alternate texts, and Sitemaps under your domains and Sitemaps on both platforms; Shopify and Wix both provide the same flexibility.
However, you have no control over some adding that occurs automatically on both platforms. To your URL, Shopify, for instance, will add "/collections/" or "/products/." In addition, Wix will add "/product-page/" to your URL to access the product page.
To analyze the effects of your SEO work, you can use tools like Shopify Analytics and Wix Analytics.
Read Also:
15. Customer support
In terms of customer support for its merchants, Shopify is unquestionably in the lead. The Shopify store offers your customers live chat, phone, and email support 24 hours a day, 7 days a week.
A wealth of resources such as tutorials, FAQs, and guides are available through an extensive online help center. In addition, over 900,000 people are working for the platform who can answer your questions.
To its paid plan users, Wix, on the other hand, provides email and callback support. Customers can reach the support team between 5 AM and 5 PM, Monday through Friday. Except on weekends and holidays, most responses to customer requests are made the same day.
Other Reasons Merchants Prefer Shopify to Wix
Safety: Store owners are protected against the risk of fraud by a built-in tool in Shopify. To protect customers shopping from Shopify-powered businesses, Shopify also includes an SSL certificate.
Growth: Small and medium-sized businesses can grow into enormous corporations with the help of Shopify, a fantastic website builder. Shopify's dependability, capacity to handle high traffic volumes, uptime, and other features have earned it the trust of millions of businesses.
Online and in-store sales: Do you also have an online store? Shopify centralizes all of your offline and online sales data. In contrast, Wix separates online and point-of-sale information.
Marketing tools: Tools for marketing: Shopify has several tools to help you find customers and keep them around, including a blog, email, and social media marketing tools.
Unlimited website pages: While Shopify allows store owners to generate as many pages as they need to grow their business, Wix only allows users to construct 100 pages on their website. Businesses wishing to grow may appreciate the adaptability of Shopify's Online Store when deciding between Wix and Shopify.
HTML and CSS editing: If you're familiar with HTML and CSS, Shopify makes it easy to make your website look exactly as you want it to. Select a website template from their collection, but modify the HTML and CSS to make it unique to your company.
Flexible Payment Options: Choose a payment plan that works for your business. With Shopify, you can pay monthly or save money in advance for a year or more.
Apps galore: Both Shopify and Wix have their app stores. The Shopify App Store offers over 6,000 apps and integrations to support every aspect of your business. Wix, in contrast, only has over two hundred and fifty apps. Both feature app stores, but Shopify has more to assist you in managing your business.
Dedicated resources: Tools, online courses, blog entries, and other features are available on Shopify as part of the company's commitment to teaching its users how to launch and grow their businesses. Shopify is dedicated to your success and offers round-the-clock support via live chat, phone, and email.
Professional design: Over 70 premium Shopify themes are available for easy customization. All Shopify themes, in contrast to Wix's, are mobile-friendly and adapt to any screen size. Shopify's themes offer several filtering options to help you focus your search for a beautiful and functional theme. While Wix focuses on portfolio sites and blogs, Shopify themes are built for online and offline stores.
Unlimited products: Compared to Shopify, Wix only allows users to list 5,000 products on their store. Businesses with expanding inventories may find Shopify more appealing when deciding between Wix and Shopify.
High Site Speed: Increasing sales and search traffic requires a fast website. Shopify sites are quick to load, which keeps potential customers from growing impatient.
Designed for the Tomorrow: Shopify allows store owners to build for the future with feature releases that address shifting consumer needs. All of the themes offered by Shopify are mobile-friendly. In case you're interested in augmented reality, Shopify also has apps. To sell to a global audience, stores might be translated into several languages.
Supportive community: The community of Shopify is helpful to businesses that use it. Several resources in the Shopify ecosystem aim to ensure your success on the platform.
SEO functionality: Get the tools you need to handle search engine optimization (SEO) on your website with the help of search engine optimization (SEO) functionality. The integrated blog allows you to provide content that will appeal to customers. Additionally, you have complete control over the appearance of your website by modifying the meta descriptions, header tags, and alt tags.
In-Depth Reporting: Shopify offers comprehensive sales reports that access crucial data like conversion rates, top products, and profit margins. Wix and Shopify both provide reporting features.
Global: Compared to Wix Payments, which is only offered in 14 countries, Shopify Payments is accessible in 17. As soon as you set up your Shopify store, Shopify Payments allows you to accept all major payment options.
Reliable uptime: Shopify is a dependable e-commerce platform you can count on to be online even during the busiest product launches. In just three years, they were able to build something that many other brands had been working on for much longer and were unsuccessful.
Sell everywhere: Shopify has partnered with several platforms, including Facebook, Instagram, Amazon, Walmart, Pinterest, TikTok, and Etsy, allowing you to sell your products wherever your customers are. Only Facebook and Instagram are the platforms Wix allows you to sell.
Productive apps: You may build your business in the best method with over 6,000 apps available. Pick the apps that best suit your business, from loyalty programs to SEO tools.
Scaling: The biggest names in culture and business use Shopify, so you know it's scalable. Shopify is an excellent platform for entrepreneurs who want to launch a small business with the potential to grow into a large brand.
24/7 Support: Shopify business owners can contact support by phone, chat, or email anytime. You can contact support anytime or night and get a response.
Deciding Factors In Summary
Similar working concepts exist between the two platforms, although feature availability varies depending on the audience and use case.
Consider Shopify If…
If you plan to profit only from your online business in the coming years, choose Shopify immediately. For larger businesses and merchants, the platform is designed.
Start a free trial today and enjoy 3 months of Shopify for $1/month Instead of $39/month on selected plans. Sign up now
You will be okay with their decision to expand your product line. In addition, selecting a large inventory won't negatively impact the platform's functionality.
Shopify's multilingual support will ensure no hassle if you plan to open a new store in a new country.
In addition, you'll take advantage of the platform's service and that of third-party vendors for range delivery. To build a devoted customer base for your business, delivery support will ensure you give your audience a seamless experience.
Payment gateways allow you to make purchases by giving you various options besides the delivery option.
Consider Wix If…
You've decided to dedicate all your marketing efforts to establishing your store's online profile. Although planning an international expansion with a Wix store may be challenging, Wix's content-generating flexibility can help you reach a large audience.
You can generate blogs, journals, guides, and other engaging content to educate your audience on your product or services.
You don't need programming knowledge to customize your online store and add products.
The simple drag-and-drop feature will ensure that you have a pleasant experience.
Thanks to Wix's flexibility, you may design your store however you like.
In addition, opening a store on Wix will save you money initially.
Small Request
Kindly share it with your friends. Especially the ones you believe need this information. Sign Up Now and Get your first 3 months for only $1 monthly.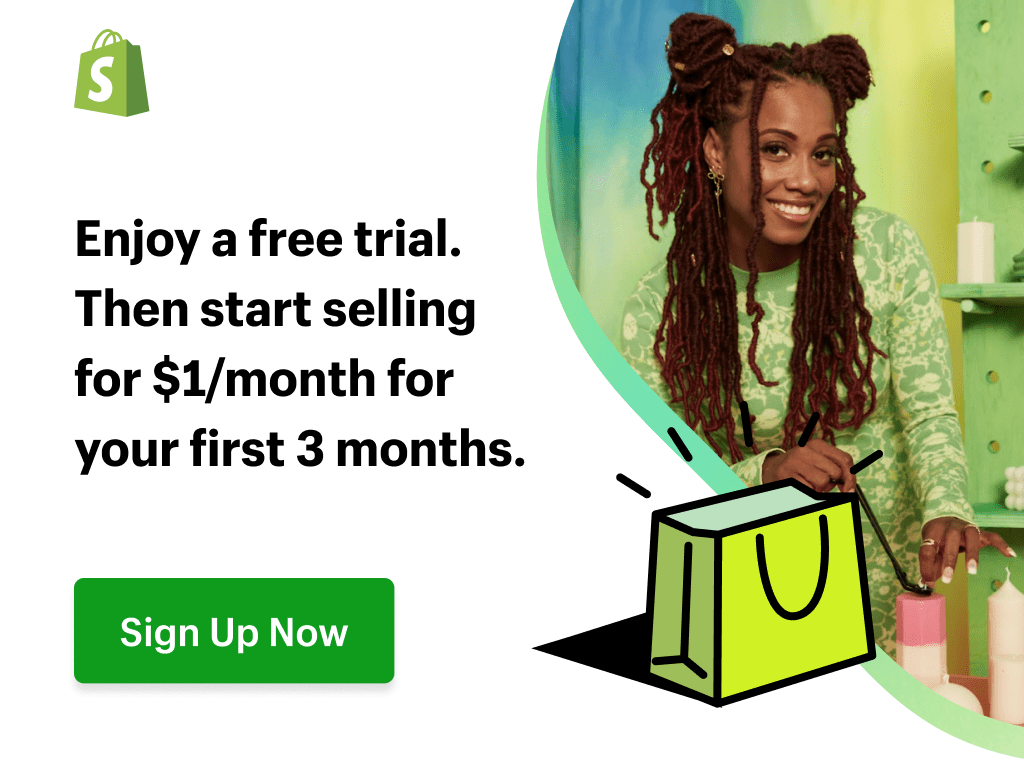 Sharing this information with others can make a huge difference. You may ask why.
Well, the truth is, my main aim is to provide the best information about drop shipping for both beginners and experienced dropshippers.
And I plan to continue doing so for as long as I can.
I would also like to thank those who support my work by reading and sharing my content.
Trust me, when you take your time and share, it will greatly help me and others needing this information.
Here are some great suggestions:
Pin it
Share it on another blog.
Share on Facebook (Share it with friends and even on Facebook groups)
Tweet it
Stumble it
This will only take a few seconds of your time, and I would appreciate it.
I appreciate you a lot. Thank you!
Join my Shopify dropshipping group mastermind and follow my blog to learn more about Shopify tips, dropshipping guides, tricks and checklists, and e-commerce in general.
If you enjoyed and learned something from this post, you can get me updates for free!
I send out email newsletters about new posts published on the blog, tips and tricks to help you grow your dropshipping business, new YouTube videos to give you more insights about the e-commerce market, and much more.
If you enjoyed reading this, you could as well join my Facebook group. Thank you for reading how to make money dropshipping online from the comfort of your home.
Click here to Join My Facebook Mastermind Group