How Shopify Print-on-Demand Works: ( Guide)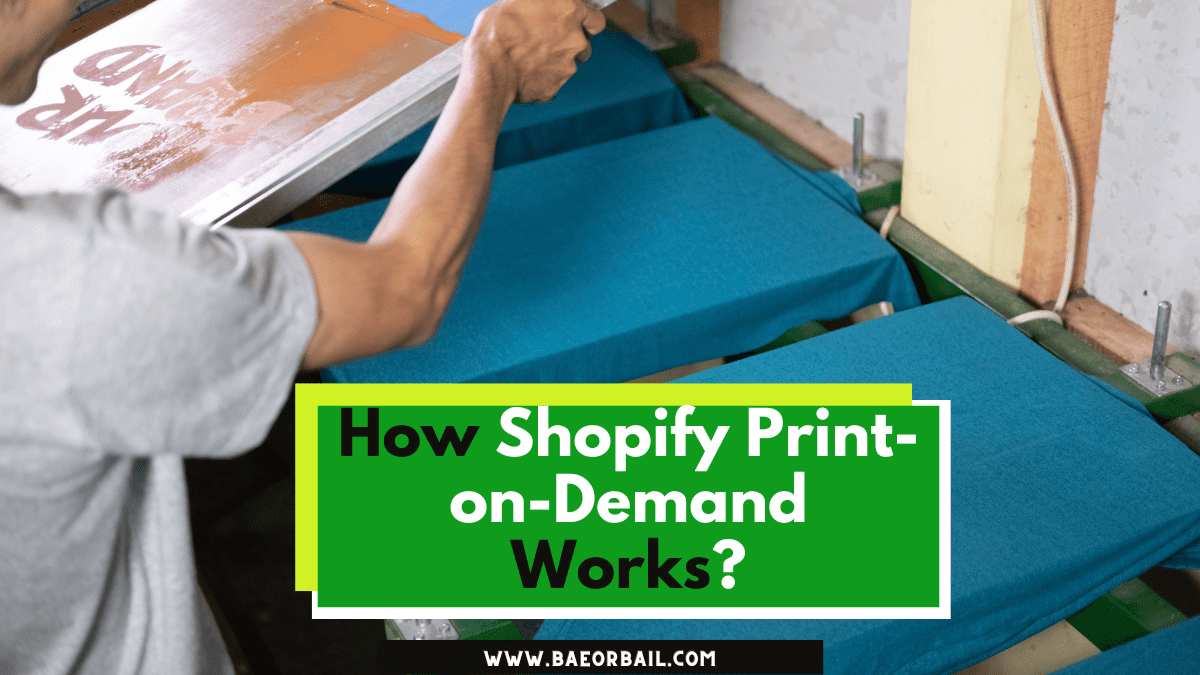 In this article, we explain how Shopify print-on-demand works, from setting up a store to choosing products and fulfilling orders. Learn how to start your online store and make a profit with print-on-demand.
As e-commerce continues to grow in popularity, more and more businesses are turning to print-on-demand services to help them reach customers worldwide. One of the most popular platforms for print-on-demand is Shopify, which offers a range of tools and services to help entrepreneurs start their online stores.
We'll take a closer look at how Shopify print-on-demand works, including how to set up a store, choose products to sell and fulfill orders. Whether you're new to e-commerce or looking for a better way to expand your business, this guide will help you get started with Shopify print-on-demand.
Table of Contents
Print on Demand, and How it Works? 
Print-on-demand (POD) is a popular business model that allows you to customize and sell white-label products under your brand without buying in bulk or holding any inventory.
With Shopify print-on-demand, you can easily set up your online store and start selling products with unique designs.
When a customer orders, your print-on-demand supplier will handle everything from digital printing to order fulfillment and shipping, making it a hassle-free way to run your e-commerce business. By utilizing this model, you only pay for the cost of the product after you've sold it, which helps to reduce your risk and increase your profit margins.
Additionally, with Shopify print-on-demand, you can easily manage your inventory, monitor your sales, and focus on marketing to grow your business.
Setting up Your Shopify Store
To start with Shopify print-on-demand, you must set up an online store on the platform. Here are the steps you need to follow:
Step 1: Sign up for Shopify
To create a Shopify store, you must sign up for an account. You can do this by visiting the Shopify website and following the instructions to create a new account. Once you've signed up, you'll be taken to the dashboard for your store.
Start a free trial today and enjoy 3 months of Shopify for $1/month Instead of $39/month on selected plans. Sign up now
Step 2: Choose a Theme
Next, you'll need to choose a theme for your store. Shopify offers a wide range of free and premium themes, each with its design and features. You can preview each theme before choosing one for your business.
Step 3: Customize Your Store
Once you've chosen a theme, you can customize your store by adding your logo, creating pages, and adding products. You can also set up payment and shipping options and configure other settings to make your store unique.
Choosing Products to Sell
With your store set up, it's time to start choosing products to sell. Shopify offers a wide range of products you can customize with your designs, including t-shirts, hoodies, phone cases, and more.
You can as well get hot-selling dropshipping products using Nichescraper.
Step 1: Choose a Product Type
To get started, you'll need to choose a product type from the options available on Shopify. Depending on your niche and target audience, this might include clothing, accessories, or home goods.
Step 2: Customize Your Product
Once you've chosen a product type, you can customize it with your designs using the built-in design tools in Shopify. This might include adding text, images, or other elements to create a unique product that will appeal to your customers.
Step 3: Set a Price
When you're happy with your product design, you can set a price based on the production cost and your desired profit margin. Shopify will handle the printing and shipping of your products, so you can focus on marketing and selling them.
Designing Your Products
One of the key advantages of using Shopify print-on-demand is the ability to create custom products that stand out from the competition. Here are some tips for designing products that will appeal to your target audience:
But first read out: How To Import Products From Alibaba To Shopify
Choose the Right Images
Images are another significant element of product design, as they can help to showcase your products and make them more appealing to customers. For example, consider using high-quality images that showcase your product in the best possible light, and ensure they are consistent with your brand and target audience.
Keep It Simple
When it comes to product design, less is often more. Avoid cluttering your designs with too many elements or colors, and focus on creating a simple, eye-catching design that will stand out from the competition.
Fulfilling Orders with Print-on-Demand
Once you've set up your store and designed your products, it's time to start fulfilling orders using Shopify print-on-demand. Here's how the process works:
Step 1: A Customer Places an Order
When a customer places an order on your Shopify store, the order is automatically sent to the print-on-demand provider you've chosen to work with.
Step 2: The Print-on-Demand Provider Prints the Product
The print-on-demand provider will print the product the customer ordered using your created design.
Step 3: The Product is Shipped to the Customer
Finally, the print-on-demand provider will ship the product directly to the customer using your shipping information.
Managing Your Print-on-Demand Business
Running a successful print-on-demand business requires more than designing products and fulfilling orders. Here are some tips for managing your Shopify print-on-demand business:
Focus on Marketing
Marketing is critical to the success of any e-commerce business, and print-on-demand is no exception. Use social media, email marketing, and other tactics to reach your target audience and drive traffic to your store.
Keep an Eye on Profit Margins
To make a profit with print-on-demand, it's necessary to keep an eye on your profit margins. Ensure that the price you're charging for your products covers the cost of production, shipping, and your desired profit margin.
Monitor Your Inventory
While print-on-demand means that you don't need to keep inventory on hand, it's still important to monitor your product sales and ensure that you have enough products available to fulfill orders on time.
8 Best Print-on-Demand Companies for Creating Custom Products.
Print-on-demand services have become increasingly popular due to their flexibility and low overhead costs. However, there are many options to create custom products using print-on-demand services. However, it's consequential to exercise due diligence when evaluating print-on-demand companies, and using Google and review sites can help make a decision.
To make things easier, we've compiled a list of some of the best print-on-demand sites that cover a variety of scenarios, all of which are free to set up and integrate with your Shopify store. Whether you're looking to create apparel, home decor, or accessories, these sites have covered you.
Utilizing these services allows you to easily create high-quality products without needing inventory or upfront costs. With the integration of Shopify, managing your online store and orders becomes seamless and effortless.
Here are some of the best print-on-demand services that integrate with your Shopify store:
Printful is a top choice for its wide selection of high-quality products, easy-to-use mockup generators, and various printing techniques. Printful offers many apparel printing options, such as Direct Garment, Cut and Sew, Embroidery, and Sublimation printing. They also offer additional products such as mugs, bedding, pillows, framed posters, and more.
Printify is a terrific option for scaling up and improving profit margins. They offer an international vendor network and over 200 products to print on. While free, a premium subscription for $29 a month provides 20% off all products.
Lulu Direct is an excellent self-publishing platform for printing and distributing books and ebooks. They provide a vast range of book sizes, binding types, and page/print quality to build your book product. There is no built-in editor, but Lulu Xpress offers downloadable templates and a pricing calculator to help cost your project.
Gooten offers a wide range of products, including calendars and dog beds, and uses an international network of vendors and dropshippers to print them. Gooten has an intuitive image editor to help customers visualize their products, but there may be more variance in print quality and shipping compared to other services.
Shirtee.Cloud is an effortless POD company to integrate with WooCommerce. It specializes in T-shirts and accessories, shipping over 500,000 products in 2022. While its return management incurs costs, it only offers a limited product catalog of 50 items. Nevertheless, it's a terrific option for those seeking an easy-to-use integration.
Zazzle boasts over 30 million customers across 194 countries and collaborates with 900,000 creatives. It provides hundreds of high-quality products, including wedding invitations, party supplies, and skateboards. Though connecting to your WordPress website can be challenging, it's achievable through its API for advanced users.
Sellfy, a small POD company, charges an upfront cost for each item and a monthly fee for hosting designs on its platform. Despite not offering a WooCommerce integration, its cloud-based platform provides easy accessibility from anywhere, selling digital and physical products.
Gelato, a European POD company, prioritizes ethical approaches to POD. It produces its products in over 32 countries, with transparent pricing and hundreds of garment printing options. Its WooCommerce integration allows artists to upload and sell their designs directly on their websites. However, some products may be unavailable in certain countries due to production standards.
For further information on how Shopify print-on-demand works, read here.
Remember, these print-on-demand services are all free to set up and integrate with your Shopify store. Don't forget to exercise due diligence and read reviews before choosing a service that best fits your business needs. Shopify integrates with these services seamlessly, making it easy to customize and sell your products per order with your branding and designs.
Finding Design Ideas and Designers
Looking for design ideas and talented designers to bring your print-on-demand products to life? Check out Behance or 99designs. To ensure clarity and context, share insights about your audience, explain your vision, provide examples for inspiration, and give concrete feedback every step of the way.
Need some design inspiration? Look no further than:
Pinterest
Facebook pages
Subreddits.
Search for content, messaging, or styles that resonate with your audience for targeted inspiration. Test out ideas on social media by posting to:
Facebook
Using Instagram Poll
Question stickers
Sharing a rough version with a relevant subreddit.
Remember, finding a great designer is only half the battle – the real challenge is figuring out what you want to design in the first place.
Tips for Starting with Print on Demand
Using a print-on-demand service can be easier than managing your inventory. Still, there are some unique considerations while attending the question, How Does Shopify Print-On-Demand Work? Creative solutions exist for most of these challenges.
Here are some valuable print-on-demand tips to help you get started and succeed in this business model.
Prioritize product quality by ordering samples.
To ensure that you offer your customers high-quality products, order samples from print-on-demand services before listing them on your website. Some services offer discounts or free shipping for samples. You can also use these samples to take product photos for your website and social media profiles.
Be transparent about shipping and absorb costs into your retail price.
Shipping is an essential consideration when it comes to print-on-demand services. Be proactive in sharing information on potential delays and upfront about shipping times. Create a separate page to outline shipping information and consider partially or fully absorbing shipping costs into your retail price. Offering free shipping can also incentivize customers to buy from you.
Create compelling mockups of your products.
Mockups are a great alternative to models for product photos. You can use print-on-demand services or free mockup templates to showcase your products. PlaceIt is a user-friendly mockup generator that lets you create photo and video mockups for $8 each. You can also browse Mockup World or Behance for templates if you are familiar with Photoshop or other photo editing tools.
Find your niche and build an audience through marketing tactics
Defining your niche and building an audience is key to success in the print-on-demand business. Marketing tactics such as Instagram accounts, Facebook ads, and collecting email addresses are essential for building a long-term business. A clearly defined audience can lower customer acquisition costs and maximize potential profits.
Create your branded storefront on an ecommerce platform like Shopify.
Creating a branded storefront on an ecommerce platform like Shopify allows you to control the experience for your customers, from how your store looks and feels to how they interact with your brand. Customers not loyal to marketplaces like Etsy or Amazon may enjoy browsing your site and getting to know your brand. This can help you establish your brand further and build a relationship with your customers beyond the marketplace.
RECAP
Starting a print-on-demand business on Shopify can be profitable and low-risk, especially with the right information and tools. By following our tips, you can ensure that your products are of high quality, your shipping is transparent and efficient, your marketing is targeted, and your online storefront is professional and user-friendly. With the ease and convenience of Shopify's print-on-demand service, you can focus on building your brand and growing your business. So, what are you waiting for? Start exploring how Shopify print-on-demand works and turn your creativity into a successful online business today!
FAQs
Is print-on-demand profitable on Shopify?
Print-on-demand can be a profitable business model on Shopify if executed correctly. It allows you to offer a wide range of customizable products without holding any inventory, reducing upfront costs and risk. However, success depends on product quality, pricing, marketing strategy, and customer service.
How much does it cost to start a Shopify print-on-demand?
The cost to start a print-on-demand business on Shopify can vary depending on the products you choose to sell, the design software you use, and your marketing strategy. However, the main cost associated with print-on-demand is typically the cost of the product itself and any shipping and handling fees. Shopify offers different monthly pricing plans ranging from $29 to $299, with additional fees for payment processing and app integrations.
How do I create a print-on-demand business on Shopify?
To create a print-on-demand business on Shopify, you'll need to follow these steps:
Choose a niche and target audience
Research products to sell and find a print-on-demand provider
Set up a Shopify account and customize your storefront
Integrate your print-on-demand provider with your Shopify store
Create and upload product designs
Set prices and shipping rates
Launch your store and start promoting your products
Is Shopify a print-on-demand platform?
Shopify is not a print-on-demand platform but a popular ecommerce platform that offers integrations with various print-on-demand providers. These integrations allow you to connect your Shopify store easily with a print-on-demand service, manage orders, and fulfill custom orders without holding inventory.
Small Request
Kindly share it with your friends. Especially the ones you believe need this information. Sign Up Now and Get your first 3 months for only $1 monthly.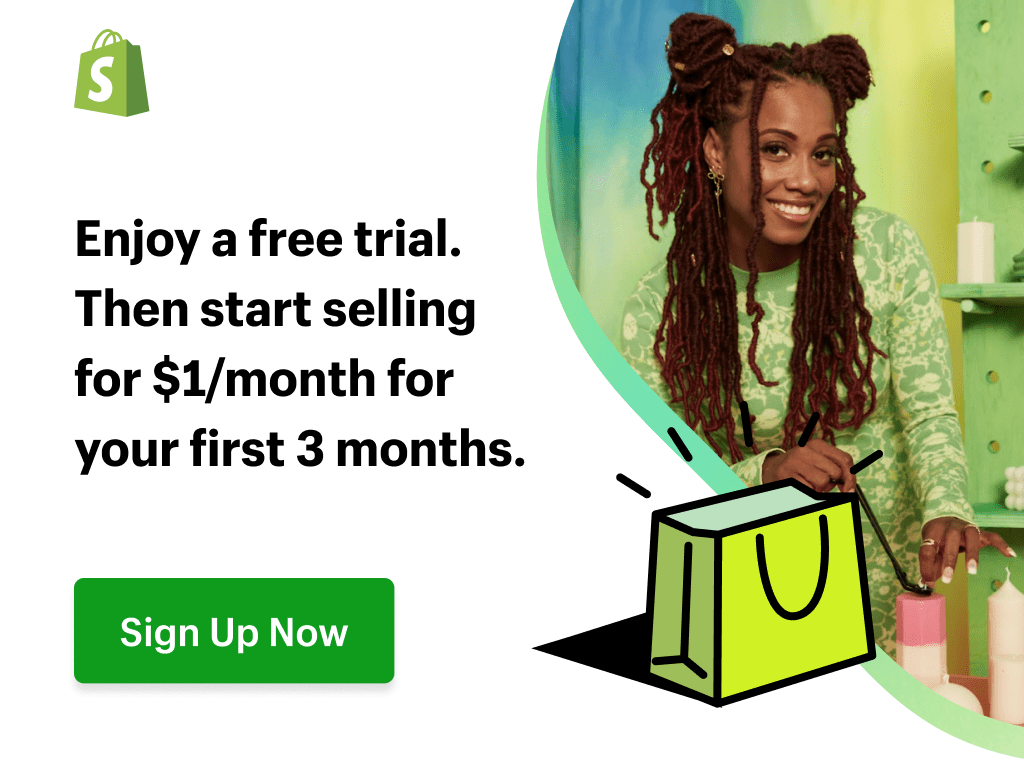 Sharing this information with others can make a huge difference. You may ask why.
Well, the truth is, my main aim is to provide the best information about drop shipping for both beginners and experienced dropshippers.
And I plan to continue doing so for as long as I can.
I would also like to thank those who support my work by reading and sharing my content.
Trust me, when you take your time and share, it will greatly help me and others needing this information.
Here are some great suggestions:
Pin it
Share it on another blog.
Share on Facebook (Share it with friends and even on Facebook groups)
Tweet it
Stumble it
This will only take a few seconds of your time, and I would appreciate it.
I appreciate you a lot. Thank you!
Join my Shopify dropshipping group mastermind and follow my blog to learn more about Shopify tips, dropshipping guides, tricks and checklists, and e-commerce in general.
If you enjoyed and learned something from this post, you can get me updates for free!
I send out email newsletters about new posts published on the blog, tips and tricks to help you grow your dropshipping business, new YouTube videos to give you more insights about the e-commerce market, and much more.
If you enjoyed reading this, you could as well join my Facebook group. Thank you for reading how to make money dropshipping online from the comfort of your home.
Click here to Join My Facebook Mastermind Group