How To Set Up Dropshipping Store On Shopify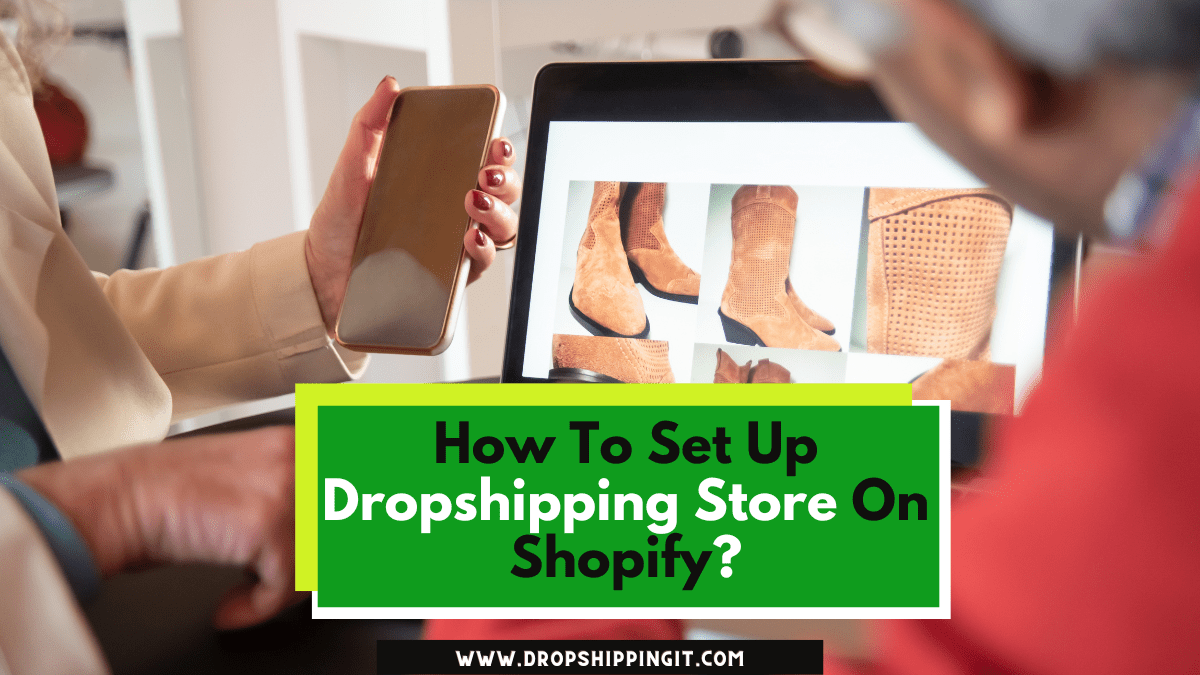 Launching a dropshipping store on Shopify is a fantastic option for many would-be entrepreneurs. 
For this reason, the dropshipping business model is so attractive: it eliminates the need to store and manage inventory, which is a considerable time and money drain.
So you can put your efforts into expanding your webshop and boosting your sales instead of worrying about technical issues.
As a business model, dropshipping offers a lot of leeways, and it's one that's supported by the vast majority of ecommerce platforms. This includes the industry leader, Shopify.
Table of Contents
To help you get your own Shopify dropshipping business up and running, we've conceptualized this comprehensive guide because we want to make your life easier as an ecommerce entrepreneur. It's essentially a "dropshipping for dummies" manual you can use to get started.
Dropshipping is easy to start with if you have a Shopify store, which you can set up by following our instructions. In less than half an hour, you may have a fully functional Shopify store set up for dropshipping.
How does Shopify work?
You may think of Shopify as the backbone of your online store. It's an e-commerce platform that gives new business owners the skeleton they need to launch and style a store, and its back end eliminates the need for costly hosting.
Shopify's monthly fees are reasonable, and once they're paid, your e-commerce store will run smoothly, allowing you to focus on customer acquisition and business growth without interruption.
To source products, you'll need to install the DSers app; otherwise, your Shopify dropshipping store will operate similarly to any other.
Steps to Setting Up Dropshipping on Shopify
Here, in this Shopify dropshipping starting point, we will show you how to set up your online shop from the ground up.
We'll walk you through the process step by step, sharing all the knowledge and advice we have to offer so that when you're done, you'll have a fully operational Shopify dropshipping store ready to start making money right away.
We've compiled the following information to help you get started with your Shopify dropshipping store.
1. Choose a store name
The first thing you need to do to launch your Shopify dropshipping store is to give your store a name. 
Use these suggestions while you brainstorm names for your online shop:
Simple, unique, and memorable are the keys to success.
Shopify simplifies the process of creating a memorable name for your dropshipping business.
Go to Shopify's online business name generator, type in a term you'd like to incorporate in your company name, then hit the "Generate names" button.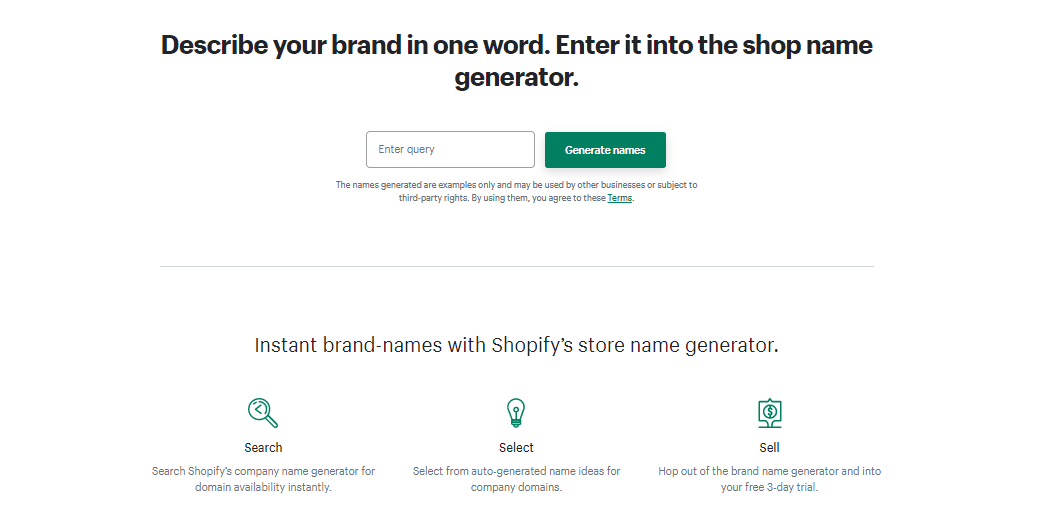 Choose the perfect name for your Shopify dropshipping store from the many available options. It is not only free of charge but will also save you a great deal of time.
After generating some potential names for your Shopify dropshipping store, you should see if they are taken.
Names like "American Clothing Store" are probably taken, so come up with something else. If you want to make sure, you can use Google to discover if the name is available as a.com.
2. Create a Shopify account
Shopify makes it easy to set up a dropshipping store with a short and straightforward signup process. To get started, head over to Shopify.com and hit the button labeled "Start free trial."
Bring your business ideas to life for $1/month On the Shopify Platform. Click the Image Below.
Enter your email address on the following page where no text appears. Your Shopify dropshipping store's domain name and password will be required during the setup process.
After that, you'll be prompted to fill out some basic information about yourself and questions regarding your e-commerce background.
When you're done, your Shopify account will be live. The next step is to adjust your Shopify dropshipping account settings and get it up and running.
3 Optimize your settings
This part of our Shopify dropshipping guide will walk you through customizing your Shopify store. This is crucial as it prepares you to accept customer payments, draft store policies, and determine shipping costs.
4. Store Policies
Make sure you have your ducks in a row before beginning your own Shopify dropshipping store. Shopify includes many useful features, like instantly creating a privacy policy, a refund policy, and terms and conditions for your online store.
You can use the Shopify Policy generator to automatically create legal pages for your store.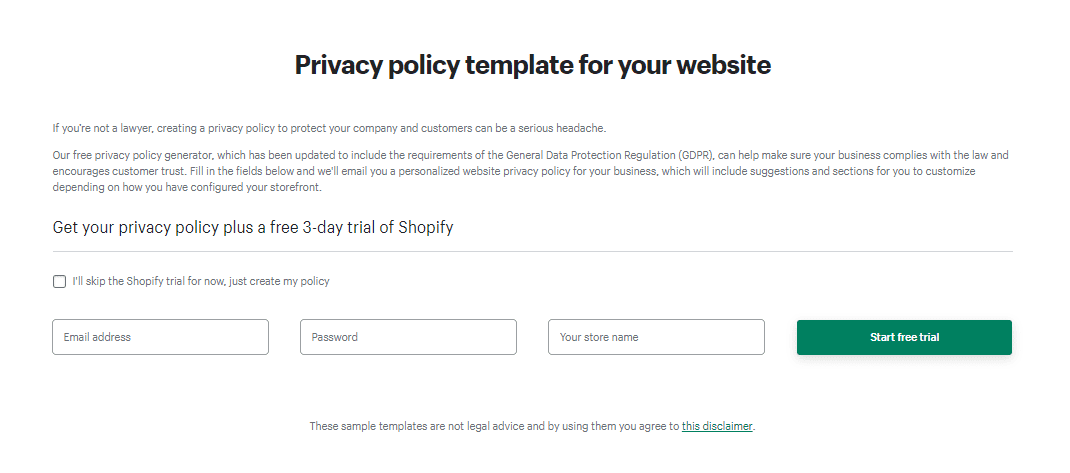 These settings are available in the configuration menu of your Shopify store. For example, if you go to the tab labeled "Checkout" and then scroll down to the bottom, you'll see the fields you need to fill out.
It's as simple as clicking the "Generate" button.
5. Payment information
Setting up a payment system for your Shopify dropshipping store is the first order of business. Including a payment method is crucial since you will need it to collect payment from customers.
Shopify's Settings page is where you may add your payment details. Choose the Payments menu item on the left and enter your payment details.
There should be a PayPal account or stripe. Signing up for an account is quick and easy, so even those who aren't particularly tech-savvy may get set up in no time.
6. Shipping Fees
It would be best to make your shipping charges transparent to succeed as a dropshipper using Shopify. However, we suggest always providing free shipping, as this is the least complicated choice.
Instead of complicating matters by charging multiple shipping rates in different countries, factor the shipping cost into the retail price of your goods.
Rather than selling a t-shirt for $20, charge $25 and throw in free shipping.
To increase sales, promote "FREE SHIPPING!" on your Shopify dropshipping store's homepage.
Free shipping can be enabled in your Shopify store by going to Settings > Shipping > Free Shipping section.
Get rid of the domestic shipping options and replace them with "Free International Shipping" under "Rest of World.
" Then, when you're ready, choose the Rate: Free Shipping Rate option.
7. Launch your Shopify dropshipping store.
You are ready to launch your Shopify dropshipping store now that you have added all the relevant information.
You can open your store by clicking the "Sales Channels" button on the Shopify control panel. Then, select the "Add an online store" option from the menu that appears.
After you've done this, you'll have a fully functional online storefront!
8. Teasing out your store's design
The design of your online shop is crucial to its success, and in this section of our Shopify dropshipping guide, we'll go over why. Your Shopify dropshipping store's design is crucial since it represents your store and brand to customers.
In the same way, a visually appealing shop window is essential for a successful brick-and-mortar business, and so is an aesthetically pleasing online storefront.
It's the first thing a potential customer sees in your business, and first impressions are crucial. Check out these simple tips for designing a successful online store and see your revenue soar.
Theme and logo are the two main elements of your Shopify dropshipping store's design.
9. Creating a logo 
Creating a memorable brand identity with a logo for your Shopify dropshipping store is essential. However, it would be best if you gave some time to design your logo and how it will complement your store's aesthetic.
The process of creating a logo may appear daunting and time-consuming. Using Shopify's no-cost online logo maker, you can generate your free logo in minutes. Creating the ideal logo for your brand requires trial and error with different typefaces, color schemes, symbol selections, and placement.
Graphic design apps like Photoshop and Canva are available if you want to make your logo. Furthermore, freelance services like Upwork and Fiverr allow you to outsource professional graphic price design at reasonable rates.
You may start shaping up your store once you've decided on a theme and logo. Looking for more ideas? Get a load of the beautiful layouts of this e-commerce (Here).
10. Choosing a theme on Shopify
Shopify's theme store is a goldmine of design themes. There are both free and paid options available. Look around and decide the best theme for your store based on your budget; if you're starting your store, a free theme is probably your best bet.
It can be challenging to decide on a single theme for your project. For example, you may decide on a piece we wrote to help you make the best option for your Shopify dropshipping store here. Many different themes of Shopify theme selection and customization are evaluated as to what to customize for in free Shopify themes.
11. Dropship on Shopify with DSers
After you have settled on a design for your Shopify dropshipping store, you can begin adding products and earning money.
DSers is one of the greatest Shopify apps for e-commerce business owners who wish to import dropshipped products to their store, and it's what you'll need to add products that you can dropship. Thanks to their tight integration, you can start importing and selling products from AliExpress and DSers on day one.
After DSers has been integrated with Shopify, a new category must be created in the Shopify admin. The nature of the goods you plan to sell should inspire the name of this section. Name this section "T-shirts" if you plan on selling tees online.
Check out our list of one-of-a-kind dropshipping products if you need some inspiration. Plus, if you want to know how to decide on products to sell, that's something you should check into.
After setting up DSers, you may browse AliExpress for products you'd be interested in selling. For example, you may quickly click products to your Shopify dropshipping store by clicking the Import button next to those you want to sell.
13. Make your first sale
It is time to start producing sales and profits from your Shopify dropshipping store. Because, unusually, a significant traffic of people will discover your store simply by hearing about its existence, we urge that you employ marketing strategies to draw customers.
Review the many ad options, and do your homework to determine which is best suited to bringing customers to your Shopify dropshipping business. Advertise on Facebook if you can achieve success with it. Feel free to give social media platforms like TikTok and Instagram a shot.
Keep testing because that's the most crucial step. You will quickly learn what kinds of advertising are most successful for your online store.
Final Thoughts
The Shopify dropshipping store you just established is officially yours. Congratulations!
While we've covered a lot of ground in our Shopify dropshipping guide, you'll learn even more if you get your hands dirty running your own business. Shopify is the most popular option for entrepreneurs when setting up an online store.
Shopify's user-friendliness means that anyone can set up their online store regardless of their level of technical experience.
It's also ideal for business entrepreneurs who wish to launch their dropshipping operation. Dropshipping is a breeze with Shopify's convenient integration with numerous third-platform shipping and marketing services.
There's no limit on how much money you can make with an online store, so it's time to start accepting orders and processing sales. It used to be difficult to dropship products online, but now, it's easy with Shopify and other technologies.
Small Request
Kindly share it with your friends. Especially the ones you believe need this information. Sign Up Now and Get your first 3 months for only $1 monthly.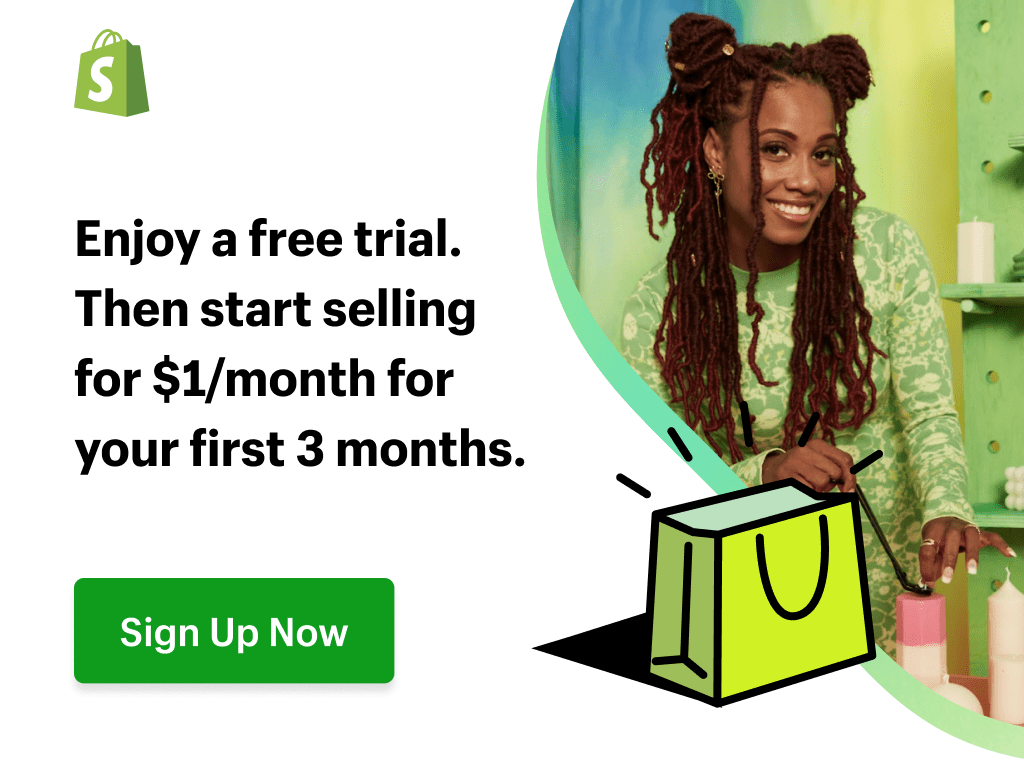 Sharing this information with others can make a huge difference. You may ask why.
Well, the truth is, my main aim is to provide the best information about drop shipping for both beginners and experienced dropshippers.
And I plan to continue doing so for as long as I can.
I would also like to thank those who support my work by reading and sharing my content.
Trust me, when you take your time and share, it will greatly help me and others needing this information.
Here are some great suggestions:
Pin it
Share it on another blog.
Share on Facebook (Share it with friends and even on Facebook groups)
Tweet it
Stumble it
This will only take a few seconds of your time, and I would appreciate it.
I appreciate you a lot. Thank you!
Join my Shopify dropshipping group mastermind and follow my blog to learn more about Shopify tips, dropshipping guides, tricks and checklists, and e-commerce in general.
If you enjoyed and learned something from this post, you can get me updates for free!
I send out email newsletters about new posts published on the blog, tips and tricks to help you grow your dropshipping business, new YouTube videos to give you more insights about the e-commerce market, and much more.
If you enjoyed reading this, you could as well join my Facebook group. Thank you for reading how to make money dropshipping online from the comfort of your home.
Click here to Join My Facebook Mastermind Group