How To Start A Subscription Business On Shopify
When you hear the word subscription, the first thing that comes to mind is a subscription to Newspapers, magazines, or streaming apps like Netflix.
But that is no longer the case; subscriptions have evolved from the traditional Magazine subscription to recurring deliveries of products and services or monthly mystery box subscriptions.
According to the latest report by UBS, there is an increase in demand for subscription-based services and products.
This lucrative business model is projected to reach a global market value of $1.5 Trillion by the end of 2025. Based on your chosen niche, you can skyrocket your subscription business in no time compared to the traditional one-time payment business model.
There is a strong reason why businesses worldwide are adopting the subscription business model at an accelerating pace. Customer acquisition is expensive through paid ads or offline retail and service business.
Investing and focusing on customer retention rather than acquisition only makes financial sense. Customer purchase is recurring instead of a one-time buy, a clear goal in the customer retention bucket, resulting in a higher customer lifetime value (CLTV). 
Today, we embark on a journey to give you a step-by-step guide on how to start a subscription business model on your Shopify or Shopify Plus store.
Table of Contents
What is a Subscription Business Model?
A subscription business allows customers to pay recurring fees to regularly access specific services or products. The products or services are shipped monthly or any other delivery frequency based on the customer's subscription plan.
Most subscription business models allow customers to choose different products or services for each delivery. They enable customers to enjoy their services or products with different themes every month.
The benefits of a Subscription business to customers/shoppers:
A subscription-based business model allows customers to pay a recurring fee at regular intervals based on subscription plans or packages.
In most cases, subscription businesses often pay monthly, quarterly, or yearly. Customers can renew their subscriptions at any time.
Customers can budget their finances more effectively to accommodate their recurring orders.
The benefits of a Subscription business to a business owner
As a business owner, you stand to make a long-term profit by collecting recurring revenue through your products or services.
Many subscription business merchants enjoy high customer retention and build a long-term business, unlike running a one-time product or service that requires only one payment.
This subscription business model allows companies to keep monetizing existing products or content and tailor new content to the needs of their business subscribers.
How To Start A Subscription Business On Shopify
We started a subscription business on Shopify, an eCommerce platform with excellent Shopify themes and a subscription app for your business.
Before we sign up on Shopify, which offers $1 per month for 3 months, we first need to choose our subscription Idea.
Choosing A Subscription Idea For Your Business
There are many options out there that will help you find hot-selling subscription ideas. You can also come up with a novel idea.
The best way to choose a subscription Business idea is to go to Etsy Shop and browse the themes and products posted on their feed; you can also filter products by date and relevancy.
There are millions of products and gift boxes on Etsy, and your work is simplified; choose the niche that appeals to you or ignites your passion.
The most successful subscription business models are created to offer a solution or solve specific problems for a group of passionate customers.
Take your time and identify a niche, find the problem, offer the solution, and keep them retained for months with an excellent monthly plan, which can be quarterly or yearly, based on your offering.
Give the customers the option to make a box; this increases conversion rates, more so with the customers who want to be in charge of what they get or how they want their package to be designed regarding the product or services offered.
If you need to research further, you can use paid keyword research tools to help you find good keywords with high search volume and low competition in terms of keyword difficulty. Then, find a product or service around them that people would love to subscribe to.
Choosing a Subscription Business Platform
My disappointment with other platforms is that it's almost impossible to get everything in one place, like Shopify.
Shopify eCommerce has thousands of free and paid apps or themes, plus an easy customization interface that allows store owners to tweak their store how they want.
Shopify is affordable with a $1 per month offer, allowing merchants to create, launch, and sell within the first 3 months as they learn the platform features and tricks. 
The success of your subscription business depends on the platform you choose. If you are on a tight budget and want to build a long-lasting business, I recommend the Shopify e-commerce platform.
Source your Subscription products.
Now that you have the store set up, the next vital phase is sourcing your subscription products.
Having this out of the way is crucial before you launch your store. Unless your subscription business is services-based, you can assemble your suppliers from Alibaba or work directly with a private supplier.
Establishing a good relationship with your supplier is good for business. Ensure the supplier can assort your products and deliver them at high quality.
You should test the product quality from your sample before bulk ordering.
Request a sample, and double-check if the branding is how you want it, as well as its size, variants, design, and any other elements that would make your brand pop and profitable.
Adding Subscription App
As I mentioned earlier, it is vital to start a subscription business on Shopify; from the Shopify app store, you can choose a subscription app that allows you, as a merchant, to set recurring product fees or services.
Based on our experience and interaction with Shopify stores, Appstle Subscriptions App offers the best solution for Shopify store owners who want to start a subscription business model.

With the Appstle Subscriptions App, a merchant can choose a monthly, one-time order, or quarterly subscription plan or set up discounts and frequency for a recurring charge.
You can also create and manage subscription packages for their services or plans.
With an Appstle subscription, a merchant can set their recurring payments and set up automatic order creation, a customer management portal, and other add-ons.
Appstle subscription The Shopify app is almost free until a merchant's monthly subscription sales volume hits $500. Then, they must upgrade to their paid plans. This is great for stores that are starting.
As a merchant using this app, you can sell regular and prepaid subscription plans to your customers, including free trial offers and the option to allow customers to build their boxes.
Appstle is the best subscription app on Shopify and Shopify Plus. Its unique features include a custom customer portal and the ability for customers to update their payment method, edit existing profiles, and manage their subscriptions.
Appstle App Features
Appstle is a user-friendly subscription app; its admin dashboard is easy to navigate, provides quick product management access, and allows automation. It is perfect for any merchant who wants complete control over their customer subscription.
Product Bundling
Product bundling is a good marketing strategy that allows merchants to have products grouped (e.g., shampoo and conditioner) or include add-on services (e.g., phone with warranty service) and sell them as a single unit for one price.
The strategy applied in bundles is that it should cost less than buying the Product or services as individual units.
Appstle App bundling features help merchants sell multiple products together instantly.
Product bundle helps with conversion and increases your store's Average order value. The customer will always know they are spending less, creating urgency that results in a sales increase.
Product Automation
A merchant is in complete control of everything in Appstle, and They can do bulk edits or product changes in terms of the subscription plans.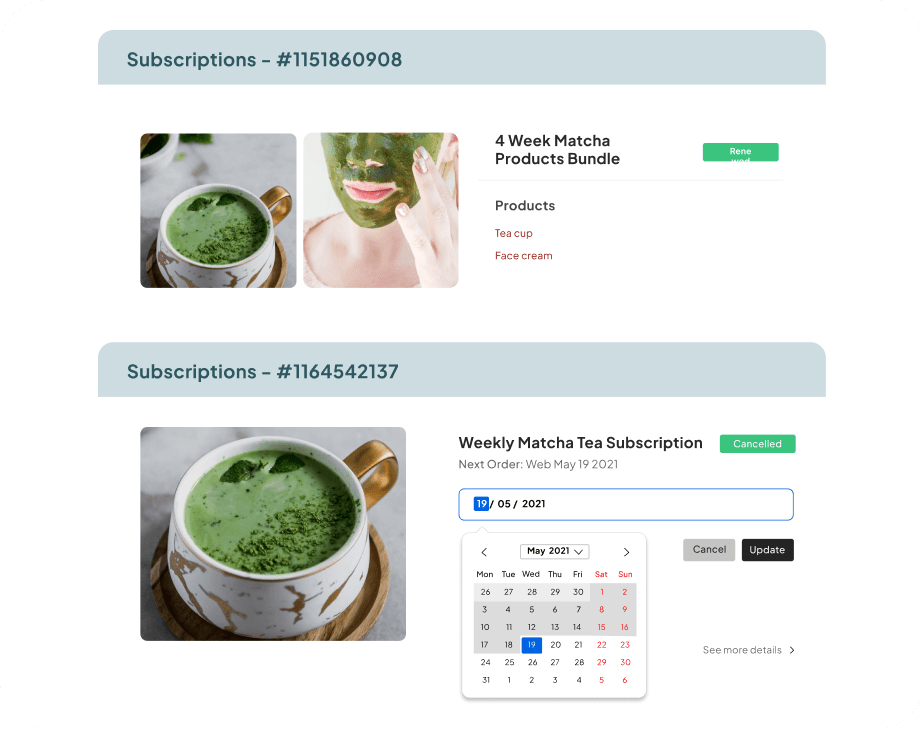 Apart from automation, the Appstle app has a detailed reporting and analytics feature that gives real-time data and tracking information regarding conversion, growth, and profit margins.
Appstle integrates with many Apps.
Suppose you want to do email marketing as part of your methods of increasing store subscriptions. In that case, Appstle integrates perfectly with email marketing apps, including Klaviyo and other page-building apps on the Shopify app store.
You can also integrate Appstle with Zapier, a popular automation tool for store owners.
Flexible Recurring Purchase and Billing Options
You can now have up to 2 different recurring billing Plans for the customers.
A subscriber can choose from a one-time payment or a regular payment subscription.
The subscription can be monthly, bi-weekly, or yearly, depending on the Product offered in the store.
Loyalty Option Features
This option is beneficial to enticed subscribers who are currently active on the platform. But to excite them even more, the loyalty option in AppAPpstle allows merchants to give customers incentives as long as they stay subscribed. It could be things like incremental discounts as subscribers stay for extended periods, free products or gifts, etc.
Customers Build a Box Option
Appstle Shopify app allows the merchant to allow the customer to build their box and add the Product or service they want their subscription box to contain.
It gives them the power to choose what they want and helps reduce redundancy.
How to Install Appstle Subscriptions App
Before you set up product pricing and configure payment plans for recurring subscribers, you need to install the app that makes all this more accessible and seamless.
Head to the Shopify app store and install the latest version of the Appstle subscription app, or click Here for a direct link.
Click on Install to direct you to your Shopify store; enter your store details and the required information, and you will be done with personal information.
Please choose what you want to use Appstle for and describe how you want to use it on your store.
Next, start your store configuration.
Create Your First Subscription Plan
Appstle Subscriptions app offers the option to create multiple subscription plans, hence the need to name each subscription plan and select a relevant product or service that aligns with it.
The subscription plan name is only visible to the merchants and not visible on the store frontline.
An excellent example of a subscription plan is the 'Parrot Food Weekly Subscription.'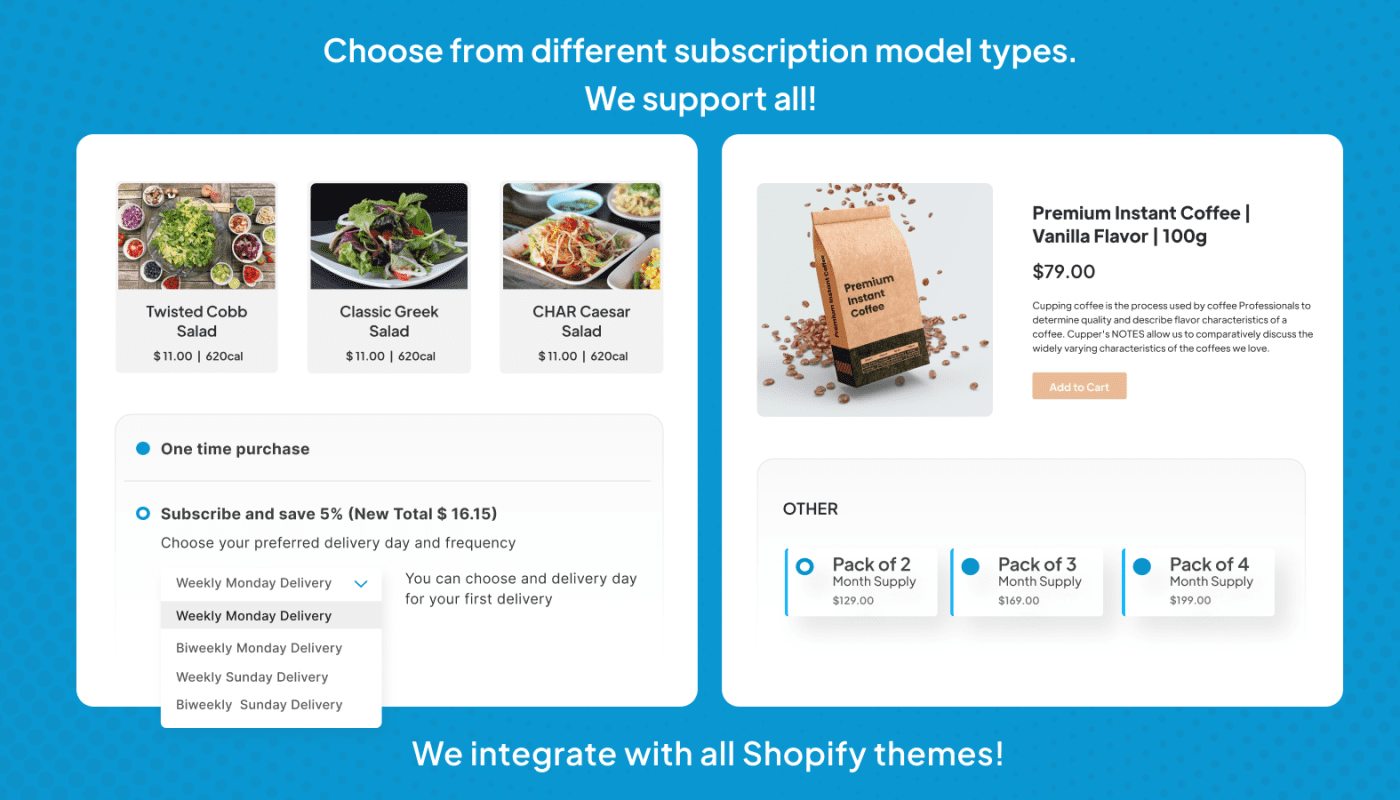 Adding a Product to a specific subscription plan imports the Product and its variants by default; hence, you don't need to add variants manually.
Order Frequency Setting
If you decide to have your subscription have a monthly or weekly plan, you need to name it. The order-free name will be displayed to the customer on the product page.
Order frequency should be as simple as 'Weekly, Monthly, or yearly. It helps the customer know the order frequency they are expecting for each subscription they subscribe to.
More features in Appstle make it ranked as the best subscription business app on Shopify with over 2400 reviews and over 15000 installations.
You can be among over 20,000 successful subscription businesses on Shopify by installing Appstle and using it for free if your sales are below $500.
Conclusion
There is a lot to cover about the Appstle subscription app, and you will learn more and understand why this is our preferred subscription app on the Shopify app store.
From seamless payment integration already available on Shopify, you can integrate Appstle with any payment gateway on Version 2 (Shopify V2), like Stripe, Shopify payments, 2checkout, Paypal Express, or Apple Pay.
Before you launch your store, ensure your product prices are set; you can set fixed costs and have different subscription levels for the same Product.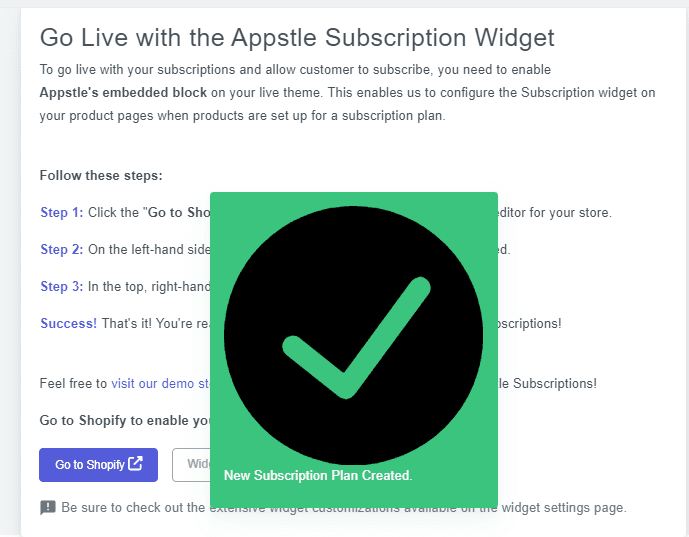 Choose whether the subscription is weekly, monthly, or yearly; you can also indicate the plans you accept: prepaid, one-time, or recurring.
To scale your subscription business with Appstle, encourage customers to write reviews about your products, record short social media videos, and tag your business.
You can use these visual testimonials as proof on the product pages embedded in your Shopify store.
You can also have an online and offline brick-and-mortar store using Shopify POS and Appstle that support subscription business models and automatically charge customers as per their subscription plan choice.
There is more to make in sales while doing a subscription-based business on Shopify.
As a merchant, you must choose the model that appeals to you, whether you want to sell subscription gift boxes, product assortment, or a service model.
To be successful, you need a professional app like Appstle.
Now, that is how to start a subscription business on Shopify to sell services or products online.
Small Request
Kindly share it with your friends. Especially the ones you believe need this information. Sign Up Now and Get your first 3 months for only $1 monthly.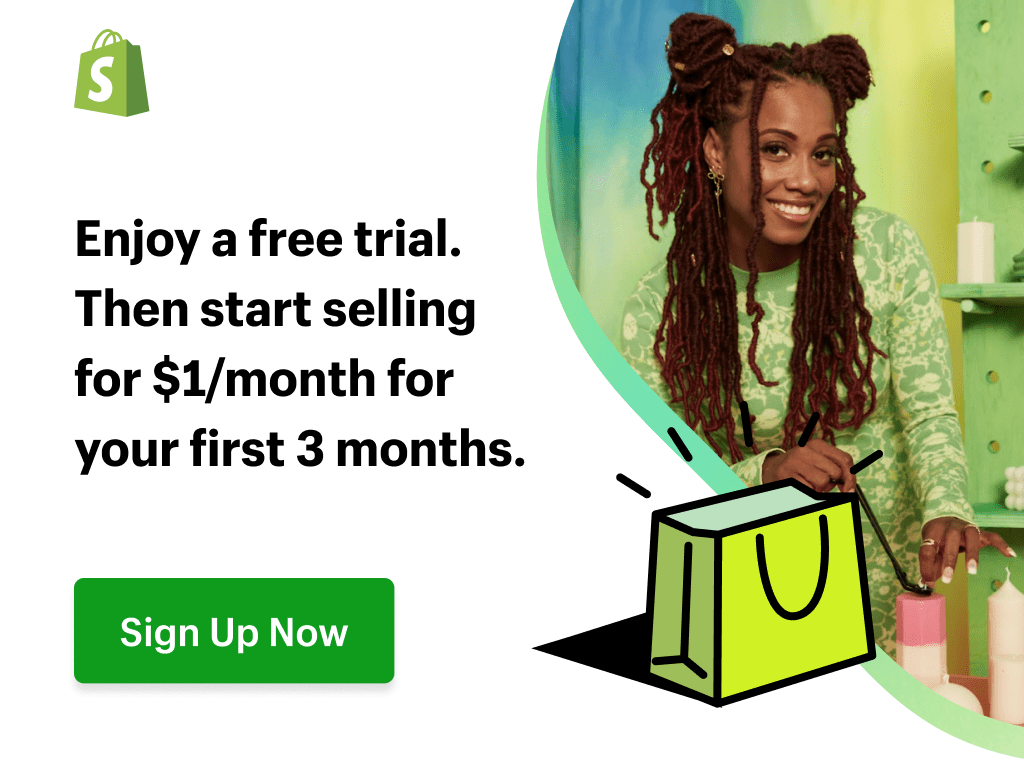 Sharing this information with others can make a huge difference. You may ask why.
Well, the truth is, my main aim is to provide the best information about drop shipping for both beginners and experienced dropshippers.
And I plan to continue doing so for as long as I can.
I would also like to thank those who support my work by reading and sharing my content.
Trust me, when you take your time to share, it will greatly help me and others who need this information.
Here are some great suggestions:
Pin it
Share it on another blog.
Share on Facebook (Share it with friends and even on Facebook groups)
Tweet it
Stumble it
This will only take a few seconds of your time, and I would appreciate it.
I appreciate you a lot. Thank you!
Join my Shopify dropshipping group mastermind and follow my blog to learn more about Shopify tips, dropshipping guides, tricks and checklists, and e-commerce in general.
If you enjoyed and learned something from this post, you can get me updates for free!
I send out email newsletters about new blog posts, tips, and tricks to help you grow your dropshipping business, new YouTube videos to give you more insights into the e-commerce market, and much more.
If you enjoyed reading this, you could also join my Facebook group. Thank you for reading how to make money dropshipping online from the comfort of your home.
Click here to Join My Facebook Mastermind Group