Free Shopify Ecommerce Platform Review
This review covers all you need to know about using Shopify to build your store, as well as the pros and cons of this fantastic tool.
In the world today, the advent of online stores has revolutionized the eCommerce system. You can now get all the products you want to sell in a particular platform and market from there without even owning the products.
However, the invention of online store builders has also helped in this process as you need not hire programmers to get your store to step up. It would only need you to follow a few steps.
One would ask, what does Shopify mean, and how do I use it to grow my online business?
Below is a concise Shopify review to help you all there is to use this fantastic tool.
What is Shopify?
Shopify is an online service as a software tool (Saas) that helps business owners create an online store for their business.
This tool has a wide range of predesigned templates to suit the taste of all their clients, depending on how you need your store to be.
Building a store on Shopify is not just restricted to online business; physical business owners can still create stores for their offline products.
What makes Shopify distinct from many other online store builders is the fact that with little or no idea of graphics or web design. You can set up your online shop in a few minutes.
Though the knowledge of CSS, PHP, and HTML is an added advantage. But without coding, you can still get a well designed Shopify store.
It is a hosted platform. So your stress of buying web hosting is drastically reduced, and you don't need to install any software on your system or mobile phone.
Hence, all the information needed to run a fantastic store on Shopify is designed to be very distinct.
In this Shopify review, you will also understand how to customize your store to meet your Customers' needs. You can add apps and other relevant features to your store with unique codes.
As the terms of Shopify apply, you would have to pay some amount of money to maintain the ownership of your store. Shopify gives full access to your store from anywhere and at any time you need to do business.
Currently, Shopify is the host of over 800,000 stores and has at least more than 1,000,000 active users and generates annual revenue of about $100bn sales. With this simple analysis, you can understand that Shopify is out for real business.
You are so thinking of the best place to peach your tent online?
Sure Shopify will do the most needful for you. And it wouldn't cost you so much to maintain.
Knowing the company to trust when it comes to online business is essential, especially when it comes to credibility and accountability.
Not only do you need a company that wouldn't fail in resolving issues with your store, but also a trusted firm that wouldn't close down over time.
As sensitive as this can be, you don't need the stress of moving your store from one platform to another when the system collapses as Shopify is built on an idea that would surely stand the test of time.
It has a large number of users as well as a well-structured market position, making it almost impossible to experience financial difficulties. So you need not worry about losing your store should Shopify disappear.
The different accessible theme is one of the essential things we would look at in this Shopify review. But before then, let us discuss the plan prices.
This is an E-commerce platform founded in the year 2006 by Tobias Luke, Scott Lake, and Daniel Weinand. Since its inception, it has grown to become on the most leading e-commerce platform.
It was built with one of the easiest and practical tools to use in developing an online store. It has a diverse pricing system which allows small stores as well as more substantial business to operate an online business.
It is an easy platform for a beginner who needs to create a product, advertise his products and also manage his business inventory without having to struggle in taking a developmental class, also, It is a fantastic platform for an advanced designer to use its HTML and CSS files to upgrade his store using its unique advanced features.
Additionally, is designed beautifully and embedded with lots of modern themes that are simple, stylish, and aesthetically pleasing.
A standout property is that, unlike WordPress or Magento, Shopify does not require a kind of development knowledge to keep your online store running smoothly.
It doesn't give you a tough time while scaling up. It aims to create a relaxed and hassle-free platform to build your online store and set up your e-commerce website.
If you desire to own and start your e-commerce business, but you do not have a website or a previous e-commerce experience, you are in the right place to have all your necessary information as our Shopify Review will surely equip you with the essential knowledge that satisfies your needs.
At the end of our review, you will be able to answer these occurring questions. What makes Shopify stand among other e-commerce platforms?
Why this Review?
Without mincing words, Shopify is an online platform for e-commerce which is embedded with a variety of features and tools that allows you to build, manage online stores and sell your products.
It is currently used by more than 120,000 users all over the world. Shopify is designed in such a way that it allows offline retail.
Shopify is a platform which allows you to create your online store, sell your goods and services. It enables easy organization of products and services, categorizes each product accordingly, customizes the outlook of your store, allows e-transaction using (online credit cards), enables the tracking and giving responses to your orders, which can be done using a well-simplified user interface.
Shopify offers a well simplified and well-integrated user interface that gives solutions to sophisticated design. It provides you a ready to use online store which you can customize, tweak and manipulate to bring out your desired website structure.
It should also be known that the payment plan of Shopify is based on a monthly billing but this, of course, is not neglectable for any business entrepreneur running a profitable store.

It has a process that is less complex and very easy to understand. You need to sign up first, then you follow through with the other steps.
After signing up, you will have to choose from a well researched and previously written optimized keyword; it enables you to choose from more than 100 streamlined designs available so that you would neither need to go through the stress of designing it yourself nor pay for the design.
Shopify offers you top quality design and significantly optimized platform to give you a well presented and interactive platform for your website visitors. Shopify Review will help you make a clear decision either Shopify or WordPress.
How Is hosting handled?
Absolutely Yes. Shopify is an embedded platform that grants convenience to its users and also grants them the liberty of hosting their online stores.
What this means is that, unlike other platforms, you do not need to sign up for an external web hosting provider.
Shopify will help you achieve that using an optimized server structure that is aimed at creating a well presented – commerce store.
It operates on a system called a cloud hosting e-commerce platform that offers a ready-made solution to allow easy setup of your online stores.
Who is Shopify Designed for?
Shopify is best suited for business and individuals who want to set up an e-commerce or online store. It stands out mainly due to its multi-purpose nature of operating.
It is fast and straightforward to set up primarily for entrepreneurs who have just started online stores.
Shopify offers an attractive, affordable, responsive and easy to use platform for small-scale business that has just started growing and helps them minimise their costs.
Shopify gives lots of Template designs and professionally designed themes so that you won't need to hire anyone to help you set up the store. You can set up, modify, manage and launch your online store yourself and still allow your store to maintain a corporate look.
Shopify offers you an offline solution, for example, Shopify allows you to use its platform as a brick and mortar e-commerce store, or it allows you to integrate it with an already setup system.
Shopify gives you the opportunity of setting up an online store that is hosted by Shopify itself. This will make you less worried about the technical part of running and maintaining your online store because Shopify offers you a well secured and updated server.
It allows you to recover the abandoned carts automatically.
Shopify enables you to create an outstanding marketing feature and while you still possess your desired payment gateway.
Finally, on Shopify you get an around the clock customer support, regardless of the number of your products, the number of your customers or the volume of your sales.
However, Shopify offers different types of plans and features allowing the beginners to grow and get the best out of the platform it enables its users to get the best possible experience in online business, helps them to minimize their starting up costs while also offering them well beneficial and useful features.
This leads us to the most important part of the Shopify Review:
What is the pricing Packages ?
First of all, Shopify gives a beginner the liberty of having a 14 days trial for free; it allows you to test-run its embedded features, test runs the working model of the platform before choosing any of its plans.
Before listing the available plans, it is worth no know that your trial mode can be cancelled at any point in time within the 14 days period.
Choosing A Suitable Plan
Before launching your online stores, set out your requirements and make a list of the relevant and required information, having done this, you can then proceed to choose a suitable plan for your desired store. The pricing includes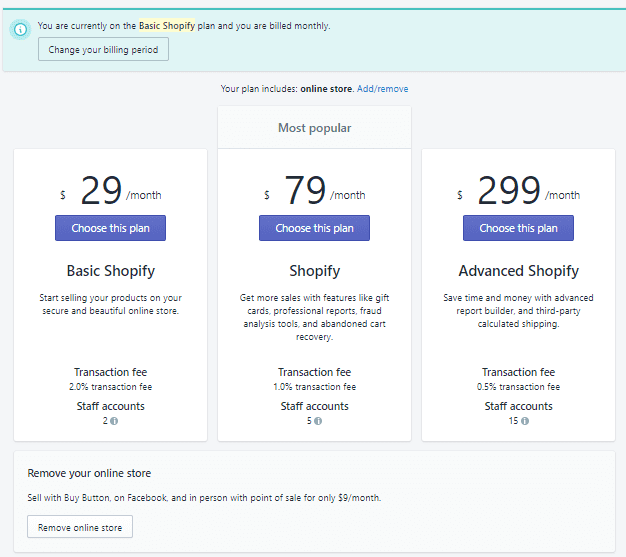 1. Shopify lite (9$ per month) – This package allows you to sell your products on social media or an existing website.
2. Basic Shopify Plan ($29 per month) – This is an excellent package for entrepreneurs who want to launch a new online store, it is equipped with the necessary tools and features, it offers online credit card rates and in-person credit card service while it also handles basic payment methods and offer a secured backend of your online store.
It gives you the freedom of hooking up a custom domain name to your online store (either the one you bought on Shopify or the one that is registered through a third-party).
Some of the distinct features of the $29 per month plan includes :
An online store module from Shopify
It enables the creation of two staff accounts
It allows you to use a Point Of Sale (POS) system which allows offline transactions.
It allows you to display an unlimited number of products.
It gives you access to the website and blogs model. E.g., the ability to sell directly on Facebook and Pinterest platform through the (Facebook and Pinterest module).
You will have access to the Shopify Buy Button – which allows you to add a custom 'buy button' on the product displayed on your online store and a manual order creation button.
It also offers you with unlimited file storage, a comprehensive fraud analysis, and a 24/7 customer support service.
You should also be aware that there is a Shopify transaction fee, though it's not part of the pricing system. It is mainly for those who do not use the Shopify payment method, they are charged with a subscription transaction fee on all order that is processed on their store.
You can learn more about Shopify transaction fees by visiting the Shopify website.
3. The Shopify plan – $79 per month – This plan enables you to use online credit cards; also, it gives access to 5 staff accounts, retrieves abandoned carts, gives you access to professional reports and also allows you to offer "Gift card."
Note: The Shopify credit card incurs additional fees that will be billed in your selected currency. Other expenses such as monthly subscription fees, will be paid in US dollars subject to tax and other charges.
Security Features
Without a doubt, many e-commerce platforms promote themselves as an "easy to use" platform. Meanwhile, only a few of them live to expectation.
A platform that is easy to use should create a standard, friendly and interactive model right from the get-go to the launching and maintenance of the store without any glitch or complexities.
That is exactly how the Shopify e-commerce platform is. It does not require you to be a technology expert before you can set up your online store, it allows you to launch your e-shop within a short time.
The main qualities that make Shopify an easy-to-use platform different from other brands of e-commerce platforms are that it has a powerful feature set which either has a built-in tool or allows you to install your own tool with an app.
Shopify has a very flexible starter plan, with the Shopify Lite at $9 monthly; which is very affordable for new sellers. And the most fantastic part of this plan is that you can add any amount of products you like with total ease.
However, the only setback is that Shopify Lite doesn't give you the ability to create a customized standalone store, but you can do the following.
You can manage your inventory and as well use Shopify services in a physical business place
You can use sell with Shopify on predesigned website or blog, with the help of the Buy Botton.
You can market and sell your products on Facebook pages
You can easily track your orders and as well know when these products are delivered with the help of this amazing tool.
It was just effectively as the popular global payment gateway PayPal's "Buy Now" button; you can use the button to display all the types of products you have on the store on other websites.
So if you have an already existing business website and want to add a feature Shopify features to spice up your store, you can easily integrate it into the Shopify platform and still keep track of your business.
However, if you need a fully-functional standalone store, the Basic Shopify plan at $29 monthly, the Shopify plan at $79 monthly and as well as the Advanced Shopify plan at $299 monthly will give you all the needed access to host, customize and create your store to taste into a standalone online store.
Hence, if you have an already established mega business and want access all the advanced comfort and security features a significant business needs, then the Shopify plus plan is a choice you have to try out. You will be given access to advanced security and APIs, as well as a well-organized store.
Major differences between Shopify plans
The following are the main differences between Shopify plans to aid in your decision of which plan to choose:
You can only access real-time carrier shipping services on the Advanced Shopify plan.
You can get a professional report on your store functionality from Shopify plan and above
In a business where you work with other members as a team, you are allowed two staff accounts on the Basic Shopify plan, five on the 'Shopify' plan and 15 on the 'Advanced Shopify' plan. So you can grant access to information to any staff as you deem fit.
Advanced and Shopify plus Plans gives you access to advanced reporting tools, which allows you to create custom reports.
You can get Gift cards if you purchase from the Shopify plan and above
Only users on the Shopify plan and above can be allowed to use the Shopify POS (Point of sale) Features.
For users who want to pay in bulk, i.e., for annual or biannual, Shopify gives a 10% discount on every yearly plan and a 20% discount on biennial plans. So you can save some money and pay for an annual or biannual plan today.
However, the pricing system of Shopify is consistent as compared to other competitions like Volusion and Bigcommerce, which do not offer relatively expensive plans like the Lite plan, though you don't get a wholly standalone online store; but you get access to all the features at a very affordable price.
The fact that you can only get benefits like professional reporting and gift cards for only plans above the entry-level plans is one con to note. You can only access these features if you pay for a more expensive plan.
Online Store building platforms like Bigcommeerce give a more flexible entry-level approach, with access to many features that can help set up your store well.
Let's take a look at how Shopify lets you accept payments for your products; you obviously would see the benefits of using this platform at this point of the review.
Is Shopify indeed a simple and secure platform to use?
Without a doubt, many e-commerce platforms promote themselves as an "easy to use" platform. Meanwhile, only a few of them live to expectation.
A platform that is easy to use should create a standard, friendly and interactive model right from the get-go to the launching and maintenance of the store without any glitch or complexities.
That is exactly how the Shopify e-commerce platform is. It does not require you to be a technology expert before you can set up your online store, it allows you to launch your e-shop within a short time.
The main qualities that make Shopify an easy-to-use platform different from other brands of e-commerce platforms are that it has a powerful feature set which either has a built-in tool or allows you to install your own tool with an app.
Other quality features are;
It gives you a working e-commerce shop that does not require you to start building your store piece by piece, instead, all you have to do is to modify the already established content, fine-tune it to suit your needs and in case you need an external tool, it permits the installation of tools that are not built on the platform.
It gives you ready-made user templates that are automatically responsive, thereby granting your store a proper look of maximum optimization for mobile users, tablets, and desktop users.

It gives you a flexible and complete control panel and dashboards that help you to manage your task processes your orders and manages your inventory.
Shopify handles your online transactions for you; you do not need to bother yourself with credit card data, it even allows you to sell your products to your social media customers such as Facebook customers, Pinterest customers, and others.
It provides you with a specific package known as Shopify Partners, this package grants you access to test run or play around with a new website without you having to use up the free trials all the time.
Just like a sandbox user interface, which is an enticing package for those who have a high volume of clients and need to present a website build-up before they can land a job.
Shopify also allows you to install new themes, customize your website and create an easy transition from any Shopify partners website to an already launched site.
It also provides you with a commission on every client you refer on board to Shopify.
It allows you to handle your product catalogs, sell your products in a retail setting, sell your products offline taking advantage of both the hardware and software models.
The software model makes you use a mobile phone or iPad application which allows selling your products easier in a retail setting or buying a hardware component such as a cash register, receipt printer, or even a barcode device from the store.
The above features are easy to use, and it does not require any technical skills or support. Having gone through the elements, now let's go through the in-depth review of Shopify.
How Does Shopify Work?

2006 saw the birth of Shopify led by Tobias Luke as the CEO alongside Scott Lake and Daniel Weinand.
Right from the inception, Shopify has grown leaps and bounds from a small player to be among the leading if not the leading e-commerce solutions in the league of Magento, Volusion, BigCommerce, and WooCommerce.
As of December 2019, Shopify had over a million retailers on its wings. No doubt, there's a reason why Shopify has grown this famous, holding its position in the market place for over a decade.
Maybe its primary advantage is that Shopify provides a balance between functionality and ease of use. On the one hand, beginner users who've never operated e-commerce before have an incredibly friendly platform in Shopify.
And on the other, it has all the features required by a store owner. Besides, you need not web or coding classes.
Advanced users have access to CSS and HTML files and options to upgrade Shopify perks to gain robust features in tandem with the store's expansion.
Generally, Shopify, beautifully constructed, awash with modern and stylish themes, only minimal if that's what cut for you.
To burst your curiosity as regards Shopify's legitimacy, you stand guided that notable brands like Tesla Motors, Encyclopedia Britannica, Amnesty International, General Electric, GitHub, Foo Fighters, and many more use Shopify.
Let's assume you have signed up on Shopify (filling your name, email address, setting up your password, etc.) you go through the Shopify wizard which helps you to select and set up the desired look of your e-commerce store.
There are a few things that you are required to fill out. You will be asked about the products and services you want to render.
You ought to provide accurate answers as that is a prerequisite towards the success of your online shop, so make sure you do not just select anything at random.
After that, there are a couple of options that you are required to select with the first of the choice being a "create an online store" button. Of which you are required to click the icon as that is your purpose for using Shopify.

Pros of Shopify
You do not need technical skills to use Shopify.
Here you'll find anything; digital products, shippable goods, services, etc.
Shopify has an excellent selection of modern store themes, beautifully optimized to the max in sales.
If selling merchandise on platforms like Instagram, Pinterest, Facebook is your thing, then Shopify's Lite Plan @ $9/month lets you do just that.
There're multiple outlets to sell products, not just online. Shopify allows the integration of your brick-and-mortar storefront with its system called POS.
You do not need to self-host, and that means server-related issues or maintenance are out of the window.
There's 24/7/365 customer care.
With mobile apps for both Android and IOS, connote management of the store is possible on the go.
Using Shopify's payment processing module results in zero transaction fees.
There're over 2k apps on the Shopify App Store. It opens the flood-gates to integrate with infinite third-party services, thus adding new functionalities.
Shopify lets you scale up your store quickly.
It offers a 14-day trial.
Shopify does well with drop shipping.
It has a fantastic inventory module that works just perfectly with shippable goods.
Cons of Shopify
Features that let clients rate and leave reviews get paid for through extensions.
Since Shopify exclusively owns hosting servers, it means you do not exercise absolute control over your store; thus, at any given time, your store can get pulled down. Thankfully, that's unlikely unless you are in breach of a license agreement.
Professional reporting is supported only in Shopify's higher-tier perks.
Failure to use Shopify's payment module attracts additional fees over and above the standard credit card payment rates.
Shopify's blogging module has an interface that is not user-friendly, especially if you intend to publish blog posts from time to time.
Shopify Payment Gateways and Transaction Fees
On Shopify, you can add your credit card details in two ways:
The first option is to use the Shopify payment system. It is the easiest to use, though not available in all the countries. Do transaction fees applies if you use this system of payment, though you might still have to deal with the credit card rate.
For customers in the United States, you are expected to pay at least 2.4% to 2.9% on all credit card transaction, and an additional 30 cents on some plans. Countries like the United Kingdom have lower credit card rates of about 1.5% to 2.2%.
Your credit card rate depends on the plan you operate on, with the lowest transaction fees available for Advanced Plan users.
Secondly, you can choose to use a third-party payment platform to process your transactions. Shopify allows you the choice of over 100 payment gateways to choose from, which is the edge it has over its competitions.
To use this process, you need to open an "Account" with the Payment platform, and you might have to pay a particular percentage of maybe a transaction fee, monthly fee or both in some cases.
Using a third-party payment gateway will attract a transaction fee of between 0.5% and 2% depending on your plan.
However, if you would take the choice of Shopify Payment or third-party payment gateway, with respect to cost, depends on which payment gateway you intend to work with and as well your plan on Shopify.
One thing worth noting about Shopify Payments is that it is available only for users based in certain countries. These are the United Kingdom, Australia, Japan, Canada, Germany, New Zealand, Singapore, China, Ireland, Spain, and the United States.
What options do you have while working with different variants of Products?
However, for sellers outside these countries, you would need to take the alternative of payment gateways which would incur transaction fees. But one fantastic thing is that you need not bother about the best payment gateway that best suits your location, as the platform has over 100 options to choose from.
So far, you can see the fantastic features this great piece holds, next on this Shopify review would be how to import and export data on the platform.
Importing Data into Shopify
Just like most other online store builder platforms, Shopify allows you to add information from Comma Separated Value (CSV) files. It is effortless to use, especially if you want to upload a lot of products into your store, or to transfer information into another e-commerce store or platform.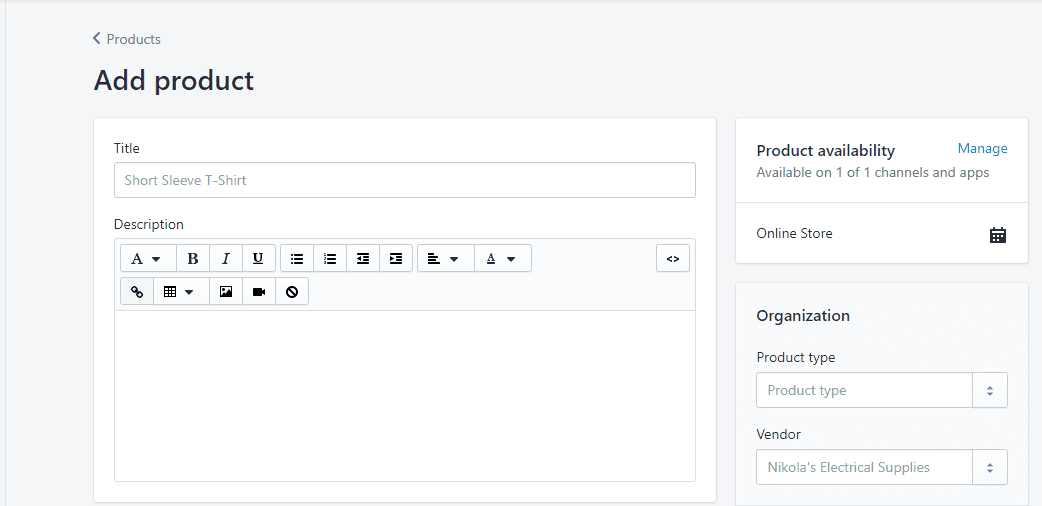 For Shopify Plus customers, you can import products into your store with the Transport app or the command-line tool.
If you want to import posts from WordPress or other blogging platforms like Tumblr, you can either: use Shopify API, use the copy and paste text method or third-party apps like Blogfeeder.
Exporting Data from Shopify
Concerning exporting data, you can as well export your product data to CSV file; This is a straightforward method. But for more convenience in exporting blog pages and static pages, you can use Shopify's API transfer them from Shopify, or maybe try copy and paste though it is time-wasting.
As a dropshipper, you have up to 100 different variants of a particular product though you can only involve three product options as a choice.
Let's say, for instance. You sell bags, Shopify allows your store to hold up to a 100 different variant of a single suitcase, each would have three different options; these options include Size, color, and style.
Shopify's strict rules of just three products options you would resort to workaround if you need to facilitate other client requirements, which most times result in extra payment to these third-party apps.
Another option is to include 'line item property' code to your store to cover more product options, but you'll need to know to code and as well be comfortable with editing code to achieve the desired result.
So if you are dropshipping products that don't require a lot of variants and product options, then Shopify is an option you need to try. And I would recommend that Shopify allows more flexible product options feature like its competition Bigcommerce, so users can add as much product variants as they see fit for their online stores.
How to use Product Category
This Shopify review won't be complete if you do not understand how the platform's product category works; which is one of the most amazing functionalities. Shopify has a superb Collections than even most other online store builders.
The Shopify platform allows you to add products to your store collections manually, so if you have a vast number of products. Or you can choose to automatically add these products to your right collection with "Automated collections."
This method would save you a lot of stress and time, especially when you adding a lot of products to your online store. You only need to consistently tag your products help the features redirect the products to the specific collection; the automation process only works for products with consistent name tag convention.
Shopify themes
Shopify grants you access to ten free themes that can be applied to your online stores. Though each of the themes come in up to three variants, so you have a good number of designs to play around with.
These templates are fantastic and will give a lovely user outlook on all devices. However, you also have a choice of premium themes, that is if you don't find the free ones fascinating enough.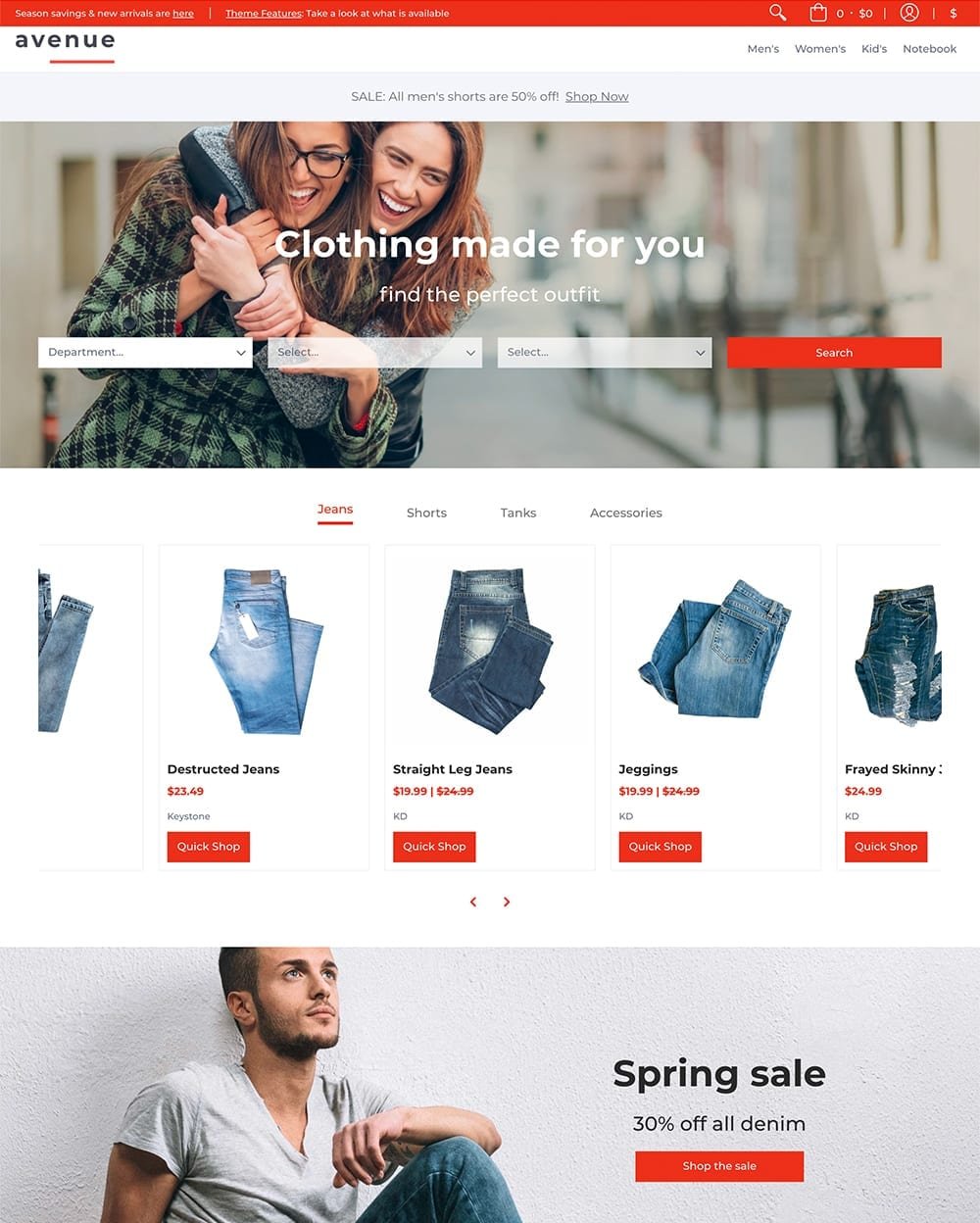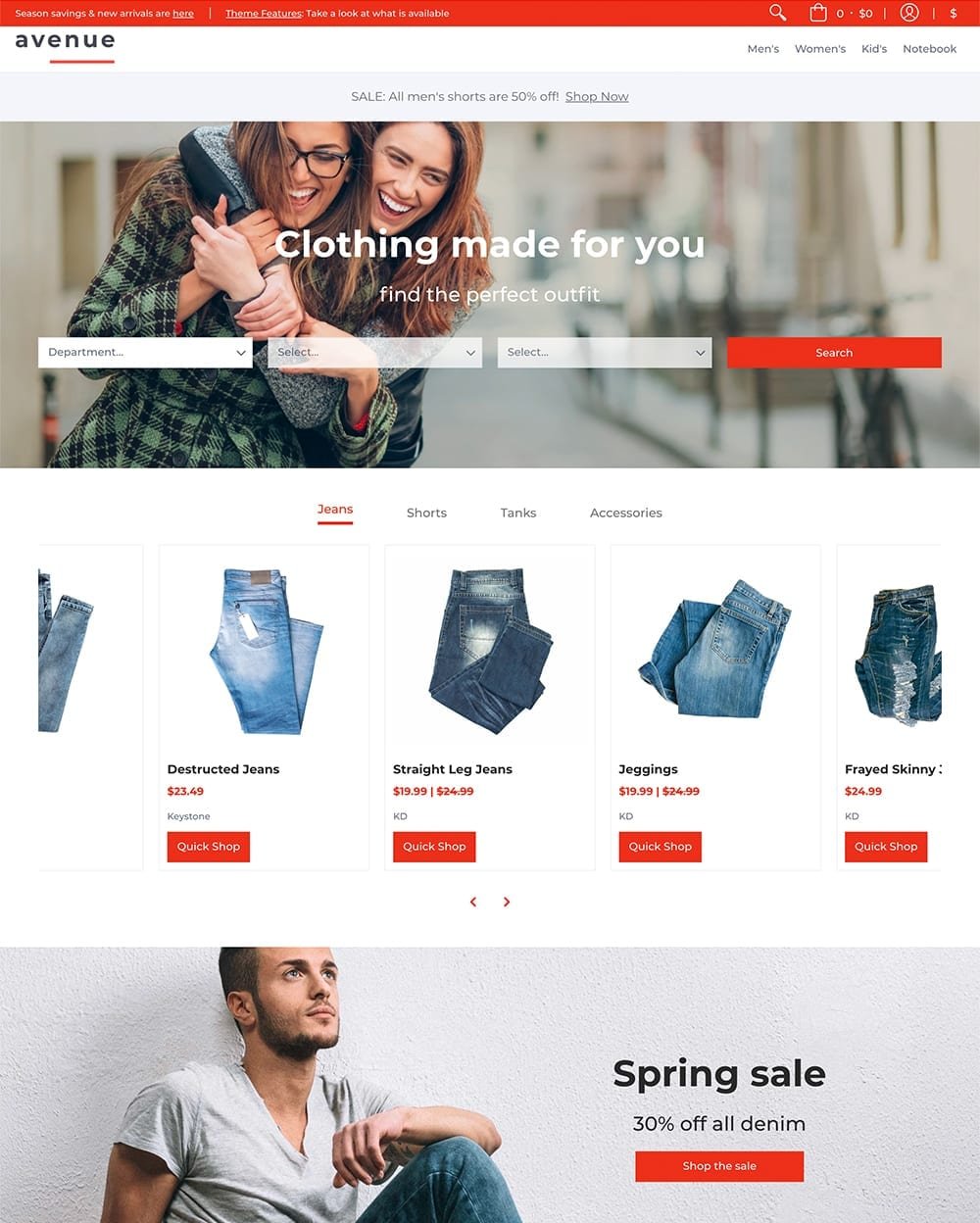 Premium theme prices, ranges from $140 to $180 and there all come in different variants like the free templates too.
All these themes are accessible in the Theme Store; free and paid templates via some amount of filters. You can search for your desired choice by layout style, your industry, and many more. So you can quickly locate the best theme for your store in seconds.
With regards to attractiveness, all the templates are professionally designed to appeal to the eyes, and you obviously would fit the best for your online store with no query.
In some Shopify Premium themes, you can use contemporary features like motion backgrounds, parallax scrolling, and so on, you can get the best e-commerce marketplace theme templates on Shopify.
Apart from offering you the best, there is to design templates, Shopify allows you to create your theme you might want a different thing from what you get. And you can quickly get all the theme codes, with so many support materials to develop a standard Shopify theme of your own, in just a few steps.
However, when deciding on the best theme for your store, it is essential to know if Shopify supports the template or not. Though Shopify supports all the free themes, it is vital to contact a developer to help in the customization and installation of your premium templates.
Basic features of Shopify
We would look into the various functions in Shopify according to the plans:
These features are available to users on the Basic Shopify plan ($29) and above
Wide range of themes (free and paid)
Ability to print labels for product shipping
Discounts on Courier Services (Shipping fees, Depends on the country)
Content Management (CMS) Feature
Search Engine Optimisation (SEO)Features
Discount or Coupon codes on some services
Credit card processing through Shopify Payments as well as other third-party payment gateways
Ability to sell digital and physical products, in categories of your choice and with minimal shipping rates
Integration with Paypal
Blogging Features
Users can abandon Cart if they wish.
Ability to Import and export customer/product data
You can create multiple staff accounts (the number of accounts you can create depends on the plan you're on).
You can easily edit your store's HTML and CSS
And most importantly the 'buy now button that helps you to sell goods on another blog or site
Access to a point-of-sale (POS) app
Ability to integrate your store with 100+ payment gateways
Shopify Plan gives you access to the following:
Gift cards
Professional reports
The complete point of sale Feature
Users on the 'Advanced Shopify' plan, on top of all the above you get the following additional functionalities:
Real-time carrier shipping
Advanced report building
Furthermore, Shopify Plus feature is one thing that makes it very distinct: A mega-business plan that gives you access to the following amazing features.
Advanced security features.
Guaranteed server uptime
Users on this plan get a VVIP type of support via a dedicated 'Merchant Success Manager.'
API support
Special SSL / IP address
Let us take a good look at some Shopify delicate parts that you might want to try out.
POS) F
It is one of the most compelling features offered by Shopify, and it deserves a special notation. The 'point of sale' (POS) options and hardware make Shopify stand out from its competitors.
This POS hardware lets you use Shopify to sell, both online and to customers in a specific location; so long as you have an Android or iOS phone. There are so many hardware is available to purchase ( receipt printers, barcode readers, tills, etc.) to help you do this.
There are several applications for Shopify's point-of-sale tools: For example, it allows you to sell in a pop-up shop from a market stall at an event or even in a permanently located retail outlet. And you are yet keeping your inventory and stock count automatically synchronized.
Note that however, you need to be on the 'Shopify' plan or higher to get the most out of the point of sale (POS) Services. Why do I say this? Even although the 'Lite' and 'Basic' plans also let you sell in person using a card reader, they do have to:
Facilitate staff PINs
Register shifts
Shopify Interface compatibility
Shopify is straightforward to use, and it has a brilliant and professional outlook. The platform allows you to set up and manage a variety of what it calls "sales channels."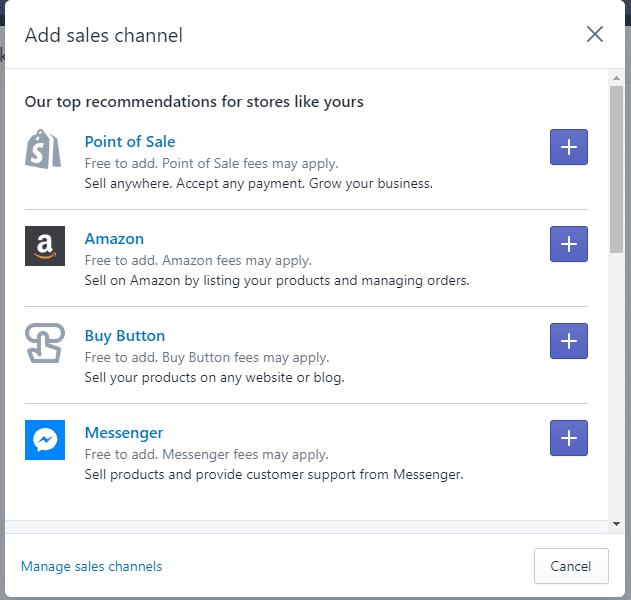 The major ones include the following:
An online store: This is the platform itself.
Facebook : a section on your Facebook page where your clients can browse and buy your products
Messenger : With this feature, you can communicate with your customers directly to know what they want.
Buy Button: You can add difference eCommerce features on your store from any website or blog.
Amazon : It allows you to manage product listings from Amazon available in your location.
eBay : You can list your products on eBay through Shopify.
And many more channels available, including Buzzfeed and Instagram. Finally, it is very straightforward to use all of these sales channels and the Shopify interface.
But there's are some other things worth mentioning like:
Uploading Product images (Online Store channel)
Let's say upload images on Shopify that doesn't have a consistent aspect ratio; Shopify does not crop them automatically. This means that your product catalogs will include a series of differently-shaped images; which is not suitable for online store design.
Alternatively, you can take the choice of using photo editing software to make sure you have a consistent image ratio for all your store product images. But except you do this before uploading your pictures, it might be difficult; especially if you have a large number of products to upload.
Selling on Facebook with Shopify
This part of the review is worth flagging up so that you would understand that the integration of Shopify on Facebook might not be what everyone wants.
However, it is relatively easy to use the; Facebook Channel feature to drive enough traffic to your Facebook page's shop section.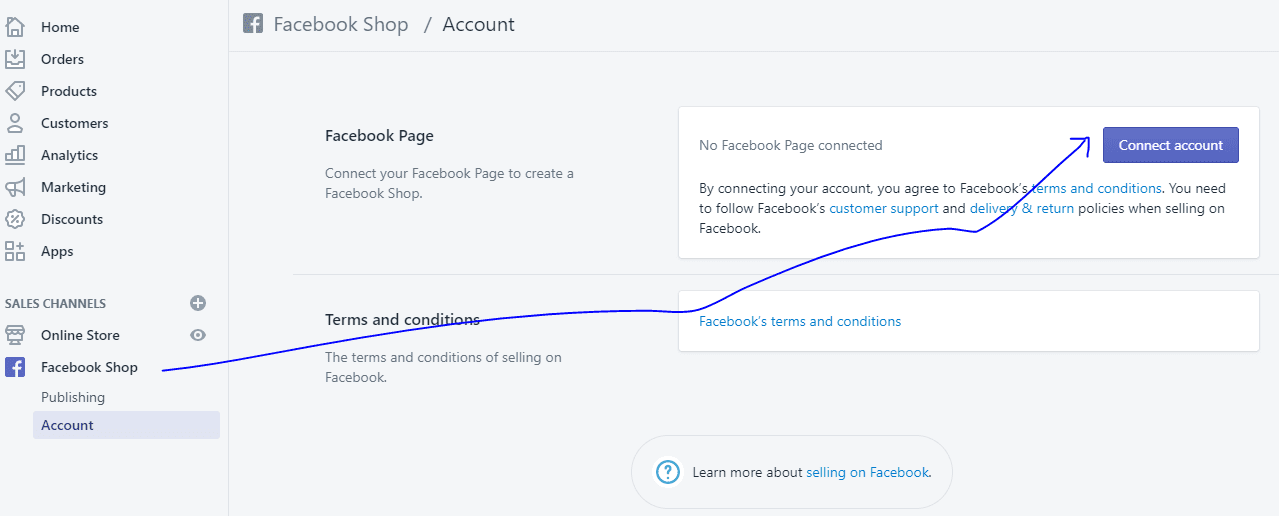 Though the only disadvantage is that your customers will only be able to buy only one product from your store at a given time, so you do not have an ADD TO CART'option.
It might be convenient for some merchants, but would be a severe issue to sellers with customers who buy in bulk, and might find it very hard to cope.
Also, you are not allowed to sell digital products through your Facebook feature too. It is only possible to sell products that can be shipped through your Facebook Channel.
It is just vital to note those points before intending to use Shopify as an option to sell on Facebook. And until Shopify fixes this problem, sellers would only be left with the choice of telling their Facebook followers to click a button that will redirect them to their store.
With this part of the review addressed, Shopify's user interface is superb, with well-designed template options.
And it is elementary to understand how to go around it. Below is an overview of the vlog-style video to help you through:
How to recover abandoned Cart Orders in Shopify
This feature is designed to help you sell products to people who might have gone far into the transaction process and finally change their mind.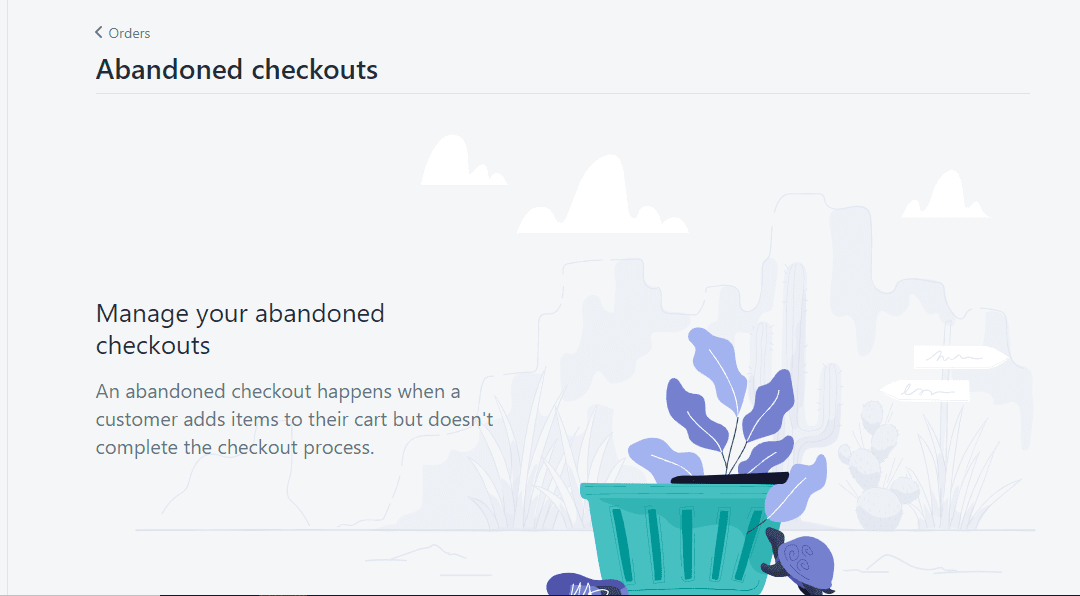 The Abandon cart feature is only available for users on the Shopify plan or higher, but Shopify has recently introduced it on all plans.
What this implies is that you can access the abandoned cart saver features at a lower price point than its key competitors Bigcommerce and Squarespace.
Whereas with Shopify you can get the full functionality for just $9, the Bigcommerce and Squarespace only offer it on $79.95 and $46 monthly plans respectively.
The founder of Shopify's competition Bigcommerce, claims that using abandoned cart recovery tools can boost your revenue by up to 15%. Which if true, is undoubtedly very significant.
As regards how to perform an abandon cart recovery in Shopify, you can do either of the following:
You can view a list of people who've abandoned their carts and send them an email manually
You can tell Shopify to automatically send an email to your store visitors who abandoned their Cart together with alike to your store where they left the Cart. This last option is, however, the best as it helps sellers save time and the energy of randomly following them up.
You can tell Shopify to send your abandoned cart email at least10 hours after your site visitors abandons their Cart. This is because, according to Shopify, it is the time interval to generate the best conversion. And also you can send an email reminder to them from an hour to 24hrs after they have abandoned the Cart.
Custom fields and file uploads
Some merchants will want this feature to allow a user to provide some text at the point of purchase (For instance, jewelers would need dedication copy and so on).
Shopify will help you pick this information, but it is almost like a somewhat manual process: You would have to create a 'line item property' by manually adding HTML code to your design template. Another option is to use a paid app to do this job, which is not advisable.
It's the same case with file uploads: if you want to give your customers the chance to upload a file (for instance, an image to be used on a Bag or t-shirt), you're going to have to get a programmer to code or, yes, pay for an app that will do upload it.
Shopify SEO functionalities
Shopify's SEO functionality is generally fantastic, as compared to other hosted store-building platforms; especially Squarespace. The most important things to look out for when it comes to on-page SEO as regards Shopify is the ability to easily manage activities like page titles, meta descriptions, and adding heading very effectively.

You can easily add 301 redirects easily as well, without even fixing it; Shopify redirects you to it automatically if you can create your page's URL. It could do better with changing image file names for SEO reasons, which you would have to do it and upload again manually.
Shopify App Store
In addition to the basic features of Shopify, you also get and app store. It is a unit where you can get apps for your store. It could be paid apps, or free as the case may be.
There are a right amount of apps available on the app store, more than you can get in some other platforms that offer similar services.
These apps are designed to either talk to other apps or add some features or functionality to your online store. A good example is Zendesk or Xero.
This massive number of apps is both one of the most persuasive arguments for using Shopify over its rivals, but also possibly a case against.
Additionally, it means that you have a massive range of options, not only when it comes to adding functionality. But also to your store, when it comes to integrating it with other tools and platforms too.
On the downside, there are a lot of situations when getting the functionality you need.
For Instance, AMP format, more product options or custom fields, usually needs you to install a paid app.
Bigcommerce and Squarespace, being the most glaring competitions, tend to include more features like this out of the box. This means that you don't end up paying so much on apps but equally can't integrate with as many third-party tools so easily.
The following are some Shopify apps available on the App Store:
Data capture apps
Abandoned cart saver apps: It works more efficiently than the out-of-the-box cart saver.
Advanced reporting apps.
Accounting apps
Hence, if the 'out-of-the-box' functionality does not satisfy your taste of choice, you might still consider checking on the app store to see if any other add-on would be of use to you.
It is possible to integrate third-party apps too, these apps include, Zendesk, Freshbooks, Xero, as well as Campaign Monitor. It is essential to concentrate a bit on an app with official integration like MailChimp.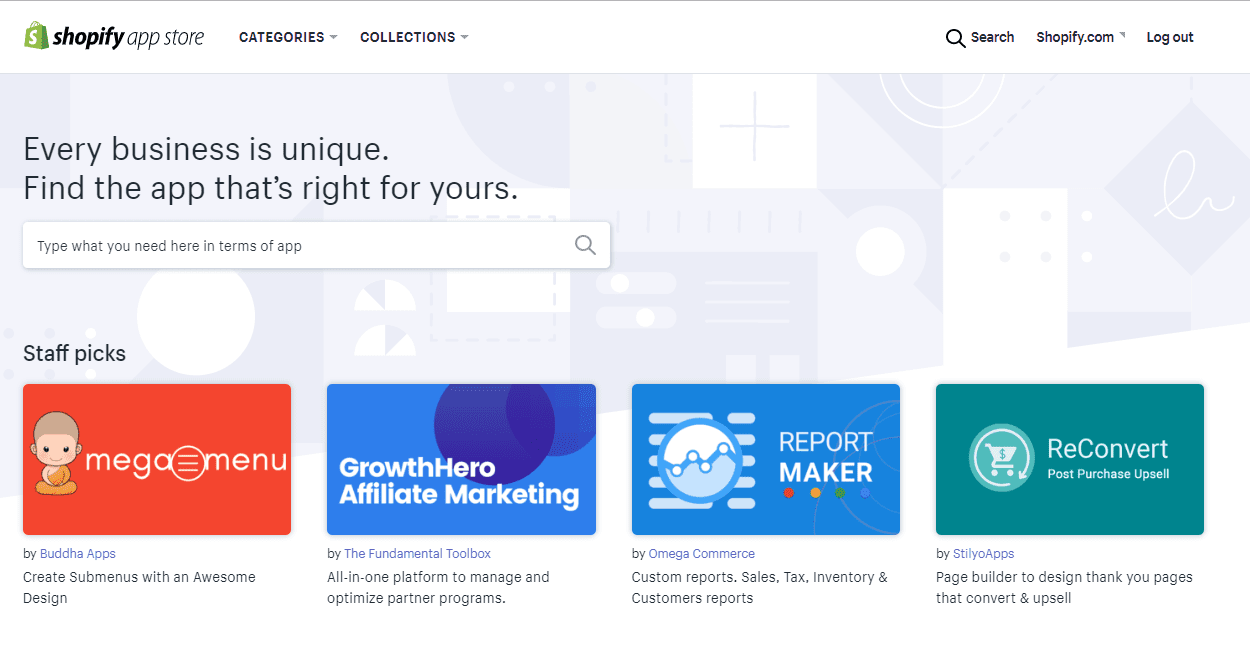 Unfortunately, Shopify-MailChimp integration was withdrawn on the App store, due to some Privacy and Data protection issues. But thanks to the platform, you can still manually use MailChimp with your Shopify.
You can choose to use another email marketing platform. You can still get unusual solutions like Campaign Monitor or Getresponse to help with your store e-commerce functions.
Dropshipping with Shopify
Many intending users of Shopify will be wondering how it facilitates drop shipping, a fulfillment method where you don't keep what you're selling in stock.
You need to place the order, then forward your order to a supplier, and they deliver the goods to your client. Your online store serves as an intermediate between the supplier and your customers.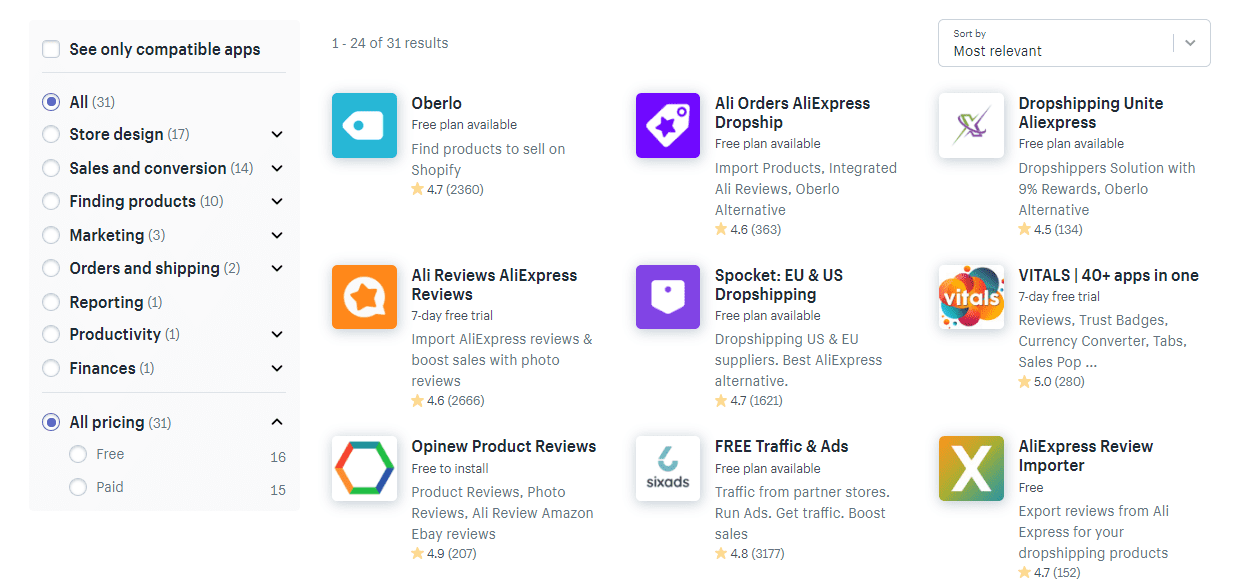 The good news is that Shopify gives an extensive range of dropshipping apps, that allows you to source and sell a variety of suppliers' goods online at a very efficient pace.
Shopify is almost the most viable option when you talk of compatibility with dropshipping.
How to use VAT MOSS in Shopify
One of the essential parts of Shopify which is not often picked up on in most Shopify reviews is the way it caters exceptionally well for VAT MOSS and uses its entire title, "VAT Mini One Stop Shop."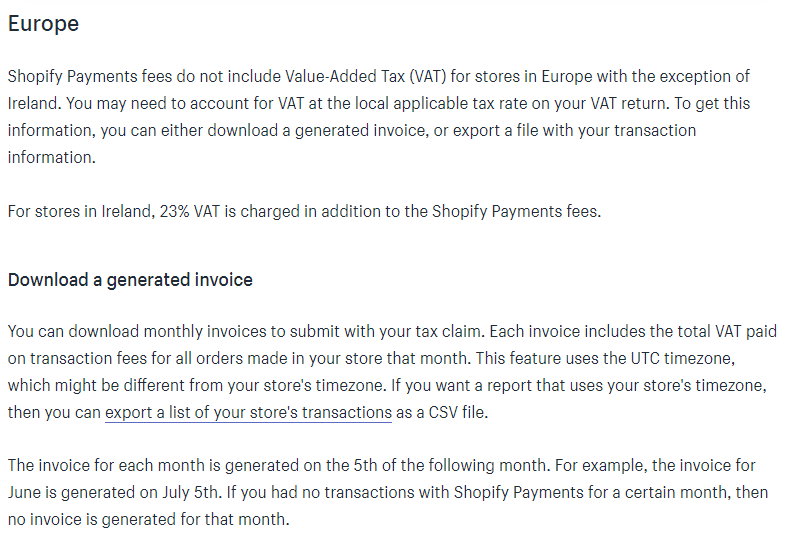 VAT MOSS is a requirement that sellers of digital products to consumers in the EU, add to value-added tax (VAT) on every digital product concerning their specific countries. This implies that a special VAT rate would apply for a country like Ireland, another for the UK and many more.



Bigcommerce and Squarespace are Shopify's most significant competitions, and they do not calculate the appropriate rate automatically as the platform does.
So you don't have to fix the tax rules manually. It is an essential feature in Shopify, and it is a Unique Selling Point (USP) on the platform; when you talk of digital products.
Selling digital products with Shopify.
Selling a digital product on Shopify is very easy and very achievable, but it takes a gradual process. Most importantly, because of how the platform is structured.
The good news is that this tool is free and very easy to use. And you can configure it to work automatically so that a download link is given to the Customer immediately after checkout.
And they also get a link in the email when their order is fulfilled. There is also a choice to vet your sales manually.
Though one present set back is that you can only sell all your digital products, but with a limit of 5GB file size.
However, you can maneuver by using different third-party apps that can host your files or let you use file-sharing services like Dropbox to deliver your data.
Shopify Reporting
With Shopify, you get a very detailed report; the options include the following:
Customer reports: This part of the story contains where your customers come from, the percentage of new vs. returning customers, detailed information on how much they spent and when they last placed an order.
Marketing reports: Includes how you got the customers.
Search data reports: Tells you what products customers looked for in your online store.
Finance reports: Includes your sales, tax reports, etc.
Abandoned cart reports.
However, you can get these features only if you are on the Shopify, Advanced Shopify or Shopify Plus plans respectively. Which makes it unfair for users on lower monthly plans.
Users on plans lower than the three plans mentioned above only get necessary statistic reports on their dashboard.
And this is where Shopify falls short, unlike its competitions which grant complete report access to users on all Shopify plans.
Shopify also gives advanced report builder services; with this, you can customize your reports. But this is available for users on the $299 and above plan.
Blogging in Shopify
Blogging is one of the primary ways to increase traffic to your online store, and fortunately, the platform has a blogging feature built-in. You can create amazing features that will increase your store presence on Search Engine ranking.


Hence, it is not as sophisticated as what you'd find in a WordPress site. For instance, you will not find Yoast-style SEO plugins and content versioning on this blogging tool.
And you can only use tags if you need to categorize posts, as you can only use that method on the blog whereas other competing platforms allows you to categorize posts.
Hence, the built-in blogging functionality in Shopify is generally exceptional and will meet most merchants' requirements perfectly well. You can work as well with a little configuration
connect to a handy comment tool, "Disqus."
It had been stated earlier in this review, that exporting Shopify blog posts is not straightforward.
Shopify's recommendation on how to do this is to manually copy and paste your blog content into a new location.
It is more convenient to use the API option, as it proves to be more sophisticated.
Though not all the sellers might like the choice, especially those with little or no blogging skills and want to move their content to another site.
Mobile Device store management of Shopify
You can manage your Shopify store on your phone through two apps, and those are: 'Shopify' and 'Shopify Point of Sale.'
The 'Shopify' app allows you to view and fulfill orders, add / edit products, view reports, also communicate with your staffs or team through a tab the 'timeline.'
Also 'Shopify Point of Sale' app works better for sellers who want to use the Shopify point of sale services. It can be used to track inventory, make card payments, as well as sent receipts to your clients and many more.
The 'Shopify' iOS app
Additionally, the app store also has a new app called 'Ping,' It makes sharing product details on Messenger and answering queries more convenient. Ping will soon have advanced chatting services, as suggested by Shopify. It is only available to iOS user alone at the moment.
Here are other mobile supporting apps available in the management store as well: Entrepreneur articles app, business card designer, and logo maker. But only sellers using Android devices can access the first two apps.
Of all the apps discussed in this review, the Shopify app is used the most by the majority of the available merchants and might thoroughly saturate the market in no distant time.
How to use Accelerated Mobile Pages (AMP) in Shopify
The AMP is a Google-backed program that helps facilitate content delivery to mobile devices. It was done by merely stripping out individual bits of code from web pages.
It is becoming the most widely used recently because it helps increase your site speed and thus increasing visitors' engagement. AMP is also SEO friendly, as stated, Google's algorithm tends to prefer AMP post over other results.
And quite fortunately, Shopify is AMP enabled. And most importantly, not only for contents on a blog but also for product pages as well.
And the good news Shopify is one of the platforms that have this rare integration.
So with AMP, you can fully engage your potential customers with your collection of winning products. And can still see them even if you are on a slow connection.
But 'out-of-the-box' you wouldn't be able to access this feature, except you choose to opt for a paid app to add it to your store.
Though the additional costs may apply, concerning the preferences Google is giving on AMP posts, it is imperative to get an AMP version of your store on Shopify.
Shopify Support
Shopify's support is very comprehensive and responsive. So you can reach the platform's helpdesk on the phone, by email or through live chat at any time of the day.

There are a few facts worth highlighting anyway:
You would need help from developers if you need to code anything on your store, and sometimes you might not get the desired result from the Shopify support service.
So it is better for you to post a query using a forum and pray one of Shopify's developers gets back to you.
It would be better for the platform to offer a more direct approach to contact their developers directly for technical advice. Secondly, it's unclear whether phone support is provided globally: Support phone numbers are only provided for North America, United Kingdom, Australia, and New Zealand exclusively.
Also, if you need to get maybe phone numbers or other relevant contact information from your customers, you would need to browse through the help page for solutions first.
This will annoy some, but it's increasingly standard practice for support desks for web applications, and it's not implemented as severely as some other applications.
Support Page GDPR compliance on Shopify
As regards the latest EU's GDPR law, there are many legal methods that bloggers and site owners would need to apply.
This is to make sure that the privacy of all EU customers' is covered. And defaulters would have to pay severe financial penalties, so it is very imperative to consult a lawyer about before starting one.
It is not only restricted to EU businesses, your site still needs to comply with these rules if you have EU visitors to your site.
The following are the essential GDPR compliance requirement for any Shopify store:
The seller must give proper privacy and cookie notice to the visitors.
Visitors must be fully aware that they are signing to your email list before sending them any information about your business.
Give then room to accept or refuse consent on the use of some non-essential cookies on the website and also log the consent.
You can readily access these three options on Shopify though all it might take you is either time or money to get a very crated notice, as well as a useful data capture form and make them compliant.
However, the platform currently falls short a bit on the fourth requirement; which is cookie consent.
GDPR compliance is crucial, and at such, your cookie banner must allow your visitors to do the following:
Give them prior information on the available cookies so they can use which one to run.
Log their consent to run cookies
Allows users revoke consent at a later stage
For instance, unless there is a banner embedded on your store, that does all the listed features. You would be violating GDPR laws once you use a Google Analytics cookie or run Facebook Ads. So you can not deal with cookie consent issues outside the platform.
You can get some apps in the app store that promises to solve this problem and give the desired features, though some work better than others.
However, you can alternatively choose to use scripts provided by services such as Cookie Pro to add a GDPR-compliant banner to your website.
However, I prefer that this issue was dealt with by Shopify at source and that adequate cookie banner functionality was provided without the users having to resort to third-party software.
Buying Vs. Building an Online Store
Presently, Shopify has integrated a feature that is unique from those in other competing platforms. You can buy a store with total ease. This is called the 'Exchange Marketplace,' and it contains a list of available stores for sale.
The benefit of buying a Shopify store rather than building one is that it removes the stress of starting a store from scratch. And if you buy a well structured online store, it reduces your chance of making an awful investment, concerning money or time.
Shopify carefully vets all the stores available on Exchange Marketplace. And it uses an escrow method to make sure everyone gets a fair share. Escrow is where a third party helps hold payment until the seller, and the buyer agrees at a given term.
It implies that you can buy a Shopify store from the Exchange Marketplace with full confidence. But it is advisable to get legal/financial advice to be for making this choice.
Designing your online store and using your Shopify themes
The design and theme selection also need a review. Given this, Shopify gives you many well sophisticated and contemporary designs that can suit your style of meet your requirements on the outlook of your store; you can do yourself justice by going through them and choose the one you prefer. You can preview the themes on your desktop, mobile and tablets. There are over a hundred of them! So, choose carefully. You can read our post on E-commerce themes and templates.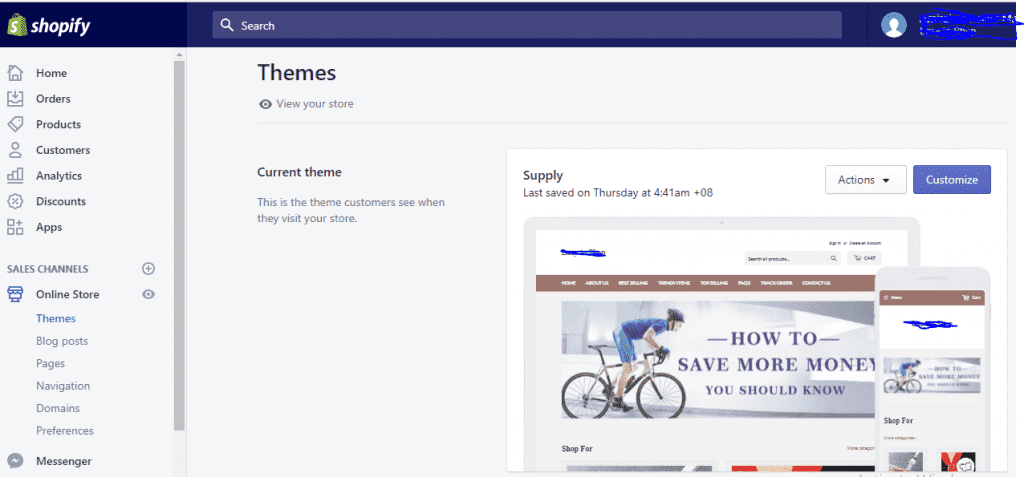 Choosing your design, when you are selecting your design, much focus should not be given to the type of product you want to sell, choose a demo template, it allows you to sell whatever product you wish regardless of the template design you choose. Know that whatever model you decide to use, you can always make amendments, modifications, and tweaking to serve you best and make the store exactly how you want it to be.
You will also have a Shopify customization interface which offers you a wide range of neatly displayed features and characters which allows you to get a glimpse of how each template functions, you can then check it out, and decide on either to choose it or not. All these designs can then be fine-tuned to suit your style.
Few examples of what to tweak and modify on these templates are :
You can decide to change the background colors to your brand or company's color
You can add your business logo
You can add a pre-designed template of what should appear on the homepage of your store
Shopify offers you a ready to use design with various option panel which allows you to modify the existing content or add new ones to suit your needs. It also offers a friendly approach to beginners. It's a straightforward process, less complicated and allows someone with little or no tech design to just sign up and create a quality store design of their own.
Check out these themes:
Steps on How to edit text on a Shopify page
After going through the above process, you might want to write a document on a page; if you are familiar with WordPress, the dashboard looks the same, it has the tabs on the left-hand side for you to access easily.
To edit, go to the pages section of the dashboard, pick the page that you wish to edit, start editing using the editor tool that is easier for you (eg.MS Word, Google docs, etc.) besides, your dashboard can be used to generate discount codes and displaying latest information.
How to add and manage your products on Shopify
In setting up an e-commerce store, one of the essential features to check out is to know how the platform can help you manage your business, inventory and how it could be optimized. As we all know, maintaining a catalog is an important task of every business.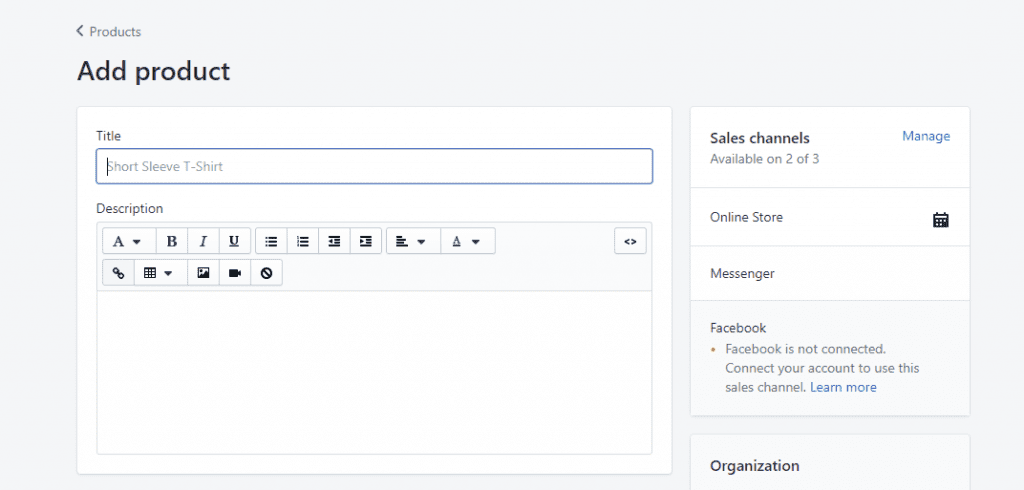 To add a list to your store, go to settings on your store on the left sidebar of the dashboard, you will be taken to the product page where you can set product title and description. All products can be given a distinct barcode.
Transfer, collection and Gift cards can be seen on this page. All features of all the items in your store can be seen here in a well organized and manageable list. Information such as your store's name, address and time zone can also be found here.
Review of online payment on Shopify
You can configure your online payment method for your customers. Go-To settings, then payments. Fundamentally, Shopify accepts payments based on a third party process egg PayPal, Stripe and others, they might charge you a certain amount per transaction.
Although Shopify has launched its own payment process known as Shopify payments (its powered by Stripe). Once you sign up for it, all your transaction fee will be lifted irrespective of your plan.
Shopify allows you to accept credit card payments, Google Checkout, PayPal and others through the various gateway with each having its own transaction fees. You can even set up Bitcoin payments or manual payment such as bank transfers or cash deposit. Research on which of the payment gateway is going to work best for your business .
Does Shopify accept PayPal Processor?
Yes, of course, PayPal is a gateway integrated to Shopify, so as soon as you set up your online store, a PayPal Express Checkout is setup automatically.
How does Shopify Payment work?
Shopify payment is one of the easiest and effective ways to accept online payment. It is integrated with your store, breaking the barrier of using a third-party gateway. With Shopify payment, you will be able to manage your business in one convenient platform. You can also read about International Seller's Guide To Shopify Payments
Advantages of Shopify Payments are:
Your card rate works based on your Shopify plan; if you change your plan, your card rate can also be changed easily.
Once your Shopify store is set up and running, your Shopify payment is automatically set-up.
It allows you to track your payout schedule from the Shopify administration.
It enables you to view the amount you will receive on any order since your payments are linked to the orders.
It allows you to recover any lost sales from chargebacks using the chargeback response icon, set up by Shopify for affected order.
When you choose to use the Shopify payments, you won't be charged for using the Shopify transaction fees as these fees are only applicable to stores which use a third party payment method.
Other necessary settings for your Shopify store
There are important settings that can also be done on your store besides the payment settings. While on the same settings page
Your Shopify store allows you to select if your customers will be demanded to open a user account profile with your store or not.
It enables you to set the workflow of your order, the order checkout language, the refund policy settings, etc.
You can also set up your shipping cost, and it's relative conditions include shipping days, international shipping, etc.
Notifications settings can also be set, both how to contact your customers and the type of message you receive when you get a new order.
Tax settings can also be set to take charge of all taxes that are related to your business
steps in adding and editing your products on Shopify
It is necessary to know how to add or remove a product from your online store on Shopify; the following steps will take you through that.
Select products from the left sidebar of the dashboard, you can set all things relating to your items in your store. It's made easy; a large icon will pop up to help you get going.
Next, you will have a window that enables editing to input all necessary details
That leads us to another critical window "the Title and Description" part, this is the interface where the product that will be displayed to the customers is being described.
Below the title and description, you have to upload your product image; you can drag and drop the image from your desktop to upload.
Then you set up the price of your product.
Make sure you set up your Audience and Visibility, this will enable your product to be available to your customers when your product goes online. After all these you can then click the save button, your product will successfully go online.
If you desire your product to be on the homepage of your store, it can be done through the theme panel, click on Customization Theme, it takes you to a page where you can pick what you want to be displayed on your site's homepage.
You can then choose the product you want to be displayed, two or more products can be added if you so wish.
How to make your Shopify store known to Everyone
After launching your online store, you need to get it unlocked, this can be carried out by clicking the online store section of your dashboard, to unlock it fully, select your desired plans, let's assume that you are getting started with the $29 a month subscription, after processing this, your e-commerce store is now active online.
Frequently Asked Questions on Shopify
Is Shopify The Best E-commerce Platform?
Without a doubt, Shopify is a great platform to start an online business and set up an e-commerce store. It caters to a wide range of services and products. Being the best depends on the requirements of the user and the size of their budget.
What is the best e-commerce platform for small-scale business?
When you have a limited budget, resources, experience, time and money and you wish to have an online store, Shopify is ideally the most important platform. You do not need to be an expert or learn complex codes.
With Shopify, a small business can be setup on an online store, with lots of design template to choose, you can build and launch your online store without seeking for any professional help in no time.
They offer a flexible plan
I want a platform that will give a more significant audience reach, can Shopify offer me that?
With millions of people using Shopify across the world, you will surely have a huge audience, the outreach of your audience depends on the marketing of your website and not the technology used in building the site.
Is there any difference between WordPress and Shopify?
WordPress is a content management system (CMS) that is built to manage web pages that are practically on a website. While Shopify is an e-commerce platform designed to sell your goods and services online and process your payments. It has an embedded plugin that will allow the activities of e-commerce to be managed using a CMS like WordPress.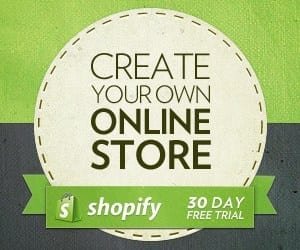 Why using Shopify over a free e-commerce platform?
Although there are lots of free e-commerce platforms, Shopify is well designed for ease and convenience especially made for business owners who have little or no experience knowledge in e-commerce. If you are considering a free e-commerce platform, the following cost will be acquired;
The domain name cost
Cost of web hosting
SSL certification cost
Security updates cost
While you have to pay for these charges on free e-commerce, Shopify allows you to choose an affordable pricing system and still get quality service in return.
Shopify Review: Shopify Features Featured in All Perks

Having run a few tests on a couple of e-commerce platforms, admittedly, Shopify came out tops as having the most thought out feature set. The distinct features address everything one needs to have an online store up and running.
First off, let's look into the general features that all Shopify Plan come with before delving deeper into details of the unique features that come with each pricing plan.

A browse through Shopify reviews or check out the highest-ranked CRM and website builders online; you'll realize that Shopify is feature-loaded. Question beg as to which are the most important ones you should pay attention to?

We've sifted through several Shopify reviews from leading companies online to compile, ran tests on software to compile this list; to highlight the most crucial aspects of Shopify;

Abandoned Cart Recovery:
Currently, the average abandoned cart rate stands at about 69%, that's to say close to 7 in 10 customers leave without buying a thing. Thankfully, Shopify provides email triggers to alleviate abandoned cart recovery.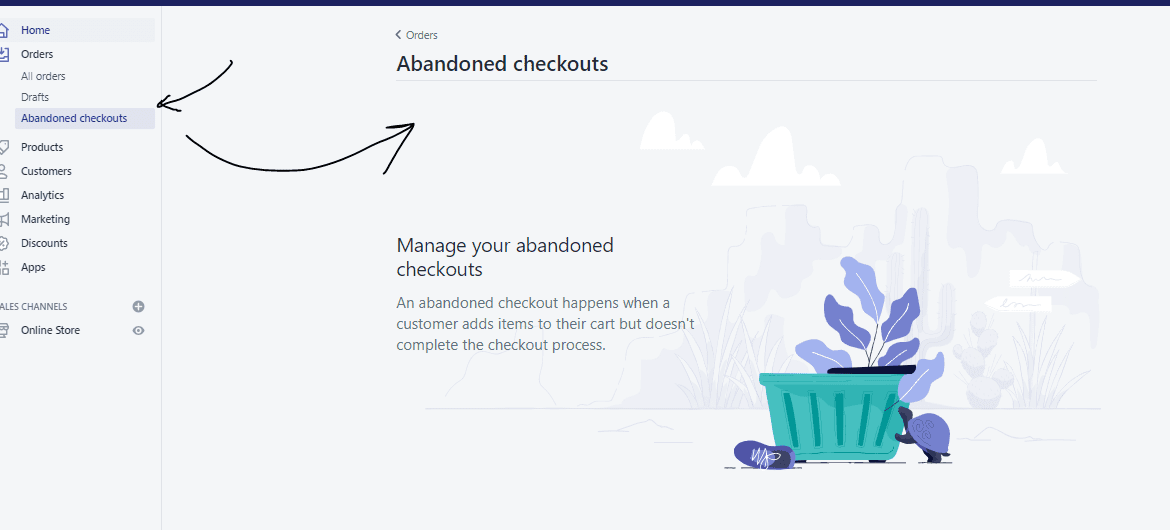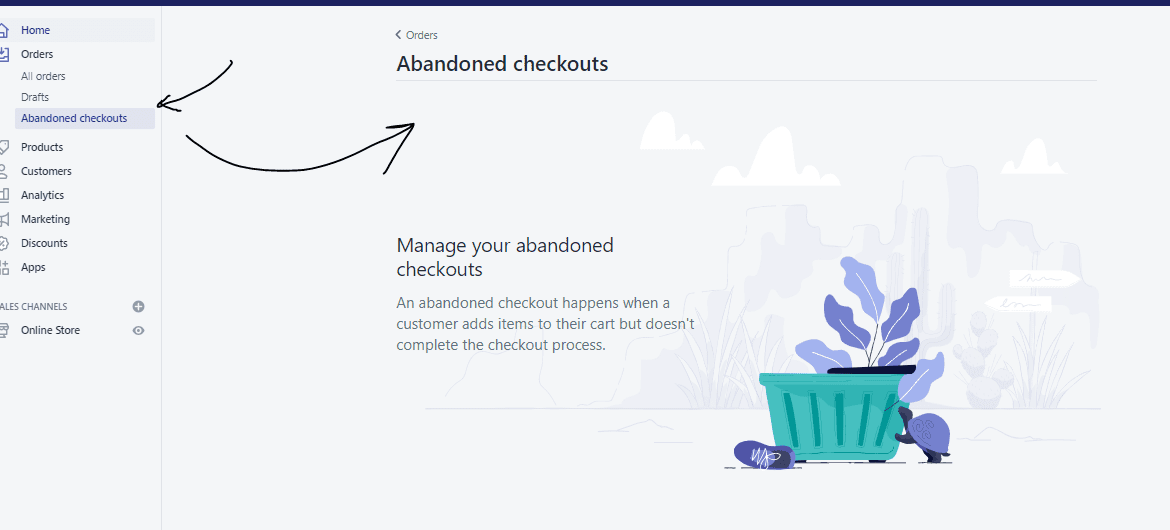 Automated Shipping Calculations:
Are you shipping products to customers across the globe? Worry not about those complex shipping fees-Shopify does it for you. The real-time carrier shipping services computes the exact shipping costs basing it on the client's location and the specific product's weight.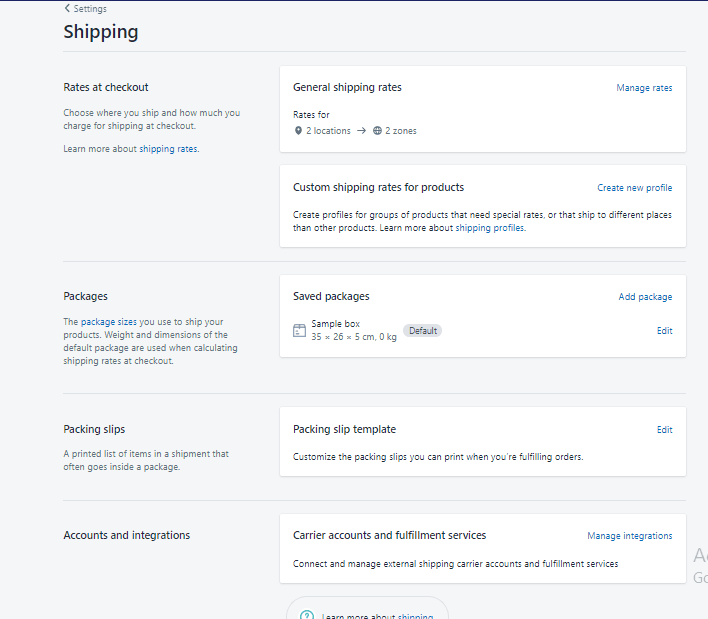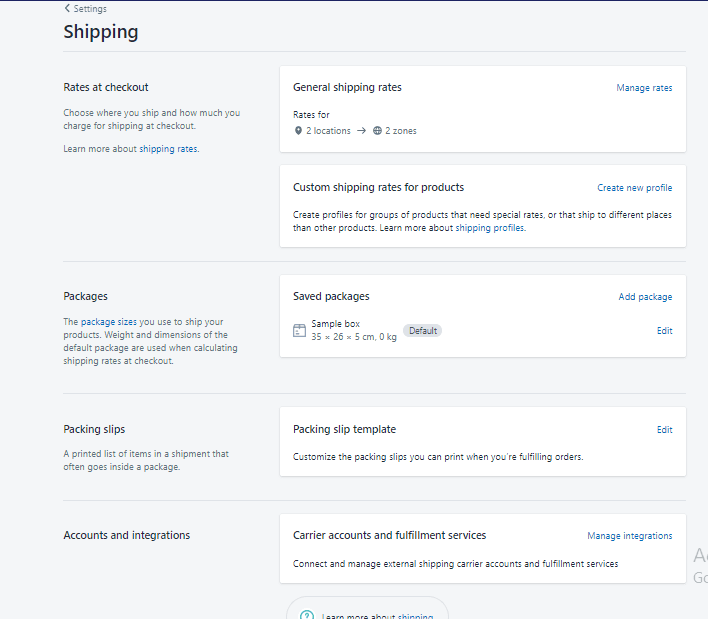 Shopify POS:
You can receive payment for Shopify store using either online means or offline, an this is made possible through the POS system.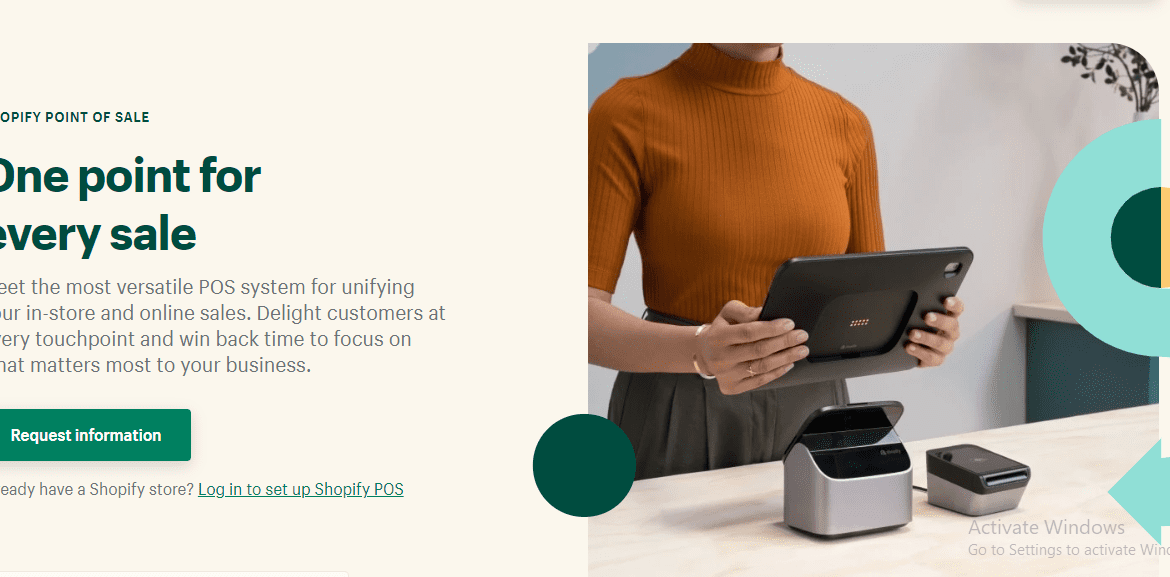 Customer Profiles:
This element helps you have access to the best info about your target audience. It works perfectly in the sales and marketing campaign segmentation.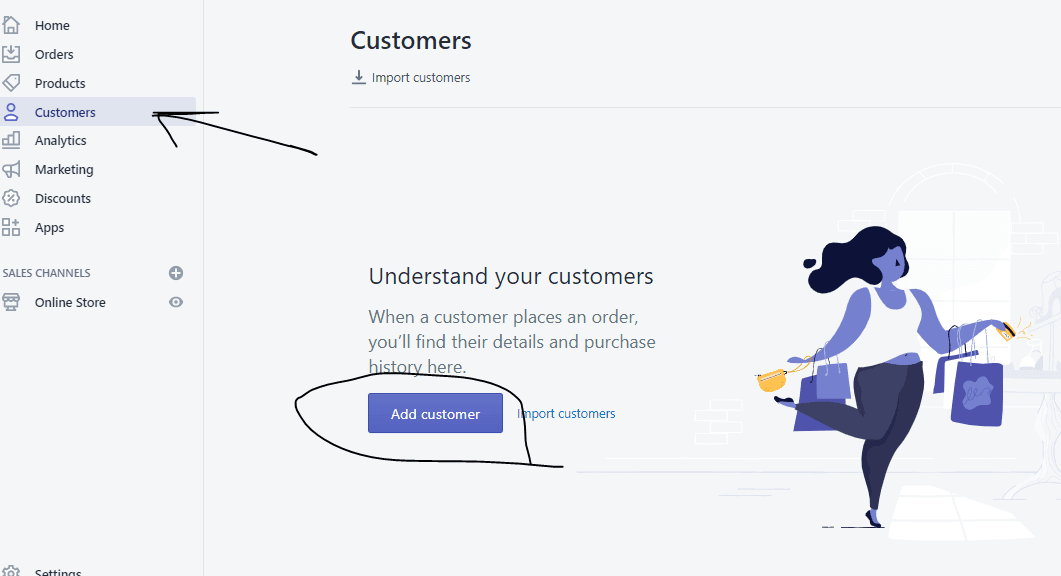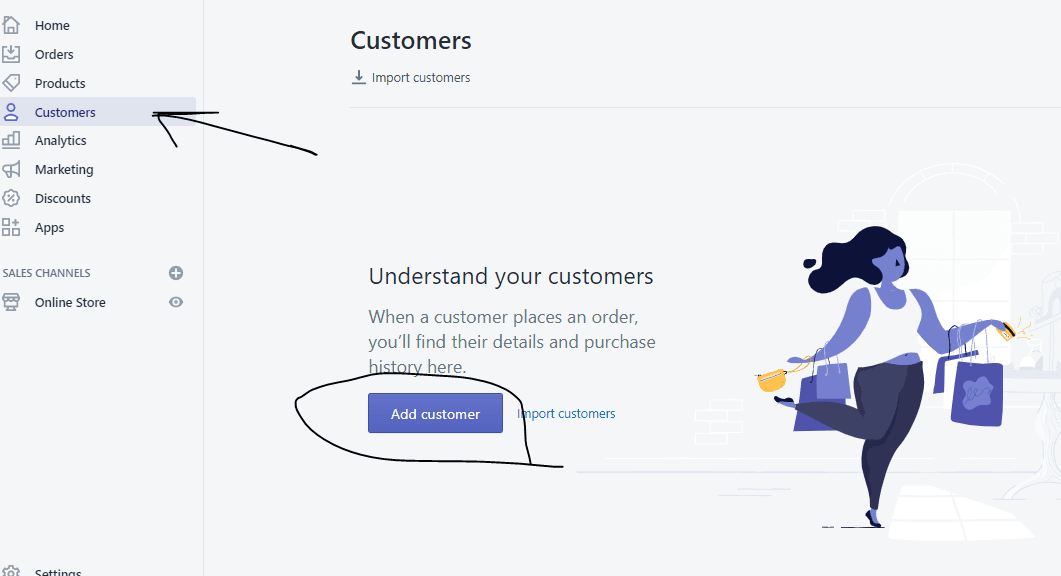 Discounts codes:
Sales and discounts do scale up revenue. This platform offers Bulk discounts solutions that generate free shipping codes, percentages, and dollar amounts.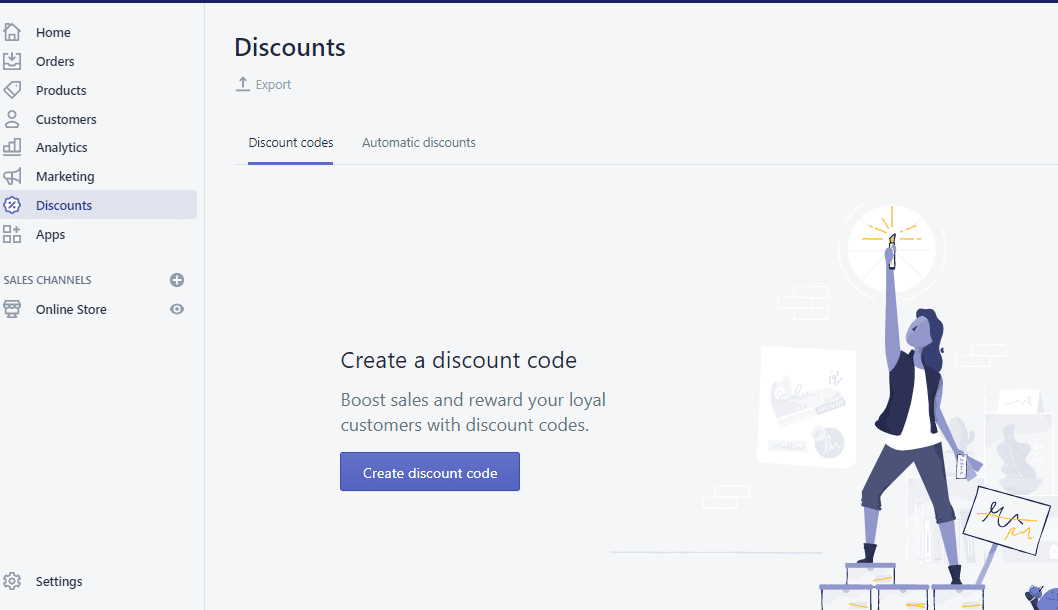 Social Media Integration:
With the big social following, it's possible to recreate the Shopify website on Facebook via the "shop" tab, thus allowing customers to buy directly by-passing the site.

Shopify Fulfillment Services:
Shopify provides dropshipping solutions; this way, the fulfillment service helps to evade the time-consuming elements -packaging, shipping, and handling.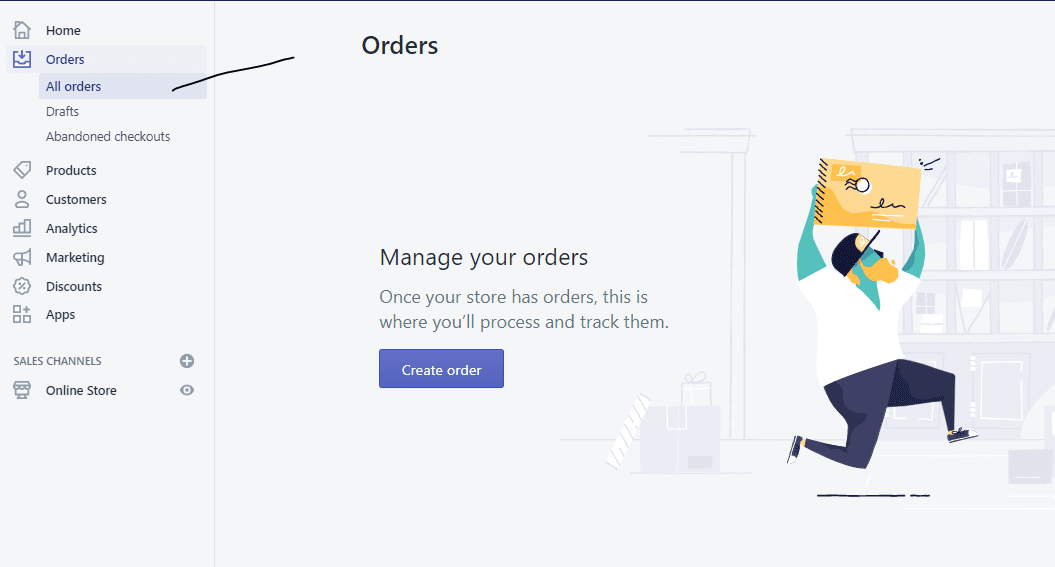 Shopify Experts:
As a way, ensure you get the most out of the online store, through additional guidance and support in programming, design, marketing, and more.

In any case, any of these features do not tickle your fancy and interests; there're hundreds of unique domain names, professional themes, full blogging platforms, and SSL certificates, a selection of 70 payment modes, marketing SEO support, much more.
Advantages Of Shopify Features

The position is this: The platform offers everything for all regardless of whether you intend to entirely run your store from brick and mortar location or online.
And to achieve this robust feature set, Shopify either has a built-in or, via an app, you install the feature.

For instance, shipping and taxes embed in the Shopify interface, and yet for many themes, you've got to find an app meant for social media buttons. Both alternatives work, and often you won't part with a dime.

The company has an elaborate dashboard-control panel. All tasks are straightforward, from processing orders to maintaining inventory.

With the interface such as Shopify Partners, developers have the latitude to play around with new websites without having opened free trials every time. It's akin to the Sandbox interface.

You install new themes, customize full websites, and smoothly transition from Shopify Partners websites to a launched site.
Other than that, you also get a commission for every customer you bring on board with Shopify.

Of all e-commerce platforms, Shopify's reports make for fantastic feature-organized, clean and straightforward, with options such as looking at sales by product title, sales by the referrer, and billing addresses.

Are you looking to vend products in a retail setting? Then, you may want to opt for Shopify POS.
It entails all that you need to sell offline, both on software and hardware sides alike. The software includes an iPad app, thus selling products in a retail setting becomes easier.

The app lets you use a credit card reader to swipe The client's card on the spot. Moreover, you can buy additional hardware from the company like a receipt printer, barcode reader, and cash register.
Shopify also has a mobile app that users use to:
Respond directly to chargeback disputes in-app.

Fulfill items.

Review every change made on the products in the last 30 days.
Out of all e-commerce platforms, Shopify has one of the largest App stores. It offers hundreds of both paid and free apps that improve your store. The apps divided into various categories like customer services, shipping, sales, marketing, and social media.

Owing to the robust content management system (CMS), it's possible to create additional pages and pages via which customers can contact you. Over and above, running your blog is easy since everything is on a single dashboard on Shopify.

Remember, you can't just browse through the entire Shopify feature-set in one section. However, every single Shopify theme on their theme store is responsive to mobile ready-checkouts.
The responsive checkout means that the site automatically adapts to the client's screen size, whether they're making access via smartphones or tablets.
Shopify has pretty much perfected the built-in features, and so have Pinterest, direct Facebook integration, discount codes, decent client's profile, and gift cards.
On the whole, if you're looking for an app specifically from the app store, test it out, and it does not work on your website, you've got the headroom to move to the next option.
Shopify Reviews: Inventory Management Features.

A critical part about running a store is inventory management, and Shopify has got you covered in that regard. Once set to add an inventory into your store, you can proceed to press the product tab in the sidebar on the dashboard.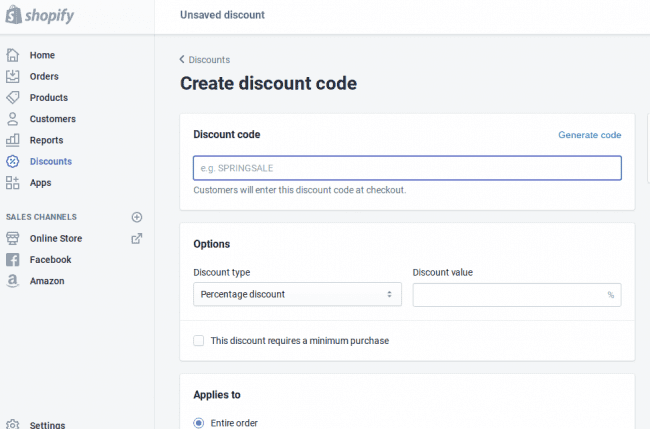 You're then automatically landed on a page with everything from product title, customizable price to the description. You can as well, in addition to giving each product a barcode, you get to assign distinct SKU.

Also, found on the same page as tabs include Transfers, Gift Cards, Collection, and Inventory. The inventory tab features all the items in the store-organized into a clean and manageable list.
On the product page, there are options for an element such as SEO, imagery, and shipping that users see upon landing on the product page.
If you intend to go the dropshipping route, Shopify provides an embedded Oberlo integration.
Shopify Reviews: SEO and Marketing Features

Having a fantastic store that clients can't find inevitably meets not such impressive sales figures. Shopify provides a great feature for SEO and Marketing, with built-in Search Engine Optimization (SEO) features sites become easily found on all leading search engines such as Bing, Google, and Yahoo.

Further, much as SEO settings are automated, on each product page, it's possible to customize its target keyword, URL, et cetera. And if you still need to customize further, the interface allows you to have a customizable header, title, and meta tags. The URLs are SEO-friendly as well.

Shopify has a partnership with Google that lets one from time to time get advertising money for a new AdWord account. I'd not encourage basing decisions on which e-commerce platform hands out money advertise on Google, though I hunch it's a nice bonus.

You don't need a third-party app for gift cards since the gift cards are very friendly. Though it's subject to a payment plan, upon getting everything activated, gift codes get availed in the check out area.

Shopify via a discount coupon generator promotes products on various social networks. This way, it helps in boosting your marketing. Marketing is in the capable hands of Shopify, alongside vending options on Pinterest, Facebook, and Twitter. On Instagram, product tagging allows a direct link to the product page.

Icing it is the email collection form-it's simple, and it gets the job done and integrates with main email options, although several e-commerce stores fixate on app store in finding plausible add-on.
Shopify Payment

Previously accepting payments meant you'd have to use third-party payment processors such as PayPal, Stripe, etc. that charges a fee per transaction. In liaison with Stripe, Shopify has crafted its payment. Should you sign up for this Stripe powered programs, all fees waived.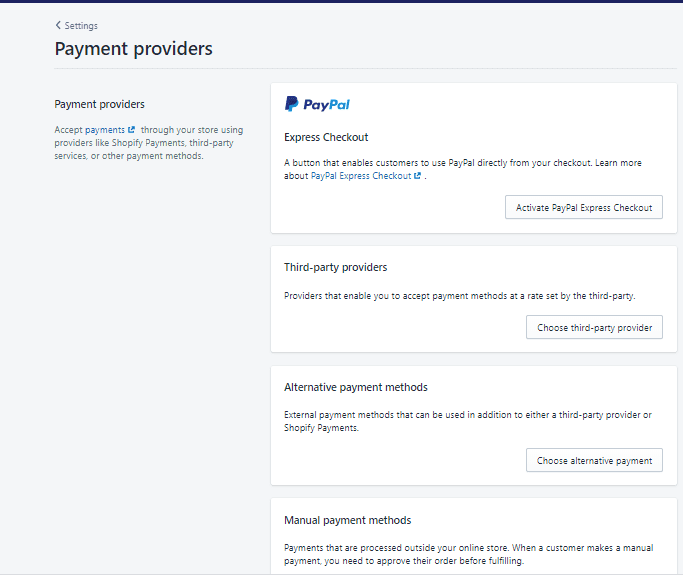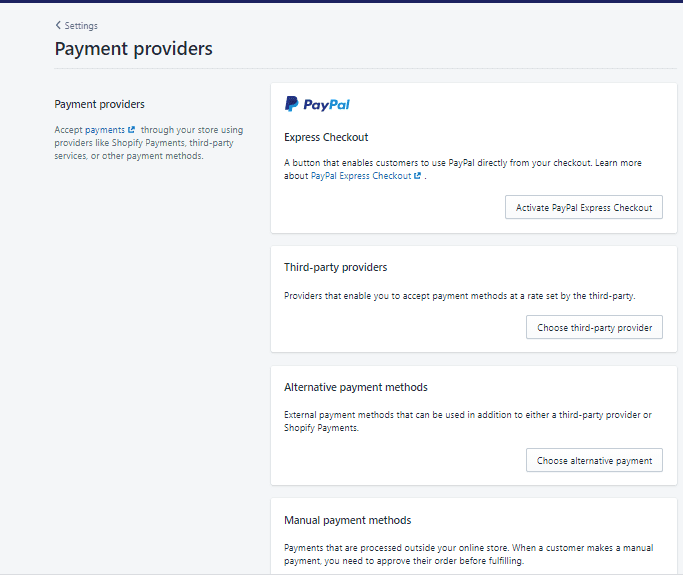 With credit cards discussed already in the pricing section, it's vital to underscore in this part that you have the option to integrate with more than 70 payment gateways. It entails accepting payments from Google checkout, PayPal, credit cards, and more.

The gateways have their transaction fees, and this can be confusing, and therefore it calls for familiarization on your part with the portals before signing up lest you get shocked at the amount to pay.

Shopify has a long list of gateways; you do not have to use all of them, although it opens up an opportunity for people from the world over. Also, the big list of gateways allows you to assess which payment works for your site.

There're both merits and demerits folks choose or forego Shopify Payments. Let's examine each a bit below:

Pros of Shopify Payments

Shopify transaction fees -you're bound to incur transaction fees on using payments though you won't have to pay in extra of 0.5%-2% of the transaction for other payment methods.

Shopify integration-Shopify payments are readily available, and so there's no need to integrate on the store separately. Meaning you begin accepting payment almost immediately.

Shopify Security-Shopify's payment services are highly secure and detect fraudulent transactions. In your checkout, you've got the option of adding a verification system by value and address, thus ensuring the operation is genuine.

Saved client details- on visiting your e-commerce store, the client can keep their billing and shipping details for later use. On re-visiting, this info is already there, in turn leading to a higher rate of conversion.

Shopify fees- high or low transaction fees are subject to the volume of sales generated.
Cons of Shopify Payment

Chargeback- you can the risk of having your funds held or worse, your account blocked should clients file too many chargebacks.

Suspicious activity- if your account gets suspected of suspicious activity, Shopify reserve the right to hold back payment from you; it may further escalate and lead to you not receiving your payment for a while pending a dispute.

Availability-not every country has Shopify payment options except for 15 countries around the world, including the US, UK, Singapore, New Zealand, Australia, Canada. Aside from availability, should your business be considered high risk, you can be refused the service. Also, without notice, Shopify can terminate the service.

The merits here outweigh the demerits. Generally speaking, using Shopify payments reduces the cost of operating.
General Data Protection Regulation (GDPR) vs. Shopify
In May 2018, the GDPR came into effect ushering-in new regulations as regards to handling the personal info of European clients.
The provisions have proved to be problematic for (1) the rules were not clear, and (2) fines were exorbitant-to the tune of 20 million euros or 4% of the annual world turnover. Penalties like this spell doom for most businesses.

Shopify has come in ready and does a fantastic job of protecting its clients and users, and so running your business on Shopify has at their disposal all the tools that enable compliance with the regulations.

Shopify has accurately put the following in place:
Updated terms of services factoring in the data protection addendum, which outlines how Shopify handles your European client's info.
An updated privacy policy outlining an individual's rights under the act and data processing procedures
Modified information as regards how cookies stored on your storefront.
Users of Shopify have access to privacy policy generators they embed in their stores.
Altered the marketing opt-in, thus allowing it left unchecked for Shopify store.
A 16 white paper page detailing Shopify's approach to the legal requirement.
The app store interface is updated to show the specific client's info kept by the individual apps installed on your store. (Shopify suggests speaking to a lawyer in regards to data protection to be clear how it affects your business.)
Shopify has availed an avenue in which you can request details of an individual client deleted across all the apps. The option you'll find in the customer privacy area.
Shopify VS Mobile Ecommerce

Among marvelous things about Shopify is that you can manage a lot of operations on the go. The tasks controlled via Shopify mobile app are as follows.
Taking and uploading pictures.
Editing product details like pricing.
Adding items to the store.
Fulfill orders and also offer a refund.
Buying and print labels
Get stats on conversions.
Contacting members of your team.
Get sales info and view real time-traffic.
Receive order notification.
The app is available for both Android and iPhone. Fulfilling orders option works well for events and fairs if you're in attendance.
The app integrates seamlessly with third-party market places like Etsy, Amazon, and eBay, and so this way, users effectively manage inventory and sales over multiple levels.
Unique Features in Each Shopify Plan

Now let's now take a look and delve a little deeper at each of Shopify's plans and features.

Shopify Lite

$9 /month, Shopify Lite probably the most affordable option. However, it does not offer a standalone online store website. In brevity Shopify Lite plan provides the following:

Access to Shopify interface where you create new products and set details (description, size, price color)
A buy button you place anywhere on the web-on own site outside Shopify, on Pinterest, Facebook, Instagram.
The system helps to handle orders coming in, set rules, manage sales, fulfill, and whatever needed to sell products online.
The perk leverages on the system to facilitate you selling products at events and while the-go as well.

Using Shopify to Embed Products on Website

Shopify Lite lets you create a product in Shopify UL and set up individual buy buttons, these buy button you can take them and publish via a quick piece of code anywhere on the web.
With the buttons, you get to customize the look, images, size, and color. When through, Shopify gets you a piece of code to post on any website.

The code allows for displaying photos, prescription, and price; there's no limit to the number of products you can add as many you like. If you've got a blog, for instance, on WordPress Shopify Lite lets you display the product on site.
Furthermore, to use the buy button on social media, e.g., Facebook, you also get special code embed.

Selling on Facebook With Shopify Lite

With a good following on Facebook and no intention of creating a separate online store, Shopify Lite makes for a great option. It has easy to use -you get to conveniently generate a new Buy button to use on the Facebook page.

With Shopify posting your messages on Facebook messenger-sales channels, you chat your clients, and they can also buy your products directly from the chat window.
With younger demographic, live chat is a compelling selling point, and stats indicating a staggering 71% of shoppers in the age bracket of 16-25 demand a swift response via live chat/messenger app during shopping.

Selling Digital Products With Shopify Lite

On the Shopify Platform and its possible with Shopify Lite, you have the opportunity to vend digital products-media files, audiobooks, courses, eBooks, guides.
For digital products, you'd set them up in a much similar way you'd do physical products and ascribe them a buy button.

Vending digital products get conducted via Shopify's digital downloads app. However, there're some fabulous third-party alternatives in the shape of Send Owl, Fetch, and Sky Pilot. Though it worth noting that you won't be able to sell digital products on Facebook.

Inventory Management Using Shopify Lite.

I had mentioned that if you sell your goods in a physical store, Shopify Lite lends you the capacity to process payment and manage inventory.
Shopify Lite grants access to the Shopify admin area; thus, you create orders manually on demand, you accept credit cards as well, and the stock is automatically updated.

You won't phone support, but you certainly have a live chat and email support with Shopify Lite. It supports drop shipping, although you'll get via third-party apps found on the Shopify app store.
Among the most renowned Shopify, dropshipping apps include Printful, Oberlo.
You could be wondering whether or not Shopify Lite is for, well I'll put it this way, that Shopify Lite ideal for the businesses that:
Intends to add Ecommerce to an existing blog or website.
Intends to sell on Facebook.
Contented with live chat and email support.
Have a low budget.
To work with a backend system to manage inventory and payment.
To figure out how Shopify tools integrate with the store activity.
Basic Shopify

Basic Shopify Plan base price @ $29/month, in contrast to Shopify Lite, this perk lend access to the full power of the Shopify system, and you get to create a standalone online store.
Basic Shopify key features are:
An unlimited number of products.
Two staff accounts.
Infinite file storage.
24/7 phone, live chat, and email.
A blog module.
Fraud activity-detects fraudulent activity in the Shopify account.
Abandoned cart recovery-follow upon visitors who info you have and did not complete their purchase

Basic Shopify Templates

In one of the following sections, templates will get uncovered piece by piece. However, in newsflash, it's worth highlighting what's available with each Shopify package.
As at the time of putting this article up, you had access to 10 free templates and 50 plus paid ones.
Brooklyn theme, although very attractive, is probably somewhat overused on site, and so if you intend to be outstanding from the rest, without a doubt, you've got to weigh other options.
The base price of paid themes is at around 100 bucks apiece.
Majority of free website templates have these functionalities:
Header slideshows highlight your top products,
Dynamic product grid that keeps changing based on many products shown.
The slide-out cart enables visitors to add products to the cart before leaving the website.

Basic Shopify: Blogging

Shopify comes designed with an in-built blog module. You can use this fabulous tool to help build up your audience with the sole goal of scale traffic to your eCommerce store and, in the end, turn more sales.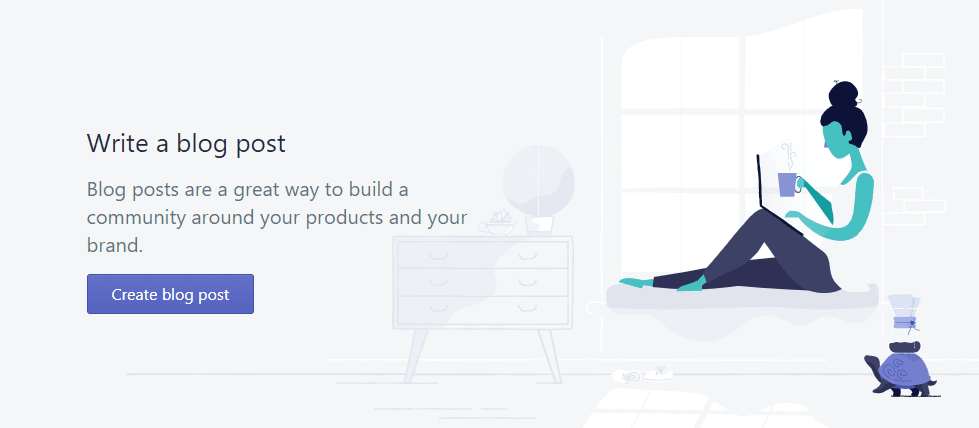 You use the module to publish new posts, add images, other media to them, set categories, tags, and adjust the SEO parameters for each post. Contrasted with solutions such as WordPress, the module's functionality is limited.
Because WordPress focus primarily on blogs and Shopify focuses on online store component, the module's limit is within reason.

Basic Shopify: Abandoned Cart Recovery.

Abandoned cart recovery assists in identifying prospects who add products to cart but do not complete purchase. Previously, only higher plans had access to this feature, but now the Basic Shopify package supports it.

Shopify either sends hand mails to clients who've abandoned carts or opt for a more automated solution in which Shopify send emails on behalf.
The Abandoned checkout feature enables you to track visitors who complete the purchase after Shopify had sent them abandoned cart email.
The tool at no additional marketing cost helps generate sales, and as such, the no extra charge is one of the main reasons Shopify ranks as a top eCommerce platform for most folks. Often, you do no get this feature from Shopify's competition at the same price range.

Basic Shopify: Fraud Analysis

Shopify fraud analysis pins down any fraudulent activity on the account, which would cause issues or even incur chargebacks. Shopify has pointers as to whether an action is fraudulent.
And the indicators can include:
Has the credit card passed the AVS checks?
CCV Code-has the customer provided the correct one from the back of the card?
Order IP address-has it previously engages in fraudulent activity?
Cards-did, the user, try to use one or more cards?
Basic Shopify has limited POS capacity. It fits well with vending in person at markets or pop-ups; however, if you are looking to use Shopify in a primary store location, upgrading to one of Shopify's higher tier solutions.
Is Basic Shopify for you?

Basic Shopify suit sellers who:
Starting or a limited budget.
Intends to build a complete online store.
In one user-friendly interface wants to manage all orders, sales, and the packages.
Look to recover abandoned carts to generate sales.
Prioritize 24/7 phone support.
Shopify Plan
Next up is the Shopify Plan, which begins @ $79/month. The plan has all the features of Basic Plan as well as:
Gift cards
Professional reporting
Lower credit card fees and transaction fees
Full POS functionality
Shopify Point Of Sale
Shopify Plan gets you the full functionality of the Shopify POS system, and so access to:
Register shift
Use of hardware-shipping label printers, receipt printer, and barcode.
Staff pins for secure and unique login for each member
Addition of third-party software to POS system-including Shopify POS.
Configuration capacity of up to five store locations
Shopify POS system, designed to cater both the seasoned vendors who have staffed stores as well as for the occasional sellers at events and fairs and pop-ups
Some of the defining features of Shopify POS system include:

Payment-Basing on payment customer used, Shopify POS offers store credit instead of a refund. Store credit can combine with gift cards, both online and in-store.

Advanced Checkout-This feature attaches notes on orders, keep track of unique requests. Also, the feature allows you to customize your receipts, thus promoting your brand, online store, and opening hours. Moreover, based on location, tax is automatically computed.

Discounts– you can create coupons online and use it in-store. You can as well create an in-store discount then report to see its performance.
Shopify Store Management– Check all previous orders made in-store or online, which can be categorized by date, customer, or product. Integrating the Shopify POS system with either QuickBooks or Xero help save accounting time.
Customer Management– it helps you create customer profiles using the contact info and analyze the client's shopping habits.
Emails in-store can help with email marketing.

Products– track your inventory across online and physical channels to stay on top of your list. As for retails, offer loyalty programs or wholesale prices.

Hardware– You download the Shopify POS app on Android or Apple devices. All hardware included comes free with a 30-day return policy.

Analytics-View, analyze export sales reports by location, staff member, or customer. Export products report seeing what sells what's not.
Mobile; Use your customer profiles on your mobile and contact them directly via the app. Add the products through the app and take photos of the new product as well.

Shopify Gift Cards

Gift cards work excellent for larger recognized business brands. Clients visit your eCommerce website and purchases a gift card for a family member or a friend. Often gift cards are attractive for holidays and birthday.
As a store owner, you can use it to reward your customers.

Shopify Professional Reporting.

On reporting, users have access to the primary dashboard, which gives them an overview of the happenings in the store. With Shopify Plan, you get access to the following types of reports:
Sales report
Customer report
Profit report

Shopify Sales Reports:

This report gives info as regards the number of orders customers have placed based on channel, time, and staff members. The reports offer valuable marketing insight since you can tell which areas rake in most sales.

The following features give you the ability to customize your sales report:
Average order value
Returned quantity
Ordered quantity

The average order value is an important indicator as it points you to where you ought to set your free delivery threshold. Say, for instance, your average amount is $80, try to arrange free delivery at $100, and watch your average value increase.

Shopify Profit Reports:

These reports calculate the total cost of your product, then work out a profit. Profit reports viewed in consideration of some factors, and they include:
POS location
Product
SKU number

Discount and refund

Profit reports explicitly based on discounts and refunds appeals. For instance, you can run a campaign to offer 10% off on the whole website; the report informs you what the margin is after applying a discount.

Shopify Customer Reports:

These reports offer vital analytic tools as they provide invaluable insight into the customers' shopping behavior. The reports have info on the following:
One-time customers.
Returning customers.
Customers over time.
Returning customers.
First time vs. returning customer sales
Customers by country.

Using the reports, you can turn those one8time customers into returning customers. From your dashboard, you've what they've spent and know whether or not they'd accept email marketing.

With the Shopify plan, you get to register up to five staff accounts compared to only two on the Basic Shopify plan. Is the Shopify plan suitable for you? You must be wondering.

The Shopify Plan is a fantastic option for the following sellers:

Those who have or expect to have high volume sales.
Sellers with a store location or a number of them
Those who look to maximize gift cards or discount codes.
Those in need of in-depth reporting customers' buy habits and profit.

Advanced Shopify Plan

Next on the heels of the Shopify plan is Advanced Shopify plan, it comes in @ $299/month. On this plan, you get all the features found in "Main Shopify" plan with additions such as:
Setting up to 15 staff accounts.
Calculated third-party shipping rates.
Reduced credit processing and transaction fees
An advanced report building.
You can have up to eight store locations on the POS module.

Advanced Shopify Report Building

The advanced report builder lets you create custom reports and customize them. You're empowered to choose what type of report you want to set up, and within the report, you can edit and filter columns then possibly share the report with members of your team.

Whenever you like, you can access your custom reports saved in the Report sections on your Shopify dashboard.

Advanced Shopify Third-Party Calculated Shipping Rates.

The feature lets your carrier accounts apply calculated shipping rates at the checkout. USPS or Canada Post provides discounted shipping rates. You get to access the shipping rates of UPS, Canada Post, FedEx, and USPS.

And in your shipping admin area, to cover your packaging costs, you can add a percentage markup on the calculated price.

Whether its XpressPost, Priority or Expedited Parcel, the choice of particular carrier services you'd like to offer is yours.
And is the Advanced Shopify plan suitable for you?
The sellers who'd find Advanced Shopify plan as suitable are:
Sellers with a significant online transaction.
In need of advanced reporting focused on business elements like margins and profits.
Using carriers in shipping products at discounted rates.
With more store locations
Having larger teams of staff working online.

Shopify Plus.

This plan is Shopify's enterprise solution meant for a big brand. Shopify Plus has a slight departure from what Shopify main offerings-it's not found on the main pricing page.
Also, it comes laser-focused on fundamental challenges big brands often struggle with. The hiccups touch on aspects like API integration, quality fulfillment, and security.

Shopify Plus has no set price, and so it's a negotiated price as the per-customer basis. Usually, the base pricing subject to business needs is in the region of $1,500-$2,000 a month.

With Shopify Plus, you get to have a dedicated manager to manage your account, helps you with the onboarding process, and offer to support the entirety of the eCommerce journey.

Shopify Plus Multi-Channel Sales

On your enterprise dashboard, the plan allows you to integrate 20 plus channels eBay, Facebook, Facebook messenger, Amazon, Instagram, and more.
Clients get to use 100 plus payments, with numerous payment providers, it means no one is left behind and so the plan help to generate more sales.

Shopify Plus Scalability

Should you witness spike in sales on saying holiday season or a period like Black Frida, just know that Shopify Plus handles any amount of peak traffic thrown at it. I'm talking here 10k transactions processed per minute with 99% uptime while doing so.

Shopify Plus Integration

With its custom app solution, Shopify's technology partners can help bring ideas to fruition via Shopify Plus. The plan has over 1,500 professionally built apps and plugins.

Shopify Plus is cut for enterprises with criteria as follows:

Brands with the intent to automate workflow with the team.
Business with high volume sales.
Enterprises with a bespoke CRM system and need Shopify to speak to it.
Businesses that want an account manager to speak to whenever the need arises.
If the business witnesses peak periods and therefore there's a need for guaranteed uptime and security.
Here's the truth, however bitter, that at some point, a lot of users need to realize that Shopify Plus is not something to lose sleep.
The three plans of Basic, Shopify, and Advanced Shopify are perfect fits for the 99% of users.

Ease of Use

Is entering Shopify for the first time and start working so intimidating? No, not at all, that's the answer. In fact, amongst the easiest to use eCommerce platforms, Shopify is one of them, especially if you're a business that's just starting.

Upon signing up, you'll experience a user-friendly dashboard, and in every step of the way, you get held by hand through the main steps in configuring your store to avail it to the public.

In June 2017, Shopify saw an overhaul of its backend, injecting a contrasting user interface-UI, even giving it a new color scheme all in a bid to improve the user experience.
Other than colors and fonts, Shopify added a new prominent search bar-on the dashboard you type in a keyword and quickly find what you look for effortlessly.

For instance, let's say you want to find a customer or product. For that, punch in the keyword, and Shopify returns in all the matches-be it an order, customer, product et cetera.

With all the fields and everything necessary nicely outlaid on the screen, adding products to the catalog is pretty straightforward.
What else is similarly simple?
Setting up a new design for your store Templates directory categorization uses niches, design styles, purpose, and Shopify informs users about the most popular. Theme installation takes a few clicks.
Besides themes, key pages like about page or home page on your site probably hand crafting-Shopify through Shopify Sections allows you to do just that.
The visual editor lends a wide variety of sections you insert on your page. For instance, you can place a button, slideshow, and product carousel at the top of the page.

Ultimately, it all boils down to a click on a button. After that, you adjust the order of the sections-drag and drop into place; relatively, it's a simple way to overhaul the look and order of the modules on-page.
Shopify Sections is one feature that would fit well will all experience levels, more so the beginners.
The same sentiment reverberates across other areas on the platform. For example, you're set to install new apps and expand; you'll figure that most need a few clicks to enable.

In light of matters pre-publication, Shopify lets you test your store before going public, and the live editor is fantastic in overseeing your changes soon after setting adjustments.
Shopify is hell-bent on ensuring its interface is the easiest in industry. Interestingly, they could be stretching it since it's a platform that satisfies even those with expert coding knowledge.

I doubt there're beginners or intermediate developers who'd have an issue with Shopify. Similarly, advanced developers get accommodated, given that Shopify has features for these kinder users.

Shopify Theme and Design

Themes and designs available are one domain that Shopify reigns supreme. Shopify has some of the most professionally-looking themes of any eCommerce platform. At the time of putting up this article, there existed eight free themes, and over 60 paid ones-prices $160-$180 apiece.

Previously the company's catalog had more themes, but it has since purged the old ones and stuck to the modern stuff optimized for targeted audiences and search engines.

Every theme is not just a single theme; it comes with a couple of styles embedded. For instance, Icon is a theme that comes with four unique styles that not only varies in color scheme but how the elements on the page get presented a well.

Given that there're multiple collections and industries showcased in the Shopify theme store, it's safe to say you'll find themes that fit your business model.
Each theme has its distinct set of features and capabilities, alongside a set of general features found on every Shopify theme. Also, using the same theme, check out a quick shortlist of other stores.

Finally, with each theme having multiple user reviews, you can always pick other users' brain waves about the theme, its strength, and its weakness.
Fortunately, with every theme having a fully functional demo, you've plenty of legroom to scrutinize all aspects in great depth before committing.

Can Shopify Themes Generate Sales?

For me, eCommerce design is worrisome; I mean the way folks quickly check-out and get through the shopping cart process.
With themes' two and three-step checkouts, and additional tools help with things such as social and guest checkouts.

Upon landing the fitting theme, with ease, you customize the look, feel by opening a template editor to edit your theme until it fits precisely what your heart's desire.
And Shopify Sections feature aids in speeding up editing as it's a case of drop and drag. And if you're good at such things, it's easy to modify using CSS and HTML.

Neither of Shopify themes has Shopify branding, and you won't find, not a trace of Shopify branding on online. It's a good thing both beginners and everyone else, and especially those without plans to advertise technology behind their online store.

Shopify Security

One of the cornerstones in running eCommerce is security. Another way to put it is that you'll be handling sensitive pieces of information, from customers' credit info, their orders, your product details, et cetera.

The company knows this and appreciates the responsibility. Shopify's system hosts on a Level 1 PCI DSS compliant server. Meaning both customer's and your data is invariably secure.
Apart from Lite, all pricing packages provide a 128-bit free SSL certificate at no further cost.

In particular, Shopify:
Protect cardholder data.
Maintains a secure network
Has strong control measures
Maintains a vulnerability management program
Maintains information security policy
Monitor and test networks

Much as data security is paramount to retailers, many worry about their store availability round the clock. It will interest you, for example, to know that it's argued that just an hour's downtime a day would result in Amazon losing $100 million in lost sales.

Customers on Shopify have a 99.98% uptime, and with that, you avoid losses arising from your store's unavailability. Further, Shopify securely backs up your store and grants access if the need arises
Among the things that come into play matters, security entails vulnerability, management, and access control.
That insight helps determine who has access to specific content in the backend of your store.
On the whole, Shopify is security-conscious and seems to remain up-to-date on the going on in the universe of online security, implementing all the best practices.

The Shopify App Store

Shopify has had its app store online for over a decade now. There're more than 2k apps available in total, and they're as many as they come in different shapes, sizes and divided into a couple of handy categories.
Here you'll get apps to help marketing your store, SEO, push notification, finances, apps for emails, control access, and more.

Also, in April 2018, Shopify had a focus shift to a new line of the machine learning algorithm, to provide modern users with a more intuitive and immersive experience.
And so the app store now helps you to uncover specific tools most likely geared to appealing mostly to your scenario and business set up, helpful, right?

Essentially the app store is a collection of free and premium applications molded to expand and improve the functionality of the app store.
While preparing this review, one thing that stood out about the Shopify apps store is that one does not need to be a developer to use it; everything is plug and play.

Having cleared the air, if you're confident tinkering with a website under the hood, you stand a chance of becoming a Shopify app merchant, joining the league of other developers in the market.
Shopify has a handful of extra resources to start you off, and they include access to Shopify APIs and a high-level overview of Shopify development space.

Customers Support.

Shopify prides itself on having one of the best customer care desk and a dedicated team of customer support in the industry this is so you know should you find yourself struggling with your online store.

The price plan you pick notwithstanding, Shopify runs a 24/7 full client support, the support involving phone support-(Lite plan excluded) as well as email and chat support. Also, another support channel is Shopify's access to a sizeable support section directly via their website alongside tutorials, forums, and FQAs.

Generally speaking, you've got the option to learn the system yourself or talk to a professional.
In light of the fact, some reluctant to wait for a support rep, so videos, courses, and forums feel like enough to help you figure out.

A worthy note on Shopify development request:

If you work with an online platform, software, or app, it's vital to have access to the developers or some form of a feedback system, an avenue to communicate what Shopify features you'd like to see in the future.

I trust every prospect would like to see that Shopify developers respond to requests with releases of new features consistently. The company considers this sort of support in the knowledge that brands that do not listen to clients lose them.
And in this domain, Shopify does an excellent job as indicated by their regular blog posts about requests they've heard to and implemented.
For instance, most professionals fuss about images slowing down websites, given that media is often the cause of site slowness.
Shopify offered a timely response optimizing and updating previously uploaded images and simultaneously providing modification instructions for futuristic image optimization. This response helped with SEO, speeding up the user interface for all Shopify merchants.

Shopify FAQs

This section will look into the common questions that folks tend to have about Shopify.
Should I use Shopify?

Quick and easy-yes. Arguably Shopify is one of the top eCommerce platforms. A look at the top 5 eCommerce system in the market some time back, Shopify came out top with an impressive score of 10/10.

Is Shopify Secure?
In one of the sections above, the aspect of security was addressed in-depth. As a certified Level 1 PCI DSS compliant, Shopify meets all the categories of PCI standards enlisted as:
Protect cardholder data.
Maintains a secure network
Has strong control measures
Maintains a vulnerability management program
Maintains information security policy
Monitor and test networks
Again, some of the reputable brands out there use Shopify, would they use Shopify if it unsecure?
Is Shopify safe for consumers?

Again, quick and easy-yes it is. The same mechanisms that protect vendors equally protect clients. Shopify has deployed a unique fraud-detection algorithm operating under the hood, ensuring no transaction data go through unencrypted channels.

Can one make money with Shopify?

An absolute big YES! I mean, that's the whole point, right? With tons of success stories and your success story is ultimately on you, Shopify will not in any way impede your growth or prevent the implementation of a given business model.

What's the cost of setting up Shopify?

When starting to build a simple and functional at the same time, get on Basic Shopify at $29/month. If you're interested in testing Shopify tools for selling on third-party sites and social media, get Shopify Lite @ $9/month.

Does Shopify have good SEO?

Yes, it does.
Shopify is a fantastic platform letting handles the basic SEO parameters of your online stores. Alongside other things, you can:
Optimize your site structure.
Add keywords on your product page.
Hide pages to emphasize your crawl budget.
Submit a sitemap.

In need of more SEO features? Well, just install some of the specialized SEO apps from Shopify app stores.

How many people use Shopify?

At the time of piecing up this post, there existed over 1,000,000(!) online stores running on Shopify, and these numbers range from big brands to small craft shops.

Does Shopify web Host?

All Shopify pricing plans have hosting inclusive, and therefore you'll not have to pay external hosts; with a real domain name, you can use it to set a Shopify. Or you can buy a new domain name through Shopify as well.

In other words, Shopify is a one stop-package for building and launching an eCommerce store with no third-party required.

Does Shopify host a domain name?

Yes, it does indeed. Through Shopify, you can purchase your custom domain name at a floor price of $11/year. Your domain gets automatically set up on your behalf, and you retain its ownership.

Does Shopify offer email in-boxes?

You don't get email inboxes as part of the online setup; however, you can set an infinite number of email forwarders. For instance, one can create forwarders for addresses such as support@YOURSTORE.com or sales@YOURSTORE.com directing them to ones' inboxes in Gmail or elsewhere.

Do you business license to sell on Shopify?

In line with a reflection of Shopify reviews and the content of official docs on the Shopify site, the need for or lack of a license depends on the local regulations or laws.

To quote the official in verbatim:

Subject to the type of enterprise, you may need a local, county, state, or federal license-or none at all. Where your company locates will determine the type of license you need and where to obtain it.

Does Shopify accept PayPal?

Through their Shopify stores, owners can receive payment via PayPal. The company supports over 70 variant payment gateways. Besides that, at no transactional fees, you can sign-up on Shopify's payment modules.

Is Shopify suitable for beginners?

For most people, this a matter of personal opinion and perspective. But for some reason, Shopify comes across as a hassle-free platform for all sizes, shapes of businesses-large, and small corporations alike.

One of the sections above delved deeper into this topic. But in a nutshell, Shopify offers its users a simple interface in which adding products, managing client's orders, and sales are easy to understand.

Working on the store's design is user friendly. You get to choose from a collection of modern themes that you customize to fit your desired details. Even more importantly, if you ever need help, there's a universe of guides and resources on the Shopify site, and across the web, you can reach out to mitigate any possible problem.

How do I migrate to Shopify from another Ecommerce?

As among the most famous online setup, online set-up, often people move over to Shopify from other platforms, and Shopify facilitates this move via a guide comprehensively outlined in official docs.
In a bird's view, migration to Shopify takes 11 steps:

Configuring primary admin setting-Shopify Ecommerce migrating system guides through this process. It's more about determining who gets to access your Shopify services; you add stuff account; thus, your team reaches their log-in.
Use the Store Migration app to import your store's content and data to Shopify. They're a bunch of free options on Shopify in the shape of Bulk Discounts and Product Reviews. Equally, there're third-party options.

Organizing products after migrations-after migrating ensure that all your info is transferred correctly into the system by updating details and checking the inventory.

Make your look great-thankfully; there're plenty of fantastic themes and extras you can use to customize your Shopify theme or seek professional help?
Set up a domain-you can transfer your existing domain. Alternatively, to upgrade your domain, there's the option of buying a new domain name.
Set up a payment provider.
Set up your shipping.
Configure your taxes.
Try to place some test orders.
Send invitations to customers to create a new account on your new site,
Set up URL redirects.

What about Shopify Expert?

In the course of your read-up of this review, the term Shopify might catch your attention in passing. It's a fascinating feature. Shopify Experts, in essence, is a community of curated Shopify ambassadors. Now, what's that and what does it mean to you.

To answer that, first, appreciate experts exist to help with the growth of your business since you're tapping into their high-quality support and end-to-end service.
At the inception, the program set out to support and empower companies that directly partnered with Shopify. over time. However, everyone can find an expert today.
And to hire an expert:

Visit Shopify Experts page: often, they'd be listed by either talent or location. But that said, you do not need to be close to your expert. There's no need to meet them physically.

Pin the right talent: Shopify Experts pools into five categories; Store Setup, Store Design, Photography, Development, and Marketing. Also, in existence is a small group of Experts dedicated to mini tasks such as tracking Facebook pixels.

Check out profiles of intended Shopify Experts: usually, the profile has a link to their pre-existing Shopify store. On the profile, the Expert's project budget is the indicated-the amount you'll have to get the Expert working for you.

Examine the testimonials: As is the norm these days as regards purchasing decisions, it's a good idea to check the testimonials of other customers who previously hired the Expert before you.

In the scenario, you fail to find what it is you look for, use Shopify's "Post a Job" function-it automatically matches you to the right person.
And should you aspire to be a Shopify expert?

You can do that too, you'll have to become Shopify's brand ambassador, and that means you'll invariably deliver high-quality work to those who request for your services. The company holds it's Experts to stringent standards, and you've to measure up as you'll be under scrutiny all the time.

You've to be active within the Partner community-this means hosting and attending meet-ups, driving new traffic to Shopify, and Shopify Plus environment.

Can I do dropshipping with Shopify?

There're several various ways to vend with Shopify. And which is one of the most popular! Yap, it's drop shipping. With drop shipping, you do not have fuss about storage for merchandise before shipping out to the customer.
Instead, someone else does the shipping for you. Again, to get started in the eCommerce world, Dropshipping is one of the easiest ways.

Many consider Shopify the best option for drop shipping as its market place provides a wide range of dropshipping apps that helps you source and sell.

Shopify floods with solutions that help make it easier to manage your dropshipping relationship with suppliers. One such solution is Oberlo-a dedicated dropshipping app fashioned to work with Shopify exclusively.

Shopify comes brimming with excellent features-everything you'd need to create an entire eCommerce business model. Together with your store builder, you get luxury tools to manage marketing, shipping methods sales, payments, and more.

Shopify is amongst the most user-friendly platforms in the eCommerce world.
And it's inundated in functionality, simple; they're not challenging or overwhelming to use. If you encounter a problem, hit up an expert or check out a webinar.

Shopify is the utterly extensible meaning you can any new feature you deem fit from the marketplace of dedicated apps.
What is dropshipping?
It is possible to sell goods without ever having to handle any inventory. What happens is that when the entrepreneur gets an order, they contact the supplier who ships the products directly to the customer right to their doorstep.
This is the perfect business model for e-entrepreneurs that are just starting. It not tricky to start and does not require significant capital.
Another good thing is that you can run the store as a part-time gig. You don't need to quit your primary gig employment.
How to set up your Shopify store
In this guide, we will take you through all the steps that you need to create your store. We will show you some of the best tips to set up a fully functional online store.
Naming your Shopify store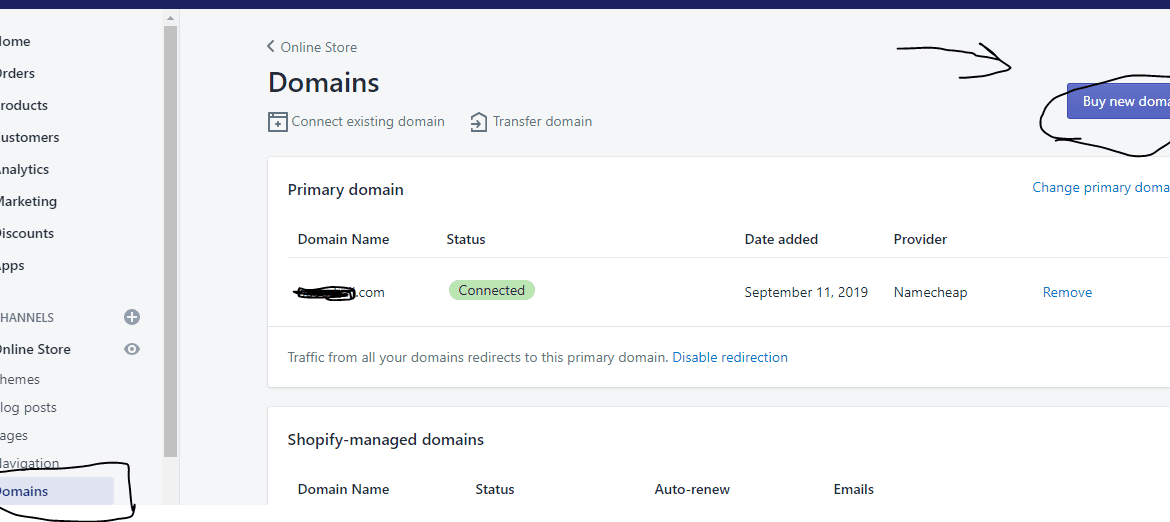 Giving your online store a name is the first stage. The following are pointers on what you need to do.
Use your creativity
Keep it simple
Make sure it is memorable
Once you have come up with an appropriate name, make sure that it is available. If not, drop that one and come up with another one. The easiest way to check availability is by using Google.
Creating a Shopify Account
Creating your account is not so hard as you might think. All you need to do is visit the Shopify page. After the homepage has loaded, you will view a blank field where your email address goes.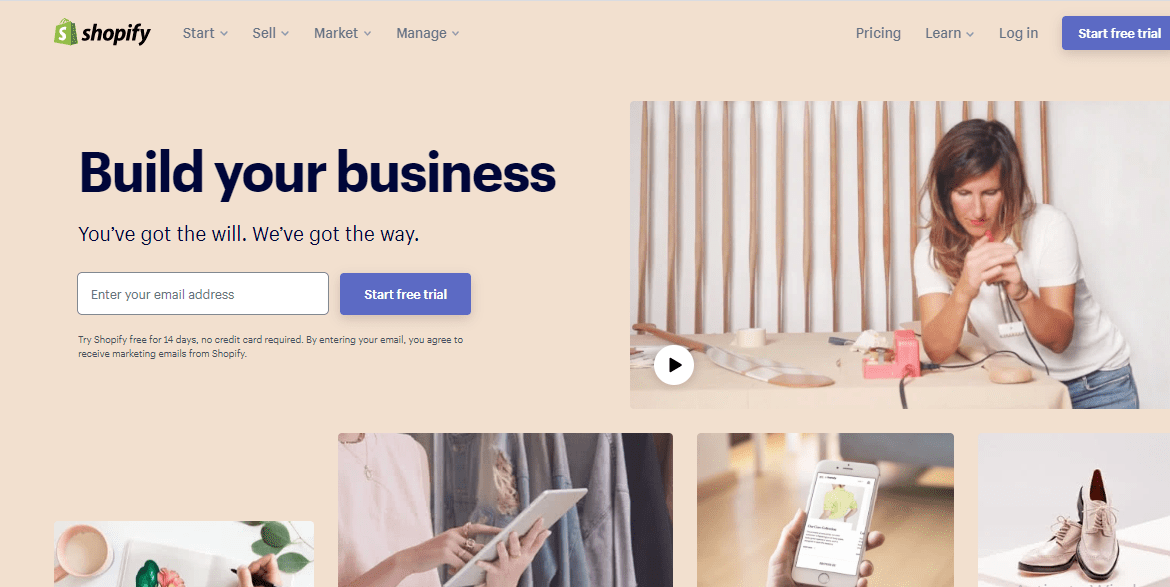 Enter your email address in this field, and a prompt to create a password will appear. Enter your unique store name.
There are other details that you will need to fill regarding your business. Additional required information includes personal information and eCommerce experience.
After you have filled these details, your account will be created. The next thing now is your account settings.
Enhancing the Settings for Your Shopify Account
The settings stage is one of the most critical. These settings will determine how your business will be running and business policy.
The settings will determine how you receive money from your clients. Your policies and rates you will be utilizing in shipping.
Payment information
One of the most critical information that you need to enter includes is payment information. Payment is the backbone of any business and so needs to be handled with extra care.
If you skip this section, then you might not receive payment for the clients. This not appropriate.
To go about it, go to the settings page and click on the 'payment' tab and add your information as necessary.
Adding a PayPal account is the most appropriate thing to do. If you don't have a PayPal account, it is best that you create one.
It will not take you even ten minutes. This process of PayPal account creation will not require much from you in terms of technical information.
Store policies
The creation of store policies is another critical process. Before you can launch your store, you need to institute store policies. Shopify has a tool that will help you come up with standardized store policy.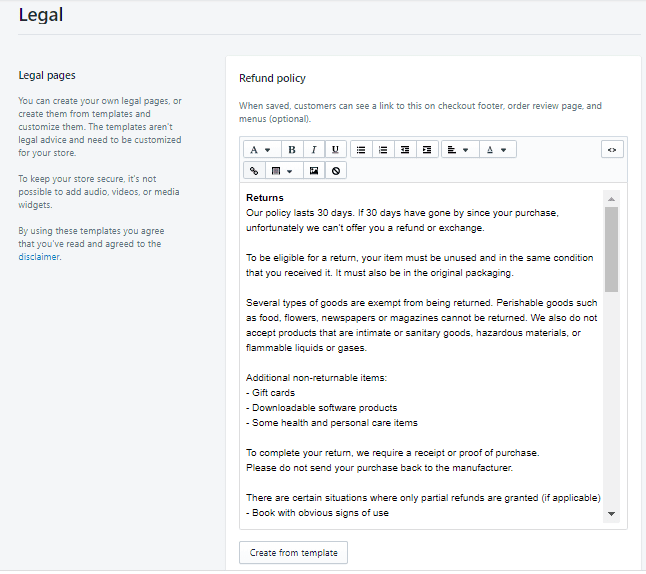 Therefore, you should not sweat over it. It is a simple process. The device will assist you in instituting a standardized privacy policy, your store's term, and conditions and returns policy.
To access this helpful tool, you click on the 'check out' tab and select the necessary fields. You then click on the 'generate' tab.
Shipping rates
Please note that it is very critical to have clarity on the shipping rates. The easiest option is to provide free shipping. The idea is that having different shipping rates for different regions is confusing.
This can make consumers look elsewhere. You should include your shipping costs into the price of the product. That way, you will avoid confusion.
To get to the 'free shipping tab,' go to the settings page and select it as appropriate. Replace the domestic shipping zones with 'free international shipping.' Move to the rate and select the 'free shipping rate.'
Launching Your Shopify Store
Up to this point, you have done all that is required. What's remaining is the simplest. However, before you can start, you will need to launch your dropshipping store manually.
To go about it, select the 'Sales Channels' tab from the settings page, and click on the 'add an online store option.' After you have done that, your store is now up and running.
Designing Your shopify Store
There are several advantages associated with having an aesthetically pleasing store. People like to be associated with things that are pleasing to look at.
If you spend some time designing a pleasing store, then the first impression created among the customers will play an essential role in attracting them.
When designing your store, there are two factors that you will consider. They are the theme and the logo.
Fortunately for you, Shopify has a theme store where you can choose the right one for you.
You can choose from free themes or premium themes. The choice is yours. Consider your budget and select the one that is appropriate for you.
Creating a Logo for Your Store
Logos assist the customers to remember the store. Don't be hasty to choose your logo. Take your time and select the one that best fits with the theme and products that you mostly deal with.
You can design your logo using tools such as Photoshop. You are also free to acquire the services of an expert to create a great logo.
Oberlo Definition
After you are done with the design, you can move on to the next relevant section is adding products. The Oberlo app will help you add product, and so you should download it. Oberlo is one of the most popular platforms utilized by online entrepreneurs to import dropshipped items.
After you have installed Oberlo, you will need to add a category to that effect in your store. Name this category according to the products that you will be dealing with.
Using Oberlo, search for the goods that you want to deal with. Click on import, and your desired products will be added to your store.
Selling your first item
You are now ready to start earning from your store. Your store will probably be characterized by low traffic.
You must do marketing campaigns to gain the traffic you want. There are various marketing channels at your disposal. Make use of them. Do your homework and determine which is the most appropriate for you.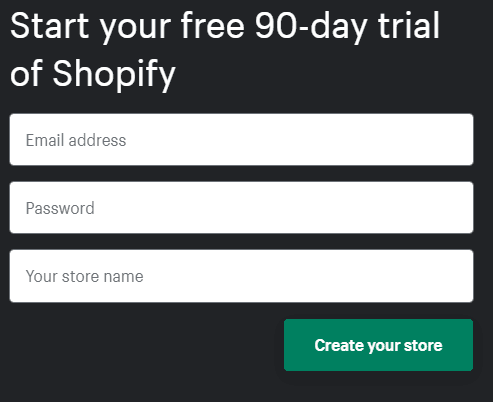 What are the Alternatives to Shopify?

One reason Shopify is incredibly popular is its effectiveness. But despite its popularity, there're its alternatives out there in the market. And herein is a list of this reviews' pick:

BigCommerce: It has a simple drag and drops editor with a dominant theme.
WooCommerce: Difficult to set than Shopify, although ideal for WordPress users
PrestaShop: Almost as comprehensive as Shopify, it works well for those with a limited budget.
Wix: Wix lets you build an online store, and it's one of the most straightforward website creators online.
Volusion: it's popular with smaller companies.
Squarespace: it's akin to Wix.
Magnetor: an open-source tool boasting some of the best reviews on the market. Although it still has a steep learning curve.
3deart: 3deart is a good shopping cart platform; its marketing tools are akin to those of Shopify and Shopify Plus.
BigCartels: This alternative is affordable though it comes with limited features.

Conclusion

The main question should have been, who is the Shopify eCommerce platform built to serve?
And the answer is that Shopify works well for both beginners, intermediate and advanced users-users with intent to speed up the development processes, spending less time in coding and complicated procedures.

Businesses that look to introduce eCommerce components to existing websites, more so when selling digital goods, can do it on Shopify.
It's easy to set up a store on this platform, technically all you've got to do is sign-up, walk through a handful of setting panels, and the store should be up and running.

What follows is user-friendly-you a customizable design. Add products, you then set payment details and possibly install new features from the Shopify app store.

Anyone who wants to sell online has a fantastic platform in the shape of the Shopify platform.
Besides, there's a 14-day free trial, and so you are not compelled to commit if you're not sure it works for you.
It is a most effective platform that gives you a standard working environment, easy to set up, and easy to manage platform for setting up your online store.
It offers affordable prices considering the fact that all that you need to run your business smoothly is embedded. A beginner can set it up easily without stress you can launch your online store in a matter of minutes (without exaggeration).
It gives you a 24/7 customer service; they answer your emails, chats and telephone calls irrespective of the plan you subscribe.
Shopify offers you all you need to set up your online store with full product display, efficient management of your inventory, excellent handling of your payments and records of your transaction history, active sales report, and a well-optimized store for search engines.
The unique concept of offering offline solutions makes it high above others. Start your online store on Shopify, and you will be glad you did.
Few alternatives
Of all Online Store builder solutions like Bigcommerce, Shopify, Volusion, Squarespace and Magento Go; Bigcommerce is the most suitable, most effective, and most reliable alternative to Shopify.
It has almost the same price range. With a very user-friendly interface, and a wide range of features compared to Shopify. Aside from this functionalities, it also has a 14 days free trial
Finally, there is another alternative to Shopify only that it is not software as a service product, 'self-hosted WordPress" only that you would need to build your site and host all by yourself you can read Shopify vs Woocommerce comparison and then decide.
But you can sell your products in so many ways.
Get Your Premium Dropshipping Store TODAY!
With our customized stores, perceiving what works becomes a thing of the past. No more fussbudget; on your part, all that's needed is to replicate one of the successful stores and start bringing in money.
Summing Up Your Complete Dropshipping Store
Our team builds your online store from start to finish
We help you select the most productive niche
We make an exceptional design to your liking
A personal manager guides you through each progression
No work nor experience is necessarily needed from you
You have access to a turnkey business to derive profit
All you require for a successful launch :
Fast-moving Products
Functional Website
Winning Ads
Customized Store
and more
Hire me today CLICK HERE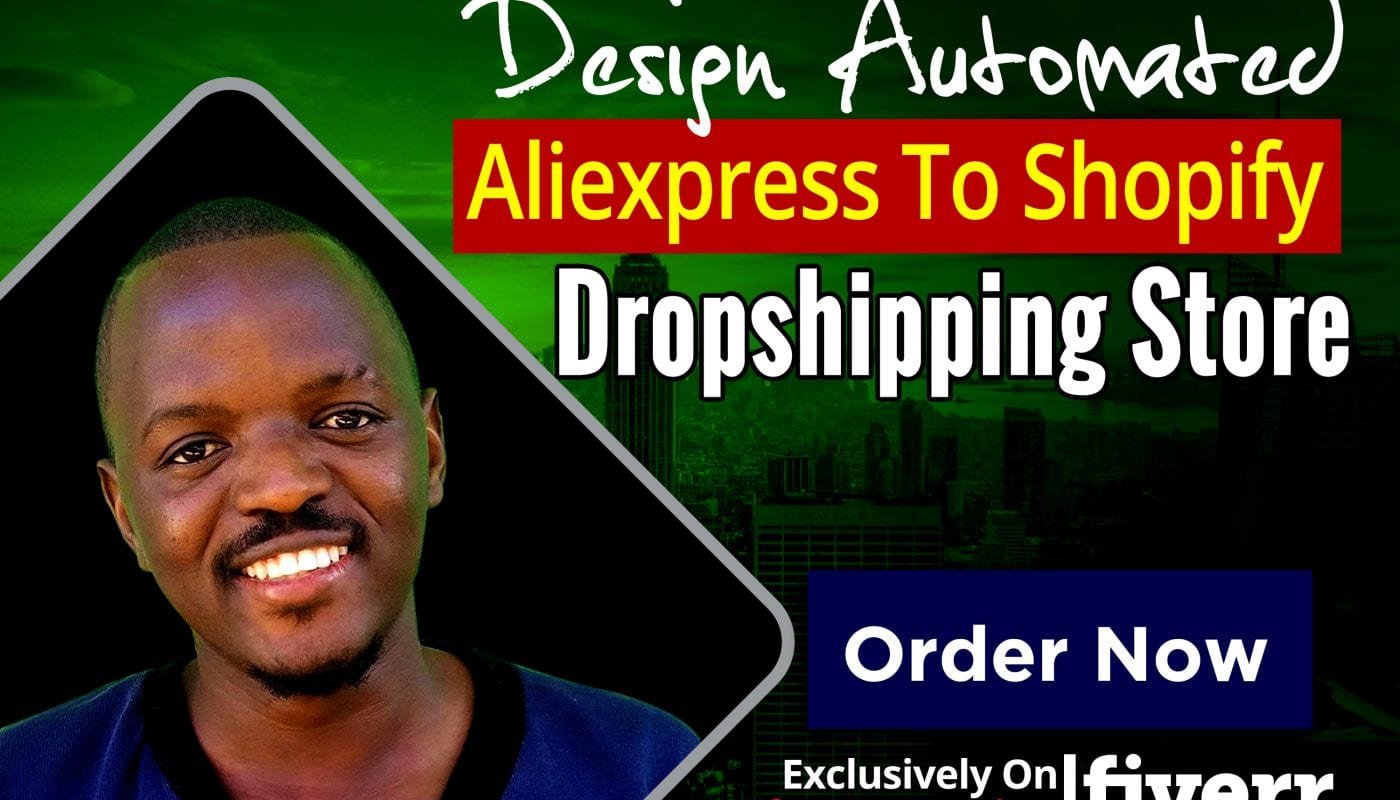 Small Request
Kindly share it with your friends. Especially, the ones you believe really need this information.
Sharing this information with others can make a huge difference. You may ask why?
Well, the truth is, my main aim is to provide the best information pertaining to drop shipping for both beginners and experienced dropshippers.
And I plan to continue doing so for as long as I can.
I would also like to thank those who support the work I do through reading my content and sharing.
Trust me, when you take your time and share it will help a lot not only for me, but also other people who may really be in need of this information.
Here are some great suggestions:
Pin it
Share it on another blog
Share on Facebook (Share it with friends and even on Facebook groups)
Tweet it
Stumble it
This will only take a few seconds of your time and I would really appreciate.
I appreciate you a lot. Thank you!
Join my Shopify dropshipping group mastermind and follow my blog to learn more about Shopify tips, dropshipping guides, dropshipping tricks and checklists, and e-commerce in general.
If you enjoyed and learned something from this post, you can get updates from me, free of charge!
I send out email newsletters about new posts published on the blog, tips, and tricks to help you grow your dropshipping business, as well as new YouTube videos to give you more insights about the e-commerce market, and much more.
If you enjoyed reading this Shopify email marketing post, you can as well join my Facebook group. Thank you for reading how to make money dropshipping online from the comfort of your home.
Click The Image To Join My Facebook Mastermind Group