What Are The Examples Of Niche Markets? (The Truth )
Have you ever asked yourself about the examples of niche markets and the categories they fall in? Well, today we answer most of the asked questions about the best dropshipping niche to start an e-commerce business or a Shopify store.
So, what are the examples of Niche Markets? A niche market is a small but well-defined segment of a larger market. Larger businesses often overlook niche markets because they are not as profitable as the mass market. However, niche markets can be very profitable for small businesses because they are less competitive and lower overhead costs. 
There are three main types of niche markets:
1. Geographic niche markets
2. Demographic niche markets
3. Psychographic niche markets
Geographic niche markets: A specific geographic location defines geographic niche markets.
For example, a business that only serves the residents of a small town is a geographic niche market.
Companies that serve a specific geographic area can often charge higher prices because they are the only business in the area that provides the product or service.
Demographic niche markets are defined by specific demographics such as age, gender, income, or occupation. For example, a business that only serves senior citizens is a demographic niche market.
Businesses that serve a specific demographic can often tailor their products or services to meet the needs of that demographic.
Psychographic niche markets: Specific lifestyle choices or personality traits define psychographic niche markets. For example, a business that only serves vegetarians is a psychographic niche market. 
Businesses that serve a specific psychographic can often appeal to the values or interests of that group.
Niche markets can be very profitable for small businesses because they are less competitive and have fewer overhead costs.
The entrepreneurial arena brims with "jack of all trades, master of none"? The phrase refers to entrepreneur-generalists who can execute everything competently but contrasts a specialist who excels at one thing. The same applies if you operate an online business.
Carving a niche market and establishing yourself as the go-to brand for a specific audience builds your credibility against rival generalists and results in a more targeted business.
From a unique value proposition to your content marketing efforts, focusing on a niche market enables the correct buyers to declare, "This is for me confidently."
If you're stumped by your first product concept, narrowing your focus on a specialized niche is an excellent place to start.
There is an innumerable profitable niches to choose from, with the option of narrowing your niche even further. The trick is to identify a niche market that you can understand and a sizable consumer base.
Herein, we'll look at what a niche market is, how to identify one, and how to identify in-demand products to serve the niche below. Additionally, we'll examine the niche market opportunities along with specific product ideas ripe for newbies.
Synopsis
What is a Niche Market?
Niche Markets Examples
Developing a Niche Marketing Strategy
FAQs About Niche markets
What's a Niche Market?
A niche market refers to a subset of a larger market differentiated by its distinct requirements, interests, or identity distinguishing it from the market.
For instance, the market for women's shoes is divided into numerous divisions or niches. Shoes for vegan women and shoes for plus-sized women and nurses would be considered niche markets.
Almost every market may be modified or segmented further based on its components' unique demands and preferences. Several of the most frequently used criteria for defining a niche include the following:
Geographical features residents of a specific country, city, or even neighborhood
Demographic data gender, age, income level, education level
Qualitative level-premium, handmade, economical
Psychographic data values, interests, attitudes
The prices-luxury, moderate, discounted
Focusing on a niche is a strategic business move that enables you to better service a specific consumer base than competitors that target a broader market. Consider the examples in the next section.
Niche Market Examples
While you may have specific trendy products in mind, you can boost your chances of success by first focusing on a niche market and narrowing your search for niche products with a possible market match. We'll examine nine huge markets in detail to demonstrate how each one contains various niche markets and product prospects.
Bear in mind that this list of niche markets and product ideas is merely a jumping-off point for your search for a prospective niche market—you may always branch out or discover other niche opportunities within each category:
Conscious buyers
Health and wellness
Pet owners
The LGBTQ+ community
Travelers
Gamers
Homeowners
Remote workers
Locals
1. Conscious buyers
Recently, customers have shown an interest in sustainability. According to an IBM survey, nearly six in ten consumers expressed a willingness to alter their buying patterns to lessen their environmental effects.
The emergence of the conscientious consumer has opened the way for vegan, environmentally friendly, and cruelty-free alternatives to traditional products; if the general market commonly purchases a product, a good chance that a niche of ecologically concerned consumers may adopt a greener alternative.
Historically, businesses seeking to cater to this niche market would have donated a percentage of their profits to a cause. Still, most customers now worry about the items' sourcing and production as well.
Bee's Wrap, for example, is attempting to replace plastic Wrap with beeswax alternatives. Not only is this natural alternative to food storage environmentally beneficial, but it is also more cost-effective for consumers due to its reusability.
Alternative suggestions for conscious buyers of niche products.
Reusable drinking straws
Vegan-friendly apparel
Cruelty-free cosmetics
Menstrual cups
2. Health and wellness
In 2020, the worldwide health and wellness market was projected to reach $3.31 trillion in value. With the coronavirus epidemic creating health worries, individuals are beginning to take control of their well-being.
The term "health and wellbeing" refers to the practice of taking care of one's mind, body, and spirit. Personal care, nutrition, preventative health, and alternative medicine are some sub-niches within this market.
For example, if you purchase a gluten-free product in the supermarket, you have contributed to the health and wellness market.
Happiness Abscissa has established itself in the health and wellness niche by selling fragrances. Its products offer unique aroma combinations that enhance one's sense of well-being and enjoyment.
Each aroma is created by a neurologist and packaged in a soap container, candle, or perfume that clients can use whenever they need a boost.
The product possibilities in this niche are virtually limitless: food and beverages, beauty and personal care, skin health, immunity, and digital products such as ebooks and recipes.
While you do not have to be an expert to start a business in this niche, it is smart to collaborate with a specialist to develop safe customer products.
Alternative health and wellness product ideas
Mushroom-infused coffee
Kombucha brew kits
Elatonin gummies
Oil diffusers
Massagers
Oat milk
3. Pet owners
In 2020, the pet business in the United States alone will spend an estimated $99 billion. As a result, there are numerous opportunities to carve out a niche in this market, which spans various pet types, lifestyles, and more.
Only Natural Pet is an excellent example of a niche business in this market; it supplies natural food, flea & tick repellant, outdoor gear, toys and beds, and more.
A pet owner can find the company's website and purchase what they require for their puppy.
While most people own fish, dogs, or cats, there are also unique pets such as horses, lizards, turtles, and even chickens, each of which presents its own set of chances.
Alternative pet owner-centric product ideas
Pet cameras watch and interact with pets while you're not at home.
Personalized products with pets' photos
Pet accessories and clothing
Organic pet food and treats
GPS pet trackers
4. The LGBTQ+ community
The LGBTQ+ community makes for a considerable niche market, and these customers have a lot of spending power. According to LGBT Capital, worldwide purchasing power is estimated to be in the neighborhood of $3.7 trillion.
Brands that develop genuine relationships with this market are best equipped to serve this niche. Just ask TomboyX, a brand of underpants. Initially, a t-shirt firm, co-founder Fran Dunaway recognized an opportunity to focus on a specific consumer group's requirements by selling underwear "for anybody."
Alternative LGBTQ+ community-niche product concepts
Makeup designed specifically for LGBTQ+ subsets
Clothing made for specific body types
Pride-inspired designs
5. Travelers
Consumer attitudes toward travel are changing. Indeed, travelers are becoming increasingly eco-conscious. Yet, according to Booking, more than half of travelers seek sustainable accommodations but cannot locate them.
This void creates a tremendous opportunity for brands to step up and promote eco-friendly activities through sustainable products. And travelers are interested in more than simply environmentally-friendly solutions. Additionally, they seek authentic local experiences, convenience, and extended travel.
Nomatic is a luggage company aimed at travelers, particularly digital nomads, who prioritize functionality over all else. This audience attention is evident across the business, from its products to its copywriting.
Alternative niche product suggestions for adventurous travelers
Scratch maps are ideal for travelers who enjoy documenting their travel experiences.
Smartphone accessories for content creators on the move
Regular fliers' leisure is both practical and comfortable.
6. Gamers
The term "gamers" is a blanket phrase that encompasses a range of subgroups: mobile gamers, PC gamers, console gamers, and tabletop gamers, to name a few.
About 2.7 billion active gamers worldwide, and roughly half spend money on their hobby, resulting in a $200 billion business by 2023.
Take this online business, for instance, Glorious PC Gaming Race, focusing on PC gaming-related products. It's grown into a seven-figure niche business that operates almost entirely on autopilot.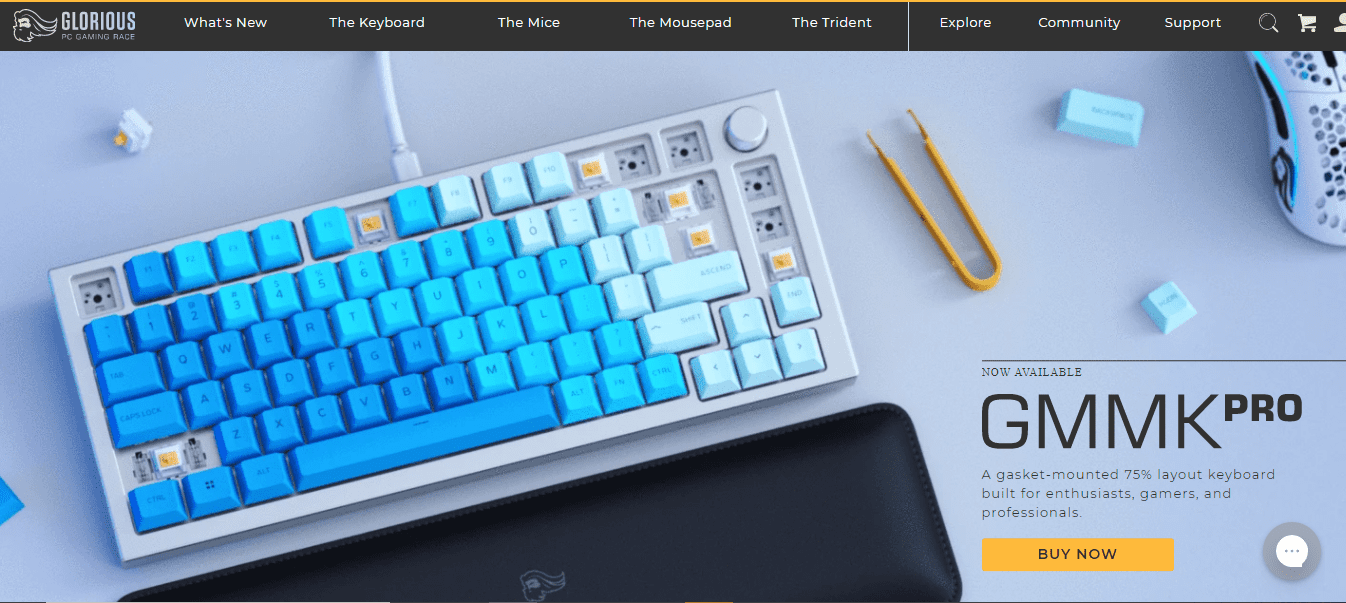 Mobile gaming, in particular, is eclipsing the market, accounting for 91% of the market. Additionally, more women are entering the market than at any point in history, a trend that shows no signs of abating.
You may further subcategorize this category depending on popular genres (such as first-person shooters) or systems (like the Nintendo Switch).
Alternative gamer-centric product ideas
Long gaming sessions require ergonomic products-controllers, chairs, blue-light blocking glasses.
Customize consoles, controllers, and other electronic devices using decals.
T-shirts that pay homage to various parts of gamer culture
Mobile-gaming accessories
7. Homeowners
The face of homeownership is shifting. What was formerly commonplace is no longer, and a section of US consumers are moving away from homeownership. There are numerous causes for this, including rising costs of living and dismal income.
As a result, homeownership is changing and the idea of what it means to be a homeowner. In addition, due to the introduction of home-sharing platforms such as Airbnb and VRBO, more homes are converted into investment properties or shared spaces that produce additional passive income.
August was able to launch its range of keyless entry and home security products for homeowners due to this acquisition. In addition, guest access is a critical feature that enables hosts to provide renters with access for set periods.
Alternative homeowner-friendly niche product ideas
CCTV cameras in the home (in-home, doorbell, smart home devices, etc.)
Renter-friendly solutions (such as no-drill blinds)
Small apartment furniture and home décor
8. Remote workers
The rise of remote workers is mainly due to two factors: increased self-employed contractors and a greater acceptance of remote teams by businesses following pandemic-related closures.
This could be for a variety of reasons. Allowing employees to work remotely boosts job happiness and productivity, for starters.
Additionally, these workers are more engaged and twice as likely to work more than 40 hours a week than other workers.
And individuals who choose self-employment often seek greater flexibility and a more balanced work-life balance.
According to a recent Gartner survey of business leaders, 80% will enable employees to work remotely for at least part of the period following the pandemic, and 47% will allow employees to work from home full-time.
In addition, according to a PwC survey of 669 CEOs, 78 percent believe that remote cooperation will remain popular for the foreseeable future.
Freelancer At Work makes for an example of a business that caters to this niche market of freelancers by providing products that assist in attracting new clients.
They sell laptop decals that promote your profession regardless of where you work.
Considering the motives and lifestyles of these remote employees might assist you in developing product ideas that will help them and the businesses that employ them in accomplishing their goals.
Alternative ideas for niche products targeting remote workers
Laptop accessories for those who enjoy working in coffee shops
Toys and décor for the desk
Home interior design
Read Also:
9. Locals
Even the world's largest brands are implementing customized local marketing strategies. And with reason: they are up against a consumer-led push to promote small businesses in their communities.
However, if you sell exclusively online, establishing a local presence can be challenging. Fortunately, eCommerce merchants may participate in the movement by considering their city or country as a niche market.
For instance, the clothing brand Peace Collective was created in and around Toronto's pride. The brand has grown in popularity among Canadians and supporters of several NBA teams.
Alternative niche product concepts for locals:
T-shirts feature messages that are culturally or geographically distinctive.
Apparel emblazoned with the logos of neighborhood sports teams
Photographic prints/photograph books of a particular cityscape
Finding a Niche Market.
Entrepreneurs and marketers seeking an untapped niche market, whether new or established, must first build an overview of the larger market and then drill down. Your niche will be a subset of that market, and it will assist in deciding everything ranging from:
Your product's features are tailored to the needs of your market.
Your approach to digital marketing
Your product's price approaches
Your branding/positioning
Standards of production
Selecting a niche provides an early competitive advantage for your internet firm. If you attempt to launch an online business in a crowded product category or market, you will face stiff competition.
Concentrating on a niche enables you to compete by doubling down on a specific market segment rather than selling different products.
While there is no one-size-fits-all strategy for selecting a niche, there are several options. In addition, there are numerous techniques to generate a list of potential niches and product prospects, ranging from simple Google searches to mind mapping and keyword research.
Niche Markets Research Methods
Google searches
Begin your research with Google.
The most effective strategy to begin brainstorming niche ideas is to familiarize yourself with what other online shops provide in a specific product category or for a certain audience.
Beginning your niche search with straightforward Google searches is an excellent approach to acquiring a sense of the terrain. As a starting point, consider 'makeup." From there, we can find a plethora of possible angles and rabbit holes, such as "vegan skincare" and "non-animal testing."
You can explore various angles and trends through trial and error until you find an underserved audience or an unmet market demand.
Bear in mind that, even if a competitor is targeting your niche, you may still compete by concentrating your efforts on a more narrow portion of that audience. Bear in mind that becoming an expert rather than a generalist is the goal.
Build a mental map model
A mind map is an excellent tool for identifying prospective market niches for your business ideas. In addition, mind maps are an intuitive method to organize your thoughts and expand on ideas since they replicate the way our brains think.
Creating a mind map can assist you in swiftly generating product ideas while also inspiring you to explore different niches. Create a basic but powerful mind map with the help of a free online application such as Text2MindMap.
Here is our proposal for a make up product:
Google's suggestions.
Have you ever noticed how, when you begin typing something into a Google search, you are presented with suggestions before you have completed your query?
These are the most often searched-for related keywords on Google, which you may leverage to find a niche for your product category.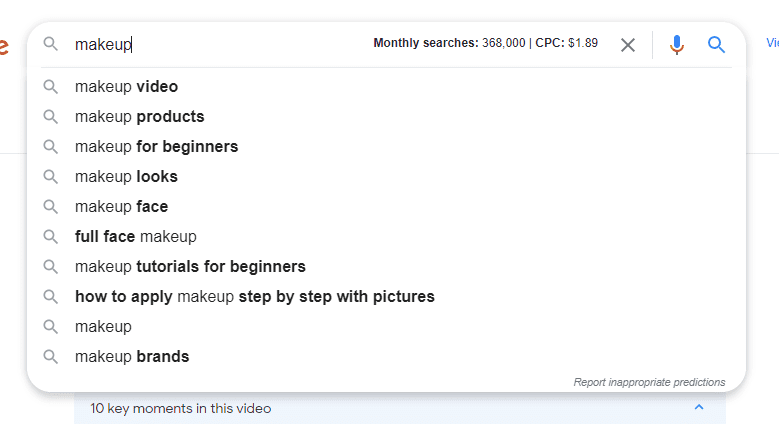 Because Google will only show you a few suggested searches, you may want to use tools like the Keyword Tool or Answer the Public to collect and organize all of Google's suggested searches.
We entered "cruelty-free" and were presented with suggestions for a possible niche. The following is a summary of the findings:
Keyword research
Drill keyword research to zero in on essential information. The keyword research method for identifying a niche makes use of Google's Keyword Planner.
The Keyword Planner is a feature of Google Ads, Google's advertising platform. The Google Keyword Planner compares to the Google suggestion tool outlined above, but it is more sophisticated and customized.
You must have a Google Ads account to utilize this feature-sign up for free. Log in to your account and pick Tools-the wrench icon from the top menu.
Enter your primary niche concept to view results. You may alter your location settings on the left to ensure that you'll reach the desired place.
Additionally, you may apply filters, delete branded keywords, and view suggestions for other terms to investigate.
Searching through these results can offer you an excellent indication of prospective niches linked to your original search query.
Occasionally, even the demand for specific popular products you may want to examine. Do not be afraid to delve deeper and experiment with a range of closely similar search phrases.
Alternatively, if you do not have a Google Ads account, you can utilize the Keywords Everywhere browser plugin to display search volume immediately beneath your Google searches.
Also, learn how to Identify a Profitable Dropshipping Niche for Your Business.
Find passionate communities online.
There are numerous passionate communities on the Internet.
The Internet is pretty adept at forming groups around shared interests, passions, and hobbies—in other words, niches.
Consider specific communities to which you belong or seek out promising ones by:
"Listening" to community-focused hashtags on Instagram and Twitter, such as #vegansofig and #vegancommunity, to find niche opportunities.
Browsing the most active subreddits in search of passionate audiences and partaking in their discussions
Combing through Wikipedia's most popular "hobbies" pages
Evaluating your Niche Market concepts
At this point, you've determined what to sell online; now, you need to be sure that there is an audience for the product.
At first, your niche market and products are only a speculative hunch as to what you believe will appeal to your target audience.
While focusing on a niche makes it exponentially easier to find potential consumers and convince them to buy from you, you must be sure that the niche has a sufficient number of buyers to make it sustainable.
If you conclude that your niche is too tiny to create an acceptable level of interest and profit, try shifting your niche to a different audience or promoting a new product. You will never honestly know what will resonate until you give it a try.
Even if you achieve early success, niches shift with time, and it is up to you to adapt to your audience and modify your position accordingly. You may even add new products to your line as possibilities arise.
The following are some strategies for evaluating a new niche market concept:
· Build an audience first. Kickstarter drives elicit interest in and visibility for new products before they are developed. While this may not be the best way for you, you may still promote your idea and get fans through email opt-in pages, social media campaigns, and other Internet approaches. This way, when you do launch, you will have an engaged group of potential clients ready and waiting.
· Test run. Before investing in it, run a test. Begin with a small batch of dropshipping products and market them to a specific audience. Solicit feedback from first-time consumers, or send a couple to influencers and ask what they think. It's critical to solicit input early on, particularly if you're producing a new product, fine-tuning it before it's released to the rest of the world.
· Niche insight. Expand your knowledge of your niche. You've already conducted keyword research to determine your niche market, but you can go deeper. To acquire insights into your niche, analyze blogs, social media, Amazon reviews, podcasts, and influencers. Are you capable of resolving a recurring issue?
· Market trends. Conduct market research on consumer trends. It's critical to stay current with developments in your chosen niche. Facebook IQ, Google Think, and Nielsen consumer research all assist you in determining consumer pain issues, desires, and breakout trends. Create Google Alerts for relevant terms and watch social media conversations daily to keep on top of what's trending.
When it comes time to market your product, keep in mind to focus on the needs and commonalities of your target audience. What makes this niche market different from the broader market, and how can you cater to its unique wants, needs, and preferences?
Understanding the particular needs of each niche makes you communicate directly with them in your marketing campaigns—you'll have a better chance of capturing a buyer's attention and securing their business by emphasizing how your product is tailored exclusively for them.
Developing a Niche Marketing Strategy
After learning how to identify a niche market and produce product ideas that your target audience will purchase, it's time to transform your concept into a reality. Here are a few resources to help you get started, regardless of whether you intend to create it yourself, collaborate with a manufacturer, or drop ship it:
Companies That Offer Print-On-Demand Services for Selling Your Custom Products
Creating a New Product: A Step-by-Step Guide-From Concept to Market
Shopify Apps for Finding Products (Without Shipping Them Yourself)
FAQs About Niche Markets
What does a "niche market" mean?
A niche market is a subset of a larger market defined by its own unique set of needs, preferences, or identity that makes it different from the rest of the market.
What is the difference between a mass-market and a niche market?
A mass-market is concerned with reaching the most significant number of people possible, whereas a niche market is concerned with reaching a specialized set of individuals. A major grocery store chain is an example of a business catering to a mass market, whereas a small butcher shop is an example of a niche business.
How can I identify a niche?
Choose a broader mass market and then sift through the available niches until you find one that appeals to you. To find ideas, examine search trends, build a thought map, or peruse social media.
This blog post will walk you through the process of defining and verifying your niche.
Which are the examples of niche markets?
The LGBTQ+ community
Well-being and health
Conscious buyers
Remote workers
Homeowners
Pet owners
Travelers
Gamers
Locals
Which products or trends have piqued your interest recently? What other items would you add to this list? Then, tell us in the comments section below.
Small Request
Kindly share it with your friends. Especially, the ones you believe really need this information.
Sharing this information with others can make a huge difference. You may ask why?
Well, the truth is, my main aim is to provide the best information pertaining to drop shipping for both beginners and experienced dropshippers.
And I plan to continue doing so for as long as I can.
I would also like to thank those who support the work I do through reading my content and sharing.
Trust me, when you take your time and share it will help a lot not only for me but also for other people who may really be in need of this information.
Here are some great suggestions:
Pin it
Share it on another blog
Share on Facebook (Share it with friends and even on Facebook groups)
Tweet it
Stumble it
This will only take a few seconds of your time and I would really appreciate it.
I appreciate you a lot. Thank you!
Join my Shopify dropshipping group mastermind and follow my blog to learn more about Shopify tips, dropshipping guides, dropshipping tricks and checklists, and e-commerce in general.
If you enjoyed and learned something from this post, you can get updates from me, free of charge!
I send out email newsletters about new posts published on the blog, tips, and tricks to help you grow your dropshipping business, as well as new YouTube videos to give you more insights about the e-commerce market, and much more.
If you enjoyed reading this, you can as well join my Facebook group. Thank you for reading how to make money dropshipping online from the comfort of your home.
Click The Image To Join My Facebook Mastermind Group