Free Shipping Label Generator Tool For Your Business
Shopify's free shipping label generator tool is the simplest method to make shipping labels for your retail business.
Fill in the essential information and print a shipping label straight now. Print it on sticker paper and put it in your box.
The Shopify shipping label template has a professional layout and includes all critical elements for clean and uniform shipping labels.
Here's how to get the most out of your shipping label generator: we've put together a guide on shipping label templates to keep the customers informed and on top of their game.
Moreover, use the free shipping label template's optimized batch order processing tool to run the complete workflow automatically, from importing data to creating labels on a single page with considerably fewer clicks.
Before shipping, you can easily create and print custom shipping labels on your boxes or products. Try Shopify shipping label generator Tool Today!
What's a shipping label?
A shipping label is a label that shows who owns the package and what it is. It is useful for the carrier transporting packages from the seller to the receiver.
Most shipping labels include the following information:
Weight of the package
Tracking number
Shipping date
Sender details
Destination address (customer location)
Shipping label benefits
Easy reference: Shipping labels make it easy to find important information about a package, such as where it's going and how much it weighs. This ensures that everything runs smoothly during shipping.
Real-time tracking: Shipping labels allow both senders and receivers to track the status of shipments in real time, keeping everyone informed and up to date.
Quick identification: In high-volume warehouses, shipping labels make it easier to sort and identify packages, saving time and energy for your staff.
Shopify's Shipping Label App
Shopify users can access Shopify apps through the Shopify App store using their Shopify login. Some could be added.
Having integrations and extensions on hand makes managing ecommerce retail and dropshipping businesses' stores and apps easier.
When using Shopify as your platform, the shipping label app Shopify-based can quickly make labels that can be changed for different package sizes and carriers.
Creating a label in Shopify is simple if you've set up Shopify Shipping. It's easy to set up, and once you're done, you can print labels & even customs forms, saving you time at the post office or when picking up shipments.
One thing to remember is that Shopify Shipping is only available to businesses that ship from the United States, Australia, Canada, or the United Kingdom. Set up Shopify for the desired country by following the instructions in Shopify Help.
The Shopify shipping label template is a valuable app that sets a label as soon as an order is placed and ready to be shipped.
The disadvantage is that you can only print so many batch labels at once, so you may have to re-enter a lot of information if you're sending many packages at once.
When an order is picked & during the fulfillment process, the shipping label generator comes into play and generates either multiple labels or just one. You can quickly make hundreds of shipping labels and branded packing lists with a few clicks.
With a free shipping label template, you can create dozens of shipping labels and branded packing lists without re-entering the same information.
For example, you can speed up your printing process by sending labels directly to your printer using our direct-to-printer option. Of course, you wouldn't want anything less from a market leader in ecommerce software!
Shipping Label Template For Word
The Shopify shipping label template is a useful app that sets a label as soon as an order is placed and ready to ship. However, as previously stated, it is limited, and you must pay each time a label is created.
A shipping label template is also available for free or for a small fee from several sources. For example, you can get a free shipping label template for Word or Google Docs, and some office supply companies, such as Avery and Staples, may download them for a small fee.
Why not do stuff the smart way and collaborate with the industry leader, Shopify, to get a complete platform for managing and growing your ecommerce business?
Shopify can work with you in managing your business, whether you are a retailer, a dropshipper, a manufacturer, or other businesses. It can assist you with inventory, fulfillment, final tracking and delivery, and other tasks.
Shopify assists with multichannel sales by importing orders from a Shopify-supported sales channel, a CSV upload, or a custom API integration and shipping them to the customer.
Before shipping, you can easily create and print custom shipping labels on your boxes or products. Try Shopify shipping label generator Tool Today!
You can also connect your warehouses or supply-side channels. Send orders to 3PLs and dropshippers and select which warehouse or location to ship from.
Furthermore, Shopify's shipping label apps make it easy to create and print shipping labels in bulk or one at a time.
Other benefits of Shopify include speeding the fulfillment process by configuring Shipping Presets to fill in certain shipping parameters when creating labels automatically. You can also go a step further and set up Automation Rules to act on orders as soon as they arrive.
Finally, you can track every order's status in real time, from when it is placed to when it is fulfilled and delivered. That is genuine peace of mind for you and your customers.
Shipping Label Software
Many good companies make shipping label software, but most only deal with shipping and don't help you manage your inventory or sync with incoming purchase orders or your vendors and suppliers.
The Shopify shipping label template automatically allows you to print shipping labels for Shopify-related orders. Still, it does limit the number of labels that can be printed at once.
The Shopify label printer app is compatible with various label printers, including the Dyno LabelWriter 4XL, the Rollo label printer, and the Brother QL-111ONWB label printer.
You can also print multiple shipping labels Shopify-based using the label creation app, which is one of the most popular top Shopify apps.
Using a free shipping label generator, you can quickly make as many shipping labels and branded packing lists as you need. This is easily accomplished with a few mouse clicks. You can streamline your printing workflow by sending labels directly to your printer with our direct-to-printer option. No more PDF downloads or additional click-throughs!
The best shipping label software for small businesses syncs inventory and fulfillment. It is scalable, which means it has enough features & apps to grow & expand your business without having to be replaced or go through expensive, time-consuming upgrades.
It's comforting to know that a company like free shipping label generator has you covered and then some.
Top 10 Shipping Label Apps for Shopify in 2023
In this section, we've compiled a list of the best shipping label apps for your ecommerce store. These apps can help you describe and specify what's inside a package so that the carrier and customer are aware and can keep track of what's being shipped. We hope this helps you search for the best app for your store.
The following are the top Shipping Label Apps for Shopify in 2023:
ShipRobot
ShippyPro Labels and Returns
Shipandco
Ship, Rate, and Track for FedEx
Sendcloud
ReadyToShip Shipping Tracking
Order Printer
Multi-Carrier Shipping Label
easyDHL
Avada PDF Invoice: Order Printer+
ShipRobot
Free to install
Main features of the app:
Request Syncing: Sync orders from different business sites you use in real-time.
Print Shipping Labels: You can create and print shipping labels for all your orders using a single solution.
Order Status Management: Update request statuses when orders are filled.
ShippyPro's Labels and Returns
Free to download
Main features of the app:
Track your Packages: Increase upsells and addresses shipping issues. Send the following notices to your clients to avoid being overwhelmed by WISMO requests.
Print your Shipping Labels: Select the best messenger for each shipment and make all your labels in a matter of seconds. The following number is automatically updated on Shopify.
Manage your returns: You and your clients will have a more relaxing experience if they can self-serve and make return requests after your product exchange.
Read Also:
Shipandco
Free to install
Key features of the app:
Sync Orders in Real-Time: Shopify and other stores automatically synchronize orders. Any modifications to how things are set up are always matched up in real time.
Print Labels and Custom Invoices:
Compare shipping rates and time frames.
Select your desired shipping method.
Make labels and custom invoices with a single click.
Automatically Fulfill and Track: Mark shipments as satisfied and send them out of your shop with the following numbers instantly. On one interface, you may check the progress of a shipment.
Ship, Rate, and Track for FedEx
Starts at $19/month
The app's main features are:
Generate fedex Shipping Labels: FedEx Shipping Labels can now be printed directly from your Shopify store with a single click.
Fedex Live Shipping Rates: Manage Fedex's domestic, international, and freight shipping rates right on the checkout screen, including fixed rates for your account.
Order Tracking: Create and change FedEx tracking numbers for each order automatically, and send tracking information about your customers' packages via email.
Sendcloud
Free to install
The app's main features are:
Exceed customer expectations: Good interactions with customers increase customer loyalty and morale, but perhaps not as much as distribution quality.
Save time on every order: Simplify and streamline the delivery, selection, and packaging processes, and tailor the workflow to your needs to save time and money.
Returns that keep customers returning: Returns are expected and can hinder success and growth. With our return portal, we can increase customer loyalty and business growth.
ReadyToShip Shipping Tracking
Free to install
Key features of the app:
Print Labels in One Click: Prepare your requests and print labels in one click. Print solicitations and embeds, select records, and so on. Easy and quick.
Full-featured Shipping Dash: You can keep track of all delivery requests. Change transporter, load, and address information, and that's just the beginning. The browser's record of your request.
Update Shopify's tracking: Are you finished pressing? With a single catch, your Shopify requests are updated with the most recent numbers and fulfilled for you. It's scripted and easy!
Order Printer
Free
The app's main features are:
Customize template settings: Make a statement by making html and liquid.
Print in bulk: You can view and print all the documents required for your orders.
Using Shopify for shipping: Print packing slips and mailing labels with your orders when using Shopify for shipping.
Multiple Carrier Shipping Label
Starts at $9/month
The app's main features are:
Display Accurate Shipping Rates at Checkout: Instead of guessing, you can show accurate shipping rates from the top shipping carriers on your Shopify checkout page.
Track Shopify Orders Easily: Send customers to live order tracking updates via email as soon as the shipping carrier updates the tracking status.
Automatically Print Shipping Labels: You can download and print many shipping labels at once. There will be no more copying and pasting of the recipient's address and package information.
easyDHL
Free to install
Key features of the app:
Labels and Fulfillment: It only takes two clicks to create delivery and return labels for one or more orders. Orders are updated, and customers are given new information in Shopify.
Customs-documents: The app allows downloading the necessary customs paperwork using the hs codes saved in Shopify.
Slips, Invoices, plus: If requested, the app can also make distribution notices, invoices, or a shipments log in addition to shipping labels.
Avada PDF Invoice: Order Printer+
Free
Key features of the app:
Ready-to-Use Templates: The smart editing app allows the admin to change existing pdf files quickly. This prevents mistakes from occurring when a prototype goes live.
Beautiful Billings and Documents: The pdf Invoice, pdf Request, pdf Reimbursement, and pdf Packing Slip templates are easy to create for the administrator using simple setup steps.
Delivery automatically: Customers can quickly import or print pdf billing documents online with just a few clicks to collect emails.
Final Thoughts
The Shopify label printer app is easily accessible through Shopify Shipping. It can assist you in creating a shipping label with the correct shipping cost and setting up your preferred carrier.
Access to a shipping label generator, such as in ecommerce software, can save you a lot of time, especially if you need to print multiple orders quickly and correctly.
Labels for Shopify can be easily downloaded and printed using their app, even if you don't have a special printer.
Before shipping, you can easily create and print custom shipping labels on your boxes or products. Try Shopify shipping label generator Tool Today!
For example, you can get shipping label software that only helps with shipping. Still, if you're adding to your inventory rather than drop shipping, you should look into a more comprehensive package.
The shipping label generator tool on Shopify can assist your ecommerce business in expediting order fulfillment.
You can make dozens of shipping labels and branded packing lists with a few clicks at once. In addition, you can quickly send labels to your printer using the direct-to-printer feature.
FAQs
What's a shipping label?
When a customer wants to return something they purchased online, businesses frequently assist them by providing a shipping label. Shipping labels are often emailed to customers, who print them and tape them to a package. A mailing address, the weight of the item, a description of the item, and a tracking bar code can all be found on shipping labels. The information on a shipping label differs depending on the carrier.
How does the shipping label template work?
Shopify's free shipping label template is quick and easy to use. To begin:
Navigate to www.shopify.com/tools/shipping-label-template.
Fill out the online form with your information.
Select "Create shipping label"
Wait for an email from Shopify with the shipping label to arrive in your inbox.
Click the "Get your shipping label now" link.
Click "PDF Download"
Print and use the label, or email the customer with instructions to print and tape it to their parcel.
Can you print the shipping label on paper and tape it to your parcel?
Yes, that's right. Print the shipping label on paper, tape it to the parcel, and drop it off at a carrier company mailing station. Some shipping companies may offer to pick up the package from the customer's door.
How much does it cost to use the label template for shipping?
Shopify provides free shipping label templates to businesses; that is, there is no cost to use them.
Is it cheaper to create your shipping label?
No, using Shopify's shipping label template is free. Instead, a shipping label is free to make, but a parcel will be sent once postage is paid.
Small Request
Kindly share it with your friends. Especially the ones you believe need this information. Sign Up Now and Get your first 3 months for only $1 monthly.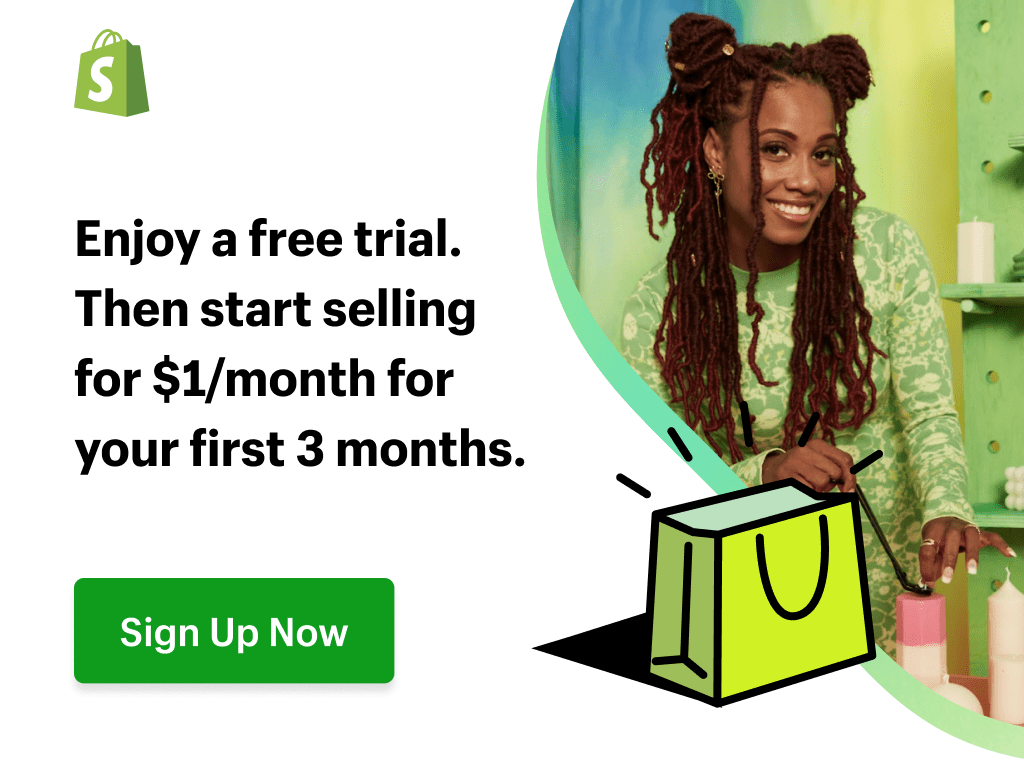 Sharing this information with others can make a huge difference. You may ask why.
Well, the truth is, my main aim is to provide the best information about drop shipping for both beginners and experienced dropshippers.
And I plan to continue doing so for as long as I can.
I would also like to thank those who support my work by reading and sharing my content.
Trust me, when you take your time and share, it will greatly help me and others needing this information.
Here are some great suggestions:
Pin it
Share it on another blog.
Share on Facebook (Share it with friends and even on Facebook groups)
Tweet it
Stumble it
This will only take a few seconds of your time, and I would appreciate it.
I appreciate you a lot. Thank you!
Join my Shopify dropshipping group mastermind and follow my blog to learn more about Shopify tips, dropshipping guides, tricks and checklists, and e-commerce in general.
If you enjoyed and learned something from this post, you can get me updates for free!
I send out email newsletters about new posts published on the blog, tips and tricks to help you grow your dropshipping business, new YouTube videos to give you more insights about the e-commerce market, and much more.
If you enjoyed reading this, you could as well join my Facebook group. Thank you for reading how to make money dropshipping online from the comfort of your home.
Click here to Join My Facebook Mastermind Group