7 Easy Tips To Start A Dropshipping Business Today
Do you want to learn how to start a dropshipping business? For all its worth, as a beginner, you'll find herein everything you need to know.
This eCommerce business model floods with thousands of success stories and so, start a dropshipping business as it's worth the grit.
Dropshipping stores are selling a single product, yet raking in six-figure sales.
Case in point Scott Hisle, a spirited millennial dropshipper, a huge proponent of one product store who've also featured on Oberlo's success stories category
And that's not saying that dropshipping is all about mirroring AliExpress and spamming your online store with all manner of niche products.
Instead, you can concentrate on a single winning product and still build a six-figure dropshipping business.
Dropshipping cuts as a suitable online selling-point owing to its minimal barrier entry, And perhaps, that's partly why most beginners get motivated to start a dropshipping business.
But that's just part of the whole story.
Step by Step Guide On How to Start Dropshipping Business In 2020
To build a dropshipping brand, you'll need to meet the following 7-guide steps:
Find a niche
Run competition analysis
Contact your suppliers
Choose the best dropshipping suppliers.
Build your brand
Promote your store
Optimize your eCommerce store
Ok, all that might come across a bit daunting for anyone seeking to learn how to start dropshipping business ground-up.
This guide will try as much to relax the learning curve to help you launch your eCommerce business hassle-free.
Let's set the ball rolling, shall we!
What's Dropshipping?
Dropshipping simply refers to an eCommerce business model that's pretty novel for a sole vital reason; you'll not hold any inventory.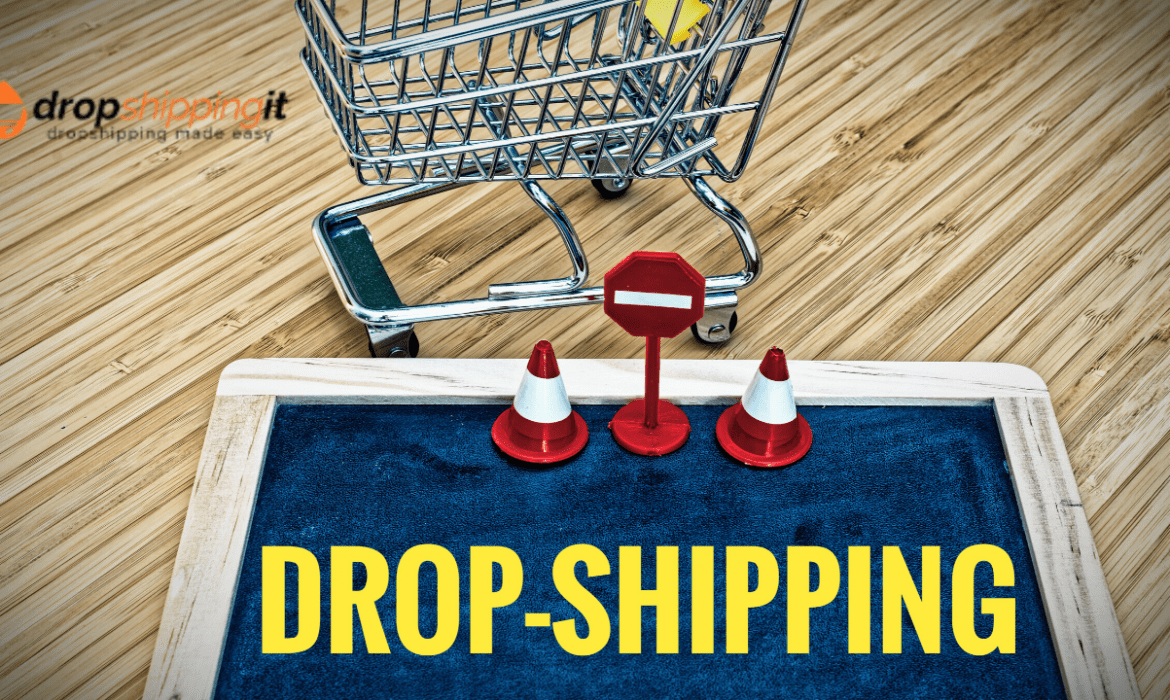 An eCommerce that employs the dropshipping model uses third-party suppliers to fulfill orders from customers.
Anytime you make a sale, the supplier ships the product directly to the client's address.
Meaning, you'll not own a warehouse; you won't do the picking & packing services, thereby cutting down your operation cost by as much.
The dropshipping selling lets online store owners evade upfront costs akin to those incurred by storefront retailers.
Contextually, dropshipping is contrary to what conventional retailers and eCommerce merchants must contend with.
You'll need to build an online presence then create product listings.
How Dropshipping Works?
The dropshipping business model spin on three critical players: the dropshipper, the supplier, and the online customer.
The supplier/manufacturer, in this instance, does the bulk of the work that entails sourcing raw materials, packing, crafting products from scratch, focusing attention on products' quality, handling returned wares, shipping products to customers' addresses, and updating stock levels.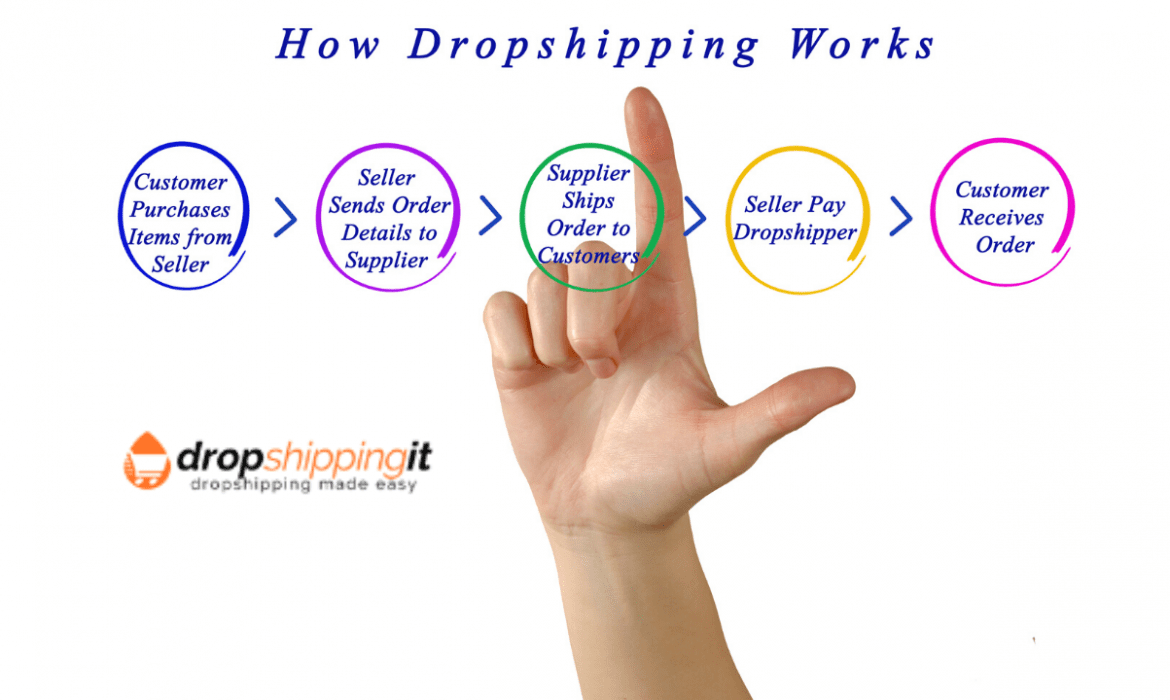 The dropshipper pays the supplier a wholesale price and then sells at a retail price to an online customer. Since the customer buys the product directly from your store, the price difference lets you retain a fitting profit margin per sale.
Most shrewd employ a rebranding strategy in which the product gets packaged using their logo and designs. With that degree of difference, you gain ground on the market as the customer gets to identify with your brand.
Most newbies keen to learn how to start dropshipping business get curious about the profitability of running this eCommerce business model.
Whereas you won't incur manufacturing or shipping costs, your profit margin depends on the buying frequency of your target audience.
You'll need to work on your eCommerce store's visibility and inspire customers' confidence in your brand.
Is Dropshipping a Predictable Model to Tap-Into?
Well, as the saying goes-it all depends.
First, a look at the numbers and assess whether everything checks.
A finding of eMarketer projects an eCommerce growth at a rate of about 16% in 2020. 
Two demographics, that's Millennials (67%) and Gen X (52%), seem to have an up and up trendline on account of opting to shop online over brick-and-mortar stores.
These stats postulates that the eCommerce market has exponential growth over time.
 The predictions indicate that about 27% of retailers have since moved to dropshipping.
Based on that alone, any newbie who seeks to learn how to start a dropshipping business gets a sense of security and some level of oomph to jump right into the bandwagon.
Shopify, currently is an imposing, most popular eCommerce and an in-demand selling channel hosting more than a million active users.
And dropshippers take a more substantial proportion of ownership of these online stores. Despite that, 
we've throat-cutting competition, and it turns for the worse if you're tight on the money (marketing budget).
Armed with the right blueprint, learning how to launch a successful dropshipping store ought to excite you.
How to Start Dropshipping Business in 7-Simple Easy Steps  Step #1: Find a Niche
To pick the best dropshipping business idea, you'll to immerse yourself in suitable insights.
Given the vastness of the market, you can quickly get lost on the highly saturated and low selling products.
 To bypass getting stuck in the product phase so long, you'll to research thoroughly.
On the top end, the dropshipping business model works flawlessly with niche products vis-à-vis commoditized items.
 Your objective should concentrate on selling a product to a target customer base.
There are tools to assist you in unearthing the untapped markets with incredible growth potential. 
Let's explore them:
Amazon Keyword Tool: This research tool has four well-linked metrics: search volume, trend, CPC, and competition.
Each KPI targets boosting your Amazon's SEO; you get draft neater product description, thus helping customers discover your products quite fast.
With its autocomplete feature, you get fed with keyword promptings from the Amazon keyword listing database.
If you wish to dropship with Amazon, this tool comes in handy as it helps with finding what customers want to purchase. 
To enable customers to find products with ease, you'll need to optimize keywords.
Google Trends: It helps you explore seasonal and most popular products across different regions. 
It's a one-stop-shop for beginners who seek to learn how to start dropshipping but nada idea on what to sell.
In short, Google Trends lets you analyze all the essential competition factors tough to debunk.
Whereas it's not the only tool in the market, you'll need to measure the search volume of a product; it's typically a useful analytics tool that lands you a steadily growing niche.
Ubersuggest: Besides the already mentioned tools, this one here offers you the same benefits, thus lending an edge over your competition.
 Based on what folks look for on search engines, it's possible to rank your dropshipping business ideas.
Ubersugget is-designed to assist you in settling on a profitable niche and to achieve it; You'll have to validate search volume via Keyword search comprehensively.
 In this way, you ensure that your dropshipping products have a massive potential to generate sales.
The dropshipping business is remarkable, given that you're not just limited to niche hunting aspect alone. 
While trying to carve out a niche, you'll figure that other eCommerce websites come in handy as well.
As a dropshipper, your primary aim is to make a profit for every sale transaction. That's pretty straightforward.
 Not every niche is lucrative, though. And so, you want to learn from the thriving dropshipping store as that makes for the optimum solution here.
Hint: It's worth well-resolving customers' flawed points and solves consumer problems in the market. 
This way, you sidestep over-saturated niche products and shake off the cutthroat.
How to Start a Dropshipping Business Step #2-Carry Out Competition Analysis.
There are glaring factors that go into successful dropshipping. The race to outdo your competition won't be won overnight.
For the beginner looking to start a dropshipping business ground up, there's a vast need to examine thoroughly.
 In an attempt to thoroughly debrief the competition overview, you'll have to find answers to some of these questions:
Where does my competition sell their dropshipping products? (third-party channels, AliExpress, eBay),
What are their strength and weaknesses?
What extent is dropshipping competition in the market?
What's their pricing and marketing position?
Are my competition websites and overall customer experiences reliable enough?
Sounds like too much, right? But you can take solace in the prospect given the several tested hacks that you can employ in facing the competition head-on.
Not exactly rocket science.
First off, sign up for a Google Keyword Planner account. 
Though the tool is-often utilized for ads campaigns and SEO, still, it's a top channel for keyword research.
With in-depth insights on items customers look for on search engine, you can analyze the competition and the potential revenue your dropshipping business nay generate.
As a dropshipper, you get a sneak preview of the long-tail keyword ideas before your competitors get wind of them.
To orderly organize your data from different locations, you can test other tools like Moz, Ahrefs, or SEMrush to monitor all the opportunities in a niche market.
An accomplished dropshippers is one who's confident and savvy on customer demographics.
Also, you need an impeccable market strategy that transcends that of your competition. And as such, you'll need to keep these tools in mind.
Again, remember while starting your productive dropshipping business, your competition's eCommerce store makes for a good hunting ground for every bit and piece you'll need.
Crucial Takeaways
Subscribe to your competition's social network account and newsletters to learn how they interact with their audience. Also, if your competitor has a blog, you can catch a glimpse at their CTA and conversion optimization techniques.
Choose an item from your competition product page, but then don't check out. Monitor how they handle cart abandonment. Study the effectiveness of their email recovery and ads retarget.
Study all their fulfillment alternatives. It will give a better grasp of managing a shipment process on your dropshipping business.
Review all the user-generated reviews/comments by your competition customers on aspects like customer interaction, delivery, and product quality. Ultimately, it should offer you insights on how to enhance the relationship with potential shoppers.
Get a sneak peek of your competition's pricing model. Your business setup ought to encompass how much the market wills to pay.
To decisively wrestle your competition in this battle, you can incentivize through giveaways, gift cards, and loyalty programs to repeat clients. 
Again, leverage the SEO tools to spy on relevant keywords your competition rank.
Still, on the subject, you need to pick an eCommerce platform with an intuitive SEO functionality.
While creating content for your business, you'll need to find the best performing as regard social shares.
BuzzSumo is a top-end marketing tool for dropshippers seeking to monitor their competition's best-performing content, thus improving on what they post on their blogs.
As regard brands with social mentions, Social Mention makes for an incredible competition analysis tool while starting your dropshipping business.
One way of figuring out how your competition positions their brand to engage a target audience effectively is via social media monitoring. Social media monitoring qualifies as your marketing ranking yardstick against your competition's.
How to Start a Dropshipping Business Step #3-Finding the Right Dropshipping Suppliers
So, this section is the most exciting part for newbies seeking to learn how to start a dropshipping business.
All the same, getting a hold of a fitting supplier for your dropshipping business isn't a cakewalk.
 You'll need rigor background check in place for all variations across all suppliers selling your niche product.
A supplier's reputation either builds or breaks your dropshipping business.
 Moreover, product quality and experience are two the primary to consider before deciding on the specific supplier.
Therefore, you may need to order samples and gauge the shipping speed and the type of materials that go into the product. 
For your dropshipping store, you'll need an SEO focused product description, high-quality product photo, and effective return policy. 
Remember that your business model primarily relies on your supplier's ability to sustain a successful fulfillment rate,
Finding Experienced Dropshipping Suppliers
Oberlo
Oberlo is a unique marketplace for dropshippers who intend to sell their products on Shopify.
The low-cost technique is at the core of Oberlo dropshipping for all eCommerce seeking unique products and an automated order fulfillment process.
Thi free app allows you to secure fast-moving products from certified suppliers the like of AliExpress. 
You'll import items alongside their variants and product description to your online store in just a few button-clicks.
To enhance the product's professional look on your Shopify store, Oberlo lets you make adjustments before importing items to your Shopify dropshipping store.
Also, you get markup prices in the store. In that instance, as a dropshipper, you have the legroom to set flexible profit margins on products.
 As soon as the customer pays for an order, you can opt to fulfill it directly from Oberlo.
Oberlo's automated system sends real-time alerts to your customers, keeping them notified on as regard shipment status and tracking info.
In the meantime, the dropshipper receives tracking codes update directly from Shopify's dashboard, and the order gets marked as "fulfilled" once the supplier ships the product.
Oberlo will list around five dependable suppliers for one niche product store.
Together with product info, you get impartial reviews and rating for each supplier. 
You get a sneak peek on the number of times a product has been-imported to different dropshipping stores.
Furthermore, you can order samples direct from Oberlo's dashboard to try out packaging product quality and shipping speed of various suppliers.
If you want to understand how to launch dropshipping business real quick, Oberlo offers a useful boost, more so when you need to liaise with trusted dropship suppliers.
Key Pointer
Make no mistake; shipping times from various suppliers is a crucial landmark. 
With longer product delivery time, your store runs the risk of suffering a spin-off effect that hampers the overall customer confidently.
Printful
Printful is the hush-hush sauce for online store owners seeking to dropship PODproducts.
If you look to print custom designs on say t-shirts and sell online, 
Printful's low-cost fulfillment model sets your dropshipping on the move.
With your brand, customers can order POD items direct from your dropshipping store. Printful seamlessly integrates with 
WooCommerce, Etsy, Squarespace, and Shopify,
All you have to do is sign up then link Printful to your dropshipping store, after that sync products to your store; using your brand, proceed to promote the items on social media.
With the Printful mockup generator, you can create fetching product photos for your store. Also, there's a load-set product listing for selection. 
You can modify and dropship POD products from categories that include:
Men's clothing: hoodies, shirts, hats
Women's clothing: long sleeve, crop tops, tank tops
Kidswear: swimmers, baby bodysuits leggings
Accessories: fanny packs, iPhone cases, tote bags, bracelets, laptop cases
Home & living: beach towels, bean bags, throw pillows, coffee mugs, wall art
As soon as the order alert checks in, Printful automates the fulfillment process. Meaning, you'll engage in packing, shipping, or warehousing services.
 In short, the POD service handles all your inventory.
You'll only need to focus attention on customer engagement and marketing principles. 
Aspects, both of which, you can conveniently manage from your online store's dashboard.
Spocket
Spocket is a massive marketplace with dropshipping suppliers who sell genuine products from the EU and the US.
 It's a free tool, a suitable option to dropshippers with WooCommerce as the ultimate selling conduit.
For a small business in the dropshipping space, Spocket provides unrestricted access to a directory packed with niche products encompassing:
Drones
Apparel
Smartphone accessories
CBD products
Custom jewelry
Weight products
It's a drawn-out list. But expect nada upfront costs with Spocket whatsoever.
 It's primarily designed mindful of dropshipping; thus, your dropshipping brand won't need an inventory budget.
Akin to other dropshipping apps, Spocket restricts its marketplace to solely suppliers selling high-quality wares and have the hang of how dropshipping modus operandi.
If you want a simplified avenue to assist you in learning back-to-front how to start a dropshipping business, perhaps Spocket fits as a comparable option to consider.
Settling on the niche to venture on can prove an exhaustive odyssey given the bunch of options for consideration.
It's one part that compares very much to make a smoothie.
Your dropshipping outline makes for a blend of conducting competition research, picking the right suppliers, and launching your dropshipping business on a befitting eCommerce platform.
How to Start a Dropshipping Business #4: Defining Your Brand
Branding your dropshipping business doesn't start and end with a name & a logo ascribed to your eCommerce store.
Your branding shot ought to reverberate to all spheres of running your dropshipping business, including email campaigns and checkout pages.
A brand is such a robust KPI and key differential of immense potential setting all cylinders firing; thus, spiking repeat purchases rates and overall customers' conviction in your dropshipping store.
To make this part by storm, you'll need to annotate the cues:
Choose a unique name- if it' st hard coming up with something exceptional, opting to check out for signals with automated name generators can aid you to find a name for your online business model.
Shopify business name generator is one exclusive you want to consider. You want a memorable-trendy name providing your business a professional appeal before your prospects.
Create a logo- Utilizing tools such as TailorBrands, Hatchful, or Canva can assist you in designing a custom logo for your store.
Should you not find any of these options compelling enough, head over to freelance marketplaces such as Upwork or Fiverr to get a personalized logo design.
Personalize Customer experience- Your dropshipping brand's identity ought to target setting an exclusive selling offer to your specific demographic.
One effective avenue of boosting your shoppers' experience involves, for instance, incorporating customer loyalty program. 
With a reward system in your dropshipping business, it's highly probable customers will identify and engage with your more often.
To sustain product demand, you'll need to consider using branded packaging on all products when handling order fulfillment as a high-priority feature.
And Shopify integrates with CRM tools likes Hubspot, Metrilo, and Salesforce. 
These customer engagement tools elevate the productivity scope & marketing positioning for your dropshipping business.
Equally, you'll want to track your brand's performance both on social media and web platforms.
Concentrate on the brand story- With eCommerce store builders like WooCommerce or Shopify's drag-and-drop tools, within 5-minutes dropshippers can set up an "About Us" page.
Together with your contact page, also, customers need to place a descriptive FAQ section.
 For customer-centered products, the dropshipper's brand must include an efficient support platform cutting across the board; hence, boosting customers' satisfaction rate.
How to Start a Dropshipping Business #5: Create Your Dropshipping Seller Account (Store)
Of course, you don't want to reproduce your competition's dropshipping store, no. 
Your needs might be authentically distinctive.
Further, there are several options to leverage. And to launch your dropshipping store, you don't have to possess any web development skills.
You can opt to sell via an online marketplace or a third-party eCommerce store builder.
 Both ways have proved to work smoothly even for the newbies seeking to starts dropshipping business ground up.
Selling Products through Online Marketplaces   
With online marketplaces, you find secure and user-oriented platforms that even newbie dropshippers use to list their niche products. 
Dropshipping items on Etsy, Amazon, and eBay is a vital strategy to increase your profits. And the reasons are:
You have access to a broader market base at a borderline level
Minimal barrier entry
Most shoppers have unwavering confidence on these online marketplaces
With already established website traffic, you'll not fuss over marketing & SEO since your potential customers come flocking in sooner.
Contrariwise, you'll have to contend with the following drawbacks;
A marketplace like eBay would set you back by considerable in listing fees. For Amazon, you get charged a commission fee for the sale transaction. Such operational costs impact your expected profit margins.
Temporary customer engagement, as you'll experience considerable hurdles every time you need to market your brand and have returning customers.
Selling Dropshipping Products on Amazon
Amazon has a reputation as the most robust eCommerce retail platform for all kinds of product listings. 
Possibly, dropshipping through Amazon, uses the same supply chain methods employed by other eCommerce stores.
To launch a dropshipping business with Amazon, first, access the Amazon Seller Central page and finish the sign-up process. Here, you can calculate the cost of starting a dropshipping business on Amazon.
Amazon has in place an articulate dropshipping policy. You've got to familiarize yourself with the nitty-gritty of the ins and outs. 
With the arrival of Amazon SEO and thanks to its sophisticated algorithm, you can improve your product ranking significantly. 
To launch your dropshipping business on Amazon, you'll have to outfox sellers using a keyword that pairs the potential consumers' search queries.
As soon as your Amazon seller account verification checks in, the SEO keyword tool becomes your next checkpoint.
Amazon vs. Amazon Dropshipping
Your course of action notwithstanding, both techniques portend immense potential you can leverage to profiteer from sales.
Dropshipping provides you a window to ease the grind by way of adding all related costs to the selling price. 
Also, you don't have to fuss over any inventory commitments.
Dropshipping gives the legroom to bargain wholesale prices from suppliers on channels such as Alibaba or AliExpress. 
In that way, you get to scale up on price points.
Amazon FBA-Fulfillment by Amazon conversely comes with fulfillment and warehousing fees.
The FBA technique lets an eCommerce seller direct their products to Amazon's warehouse. 
And every time the customer buys your products, Amazon does the picking, packing, and shipping the order on your behalf.
Fulfillment services involve refund, return, and order tracking as well. 
Subject to the type of products you intend to sell on Amazon, you'll need to outline the sales tax and shipping costs clearly.
Key Pointers
You must promote your product listing. Amazon pay per click (PPC) ads, email marketing, affiliate marketing, blogging all count as tested methods of generating traffic, building leads, and scaling conversions.
The legality of dropshipping on Amazon only involves a seller not holding inventory, but products must bore their brand. Amazon forbid dropshippers from selling merchandise with third-party packaging info.
Selling On Third-party Online Channels
If you seek to learn how to start a dropshipping business with zero coding knack, selling via third-party online channels fit just perfect, more so for the beginner category.
The main reasons why the majority of success stories hinge on eCommerce store builders are as follows:
As a dropshipper, you have autonomy over your brand, marketing options, and the store's design layout.
Unlike marketplaces such as Etsy or Amazon, you won't directly face your competition. Instead, using third-party sales channels, you get to start your dropshipping at a more free and one-off level.
With considerably low fees, you can scale up profit margins
You can diversify your niche product to a third-party online store builder
And so, to launch a dropshipping business on third-party online channels, follow these steps:
Choose a store builder
To suitably resolve your prospects' pain points, you may have to sign up for a subscription-based software that pairs your dropshipping needs. 
Aside from the monthly fee, you may need to consider these other elements:
Ease of use
Integrations
Built-in payment processing capacity
Shipping options
Mobile responsive design
Checkout security standards
Inventory management
Flexibility to scale your dropshipping business
Reporting tools
Since dropshipping is the cornerstone of this guide, this post qualifies Shopify as the best pick for beginners. 
As an eCommerce driving force, dropshipping comes with strapping and a robust theme store linchpin to newbies seeking to start dropshipping. 
To put it another way, greasing the beginner's wheels.
Shopify's liberal pricing plans ranging from $29-$299/month seem flexible, that's if you're tight on money-on budget. Try Shopify 90 days free trial now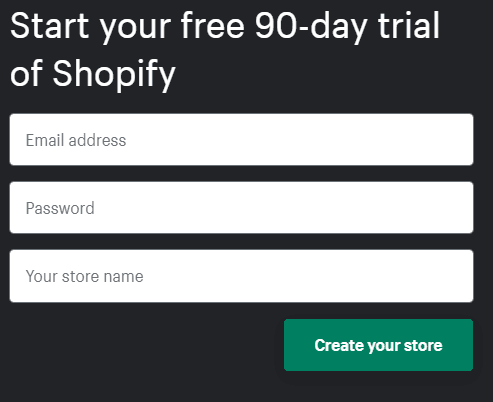 Pick a domain
A brand needs authority on the search engine. 
A custom domain name gives just that; your dropshipping business gets absolute credibility, beneficial, and appeal to your customer demographics.
From your Shopify's account, it's possible to configure domain and to host services, thus, eliminating the need for third-party options.
If you're on an eCommerce platform without an integrated hosting solution, head over to renowned companies such as Bluehost, Namecheap, and GoDaddy to buy a domain name.
Hints:
Hitting Google rankings peak level, your dropshipping store's domain name needs to have SEO oriented keywords
Your store's domain name should be concise, relevant, and cover a considerable part of your brand's persona.
Register Your Dropshipping Business
Dropshipping business legal aspect likens that of running a brick-and-mortar store.
Setting up a store, for instance, in Canada or the US, complying with sales tax laws is mandatory, and so, you'll need to get a tax ID. 
Acquisition of one, the business needs to assume the form of a sole proprietorship or a company.
An EIN identifies your business entity. 
It helps with tax returns & sourcing products from suppliers in the marketplaces like SaleHoo.
How to Start a Dropshipping Business #6: Promote Your Online Store
The objective here entails marketing your store and build leads to generate traffic for prospective revenue over time.
Of course, it's nothing new to most newbies. But first, identify your target market to evade slip-ups. 
Besides, you don't want to spend on campaigns or ads just to wind up with nada, zero ROI.
The following make for some of the top marketing methods to scale up sales and sustain a solvent dropshipping business.
Facebook Ads
Spending big on Facebook ads but still miss out on potential conversational signals forms the basis for most beginners' worst fear.
To run your first ad campaign targeting customers, you'll need to base it on interests, overall behaviors, and demographics.
These indicators are crucial in determining the probable possibility of your target base buying from your dropshipping store.
To start, first, set up a Facebook Business Management account. With this free tool, you get to manage ads account, pixels, and product catalogs all in one place. 
So, it's more accessible to build leads and monitor performance from this end.
For Facebook ads, using its campaign manager's interface, it's possible to share engaging videos and images.
With Facebook's algorithms flicker, you'll need to stay ahead of the game and learn all the handy tweaks. In this instance, link a Facebook ID Pixel to your dropshipping store. In that way, you optimize your ads for a better audience network.
In this way, you get to improve your marketing results based on your target demographic. 
You can use the ID to calculate cost per click, run cart abandonment recovery, carry out ads retargeting, and conversion tracking.
Content Marketing
By any measure, content marketing is among the low-budget methods to market your products organically and introduce triggers in all your lead building techniques.
It lets you hook up with your customer, henceforth boosting your store's brand loyalty. Blogs, social platforms like Twitter, Instagram, Facebook, or email marketing qualify as the most successful tip-top mediums for content marketing.
Content marketing lets the dropshipper share product updates through FQA sheets, videos, and guides to sustain the customer acquisition objective.
Whereas customers need in-depth infographics to visualize the product's effectiveness, as a dropshipper, you need to refine the purchase funnels and concentrate on workflows.
And that involves an immense zeal for SEO, setting KPI in content marketing, and a detailed customer resource center. 
In sum, the dropshipper gets positioned to convert the significant traffic to leads and sales ultimately.
Instagram Marketing (Influencers)
Instagram influencer marketing has assisted several dropshipping stores in scaling up exponentially. 
If you're considering Instagram as an avenue to market your products, then you have to set up and optimize your business account.
With million-plus active user's social network platforms offer dropshippers the opportunity to expand their audience horizons.
Alternatively, you can promote your niche product by building a customer base ground up. And in so doing, opt to liaise with an Instagram influencer with a significant following in your niche.
If it so happens, you're on tight ad budget; you want to create affiliate links for influencers and reward them with a commission for each successful conversion.
It will worth your while setting up an Instagram Business account because you get to build an organic audience and incorporate a link to your dropshipping store on the bio page. 
Using its foolproof integration feature, Shopify lets users make shoppable posts on Instagram.
To set up an Instagram sales channel, first ensure that you have in place a Facebook shop connected to your dropshipping store.
Search Engine Optimization (SEO)
SEO is an excellent technique to grow organic traffic on the search engine.
Although many dropshippers grapple with dynamic SEO metrics, still it's an ace marketing method with the capacity to yield the highest ROI contrasting other options.
Content marketing & keyword research are best practices tested already. 
Tools like Amazon Keyword Tools, Ahrefs, and SEMrush assists with bringing up to speed as regards to eCommerce keyword you'd use on the product description
Along with the paid ads, Google show results as soon as the online shopper keys in a search query.
Put it another way; your SEO strategy ought to target ranking #1 on the search engine.
 Leveling up your SEO game is a rigor & difficult of an exercise; it's more than merely running competition research.
Google Keyword Planner is among the best tools for competition analysis. In running estimates on the cost per click (CPC) of target product keywords and search volume, a dropshipper can make it to gauge the buyer's intent.
Adding Customer Reviews to Store
User-generated reviews provide an excellent way to sneak peek a product's dominance in the market. 
Before checking out, it's highly probable customers will read reviews to evaluate ratings from previous buyers.
Next up, pursuing how to genuinely publish reviews on your dropshipping store's product page-nothing overly complicated though.
For instance, you dropship from AliExpress using Oberlo; you can import reviews using the plugin then set them up in your eCommerce store through CVS file.
Also, you get to add photo reviews, it's crucial given most customers are visual-centric. 
Therefore, aligning customers' expectations is a critical marketing strategy with an in-depth potential boost to your sale.
How to Start a Dropshipping Business #7: Optimize Your Store
If you seek to start a dropshipping business with high converting sales leads, you've got to have a few sales tweaks up your sleeve. 
Your optimization checklist ought to have the following two laser pointers:
Integration
You can launch your dropshipping business on a third-party selling channel with a zilch coding knack. 
Instead, at your disposal, you find nearly all fully automated API integration's front & back-end.
You can link your store to any application on account of a couple of clicks. 
For dropshipping suppliers, for instance, it's possible to integrate the Shopify store with Oberlo and import products to your store.
Again, you want to ensure your payment seamlessly integrates lest you experience a spike in cart abandonment rate. 
Equally, you'll need to integrate with apps designed to assist with marketing, email marketing, customer relationship management, shipping tracking, inventory management, and conversion channels.
Set Up Google Analytics
You'll find the best traffic assessment tools in Google Analytics. 
When conducted right, Google Analytics can unearth apt insights to optimize your dropshipping store.
It's an open secret that Google is a data-mine overflowing with infographics.
 Even as you run your dropshipping store, you need to monitor the source of your traffic, the effectiveness of your digital marketing efforts, and the entire conversion funneling journey.
Google Analytics offers your dropshipping brand all the KPIs. You need a link to Google Analytics ID; this way, you track all the happening in your store.
When you link your store with tools like email marketing, Google Analytics generates reports enabling interpret all signals from visitors to your eCommerce store.
Final Word
Congratulations! You made it through.
We have it all. At this juncture, you've perhaps settled on a dropshipping model whose startup cost isn't-inflated and contrasts brick-and -mortar's, holds zero inventory and has minimal barrier entry.
It's easy to start dropshipping business since the process' linchpin crystallizes to picking the right niche, a solid-selling strategy, and importantly, an apt-selling channel.
Whether you seek to set your dropshipping business rolling on a third-party eCommerce or a marketplace platform, your selling strategy has to pay attention to customers' pain points. 
Small Request
Did you enjoy this post? Kindly share it with your friends. Especially, the ones you believe really need this information.
Sharing this information with others can make a huge difference. You may ask why?
Well, the truth is, my main aim is to provide the best information pertaining to drop shipping for both beginners and experienced dropshippers.
And I plan to continue doing so for as long as I can.
I would also like to thank those who support the work I do through reading my content and sharing.
Trust me, when you take your time and share it will help a lot not only for me, but also other people who may really be in need of this information.
Here are some great suggestions:
 Pin it
Share it on another blog
Share on Facebook (Share it with friends and even on Facebook groups)
Tweet it
Stumble it
This will only take a few seconds of your time and I would really appreciate.
I appreciate you a lot. Thank you!
Join my Shopify dropshipping group mastermind and follow my blog to learn more about Shopify tips, dropshipping guides, dropshipping tricks and checklists, and e-commerce in general.
If you enjoyed and learned something from this post, you can get updates from me, free of charge!
I send out email newsletters about new posts published on the blog, tips, and tricks to help you grow your dropshipping business, as well as new YouTube videos to give you more insights about the e-commerce market, and much more.
Click the image below to join my Facebook group.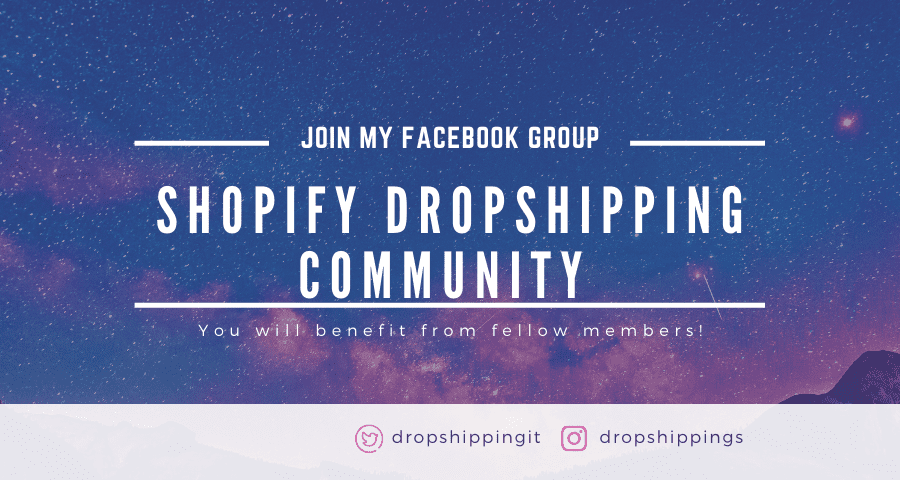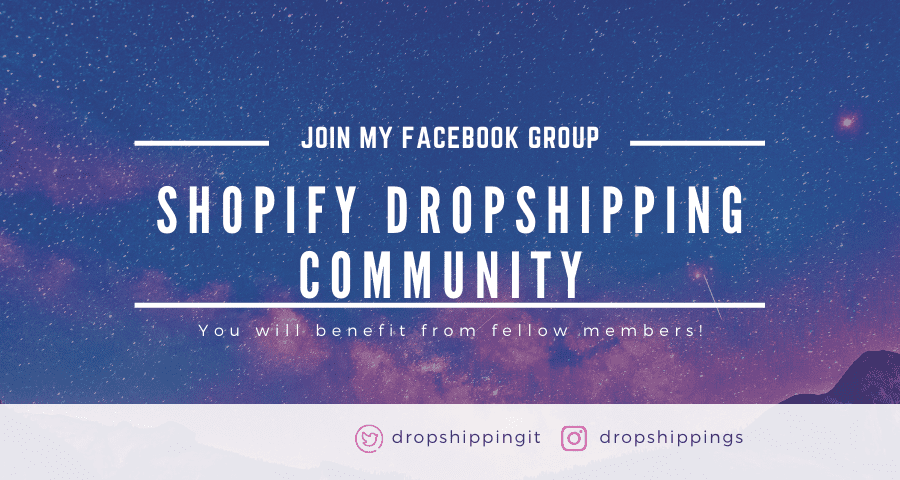 Thank you for reading how to start a drop servicing business, leave a question below if you have any.