Shopify Review : The Pros And Cons Of Using It
Read this bona fide Shopify review to expeditiously understand the costs, features, SEO, security, and other aspects. Many individuals ask us which ecommerce platform is best for a business that has just opened an online store.
To put it simply, Shopify has all of the features you require. We'll present a more in-depth review of Shopify's features, costs, user interface, and target pricing.
You can create a website in minutes using Shopify's tools without having to bother about self-hosting or purchasing a domain name from a third party. It is the best out-of-the-box solution because it includes pricing plans for small businesses just getting started and large corporations with millions of dollars in sales.
Shopify is a popular e-commerce system that is user-friendly and contains all the necessary features.
As soon as you join up, you'll have access to all the tools you need to build and manage an e-commerce website. When you use Shopify, you can design the appearance of your website, build a product catalog, set prices, payment choices, and taxes, and add more features by adding extensions.
Shopify allows you to sell nearly anything, including actual or shippable items, digital goods, services, and a dropshipping business.
The most popular Shopify payment plan costs $29 per month. You may get a 3-day free trial for a limited time and then pay $1 monthly for the next three months.
The Pros and Cons of Shopify
Pros
You can sell your goods in places other than the online store. You can use Shopify's system even if you already have a shop. There are also eBay, Amazon, and social networking sites.
A 14-day free trial period is available. Compared to its competitors, Shopify has one of the longest free trials. Furthermore, we love that any changes you make to a Shopify website while it is in a free trial period are preserved so you can return and continue building (even if the trial has finished and you are compelled to switch to a paid plan, all of your customizations are still there!).
Support services are available around the clock. Shopify's online documentation is great, and they have some of the best customer services in the business.
Using Shopify Payments costs nothing. It is Shopify's own payment processing module. Even though there are hundreds of other payment processors accessible, Shopify Payments is a reliable alternative.
The Shopify App Store features over 2,000 apps and plugins. This means you can add new features to your Shopify store with a single click and integrate it with a range of third-party services. Apps can be used in products such as accounting, social media, product delivery to customers, and website optimization.
Dropshipping is one of the most excellent features. When you integrate with a platform like AliExpress, you can immediately offer products on your website, even if customers will only receive them once they make a purchase.
None of the goods require storage!
The most affordable plan costs $5 per month.
Shopify is highly scalable, which means it can handle any size store, so if you want to sell products on social media platforms like Facebook, Instagram, or Pinterest, you can do so with the $5/month Starter plan. Because you don't have to pay for features you don't use, and there is always a more expensive plan available as your store grows, the pricing structure highlights how scalable it is.
Shopify is easy to use and does not require a technical background from the user. While engineers may still use more advanced features, such as inserting custom code and accessing the Shopify API, drag-and-drop design is easy enough for beginners.
Shopify is ready to handle any challenge. Anything you want to sell, including actual commodities, digital goods, services, and other items, is possible.
Shopify hosting is included. You are not responsible for any server faults or upkeep. It is a software-as-a-service (SaaS) with all the components needed to build a website. Everything you need is provided for a monthly fee.
Shopify's inventory management tool is excellent for selling products that can be shipped.
Shopify has mobile apps for iOS and Android. You can manage your store from your phone or tablet by accepting orders, shipping products, and updating your website.
Shopify has a vast assortment of store designs. Every single one of them has a modern, attractive appearance, and they are all ready to sell sales. With the help of these designs, or "themes," you can build a store that appears professional in minutes without knowing how to code.
Cons
You need to have complete control over your store. Your store is stored on Shopify's servers. This means they technically have the right to close your store whenever they want. The good news is that Shopify has proven a successful firm for a long time, and they would most likely notify users ahead of time so that they could relocate their data. Apart from that, it will only happen if you follow the license terms.
There are additional payments on top of the standard credit card processing charges if you don't utilize Shopify's payment module. Although we recommend that all merchants use Shopify Payments, it is only an option for some businesses. Shopify Payments may not be available in your Country or sector, or you may find another more affordable payment processor.
The cost of themes has been steadily rising. In contemporary themes, the number of free themes has reduced from dozens to roughly five. The most practical themes with potential scalability cost between $300 and $500.
Only Shopify's higher-tier plans provide professional reporting. Each plan provides basic reporting to track sales, revenue, and returns.
The blogging module is available, but the user interface might be improved. As a result, producing appealing blog entries consistently may take time and effort.
The $5 plan can be problematic because many people are pulled in by how inexpensive it is, only to learn that it is not a proper online store. In essence, this plan only offers you Buy buttons and a small degree of social selling, which is ideal for some merchants. However, if you want an online store with a shopping cart, you must select the $29 per month plan.
What Makes Shopify the Best Option?
Tobias Lütke, Scott Lake, Daniel Weinand, and others launched Shopify in 2006.
Since its inception, the platform has quickly grown from a little player to one of the tops (if not the top) e-commerce platforms in collaboration with BigCommerce, Volusion, Magento, and WooCommerce.
The company currently powers 4 million online stores around the world.
Shopify has been on the market for a long time and has undoubtedly grown in popularity for a cause.
The most excellent feature of Shopify may be how well it balances ease of use and feature depth.
On the one hand, Shopify is so simple to use that even folks who have never run an online store before may do so. It does, however, provide everything a business owner might need. But, on the other hand, you do not need to take a web development or coding course.
Furthermore, sophisticated users can access the website's source code and development API. As their store grows, advanced users can upgrade their Shopify plan to gain access to more sophisticated features.
If that's what you're searching for, it's a well-built ecommerce platform with a variety of modern, fashionable, simple, and minimal themes.
Several well-known companies utilize Shopify, including General Electric, Amnesty International, Tesla Motors, Encyclopedia Britannica, Foo Fighters, GitHub, and many more.
Shopify's Pricing Structure
Pricing on Shopify can take time to grasp.
The two most important aspects of your Shopify bill are:
The monthly or annual charge you pay for the Shopify system.
Payment processing costs are a percentage of your total money.
To make this more apparent, a Shopify fees calculator exists that you can use to see exactly how much you will spend each month based on how much money you make.
Shopify is presently providing a discount to sellers signing up for a new Shopify plan. Which deal?
Three months of full access to Shopify are offered for $1 per month. This is true for the $5 Starter Plan and the $29 Basic Shopify Plan.
However, before you start interpolating, keep the following in mind:
Some factors that impact price include:
Other factors that influence your Shopify price include whether or not you use Shopify Payments, whether you prefer to pay annually rather than monthly (you get a 10% discount if you do), and how much your credit card fees are. Change the values in the calculator to see how certain variables affect your bill.
In principle, Shopify has five different pricing tiers. Basic Shopify, which costs $29 per month per store, is the most popular Shopify plan for new online store owners.
It has all the features a new store owner would need and gives you enough room to grow before upgrading.
Speaking of upgrades, the next plan, titled "Shopify," costs $71 a month and offers you a robust platform for developing and growing your business.
You have $1 per month for the first 3 months to try out the opportunity for free before paying for it.
It's also important to note that Shopify is more than just an "online store system." Shopify's tools can also be used in your physical store or business.
For example, using the Shopify POS (Point of Sale) package, you can quickly set up your account and add offline sales to the main Shopify system. Having everything in one place makes conducting business much easier.
Discover the power of unifying in-store and online sales with Shopify POS. Start your free trial today. Click the image below.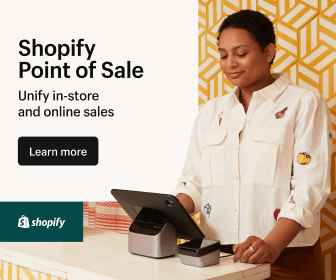 What is the cost of Shopify?
The following are the current Shopify plans, along with critical facts about them:
Shopify Starter is available for $5 per month.
Basic Shopify costs $29 monthly.
Shopify Plus: monthly fees beginning at $2,000
All plans allow you to sell an infinite number of things, store an infinite number of files, print an infinite number of shipping labels, and, if necessary, assemble an infinite number of retail packages.
Basic Shopify
The Basic Shopify plan, the next tier up, costs $26 per month. Unlike the Shopify Starter plan, this one allows you to start an independent online store and offers access to the complete Shopify platform.
The following are some of the essential features of Basic Shopify:
2-Shopify accounts for staff
A complete website builder for e-commerce
An integrated checkout module (rather than a link to a Shopify subdomain)
An unlimited number of products
Unlimited file storage
24-hour phone, email, and live chat support (detects fraudulent activity on your Shopify account)
A blog module;
Abandoned cart recovery (contact visitors who left their information but did not complete their purchase); Discount certificates you can offer to your customers.
Selling across many sales channels, such as social media and marketplace sites
Multiple inventory locations
Manual order creation
Free SSL certificate to safeguard transactions
Gift cards
Basic reporting
Customer segmentation
Marketing automation
Unlimited contacts
Access to Shopify POS Lite (Pro is $89 per month).
Tools for international product administration include market domains, subfolders, international market management, language translation, currency conversion, local payment options, and market pricing.
Bring your business ideas to life for $1/month On the Shopify Platform. Click the Image Below.
Basic Shopify Templates
For the time being, it's crucial to note what each Shopify Plan covers.
The Basic package gave you access to 11 free and 103+ premium templates when this article was created.
The Refresh Shopify theme is one of the most popular free themes. It's exceptionally appealing but fairly common, so if you want to stand out, you should investigate other options.
For example, the paid themes start around $250 per (one-time payment), with the majority costing between $300 and $350.
The majority of free website templates have the following features:
Sticky header to keep your menu and logo visible to the user.
The slide-out cart allows customers to add products to their shopping carts without leaving the website.
The slide-out cart allows customers to add products to their shopping carts without leaving the website.
A product grid that's dynamic based on how many products are presented;
Although the features of premium themes vary, they almost always include additional features such as:
In-menu advertising
Color swatches
In-menu advertising
Stock counters
Age checkers
Back-to-top buttons
Before/after picture sliders
Breadcrumbs
Event calendars
Infinite scrolling
Quick menus
Stock counters
Shopify's Point of Sale
The entire Shopify POS system is available with the Basic plan.
You now have access to the following:
• A powerful POS software
• A customizable POS terminal
• The use of hardware such as barcode scanners, receipt printers, and shipping label printers
• The Shopify POS Go mobile payment processing device
• Custom staff permissions
• Adding third-party software to the POS system (including Shopify POS)
• The ability to configure up to five store locations
• Register shifts
• Unified reporting
• Advanced inventory management with inventory forecasts
• Omnichannel sell
Shopify POS Lite and Shopify POS Pro are both software versions. Shopify POS Lite is included in each pricing category, beginning with the Basic plan. In addition, you can add Shopify POS Pro for $89 per month to any plan.
Several factors contribute to the creation of the POS system, including:
Payments: With Shopify POS, you can provide a customer store credit instead of a refund to the payment method they used. Once you add the gift card option, you can use it online and in stores.
Advanced Checkout: You can add notes to orders and keep track of special requests. Customize your receipts to promote your business's name, online store, hours of a brand, and special deals. Additionally, tax is calculated automatically based on your location.
Discounts: Online coupons can be utilized in-store as well. Create specific discounts for in-store transactions and generate reports to evaluate their efficacy.
Shopify Store Management allows you to view all previous orders, whether they were placed online or in person. Customers, products, or dates can sort these orders. Integrating the Shopify POS system with Quickbooks or Xero will expedite your accounting.
Customer management: Create customer profiles and analyze their shopping habits, contact information, and location. Gather email addresses in the store to use for email marketing.
Products: Organize your inventory, so you always know what you have by keeping track of it throughout your online and offline channels. Retail stores can also provide wholesale prices and loyalty programs.
Get the Shopify POS app for your Apple or Android mobile device. The supporting hardware is all free and returnable within 30 days.
Analytics: View, evaluate, and export sales reports by location, worker, or client. Send out product reports to find out what is and isn't selling.
Mobile: Look up your customers' profiles on your clients' websites, then utilize the app to contact them. The app allows you to add products and take updated product photos.
Shopify Gift Cards
The gift card option included in the Basic plan is an excellent addition for more established online merchants.
Customers can show gratitude to friends and family by purchasing gift cards from your online store. Ideal for commemorating significant occasions such as a birthday or holidays. Offering gift cards as a reward is a terrific way to keep customers returning.
Shopify basics: Blogs
A blog area is standard in Shopify stores. If you use this tool effectively, a larger audience and more visitors to your online store may result in more sales.
With the help of this module, new posts can be published, media added, tags and categories can be made, and SEO parameters for each post can be altered.
However, the module's capability pales in contrast to WordPress, which was created to manage blogs. This makes obvious sense, given that Shopify's bread and butter are its e-commerce capabilities.
Basic Shopify: Abandoned Cart Recovery
Using abandoned cart recovery, you can learn about items that customers added to their shopping carts but still need to purchase. Customers on the most basic Shopify plan can now take advantage of this previously available feature bonus.
Shopify allows you to send emails to people who abandoned their carts manually or have Shopify send the emails to you.
The area that displays abandoned checkouts shows you which visitors eventually completed a purchase after getting an email reminder from Shopify.
Shopify is the most popular e-commerce platform in part because it is so effective at generating sales with minimal additional marketing expenses. However, competitors to Shopify often do not offer this feature at this price.
Basic Shopify: Fraud Analysis
Shopify's fraud analysis features allow you to detect any unusual account activity before it leads to chargebacks or other difficulties.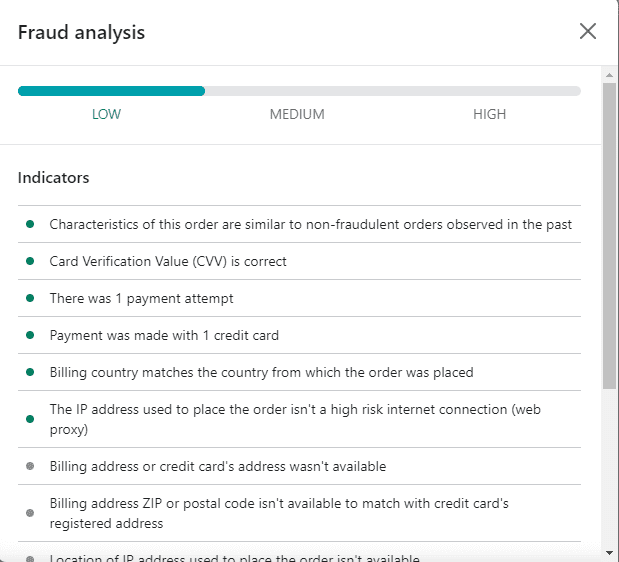 Shopify has red flags that alert you if an order appears fraudulent. There could be warning indications such as:
Has AVS validated the credit card?
Was the right CVV code entered for the card?
Is there a history of fraudulent behavior associated with the IP address used to place this order?
How much did the ordering customer use the cards they purchased?
Further Details About Basic Shopify
Shopify Basic is a simple e-commerce platform that can help with various issues. Shopify POS Pro is a more comprehensive retail POS option that includes marketing automation and customer segmentation features.
Unfortunately, you can only submit the most basic reports. It also does not consider automated e-commerce operations or third-party shipping rates. As a result, the estimated import taxes, shipping insurance, and USPS prices are not disclosed.
Finally, the credit card fees for Shopify Payments are highest for the Basic plan, although even at that level, they are less than the industry average of 2.9% + $0.30.
Is Basic Shopify ideal for me?
Shopify's entry-level plan is ideal for sellers who:
They want all orders, sales, and deliveries to be processed through a single, streamlined interface.
It is necessary to build a completely functional website and online store.
Your goal is to generate revenue; thus, you'll need the option to retrieve abandoned carts.
Appreciate the availability of phone support 24 hours a day, seven days a week.
Seek the basic minimum in reporting.
They seek to attract regular customers and foster community through blogging.
Employ no more than two people at the place.
You can compute your shipping costs without relying on an outside source.
You can get by without the assistance of any form of electronic commerce robot.
You are a novice or lack a substantial financial basis to build your business.
Shopify
The Shopify Plan is the next tier, costing $79 per month.
This tier includes everything contained in the Basic Plan, as well as the following extras:
5 staff accounts
More inventory locations
Standard reports
Greater shipping discounts
Fully automated e-commerce
Shipping Insurance
Costs of USPS Mailing
Credit card processing at a lower cost
Shopify Professional Reporting
The primary dashboard is accessible to all Shopify users and gives a high-level overview of store activity. You can also get the following types of reports with the Shopify plan:
• Sales reports
• Profit reports
• Customer feedback (5 out of 7)
Shopify Sales Reports:
You can receive information about your clients' order history based on the sales channel, time frame, or employee.
This information can be used to determine which stores are the most successful in terms of marketing.
You may add the following features to your sales reports to better personalize them:
Average order value
Ordered quantity
Returned quantity
Consideration should be given to the average order amount, as this could provide important insight into the appropriate location of the free shipping threshold. If your average order is $80, increasing the free shipping barrier to $100 can raise your AOV.
Shopify Profit Reports:
Your net profit will be reported when you total all the expenditures for making your items.
Financial reports can be viewed using a variety of measures, including dollar amounts:
• Product
• SKU number:
• POS location
• Discounts and refunds
Accounts that indicate the effects of sales and returns are especially desirable. This report will show you how much money you made before and after applying a 10% discount to your entire website as part of a promotion.
Shopify Customer Reports:
The precise statistics supplied by customer reports might provide helpful information about your clients' habits.
• The reports contain information on the following:
• Customers over time
• The ratio of new customers vis-a-vis repeat buyers
• Clientele, by Country
• Returning customers
• One-time customers
You may turn one-time purchasers into loyal customers with the help of these reports. For example, you can see when they last purchased from you and whether they want to receive promotional emails from your control panel.
Other Aspects Of the "Shopify" Plan
The Shopify plan allows up to five employee registrations for a larger team, but the Basic Shopify plan only allows two. There is also a significant change in the Standard report.
You can also use e-commerce automation tools and USPS advantages, such as shipping insurance, credit-card processing reductions, and more! (for developing workflows and automating manual tasks).
Is the Shopify Plus Plan Necessary for My Business?
The Shopify Plan is perfect for these cases:
Companies that anticipate considerable sales growth
Any business that processes credit card transactions and desires lower rates
For e-commerce stores that are growing and require online employee logins or storage.
Businesses that provide information about customer purchasing habits and sales numbers
Advanced Shopify
The next Shopify plan up is the $299 per month Advanced plan.
You get everything the basic "Shopify" plan has, plus the following extras:
The POS software may support up to eight retail locations.
A third party sets shipping rates.
Allows for the creation of up to fifteen employee profiles.
Lower credit card processing fees than previously
Foreign sales import tax and tariff estimates
Advanced report functionality
Advanced Shopify Report Building
You may generate one-of-a-kind reports and modify them using Shopify's advanced report builder.
After selecting a report format, you can modify and filter the columns that comprise that report. In addition, your team members have access in addition to you.
Following that, you can find your personalized reports under the Reports area of your Shopify dashboard.
Advanced Shopify Third-Party Calculated Shipping Rates
You can add the computed shipping rates from your carrier account to your checkout here.
You can also purchase low-cost shipping labels from USPS or Canada Post. We provide FedEx, UPS, USPS, and Canada Post shipping quotes.
A price determined to include packing fees can be marked up by a specific percentage and placed in the shipping administration area.
Expedited Parcel, Priority, and XpressPost are just a few examples of carriers whose services you could provide.
Is the Advanced Shopify Plan ideal for me?
The Advanced Shopify plan is ideal for online shops that:
It would like to display shipping rates established by third parties during the checkout time.
For international transactions, I'd like the option to include anticipated customs and sales taxes in the final checkout screen.
Make ship products and look for a rate.
Sophisticated reporting that examines financial metrics such as profit margins
Capability to perform a large number of transactions online
Increase the number of retail outlets
Recruit extra workers to run the web store
Want to negotiate credit card processing rates from Shopify as low as 2.4% plus $0.30 for each transaction?
Shopify Plus
Shopify Plus is the enterprise option for established organizations with high growth potential.
Shopify Plus is not included on the unique pricing page because it differs from the company's basic service and is targeted exclusively to the needs of corporations. Some concerns raised include security, delivery quality, and API integrations.
The cost of Shopify Plus can range from $0 to $0, depending on your company's needs. To begin, Shopify Plus does cost $2,000 a month.
You will be allocated a dedicated account manager who will assist you in getting started, maintaining your account, and answering any issues you may have.
Shopify Plus Multi-Channel Sales
With the Shopify Plus Enterprise plan, you can connect twenty or more sales channels to your Shopify dashboard.
Furthermore, your consumers can access over a hundred different payment methods, allowing you to take payments from anyone.
Shopify Plus Scalability
If your sales tend to spike at particular periods of the year, such as Black Friday or the Christmas season, you can be confident that Shopify Plus can handle any amount of peak traffic you throw at it.
Shopify Plus has a 99.98% uptime and can handle more than 10,000 transactions per minute.
Shopify Plus Integrations
Shopify Plus can assist you whether you are developing a custom app solution or want one of Shopify's technology partners to help bring your idea to life. There are over 1500 professional-quality apps and plugins available.
Shopify Plus is available for businesses that meet the following criteria:
Desire to automate teamwork procedures
Wish to be able to contact an account manager whenever necessary.
During peak sales periods, we require guaranteed uptime and high security.
They require a connection between Shopify and a specialist CRM platform.
An astronomically high sales volume
Only a subset of Shopify users will be interested in Shopify Plus. Basic Shopify, Shopify, and Advanced Shopify are the three primary plans offered by Shopify.
Shopify Review: General Shopify Features in All Plans
Shopify boasts the most well-thought-out set of tools of any e-commerce platform we've investigated. A one-of-a-kind function handles nearly everything required to run your web store.
Let's start with the features common to all Shopify plans before delving into the specifics of what each Shopify tier has to offer.
The Key Perk of Shopify's Features
An in-depth examination of Shopify reviews or comparisons with other leading website builders and customer relationship management platforms will uncover the platform's many valuable functionalities.
But which are the most important to prioritize?
We prepared the following list of Shopify's most essential features after researching and trying it out, as well as reading various reviews from successful companies online:
Social media integration: If you have a big social media following, you may use Facebook's "store" page to replicate your Shopify e-commerce website. If possible, make customers purchase directly rather than through your website.
Shopify POS: Shopify's point-of-sale systems enable you to collect payments for your Shopify store in person and online. You may learn more about Shopify POS by reading our comprehensive review.
Shopify Experts: As we highlighted in our Shopify review, you may contact Shopify's in-house team of "Experts" for support in design, development, marketing, and more. This way, you know you're constantly getting the most out of your e-commerce site.
You may save time and effort by using Shopify's dropshipping services, which are offered through Shopify's Fulfillment Services.
Using simple coupon codes: sales and discounts can increase revenue. Shopify's fantastic "Bulk discounts" feature lets you create discount coupons for free shipping, percentages, and dollar amounts.
Individualized visitor profiles ensure you have the most up-to-date information on your target audience. This is fantastic if you want to segment your marketing and sales efforts.
Automated shipping calculation: Do you utilize an automated shipping calculation system when sending products to customers worldwide? You can let Shopify calculate shipping charges for you, so you don't have to. The precise shipping cost is computed in real-time by the real-time carrier shipping service depending on the product's weight and the customer's location.
Abandoned cart recovery: Currently, 68.13% of online shoppers abandon their carts before completing their purchases. According to this, seven out of every 10 visitors that enter your store do not make a purchase. Fortunately, Shopify includes tools and automated email triggers to assist with cart recovery.
Even if those don't spark your interest, there are hundreds of premium themes, an entire blogging platform, bespoke domains, SSL certificates, 70 payment gateway options, marketing, SEO aid, and more.
Read Also:
The Cutting-Edge Shopify Features
Whether you want to manage your store entirely online or from a physical location, you'll find everything you need here.
Shopify can provide a diverse range of possibilities due to the multitude of tools that come preloaded or may be downloaded as applications.
For example, the Shopify admin interface includes a tax calculator and a shipping calculator. However, many designs would require you to find a free app for social media buttons.
You'll get the work done in either case, and no additional charges are connected to utilizing an app frequently.
The only comprehensive control panel or dashboard we have seen is the one at this company. It's easy to manage stock and process orders.
Programmers can avoid signing up for new free trials using the Shopify Partners interface, instead mimicking a sandbox environment in many ways.
It is simple to switch to a new theme, change the look and feel of an entire site, and make it from a staging environment on Shopify Partners to the live site.
You'll also earn a commission for each customer you introduce to Shopify.
Shopify's reports are my new go-to for online ecommerce analytics. They are tidy, easy to read, and comprehensive, allowing you to see sales broken down by billing address, traffic source, and product name.
The Shopify POS is viable if you sell your wares in a physical storefront. The hardware and software required to sell your sales in person. The software includes an iPad app for in-person transactions that streamlines sales.
Customers' payment information can be securely swiped through the app and credit card reader. Additionally, the business offers hardware such as cash registers, receipt printers, and barcode scanners.
Additionally, Shopify has a mobile app that allows you to do the following:
Handling chargeback inquiries in-app
Review all products added to their product inventory in the last 30 days.
Fulfill items
Compared to other e-commerce platforms, Shopify's App Store is one of the most extensive. Numerous premium and free apps are available to assist you in managing and expanding your store (most paid apps will ask you to pay a monthly fee). These have been divided into distinct departments, such as social media, logistics, advertising, and customer service.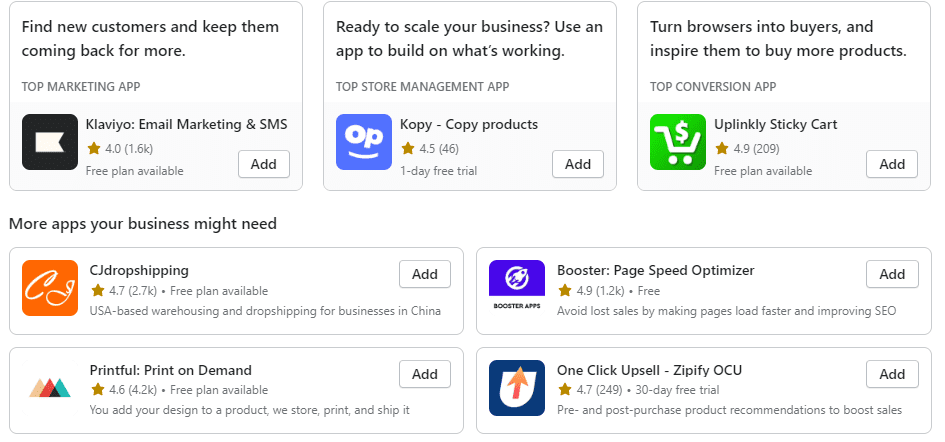 Their powerful content management system enables you to easily contact new pages, including those that make it simple for customers to contact you (CMS).
Shopify makes it easier to manage your blog by centralizing all of its features under a single control panel.
While it would be impossible to detail all of Shopify's capabilities in a single article, it is worth noting that all of the Shopify themes available in their theme store support responsive layouts and mobile-friendly checkouts.
Thanks to the responsive shopping cart, your site will appear excellent on any device, from a desktop computer to a smartphone.
The built-in features are nearly perfect, and the company has a reputable customer base. In addition, they provide direct connectivity with Facebook and Pinterest, gift cards, discount codes, and other services.
If you absolutely must have a feature only available in the app store, you can always test it on your website and switch to a different alternative if it doesn't work out.
Inventory Management Features
Stock management is one of the most integral aspects of running a successful online store, and Shopify can help you with this.
To add items to your store, navigate the Products tab in the left nav. For example, a page where you can change the product's title, description, and price will appear. Every product can have its stock-keeping unit (SKU) and barcode.

Gift Cards, Collections, Transfers, and Inventory are also available. My favorite feature is the Inventory page, which contains a comprehensive but easily navigable list of your store's products.
Options for search engine optimization, delivery, and visuals that greet visitors to the product page are also available.
Shopify Review: SEO and Marketing Tools
Your sales will likely suffer if your store is fantastic but needs help finding it. Additionally, Shopify's built-in marketing tools and Search Engine Optimization features are excellent.
Because of the built-in SEO features, your site will rank higher in Google, Bing, and Yahoo searches.
Even though the SEO settings are implemented automatically, it's cool that you can go to each product page and manually change the target keywords, URLs, and other SEO parameters.
You can customize the header, title, and meta tags right from the UI to give your store a more personalized look. In addition, each URL has been optimized for search engine crawling.
Because the gift cards are simple to use, there is no need to find a separate app to gain additional functionality.
It also allows you to create promo codes that can be used for monetary or percentage discounts that you specify.
For example, to entice customers to set a purchase, offer "Buy X Get Y" deals or free shipping with promotional codes.
You can relax with Shopify's social media marketing tools, which include selling on platforms such as Twitter, Facebook, and Pinterest.
Shopify also allows you to tag products on Instagram and have them automatically link to their respective product pages.
To summarize, the email collection form is easy. Even if it does what it's supposed to and works with the most popular email providers, many online retailers end up downloading a different app because it better meets their needs.
Unique Features in Each Shopify Plan
Now, let's take a closer look at the available features across Shopify's pricing tiers.
Shopify Starter
Shopify Starter, which costs only $5 per month, is one of the most affordable options for people who want to sell online. However, you save money because you need to be provided with your domain name for your online store.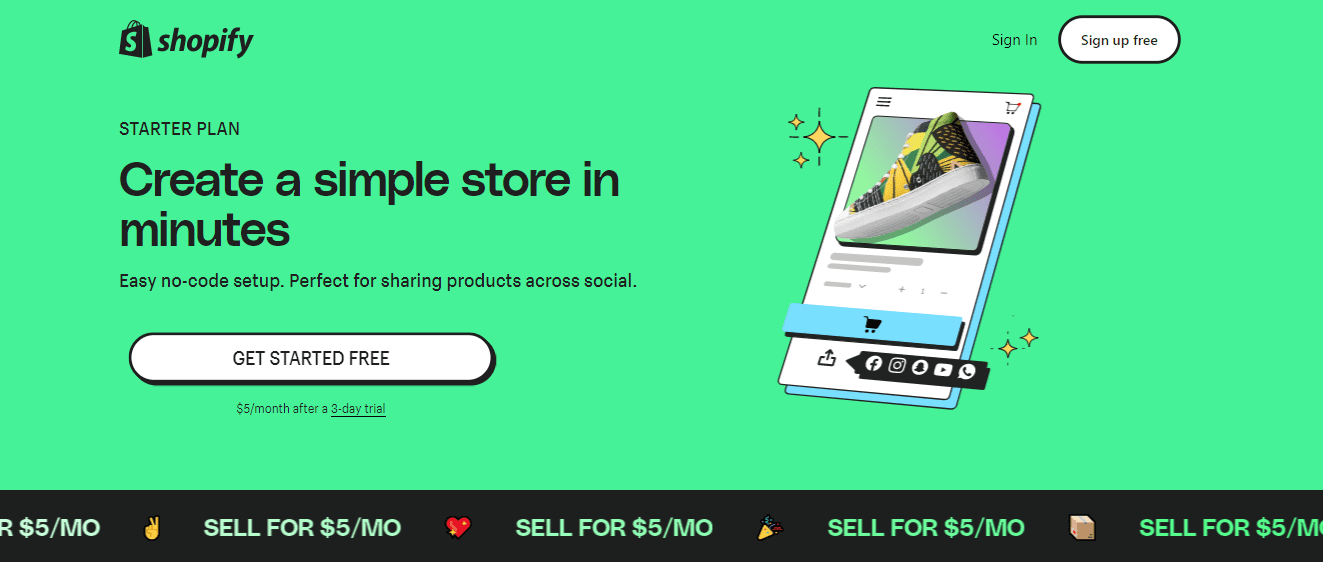 The following are the essential features of the Shopify Starter plan:
Having access to Shopify's admin panel and being able to create/edit products with complete control over all settings (price, description, colors, sizes, etc.)
A purchase button can be placed on any website, including those not hosted by Shopify, Instagram, Facebook, Pinterest, or any other website builder or social media platform.
Shopify's ecommerce software will allow you to manage your inventory, process payments easily, and ship orders.
Take your Shopify store on the road and make sales at trade shows and other in-person events.
Use social media platforms like WhatsApp and Instagram to promote your products.
Instead of using your checkout page, direct customers to Shopify.
Use a mobile landing page creator to showcase all of your wares and earn money from your bio link (this also has a link shortener and tracking powered by Linkpop)
All sales, revenues, best-selling items, and pageviews are fabricated.
Using Shopify Starter to Embed Products on a Website
With Shopify Starter, you can set products and assign them Buy buttons via the Shopify interface. The resulting Buy links can be placed virtually anywhere on the internet.
A small piece of code manages the publishing process.
You can customize the size, color, and even the image of your buttons if you want. When you're finished, Shopify will give you code to embed the creation on your website or another.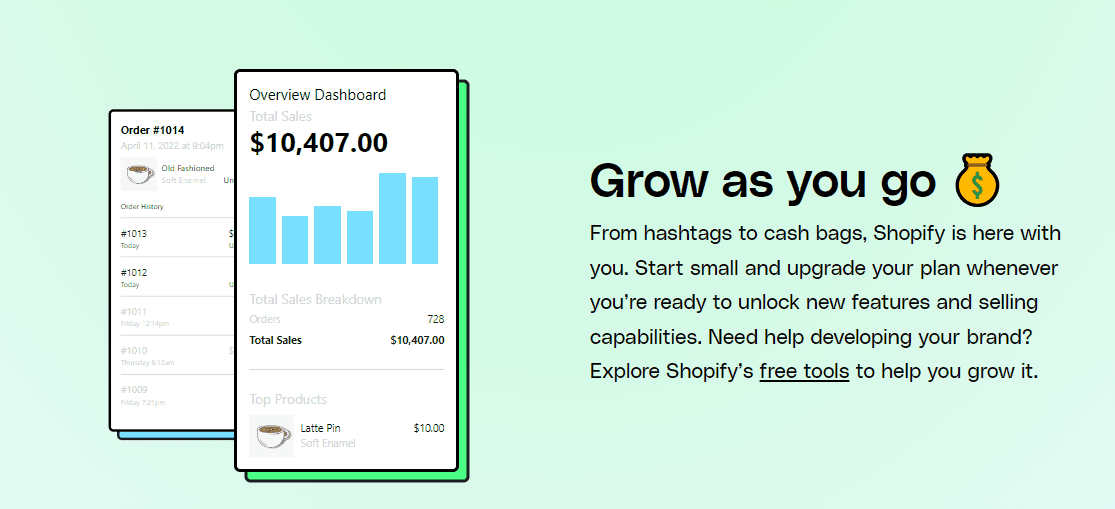 Even though the code appears sophisticated, all you have to do is copy and paste it into the site you want to add it to. If you prefer not to embed, you can use the handy link buttons-this way, you send somebody a link to a store, or a product, instead of placing a Buy button on a previously created website.
Using the aforementioned code, you can display a thumbnail product, price, and detailed description of your wares. You are free to add as many products as you want because there are no limits on individual products.
If you already have a website built on a platform like WordPress or Wix, you can use Shopify Starter to add e-commerce products.
If you want to use a Buy button on a social media platform such as Facebook, Instagram, or WhatsApp, you'll also receive an embed code and a link (or you want to share product information through those websites). Regardless of this,
Selling with Shopify Starter on Instagram and WhatsApp
Shopify Starter is excellent if you have a large Instagram following but don't want to start a completely new online store.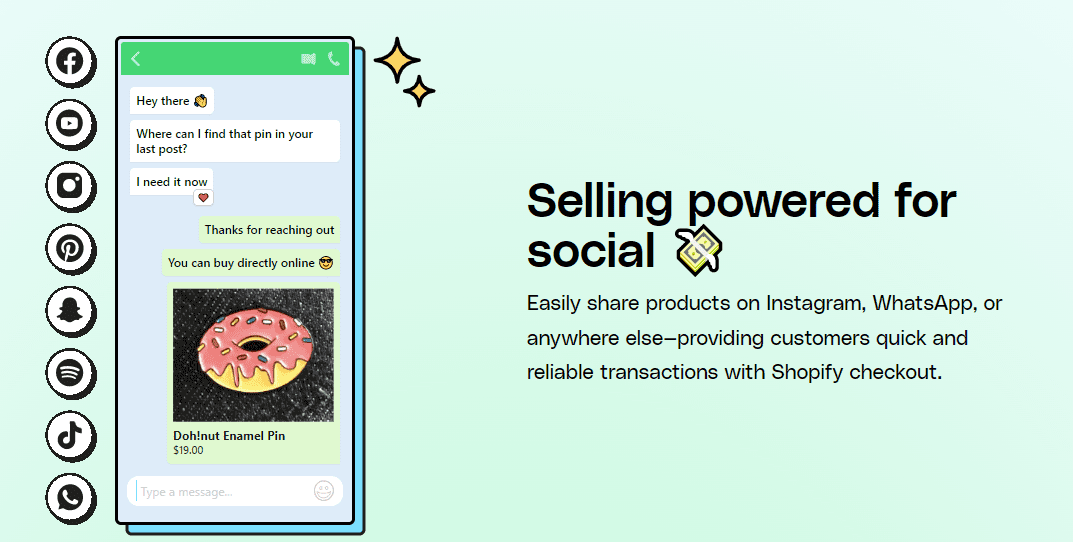 Because of the tool's simplicity, you could have a brand new Buy button on your Instagram page in minutes.
This could be done on any social network, but Shopify makes it especially easy by including built-in connectors with popular platforms like Instagram and WhatsApp.
Today, the most popular messages for communicating with customers are WhatsApp and Instagram DMs, which can be purchased from the conversation window.
When selling to a younger demographic, live chat can be effective. For example, 71% of shoppers aged 16 to 24 who use live chat or messaging apps expect merchants to respond quickly.
Selling Digital Products With Shopify Starter
Using Shopify Starter Plan to Market and Sell Digital Products
Shopify's flexibility in selling physical and digital products is an excellent feature. This includes electronic books, audiobooks, manuals, courses, and media files.
You can sell any of these things using Shopify Starter. Everything is handled the same way conventional products are; you'll have a Buy button and shareable links to your products.
While Shopify's digital downloads app is the de facto standard for selling digital products, many fantastic third-party suppliers are accessible.
It should be noted, however, that some social media platforms do not allow you to sell digital products. For example, Facebook restricts the advertising of any products purchased online.
Using Shopify Starter for Inventory Management
We previously highlighted how Shopify Starter could help you manage your inventory and collect payments if you own a brick-and-mortar store.
When you sign up for Shopify Starter, you have access to Shopify's backend administration panels, where you can manually create orders. Credit card payments are accepted, and stock levels are automatically linked with Shopify.
Monetize your social media bio link
Shopify's Starter plan is oriented toward social media influencers and anyone working in the creator economy. Because these "creators" often distribute their work through social media networks, they are limited to a single bio link and a few words of text.
As a result, link shorteners and mobile landing page businesses have risen in popularity, allowing content providers to send followers to a single landing page with many CTAs (like a very simplified website menu).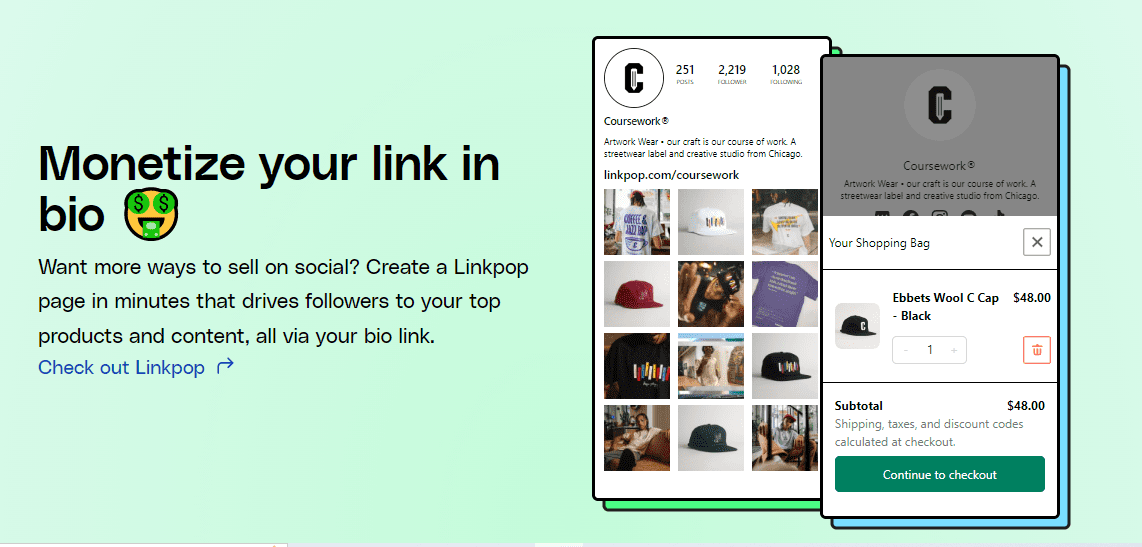 Shopify noticed the need for a solution and included a bio link and mobile landing page generator to the capabilities included in the Starter plan.
Linkpop is the engine that powers this; it is the service users use to generate a link for their social media profiles. Customers will be directed to a mobile-friendly landing page within Shopify that you can completely personalize.
Because clients use the checkout module on the landing page, sales can be made without ever leaving social media.
Other Aspects Of Shopify Starter
Shopify Starter is the only plan that does not provide customer phone support. So you get the email and live chat support.
In terms of features, here's a high-level overview of what to expect from Shopify Starter:
A simple storefront page
Shopify offers a quick and secure checkout (a redirect, not your domain)
Endless products
A Linkpop bio link for social media, as well as a mobile landing page builder
Shopify order management and fulfillment choices
Access to all Shopify apps
A contact page for customers to communicate with.
Dropshipping is also allowed with the Shopify Starter plan. You'll need to download a third-party app from the Shopify app store. The most popular Shopify Dropshipping apps are Printful, DSers, and Spocket.
Is Shopify Starter Ideal for Me?
Shopify Starter is suited for businesses that:
Want to add ecommerce to an existing blog or website
Depend on social media followers (influencers)
Rely on generated content
A bio link to the mobile ecommerce landing page is required.
Want to sell on Facebook, Pinterest, Instagram, and WhatsApp
Are content with only live chat & email support
Need a backend system for managing inventory and payments
Want to explore how Shopify capabilities combine with their offline store activity
Wish to begin with a low budget
That don't mind having a separate checkout page (not on their domain)
Shopify Payments
Traditionally, if you were to accept payments, you had to utilize a third-party payment processor like Stripe, PayPal, or others that charged a fee for each transaction.
Shopify Payments is its payment processor (Powered by Stripe). All transaction fees will be waived if you participate in this program.
It's worth noting that you can link with over 70 different payment gateways. Accepting credit card payments, Google Checkout, PayPal, and many other methods are among them.
Each gateway has its own set of transaction fees. Because they can be complicated, I suggest you acquaint yourself with them before joining up, as you could be surprised at how much you'll have to pay otherwise.
In short, Shopify features one of the most comprehensive lists of payment gateways available. This does not mean you will use them all, but it does provide more opportunities for people from all over the world. It also allows you to research which payment gateways will work best for your unique business.
There are several reasons why consumers use Shopify Payments; however, it does have certain drawbacks. We go over these in further detail below:
The Shopify Payments Pros and Cons
Pros
Shopify transaction fees – while transaction fees are to be expected when using Shopify Payments, you will not have to pay the additional 0.5%-2% transaction fees for other payment methods.
Shopify security – Shopify's payments service is exceptionally safe and detects fraudulent transactions. You can add a verification mechanism by address and value to your checkout to confirm that payments are legitimate.
Shopify integration – Shopify Payments are available immediately and do not need to be connected to your store independently, so you can start collecting payments immediately.
Shopify fees – You will be rewarded with lower transaction fees depending on your sales volume.
Saved customer information – When customers visit your ecommerce website, they can save their shipping plus billing information for subsequent use. When they return, all that information is already there, leading to a greater conversion rate.
Cons
Suspicious activity – If Shopify detects suspicious activity on your account, it may withhold payments from you. These may then be escalated, and you may not get your money for some time until a dispute is resolved.
Chargebacks – When your customers file too many chargebacks, Shopify may withhold cash from you or, worse, block your account.
Availability – Shopify's payment option is unavailable in every region, although it is available in 15 countries worldwide (including the United States, Canada, and Australia). Australia, New Zealand, the United Kingdom, or Singapore). Aside from expected availability, you may be denied service if your business is deemed "high-risk." Shopify reserves the right to terminate your service anytime and without notice.
Ultimately, the benefits outweigh the drawbacks, and using Shopify Payments will lower your overall operating costs.
Shopify POS Go
To succeed in both brick-and-mortar and online marketplaces, one must be adaptable. Shopify supports mobile sales for both online and offline stores.
You can use the POS-Road gadget to make transactions, review customer information, and answer queries while on the go. It has a robust case and a hand strap, but it costs $399 after taxes. The Shopify POS-Go is the solution.
Keeping track of all of your POS devices
Integrations with old POS peripherals such as printers, cash registers, and checkout stands
The capacity to engage with customers while on the job
Closing a sale or researching a product in any dynamic environment necessitates physical movement.
Conducting business at mobile sales such as trade shows and networking functions
Accepting money from customers who are standing in line or on the sidewalk
SHOPIFY POS
Shopify POS-Go is suitable for businesses of any size. Shopify promises to be suitable for businesses free to open and close their stores at will.
Shopify POS Go provides medium and large businesses with dependable, professional-selling, and feature-rich mobile POS hardware.
On the Shopify POS Go, which is designed for use with only Shopify, Wi-Fi connectivity is provided via the 802.11 a/b/g/n/ac standards. This implies that store owners may check stock, track customers, and accept payments from their smartphones.
Complete communication is accessible via either the 5 GHz or 2.4 GHz bands. The only serious drawback is the absence of Ethernet support, shared by the great majority of competing providers. However, others like Stripe and Square have Wi-Fi and Ethernet access.
Shopify POS GO has a built-in barcode scanner that can scan both 1D and 2D barcodes, making it simple to scan inventory while on the go. In addition, you can collect payments via tap, swipe, chip, or QR processing in any location with Wi-Fi (as long as you have a signal).
The Shopify POS GO is powered by a Qualcomm SDM 665 processor, allowing lightning-fast calculations. The 3960 mAh battery in the POS Go is enough to power your business for a whole day.
The Gorilla Glass 5 display on the Shopify POS Go is designed to withstand drops. If you choose the bundle that stresses safety, you'll also receive a protective phone case with a hand strap. The POS Go has one disadvantage: it is incompatible with the usual Shopify checkout modules.
The Shopify POS-Go is not compatible with or capable of communicating with a standard cash register or checkout kiosk. Instead, we advocate powering your POS system using a variety of devices. This is a terrific alternative for merchants and online stores needing versatility while still making sales.
Shopify's Mobile Ecommerce
Shopify is fantastic since it allows you to manage a wide range of administrative activities for your business from the comfort of your mobile app. You can perform the following with the Shopify mobile app:
Photograph the product and share it online.
Create a targeted search engine optimization strategy.
View real-time sales and visitor statistics.
Receive Order Updates
The next step is to obtain and print the relevant shipping label products.
Refunds are currently unavailable.
Set your level of satisfaction
Managing Marketing Efforts
Lookup customer information in a database.
Control content and promotion on social media channels.
Compile conversion rate data.
Process orders
Alternatively, update product information (such as prices)
Begin by selecting a new theme, adding your company's logo, and experimenting with the colors and typefaces used throughout.
Involve your team members.
It is critical to increasing the store's inventory.
The app is available for both Android and iOS users.
The capacity to fulfill orders is a terrific feature at any events or fairs you plan to attend. Customers may also manage sales and inventory across many channels by integrating the Shopify app with marketplaces like Amazon, eBay, and Etsy.
The e-commerce platform Shopify allows you to manage your whole online store from the palm of your phone, no matter where you are. The Shopify POS app is free to download and use, and you do not need a Shopify account to make purchases.
While the Shopify mobile app is useful for putting together orders, the Shopify POS Road device is the most effective way to handle payments on the go. It is powerful and can run without using any other apps on your phone, with four different options for card processing.
You can scan products and make payments with either the Shopify POS go or the Shopify POS app; however, the main Shopify app is better suited for store management.
Shopify Review: Ease of Use
How nerve-wracking do you think it would be to join Shopify and get to work?
The response is, "Not at all intimidating."
If your business is starting with online sales, Shopify is one of the most straightforward ecommerce systems to understand and use.
When you sign up, you'll be given a simple dashboard and guided through the steps necessary to have your store up and running and accessible to the general public.
The large search bar in the administration area of Shopify allows for quick keyword entering and subsequent retrieval of the relevant results.
For example, you could be looking for a specific item or client. If this is the case, Shopify's search box will automatically return results for you, whether you're looking for customers, orders, or products.
Support and training for certain features are available using the search box (should you type in relevant keywords).
Adding items to your catalog is also simple.
The interface is well-organized and asks for the most critical information from the user, such as title, description, sale channel, and price.
Bring your business ideas to life for $1/month On the Shopify Platform. Click the Image Below.
Your shop's design can be updated with little effort. Shopify also lets users discover the most popular themes by categorizing their template directory by industry, purpose, and design aesthetic; after that, putting in your theme is a piece of cake.
Regardless of design aesthetic, website homepages, about pages, and potentially other crucial pages should all be written by hand.
Shopify's Sections feature makes it simple to categorize your store.
You can select from various pre-made content blocks when working with the visual editor. For example, at the top of the page, you may include a slideshow, a call-to-action button, and a product carousel.
Everything is completed with a single click. Dragging and dropping the sections can be rearranged in any desired order. However, you can quickly change the arrangement and appearance of your page's sections. This is a beneficial feature for all users, especially newcomers.
Other platform components share this view. For example, when you're ready to add new apps to your store and expand it, you'll see that most of them only require a few clicks to activate.
Shopify lets you preview your store before going live, and the platform's helpful live editor lets you see your changes as soon as you make them.
The business is committed to creating the most user-friendly interface in the industry. Amazingly, they're treading so carefully here because the platform can still appeal to skilled coders.
Aside from the occasional bug, I can't imagine a novice or seasoned developer having any issues with Shopify. Despite this, most experienced developers will have no trouble, as Shopify already provides many useful features.
Shopify Review: Shopify Themes and Design
The variety of templates available is one of Shopify's themes. They feature some of the most visually appealing, professionally created e-commerce themes accessible. For example, there are currently eight free and more than sixty for a price ranging from $160 to $180.
Shopify chose only to preserve the most recent, SEO-friendly themes in their library, so they eliminated the older ones.
While each theme may be "a single theme," it incorporates various techniques. For example, the Impulse theme, for example, has three distinct layouts, each with its own set of colors and approach to displaying the page's content.
You can see how the Bold preset from the Impulse theme looks radically different:
Given the variety of the Shopify theme store's collections and sectors, we're confident you'll find a template that meets your requirements.
In addition to the standard set shared by all themes, each Shopify theme includes its features and capabilities.
The following are a few examples of stores that share this concept:
Furthermore, you may test each theme with a fully functional sample version before committing to one.
Shopify Themes and Sales
When designing for e-commerce, we place a premium on how quickly customers can check out and complete their shopping carts.
Shopify themes support two or three-step checkout processes, and you can easily add features like social and guest checkouts with a button.
Once you've chosen the ideal theme, you can personalize it to your heart's content by visiting the template editor and making adjustments until it looks and feels exactly right.
In contrast, the "Shopify Sections" feature is a drag-and-drop editor that will speed up the editing process.
Furthermore, if you are technically smart enough, you can modify the content using HTML and CSS.
Shopify Review: The Shopify App Store
Shopify's app store has thousands of apps of various forms and sizes.
The apps have been categorized into a few functional categories.
Apps can facilitate many applications, such as marketing your store, sending emails, sending push alerts, optimizing your website for search engines, managing your access rights, money, and much more.
Shopify moved its attention in 2018 to a new generation of machine learning algorithms to give modern users a more intuitive and engaging experience. As a result, the app store now assists you in identifying the precise solutions that are most likely to appeal to your specific scenario and business model. This is quite useful!
The Shopify App Store is a collection of premium and free programs that can be used to improve and extend the functionality of your Shopify store.
One of the things we loved best about Shopify's app store was that you didn't have to be a developer to use any of the products. Nowadays, it is assumed that everything will operate when plugged in.
If, on the other hand, you like working with website code, you may apply to become a Shopify App Merchant and join the ranks of hundreds of other developers who have already made their mark.
Access to the Shopify APIs and a high-level overview of the Shopify development environment are just two of the numerous extra resources accessible to you immediately on Shopify.
Shopify and GDPR Compliance
The General Data Protection Regulation (GDPR) went into effect in May 2018, introducing new rules for how businesses must handle the personal information of European customers.
This regulation has made life incredibly difficult for many businesses around the world. Two key issues were: (1) the laws were vague, and (2) the fines might be pretty severe—up to €20 million or 4% of annual global turnover. Most businesses would be unable to sustain such a severe financial blow and would be forced to close their doors.
Shopify, on the other hand, was exceptionally well-prepared and made extraordinary efforts to safeguard the safety of its users and customers. In a nutshell, this organization provides all Shopify customers with the tools they need to stay legal.
In detail, here is what Shopify did:
Shopify has added a data protection addendum to its terms of service, outlining how the company manages the personal information of European Union residents.
Shopify amended its privacy statement to offer users a more explicit description of their rights under the policy and how their data is utilized.
Created a sixteen-page white paper outlining Shopify's plans to comply with the law.
The specifics of your cookie storage practices have evolved.
Created a configurable privacy policy generator that you can use on your website for free.
As a result of a change in the opt-in mechanism, the marketing opt-in for your Shopify store can now be left unchecked.
In addition, we've changed the app store's user interface to make it apparent which apps in your store collect and store which types of customer data.
Shopify recommends obtaining legal counsel to learn more about how data protection requirements will affect your business.
The Shopify team has also developed a mechanism for requesting the removal of a customer's data from all of your apps. Changes to your personal information can be made in the section reserved for registered users. It appears as follows:
Shopify Review: Security
When managing an online store, security must be taken seriously. After all, you'll have access to sensitive information such as credit card numbers, order details, and even your products.
Shopify recognizes and values its role in this regard. Shopify runs on a server that meets PCI Data Security Standard (DSS) Level 1. That is to say, you can be confident that any personal and financial information you give will be kept secure at all times. All plans include a free 128-bit SSL certificate (apart from Lite).
Specifically, Shopify
Ensures network safety
Cardholder data security
Adheres to a systematic approach to managing security flaws.
It has adequate procedures to control who has access to the system.
Diagnoses and adjusts their networks
Maintains a policy for the security of sensitive data.
Even though protecting customer information is critical, many stores are concerned about keeping it open at all hours. For example, a one-hour delay on Prime Day may have cost Amazon up to $100 million in sales.
Shopify provides a 99.98% uptime guarantee, so you never have to worry about your business losing money because your online store is down. Furthermore, Shopify takes care of safely backing up your store and allows you access to those backups in the case of an emergency.
In addition to physical barriers, additional security aspects include vulnerability management and access control. For example, you can control who sees what in your shop's backend.
Overall, Shopify pays a lot of thought to security, appears to keep up with advancements in online security, and employs all best practices.
Shopify Review: Customer Support
If you have any problems setting up or running your online store, Shopify has one of the best customer service teams available.
Whatever plan you choose, you'll have access to the company's round-the-clock phone, chat, and email support.
Shopify offers excellent support through a comprehensive online knowledge base, including user forums, tutorials, and frequently asked questions.
You can either consult an expert or learn the system on your own. You'll be able to solve most issues by consulting Shopify's forums, courses, and videos, as we understand that some customers dislike having to wait for an agent to answer the phone when they call for assistance.
When using an online platform, app, or software like Shopify, it is beneficial to communicate with the developers directly or at least provide feedback on what features they may add in the future.
So it's great to see Shopify's creators responding to user feedback by consistently releasing new features. We consider this a form of support because a business that does not value customer feedback risks losing those customers.
Shopify stands out in this regard because the company regularly publishes blog posts detailing the user suggestions that have been considered and implemented.
Many webmasters in electronic commerce are wary of using graphics for fear of slowing down their sites.
As a result, Shopify improved the quality of all previously uploaded images and provided tips for future image quality improvement. These improvements will benefit both the user experience and search engine optimization for Shopify merchants.
Shopify Review: FAQs
Some of the most frequently asked Shopify questions are as follows:
Can beginners use Shopify?
To most people, this will come down to personal preference and taste. However, Shopify is known for being straightforward and intuitive for businesses of all sizes (from small to large corporations).
There's a whole section up top where we went into more detail about this, so go check it out. Go here to check it out.
To summarize, Shopify offers its users an easy-to-use interface for uploading products, managing orders, and closing deals.
With the click of a button, you can change the layout of your store. For example, you can select a topic from a list of current topics and customize the details to your liking.
Finally, if you ever have a problem, you can find many guides and tutorials on Shopify's site and elsewhere on the web to help you fix it.
Shopify security
A more in-depth discussion of this topic can be found in one of the sections above.
See below for a shortened version.
Shopify has been validated as PCI DSS compliant at the highest level. Shopify adheres to all PCI requirements, including those in the six categories listed below.
• Network testing and monitoring are done regularly.
• Customer data security
• Maintaining an up-to-date data protection policy
• Maintaining a proactive approach to risk management
• Maintenance of network security.
• Employing effective access control methods
Furthermore, Shopify is used by several of the world's most well-known brands. Do you think they'd do it if Shopify weren't secure?
Is Shopify aligned with dropshipping?
You have several options for selling on Shopify.
Among the most well-known examples? Dropshipping is a viable business model right now.
Dropshipping eliminates the need for a warehouse to hold inventory before shipping it to customers. Instead, you outsource the shipping duties to a third party.
Dropshipping is one of the most convenient ways to start an online business.
Dropshipping apps are available in Shopify's app store, allowing you to source and sell products easily. Shopify is frequently regarded as the best dropshipping platform.
• Managing your dropshipping supplier relationships is a breeze with Shopify's numerous tools. Dropshipping apps like Spocket, explicitly created for Shopify, are popular options.
• Packed to the gills with useful features, Shopify has everything merchants need to get their online store up and running. In addition to a platform for building your store, you will gain access to tools for handling financial transactions, advertising, product sales, and distribution.
• Shopify is one of the most straightforward and user-friendly e-commerce and customer relationship management solutions. It has many features but is not difficult or overwhelming to use. If you get stuck, you can always consult a pro or sign up for a webinar to learn more.
• Because Shopify has an extensive app store, the system can be tailored to your specific needs.
Shopify's setup cost?
The prices for each available price are detailed further up in the text.
To put it simply:
If you're starting and need a simple online store solution, we recommend signing up for "Basic Shopify" for $29 per month.
The $5/month "Shopify Starter" plan is a great way to experiment with Shopify's social media and other website-selling websites.
Do I need Shopify?
That's a simple yes.
Shopify is currently the best ecommerce platform available. In a recent study of the top six e-commerce systems, Shopify came out with a perfect score of 10/10.
We can see the parallel here.
Is Shopify secure for customers?
The answer is yes. Systems designed to protect merchants also protect customers.
• Shopify's fraud-detection mechanisms are incredibly effective, and transaction data is never sent over an unsecured channel.
How many people use Shopify?
As of this writing, Shopify was powering over 3.9 million online stores.
• This estimate includes both mom-and-pop stores and multinational corporations.
Can I make money with Shopify?
Absolutely! Isn't this the whole point?
Many businesses have succeeded with Shopify, but yours will depend on you. Shopify will continue your growth and business plan.
Is SEO effective on Shopify?
It does.
Shopify is a terrific platform because it allows you to manage the basic SEO components of your online store.
You have several alternatives, including:
• To include a sitemap in your submissions, add these steps:
• Better site architecture is required.
• To emphasize your crawl budget, you should:
• Include relevant keywords on sales pages.
For example, you may install several SEO-focused apps from the Shopify app store if you need extra SEO capability.
Does Shopify include web hosting?
Shopify includes hosting with all of their tiers.
Shopify may be set to use an already registered domain name, saving you the cost of registering a new one. Another alternative is to use Shopify to purchase a brand-new domain.
Simply put, Shopify is everything you need to establish and launch your online store, with no need for extra tools or services.
Does Shopify provide domain hosting?
Shopify does sell specialty domain names for as little as $11 per year. However, if you decide to quit Shopify, you can keep your domain and continue to use it without giving up ownership.
Is a business license required while using Shopify?
The Shopify reviews we looked at, and the company's paperwork agreed that you only need a business license if it is needed by law in your country.
According to the official documents:
If you run a specific type of business, you may need specific licenses at the municipal, county, state, or federal levels, or you may not need any at all. The location of your business will determine the type and location of the license required to operate legally.
Is PayPal a payment option with Shopify?
• Shopify merchants can set a PayPal checkout option.
• To top it all off, Shopify is compatible with over 70 payment processors.
• Additionally, Shopify's payment module, Shopify Payments, is now available for signup, allowing you to sell without paying additional transaction fees (above the credit card fees).
What about Shopify Experts?
While studying Shopify, you may have come across a mention of Shopify Experts, which is a handy tool.
Shopify Experts are a group of the brand's most trusted representatives.
In that case, what does it imply for you?
High-quality support and comprehensive services are available to help you expand your business with the help of professionals. The initiative's initial goal was to provide tools and assistance to firms that formed direct agreements with Shopify. However, in the present era, anyone may find and hire an Expert.
If you wish to consult an expert:
Check out the Shopify Experts page, where potential experts may be organized by area of expertise. There is no necessity that you and your chosen Expert be physically close.
Shopify Experts come into one of five categories: store design, store setup, marketing, photography, or development. Experts are also available for lesser jobs, such as setting up your Facebook tracking pixel.
Make sure to look into the background of your potential Shopify Expert: they usually provide a link to their existing Shopify store here. Each Expert's profile specifies the minimal minimum for a project. This will be your investment in the Expert's services.
As with most modern-day purchases, investigating the experiences of prior clients who have employed the Expert's services is a wise approach.
If you can't find a suitable Shopify Expert on the Shopify Experts page, Shopify now includes a "Post a Task" function to help you find the right individual for the job.
How About Becoming a Shopify Expert?
We've set out all you need to know to join the ranks of Shopify Experts so that you can do it too.
Maintaining your reputation as an expert in your industry and an advocate for the Shopify brand is essential. Shopify Experts face high expectations, so expect intense scrutiny. It is also essential that you continue constant participation in the Partner Community. Meetups must be scheduled and attended if new merchants are to be drawn to the Shopify and Shopify Plus platforms.
Alternatives to Shopify
There's a reason Shopify has become so popular: it works.
However, you can look into other market choices if you are interested. Instead, we offer the following excellent Shopify alternatives:
WooCommerce is the most remarkable e-commerce plugin for WordPress sites, but it's more challenging to set up than Shopify.
Wix, one of the most user-friendly website-building tools accessible, now features e-commerce capabilities.
• small businesses frequently utilize Volusion.
• Squarespace, the popular website builder, is remarkably similar to Wix.
• PrestaShop is ideal for people on a tighter budget, but it lacks the feature set of Shopify.
• Magneto is an open-source tool with some of the highest ratings, yet it is still tough to master.
• BigCommerce features an excellent drag-and-drop editor that is simple to use.
• BigCartel is a low-cost choice; however, it doesn't provide many tools.
• 3dcart is a solid shopping cart solution but lacks some promotional capabilities offered in Shopify and Shopify Plus.
Shopify Review Summary
So, let's get down to brass tacks: who precisely is Shopify's target audience?
Shopify may be used successfully by users of all skill levels (the ones looking to speed up the development process by spending little time on coding or more complicated processes).
We also recommend it for business owners who already have websites but wish to add an ecommerce component, especially if they plan to offer digital products.
Shopify's simplicity makes it perfect for beginners. Signing up and completing a few basic setup panels are all required to get your store up and to run.
The following is also simple to use. For example, the Shopify app store makes it simple to make cosmetic changes, add products, configure shipping and payment options, and add new capabilities.
Everyone serious about selling online should look at Shopify. You can work Shopify risk-free for 14 days before choosing whether or not it matches your demands.
Small Request
Kindly share it with your friends. Especially the ones you believe need this information. Sign Up Now and Get your first 3 months for only $1 monthly.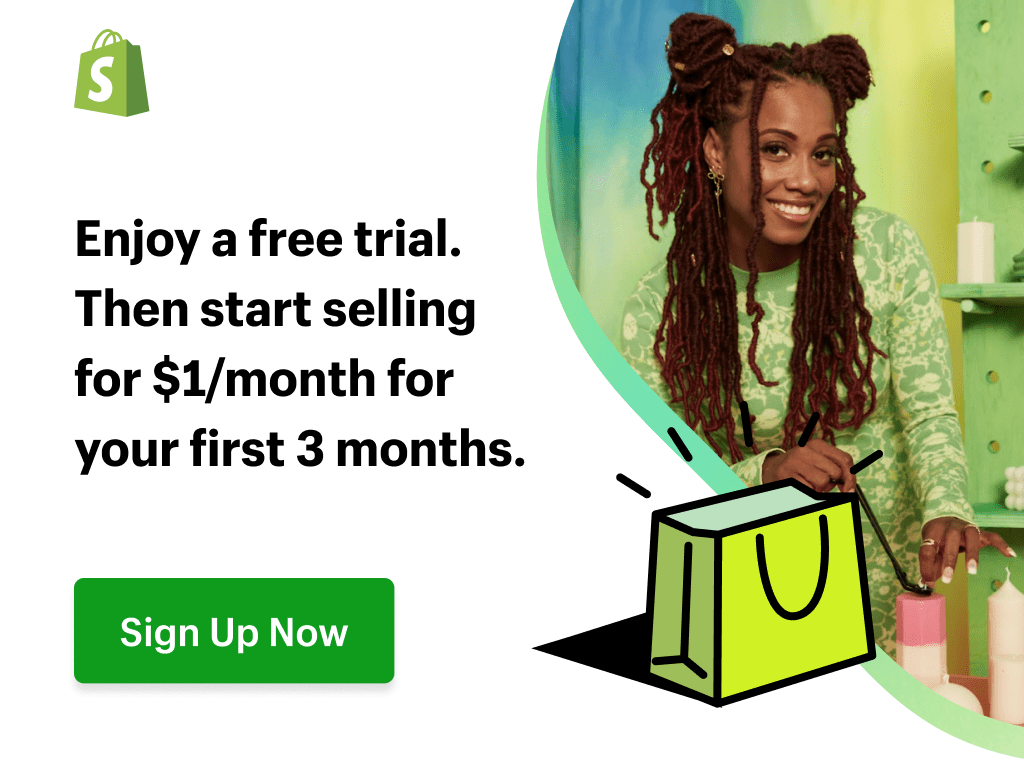 Sharing this information with others can make a huge difference. You may ask why.
Well, the truth is, my main aim is to provide the best information about drop shipping for both beginners and experienced dropshippers.
And I plan to continue doing so for as long as I can.
I would also like to thank those who support my work by reading and sharing my content.
Trust me, when you take your time to share, it will greatly help me and others who need this information.
Here are some great suggestions:
Pin it
Share it on another blog.
Share on Facebook (Share it with friends and even on Facebook groups)
Tweet it
Stumble it
This will only take a few seconds of your time, and I would appreciate it.
I appreciate you a lot. Thank you!
Join my Shopify dropshipping group mastermind and follow my blog to learn more about Shopify tips, dropshipping guides, tricks and checklists, and e-commerce in general.
If you enjoyed and learned something from this post, you can get me updates for free!
I send out email newsletters about new blog posts, tips, and tricks to help you grow your dropshipping business, new YouTube videos to give you more insights into the e-commerce market, and much more.
If you enjoyed reading this, you could also join my Facebook group. Thank you for reading how to make money dropshipping online from the comfort of your home.
Click here to Join My Facebook Mastermind Group