25 Shopify Side Hustles Could Make You 100K Monthly
Looking to turn their passion or side hustle into a profitable online business. Shopify may be the solution you've been searching for, but here are some Shopify side hustles you can try.
Given its user-friendly platform and extensive range of customizable features, Shopify has become the go-to e-commerce solution for entrepreneurs looking to start their online store.
In this blog post, we'll explore how you can use Shopify to turn your side hustle into a successful online business.
Whether selling handmade products or offering services, Shopify provides the tools you need to build a thriving online presence. So, what are you waiting for? Let's dive in and discover how Shopify can help you achieve your entrepreneurial dreams.
Table of Contents
Selling Print-On-Demand Products
If you're more of a creative type, selling print-on-demand products might be right up your alley. Print-on-demand services like Printful or Printify allow you to create unique designs for t-shirts, mugs, phone cases, and more without needing inventory management or production costs.
Upload your designs to your chosen service and specify what products you want printing on. You'll then be given access to mockups of the products, which you can sell on your online store.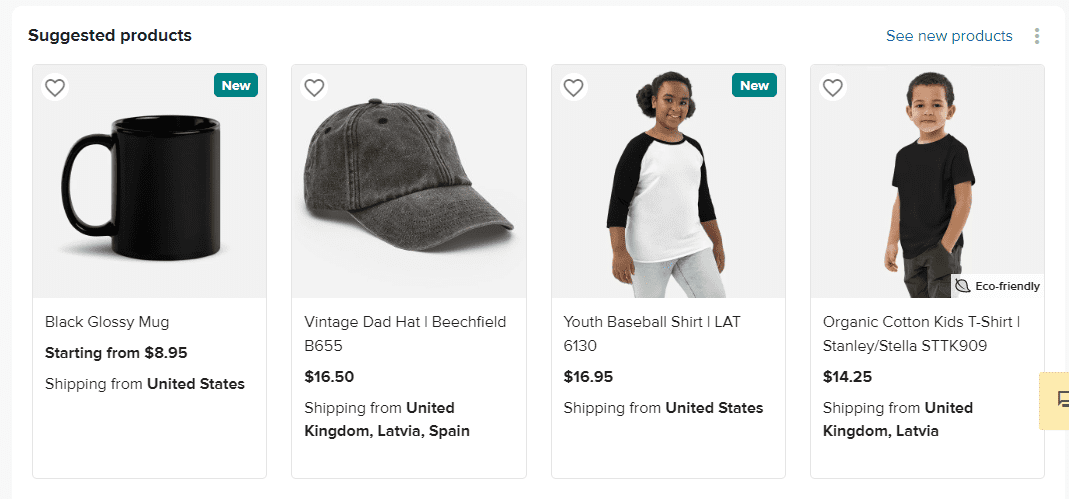 When a customer orders one, your print-on-demand service will handle the rest – manufacture, shipping, and returns. It's a low-risk and easy way to start selling online.
Start Dropshipping Business
Have you ever wanted to start a business but didn't have much capital to invest? Dropshipping might be the solution for you. It's a business model where you take orders via your online store and pass them on to a supplier who then fulfills your order.
You don't have to worry about inventory management or production costs – just become a 'middleman' and mark up other people's products. And the best part? It can be a reliable source of passive income if your store is successful.
Get started with Shopify dropshipping.
Shopify has the apps and tools to connect you to reliable dropshipping suppliers. Jumpstart your business with Shopify Today.
Try Shopify free for 14 days; no credit card is required.
You must add a dropshipping app from the Shopify app store to start dropshipping on Shopify. You should also identify high-demand products with a good profit margin.
Choose reliable and ethical suppliers with a solid record of fulfilling orders quickly and accurately. Shopify even provides a free dropshipping starter kit with a platform trial and helpful resources to get you going.
Educational Products Or Services
Another option is selling educational products or services. With so many people looking to learn new skills or expand their knowledge, there's never been a better time to offer online courses, ebooks, or tutoring services.
And if you can offer accreditation as part of your offering, even better! Online courses, in particular, are a great Shopify side hustle to consider.
Create Products That Stand Out
Do you want to sell generic items that get lost in the crowd? Consider offering personalized and made-to-order products!
Customized gifts, like wedding presents or engraved jewelry, are unique and in demand. Plus, you can even offer customizations to items that customers already own.
The only catch? You'll need to add a third-party app to your Shopify store, but don't worry – plenty of options are available in the Shopify app store.
Sell Digital Products
Are you looking for a way to turn your digital creations into a profitable business? Look no further than Shopify. With the ability to easily sell digital products like ebooks, music, and software, you can build a successful online store without worrying about production costs.
And don't worry if you're not a digital design guru – even simple digital products can be hugely popular and generate a ton of revenue for your store. Shopify's 'Digital Downloads' app makes selling digital goods a breeze, so you can focus on creating and marketing your products.
Subscription Boxes
One of the exciting ways to turn your side hustle into a profitable online business is shopify subscription boxes! These boxes are all the rage right now, and for a good reason.
With a subscription box, you can curate a selection of fantastic products and send them to your subscribers regularly.
And the best part? You'll generate a recurring revenue stream in the process. Plus, you don't even have to make the products yourself. You can liaise with small businesses and artisans to create custom products exclusive to your subscription box. Think food, drinks, and coffee beans. They're surefire hits.
Niche Product
But what about physical products? While it's true that Shopify is a great platform for selling physical items, it's also true that the market is saturated with stores selling all kinds of products.
That's why it's essential to focus on niche products – items that may have a small audience but are of great interest to a specific group.
Think of handmade goods, clothing lines in a specific fashion style, or antiques. By targeting a specific audience with unique products, you can stand out from the competition and build a profitable Shopify side hustle.
The key to success with niche products is to command premium prices and attract the right audience to your store.
You can turn your passion for a specific product or interest into a thriving online business with the right marketing strategy and creativity.
So why wait? Start brainstorming your niche product ideas Today and see how Shopify can help you build your dream side hustle.
Offer Design and Development Services
Are you a pro at designing or developing websites? Put those skills to use and offer your services to Shopify store owners!
Whether it's simple theme customizations or advanced coding work, there's a large market for Shopify designers and developers.
And don't worry about finding clients – list your business on the Shopify Experts website and watch the customers come to you.
Bring your business ideas to life for $1/month On the Shopify Platform. Click the Image Below.
Sell Your Skills and Expertise
Who says you have to limit yourself to selling products on Shopify? If you have a skill or expertise, put it to use! Whether you're an event planner, business coach, therapist, motivational speaker, or gardener, you can be available for hire using the platform.
Plus, right now, Shopify is offering a free trial for a few days, and then you can subscribe for just $1 per month for the first three months. Take advantage of this limited-time offer!
Provide Shopify Consulting Services
Are you a seasoned Shopify user with experience setting up, designing, and marketing online stores? Consider offering your expertise as a Shopify consultant. Many businesses want to start their own Shopify store and could benefit from your knowledge. Help them with everything from setup to content creation, and watch your consulting side hustle take off.
Create And Sell Shopify Apps
Do you have coding skills and a passion for app development? Then why turn your expertise into a side hustle by creating and selling Shopify apps? With over 4 million users on the platform, there's a high demand for apps that enhance their online stores. You can join Shopify's official app store by joining the Shopify Partners program. Just make sure to focus on creating apps that provide genuine value to Shopify store owners and are easy to use.
Provide Product Photography Or Videography Services
If you're handy with a camera, offering product photography or videography services to Shopify merchants could be a perfect fit. From beautifully shot product photos to eye-catching lifestyle content, you could help stores create a professional, engaging online presence.
Take Your Brick And Mortar Store Online
If you already run a physical store, you can take it online with Shopify. You already have a product line and stock, so leveraging Shopify to create a virtual version of your existing business is a simple case. Plus, with Shopify's point-of-sale features, you'll enhance the operations of your physical business.
Provide Customer Support For Shopify Merchants
Customer support is another crucial part of running a Shopify business, and busy merchants often need an extra pair of hands. If you've great people skills and are okay with handling customer queries and returns, offering customer support services to Shopify merchants could be a great way to earn extra cash.
Shipping And Fulfillment Services
Do you have a knack for organization and logistics? Offer shipping and fulfillment services to Shopify stores needing help processing orders and logistics. This can be a great way to generate income while providing valuable support to small business owners. Understand shipping carriers and rates well, and stay on top of your organizational and time-management skills.
Inventory Management as a Service
As a Shopify-based business expands, inventory becomes a bigger headache for Shopify store owners. As a result, you can ease their pain by providing inventory management services. This typically involves tracking inventory, forecasting demand, and managing supplier relationships.
Offer Shopify Store Maintenance
Do you know the Shopify platform inside and out? Use your technical skills to offer website maintenance services for Shopify stores. This can include product updates, backups, and security checks. In addition, you can establish a steady income stream by providing reliable and efficient maintenance services while helping Shopify merchants focus on their business.
Just like Shopify store design services we provide.
Influencer Marketing as a Services
You can charge for influencer marketing services for Shopify store owners as an influencer. Use your platform to highlight and promote their products. If you're not an influencer, no problem. You can still identify and collaborate with influencers to promote merch for sale on Shopify stores.
Offer Digital Marketing Services
With some know-how, you can offer Shopify store owners valuable services. Digital marketing is crucial. Every successful online store needs to be seen by as many people as possible, and that's where you come in. From social media management to PPC campaigns, your digital marketing services could be just what Shopify merchants need to boost their sales.
Offer Content Writing Services
Behind many successful online stores, great content often attracts visitors and customers. But only some people are great writers, so there's a big market for gifted writers who can create posts that draw people in, so if that sounds like you, a profitable side hustle may open to you as a content writer or producer.
Offer Virtual Assistant Services
If you have some spare time on your hands and want to make some extra cash, you're tech-savvy and want to work with Shopify-based businesses, there are plenty of side hustles you can consider, and one of the options- have you considered offering virtual assistant services to Shopify store owners? As their business grows, they'll have more admin work. This is where you come in – you can charge them a fee to manage their emails, schedule appointments, and organize files. And, if you're qualified, you could also offer accountancy and bookkeeping services.
Provide SEO Services
If you're an SEO whizz, offering search engine optimization services to Shopify store owners could be a goldmine. From keyword research to link building, you could help stores climb the search engine rankings and attract more customers.
Offer Translation Services
Another option is to offer translation services. With Shopify's multilingual and multi-currency features, more and more users are selling their products internationally. This is where you can profit – by charging translation services to Shopify store owners who need help presenting their web content and product descriptions in different languages.
Flip Shopify Stores
Have you ever thought about flipping Shopify stores? If you have the finances and business skills, you can buy a Shopify store, make it more profitable, and sell it at a higher price than you bought it.
Monetize An Existing Blog
Are you a blogger looking to make extra cash? Look no further than Shopify! With the "Buy Button" feature, you can easily integrate products into your existing posts and allow your readers to buy products relevant to their reading. It's a win-win situation – your readers get access to products they're interested in, and you get a cut of the profits.
Final Thoughts
Still, have questions about Shopify side hustles? Check out our FAQs. What is a side hustle, you ask? It simply works that you get paid for outside of your day job. In ecommerce, it's setting up an online store as a side business. It can be a great way to earn extra income, but you'll need to invest time and money to make it work.
Ready to start your Shopify side hustle? It's easy! Just choose a business idea, start your Shopify trial, add your products or services, choose a pricing plan, and launch your store. And if dropshipping is your thing, it can be a good side hustle option with little to no startup costs – remember to choose your niche diligently and market your store effectively to stand out from the competition.
Good luck with your new business venture, and don't hesitate to leave questions about Shopify in the comments section below. We're always happy to help!
FAQs— Shopify Side Hustles
What is a side hustle?
Looking to make some extra cash on the side? A side hustle could be just what you need! A side hustle is any work you do to earn money on top of your full-time job. In ecommerce, this often means setting up your online store. While it can be a great source of additional income, be prepared to invest money and time to make it work.
Are side hustles legal?
One common concern people have about side hustles is whether they're legal. The good news is that, yes, side hustles are generally legal. However, you'll need to report any income you earn to the tax authorities. Additionally, if you're currently employed, review your contract to ensure you can run a separate business.
How can I start a Shopify side hustle?
If you're interested in starting a Shopify side hustle, there are a few key steps you'll need to take:
Come up with a business idea that you're passionate about.
Sign up for a Shopify trial and start building your store.
Add your products or services, choose a pricing plan, and launch your site.
With the right strategy and hard work, you could be well on your way to success.
Is dropshipping a good side hustle?
Dropshipping might be a good option for a side hustle. While it's true that dropshipping requires little to no startup costs, it's also a highly competitive business model. You must choose a niche carefully and develop a solid marketing strategy to succeed. Dropshipping could be a great way to boost your income on the side.
Small Request
Kindly share it with your friends. Especially the ones you believe need this information. Sign Up Now and Get your first 3 months for only $1 monthly.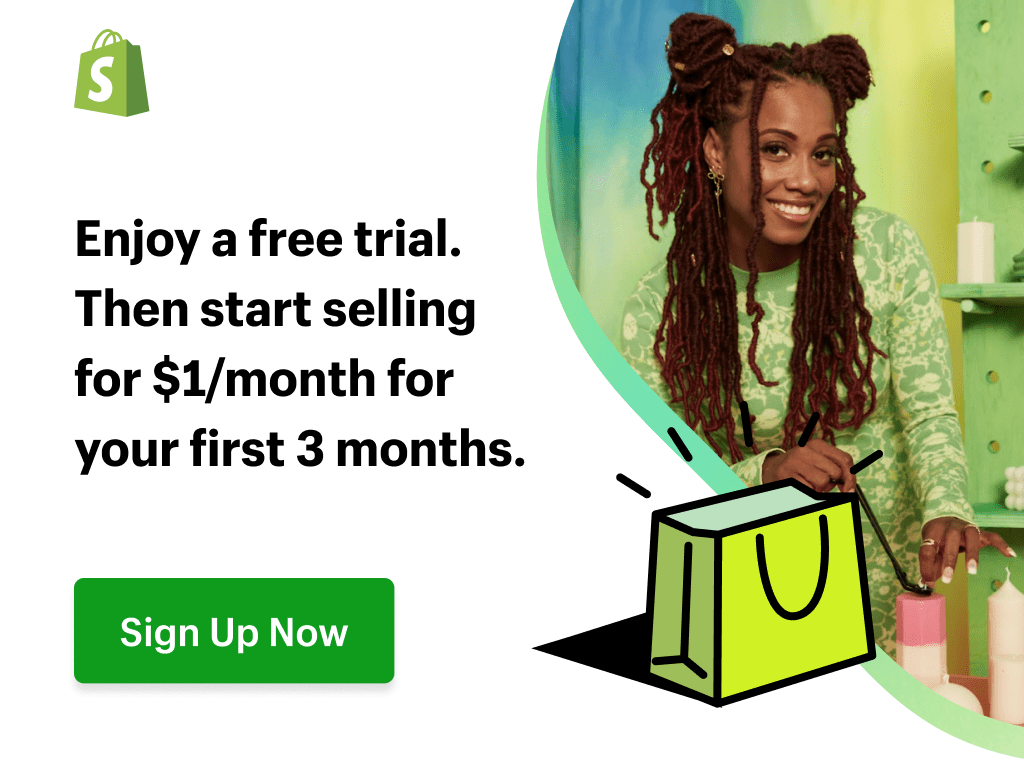 Sharing this information with others can make a huge difference. You may ask why.
Well, the truth is, my main aim is to provide the best information about drop shipping for both beginners and experienced dropshippers.
And I plan to continue doing so for as long as I can.
I would also like to thank those who support my work by reading and sharing my content.
Trust me, when you take your time and share, it will greatly help me and others needing this information.
Here are some great suggestions:
Pin it
Share it on another blog.
Share on Facebook (Share it with friends and even on Facebook groups)
Tweet it
Stumble it
This will only take a few seconds of your time, and I would appreciate it.
I appreciate you a lot. Thank you!
Join my Shopify dropshipping group mastermind and follow my blog to learn more about Shopify tips, dropshipping guides, tricks and checklists, and e-commerce in general.
If you enjoyed and learned something from this post, you can get me updates for free!
I send out email newsletters about new posts published on the blog, tips and tricks to help you grow your dropshipping business, new YouTube videos to give you more insights about the e-commerce market, and much more.
If you enjoyed reading this, you could as well join my Facebook group. Thank you for reading how to make money dropshipping online from the comfort of your home.
Click here to Join My Facebook Mastermind Group