Jasper.ai Review: Honest Opinion After Using The Tool
Are you looking for a Jasper.ai review that reveals what AI copywriting is truly all about?
You have landed in the right place.
As a seasoned professional writer, I am intimately acquainted with the processes involved in generating high-quality content.
While trends evolve throughout time, some aspects never change. These are the elements that a website must have to convert visitors into customers.
Jarvis.ai, formerly known as Conversion.ai, is a helpful tool for individuals who are pressed for time or lack the expertise necessary to write high-quality content.
It will save you money and free up your time to focus entirely on what matters most: running your business. In my case, I use it to write blog pieces, social media items, landing pages, and even news articles.
Now, let's examine the specifics of how Jarvis works.
Jarvis.ai Writing Software: An In-Depth Review
When considering artificial intelligence (AI) prospects, we envision robots performing things independently, just like people, when considering artificial intelligence (AI) prospects. Productivity increases dramatically when using the brainpower of a computer.
Additionally, we anticipate that AI systems will exhibit intelligent evolution over time as they are deployed. These types of AI tackle problems by using "machine learning" or "deep learning."
Numerous businesses, including writing, can benefit from AI technology.
I learned about Jasper.ai's copywriting tool recently. It claims to utilize machine learning to write "high-converting copy" for websites, ads, landing pages, and emails, among other things. 
The software is targeted at writers, marketers, entrepreneurs, and agencies that benefit from compelling copy.
The software is currently being used by firms such as Hubspot, Shopify, and Salesforce. At the moment, it is offering a 5-day free trial that includes 10,000-word credits.
To educate you about Jarvis.ai, I wrote an in-depth assessment of how the software works. I'll go over each feature and demonstrate how I used each one.
I'll discuss the benefits of using Jarvis.ai in writing scenarios. More importantly, I'll highlight potential difficulties and limitations with this tool.
In this Article
What's Jarvis?
What Is Jarvis AI Not?
Who Is Jarvis AI For?
Who Is Jarvis AI Not For?
The Main Features
The Major Difference; Starter Plan & Pro Plan
Pros & Cons
What Is the Jarvis AI App?
Exactly What Is Jarvis for Writers?
Is Jarvis AI a Replacement for Writers?
The Tone of Voice Option?
My Experience With Jarvis
My Jarvis.AI Review
Final Thoughts
Introduction to Jarvis
Jarvis, the artificial intelligence-assisted writing software, assists in all processes of creation by automatically generating the following:
Email campaign content
Content conclusions
Content paragraphs
Social media posts
Personal branding
Content outlines
Marketing copy
Content scripts
Landing pages
Content intro
Content ideas
Blog posts
And more
It's as if you're hiring a team of AI copywriters to create a high-converting copy on your behalf.
There is much ground to cover, so you may want to save this article and read it at least once. While we're going over the basics of the software, I'll outline some of the behind-the-scenes aspects of Jarvis that I've learned as a software insider.
What is Jarvis.ai?
Jarvis AI software generates website content, copywriting, articles, social media postings, and books in an automated fashion. The software enables you to produce unique, accurate, and non-plagiarized content quickly.
This article will detail all you need to know about Jarvis AI! We'll look at EVERYTHING you should consider before making a purchase.
This is not a conventional algorithm.
Jarvis.AI is an artificial intelligence assistant named Jarvis, who creates content for you automatically. Jarvis can produce various types of content, including lengthy blog posts, marketing copy, emails, YouTube scripts, and product descriptions.
Jarvis.ai is a machine-learning-powered copywriting tool that generates high-converting copy for your ads, emails, landing pages, and websites. It's ideal for anyone who requires assistance with writing copy or content.
This software enables you to develop proven, high-converting sales and marketing messages quickly. It uses artificial intelligence technology from firms such as Shopify, Salesforce, and Hubspot, among others.
We are all aware that the product was built to address issues and simplify our lives. I've included a list of some of the best difficulties that Jarvis.ai has solved that have helped us exponentially grow our copywriting business.
Jarvis.ai was built to address the primary issue confronting today's content writers: automation.
Help you beat writer's block
Save considerable time when it comes to generating ideas for marketing copy.
Create an idea for your new copy in seconds; there is no need to spend hours or even a day thinking about it. While it may take days for the human brain to generate a fantastic copy idea, Jarvis.ai can do so in seconds.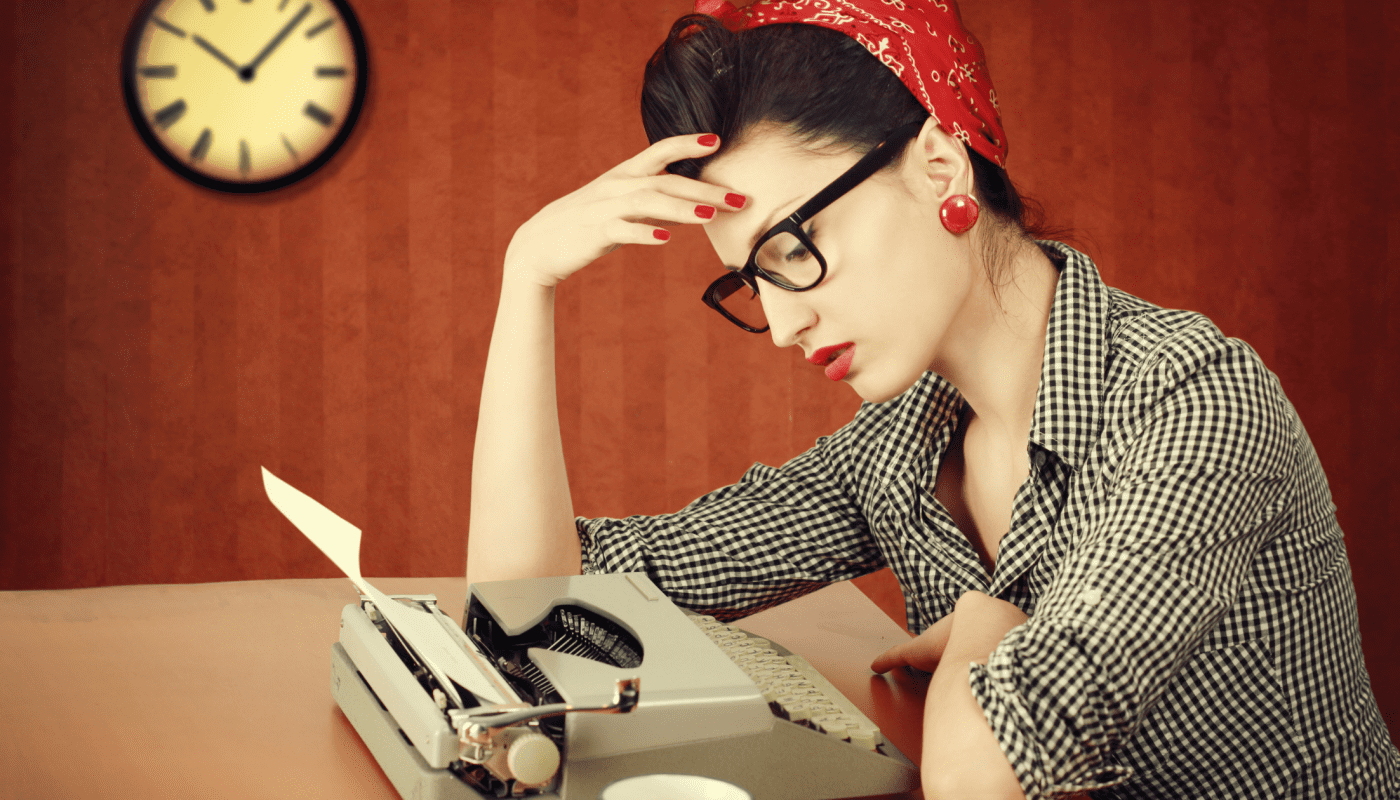 Multi-lingualize your content to target a wider audience.
Generate dozens of headlines
Because I own the pro version of the software, I can confidently state that Jarvis.AI helps me increase traffic, convert better, and thus save enormous amounts of time and money by automating the content generation process.
Ease Of Use For Beginners
The Jarvis.ai dashboard is clean, easy, and simple to use. You'll see a navigation menu on the left, which allows you to move between programs without closing the current one. You can create different projects to avoid muddled data. This is a vital option for agencies and freelancers.
Tutorials & examples are also accessible for educational purposes, and you can seek assistance from them if you run into difficulty.
Jarvis.ai's dashboard now contains tens of templates; you're sure to find one that matches all of your requirements! You can search for templates based on their type, such as "Sentence Expander" or "Content Improver"; you can also filter by popularity or date uploaded.
What Is the Jarvis AI App?
Jarvis also has a convenient mobile app that enables content creation on the fly. I've been experimenting with it for a few weeks and am completely smitten with its usefulness.
The mobile app is a simple but mighty AI tool for content creation on the go. The app is available for download on both the Apple App Store and Google Play (Android).
Within the app, you have access to the complete range of tools, including the long-form content writer, just as you do on the desktop version (if you get the pro plan).
It is possible to:
Write a blog post (or write articles)
Write Facebook ads
Generate video topic ideas
Create irresistible marketing copy
Get persuasive bullet points
Write compelling email subject lines
Overcome writer's block
I've used the app to write blog entries, social media postings, and website marketing copy.
Jarvis for Writers: What Is It?
Jarvis is a game-changer for writers since it shortcuts to high-volume production of clean, creative content. Jarvis (the greatest out-of-the-box AI writing tool) generates massive amounts of content in a matter of seconds, allowing writers to get their work published on blogs and websites within minutes.
Articles, marketing copy, social media updates, and long-form content are all easily created by writers.
Since I began using Jarvis, I've had no problems with writer's block. Each blog post naturally and quickly emerges.
With the Surfer integration, you can publish many fresh blog posts based on a single original topic, giving your content the best possible opportunity to rank high in Google Search.
Is Jarvis AI Writers Replacement?
Jarvis was not intended to take the role of writer. Rather than that, it's a method of quickly producing additional content.
If you're experiencing writer's block or need assistance brainstorming ideas, it's an excellent tool to break out of a rut.
Using powerful technologies such as Jarvis, you can create various types of original content with little or no writing effort. It only takes a few minutes to prepare new content for publication.
You'll be pleasantly surprised at how easy it is to create content online. Indeed, you can develop dozens of pieces of content in a short time.
While it can not perform all of the functions of a copywriter, it is one of the few AI tools that I regularly employ.
The truly remarkable aspect of Jarvis is that it requires no technical expertise or knowledge of programming.
However, you will still need to lead Jarvis, verify sources, and revise his writing content. While the content is excellent when it is first published, it is rarely perfect.
Jarvis takes a few words and grows them into marketing copy, a YouTube video script hook, or a blog article.
Adding a little TLC may improve the reading experience, link the content, and inject some personality.
Read Also:
So Is Jarvis AI a viable substitute for a copywriter?
Jarvis ai an incredibly comprehensive and high-quality copywriting tool that will save you time and provide you with high-quality content and creative ideas.
However, no AI writing tool available at the moment can completely replace a skilled copywriter. If you want to get the most content out of these software tools, I recommend employing a competent writer who specializes in their use. This way, you'll receive high-quality, unique content quickly.
What Is Jarvis AI Not?
It is not a customer support chatbot similar to Tay or Domino but rather focuses exclusively on content generation and improvement.
Further, this software is not an autoresponder, customer relationship management (CRM), or marketing management system. It's a personal assistant that will assist you with optimizing your content generation by performing all of the grunt work on your behalf. Simply enter a few details and click a button, and Jarvis will generate paragraphs and pages of text for you.
The following is a list of the things that the software is not:
Marketing management platform
All-in-one SEO optimizer
Social media manager
An autoresponder
Chatbot
CRM
However, with the Surfer SEO interface, you can easily write high-quality SEO content.
Who Is Jarvis AI For?
Creating high-quality content that engages the reader and converts takes a competent human with years of expertise in writing persuasive messages.
However, thanks to the copywriters at Jarvis.ai, this is no longer an issue! They can churn out compelling content at previously inconceivable speeds after being trained by the world's greatest conversion gurus (many of whom were themselves, copywriters).
Nobody will ever know what occurred behind the scenes — it's as if it were magic!
Jarvis AI is a content creation platform that enables content creators, marketers, affiliate marketers, and social media specialists to scale their content production. The software is designed for anyone who writes online in any capacity.
Jarvis generates content for your blog posts, videos, Facebook advertisements, Google Ads, and any other form of digital marketing copy.
Jarvis.ai assists you with a variety of copywriting tasks. I believe it would be ideal for bloggers, copywriters, and authors experiencing writer's block.
And who desires to overcome writer's block.
Marketers (who want to increase conversions on their ads, emails, social and websites)
Entrepreneurial spirits (who want to leverage AI into their copywriting work to save time on their content creation and get back to scaling their business)
Agencies (Do you have tight deadlines for client work? Use Jarvis to ensure that your work is delivered to your clients on time.
Who scapes from writer's block?
This Jarvis.ai is notably useful for individuals suffering from writer's block and losing ideas.
What's Writer's Block?
Writer's block occurs when writers become immobile and unable to generate additional material due to a lack of ideas or inspiration. This frequently occurs when someone has worked for an extended time and is weary or has just finished writing a piece of uninteresting content.
If you believe this is the case, the following are some broad strategies to avoid it:
Stop for a moment! Extend your time outside, exercise, read something else… do anything except work on your assignment. Allow yourself time to recharge and return with renewed enthusiasm later in the day/week, etc.
If you're still stuck for something to do, take on another writing assignment-even if it's not as personal. Simply write something down! Anything. You'll feel better by having shared something, even if it isn't your best work.
If you're still having difficulty getting back into the swing of things, ask yourself, "What's holding me back?" "Are there any internal or external influences obstructing your process? Once you've identified them and begun to work around them, it will be a lot easier to continue!
Suppose your workload as a copywriter, freelancer, or agency owner does not drastically drop over the next few months. In that case, the likelihood is that you will be replaced by a robot – or someone who understands how to utilize one. Which one will it be this time? It's past time for me to invest in Jarvis.ai.
Overcome Writer's Block Using Jarvis Ai Technology
Jarvis does save time and effort, but that is not the only benefit of this artificial intelligence. When you have this effective tool in your back pocket, you can say goodbye to writer's block.
Conversion.ai can help you earn hundreds of dollars or more quickly and efficiently, but first, you must understand how to leverage its potential to enhance your innovation.
Even when you're not feeling inspired, AI software can help you write more and better.
Let us be honest: writing is difficult. It's nearly impossible to write when you're experiencing writer's block. However, nothing simplifies the writing process more than artificial intelligence (AI). By creating content for your business on-demand, AI can assist you in becoming a productive author.
Jarvis.ai is the most incredible tool for utilizing AI as a general-purpose tool for creating blog posts and other digital marketing content. It instantly generates high-quality content using the keywords, themes, and descriptions you supply. Additionally, these instruments are excellent for fostering creativity.
For instance, in addition to writing unique stories, engaging social media content, blog pieces, and other digital content, you can utilize Jarvis.ai to write poetry. Simply use the "creative tale" tool and enter "write me a song about living in a dream world," and Jarvis responds with a collection of 4-line stanzas, several of which rhyme in couplets!
If you haven't gotten Jarvis to write a functional sonnet – yet, I'm confident it's feasible, and it's something I'll continue to work on in my spare time.
Jarvis is the right fit if you:
Desire to write a brief blog post, a lengthy blog post, or copy that converts well.
Would you like to save time by utilizing a robust copywriting assistance tool?
I haven't needed the use of live chat help, but I am delighted it is accessible.
Need a blog post or assistance with writing content for a specific audience?
You wish to deliver an intriguing and persuasive message.
Regularly write persuasive bullet points.
You are the owner of an agency or a small business.
Do you require content written for one or more websites?
Wish to keep readers engaged with your website's content?
As with SEO-friendly meta descriptions.
Need a virtual copywriting service
Take advantage of an intuitive user interface.
You're having difficulty with your introductory paragraph.
Write lengthy blog entries or articles
Manager social media channels
As is the case with SEO-optimized title tags.
Are pressed for time & require assistance in writing a blog post.
Take pleasure in a high-quality copy
The following is a list of applications for AI software:
YouTubers-scripts, titles, etc.
Social media marketers
Facebook Ad writers
Affiliate marketers
Google Ad writers
Real estate agents
Content creators
Website owners
LinkedIn writers
Business owners
Email marketers
Medium writers
Freelance writers
Reddit writers
Vocal writers
Quora writers
SEO writers
Copywriters
Marketers
Bloggers
Writers
Jarvis AI Is Not For Those Who:
Jarvis AI is not for those who dread technology, are skeptical of artificial intelligence, or wish to naturally create all of their content.
There is nothing amiss with that approach.
Additionally, the automated tool is not suitable for producing 100 blog posts, essays, or novels in a single day. Jarvis is a good performer, but he is not good.
You can realistically generate thousands, if not tens of thousands, of words per day. However, it is unlikely to be in the hundreds of thousands. Depending on how much time you devote to it, this could take a week, several weeks, or perhaps a month or more.
The AI copywriting tool and long-form assistance are not for slackers who refuse to write anything. Jarvis frequently requires some prompting to get started. This software is unsuitable for someone unwilling or unable to assist in getting Jarvis started.
Jarvis requires some direction, typically a starting phrase, a few details, and some guardrails. As wonderful as he is, Jarvis cannot read your mind (at least not yet:).
Assuming you're comfortable with that, this AI software could be just what you're looking for!
Assistance with Writing Copy That Converts
As a ten-year veteran of writing web copy, I jumped at the chance to test this AI software. First, I was struck by Jarvis.ai's promise to provide "highly converting copy" that results in increased conversion and ROI. These are lofty assertions.
If you've worked in the marketing or sales space, you're well aware that conversion is contingent on a host of other aspects, including the actual product's quality, customer service, and price.
It is not simply about the quality of the copy, though that is critical. However, after further study, I discovered that the app generates copy predicated on proven high-conversion sales & marketing strategies.
To be rather candid, my perceptions regarding this conversion method are conflicted. It's a two-edged sword, in my opinion.
This is not intended to be a criticism of facts or quantifiable data. If you create content based on "proven content," you're likely to use the same phrases, approaches, and styles as successful competitors.
Naturally, this acts as a jumping-off point for ideas, so you're aware of what's already available. It is possible, however, that it will serve as an echo chamber.
Marketers must not lose sight of the fact that implementation must be as fresh as possible. Otherwise, you will sound indistinguishable from the crowd.
Additionally, it appears to be sustainable and relatively safe. If your product or service is not unique, you will need to exert additional effort to develop content that sticks out.
This holds for all facets of marketing strategy, not simply content creation. This is a critical principle that I discovered while reading.
Jarvis.ai will generate copy that the majority of consumers will return to based on your product or service. According to the samples it provided, I'd say it produces a truly engaging copy, but it does require refining.
Jarvis.ai can significantly shorten the time needed to rewrite product descriptions for extensive inventories. It can assist in automating the rewriting of descriptions without the need to hire additional writers. This saves firms money and time, as fewer writers and editors are required.
So what's the lesson here? Jarvis.ai can help speed up writing and editing, particularly for low-level content such as descriptions.
Additionally, it might help you determine the strength of your creative campaign ideas. However, successful marketing copy requires both direction and creativity.
That being stated, it is only as excellent as the author who makes use of this app. As a content developer, you can not entirely rely on it for creativity.
However, as a supplement, it will substantially aid in the advancement of ideas, the organization of campaigns, and the effective structuring of an engaging copy.
When you use this app, you'll see that it includes many tools to create and organize content. Additionally, it adapts copy to different media channels.
Apart from rewriting, it also contains unique brainstorming tools to help writers consider other ideas. This can infuse a campaign with additional flavor and individuality.
What distinguishes your copy from the competition is the strength of your ideas and communication strategy. It is entirely up to you how you tailor content for your business.
AI-assisted writing tools, such as Jarvis.ai, can only help you improve your content and the ideas that drive it. While this is a great way to develop truly original thoughts for your campaign, it does help.
The Main Features
Jarvis.ai's Feature-Rich Writing Ecosystem & How It Works
There are now two plans available: the basic plan and the pro plan. I am subscribed to the pro plan, which I strongly recommend. Both plans include a money-back guarantee of seven days.
The pro plan includes more than 40 templates (and counting), as well as an exclusive long-form content creator for blog posts, essays, research papers, and books.
The Starter Plan
The Starter Plan includes a comprehensive list of over 30 writing tools and templates:
Descriptions of products for websites, emails, and social media channels
AIDA Framework (Awareness, Interest, Desire, and Action)
Added value to content (makes it more engaging)
Captions for images on social media (Instagram)
The PAS Framework (Problem-Agitate-Solve)
Description of Amazon Product (paragraph)
Product Specifications on Amazon (bullets)
Potential Video Subjects (YouTube)
Meta Description and Title for SEO
Opening paragraph for a blog post
Description for YouTube Video
Listing of residential real estate
Facebook Ad primary text
Persuasive Bullet Points
Google ad descriptions
Video Script Outlines
Facebook ad headline
Blog post topic ideas
Explain it to a child
Website subheading
Engaging questions
Google ad headlines
Review Responder
Sentence expander
Short Social Posts
Marketing Angles
Feature to benefit
Blog post outline
Ridic Marketing
Perfect Headline
Quora answers
Creative story
Company bio
Personal bio
Video Titles
Jarvis.ai Pro Unlimited Plan
On 30th March 2021, Jarvis.ai received a significant update when it purchased Headline, a business that generates snappy names.
This might spell disaster for users of lifetime medicine. Additionally, we launched a new pro unlimited plan that includes access to an AI-powered long-form content assistant to help you write blog posts, tales, scripts, and even books.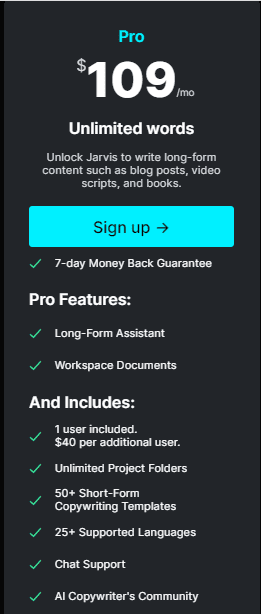 Jarvis.ai's pro unlimited plan is $109 per month and includes the ability to generate an unlimited number of words on a single user sheet. This plan includes everything you'll need to get the job done quickly and efficiently. It is significantly more advanced than Jarvis.ai's entry-level programs.
If you're interested in learning more about the pro unlimited plan, you may view this video training by Dave and Austin without creating an account with Jarvis.ai.
Jarvis.Ai provides a five-day free trial period followed by a seven-day money-back guarantee. If you want to receive free extra credits, simply sign up using our referral link. You'll be credited with 10,000 bonus credits. This credit never expires and may be used to acquire other word generating credits without paying them out of pocket.
The Pro Plan includes a list of more than 40 writing tools and templates:
Product descriptions for websites, emails, and social media channels
Attention, Interest, Desire, Action (AIDA) Framework
Amazon product description (bullets & paragraphs)
Problem-Agitate-Solution (PAS) Framework
Content improver (makes it more engaging)
Explain it to a child (Content rewriter)
Website homepage meta description
Services page meta description
Product page meta description
Residential real estate listings
Long-form content assistant
YouTube video description
Blog post meta description
Sub headlines for websites
Unique value propositions
Facebook ad primary text
Company & personal bio
Website homepage title
Google ads description
Blog post introduction
Facebook ad headline
Blog post topic ideas
Google ad headline
General bullet points,
Video script outline
Sentence Expander
Sentence expander
Creative Stories
Blog post outline
Feature to benefit
General headlines
Response to reviews
Video introduction
Email subject lines
Video topic ideas
Services page title
Product page title
Text summarizer
Blog post titles
Video titles
Other tools are always being added and updated, so visit the official website for the most up-to-date information.
Several of my favorite features are Jarvis's ability to assist me in developing blog post topic ideas, meta descriptions, blog posts, Facebook advertisements, and, in particular, long-form content.
Additionally, there is live chat help available nearly 24 hours a day and a vibrant Facebook community.
This AI writing app has many "writing templates" modified to write you in writing for a given framework or media platform. At the moment, Jarvis.ai provides a variety of effective writing templates and content-building pieces.
We'll explain how each one operates in detail.
Jarvis.ai's Start guidance for the company or product descriptions states that users should alternate between the Product Description and Content Improver templates until they find the correct balance.
However, for this review, I will concentrate on applying the templates to various writing assignments. The app includes video tutorials and a live training call if you require additional assistance.
Each template requires you to write a description or topic for your article. This is a 600-character limit. The description you write is the sole foundation for Jarvis developing ideas for writing or expanding your content.
Additionally, it helps with the brainstorming and organization of articles or campaign ideas.
However, I feel that the 600-character constraint makes it difficult to repurpose the entire content created by the AI into the template for development. Yes, it generates marketing copy with a length of more than 600 characters.
If you wish to re-post the updated copy, this may require two batches. Jarvis can generate as many enhanced writing examples as you need in any circumstance.
To illustrate, here are many Jarvis.ai templates in action. This will take some time, so be prepared with your coffee.
You can as well try out the boss mode.
The Major Difference; Starter Plan & Pro Plan
What is the Primary Distinction Between the Starter and Pro Plan?
When deciding which plan to acquire, it's important to understand the contrast between the starter and pro plans. As a result, I developed a basic matrix to summarize some of the key differences.

The primary difference between the starter and pro unlimited plans is the pricing model and vocabulary provided. As you'll see, while the pro plan is more expensive, it includes a plethora of added perks.
If you're looking to write lengthy blog entries, articles, or books, the pro plan is your best bet.
Long-form Assistant
This section is for more lengthy articles, emails, scripts, and stories. Furthermore, it is recommended for book writing. It has two modes: a blank document in which you can freely start and an assistant workflow.

Secondly, the blank document provides vertical access to the other writing templates. On the other hand, the long-form assistant workflow is where the app asks you to explain the content you wish to create.
Take this into consideration. The more clearly you can articulate your topic, the more high-quality content Jarvis can generate.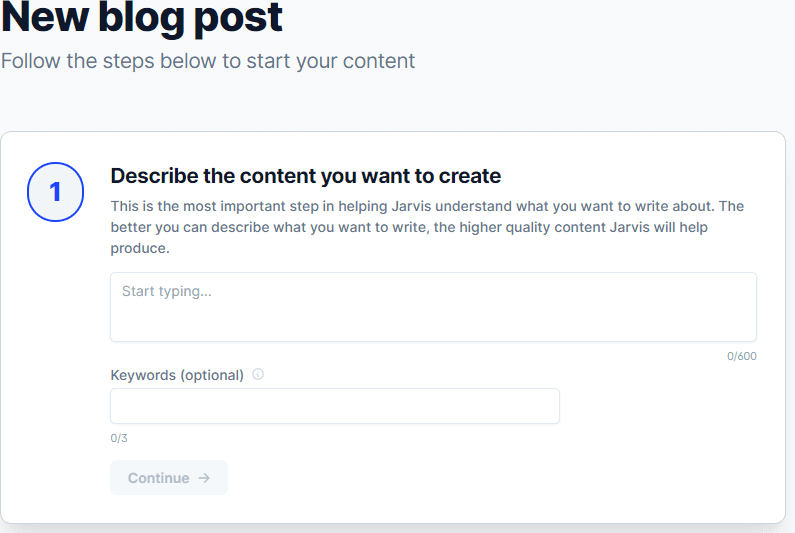 Jarvis accepts no more than three keywords. While this is optional, I'm assuming that adding keywords will help Jarvis create more relevant content. It also prompts you to write a working title for your essay and start writing an introductory paragraph.
Once you've written your initial title, the program will generate additional title suggestions.
Jarvis provides a long list of relevant and appealing titles that effectively communicate with people. Though it is an exaggeration, the article can qualify it. Additional suggestions may include more precise angles.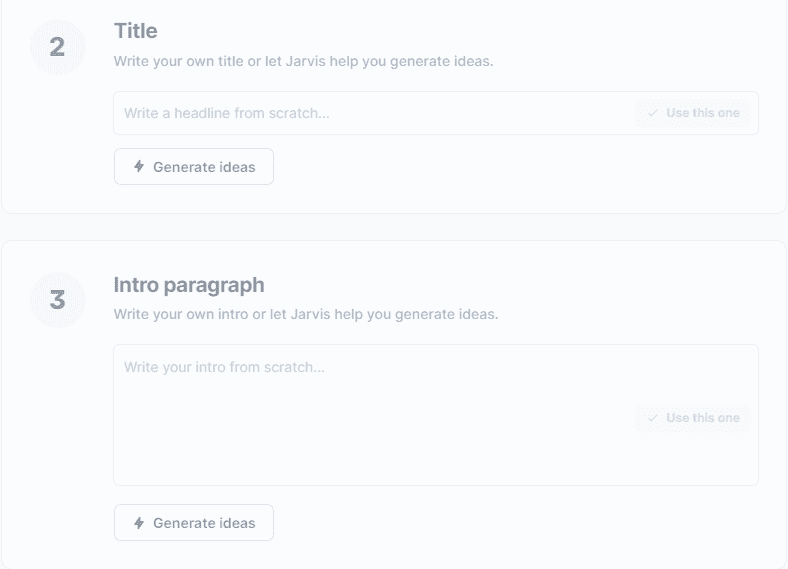 You could also explore those subjects. In general, I believe it is an excellent tool for speeding up title creation.
Thus far, great, right? However, when it comes to content suggestions, things become a little more complicated. This is primarily because the suggested content is frequently overly general.
Additionally, it tends to suggest expansions that are inconsistent with the primary topic. This does not sound encouraging. Further, the AI inserted bits of information such as dates and other pertinent data.
It would be best if you verified that these details are being used correctly. As a result, as a writer, you should always verify the details recommended by Jarvis.
However, following closer examination, the AI content has many issues compared to the paragraph you wrote. Apart from being very general, it has issues with imprecise details.
While you could argue that these issues are minor and adjustable, they add time to your task. It may even cause you to lose concentration on your topic.
Without due diligence in fact-checking, you may end up with misleading information. And, frankly, I have the impression that some of the suggestions are a bit of fluff. However, you can put the greatest suggestions into a single logical paragraph by selecting the best ones.
Apart from the wordy statement, this is superfluous hype. It's perplexing and a textbook case of poor writing. Again, while this can be remedied through editing, I feel more comfortable writing on my own.
Indeed, you may start usually. However, it then begins speaking about random topics. Stuff You have no idea where that came from or why the AI does that, but you can disregard it as a wholly worthless app suggestion.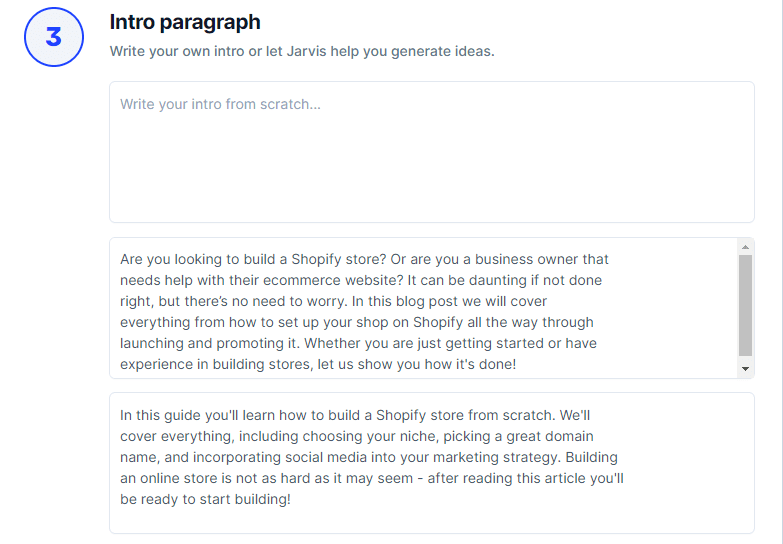 I'm guessing there will be more of those bugs if you generate more Jarvis-generated content suggestions.
You'll note that these are subtleties that AI can not detect. It's almost certainly based on hot articles from the time, which are prone to hype and out-of-date Hollywood information. And, while the suggestions are intriguing, they are sometimes too general or contradictory to the direction I require.
If the information is misused, consider the ramifications for health or political publications. It does generate more valuable suggestions with fewer severe edits. These are worth investigating.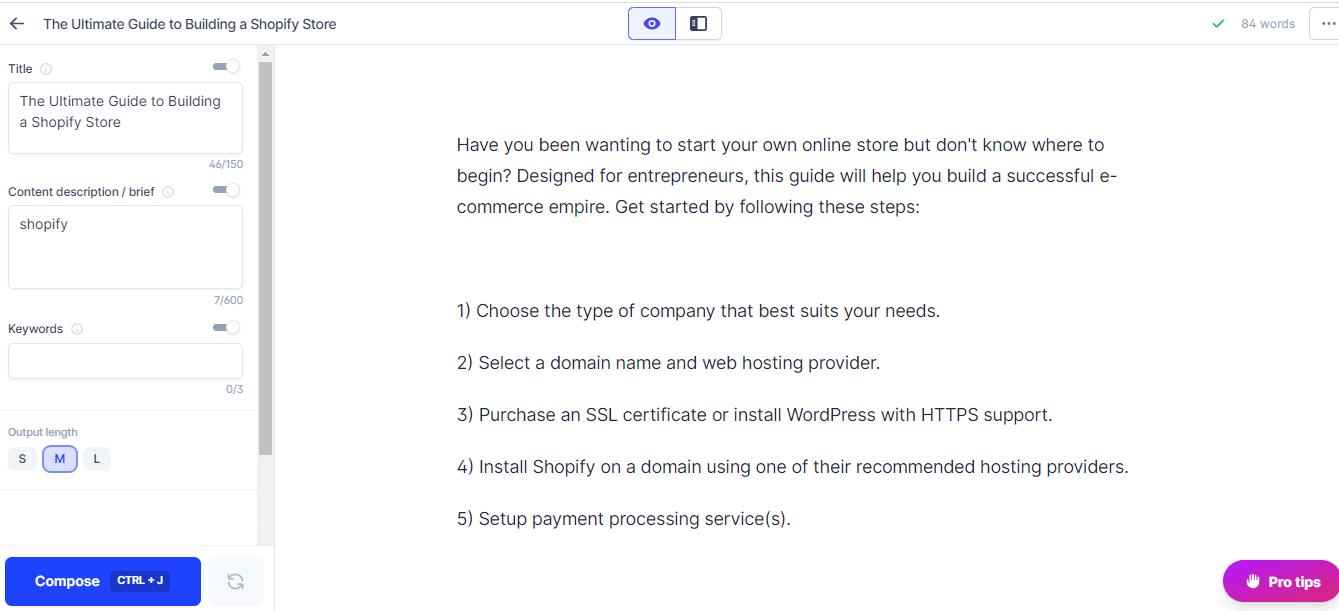 However, at this point, it is preferable to write the feature independently of the app, at least for this example. I suppose it's indeed hit or miss.
Even with so many content suggestions, I believe it is possible to end up with improper samples, even if you find some good ones. However, you already have a catchy title. I'd rather conduct my research.
Framework Templates
Jarvis.ai enables you to write copy using marketing frameworks that pros have used for years. It's perfect for promoting brands, products, and services. Among the templates included in this feature set are the following:
Attention, Interest, Desire, and Action (AIDA) Framework: The AIDA acronym stands for Attention, Interest, Desire, and Action. This effectively breaks your copy into pieces, capturing consumers' attention and piquing their interest.
Additionally, the proposed copy includes content that appeals to the consumer's desire and concludes with a call to action.
The PAS template is constructed to generate copy that emphasizes the consumer's problem, agitation, and solution. It focuses on how a particular product will assist a consumer in resolving an issue.
Bridge-After-Bridge Framework: This copywriting structure is also referred to as the BAB framework; this copywriting structure is based on the concept of moving a consumer from a bad to a better situation. It depicts the before and after effects of using a product.
For instance, utilize the AIDA template to create a hypothetical non-invasive weight loss service business plan. The company promotes fitness and educates consumers about the dangers of fad diets. It specializes in non-surgical weight loss techniques such as wraps and thermomagnetic massages.
Jarvis requests another description. Additionally, you must determine the tone of the copy. I tucked the words "pleasing" and "professional" beneath the box. Please see my input below.

Based on this example, I'd say that the content generated by AI is quite engaging. It attempts to maintain a personal touch by informing the customer that they are here to assist. The writing demonstrates empathy for consumers who are having a hard time losing weight.
However, because this is a new business, the introduction "We have assisted thousands of people in losing weight and getting in shape" is inapplicable. As a result, as a writer, I just have to eliminate it.
This can be replaced by the goal of assisting more people in losing weight and getting in shape.
You can generate a variety of different content suggestions. Writers can extract the most vital parts of these and combine them into a single adequate copy description. Even if the content were to stand alone, it would benefit from extensive editing.
The following are some potential issues that you may experience while creating copy suggestions:
Hard Sell Copy. Even if you establish a professional tone of voice, the sample content may be difficult to market. It typically uses exclamation marks (!) in its samples. This, I suppose, is dependent on the product or service about which you are writing.
The AI recommends this method because certain products or services may sell better with a hard-sell approach. Moreover, it may appear to be the "proven" method of communicating with consumers.
However, if you move in the opposite direction, this is a nuance that the AI tool may overlook. If your business or client requests that you refrain from using exclamation marks in your copy, be prepared to make the appropriate edits.
It can be verbose, lengthy, and redundant. In terms of style, this is one area where Jarvis can not be relied upon to write the entire thing. If you provide a lengthy and thorough product description, the AI will frequently generate verbose variants of the copy. If you look closely, you'll discover that some details are likewise redundant.
This has to be tightened up in terms of copywriting standards. Conciseness can be a challenge, particularly if you are not accustomed to brevity. As a result, this tool will be most beneficial to writers and editors with extensive expertise in writing plain copy.
Product Description
The app includes a template for quickly drafting product descriptions. This is the tool to utilize if you have a significant inventory of product information to be rewritten.
Additionally, it includes an optional language output translation feature, which is also included in other templates.
The language feature, on the other hand, is limited. I attempted Thai, Italian, and Japanese and received a few suggestions, some of which were blended with English. The same is true for Punjabi and Vietnamese.
They simply keep making English suggestions in different templates. Additionally, the AI does not recognize Filipino, implying that it cannot translate a slew of other languages. This feature requires development.
However, because it is not the primary feature, I doubt they will make significant improvements.
I have little to say about the translation's accuracy. However, I have some worries about writing in another language to replicate certain styles and tones. However, what concerns me more is the tendency to employ superlative words that may not accurately describe the brand.
Things like "we offer the broadest selection of products" should be changed to "we offer a diverse selection of products…" You should not be writing that if your tire center does not have the most extensive inventory.
Additionally, it implied a particular place, prompting the writer to mention the actual business address (this is a good suggestion). Again, the AI copy might be improved to make it more tailored to your product or service.
The English samples created by AI are not horrible. However, there is a tendency for hard-sell terms such as "unmatched in quality," which you should avoid in the final sample. You may pick the best parts and put them into a coherent brand description.
However, these are typically verbose and lengthy. It might be helpful to employ the Hemingway app or Grammarly to ensure that the descriptions are concise and precise.
Content Improver
The Content Improver template will come in handy for fine-tuning the product or service descriptions you create. To demonstrate how it works, I substituted the content for the edited descriptions Jarvis generated.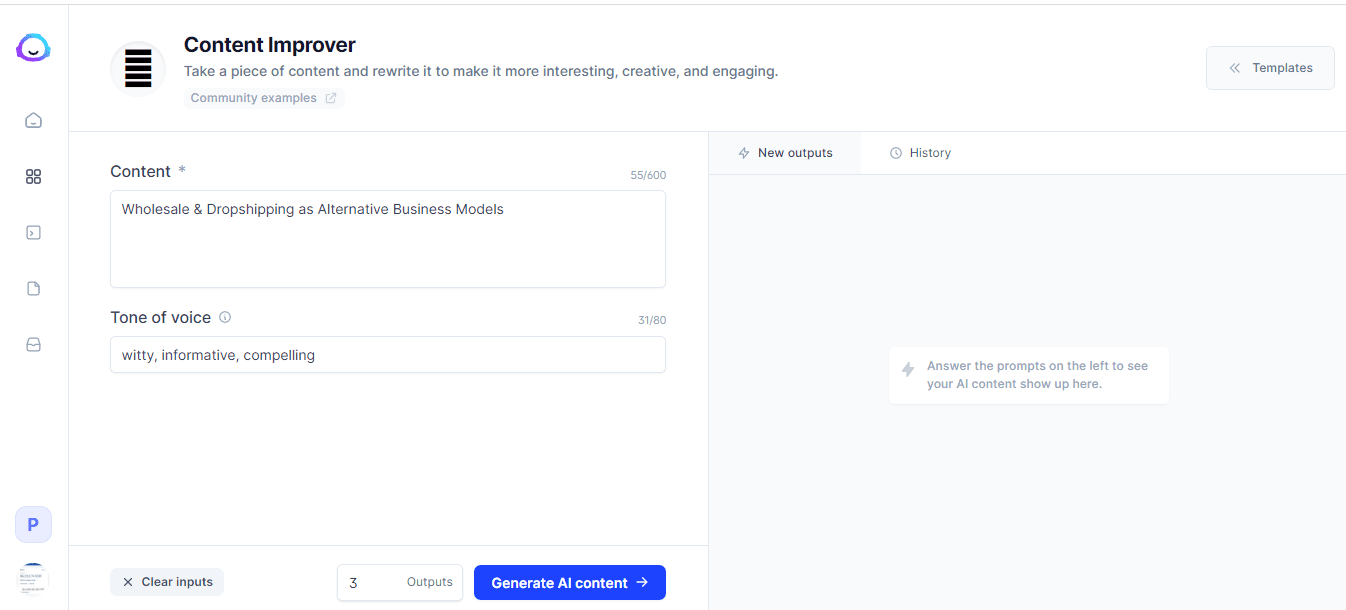 I put professional and witty under the tone of voice in this case.
And Jarvis suggests including the following content:
According to the sample, you'd see a couple that can pretty well stand on their own. These are simply copied examples that speak directly to consumer concerns and surmise with a call to action. While some may feel unprofessional, they may be appropriate for the type of consumer demographic you are targeting.
Finally, some examples are a little lengthy but can be improved with a few edits.
Marketing Angles
Apart from generating copy suggestions, Jarvis.ai also has a brainstorming tool. This essentially takes your product or service and generates numerous campaign ideas for its promotion. If you're out of promotional concepts, Jarvis capitalizes on your product's qualities and capabilities. I appreciate that it attempted to generate a benefit-driven copy using the example I provided.
Unique Value Propositions
Another noteworthy aspect is the template for creating unique value propositions (UVP). UVP is just a straightforward statement describing the benefit that your product represents.
Additionally, it reflects how you respond to your customers' demands and what sets you apart from the competition.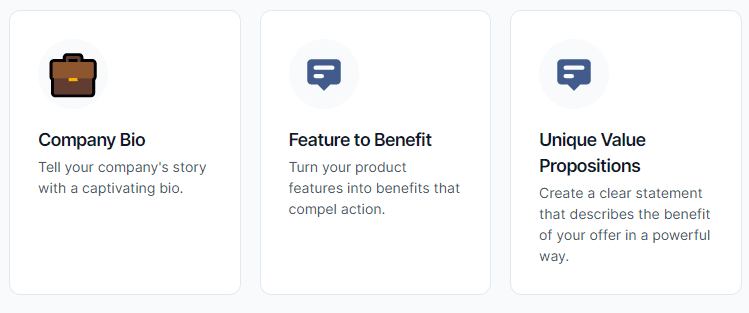 Jarvis.ai claims to develop an extraordinary copy describing your product's unique benefits for the product or service. To demonstrate how this works, I used the previously mentioned gym software.
It generated various statements emphasizing the product's advantages. Take a look at Jarvis's suggestions below. I like software that enables me to make more money with fewer ideas.
Feature Benefit
The feature benefit template generates a list of the benefits that your product offers.
You'll notice how it took the paragraph details and converted them into bulleted benefits. It's an effective tool for breaking down your product's unique selling points so that you may emphasize them even more in your campaign.
Persuasive Bullet Points
The other related function involves the compelling bullet point template. It's also a pretty similar template to the feature-benefit one. You should use either this template or the feature benefit template; if you wish to showcase product advantages in bullet points. However, this template does not distinguish between emotional and non-emotional benefits.
Copy Headline & Sub-headline Templates
Additionally, Conversioan.ai includes templates for copying headlines and sub-headlines. They assert that AI is "taught using formulas developed by the world's top copywriters." Further, it ensures that businesses receive "high-converting headlines."
At this point, the only way to determine whether it truly has a high conversion rate is to examine actual data. At the moment, my review is unable to establish any of those claims. However, it would be interesting to hear from businesses that have seen success with this software.
In this template, you'll see your product description followed by Jarvis's suggestions.
Sub-headline for the website: You can use the same product description as the Headline. You can also use Jarvis's proposed Headline. It also informs consumers of the procedure, per Jarvis' recommendation. Though it is frequently verbose, I enjoy that it provides multiple methods for conveying your ideas.
Sentence Expander
The sentence expander is another intriguing feature. It asserts that it will elongate and imaginative your sentences. I suppose that should assist you in moving on to another concept if you've encountered writer's block.
However, I'm suspicious of the suggestions it may give. When I tried it, I discovered that it is simply another technique to rewrite your sentences in a more precise manner.
In any case, I'm not a huge fan of lengthy phrases. However, I like the additional information provided by the AI. You may utilize these suggestions pending further edits. However, if you're writing an article, you can get right to the point.

This would save you time. If you wish to discuss the negative psychological impacts of social separation, you will create a point-by-point discussion. Expansion is about advancing an argument, not simply adding details to what has already been presented.
Creative Story
Here's a unique template. I was intrigued and decided to give it a try. I'm curious as to how Jarvis would craft a two-sentence story. It's impressive to see how an AI may recommend story development based on "proven high conversion statistics."
For the sake of illustration. Observe your storyline description and Jarvis's suggestions.
Jarvis's story suggestions could include the following:
In addition, you have some intriguing suggestions for an introduction. That, I believe, is on purpose, given that the AI probably knows.
In any event, and particularly for the suggestion, you might adjust the details to fit the story in your head with some editing and fine-tuning. On the other hand, I'm concerned that authors may rely too heavily on this to fill plot gaps.
While this is amusing, it is more engaging to read story twists and resolutions that are not forced. At this point, I'm still skeptical that AI can tell a story without resorting to forced plot twists.
Email Subject Lines
Along with creative writing tools, Coversion.ai offers email marketing templates. This tool is intended for businesses and people interested in promoting products and services via email. The program claims to generate attention-grabbing subject lines that entice recipients to open your email. As such, one would expect Jarvis to generate a lengthy list of inventive subject lines.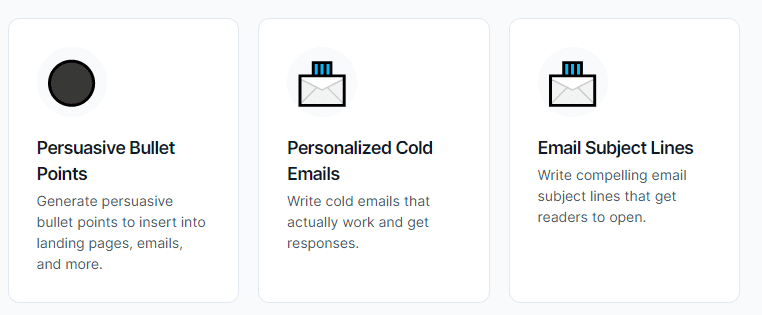 Personal & Company Bio
Jarvis can also be used to create uniquely personal and company bios. If you run a personal blog or website, Jarvis can generate personal profiles in either first or third-person POV, depending on your preference. You're likely to like what the AI suggests.
This is a wonderful place to start, as you may struggle with writing about yourself.
It does have the feel of a customized biography. In particular, about intimate relationships. Again, I'd revise it to be more specific with details. Apart from that, I believe it's a helpful tool.
Additionally, Jarvis develops professional-sounding company bios. Include a three-sentence description of your firm to increase your website's conversion rate. You'll be shocked at the length of the suggestions.
Additionally, it presupposes the names of clients served by the company (TripAdvisor, Yelp, etc.). Again, it is critical to alter or delete such specific information. Otherwise, you risk publishing a copy that contains inaccurate information.
Real Estate Listing – Residential
This template can be used to generate innovative and descriptive home listings. It's beneficial for real estate brokers and homeowners considering selling their property. Jarvis's suggestions:
It's fascinating how the suggested content panders to the consumer's excellent idea. However, for accuracy's sake, the writer should edit these extra details.
Specific Online Platform Templates
Apart from articles and product or brand descriptions, Jarvis.ai will likely offer unique writing capabilities for online platforms. This covers social media accounts such as Facebook, Instagram, YouTube, Google, and Amazon.
The AI makes content suggestions based on popular posts and advertisements on these networks. This, I believe, is an excellent tool to employ if you wish to gain an advantage over what is already selling.
Facebook Ad Headline: Creates attention-grabbing headlines for Facebook ads, claiming to boost the likelihood of clicks that convert to sales.
Facebook Ad Primary Text: Asserts that it can develop high-converting copy for the primary text part of Facebook's claims.
For the Facebook advertisement headline, use the following example of a store that delivers. The company makes a specific reference to delivery "within an hour or your money back."
AI ad sample headlines:
I have to confess that they sound like enjoyable and sociable Facebook headlines. I'd appreciate a last-minute purchase, and if I don't have time to pick it up, I'd prefer one to be delivered. Thus, I'd use this tool to create a new & intriguing Facebook headline.
For instance, based on the key text on Facebook, the AI can offer free freebies. Some of the created samples may go down this path. It presumably did more than develop compelling copy; it likely demonstrated what other businesses do to get more clients.
Promos and freebies, in my opinion, are excellent marketing strategies. Additionally, I appreciate the fact that it provided catchy hashtags.
However, I would revise the verbose and adjective-laden descriptions. The samples should read more smoothly with a bit of editing. Apart from that, it's a convenient way to generate social media copy.
Photo Post Captions for Instagram
You may use the app to manage the Instagram profiles of a company or store. Here are some samples based on a photograph of Mad Cakes Black Chocolate Indulgence.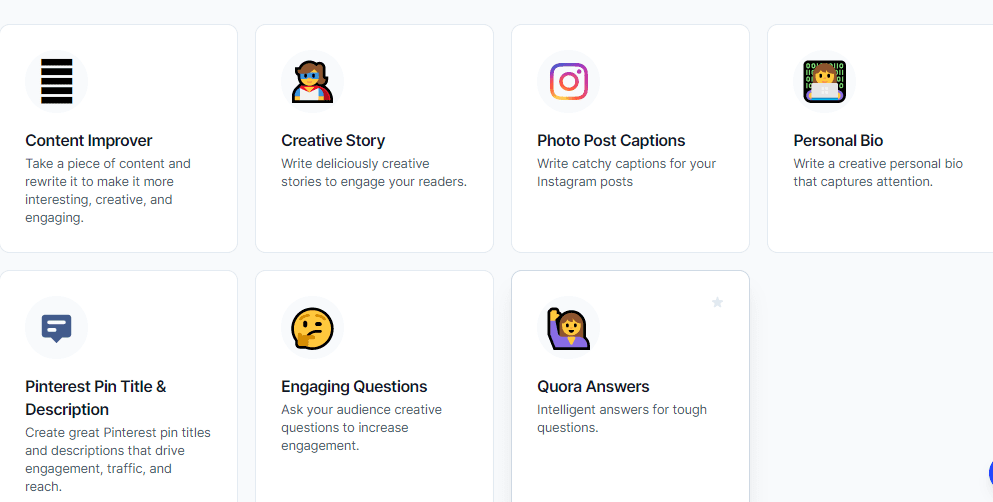 If you're looking for inspiration for an Instagram post, this tool can offer a clear and straightforward copy for Instagram. It suggests content that is often targeted at your customer base based on your product or service.
YouTube Video Writing Templates
Further, Jarvis.ai offers unique video templates optimized for platforms like YouTube. However, I suppose you can similarly use the content if you post it on other video sites. However, the suggestions are based on popular YouTube content. It embodies the following features:
Video Topics Idea: To brainstorm video content concepts that perform well on YouTube. For instance, it's an effective tool for determining what people are genuinely interested in. It immediately informs you of what to work on.
Here, the AI's recommendations refer to popular video concepts:
Video Script Outline: Assists in creating script outlines for any subject. This method, however, is more appropriate for how-to and listicle-style videos than for narrative-driven ones. Using AI's example, you may select the most effective ways of creating your outline.
You'll see that many of the suggestions are overly broad. Aside from the more particular ones, it's still essential to conduct your research to improve the nuance and uniqueness of your video content. Otherwise, you risk copying the work of other content creators.
Video Titles: Like the other templates, this one includes a video title feature. For instance, many YouTube users like creating content for television shows or films. Assume you're assigned to write an article about the anime Attack on Titan.
The AI generates some pretty great titles and topics on which you might begin your investigation for the proposal.
While it is based on a high-volume fan search, you may monitor what is already there. This will help you to develop more unique insights into the show that have not been addressed previously. Again, attempt to focus on what would distinguish your content from what is presently available.
Blog Post Templates
Jarvis.ai offers blog post templates to assist you in conceptualizing blog entries for your company. It includes tools for brainstorming topic ideas and creating an outline for your content.
All of these suggestions are based on Google's top-ranking topics. Additionally, it has features that help with the creation of blog post openers and conclusions.
Blog Post Conclusion Paragraph
Blog Post Intro Paragraph
Blog Post Topic Ideas
Blog Post Outline
For instance, focus on the subject template. Take a look at the AI's suggestions.
Jarvis's results indicate popular topics. It's always beneficial to be aware of current topics in your market. Jarvis.ai, I believe, will be an extremely valuable tool for generating subject blog ideas.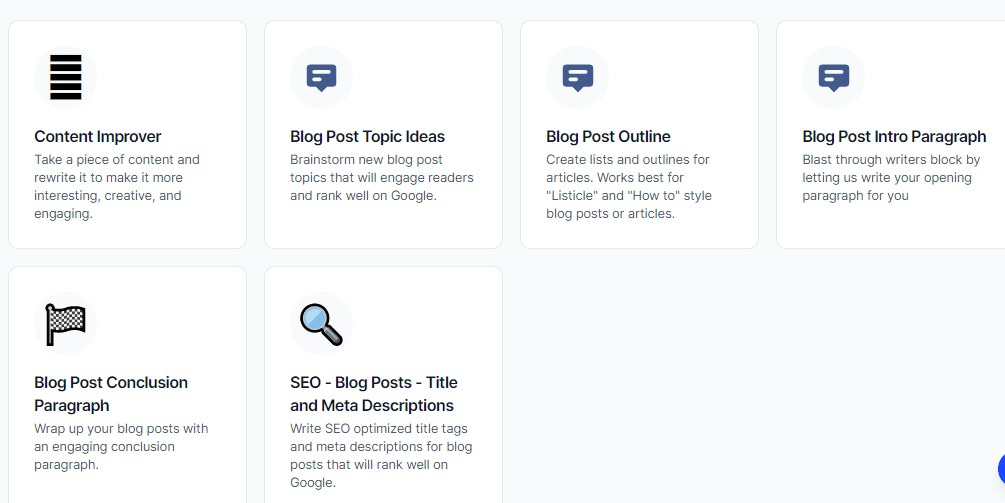 If you require help constructing your outline, I think it is worthwhile to use, especially if you struggle with organization.
I believe that once you've gathered several topics, you may begin writing your post without using the app. You won't need it, even more so if you already know what to write.
It's still preferable to conduct thorough research rather than rely on the app to include facts in your post. As you've probably observed, it frequently provides wrong information, which you must rigorously edit.
Agency & Freelancer-Specific Features
Jarvis.ai enables agencies and freelancers to manage their clients' work more efficiently, so you're not left with a mountain of stuff to accomplish.
You'll be able to create and manage an infinite number of projects, assign an unlimited number of team seats, and provide clients with 10,000 complimentary credits. You simply need to provide your clients with your affiliate link, and they will receive 10,000 towards Jarvis.ai.
Customer Support
Jarvis.ai is indeed a product of UseProof, a team well-known for its exceptional customer support. Additionally, we may expect enhanced customer service with these products!
If you encounter any difficulties with the payment solution or a problem while using Jarvis apps, please contact us. Simply connect to your account and navigate to the homepage, where you'll see a widget on the right-below side.
Click on it and request assistance; they will immediately assist you in resolving your issue.
I'm not particularly tech-savvy. As a result, when I ran into payment difficulties, I wasn't sure I'd be able to renew my Jarvis.ai subscription, which was quite disappointing given the amount of time I'd invested in my business this year.
However, they were there for me and assisted me in resolving this issue within an hour! We'd like to express our gratitude to the Jarvis.ai support team.
If you live in the United States of America, there is a reasonable probability your queries will be answered more quickly than if you live elsewhere, where it may take up to 5-7 hours to respond.
Help & Support
If you navigate to the help and support page, you'll find many helpful instructions that will empower you to utilize Jarvis.ai like a pro. It is highly beneficial to people new to Jarvis.ai.
Learning Resources & Video Training
Jarvis.ai has done an excellent job of building a learning resource website where you can learn how to utilize Jarvis.ai successfully and efficiently for your business without becoming overwhelmed by this new technology.
Jarvis.ai Academy
Jarvis.ai's academy features an abundance of fantastic video instruction. My favorite hobbies are "How to write & publish a book in 72 hours." leveraging Jarvis. If you're considering writing your book, take a look at Darby Rollins' video tutorial. They will guide you step by step through writing your book in less than 72 hours and launching it on Amazon's kindle.
Weekly updates are made to the course, and they offer live training videos twice or three times a week. You'll get the most up-to-date information through their open forum, where you may discuss industry-related topics.
When I was new to Jarvis.ai, I utilized it for 2-3 days before becoming overwhelmed and deciding that this was not my program. Fortunately, this helpful video tutorial saved me from abandoning this fantastic product.
You may have the same issue as I did when getting started with this new technology. To avoid this, I recommend reading through each series of manuals and video training.
Supportive Community
Jarvis.ai is an official private Facebook group where you can cooperate and get help from other Jarvis.ai users and their experienced team. How to become a member of the group? When you register, they send you an email with a link that grants you access to the community.
Jarvis.ai Pricing & Plans – (Do Simple Math To Make it Cheap).
Jarvis.ai has a monthly subscription fee of $29.00. They do not offer a complimentary version. Jarvis.ai provides a free trial with a word limit of 10,000.
Jarvis.ai charges $29 per month for 20,000-word generation credits. After reaching your plan's limit, you can purchase an additional 5,000 words for $10. This price is valid until Jarvis.ai gets a total of 1,000 paying users. Following that, their costs increased in response to the fantastic feedback they received from their users.
The following summary details the credits & prices associated with Jarvis.ai's premium plans:
150,000 words equal $199 per month.
115,00 words equal $149 per month.
75,000 words equal $99 per month.
35,000 words equal t$49 per month.
20,000 words equal $29 per month.
Jarvis.ai's cheapest package was $27 per month for 20,000-word creation credits, but this plan has been discontinued due to solid demand.
Jarvis.ai's overall cost is determined by the number of words created monthly by users. If you're just getting started and generate only 35,000 words per month, $49/month is exactly what you need.
However, if you manage an agency that creates more than 20,000 words each month, you should choose the more expensive plan, which costs between $149 and $299 per month, depending on the size of your endeavor (because this saves you money in the long run).
What is stopping you from giving it a shot?
As an agency owner, freelancer, or copywriter tired of squandering time crafting high-converting marketing copy, give Jarvis a try. It will assist you in writing copy in seconds to market your business and guarantee that it is interesting to potential customers.
Pros & Cons
Pros of Jarvis
Jarvis.ai was developed by a team of conversion gurus and copywriters with years of combined experience (you can expect better quality content written by AI).
Increase your ad's return on investment by obtaining a high-converting copy at a fraction of the cost.
With a single click, access a plethora of marketing content for emails, ads, and website copy.
Receive a wide selection of marketing content delivered to you in a matter of minutes.
The starter package is simply $29 per month and includes a word limit of 20,000.
Allow AI to write high-converting copy for better conversion rates to save time.
A 7-day money-back guarantee; some companies want between 30 & 90 days.
In hours, you can write more content than you have in months.
Fantastic! 35,000 words per month for just $49. Fantastic!
The Cons of Jarvis.ai
Occasionally, Jarvis.ai generates irrelevant content. However, with artificial intelligence, this error is to be expected.
The Tone of Voice Option
The tone of voice option is a novel language technology that enables an artificial intelligence (AI) system to generate natural-sounding content.
In a nutshell, the tone of voice tool enables you to produce content with a specific tone of voice, including humorous, engaging, inspiring, informative, or angry.
The tool is exceptionally adaptable. Almost all of Jarvis's 30+ templates enable you to specify a tone of voice for the content.
You may type any text in the text box, but the tool performs best when:
You enter a conversational tone, mood, or feeling.
You enter a single tonal word (Happy) rather than two (happy and informative).
You can also enter the name of a celebrity or well-known individual, such as Elon Musk or Barack Obama.
The tone of the voice option is created using artificial ai software that is smart enough to understand practically any tone. No one list will stifle your imagination. I've employed Mickey Mouse, Tony Robbins, and others who are engaging, instructive, professional, and eccentric, naming a few.
Jarvis is consistently dazzling with something incredible.
To spark your imagination, here are some possible scenarios:
· Professional
· Informative
· Persuasive
· Engaged
· Delighted
· Masculine
· Feminine
· Empathetic
· Emotional
· Irreverent
· Animated
· Sarcastic
· Cheerful
· Grumpy
· Happy
· Excited
· Casual
· Funny
· Bold
· Witty
· Subtle
· Chatty
· Direct
· Formal
· Playful
· Sincere
You can as well say, a tone like CNN or a specific character.
My Experience With Jarvis
Initially, I heard conflicting reports about the software. I was torn between excitement and apprehension when I decided to purchase the Ai tool, as it is pretty expensive, and I wasn't sure it would live up to the hype.
However, the colossal number of positive reviews convinced me to make the purchase. I followed their installation instructions, watched a few of their free instructional videos on using the software, and then I was off.
It's truly that simple!
It's challenging to stay current with the ever-changing environment of the blog-sphere. Blogs no longer count as a mere way of sharing one's thoughts; they can be an essential component in building and growing your brand or business.
One essential tool for this is Jarvis.ai, which replaces my old process of writing content for hours by giving me the ability to spark creativity at any point in the day – whether I'm writing out blog posts or copywriting for a social media channel, or even create email sequences.
With its AI technology that's always learning from the input & adjusts to fit what one has done before, it has become one of my favorite tools!.
The experience I've had with this writing tool has been nothing but positive so far. Finding time to write a blog or persuasive bullet points has become much easier since I started using the AI writing tool.
Previously, I struggled with Writer's Block on occasion.
However, I am no longer concerned with writer's block. It is almost non-existent. All I do is do some keyword research using Surfer SEO & other tools, open up Jarvis, and then let the machine learning automatically generate a blog post.
I use to take 2-4 hours to write a blog post, product description, or any kind of marketing-focused content.
Today, I let Jarvis write the blog post with a bit of guidance. I let Jarvis help with YouTube videos, fixing existing content, landing pages, and all sorts of other content creation.
It probably comes as no surprise at this point that I love Jarvis.AI. I think this machine learning software is one of the best tools for creating marketing-focused content.
Read also:
Is the software worth the price?
Jarvis.ai is more like an entire content writing system than writing & editing faster, so it works with virtually any online business. Even when you don't use a fraction of the copywriting templates that come with it (40+), you'll still reap a ton of value.
Overall, Jarvis.ai can make writing faster, especially for low-level descriptions of products or services like those seen in marketing copywriting campaigns driven by creative direction. With Jarvis.ai's help, you'll have an easier time coming up with great ideas from solid recommendations as well.
Jarvis.ai app is the go-to choice for content creation works. Whether you're a copywriter, freelancer, or agency owner, it is a perfect fit for you.
Account Cancellation Feature
You get the latitude to cancel your Jarvis.ai subscription plan whenever & stop getting charged automatically. Should you don't want to use this software for some reason, just say so – no need to worry about getting billed.
My Jasper .AI Review: Would I Recommend Jasper.ai Software?
After crash testing Jarvis.ai, I would recommend this software to agencies or individuals that interact with extensive online copywriting & product rewrites. They will reap big given the tool eliminates the time-consuming process involved in product descriptions.
I would also root for Jarvis.ai to businesses that run social media campaigns like Google & Amazon ads. Here, the tool will help generate and organize copy ideas faster, especially if you have many products & services to promote.
And because the AI suggestions are predicated on high-ranking topics, you have a better insight into what best interests your target base. Jarvis.ai can also enhance messaging concepts and help brainstorm new campaign ideas for a product or brand. Just remember always to edit the content suggestions.
Conversely, I would not root for this app for long-form writing. I think that Jarvis.ai isn't the ideal fit for writing that calls for a lot of research. Because the AI suggestions tend towards inaccurate information, you're better off researching current data independently.
It's an interesting tool for writing stories, but I also worry that authors might rely too on the app for plot ideas. There is a stark difference between carefully worded prose vis-a-vis the long-winded sentences generated by the app. Human writing still is more precise with expression, which the AI has yet to learn.
While it's an excellent tool, the bottom line is; you still need to edit your content. Jarvis.ai will help you structure your outline and compose your post. However, the impetus for writing and its direction is still on the writer. What's the verdict? AI writing won't entirely replace humans anytime soon.
Final Thoughts
Jarvis.ai functions more like a whole content writing system than a tool for writing and editing more quickly, which means it works with virtually any online business. Even if you only use a fraction of the 40+ copywriting templates included, you'll still deliver a boatload of value.
Yes, Jarvis.ai can speed up writing in general – particularly for low-level descriptions of products or services, such as those seen in marketing copywriting campaigns driven by creative direction. You'll also find it easier to generate fantastic ideas from robust directions with the assistance of Jarvis.ai.
Jarvis.ai is the preferred app for content creation. It is an ideal fit for copywriters, freelancers, and agency owners.
To summarize, Jarvis.AI is the best artificial intelligence tool for writing blog posts, overcoming writer's block, and quickly cranking out a series of blog entries. I have yet to discover a more effective copywriting tool for creating proven content and generating dozens of articles every week. It is no longer necessary to struggle with content creation.
There is no cap on the amount of content that can be generated:
· 15,000 words generated
· 10,000 words generated
· 5,000 words generated
Some writers output as much as 20,000 words.
Jarvis.ai FAQs
Does Jarvis AI offer a bargain?
While there is no coupon code or discount available, we have teamed up with the folks at Jarvis.ai to offer you 10,000 free words generation credit when you sign up through our partner link.
So then, would it be worthwhile to invest in Jarvis AI?
Jarvis AI is undoubtedly worth your investment. Before Jarvis AI, writing 5,000-word blog entries involved several days and weeks. Even upon its completion, the blog article is unable to persuade readers.
Is Jarvis.ai's content plagiarized output?
Jarvis.ai is a resource software that generates content depending on user input. It does not generate content at random from any source on the web. As a result, using this tool will eliminate any concerns about plagiarized content.
How does Jarvis.ai work?
It is a user-input-driven system. You must provide Jarvis.ai with certain information. It will develop a clear, simple document supplemented with additional material to give new life to your copy.
What is the Jarvis.ai refund policy?
Don't be afraid to give Jarvis.ai a try; they offer a 7-day money-back guarantee if you're unhappy with your purchase. That is the sole justification for giving it a shot.
What is Jarvis's AI Pro Plan?
For just $109/mo, the Pro plan allows you to create an unlimited number of Jarvis AI-generated words. Additionally, the Starter Plan is available for $29 per month and includes 20,000 words every month. This plan is ideal for individuals interested in having additional content generated automatically by AI.
Can one get a lifetime deal with Jarvis.ai?
There are far too many businesses offering lifetime bargains on software of such poor quality that most of us can not risk getting it wrong. From a business standpoint, this is not a viable proposition, which is why Jarvis.ai does not offer a lifetime subscription.
What are the Jarvis.ai alternatives?
Several Jarvis.ai equivalents on the market, including CopySmith, Copy.ai, Snazzy AI, and Writesonic. Nonetheless, Jarvis is believed to produce higher-quality content than its competitors.