How Beast Of Ecom Built a Million Dollar Dropshipping Business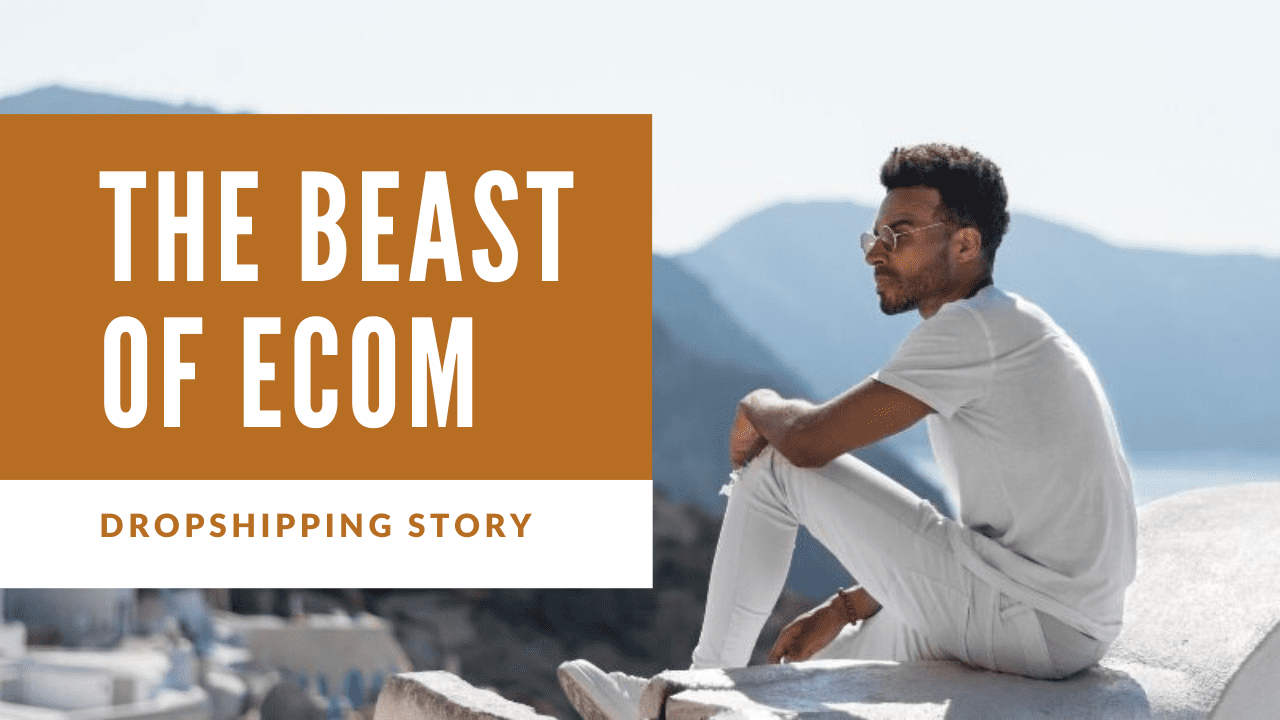 Harry Coleman's Success Story: Building a Million Dollar Dropshipping Business
Business for Harry Coleman Aka the Beast Of Ecom is just more than a lifestyle; it is an inborn feature. He always has a way of bringing up incredible money-making ideas.
The life of an entrepreneur has always been something he loved to live. Even as a kid, he would gather old useless bikes with his friends, fixing and coating them with new paints and then sell them off again.
Entering the university was more like a significant boost to his entrepreneurial spirit. That was when he first started his online business.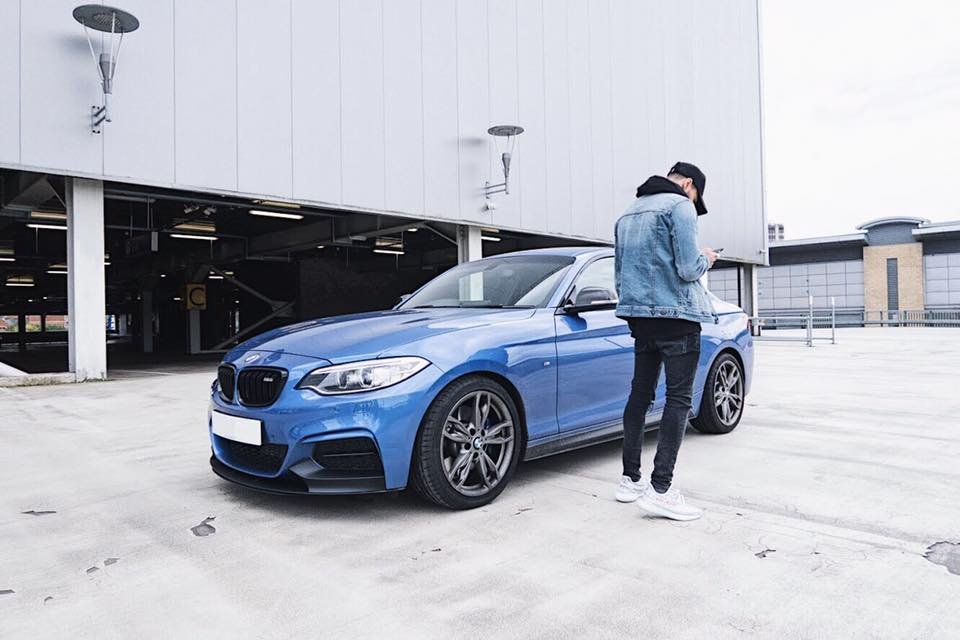 He imported snapbacks hats from the States and resold on eBay to people in the UK; though not too big business, much it could cash coming in quite often.
According to Beast Of Ecom, "I've tried everything from Forex to affiliate marketing. Doing weird and wonderful, stupid things."
However, things just started falling into place when he ventured into dropshipping, a business he had just taken as a random side hustle.
With time, his store grew into a mega online store, running into millions of sales revenue; what started more like an experiment has become a full-time job for him. So he had to shut down other of his stores and concentrate on just one.
Currently, Harry has employed up to ten staff to manage his three stores, and In 2018, he made over $5 million in sales. What a fantastic figure to behold!!
And he would tell you that the journey through his success as an entrepreneur wasn't a walk in the park. It was filled with ups and downs, rise and falls, and a lot of trial and learning processes joined with so many years of personal determination and sacrifices.
First Approach to Dropshipping
Before 2016 Harry had no idea of the dropshipping business model. One of the days in the year, he was going through online resources and trying to puzzle through ideas on online forums when he stumbled upon dropshipping.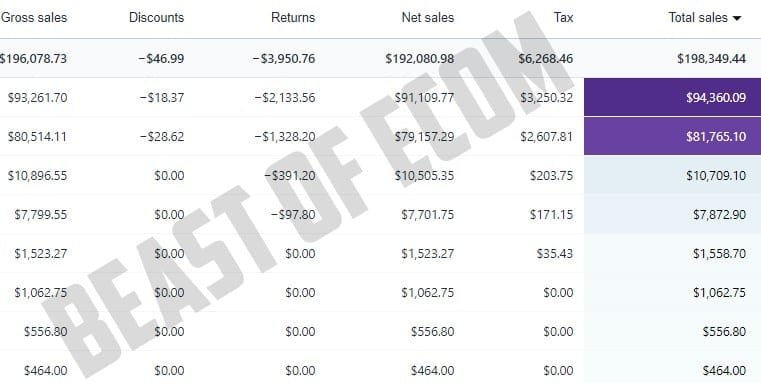 According to him, "There was a thread of some guy who was doing dropshipping, sourcing products from AliExpress using Shopify as a platform. He was using Facebook ads, and making something like $10,000 in a month."
Out of curiosity, he finishes the article hoping to amass enough knowledge to get him started with dropshipping. For him, dropshipping was the ideal type of business because there was no need to rent a warehouse for your inventory.
So, he made up his mind to give it a try.
For his first store, Harry chose nail products. They were cheap to buy from suppliers, meaning he could add a healthy markup when he resold them. He used Oberlo to connect his Shopify store to a supplier, pulling in details like the product photographs and inventory levels.
Then he got to customize his store. "I built a whole site; it was pink themed. I thought it looked great," he says.
This was it, Harry thought. The store would be his ticket to overnight success. He would sleep, dreaming of what Lambo he would buy already, but it wasn't easy. Also, read How Melvin Grossed Over $100K in 3 Months with Dropshipping
So when his first store was launched, things turned out very different from his perception
"Yeah, I got no sales whatsoever. None at all. And I pretty much burned through probably around $500 to $800 to get my first sale," he said.
He didn't understand why things turned out so awful, even when he had a fantastic store design, as well as a good marketing strategy.
He had been burning up much money on ads. After two months of terrific and frustrating trying and failing experience, he resolved to try something different.
That was when he got the idea of a general branded store. He had headed in groups on Facebook that it was possible, so he decided to give it a trial. He could test a couple of products until he gets to the winning item.
The Glaring Experience of Business Growth
He had lost his full-time job as a franchise salesman. Before then, he would work during the day and continue with building his business at night or during weekends. And it was very strenuous for Harry to cope with.
So when he became redundant, it was more like a lift on him to focus on growing his business. And this was when his general store started gaining traction. You can read the types of Shopify stores and decided on which one you want to start
So he started to sort for more products for his store, and it over time it became easy; that was when he got to know that he has gotten to a buttress point.
Then two months after launching the general store, his product started making a lot of sales. And he was into animal and pet products. Luckily, the cat-themed rings began making a lot of sales.
Soon, he started making over $100 – $200 in sales daily. Then, the business became very encouraged, though still tough to cope with, as he had to deal with a full-time job now and his dropshipping store.
Then his store started climbing to over $1,000 to $2,000 sales daily. That was when he knew he had to quit his job and focus on his business.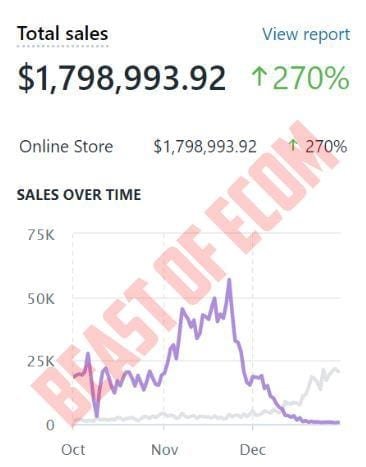 He could make his annual salary comfortably from his store, and life was just as different as his boss. He made plans and could take personal days off work at will with no queries.
It was a big turnaround for him, and from this point, he could travel anywhere and at any time he wanted. He had made a trip to the Maldives, Dubai, and touring New York, must part of 2019 already.
With his present team of 10 assistants managing the workload in his three stores, he can comfortably scale up his business to any height at all.
Seeing the Future from a Clear Point
It had been a very hectic three years of sacrifice for Beast Of Ecom to grow to this present point of global relevance.
Since 2016, he and his team have not relented in growing his three general stores, which he is warming up to launch other niche stores as well.
For Harry, it is easier to replicate the success of an already standing store in others if you would want to get more, once you have an active email service system, your ads, and a good number of loyal and recurring customers.
Most of his last year was spent on building his brand as well as his YouTube channel, where he holds a course on how to grow your business as an entrepreneur.
Living a comfortable life isn't so much of his long term goals, and so he is always meticulous even though he spends on cars and other flashy things.
His goal has always been to be independent and never have to work for anybody, which he has still got his mind right at.
In the end, while others are scared of losing their job, Harry is afraid of getting one.
4 Fundamental Reasons for Harry's Success in Dropshipping
1. Choose a niche product in a General Store
As a beginner, this is always the first question that pops up in mind, "What kind of store should I set up?" and it is very reasonable.
Beast Of Ecom advises you to take a niche product in a general store. And for the general store, you can add just four to five niches.
Beast Of Ecom answer to this is
Let's say you have an eye on the following niches:
Fashion

Babies

Pets

Home improvement
So Harry is trying to say that his number one secret is focusing on just one niche out of those four. The generality of your store will still help you test as many varieties of products as you want. As well as getting your audience quickly as well.
And he calls this a "branded general store" because you can focus on a specific niche; while still running a general store.
However, he further states that you need to get your branding right because your store might look odd with a collection of so many products.
So to convey trust and professionalism, you need to arrange your store, use only high-quality images, and as well give each product a very exhaustive and engaging description.
And for those concerned about the progress of their products on ads pixel, this is what he has to say about that, "I've never had any problem with having just one pixel on a general store."
For Harry, You are running a branded general store yields more result than either of them separately. Running a general branded store would give you room to experiment through a wide range of products.
2. Sell a Product that solves the problem of your audience
If you want to convert to sales better and thus get your winning products, He advises that you consider this necessary type of products:
When it comes to finding potential winning products, Harry has had a whole lot of experience.
He's refined his product research strategy down to two main types of products:
You choose a product that solves a particular or range of problems for your audience.

A product that your target audience loves and is passionate about.
3. Focus on your Ads copy on the benefit
Though most persons end up making their ad copies clumsy with so many features and some call-to-action, while this works sometimes, Harry advises you to keep your customers firmly in the mind of what they stand to benefit instead of the features.
He would prefer to say something like, "This will cut your cleaning time in half," or 'Save time, effort and energy."
Always keep your link click-through rate in mind while analyzing the results of your creative ads.
In his words, "Link click-through rate very much comes down to how well you are connecting with the person who is looking at the advert."
Leaving an average click-through rate at 2%, so your ads are termed to be doing okay of you get up to this percentage of link-click through rate. And you might want to retarget if your ads get lower than that.
4. On the focus receives the grand prize
It is effortless to get discouraged and distracted at first when you encounter failure and frustration.
But it is not okay to give up on that at all. For Harry, perseverance alone is the key to success.
He would always reiterate that had he given up when his store failed at first, he wouldn't have gone this far. And thus wouldn't even have the opportunity to address people.
Beast Of Ecom conclusion
So Beast Of Ecom advises staying focused as sales come and never comparing you with others in the business. Never outrun your shadows and always remember that it is a business, not a race.
You can as well start your dropshipping journey today by signing up on Shopify and using Ecomhunt for your product research.