Shopify vs Etsy: Fees And Integration Comparison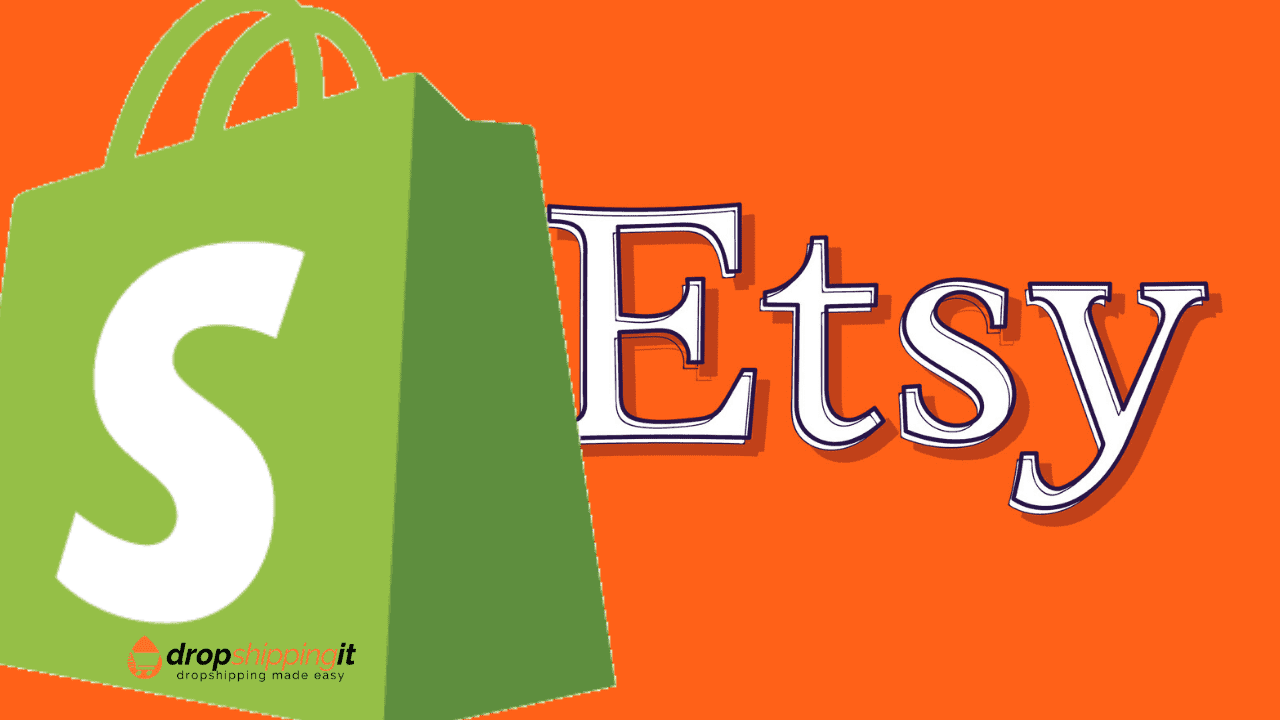 The backdrop of this write up on Shopify vs Etsy emanates from the subtlety that comes with Shopify and Etsy comparison-when should you pick and use either?
As a budding entrepreneur dealing in stuff quintessentially creative from saying handmade figurine, knitwear, quirky print design to anything artsy. Naturally, Etsy comes to mind as regards selling crafts. Also, you'd likely look into comparisons on Shopify vs Etsy.
On the one hand, we have Etsy as a creative marketplace showcasing hundreds of artisans. At the same time, on the other, Shopify provides you with a website host customers' shopping experience and also serves as a shopping cart.
Read: Etsy Dropshipping : Finding Suppliers And Store Integration
Either way, if your budget limits your quest of selling to just one of these platforms, you may need to learn about the services, the tools Etsy and Shopify offer, and how their features compare.
With that hindsight, let's get right into the gist of this review: Shopify vs Etsy
Shopify vs Etsy: What's the Difference Between the Two?
First off, a snap overview of who's Shopify? Who's Etsy? And what do these platforms offer? So, read on Shopify vs Etsy
Etsy Introduction
As an eCommerce marketplace, Etsy has several online merchants o its storefronts.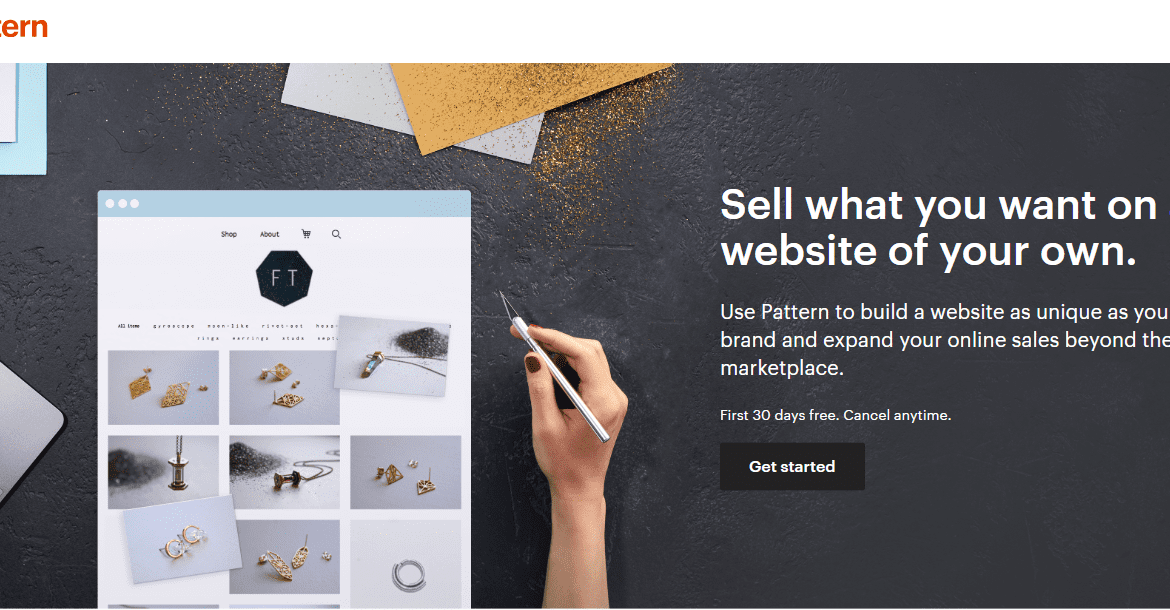 All the retailers on Etsy have something in common: all their products are of artsy and crafty nature, thus making Etsy's throat-cut marketplace. Etsy involves in the buying process of your shoppers both front and center.
Etsy has an unusual twist: they sell everything: "handcrafted, vintage, or unique." The model has since proved efficient as there are close to 2-million merchants on the platform selling to over 33 million buyers across the globe.
The platform is open to sellers of all sizes-small or big, thus acting as an entry-level shopfront; therefore, Etsy perfectly fits new sellers with limited stock and unique wares. So read Shopify vs Etsy.
Pattern by Etsy
Besides enabling the creation and publish listings on its marketplace, Etsy has an eCommerce platform-Pattern by Etsy. Here, you create your website and directly sell items free of charge for the first 30 days, after which you get billed $15/Month.
Pattern by Etsy, it's an add-on for those already selling through Etsy, and so, you won't find a sophisticated or customizable platform as you would with Shopify. However, it comes with limited restrictions compared to the ones on the Etsy marketplace.
Shopify Overview
Found in 2004, Shopify is an eCommerce website builder that lets you build your online storefront whose design is entire to your liking. Shopify enables you to define your brand, market your brand, and showcase your products.
Shopify provides hundreds of integrations, thus expanding your store's functionality and allow liaison with various software. This feature is useful more so if you already use several programs to run your online store.
On the Shopify platform, merchants sell thousands of products to millions of people from across the globe. Shopify has processed tens of billions of dollars in transactions. The platform best-suit both smaller and larger businesses.
Shopify vs Etsy: The Fundamental Differences
To highlight the key differences between Shopify and Etsy, consider the following.
You open a boutique store where you have to attract and grow the customer base that's Shopify for you, whereas Esty is akin to taking your crafts to a fair and then showcase them at a booth for craft-enthusiasts to see.
Now, at great depth, let's have a look at the slight differences between these platforms.
Read Also:
Merits & Cons
First up is Etsy, and off we go.
Etsy Merits
Exposure: Etsy comes with an existing customer base right from day one. You can thus leverage Etsy's popularity to attract visitors to your store.
Ease of Use: Upon setting up an account, you proceed to upload products, product info, images, and start selling immediately.
Low cost: Aside from the transaction and listing fees that you'd pay, on Etsy's standard plan, you won't have to pay additional monthly charges. So, Etsy is a palatable entry-level platform for anyone looking to experiment o selling online.
Etsy Cons
Absence of creative control: You can not modify your branding or alter the look of your storefront. Equally, you'll have limited control over your shopper's purchasing process, and generally, there are fewer tools to grow your following.
Transaction fees: These fees account for 5%+$0.20 listing fees. The costs can quite significantly eat into your profit margins, especially once you start generating more sales.
Product Restrictions: Etsy has a lid on what you can and can't sell. They orient themselves toward niche products and unique, vintage, and handcrafted wares. And therefore, a digression outside this sphere is out of the question.
Shopify Merits
Unlimited Products: There are no limits to what or how you can sell, from Physical, services to digital products.
Robust eCommerce tools: With Shopify, you get one of the best toolsets for sales in the market, including an in-built inventory system that syncs, tracks, and monitors your orders and stock levels.
Scalability: Shopify fits for all kinds of stores, from small brands to big businesses. Upgrading gives access to more features; you can add extra plugins and control your branding.
Shopify Cons
Exposure: With Shopify, you won't get much help, customers must search to find you, or you'll need to leverage other ways say Email marketing, Facebook, Google ads, et cetera to get in front of your customers. That means without an existing consumer base, it could take a while before seeing traffic.
Cost: Apps & plugins could see a spike in monthly fees. For smaller businesses, the prices might spiral beyond the scope of their budgets.
Shopify vs Etsy: Ease of Use
Both Etsy and Shopify offer a simple and natural feel for eCommerce merchants.

You can easily design and manage your store thanks to Shopify's comprehensive and easy-to-use toolset. Also, Shopify will hold your hand through the entire process of setting up your online store including but not limited to:
Menu
Tracking your orders
Syncing your inventory
Action buttons
Shopify comes across as a bit more technical owing to its breadth of features. Although both platforms are well documented; thus, new sellers ought to have little to no difficulty setting them and running.
On the other hand, Etsy is simple to use. First, it isn't as comprehensive as Shopify.
You'll just sign up, upload products, product info, and then you are set.
You'd need to upload at least one product during the signup process to set up an Etsy store.
The process needs a lot of info, and it may take a bit of time though the details apply to other products and prompt you to set up your shipping process, which again can take a while. All in all, Etsy/s overall setup process takes less time than Shopify.
In case you want a faster and easier way to start selling online, Etsy has the edge over Shopify.
Shopify vs Etsy: Customization & Design
Attractive and natural web design makes for critical cornerstones for any eCommerce store's success. Visitors get turned away by shoddy looking sites, and therefore it's essential to customize strategically and the look of your store.
Shopify
Shopify sits on the top end with a plethora of options as regards design and customizability. You get access to the backend of your website with more than 60 themes for selection.
With 50 being premium and 10free, the themes come optimized to cover various industries. A number of the templates have zoom-in features that come in handy for a clothing or furniture shop. Once you have opted into a theme, you can personalize, modify, and rearrange it to your liking.
You risk of throwing off your design with excessive customization, especially if you are not a designer or intend to enlist the services of one. However, you ought not to go far off the rail, thanks to a variety of Shopify's captivating themes.
Etsy
With Etsy, customization starts and ends with you uploading your logo. This way, you won't have to fuss too much, as minimal customization is advantageous to those lacking in web design skillsets.
But most entrepreneurs with a clear vision of what an ideal store would look like find it frustrating. Minimal customization means your listings get less of your personality oomph, and your brand won't stand out-massive downside right there.
Shopify's the winner as far as customizability is concerned. The platform makes it easy to customize and build your store.
The Domain & URLs-How do People Find Your Store on the Web?
As you may have correctly presumed that with Etsy, you don't use your domain. Instead, your shop is a subdomain of the Etsy marketplace and looks something like www.etsy.com/shop/'your -store-name.'
It's a convenient way of selling without paying for your domain more so if you want to keep it merely small and tidy. You probably don't want to run your website so that an online marketplace might suffice.
Read Also:
A domain of your own is a crucial part of building your branding.
You must register and use your domain as a home on the web for the storefront you create with Shopify. Again, Shopify is impeccable for launching your brand. However, it comes with extra costs that arise from rights to domain and hosting.
Shopify's structured web design signup simplifies the hosting and payment process.
Yet again, Shopify runs away with the victory as regard URLs and domain.
Hint: To make your store more natural to search, pick something memorable, short, and snappy.
Shopify vs Etsy: Pricing & Payment Plans
The price of running an eCommerce store calls into consideration a few probable pitfalls. There are platforms with seemingly transparent monthly subscription fees.
Yet, there are hush-hush costs that should capture your attention like listing fees, transactions, and apps providing additional functionality.
Shopify
Despite its higher upfront costs, Shopify has more to offer regarding functionality and customizability, which is a pivotal aspect of scaling your business.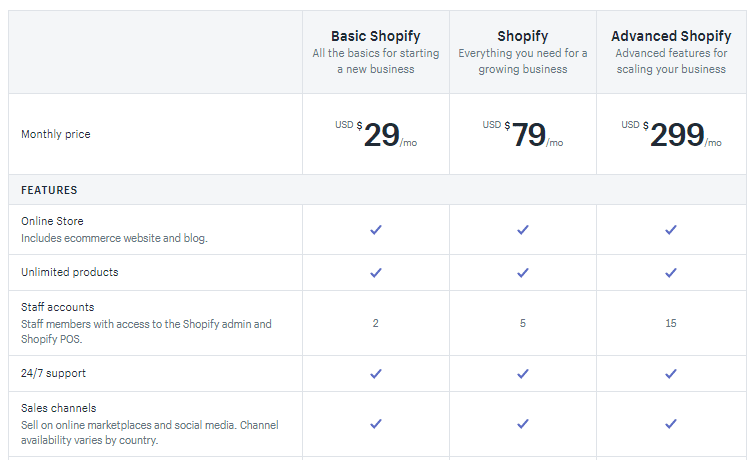 Besides the 90-days free trial, Shopify presents three pricing plans for selection.
'Basic' Shopify: At $29/Month, the plan comes with a blog, an eCommerce, multichannel selling, access to 24/7 customer support, you get to register two staff accounts, and list unlimited products.
Shopify: At $79/Month, you can upgrade to five staff accounts, professional reports, lower credit rates, POS extras, and gift cards.
Advanced Shopify: At $299/Month, this plan comes with 15 staff accounts, lower credit card rates, and advanced report builder and third-party calculated shipping rates
Etsy Platform
With its Etsy's standard plan, you won't incur a monthly charge, but expect a $0.20 listing fee on every product. The fee covers the publishing of your listing, which remain active for months or at least until the wares get sold.
The fee is akin to what you'd incur in securing a table at an art fair. Also, there's a 5% transaction fee along with 3% +$0.25 for payment processing per item you sell meaning with high order volume; the costs have the potential of eating into your profit margins.
Although the eCommerce industry has standardized payment processing fees, Etsy rates slightly surpass the industry's average. As for small scale selling, Etsy's transaction costs ought not to substantially dent profit margins, and a monthly subscription would easily balance the cost of operating an eCommerce store.
Not unless you are sure whatever you intend on selling is fast-moving and not a hard-sale, you shouldn't put your money on the line because on Etsy; you only get charged when you make a sale.
At $10, you can purchase Etsy Plus, which comes with added functionality. And a quick rundown on Etsy's standard fees entails:
A 5% transaction fees
A 3%+$0.35 payment processing fees
A $0.20 listing fees per every product
No monthly charge
A $10/Month to upgrade to Etsy Plus
Shopify's 'Basic' plan is considerably cost more than Etsy; however, it's worthwhile, especially when you need added functionality. The 'Basic' plans give access to all that you'd need in= efficiently running a small to a midsize eCommerce store.
Shopify's higher tier perks often provide greater scalability for big brands' staff.
Payment Options
Shopify has an array of payment alternatives for selection, as well as its internal payment gateway known as Shopify Payments.
You won't incur transaction fees with Shopify payments except for a card processing fee starting at 2.9%+$0.30 on 'Basic' plan. This fee is inversely proportional as you upgrade to higher-tier plans say Shopify (2.6%+$0.30) and Advanced Shopify (2.4%+0.30).
Considerably, all these transaction fees are cheaper than Etsy's. Among the other payment gateways offered by Shopify include but not limited to Pay Pal, Google Pay, Stripe, and Apple Pay.
And a quick rundown on Shopify's plans & fees look like:
Monthly plans running from 429 to $299Shopify offers a remarkable of payment methods for selection.
Zero transaction fees on Shopify payments
So, on the pricing comparison front, who comes out on top?
Shopify undoubtedly offers superior options as regards payment, transaction fees, and of course, you'd need to incur at least $29/Month to crack these options.
On the whole, we have a stalemate in terms of pricing between the two. Shopify offers tremendous value for money, and signing up to its plans essentially encompass all needed in running an eCommerce store,
But for a small merchant, you want to leverage Etsy to sell your products at cut-price. In light of your needs, both platforms priced reasonably and offer excellent value for money.
Shopify vs. Etsy: Their eCommerce Toolset & Features
Etsy comes with easy-to-use yet robust eCommerce tools to help market and grow an online presence. Etsy toolkit has all that you'd need in managing an Etsy online shop with ease.

Sellers always on the run will find 'Sell on Etsy app' useful in managing their store. Also, the platform comes with marketing and Ad tools that you can latch on to get found online, attract new followers, and increase your customer base.
Further, you get to share your Etsy store on social networks like Twitter and Instagram along with third-party tools like Google Shopping, thus ramping up your exposure.
Moreover, Etsy lets you create and manage coupons, buy and print discounted postage labels, thereby saving on shipping costs. An upgrade to Etsy Plus expands the scope of your toolset to provide:
Ads credits
Discounts on marketing stuff like business cards
Email alerts to notify customers as soon as an item is back in stock.
More options to customize your shop, like banner templates
Transact on your domain name
Etsy's premium plan compensates for some of the downsides already highlighted, but ultimately, the tool remains simple and not as comprehensive as its competition.
For instance, with Etsy, you'd have to track and manage your stock since Etsy doesn't come with an inventory management tool.
Shopify, on the other hand, is famous for its extensive and quality online features; thus, an ideal option for a business looking to promote, market, and grow its brand.
Thanks to Shopify's fantastic app store, you get to add any additional functionality you'd need along with an already existing resourceful toolset.
And so, below is a list of some of the features all Shopify perks offer:
A built-in blog
An abandoned cart recovery tool
Shopify POS app
Discount codes
Fraud analysis
Gift cards
Free SSL certificates
Guest checkout
Third-party calculated shipping rates.
An inventory and order management tool
SEO tool
Multichannel selling tools across ten different social media platforms
The free SSL certificate is a signature of website safety for visitors; thus, you build trust and credibility with your prospects.
The multichannel selling tool makes buying experience more accessible, and also, you can use it to grow your customer base.
Abandoned cart recovery helps with luring back customers that were on the verge of making a purchase, but for whatever reason, left the checkout page.
The inventory tool system lends Shopify an edge over Etsy, and as such, you can upload merchandise in bulk or one at a time, manage, track stock, and analyze your sales.
And again, based on features solely, Shopify comes out on top. But of course, all these extra tools come at an additional cost. Therefore, it's critical to evaluate both platforms, think through the features you'd probably use.
Else, you have no reason paying additional functionalities you have no use for, isn't it? Etsy's 'Basic' toolkit suffice to sell small amounts.
Shopify vs Etsy: Help & Support
Regardless of Shopify and Etsy's user-friendliness, you'll likely need some customer care down the line, especially newbies in eCommerce. In this section, we'll contrast the customer support standard of both Shopify & Etsy.
Etsy
Etsy has a Help Center laid out plain and simple with a search function that assists you in finding answers to your queries. Equally, you can join Etsy's forum discussions, ask questions and benefits.

For further assistance, Etsy allows phone call scheduling or send an email to support staff.
Shopify
Shopify provides support via video tutorials, email, forums, and social media profiles, all of which are crucial in tackling common questions and issues. Also, Shopify comes with 24/7 phone and live chat; thus, you can call them up whatever the hour you'd encounter a problem.
Shopify has a straightforward and easy to use Help Center. It comes with an array of articles and guides to walk you through most issues. Shopify editor lends access to this resource, and it's here you find the Help menu that redirects you right into the relevant page in the help center.
Shopify's higher tier perks provide access to advanced specialist support, often best suiting big brands.
Further, Shopify's forum platform cuts across several industries. As such, the active community probably encountered a similar issue already; the solution likely lies in one of the forum's threads. And as such, you don't want to smirk at the platform.
Overall, as Etsy offers excellent customer support, Shopify has a somewhat more responsive 24/7 support, and you can get through a real-live assistant almost asap.
Who wins? Shopify takes home the Help & Support trophy.
Shopify vs. Etsy: Growing Your Business & Attracting Customers
A steady flow of customers equals a thriving online store where your products so to speak fly off the virtual shelves.
You can easily get lost amidst a sea of competition. And therefore, a look at how Shopify and Etsy can help you grow your audience potentially provide insights into navigating this fate.
Etsy
You can draw privilege with Etsy shining a spotlight on your shop. With more than 33 million buyers hunting for handmade wares and designs, your products get an instant exposure from buyers with an appetite for what you are offering.
With more than 50 million products, there's zero guarantee your store will stick out to buyers on Etsy's marketplace. And so, eliciting interest here is challenging, primarily because of Etsy's limited customization options.
Shopify
Since you won't get the privilege of an existing audience typical of the marketplace, Shopify comes loaded with a plethora of tools to promote your store. You'll need social media presence, run your marketing campaigns, and mailing lists.
The entire SEO is in your hands, which means your ability to market your brand is critical in scaling the store's growth.
As a pro with experience, Shopify has all the resources you'd need at fingertips. And Shopify makes it easy to get started for newbies to online marketing.
Shopify offers plenty of guides, apps, and tools you can leverage in the execution of digital marketing campaigns, which could include building and growing an email list or multichannel selling.
Although Shopify comes across as more work, the autonomy you exercise over your brand and marketing efforts balances that off. Put it another way; you're not subject to the whims of the algorithmic marketplace. Instead, growing your business calls for a hands-on approach.
On the evaluation of the platform's capacity to draw customers automatically, Etsy takes the day. For small enterprises, it might just suffice to get their brand noticed right from the get-go. As for nurturing traffic, you won't get that with Shopify.
All told, Shopify offers more control in creating an exceptional presence online; however, as is the case with all good things, tons of grits, patience, and analytics go into drawing Etsy's kind of traffic to Shopify platform.
Shopify vs Etsy: User Reviews
Under the Shopify review spotlight, the platform soak-up in glowing tribute as concern its ease of use, scalability, and functionality.
Users slam Shopify over the additional cost brought about by its several add-ons. Users also decry that should Shopify Payments become inaccessible; they'd have to pay processing fees alongside monthly expenses.
Etsy merchants experience the privileges that come with a simple setup process and exposure to a broad audience.
However, some users decry Etsy's noninvolvement in controlling seller behavior. Complaints have since emerged that Etsy shifts culpability between buyers & sellers abstaining from taking proactive steps in disputes.
Neutrality at times winds up in deterioration of Etsy merchant's trust on the platform.
Also, today the market is just a highly saturated-a breeding ground for cut throat competition. And as such, selling on Etsy currently proves complex contrasting a couple of years back.
Shopify vs Etsy: Security
On either platform, you don't have to concern yourself with online security because both Shopify and Etsy are PCI compliant systems, providing extensive site SSL certificates.
Even with Etsy's Pattern, the transactions still must go through the Etsy platform, so you'd benefit from Etsy's stringent security every time you make a sale.
Shopify vs Etsy: Which is the Best Pick?
Basing on what we have gathered so far, in this section, we'll conduct a quick rundown on the comparison we've made up to these points on these two platforms.
Shopify has a more diverse toolset and features.
Shopify offers a 24/7 live chat & phone support superior to Etsy's rigid customer support system.
Shopify offers a vast, more customizable, and allows users to design their brand.
Shopify lets you use your web domain, whereas an Etsy store invariably remains a subdomain of Etsy.
Shopify comes with more payment options for selection.
Etsy is an online marketplace for artsy products, while Shopify is an eCommerce store builder best-suiting any business size and industry.
Etsy doesn't charge monthly fees, but Shopify gets more cost-effective on account of higher monthly income.
Etsy on its online marketplace draws 33 million customers, whereas, with Shopify, you'd need to build your brand and drive your website traffic.
Growing or larger enterprises get value for money in using Shopify, given the platform's scalability. However, as we've already mentioned, there are several grounds why smaller sellers would opt into Etsy.
Not everyone has the time to take advantage of all the features and customization offered by Shopify nor the approximately $30/Month on launching their business on Shopify. But based solely on benefits & functionality, Shopify runs away with the victory on the comparison.
When to Use Shopify?
Of course, Etsy makes for a restrictive fit for growing enterprises with a considerable inventory. But Shopify offers a high-quality inventory system, and so, you get to track and analyze your stock.
The solution also provides you the legroom, using your web domain to build a brand and market your business.
Shopify is a worthwhile option for your business because the monthly subscription fees eventually crystallize into a valuable investment on account of decent monthly income.
Also, Etsy restricts selling to just arts & crafts niche. Still, the Shopify platform allows sellers to be diverse out of selling other items; thus, making Shopify the best-suited solution for those looking to branch out for arts and crafts.
Without a doubt, Shopify is worth considering for a seller looking to grow into a larger brand selling thousands of various products. And so, on Shopify, you can kiss goodbye the hassle of switching from Shopify to another platform because it grows as you scale up the business.
When to Use Etsy?
If you are making your products, it's highly probable at that first you won't have a substantial catalog, and each piece is likely unique. Therefore, new sellers with minimal inventory, handmade, and unique products should make Etsy their first call.
Etsy's ease of use will perfectly suit your needs so long you only deal in occasional handcrafted items that way, catering for all the needs of a small and creative business.
Etsy store incurs zero up-front costs to sell your products online. Etsy links your store to an audience already with an appetite for the products you are creating, and as such, Etsy makes for a low-risk model for sellers, unsure how well their products will do.
Using Etsy & Shopify
If you are yet to cast the dice on the two, there's an alternative with which you don't have to settle for either. Fortunately, the Shopify App Store makes integrating Etsy's marketplace with your Shopify store an easy process.
And rest assured, you don't experience confusion between the two stores because the integration process syncs your orders and the inventory in real-time.
In the first 7-days, you can use this plugin free of charge, after which you'll incur $60 monthly. The plugin lets you upload unlimited products to both Etsy and Shopify stores.
Although the option may not suit the merchants on a low budget, the entrepreneurs willing to make substantial investments in their businesses get the best of both worlds.
While using Etsy's marketplace to diversify your online presence, equally, you get to customize, grow, and brand your store in reaching the pre-existing Etsy's massive audience, a win-win.
Etsy as a Bridge
There is no cause for alarm! Even when it isn't possible to commit a substantial investment, perhaps currently, Etsy best suits your low budget, and there's no barrier to leveraging the model as a stepping stone. You can later build a Shopify store once you start making a decent bottom line with the Etsy store.
Perhaps you are currently importing handcrafted items via Etsy, building a customer base with an interest in your brand, and then converting those same customers to your new Shopify store.
Shopify vs. Etsy: Final Word
At first, the two solutions come across as similar, but I bet after this piece, you'll have a unique idea where the two contrast and in which aspects each platform sparkles.
And because Etsy is free, we'd root for it since it costs nothing to experience the platform's vibe and find out whether it best suits your needs. Also, for the same reasons, Shopify's 90-days free trial is worth a shot-at.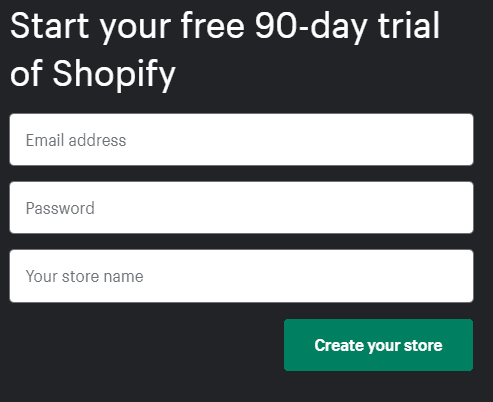 Give them both a try and whichever you opt for, let's know in the comments section below. We wish nothing but the best in your online selling journey.
Thank you for reading Shopify vs Etsy, if you have any comment or questions post them below.
Small Request
Did you enjoy this post? Kindly share it with your friends. Especially, the ones you believe really need this information.
Sharing this information with others can make a huge difference. You may ask why?
Well, the truth is, my main aim is to provide the best information pertaining to drop shipping for both beginners and experienced dropshippers.
And I plan to continue doing so for as long as I can.
I would also like to thank those who support the work I do through reading my content and sharing.
Trust me, when you take your time and share it will help a lot not only for me, but also other people who may really be in need of this information.
Here are some great suggestions:
Pin it
Share it on another blog
Share on Facebook (Share it with friends and even on Facebook groups)
Tweet it
Stumble it
This will only take a few seconds of your time and I would really appreciate.
I appreciate you a lot. Thank you!
Join my Shopify dropshipping group mastermind and follow my blog to learn more about Shopify tips, dropshipping guides, dropshipping tricks and checklists, and e-commerce in general.
If you enjoyed and learned something from this post, you can get updates from me, free of charge!
I send out email newsletters about new posts published on the blog, tips, and tricks to help you grow your dropshipping business, as well as new YouTube videos to give you more insights about the e-commerce market, and much more.
Click The Image To Join My Facebook Mastermind Group