Modalyst vs Spocket : Should You Install Both Or None?
13.
Modalyst vs Spocket : Should You Install Both Or None?
If you're exploring for a Modalyst vs Spocket review, you're in good luck because we have a write up here.
There are several options out there for anyone running an eCommerce store or contemplating to start one, so much so that it gets real messy trying to find the best out there.
It's important to appreciate from the get-go that today's consumers are quite an internet savvy.
They look up products, along with corresponding prices, search both good & bad reviews as well as hyper-critical should things go south more so, as regards shipping.
Also, you'll need to appreciate that today's online shopper has one eye out for the best bargain on excellent quality products and the other on inexpensive (free shipping).
Based on those reasons, it's imperative to pick the right dropshipping solution. So, let us delve right into the gist of this review, shall we?
So, where Do We go from Here?
It's imperative to trust your dropshipping provider, unreservedly. So, you must use a brand with a robust reputation for picking top-notch quality products, packing and dispatching quickly and efficiently.
If you miss the bus on employing the services of a trustworthy brand, you set yourself up on the path to damaging your brand's reputation.
You're likely to receive glowing reviews say from customers who get their products on time, in one piece, and quickly as opposed to those who'd have to wait and get disappointed at the quality of items.
Not to mention, leveraging a descent dropshipping provider lends you the time you'd need expanding your business, rather than force your hand to focus on the everyday aspects of your eCommerce store—for example, high-quality sourcing wares.
So, with that hindsight, lets narrow it down to Modalyst vs Spocket.
What is Modalyst?
Modalyst concentrates on automating several eCommerce related tasks, for your convenience, they bring to light what they do in four simple steps.
"Step#1 Source an incredible assortment in one click
Step#2 Customer buys a product through your storefront
Step#3 Shop buys item directly from supplier on Modalyst
Step#4 Supplier ships the item directly to the customer. Tracking gets automatically communicated."
Modalyst is famous for offering a massive selection of products from high-quality and independent brands across the globe.
Usual products entail things such as accessories, shoes, clothes, bags, et cetera.
To put it another way, it's a B2B marketplace. You do not purchase anything in advance.
Instead, you just pick products you want to sell on your eCommerce store, and then subsequently order these goodies once your customer makes a purchase.
There's an indication on its website that "over 150k successful online businesses have added Modalyst items to their store."
Jil Sherman is the CEO of Modalyst, a brand found in 2012, and its headquarters in San Francisco. In 2015, Modalyst co-founder Alain Miguel made Forbe's 30 under 30 retail list.
The brand pre-occupy itself with fashion brands & linking them to designers, agents, retailers, and consumers.
Modalyst has overwhelmingly positive reviews in media. Plus, soft-soaping mentions in publications such as Businessweek, TedX, Vogue, Fashion Digital Daily, and Bloomberg.
Spocket?
On its website, Spocket indicates that it;
"lets you pick the best products to sell from thousands of dropshipping suppliers from across the globe."
Spocket is essentially a WooCommerce & Shopify app that lets you link with suppliers both in the EU and the US.
Simply install the Spocket app on your Shopify store, pick the products to sell from their catalogs, and then add them to your online store.
Also, you can order sample products for testing out first. And since most Spocket suppliers mainly base in the US and EU, comparatively, deliveries tend to be more reliable than most of Spocket's competition.
Sites like GeekWire & Daily Hive review Spocket in a good light. Recently founded in 2017, the Vancouver based outfit has over the three rounds raised a cumulative total of $2.3m in funding. Quite impressive, right?
Modalyst vs. Spocket: A Brisk Price Comparison
Monthly
Modalyst
Hobby Plan @ $0 which entitles you to product limit of 25
Start-Up Plan @ $35 which allows you to product limit of 250
Pro Plan @ $90 which entitles you to unlimited products
All plans attract a 5% transaction fee.
Spocket
Starter Plan @ $9 after a free 14-day trial
Pro Plan @ 49 after a free 14-day trial
Empire Plan @ 99 after a free 14-day trial
Unicorn Plan @299 after a free 14-day trial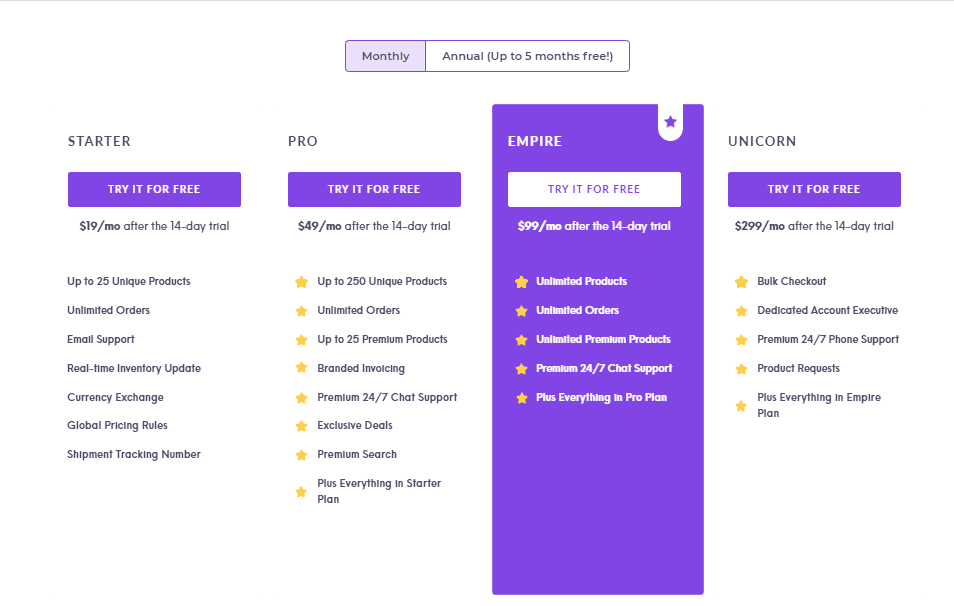 Yearly
With Modalyst, you get a 25% on the Start-Up & Pro Plan for the annual payment
Spocket gives up to five months free for the yearly payment upfront
Spocket's is more forthright concerning what you get with each type of program. And so, we'll list them below.
FYI: Modalyst is less user-friendly, much as you get an easy read on price plan, you won't get a table or list to view what you get on each type of program.
The info exists; however, it would be better was the information categorized per price plan.
Over to Spocket:
Starter Plan
Up to 25 exceptional products
24/7 chat support
Currency exchange
Unlimited orders
Real-time inventory updates
Shipment tracking number
Global pricing rules
Pro Plan
This pricing plan includes everything in the Starter plan plus:
Up to 250 products
Premium search
Up to 25 premium products
Exclusive deals
Branded invoicing
Empire Plan
This pricing plan includes everything in the Pro plan plus:
Unlimited products
Unlimited premium products
Unicorn Plan
This pricing plan includes everything in the Empire plan plus:
Product request
24/7 phone support
A dedicated account executive
Bulk checkout
Modalyst Features at a Peek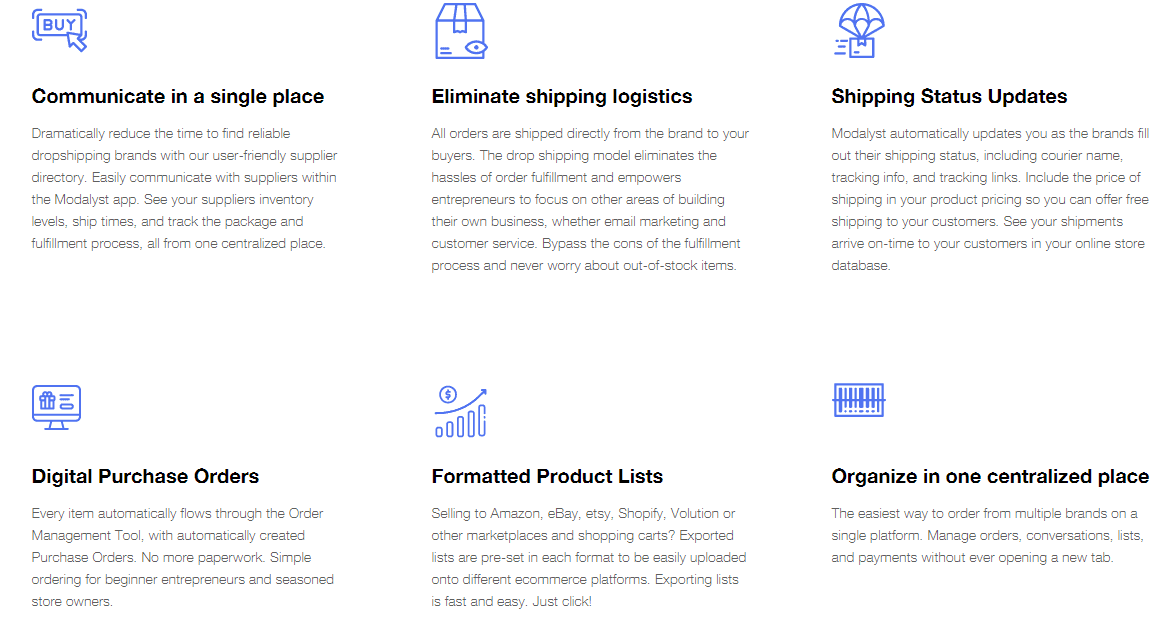 Tons of dropshipping products
With a few clicks, you get to customize your product pricing and listings
Both you and your customer get instant notifications on the order tracking
Easily integrate with your site, including Shopify and BigCommerce
Using CSV files, you can import products to other eCommerce sites
Make data-guided decisions when swopping between wholesale and virtual inventories
Standardized contracts that include a 14-day return policy
Direct shipping to the customer from Modalyst
Inventory investment
Custom data export and data analytics
Modalyst vs Spocket: Their Merits & Demerits
Modalyst's Merits
A free Plan
Access to the US and EU suppliers
Modalyst handles customer returns
Give access to high-quality brands
Zero inventory costs
Direct integration with Shopify & BigCommerce
Tracking info
Modalyst Demerits
A 5% transaction fee applies across the board
The brand takes up 60% of suggested retail price irrespective of the actual selling price
The order placement process isn't entirely automated
Unless you are on the premium plan, you won't see the entire supplier network
Shipment times and costs vary
Spocket Merits
They offer a free plan
Simple user interface
You own branding
You get to order product samples
An automatic inventory updates
A dependable Shopify integration
You've got room to automated pricing levels
Spocket Demerits
Shipment costs more outside the US and takes longer as well
Product prices don't include customs tax & duty; hence, you want to factor it into your product prices and profits
The free plan doesn't offer chat and call support
No Wix or BigCommerce integration
Selling on Etsy, Wish, eBay, and Amazon isn't feasible.
Modalyst vs Spocket: Their Websites
With the two websites, we'd root for Spocket site with the reason being; it has more straightforward navigation, and it set up with the customer in mind.
On the other hand, Modalyst assumes a certain degree of knowledge, and to the extent that it gives little details about them as a brand.
Both sites, however, are pretty resourceful, mostly crafting articles and blog posts for would-be store owners and entrepreneurs. In that way, both sites empower online businesses.
Spocket specifically, is big on rubbing it on our faces how they've assisted, to date, about 30,000 entrepreneurs. Also, with a chic feature, you get to order products yourself to ensure the drop shipping function works as intended.
Modalyst vs Spocket: Integrations with eCommerce Platforms
Modalyst integrates with Wix, Shopify, and BigCommerce. Spocket integrates with WooCommerce and Shopify.
Modalyst vs Spocket: Resources
The resources in this context refer to training and help. Modalyst, on its home page, has a Dropshipping Insights section. Here, you'll find articles on subjects like The 2020 Ultimate Dropshipping Business Guide for Beginners, 100 Profitable Products to Sell in 2020, and more.
Modalyst runs a help center that addresses subjects ranging from creating an account, pricing rules, handling customer orders, and shipping. Also, in the search box, you can key-in a subject matter or question and find helpful answers.
However, much as a forum or helpline appears non-existent, you'll find a live chat support option running from 9 am to 5 pm PST.
Also, Modalyst provides a feature it calls Showroom & Profile Uploading, which seems to suggest that if you get too busy to set up your profile, the platform may work something for you so long you communicate.
As for Spocket, right at the top of its homepage, you'll find a Review tab where Spocket is candid about its reviews (5-star rating, a plenty!) as well as Help Center. From here, customers can find FAQs, articles tackling how to reach the Spocket help team, and more.
Additionally is a link to the Spocket Community, which directly leads you to its Facebook page.
On the whole, Spocket offers crucially far superior resources contrasting Modalyst.
Modalyst vs Spocket: Final Word
We won't choose for you, of course not. But if you look to be part of a community and latch on the support along the way, then Spocket will work for you.
Spocket's cheapest plan is moderate, and a good pick for startups or newbies starting on eCommerce.
But if you do not wish to get involved with the shipping and just want to deal with known brands, then Modalyst ranks high on your picklist.
Over to you, of the two sites, which will you latch-on? Do you have any question about Modalyst vs Spocket ?
Small Request
Did you enjoy this post? Kindly share it with your friends. Especially, the ones you believe really need this information.
Sharing this information with others can make a huge difference. You may ask why?
Well, the truth is, my main aim is to provide the best information pertaining to drop shipping for both beginners and experienced dropshippers.
And I plan to continue doing so for as long as I can.
I would also like to thank those who support the work I do through reading my content and sharing.
Trust me, when you take your time and share it will help a lot not only for me, but also other people who may really be in need of this information.
Here are some great suggestions:
Pin it
Share it on another blog
Share on Facebook (Share it with friends and even on Facebook groups)
Tweet it
Stumble it
This will only take a few seconds of your time and I would really appreciate.
I appreciate you a lot. Thank you!
Join my Shopify dropshipping group mastermind and follow my blog to learn more about Shopify tips, dropshipping guides, dropshipping tricks and checklists, and e-commerce in general.
If you enjoyed and learned something from this post, you can get updates from me, free of charge!
I send out email newsletters about new posts published on the blog, tips, and tricks to help you grow your dropshipping business, as well as new YouTube videos to give you more insights about the e-commerce market, and much more.
Click The Image To Join My Facebook Mastermind Group