Why Merchants Prefer Shopify To Magento Platform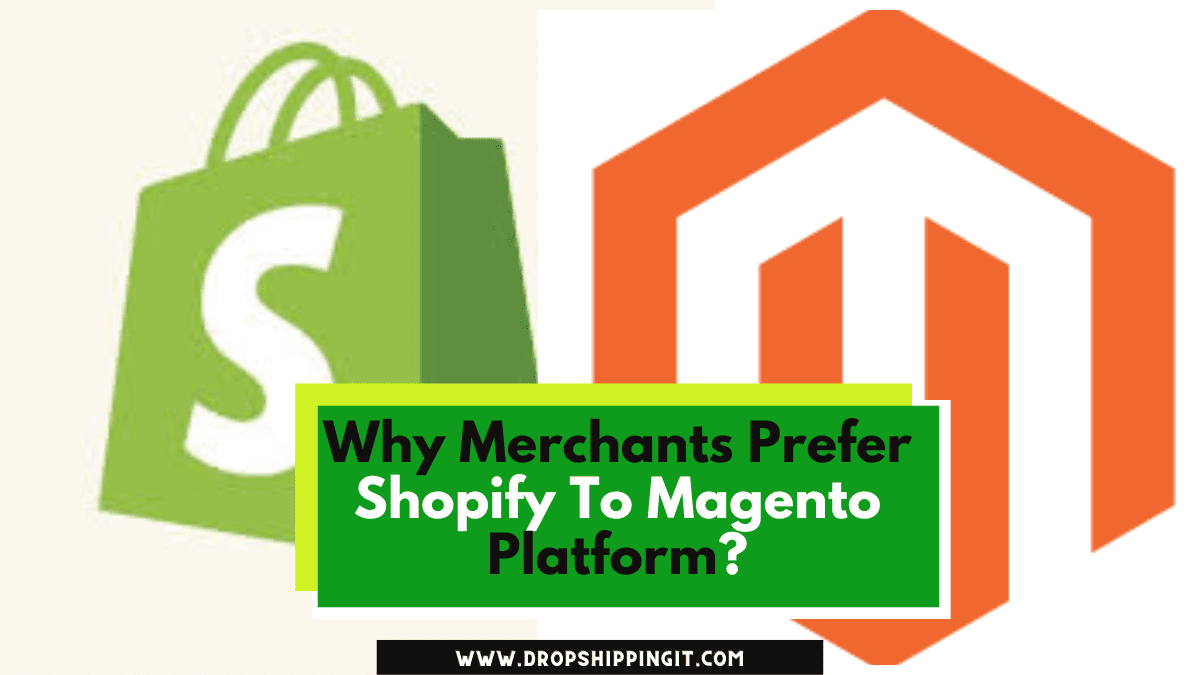 Choosing between Shopify and Magento is a dilemma faced by almost every would-be business owner who plans to launch an ecommerce website. So why do store owners prefer Shopify to Magento?
Big brands employ both of these most popular ecommerce platforms and have entrenched themselves as market leaders.
Over 4 million merchants, including household names like Heinz, use the Shopify platform to power their online stores.
The solution has users in 175 countries, with the United States being home to the most significant number of domains registered (about 70%). 
In contrast, Magento (formerly Adobe Commerce) is widely used, and in November of 2022, Magento boasted over 168,000 active users, including several large multinational firms like Nike.
However, these numbers should not be interpreted as proof that one platform is superior to others. Right?
The peculiarities of both platforms, their benefits and drawbacks for each business model, and pricing models are covered in this article's comprehensive comparison of Shopify to Magento. 
To find out why merchants prefer Shopify to Magento and which platform is better for you, continue reading.
Note: In June 2018, Adobe bought Magento and integrated it into its Adobe Experience Cloud as a shopping cart solution. The terms Magento and Adobe Commerce may be used interchangeably throughout this text for consistency.
Magento vs. Shopify Overview
What's the Difference Between Shopify and Magento? If you're short on time, here's a quick comparison of the two platforms to see the main distinctions between Adobe Shopify and Magento.
Simply put, these platforms are aimed at different merchants. Shopify is perfect for startups, but as your company expands, you may feel pressured to switch to Shopify Plus, which is ideal for high-traffic businesses.

Meanwhile, Magento seems tailor-made for corporations of larger sizes. Magento is the most fantastic ecommerce platform because it provides richer, more robust features and incredible customization options for medium-sized and large enterprises.
While Magento is an open-source solution, Shopify is a hosted SaaS platform. There are 6 distinct product kinds available in Magento (simple, configurable, virtual, group, bundle, and downloadable products).
Local merchants selling in a single region will benefit more from using Shopify.
Magento includes a module with superior Magento B2B capabilities. Magento allows you to set up several stores, each of which may be customized with its language, tax, and pricing policies.
Let's continue with a deeper analysis of both platforms so you can make an informed decision. Checking out these reviews is worthwhile because they are informative.
Shopify vs. Magento Comparison
We've only scraped the surface so far, but let's go deeper into all the peculiarities. The ease of use, features, SEO, costs and other critical aspects of both solutions are compared in this section.
There are aspects where one solution excels and others where it fails. Since this is the case, we advise making a list of priorities (preferably organizing it into a website specification document).
In this approach, you may determine which platform features are essential to you and which can be dropped without sacrificing too much.
Pricing
For merchants planning a budget for an eCommerce website, pricing is one of the most pressing issues. After all, you want to be sure you get the right value for your investment.
Shopify is a hosted platform, whereas Magento is a self-hosted platform. This is the main distinction between the two platforms.
Your monthly or annual subscription price includes all your hosting costs in a hosted one. A domain, web hosting, security, and extensions must be purchased in addition to Magento's free installation. 
The annual cost is about $13 ($10 – $15). Different pricing plans are available from Magento and Shopify. 
Shopify's three-set pricing models may appear more affordable, but adding customization options like themes and applications will increase your total cost.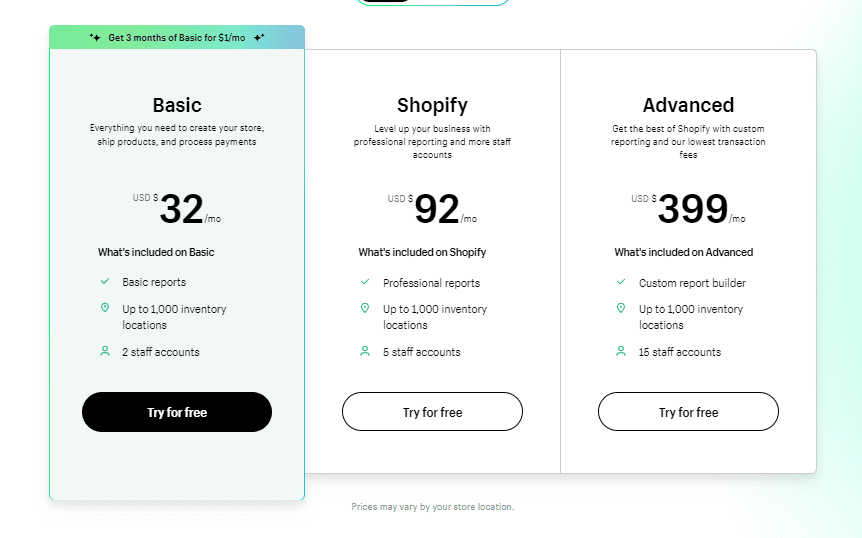 On the other hand, the cost of Magento is entirely dependent on your needs because it is an open-source platform.
There are three options with set monthly fees in Shopify's pricing structure:
The outlay for design themes, plugins and payment processing outside Shopify Payments is not included. Instead, a merchant can take advantage of the current $1 Per month Offer for 3 months; hence you only pay $3 at the end of the 3 months, which gives one a chance to test out their store.
Sign up for a free trial and enjoy 3 months of Shopify for $1/month on Select Plans.
When comparing Shopify with Magento, the former is the cheaper alternative. Payment gateways charge cheaper transaction fees. Web development efforts are no longer necessary.
In addition, you'll get free web hosting, a subdomain, free themes, and free dropshipping choices. The cost of getting a site up and running is higher with Magento than with a monthly subscription.
Read more: Shopify Pricing: The New Subscription Price Plans 2023 
Features Comparison
Ease of Use
The number of personnel needed to design and administer the eCommerce platform and whether or not the solution's full potential can be realized will be determined by the ease of use.
The ease of use of Shopify has always been lauded.
You can make a website on the platform without needing to learn a programming language or write any code. Drag-and-drop tools for basic customization are available on a simple, user-friendly interface.
However, the ease of use comes at the expense of more advanced customization options and the adaptability of interfaces with external systems.
For example, hire a Shopify developer to create bespoke features and escape the Shopify closed system if the extensions available in the Shopify marketplace aren't enough.
The admin panel with analytics, orders, products, etc., is simple to use after your Shopify website is up and running.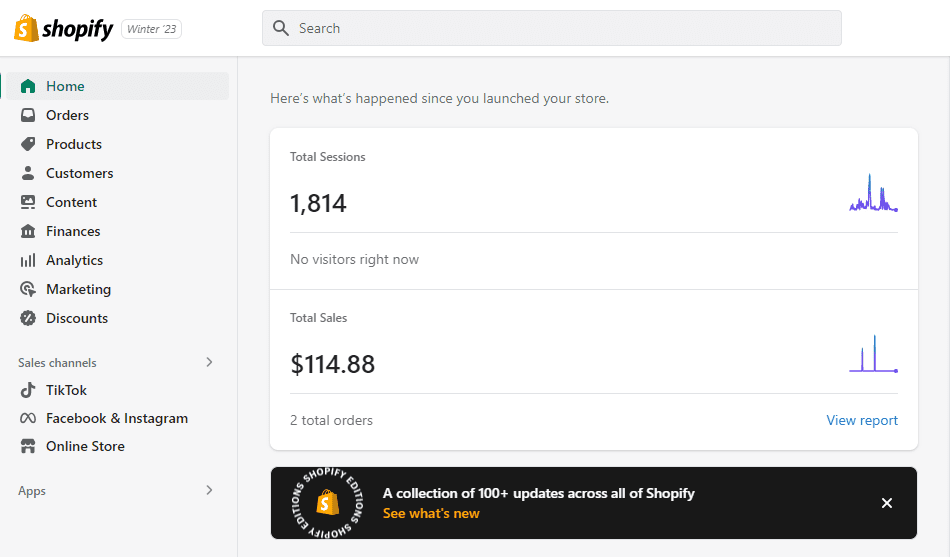 When you click on a particular section, you will be taken to a page that provides more information about that section. There is nothing else a fledgling business needs!
More coding knowledge or a team of dedicated Magento developers will be needed for Magento. Going the custom route means additional code for your website and a heightened learning curve for managing your store as you advance.
Basic Features
The quantity of native features a platform offers dictates which model is best for your business. After all, you can save significant money on extensions and custom development if they are compatible with your ecommerce website. The features of Shopify and Magento will be compared.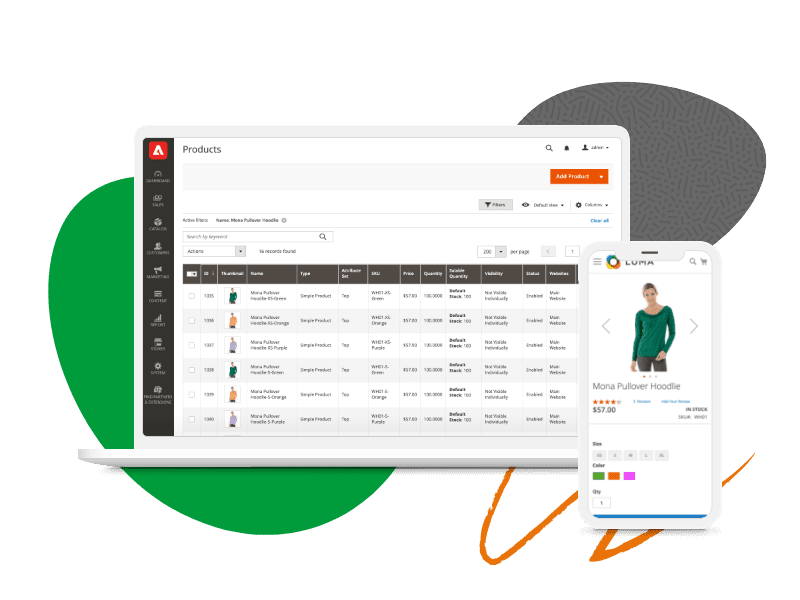 Comparatively, Magento has more available features out of the box, and you'll only need to pay for the extra ones if you want them. However, in Shopify, additional features require the installation of a third-party app.
For eCommerce management, Shopify offers a basic set of features. Small businesses may find it a blessing in disguise because merchants can handle all business processes without getting overstimulated by the extra features. As a result, large stores may be somewhat restricted.
Marketing Features
More prospects can be turned into paying clients using marketing technologies. Constant Contact, Seguno, Klaviyo, and many other fantastic marketing tools are included with Shopify. Facebook and Instagram are two social media platforms where you may sell and advertise directly.
The majority of Magento's marketing resources are derived from its marketplace. To conduct email marketing, for instance, you must install Remarkety.
Performance Evaluation
There is no denying that customers and consumers like fast-loading websites. The conversion rate is greatly influenced by website performance. People can complete their tasks much more rapidly if the page loads quickly.
Conversion rates are directly correlated with page load speed. After all, nobody likes to wait for a page to load, much less look through a product catalog or place an order. So in terms of speed and performance, let's compare Shopify versus Magento.
Shopify vs. Magento Performance
Shopify is known for its consistent and dependable performance. Shopify website speed is guaranteed because it is a hosted solution. According to some research, the average loading time for Shopify stores is 1.3 seconds.
However, a small number of SKUs and plugins added to your store are the only way this page load speed can be achieved.
The hosting service you choose has no bearing on the website's speed in the case of Magento. If you choose a reliable hosting provider and take the time to optimize your website, you won't have to worry about its performance.
Hosting for your website is included in your monthly Shopify subscription. Setup is simplified since you won't have to search for and sign up with a web host separately, unlike Magento.
Shopify's performance will be excellent if you run a small store, but if your business grows, you may need to switch to Shopify Plus or change the platform altogether.
The performance of Magento is entirely the merchants' responsibility. Magento stores can be slower than Shopify ones in loading time for those merchants that need to be tech-savvy.
Remember that your website's loading time will increase proportionately with its complexity. Also, there is still time to make the necessary adjustments. In contrast, you cross your fingers that someone else will solve the problems in Shopify.
Integration comparison
Syncing with your suppliers is essential if you are dropshipping or have a store outside your website (Amazon). On both platforms, let's examine how integration is achieved.
Because Shopify is an intuitive platform, adding apps to your store is simple. For example, Shopify offers over 6,000 apps on the Shopify App Store. In addition, your online store may be easily customized thanks to Shopify's rich collection of apps.
For syncing your Amazon and eBay stores, it offers built-in integration. It's free, simple, and quick to connect with suppliers, even for dropshippers. However, you must pay for some services, such as customer reviews for Alibaba and Google.
Magento lagged behind Shopify in terms of integration. Magento only offers over 4,000 extensions when compared to Shopify's 4,000.
You should consult a tech support team for help with the manual installation of most of the integration. While the integration of Facebook and Google is free here, you will have to pay for Amazon and eBay.
Design & Customization Comparisons
Themes
According to Stanford Persuasive Technology Lab research, nearly half of all consumers place the utmost importance on a company's website design when purchasing.
The first thing that draws a customer to your website is its outlook or design. As a result, your website's design is crucial to your business's success. In addition, a tonne of lovely premium and free themes are available for both Shopify and Magento.
It offers 83 themes, with 11 being free and 107 being paid a premium on the Shopify theme store. You should expect this to cost between $280 and $350. (cheaper than average themes on Magento).
The Shopify platform ensures that any theme you select will look fantastic on any device, even smartphones.
After selecting a theme, you can adjust the size of various items, add additional pages, and alter the color scheme to your liking. For that, zero coding experience is required.
It offers pre-made themes that don't require coding or customization and custom themes that need skilled developers. While ready-made themes typically cost $100, custom themes can range in price from $70 to $499.
A custom theme is a way to go if you have a reasonable budget and want complete creative control over your Magento website.
Simple Customization
With Shopify's theme editor, you can change your site's fonts, colors, photos, layout, currency, and more. It's important to note that when comparing Shopify to Magento, the latter frequently necessitates the usage of third-party plugins for customization.
Modules & Plugins Comparison
Every eCommerce platform offers you sufficient functionality as you launch your online store. However, the functionality and performance of your website can be significantly improved by installing a few third-party extensions.
Apps and add-ons
You can determine the extent to which a website can be customized by installing various add-ons, such as search engine optimization (SEO) tools, email marketing programs, upselling and cross-selling modules, tutorials, and so on.
The slower your website gets, the more you should keep in mind. Shopify offers over 4000 plugins in the App store, 1500 of which are free.
Both in terms of quantity and quality, Magento offers plugins. All bases are covered in this comprehensive list of add-ons, including marketing, content and customization, payment and security, customer service and support, accountancy, and more.
Read Also:
Payment Processor and Transaction Fees Comparison
Giving customers a choice of payment methods is one way to create a better checkout experience. However, you want to save money on online payment gateway costs, so choosing an ecommerce platform that integrates payment options is best.
Make sure the platform offers multiple payment options before committing, as receiving money is essential to running a successful business.
For example, you can connect your store with a payment processor with just a few clicks in Shopify and Magento, making things simpler. To provide a level playing field, let's compare Magento and Shopify independently.
Shopify supports over a hundred different payment gateway. The Shopify payment processor, which is its payment gateway, charges no transaction fees.
The Shopify payment process is time-consuming and highly complicated. Therefore, you can integrate "Stripe" software from a third party into your payment gateways to simplify the process. Shopify's integration with Stripe makes all financial transactions more streamlined, secure, and scalable.
There are more than 150 different payment processors that Magento is compatible with; however, most of them are designed for large businesses.
Since it is not a hosted platform, you will need the help of website developers to access some of the payments. Installing other payment gateways, such as Square and Stripe, is simple. In addition, it enables you to access a broader range of payment alternatives from other nations, allowing you to expand the international sales of your products.
When you add a payment provider, you'll see that they're included even if Magento doesn't charge transaction fees.
For international transactions, Stripe charges 2.9% + £0.20, whereas European transactions are 2.4% + £0.20.
Shopify Payments is the more cost-effective solution because it doesn't charge transaction fees on any of its plans.
In sum, Shopify may be a superb option for rapidly and easily deploying your payment processors, but Magento will provide you with a few additional options for selling internationally.
SEO Comparison
SEO is a technique used to improve a website's visibility in search engines. You will only achieve your goal of acquiring more clients by designing your store's website.
Ecommerce can only function with search engine optimization. So it's crucial that your platform can get you on the top page of SERP because at least 43% of eCommerce traffic comes from Google organic search.
Your online store should be on the first page of a search engine to enhance organic traffic to your website. As a result, addressing search engine optimization while designing your website will help you generate more money.
Bring your business ideas to life for $1/month On the Shopify Platform. Click the Image Below.
Keyword optimization, page speed optimization, internal linking, external linking, adding alt text to images, etc., are just a few of the many SEO strategies that can improve your website's search engine rankings.
You may optimize your website for search engines using Shopify's built-in SEO features, including meta descriptions and search titles.
Merchants may add additional features through an app on the Shopify App Store. For example, people can create a blog on their website using features like Shopify's content management system to boost their search engine results.
On both platforms, you may optimize your online store. For example, to give search engines a clear picture of your store, you can quickly change the page title, description, alt text for photos, etc.
Several paid SEO apps are available in Shopify that can help you maintain the SEO of your online store. One of Shopify's SEO apps, "SEO BOOSTER," for instance, aids in locating the problem with SEO. Examine the other Shopify SEO apps you can install on your website effortlessly.
The SEO friendliness of Magento is one of its many strengths, making it an excellent platform for launching an eCommerce store immediately.
However, there are some aspects of Magento that you need help handling. To fix the issue, you'll need the help of web development services.
In this regard, Magento is not ideal because it extends URLs by appending.html at the end, which makes them more difficult to remember and type. However, if you remove it in the Admin panel, the string /index.php/ will be appended to the URL.
If you want to link to this page, the format is https:////:yourstory.com/index.php/your-product/. You'll need the help of developers to change this URL and make it more user-friendly.
Verdict: URLs in Shopify are relatively rigid and cannot be changed; however, in Magento, this may be accomplished with the assistance of experts. In contrast to Magento, where a sitemap must be manually created in a dedicated directory, Shopify produces one automatically.
Help and Support Comparison
Consider whether the solution offers the necessary support services because there is almost no way to circumvent operational problems with your store.
Your eCommerce platform's help and support department must be prompt and thorough. The sooner you address the problems, the sooner you can get back on track and attract new customers. So let's talk about Magento and Shopify support and help.
It offers committed help and support staff. Experts are on hand around the clock to answer questions and address concerns by live chat, email, and phone.
A community forum, API documentation, a help center, and a variety of video tutorials are additional resources available to Shopify users.
On the other hand, Magento, a community-based platform, provides fantastic building tutorials that will help you through the entire process of creating an online store. Unless you choose the Magneto Commerce Cloud plan for B2B, you won't get direct dedicated support like email, phone calls, or chat. However, you will have access to Siteground's support staff for assistance.
Flexibility and scalability
Selecting an eCommerce solution that can support your long-term business objectives is crucial.
Upgrading to a more expensive pricing plan is required with Shopify to scale. At $299 per month, Shopify Advanced will provide you with the most features available to grow your store. However, with Shopify's scalability, you should expect steadily rising payment transaction fees (particularly for foreign payments) and limit your business to eight shops (the max supported in Shopify).
Flexibility is also essential. Shopify might not be the right fit for you if your expansion ambitions don't involve selling products internationally, introducing subscriptions, or providing highly customizable products.
Enterprise businesses should use Magento. For all types of businesses, Shopify was built. You only need to pay for the features you need when you need them because new features become accessible as your business expands to support you better.
Security
Over a third of customers say they would quit shopping with a brand that had a data breach.
Shopify handles security on its own, applying all necessary updates and certificates. Customer data is protected by PCI compliance and SSL encryption on this platform.
Shopify is a hosted platform, meaning security updates are handled behind the scenes for you. Unfortunately, you will only be able to take action if sophisticated security measures are required.
Magento has a wide variety of security features to keep its users safe. For example, Magento 2 has included advanced methods of mitigating cross-site scripting (XSS) threats and clickjacking exploits. The provider also conducts vulnerability assessments on their system to protect the merchants and releases security fixes quarterly.
Other Factors of Shopify's Remarkable Success
Content management system feature: Shopify's built-in CMS function enables online merchants to host and manage their blogs. Content management system features: You may add links and graphics, typography, header changes, and more with the editor's straightforward interface. In addition, you'll need to install a third-party Magento plugin to create a blog on Magento.
First-party POS system: In terms of a point-of-sale system, Shopify is superior to Magento. Magento offers a POS system through ConnectPOS, a third-party POS system, via its extensions, while Shopify offers a POS system of its own. In addition, your online store and Shopify's POS system are connected, allowing you to view business-wide metrics.
Trusted by merchants: Millions of merchants rely on the Shopify ecommerce platform because it is reliable. Over 250,000 merchants use the Magento platform. From small to enterprise merchants, Shopify helps business owners expand their operations.
With Shopify's options, merchants have unlimited bandwidth and online storage. To get unrestricted bandwidth on Magento, you must set up your online storage separately.
Unlike Magento, Shopify includes a subdomain with your monthly subscription. The.myshopify.com subdomain can be used to promote your business if you're still deciding whether to commit to a domain name. For example, you would require a domain name on Magento because it is designed for enterprise businesses.
Dropship affordably: Shopify and Magento allow business owners to dropship at a reasonable cost. Users interested in dropshipping on Magento can expect to pay a flat rate of $249 for the Dropship plugin. In addition, users of Shopify have their pick of several dropshipping businesses. For instance, the Shopify-owned Dsers has a forever free plan that lets you dropship without paying a monthly subscription.
Beginner friendly: You'll be happy to hear that Shopify offers a drag-and-drop functionality for creating your online store when comparing Shopify to Magento. You'll require a developer to set up your website or add extensions to your business because Magento is built for enterprise businesses. You don't need support on Shopify to build your website; it's all done for you.
Built-in security: A Look at Shopify and Magento's respective security features, especially the former. Shopify is PCI-DSS compliant, offers SSL certificates, and includes an in-built fraud analysis tool. Shopify abides by the General Data Protection Regulation (GDPR), too. Contact Magento support if you'd like to add an SSL certificate to your store. To sell on Magento, you must first ensure that your store is PCI-DSS compliant, which requires manual installation.
No need to code: You don't need to know how to utilize the Shopify platform, even though it offers HTML and CSS editing. Shopify is a no-code store builder that anybody can learn to use quickly. It has simple drag-and-drop functionality, over 6,000 apps for store functionality, and the opportunity to hire Shopify Experts for advanced adjustments. Most businesses using Magento will either need to hire or have an in-house developer set up their website, or they will rely heavily on extensions.
Fast and simple to install: When you sign up to build your online store, Shopify's streamlined process walks you through the steps. With its user-friendly interface, you may go through each process one at a time. You may easily complete and personalize your site with the theme editor.
Final Thoughts: Shopify to Magento?
One cannot definitively claim that one platform is superior to another. Instead, Magento and Shopify cater to different merchants and have varied business requirements.
Small businesses and dropshippers wishing to establish an online presence will find Shopify an excellent choice. You don't need a tech staff or a lot of money to start selling; you can purchase any Shopify plan and get started right away.
Shopify will be sufficient if you emphasize ease of use, automated upkeep and security, and ease of integration and don't plan to develop your business rapidly.
In terms of power, Magento is a step forward but is also far more complicated. The ideal match for it is medium-sized businesses and corporations that need high levels of customization and extensive functionality.
These merchants have the resources to hire a development team, prioritize high levels of scalability and flexibility, and are comfortable handling performance and security concerns independently.
Magento is the ideal ecommerce solution for established business owners who want to grow and anticipate high website traffic numbers.
Shopify vs. Magento FAQs
How do the perks of Shopify and Magento compare?
Shopify is a user-friendly platform that offers all the necessary eCommerce integrations and round-the-clock customer support. However, it lacks a robust contact management system and offers few customization features.
Thanks to Magento's extensive customization possibilities, you have complete control over the website's functionality and lots of room to grow your business. On the other hand, Magento Commerce pricing begins at $1,833 a month, which is quite pricey. Magento also necessitates the assistance of an IT department for use.
Can Magento and Shopify be used together?
Yes. Integration between Magento and Shopify is achievable by utilizing both pre-built and bespoke connectors, although these two eCommerce platforms are very different. To share data with Magento, you can connect numerous Shopify accounts.
Why do brands choose Shopify?
Due to its managed services and ease of use, Shopify appeals to small businesses. Shopify is an excellent place to start an eCommerce business if you want to establish an online presence, have a small number of products in your catalog, and have no coding experience.
Is Shopify an open-source system?
Shopify is not free software, though, for a retailer, it is a hosted and managed SaaS platform with a subscription model.
Small Request
Kindly share it with your friends. Especially the ones you believe need this information. Sign Up Now and Get your first 3 months for only $1 monthly.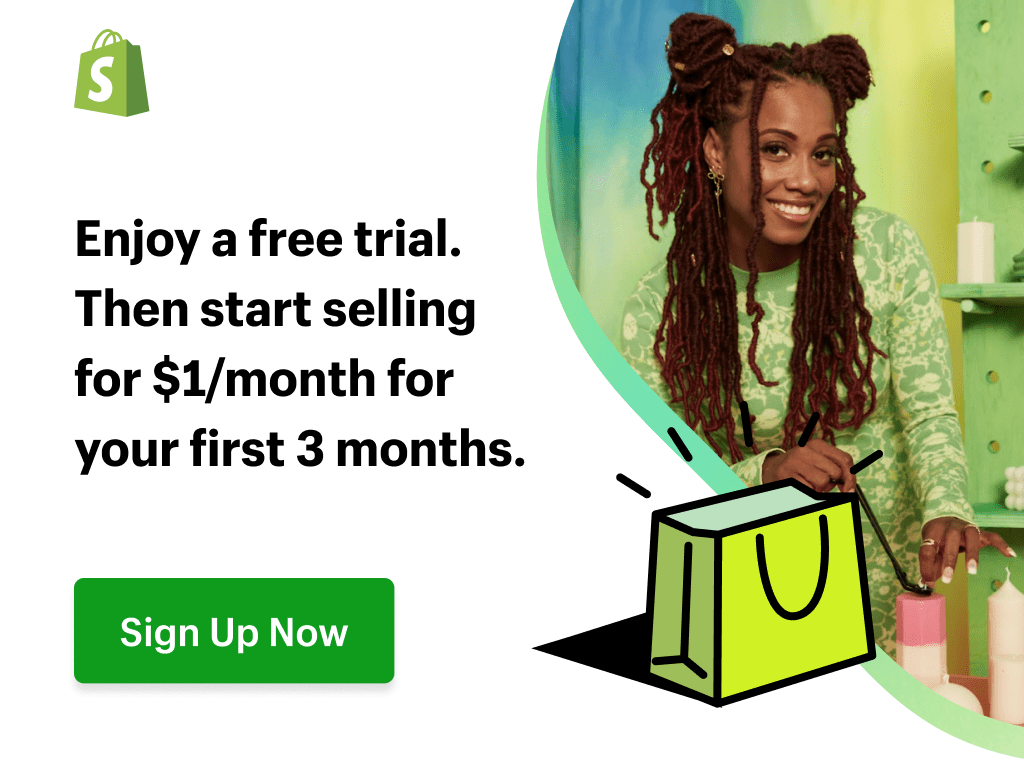 Sharing this information with others can make a huge difference. You may ask why.
Well, the truth is, my main aim is to provide the best information about drop shipping for both beginners and experienced dropshippers.
And I plan to continue doing so for as long as I can.
I would also like to thank those who support my work by reading and sharing my content.
Trust me, when you take your time and share, it will greatly help me and others needing this information.
Here are some great suggestions:
Pin it
Share it on another blog.
Share on Facebook (Share it with friends and even on Facebook groups)
Tweet it
Stumble it
This will only take a few seconds of your time, and I would appreciate it.
I appreciate you a lot. Thank you!
Join my Shopify dropshipping group mastermind and follow my blog to learn more about Shopify tips, dropshipping guides, tricks and checklists, and e-commerce in general.
If you enjoyed and learned something from this post, you can get me updates for free!
I send out email newsletters about new posts published on the blog, tips and tricks to help you grow your dropshipping business, new YouTube videos to give you more insights about the e-commerce market, and much more.
If you enjoyed reading this, you could as well join my Facebook group. Thank you for reading how to make money dropshipping online from the comfort of your home.
Click here to Join My Facebook Mastermind Group