How To Delete A Shopify Store Permanently
Are you thinking of deleting your Shopify store? It's a very smooth process, but you must follow the laid steps to complete the deletion process smoothly.
How to delete a Shopify store?
Whether it's because you're changing from the current business plans, permanently closing up a store, or moving to a different ecommerce platform like Wix or Magento, closing an active Shopify store can be daunting, especially if there is no proper guide.
There are many reasons why one can decide to delete their Shopify store; ecommerce business is challenging and even hectic if you are doing a dropshipping business.
Many challenges come with product sourcing, marketing, fulfillment, and investment capital for ads and general store management.
Many think e-commerce is a get-rich scheme, but in reality, they think otherwise, hence the need to delete their Shopify store.
I hope your reasons for deleting your Shopify store don't fall within the above.
In today's blog post, we'll walk you through how to delete a Shopify store in just a few simple steps.
Before you do anything, you should back up your store data before hitting the delete button. It is to help if you change your mind and want to restore your store.
It's necessary to keep sensitive information such as customer details, your inventory list, and other vital sales information gathered when the store is active.
Once the backup is created of all relevant data and all information is saved, it's time to begin the deletion process.
Table of Contents
Before you delete the store, do these tasks
As you prepare to delete your Shopify store, ensure all your pending bills or charges owing to Shopify or third-party apps are settled.
It's also important to pause all the active marketing on your social media, like TikTok marketing or if you were running paid Facebook ads.
You need to inform your active customers or subscribers about your store closure, and this can be done through mass emailing or channel broadcast; it's only fair they know you are pausing operation.
Try to resolve pending disputes and ship all orders in the fulfillment process. Suppose your store had sales. You want to leave on a clean slate, not to rub any shoulders.
If your store has a premium domain name, e.g., yourdomain.com, hosted on a third-party hosting provider like Namecheap or GoDaddy, change the Domain DNS in the server setting and point it back to the original provider.
Removing the domain name from Shopify gives you a chance in the future to reconnect the domain name in another new Shopify store; if the domain name is not delinked from the previous store, it may require a lot of domain verification work and sometimes may refused to link to the new store, if you decide to join Shopify in the future and wants to use the previous domain name.
All the above must be done; after successfully closing your Shopify store, you can no longer access your admin panel, but Shopify stores your information for 2 years.
Shopify has a mouth-watering offer of $1 monthly on their platform for the next 3 months.
It means you will be billed only $3 for using their platforms for 3 months instead of their standard plan charges of $29-$32.
How to delete A Shopify store
To delete your Shopify store, you need to log into your Shopify admin and click on the settings section:
Store Settings > Store Details >Plan> Deactivate store.
A pop-up with 3 options will present itself. You can switch to pause and build, meaning you will be billed $9 monthly as you continue your store design and branding until you are ready to launch. Meanwhile, customers will not be able to checkout.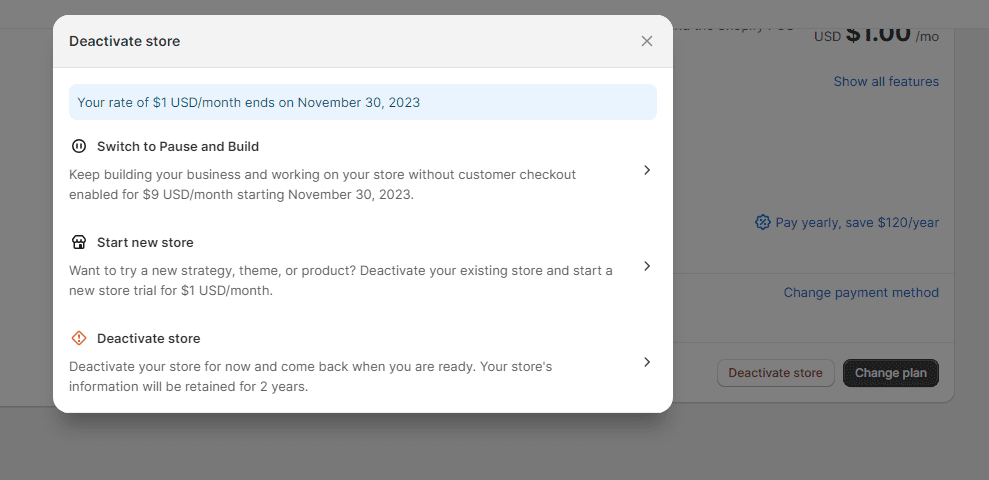 The second option is to start a new store, which implies giving you a new start and getting a new free trial at $1 per month for 3 months, which means you will pay $3 at the end of the 3 months paid trial and then resumes at the regular Shopify basic plan of $29.
Start a free trial today and enjoy 3 months of Shopify for $1/month Instead of $39/month on selected plans. Sign up now
It helps restart your business; suppose you need more sales or time to finish the store as you envisioned.
The third and last option is to deactivate the store. Sometimes, you may be asked to share why you left the Shopify platform. It's an optional field; you can decide whether to answer.
Select a reason for your store deactivation, and then click Continue.
Enter your current password and confirm; click Deactivate now.
Once you have done that, click the 'Deactivate Account' button' at the bottom of the page.
A verification email will be sent to the email registered in the Shopify store deactivated, confirming the account deletion.
How to reactivate a Shopify store
If you change your mind within the 2 years Shopify gave to store your store information, you can reactivate your store.
You must log into your Shopify account using your Shopify default link ending with yourstorename.myshopify.com.
You will be redirected to visit > Billing > Reactivate Store. You can reactivate your store, and if you have any pending bills, you can clear them and continue.
Does deactivating the Shopify store delete it?
Deactivating your Shopify store cancels your plan subscription and delists your store.
You will, however, lose your store's name and unquire URl, and in return, with time, your store will be removed from Search Engine listings.
You can still reactivate your Shopify store and continue with your existing plan or upgrade if you want to.
As stated earlier, Shopify stores your information for 2 years.
Closing your store prevents you from accessing the Shopify theme store, apps, or other features like Shopify POS or payment methods.
Before you delete your Shopify store, you can pause or start a new one on the same account rather than deleting it.
Will I get my money back if I deactivate my Shopify store?
In case of store deletion, Shopify policy doesn't allow for refunds, but this can be done if you had an active account within 14 days of the paid plan subscription; you may be eligible for a prorated refund for the unused portion of your plan subscription.
It is also good to note that you can only delete a Shopify store with no outstanding bills; you must clear the bills to any Shopify app subscription or the bills accrued on the Shopify store.
If you have any outstanding bills, you won't be able to close your store. You'll need to pay off any subscription fees, transaction fees, or other charges before you can close your store.
If you have any active orders that need fulfillment, manually cancel them and issue refunds to customers. 
Read Also:
Conclusion
Now, if you were wondering how to delete a Shopify store, there you have it in this guide.
I hope I have provided you with an overview and steps to deactivate the Shopify store successfully.
There is no e-commerce platform with the best features and cool offers like Shopify, from their prebuilt apps and themes to integrate with third-party apps. There is more it offers to store owners compared to the likes of WordPress or other e-commerce platforms.
Feel free to reach out if you have any further questions regarding deleting a Shopify store or other concerns!
Small Request
Kindly share it with your friends. Especially the ones you believe need this information. Sign Up Now and Get your first 3 months for only $1 monthly.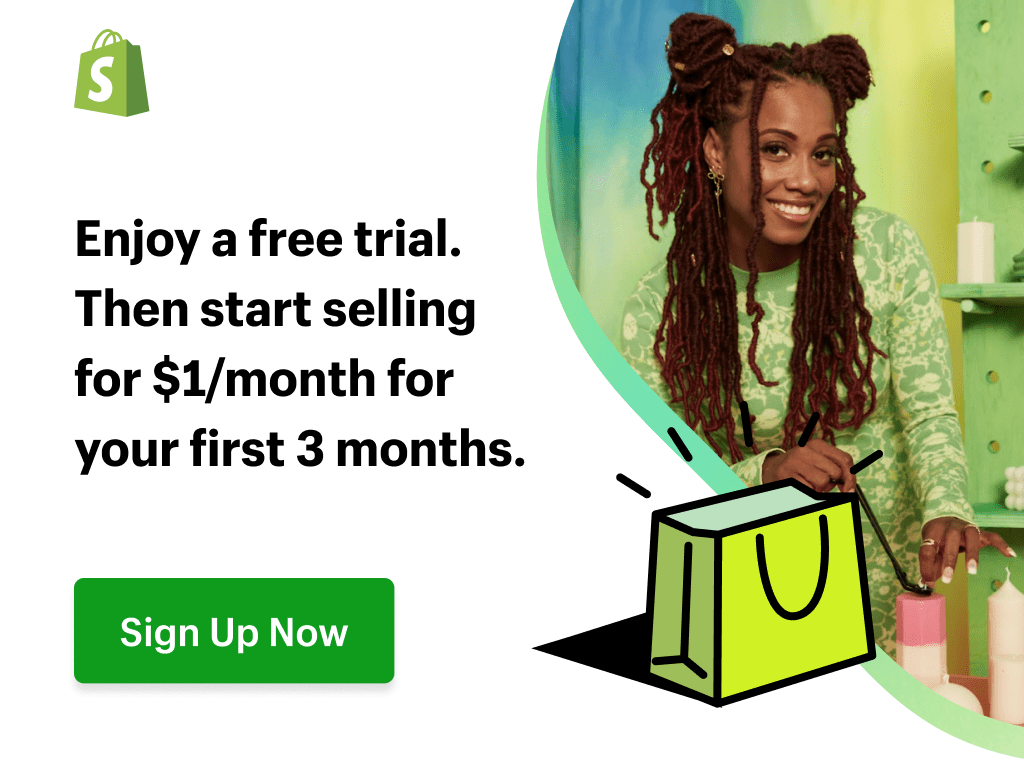 Sharing this information with others can make a huge difference. You may ask why.
Well, the truth is, my main aim is to provide the best information about drop shipping for both beginners and experienced dropshippers.
And I plan to continue doing so for as long as I can.
I would also like to thank those who support my work by reading and sharing my content.
Trust me, when you take your time and share, it will greatly help me and others needing this information.
Here are some great suggestions:
Pin it
Share it on another blog.
Share on Facebook (Share it with friends and even on Facebook groups)
Tweet it
Stumble it
This will only take a few seconds of your time, and I would appreciate it.
I appreciate you a lot. Thank you!
Join my Shopify dropshipping group mastermind and follow my blog to learn more about Shopify tips, dropshipping guides, tricks and checklists, and e-commerce in general.
If you enjoyed and learned something from this post, you can get me updates for free!
I send out email newsletters about new posts published on the blog, tips and tricks to help you grow your dropshipping business, new YouTube videos to give you more insights about the e-commerce market, and much more.
If you enjoyed reading this, you could as well join my Facebook group. Thank you for reading how to make money dropshipping online from the comfort of your home.
Click here to Join My Facebook Mastermind Group