Magento To Shopify Store Migration Guide 101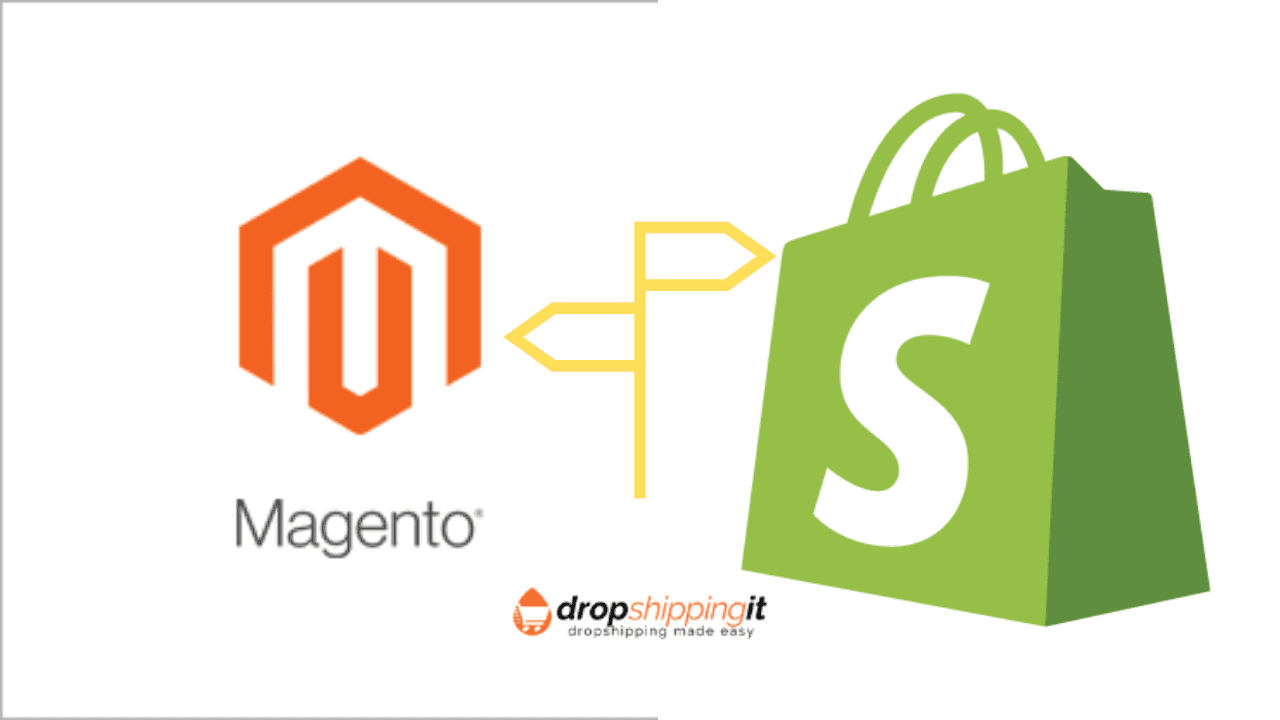 11.
Magento To Shopify Store Migration Guide 101
Are you in a dilemma of whether to proceed with Magento to Shopify migration?
Well, rest easy since you're not alone. And again, there's safety in numbers, isn't it? I have once been caught in this limbo, too, and I appreciate how fussy it can get.
Regardless of whether it's a small eCommerce website you deal with, the process of migrating your online store from one platform shrouds in subtlety.
I already covered Magento1 To Magento2 Data Migration Guide
The process mirrors conducting a surgery, meaning a mere error or omission portends a detrimental impact on your entire business.
However, fuss not, we've got you. This post seeks to hold your hand through the Magento to Shopify migration basics blow by blow, also, herein lies a comprehensive tutorial on how to migrate Magento to Shopify.
But before getting into all that, first, let's address a typical issue of significant concern to business owners like yourself.
Yes, you read that right. I'm referring to the whole argument on Magento vs. Shopify. Is it even fitting to migrate your online store from Magento to Shopify platform?
Well, the answer is a mixed blend of yes and no.
It all boils down to what it is you looking for, the point here is to run the most suitable eCommerce platform. Put it another way; you need to pick a platform that equally guarantees the best possible experience for you and your customers.
And to assist you with all that, here's the crux of the matter.
About Magento
Magento is no ordinary eCommerce platform. In light of my experience on the platform, and that of several user testimonials from across the web, I can affirm Magento as among the top eCommerce accessible to any business owner.
Rest assured, the platform comes free of charge, packed with a variety of in-built eCommerce tools. So long you've got a robust Magento hosting provider in place, you can proceed to launch the platform, add products, website modules, integrate vital apps, and hey presto!
Subsequently, you get to manage the entire store, run promotions, sell your wares, process orders, handle transactions, and generate crucial business reports. You get to do all these from the Magento dashboard.
And that's not all. With Magento, you have an open-source eCommerce platform offering access to its underlying source code.
It provides the leeway to customize the entire system however-you wish. In case the default features fall short of supporting your online store, you can go ahead and modify the code to reconfigure them.
Additionally, you can move on to introduce all the extra functionalities you need. Of course, there are no limits on Magento; it guarantees to support whatever that captures your imagination.
In short, Magento makes for a robust eCommerce platform promising lots of potentials.
Downsides of Using Magento
Here's the bitter part, Magento's extensive flexibilities come at a cost, and therefore modifying the platform isn't a cakewalk.
Even with the possibility of modifying some elements without any coding knack, Magento's customizations mostly call for deep technical expertise. Only its experienced developers with a coding skill who can rework Magento's code with relative ease.
In case you're out of depth as regards such skills, your sole option confines in hiring a professional to handle every aspect of the job.
And not just that, over the long haul, often growing online businesses on Magento force owners to maintain a permanent team of developers responsible for managing the entire eCommerce platform.
Though Magento primarily offers a free eCommerce platform, it'll eat into your revenue-a significant chunk at that. And to compound things further.
Still, you pay for third-party Magento Hosting service, meaning, cumulatively, the costs of leveraging Magento over long haul add up substantially.
And if you think you're out of the woods, no, not yet. It turns out, on top of Magento's customizations needing coding knowledge, its corresponding backend interface isn't user friendly either.
Admittedly, probably your initial interaction with the platform presented a steep learning curve.
Generally, Magento comes loaded with technical terms & options that could overwhelm to newbies. Moreover, its navigation framework has numerous potential stumbling blocks hither & thither.
And if you don't deem that bad enough, here's the deal breaker-should you get stuck, no one from Magento will come to your aid.
Why/you'd ask.
Ok, is Magento a self-hosted platform? Remember!
You may forgo the thought of obtaining direct support. Here, the best you get comes in the form of indirect support from your third-party web host's technical experts.
However-much specialized the support may be; it can never quite possibly compare to support offered by the team that made the platform.
Based on all these facts, it's safe to say the Magento eCommerce platform suits large enterprises. The enterprises can easily afford the financial & technical resources needed to leverage Magento over the long haul.
If Magento doesn't cut for you, then it's about time you seriously weigh up alternatives such as Shopify.
Again, why Shopify to begin-with?
Why Shopify
Ok, Shopify isn't a free eCommerce platform fact. And perhaps it's not the cheapest on the market, fact. Additionally, you wouldn't call Shopify an open-source system.
Despite that, Shopify continues to draw more users than Magento owing to its considerable ease of use and user-friendliness.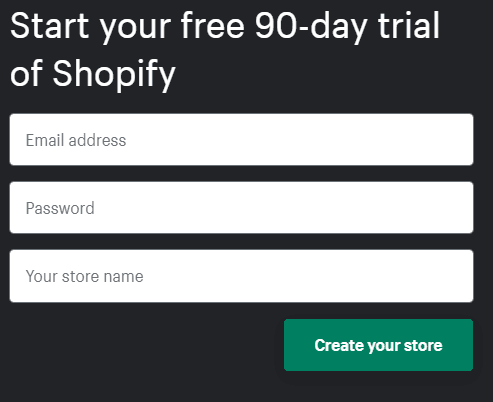 Shopify comes fashioned as an all-in-one platform combining eCommerce capabilities and web hosting services with a website builder.
The website builder comes a drag & drop designer with visual editing capabilities.
Alongside site templates, you can easily create a fully-functional without coding knack.
With Shopify, the designing and customizing process for all kinds of the website gets pretty dull. Just choose an ideal site theme, then by simply dragging & dropping, you can reorganize the page layout elements.
On the other hand, the nicety elements get defined by picking from Shopify's in-built options.
Furthermore, Shopify prides itself on a vast app store that offers an extensive array of pre-built app integrations.
Aside from extensively modifying your site's design, you can personalize the system by merely installing whichever of the accessible plugins.
These additional functionalities complement the several features that come with the default Shopify platform.
And in case Shopify's accompanying subscription costs concern you, worry not because Shopify significantly compares cheaper than Magento.
How! You'd wonder.
Rest assured, you won't purchase third-party hosting services or hire a developer. Shopify hakes care of all that.
On the whole, despite Shopify's weaknesses, it outfoxes Magento as regards ease of use. Therefore, small to mid-sized businesses find themselves in safe pair of hands with Shopify as opposed to Magento.
With that settled, let's now get to the gist of this post-Magento to Shopify migration.
And to kick it off, which techniques or tools could you possibly employ in migrating Magento to Shopify?
Magento to Shopify Migration Options
If you've scoured the web for probable Magento to Shopify data migration solutions, perhaps you've observed the availability of a wide array of services and tools from all corners of the internet.
The options stretch encompasses developers and agencies offering migration services, apps reportedly serving as Magento to Shopify importers as well as data transfer tools.
All combined, the apps & services can be classified into three probable Magento to Shopify data migration options:
Manual migration
Assisted migration
Automatic migration
Manual Magento to Shopify Migration
Just as the name implies, the manual option involves copying your data from the Magento database and then pasting it to Shopify.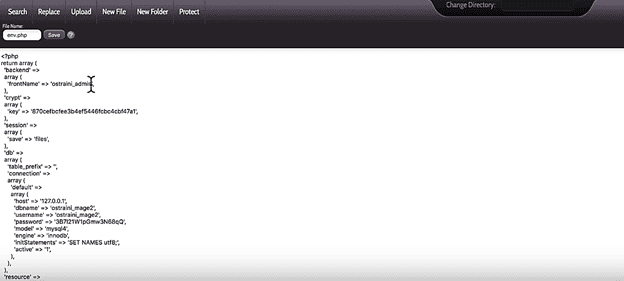 But don't get it twisted. I'm not implying that you copy and paste all the elements at once.
Instead, you can migrate your online shop between the two platforms by meticulously importing all the website elements from Magento hosting serve, and then manually map them correspondingly onto Shopify.
Simple on paper as they, but the procedure itself is extremely complex and vexingly cumbersome. And therefore, it needs a great deal of technical know-how and precision.
With that said, I'd like to emphasize that you do not proceed with this option as it's quite dicey. Also, it takes relatively a lot of time to migrate all the products, content, customer orders, media, web page together with their variables.
Assisted Magento to Shopify Migration
Equally, assisted Magento to Shopify data migration solutions is a form of human-controlled migration.
Except for assisted migration involves hired professional third-party developers who oversee the process to its logical completion, whereas manual procedure gets handled by the site owner.
Thus, assisted migration typically is reserved for Magento store owners looking to migrate data manually, but they come short as regards technical capabilities.
The agencies offering the assisted migration service usually break the entire procedure into smaller manageable operations, then assign to different team members.
And for that reason, every part gets tracked, and as soon as each team member meets assigned operation, the resultant Shopify goes live.
Automatic Magento to Shopify Migration
Automatic Magento to Shopify migration makes for the most straightforward & most relaxed procedure of transferring all your data.
The ploy entails installing Magento to Shopify tool then have it carry out the whole migration process automatically with minimal to no extra human involvement.
Cart2Cart app has explicitly earned a reputation in facilitating automatic Magento to Shopify migration. You'd just install it, and then use a corresponding wizard to create a connection bridge between Magento and Shopify databases.
That's it. From here, the system proceeds to import all selected entities and then map the Magento store element website onto the Shopify website. Therefore, automatic Magento to Shopify makes for the most convenient and the cheapest option for the typical online shop.
Now, to hold your hand through the entire process, we'll look into ll steps to take in migrating your Magento store to Shopify using Cart2Cart.
But before we delve into the nicety nuts & bolts, briefly, let me elaborate on why we've settled on Cart2Cart for the task.
Why Cart2Cart for Magento to Shopify Migration?
It's quite apparent Cart2Cart isn't a hard sell. It just so happens that Cart2Cart is among the incredible tools whose online reputation precedes them.
What does that mean?
Well, Cart2Cart transcends just being a mere Magento to Shopify migration importer. It's a highly optimized tool specializing in an array of eCommerce platforms.
Currently, it enables full data migrations between over 850 of the most prominent shopping carts, and these include PrestaShop, OpenCart, Shopify, BigCommerce, Magento, and BigCommerce.
And therefore, if you'd like to contrast probable solutions based on industry experience, Cart2Cart has lots of that. And it doesn't stop there.
Ultimately, Cart2Cart attestation as regards efficiency and dependability lies in its Shopify App store ratings & reviews. At the time of putting this piece up, Cart2Cart had drawn over 190 positive reviews, cumulatively translating to a 4.2 stars rating.
What an affirmation, don't you think?
All right. But it begs the question, why do Shopify users incline to prefer Cart2Cart? What benefits does it offer?
Well, first, rest assured you won't pay, not a dime for Cart2Cart installation. The tool comes free of charge and lets you align your Magento to Shopify migration parameters before the question of payment arises.
Eventually, the sole thing you won't do not until you make a payment is conducting full migration.
But get it right. That isn't the only migration process here. Cart2Cart performs a free demo Magento to Shopify migration for your online shop. Importing a defined number of your eCommerce site entities, it attests to its capabilities.
Speaking of which, we've painstakingly tested Cart2Cart and affirmed that a full migration means just that. Upon payment of the requisite amount, Cart2Cart proceeds to import all your specified online shop entities.
I'm referring to elements such as orders, customers, variants, coupons, reviews, image, secondary store, tags, attributes, taxes, blogs, categories, custom fields, CMS pages, et cetera. So long it's transferable, Cart2Cart will handle it for you.
Moreover, your Magento online store won't get affected during the migration of all these data, Cart2Cart got designed to work behind the scene to evade potential downtime.
As a consequence, you can anticipate maintaining your eCommerce store online during the entire process. Still, you can as well continue to process transactions with zero hitches.
The entire thing takes-that is setting up a complete data migration
involves an 8-quick step procedure mainly.
Also, with the system, you don't get subjected through stuff such as manual data entry, plugin installation, and coding. Instead, it starts an in-built wizard which guides you as create a connection bridge.
On the other hand, the final data transfer procedure depends on the count of entities involved. Ordinarily, an eCommerce website would last a couple of hours, whereas a store with around 5,000 objects out to last under 60 minutes.
Meanwhile, should you get stuck, Cart2Cart has a responsive customer support team on standby. You can count on them since they work round clock-24/7.
Magento to Shopify with Cart2Cart
Step #1: Setting Up Shopify Store
Since you're migrating Magento to Shopify, first, you'll need a valid Shopify shop for keeping your imported entities.
So, head over Shopify's main site, sign up for a new account in case you do not have already, register a domain, and then proceed to launch your Shopify shop without extra modules or integration.
While at it, you'll figure that even the theme itself ought to remain at default option, without any secondary configurations. Else, any extra stuff at this juncture might get in the way of a seamless Magento to Shopify data migration procedure.
Although this is not a rule of thumb, you've got the leeway to proceed with customizations alongside module installations once all the entities have been imported and mapped accordingly.
Step #2: Install Cart2Cart Magento to Shopify Migration App
There's an exception to the rule of customization and themes. Yap, you got that right. You can proceed to directly install the Cart2Cart Magento to Shopify app from the Shopify app store. Simply search Cart2Cart and go-ahead to the app for free.
Step #3: Create a New Cart2Cart Account
With your Cart2Cart app set onto the Shopify system, you can proceed to create a new user account.
Head to the Cart2Cart tool, click on it, and launch the app. From here, you can opt to create the account through signing up using your contact details or simply sign up using a Google or Facebook account credentials.
Step #4: Estimates of How Much Magento to Shopify Migration Process Sets You Back
Whereas Cart2Cart comes free, you ultimately get charged for full a migration of your Magento online shop entities to Shopify.
And since billing & checkout typically come at the tail end just before full migration process, you may want to know beforehand the probable costs to expect.
Head over to Cart2Cart's website, then click on the "Get Estimate" button. The system leads you to the official Cart2Cart Migration tool. From here, you should get a good sense of the amount you'd expect to pay.
You'll figure out that the assessment of each migration instance base on the number of products, orders, and customers you intend to import,
Let's say, for instance, you intend to import to migrate 5,000 products, together with 500 orders and 500 customer entities will cost you around $149.
Regarding time, the system postulates the entire process to take ten hours-give or take.
Step #5: Define Magento Source Store & Create Its Connection Bridge
Now, set up your Magento to Shopify migration by clicking on Cart2Cart's "Start Migration" button.
The "Start Migration" button launches a migration set up wizard, where you'd have to specify your Magento-based source store, and also, set up its corresponding Connection Bridge.
Next, pick Magento as the "Source Cart Type," and then key-in your Magento based site's domain details, on the "Source Cart URL" field.
Upon completion, the next phase involves creating a source Connection Bridge, which will eventually act as a principal data export point between two Platforms.
Hit on the Connection Bridge link and download the resultant zip file. Then from the zip file archives, extract a "Bridge2Cart" folder, and using FTP panel, paste it on your Magento site.
In the end, you want to check and confirm the status of your Connection Bridge. Simply hit on the wizard's "Check Connection" button, and the system swiftly alerts you about the state of the connection.
Step #6: Specify Target Shopify Store & Align Its Connection Bridge
Akin to defining source store parameters; similarly, you'd specify target Shopify store.
In this case, Shopify should be set as the "Target Cart," whereas Shopify's URL corresponds to the "Target Cart URL" field.
At this juncture, I want to point out that setting a Shopify Connection Bridge differs. With this process, you'll not download a zip archive and then extract its contents to a root folder; instead, the system prompts you to give your Shopify store's API-key along with an API-key password.
Fortunately, you quickly get these details from your Shopify accounts. Log into the Shopify admin panel from a separate window, then head to the "Apps" menu.
Next step, click "Manage Private Apps," and then hit "Generate API Credentials."
Now, copy and then paste the API details onto your migration to configure required Connection Bridge onto the target Shopify store.
Step #7: Choose the Online Store Entities You Migrated
It's here you pick all the data elements you'd like migrated from your Magento online shop to the Shopify site.
And fortunately, Cart2Cart accommodates every fundamental online shop entity along with its complementary variables.
Some of the data types you can import include:
SEO settings (plus 301 redirects)
Payment info
Integration
Customer info (name, location, phone number, email address, etc.)
State web pages (Terms & Conditions, Contacts, Return policy, About Us)
A list of bought goods
Visuals relating to your products (color, size of the product, shape)
Goods (number of rights in stock, description, price, images, name)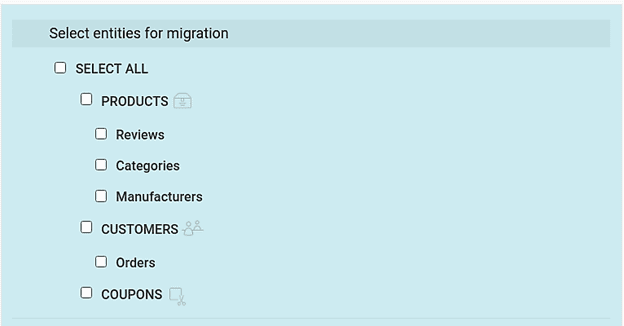 Ensure your entity selections by checking their respective checkboxes. Alternatively, check on the "Check All" option to import everything.
Step #8: Specify Additional Migration Options
At this point, Cart2Cart lets you customize your Magento to Shopify migration procedure further through setting up an array of extra options.
You can, for example, indicate how you'd like your Magento shop's product categories to map onto the Shopify store. It's critical to specify since Magento and Shopify tend to employ different rules as regards organizing stock variants.
Also, you can get Cart2Cart skip and exclude your product thumbnails from migration, rid HTML from product categories, description, name, or perhaps preserve your current order IDs.
But get it right, you don't get all these extra configurations free of charge. Among the options, you'll find premium add-ons, and should you opt to proceed with Cart2Cart, you'll get charged additional rates.
Step #9: Conduct a Free Demo Magento to Shopify Migration
If you're on the fast-moving lane, the beauty of Cart2Cart's free demo migration is an optional step. You can opt to bypass it by hitting the "Skip" checkbox to leap straight into full movement.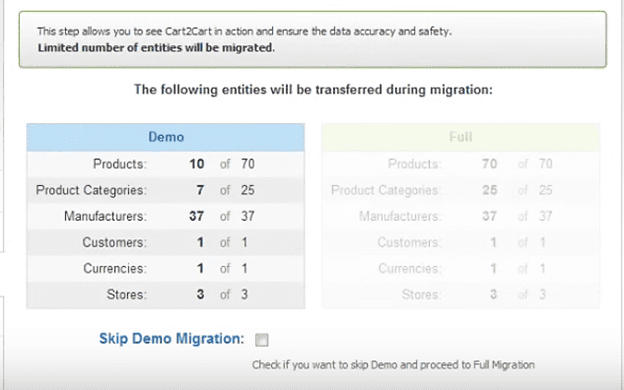 But don't quote me out of context here, I'm not forcing your hand to skip the free demo migration step. You must run one. You sure want to check out how your Shopify store will possibly appear after you've imported data from your Magento based-store.
Now, go ahead with free demo migration, just evade hitting the skip checkbox. Cart2Cart, by default, comes set to execute a swift demo migration, which ordinarily ought not to last more than 30 minutes.
At the end of the free demo, you'll figure that the Shopify demo store gets a limited number of entities. Again, nothing to worry about, since the entities just suffice an in-depth assessment of both target store's backend and frontend layouts.
Counter check all aspects to the last details and consult with the customer support team in case you encounter any hitch.
Else, if the demo migration pans out just fine, you're free to proceed with full migration.
Step #10: Carry out a Full Magento to Shopify Migration
Review all your Magento to Shopify migration options one more time.
Does everything appear to check? Have you add-in all the entities you'd like migrated?
Ok, if everything checks up to this stage, you can proceed to full migration.
But you only get to proceed upon full payment of the amount due for migration.
With Cart2Cart, you get billed for entities imported as well as the extra options you've opted for to personalize the migration process.
And once the payment gets settled, you can execute full migration, which should last a couple of hours. Ultimately, Cart2Cart sends you an alert as soon as the entire process completes.
Magento to Shopify: Final Word
Whereas Cart2Cart has a broader base as Magento to Shopify importer, still, you'll have to audit your resultant Shopify store after the data migration process.
Therefore, take the time to review the backend and frontend layouts in-depth. Evaluate how the entities alongside their variables have mapped onto your target Shopify site.
That involves assessing customer details, product catalogs, categories, menus, etc.
Else, you may try running a few test purchases just to assess your Shopify store's overall functionalities.
Ultimately, all the anomalies you flag up with the process, you should directly raise them with the support team. The team resolves these hiccups quite swiftly.
Up to this point, all the best in your Magento to Shopify migration. Of course, feel free to ask questions, share your experience in the comment section.
Small Request
Did you enjoy this post? Kindly share it with your friends. Especially, the ones you believe really need this information.
Sharing this information with others can make a huge difference. You may ask why?
Well, the truth is, my main aim is to provide the best information pertaining to drop shipping for both beginners and experienced dropshippers.
And I plan to continue doing so for as long as I can.
I would also like to thank those who support the work I do through reading my content and sharing.
Trust me, when you take your time and share it will help a lot not only for me, but also other people who may really be in need of this information.
Here are some great suggestions:
Pin it
Share it on another blog
Share on Facebook (Share it with friends and even on Facebook groups)
Tweet it
Stumble it
This will only take a few seconds of your time and I would really appreciate.
I appreciate you a lot. Thank you!
Join my Shopify dropshipping group mastermind and follow my blog to learn more about Shopify tips, dropshipping guides, dropshipping tricks and checklists, and e-commerce in general.
If you enjoyed and learned something from this post, you can get updates from me, free of charge!
I send out email newsletters about new posts published on the blog, tips, and tricks to help you grow your dropshipping business, as well as new YouTube videos to give you more insights about the e-commerce market, and much more.
Click The Image To Join My Facebook Mastermind Group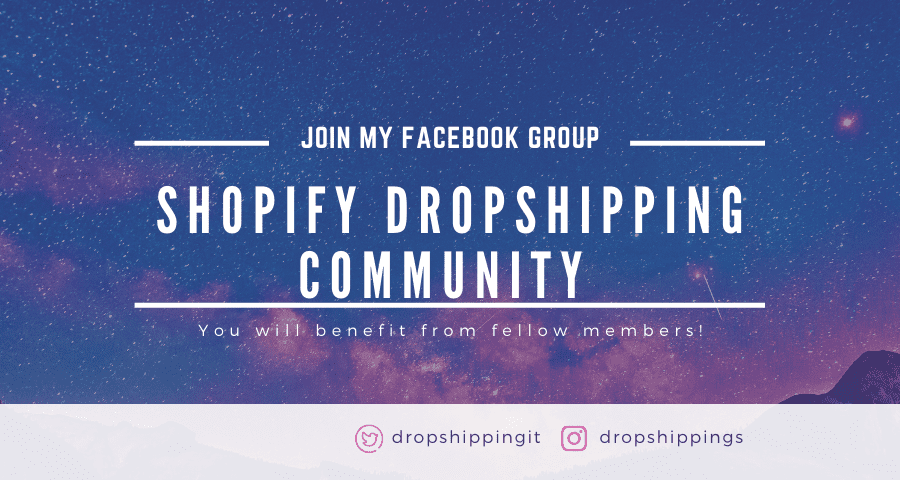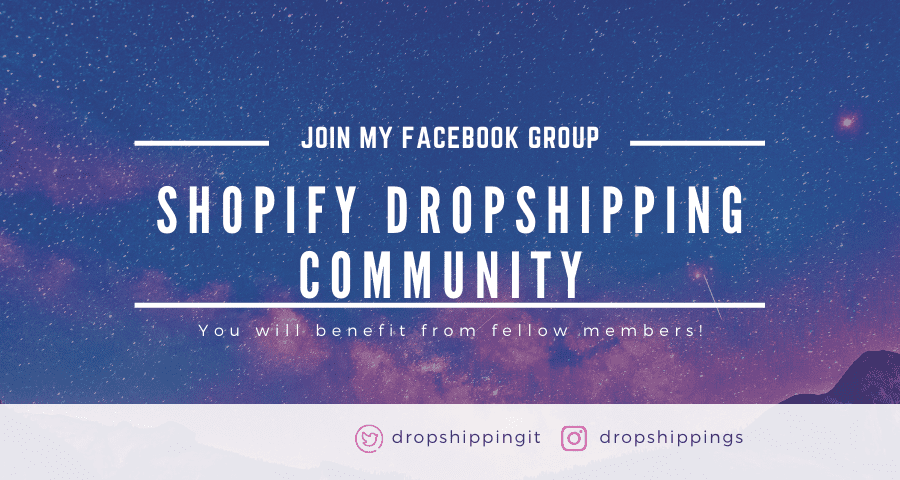 Thank you for reading how to start a drop servicing business, leave a question below if you have any.