E-sniper Review: Pros & Cons, Features & How To Guide
When starting dropshipping for the first, what often comes to mind is how well to generate sales. That is why you need simple, already-made tools to help you with hot and best-selling products like E-sniper.
With the right choice and the best tools, your experience as a drop shipper can be fantastic. No one wants to spend money on methods that wouldn't yield the desired results over time.
Like general eCommerce tools, there are specific tools with built-in steps to increase your ROI and thus maximize profit as a drop shipper.
However, for dropshippers, making the right choice of supposing apps has to be prioritized. Because you might not be active enough to cover all the necessary actions, this simple but very comprehensive App can do it.
So below is an internal review of one of the best dropshipping apps in the market presently:
Table of Contents
E-Sniper Review
This premium app works with four built-in tools, each with its peculiar functions, but all are geared at maximizing profit with your dropshipping business. You get access to tools like;
AliSniper,
ViralSniper,
InstaSniper,
ShopSniper.
Why Choose E-sniper
E-sniper is a dropshipping platform that helps businesses customize their stores and find products. It has an extensive product database and in-depth analytics.
E-Sniper has the job of sourcing hot products, finding serious niche influencers, and giving you a quick peep at all Shopify stores, all in one app.
With this App, you will surely increase customer response by at least 70%.
In one of its testimonials, a user stated that
"There are a few similar options out there. However, the best part of E-Sniper is that you get extremely detailed reports about how to target for your Facebook adverts. Moreover, the icing to the cake is that they give you the link to other successful ads on Facebook that you can analyze yourself."
AliSniper
Focusing on hot-selling products is essential for a successful dropshipping business. The AliSniper feature helps you effectively source winning products in your desired niche.
This feature lets you import any product into your dropshipping store in less than a second.
This app helps beginners understand how to deal with inventory, niche selection, traffic, shipping, setting up, and creating their Shopify stores.
It also gives you key ways to grow it, helping you track daily sales and keeping you updated on your daily rating.
With so little said, you cannot imagine how this feature can efficiently enhance your sales.
With this simple but handy feature on E-Sniper, your search for highly converting products is easy.
As stated by one of the founders,
"Finding the right production process made easy with AliSniper! You can now find Untapped Winning Products for every Niche based on Aliexpress daily sales, ratings and Import it directly to your Shopify store with one click!"
ViralSniper
Quite similar but more comprehensive, ViralSniper provides a detailed statistical analysis of the market's offerings at any given time.
You not only get this demographic picture of every new hot product available; you also get effective marketing strategies for your dropshipping business, ensuring the desired result.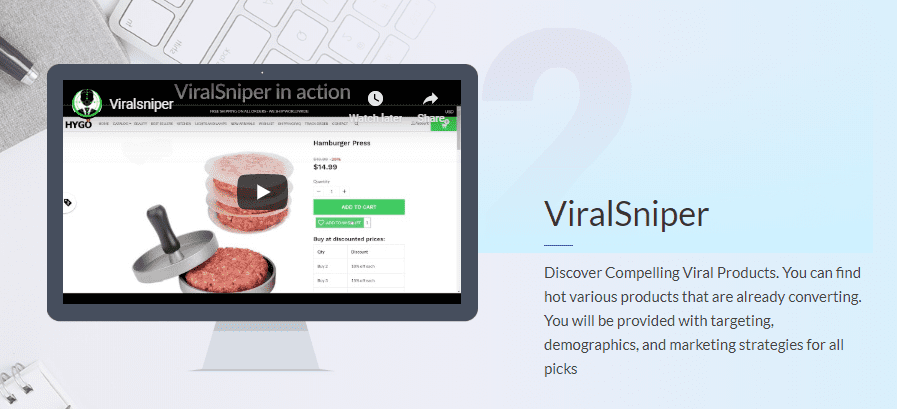 So, for all the new Viral Products you pick, E-Sniper, with the help of the ViralSniper, will provide you with the necessary marketing strategies and demographics. It also helps you get the right areas to target during your ads campaign.
So, the ViralSniper is your number-one companion when you need the right marketing approach for your dropshipping business.
The InstaSniper tool is very complementary to the ViralSniper feature. It is a fantastic tool when you need to reach out to the best target audience.
Social media is the crucial hub of the most valuable audience for dropshipping, with Instagram in the lead.
InstaSniper
InstaSniper helps you access high influencers in your desired Niche, with relevant information on their location and how best to reach them through the engagement rate analysis.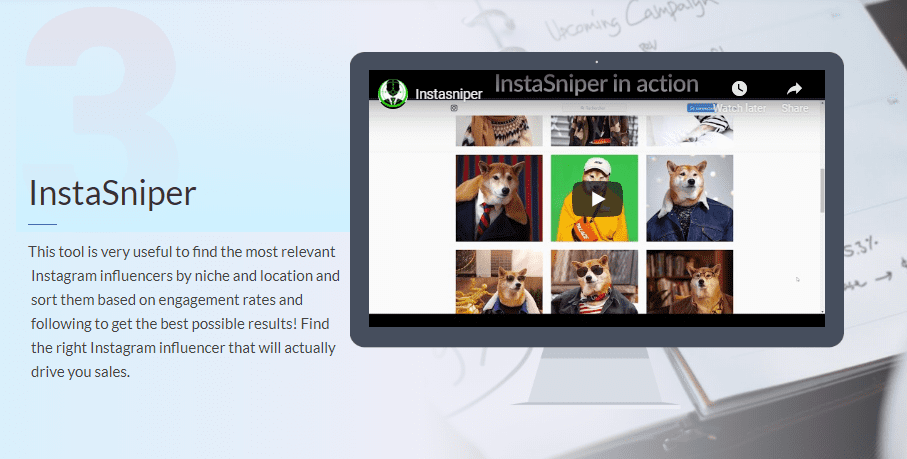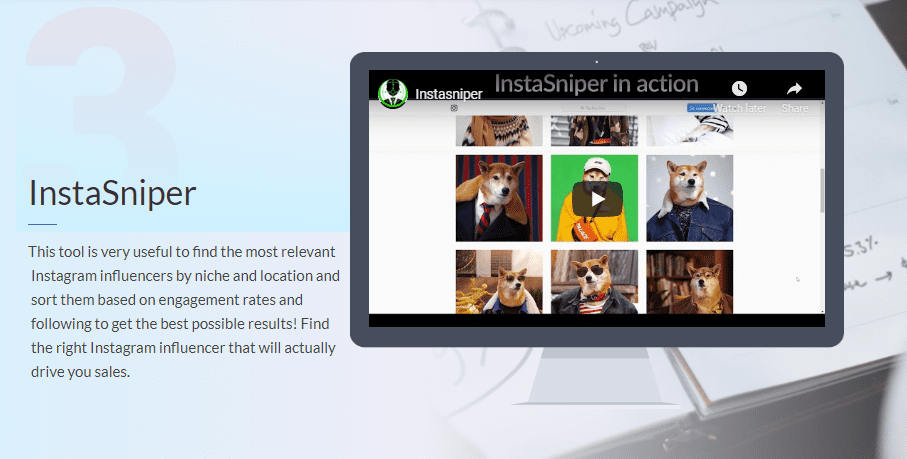 On the Prelaunch site, it said,
"This tool (InstaSniper) is handy to find the most relevant Instagram influencers by Niche and location and sort them based on engagement rates and following to get the best possible results! Find the right Instagram influencer that will drive your sales".
Although it isn't evident if E-Sniper is compatible with platforms other than Shopify, users have testified to its users regarding contemporary dropshipping.
ShopSniper Tool
The least of its features is the ShopSniper tool. This feature allows you to readily access all dropshipping stores' new and hot-selling products.
Analyzing products to ascertain which products have the highest and lowest competition at any given time is beneficial.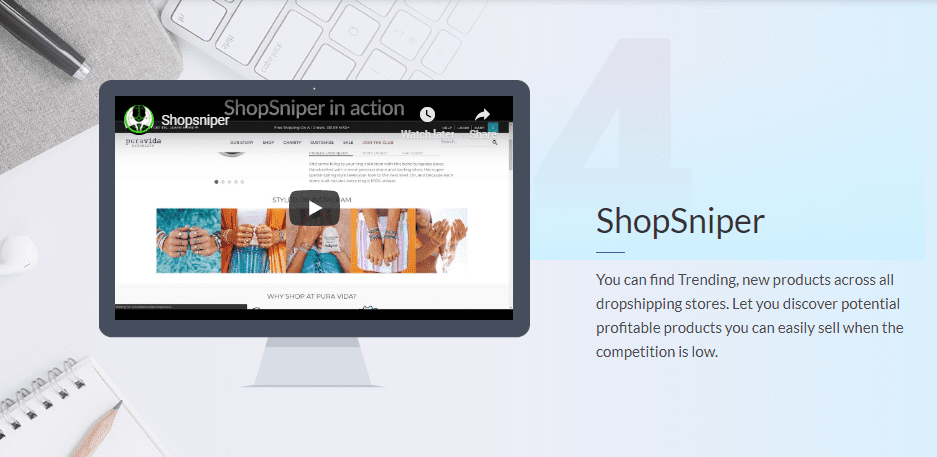 E-Sniper allows you to easily fulfill and ship orders to your customers in just a few clicks.
With this App handling most Dropshipping activities, you can talk with your customers and structure the best marketing approach.
A comprehensive list of trendy products makes it easy to make huge sales. You can also uncover target audiences that work best for every product.
E-Sniper efficiently includes thorough platform complementation between AliExpress and Shopify, which gives room for proper optimization of your stores' sales funnel.
Generally, E-Sniper is a product suitable for every dropshipper, professional or beginner. It has all the necessary features to succeed in the dropshipping business.
Moreover, as a dropshipping colleague said, "I wasn't so sure if I would do well with this product at first. However, I wouldn't be wrong to say this is the best dropshipping app I have ever tried. It works perfectly with my Shopify store".
Different people indeed have a different approach to success when it comes to business. However, when it comes to this business, the best dropshipping apps can grow your business to an 8 figure venture with the right approach.
You can easily ask for a refund if, after three days, you don't get the desired result for your dropshipping store.
E-Sniper is designed to make it easier for you to source the right products for your dropshipping store. Without it, you might feel intimidated and waste time and effort trying to find the right products.
Leverage the benefits now and restructure your store to deliver the correct output continually.
E-sniper Pricing Plans
Currently, E-Sniper renders service for $24.99 per month for the Monthly Plan with a three-day trial costing $1 and a Yearly Plan of $240 per year. However, you can access many special bonuses when paying for this product.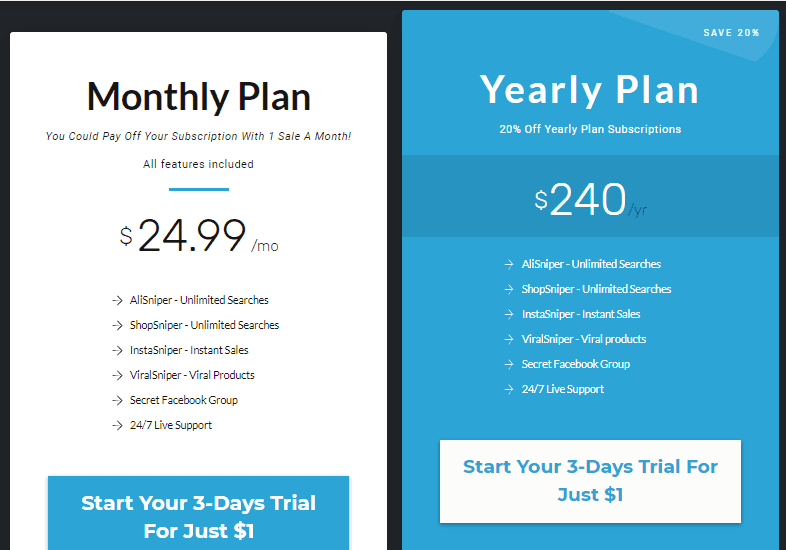 This Bonus includes software like the following:
MultiNetwork Poster:
A tool that helps you publish posts on over 16 social media networks.
FB MultiPoster:
An auto poster tool that allows you to share content to many Facebook Groups and Pages at once, drive traffic to your Dropshipping store, and so much more. They also offer Facebook Ad copy that's working for them that you can use.
RankMe:
An all-One traffic app that is integrated with Google to help find untapped keywords. It also helps create original content and high-traffic links to increase your store ranking.
GramHood:
It is one of the best Instagram marketing apps, especially with video posting. It helps automate your daily Instagram activities, so you don't have to do the job of posting anything to your target audience.
Main Features
Once payment is confirmed, you are granted access to the following services: Monthly and Year Plans offer the same Premium services.
AliSniper – Unlimited Searches
ShopSniper – Unlimited Searches
InstaSniper – Instant Sales
ViralSniper – Viral Products
Secret Facebook Group
24/7 Live Support
Pros
Access hot-selling products
Easy access to niche influencers on Instagram
Comprehensive and effective Marketing strategies
Detailed Statistical Analysis of your Store activities
Cons
The Budget might be pretty expensive for new and intending drop shippers.
You might still need to review the user guide to get acquainted with the user interface.
Conclusion
So, now you have a guide through one of the best dropshipping tools in the market to upsell and fully optimize your store for maximum performance. It is now a choice to act on this information to build the right brand for your target audience.
Working with a tool like this is like handing a golden goose to the wise. You can only structure how best to build your dropshipping business.
So, if you seek to know my grade on the E-Sniper app concerning the response from trusted users, I will give it an overall 9/10. My answer is based on User-friendliness, bonuses, recommendations, and learning guides.
However, I would like to hear your comments on the products and your personal experiences.

Small Request
Kindly share it with your friends. Especially the ones you believe need this information. Sign Up Now and Get your first 3 months for only $1 monthly.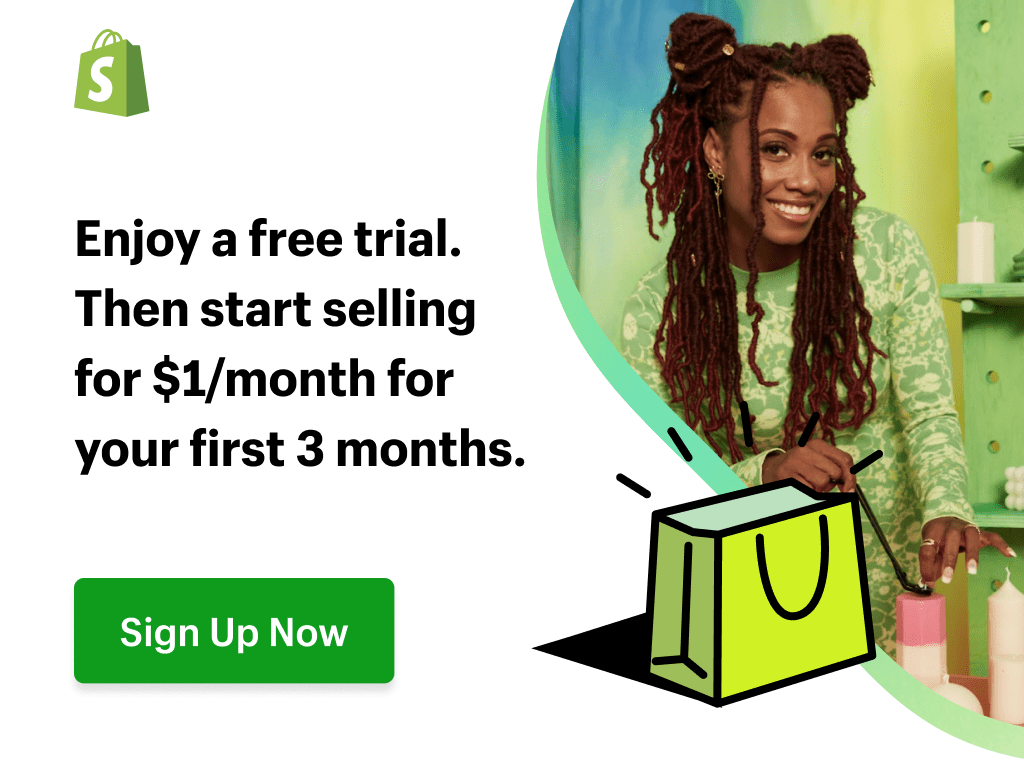 Sharing this information with others can make a huge difference. You may ask why.
Well, the truth is, my main aim is to provide the best information about drop shipping for both beginners and experienced dropshippers.
And I plan to continue doing so for as long as I can.
I would also like to thank those who support my work by reading and sharing my content.
Trust me, when you take your time to share, it will greatly help me and others who need this information.
Here are some great suggestions:
Pin it
Share it on another blog.
Share on Facebook (Share it with friends and even on Facebook groups)
Tweet it
Stumble it
This will only take a few seconds of your time, and I would appreciate it.
I appreciate you a lot. Thank you!
Join my Shopify dropshipping group mastermind and follow my blog to learn more about Shopify tips, dropshipping guides, tricks and checklists, and e-commerce in general.
If you enjoyed and learned something from this post, you can get me updates for free!
I send out email newsletters about new blog posts, tips, and tricks to help you grow your dropshipping business, new YouTube videos to give you more insights into the e-commerce market, and much more.
If you enjoyed reading this, you could also join my Facebook group. Thank you for reading how to make money dropshipping online from the comfort of your home.
Click here to Join My Facebook Mastermind Group