How To Migrate From Magento To Woocommerce
12.
How To Migrate From Magento To Woocommerce
Well, we all know that Magento plays in the league of the best eCommerce platform on the market. Magento to WooCommerce migration is the topic of the day.
And since I bet you've already given it a shot, I'm sure you have figured how its flexibility is unparalleled. Magento is an open-source eCommerce platform open to quite any customization that captures your imagination.
You can, for example. Introduce as many items as you wish. Also, it lets you expand your store without limits; you get to create & manage multiple stores from one centralized dashboard.
Before you continue also read How To Migrate Your Store From Magento To Shopify Platform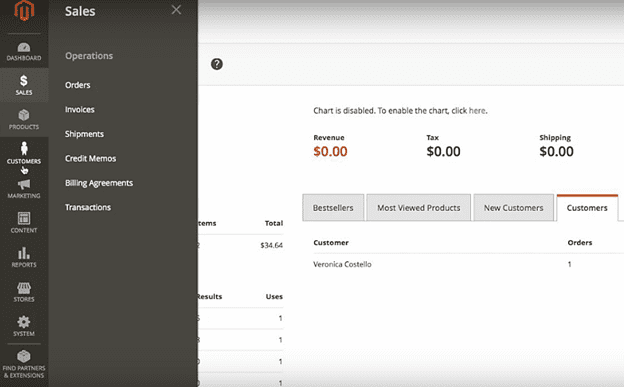 You can, for instance, introduce as many products as you want. Plus, it allows you to expand your store endlessly, as well as create and manage multiple stores from one centralized dashboard.
Understandably, over 25 million active sites run on Magento. Juxtapose these numbers with the rest of the internet, Magento happens to host 1.2% of the web & 12% of all eCommerce shops.
Heck, that's a lot of websites on one platform, think of it as the Coca Cola pf eCommerce platform,
But here is the thing, whereas Magento continues to draw praises from successful online store owners, it lurches with its weaknesses.
Interestingly, the biggest one happens to emanate from the same aspect that makes it immensely great.
The Primary Problem With Magento
Come to think of it, extensive flexibility, in some instances, makes for a double-edged sword.
How! You'd wonder.
Ok, get this, Magento as an open-source platform, it's only the technically-savvy developers who get to enjoy its flexibility. Else, you can only do so much here especially, when lacking in the workings of the platform's source code.
And so, if you contemplate using Magento for the long haul, either you learn to code, else, hire a permanent team of developers to handle all the technical bits on your behalf. Over to you.
Again, you have the option to drop Magento altogether and migrate to an alternate but equally robust eCommerce platform.
Ok, hang on a sec, where would you find an alternative open-source platform with features a-plenty as Magento, and whose customizations needs zilch, nada coding knack.
Enter WooCommerce
Yap, you read that right. WordPress is an excellent stage to start. And more particularly, WooCommerce would make for an excellent replacement for your Magento foundation.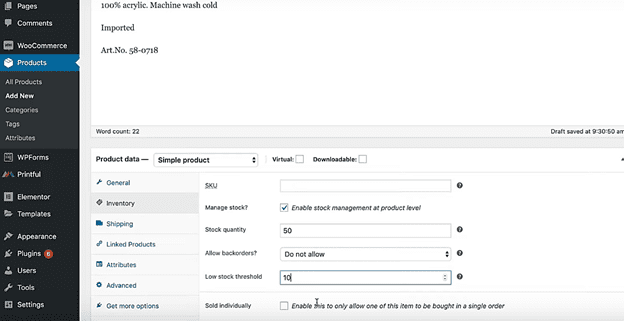 And guess what!
WooCommerce isn't just another leading eCommerce platform. Though it hit the market three years after Magento, it has since surpassed its predecessors in a short span and grew even more prominent.
To look at it critically, consider this-over 3.3 million active sites call WooCommerce home. That accounts for 4.9% of the internet and 28.19% of all the eCommerce sites.
Impressive, isn't it?
Ok, you can bet WooCommerce isn't that massive by chance.
For one, it blends extensive customizability and ease of use. Whereas developers can explore its source code, non-coders get to customize their stores, leveraging its pre-built extensions.
And when it gets to that, we are talking here unlimited extensions, themes, plugins, and website templates for selection. Plus, you can always head over to WordPress Marketplace in case you need extra options.
All these crystallize into infinite possibilities for your online store. You can proceed to introduce additional functionalities, modify your theme, and manage content automatically with zero coding knack.
And are you aware of how much such benefits set you back?
Nothing. Yes, take or leave it. WooCommerce comes free of charge. And no, you don't get charged for processing transactions either. The transaction fees you wind up paying to arise from your selected payment service provider.
Up to this stage, we have barely scratched the surface, though I hold that these benefits suffice to warrant a migration. However, if you are digging for more, say comparing the two shopping carts in-depth; you can check out detailed reviews of Magento2 & WooCommerce.
Options for Migrating Magento to WooCommerce
At your disposal are three possible approaches you can employ in migrating your eCommerce store from Magento to WooCommerce.
First off, proceed with transferring the site via manually configuring both Magento and WooCommerce. It entails practically moving your database along with entities from Magento to WooCommerce without a larch on third-party services.
It's a pretty painstaking if you ask. Also, to tweak everything accordingly, you'll need technical know-how.
Therefore, this migration option best reserved for adept developers who seek to assume full control of their migration process.
And that begs the question-how, then do you proceed short on skills but you seek for control benefits that come with the manual migration?
Ok, I'd urge you to weigh our second option herein, which involves the hiring of an adept developer to handle everything on your behalf.
And guess what?
In case your eCommerce store has a comparatively complex framework. They will possibly opt to transfer their elements manually. Else, developers mostly use our third options herein when handling an ordinary eCommerce site.
Ok, for clarity's sake, the third approach entails leveraging the automated migration tool.
An efficient one mainly saves you the hassle by automatically importing all the website entities and data. Just direct it to the source and destination directories, and then let it do the heavy-lifting for you.
But get this, in retrospect of my experience with several auto-migration tools, I can attest that not each single site transfer app out there can execute full migration.
Therefore, toss all that they claim to deliver, and instead, proceed with tested migration tools. Besides, it's one aspect you don't want compromising as the risks far outweigh the probable benefits. Picking the wrong tool could spell doom for your entire eCommerce shop.
In that regard, I'd recommend a renowned like Cart2Cart owing to its simplicity, affordability, accessibility, and more importantly, it delivers as per promises.
Why Cart2Cart for Magento to WooCommerce Migration?
Automatic Magento to WooCommerce Migration
Automatic Magento to WooCommerce migration makes for the most straightforward & most relaxed procedure of transferring all your data.
The ploy involves installing Magento to the WooCommerce tool then have it conduct the whole migration process automatically without additional human interventions.
Cart2Cart app has earned a reputation in facilitating automatic Magento to WooCommerce migration. You'd just install it, then use a corresponding wizard to set up a connection bridge between Magento and
WooCommerce databases.
From here, the system proceeds to migrate all selected entities and then map the Magento store element website onto the WooCommerce site. So, automatic Magento to Shopify makes for the most convenient and the cheapest option for the typical online shop.
To walk you through the entire process, we'll look into steps to take in migrating your Magento store to WooCommerce using Cart2Cart.
But before we delve into the nuts & bolts, briefly, let me elaborate on why we've settled on Cart2Cart for the task.
Why Cart2Cart for Magento to WooCommerce Migration?
Cart2Cart just so happens that it's among the fantastic tools whose online reputation precedes them.
What does that suggest?
Ok, Cart2Cart transcends just being a mere Magento to WooCommerce migration importer. It's a highly optimized tool specializing in a range of eCommerce platforms.
Currently, it enables full data migrations between hundreds of the most prominent shopping carts, and these include PrestaShop, OpenCart, Shopify, BigCommerce, Magento, and WooCommerce.
And therefore, if you'd like to contrast possible solutions based on industry experience, Cart2Cart has plenty of that.
Ultimately, Cart2Cart attestation as regards efficiency and dependability lies in its ratings & reviews. At the time of putting this piece up, Cart2Cart had drawn about 300 positive reviews, cumulatively translating to a 4.2 stars rating.
What an affirmation, don't you think?
All right. But it begs the question, why do WooCommerce users incline to prefer Cart2Cart? What privileges does it offer?
Ok, first, rest assured you won't pay, not a dime for Cart2Cart installation. The tool comes free of charge and lets you align your Magento to WooCommerce migration parameters before the question of payment arises.
But get it right. Cart2Cart performs a free demo Magento to WooCommerce migration for your online shop. Migrating a defined number of your eCommerce site components, it attests to its capabilities.
We've painstakingly tested Cart2Cart and affirmed that a full migration means just that. Upon payment of the applicable amount, Cart2Cart proceeds to import all your specified online shop entities.
I'm referring to elements such as orders, customers, variants, coupons, reviews, image, secondary store, tags, attributes, taxes, blogs, categories, custom fields, CMS pages, et cetera. So long it's transferable,
Cart2Cart will handle it for you.
Moreover, your Magento online store won't get affected during the migration of all these data, Cart2Cart got designed to work behind the scene to evade potential downtime.
As a consequence, you can anticipate maintaining your eCommerce store online during the entire process. Still, you can as well continue to process transactions with zero hitches.
The entire thing takes-that is setting up a complete data migration
involves an 8-quick step procedure mainly.
Also, with the system, you don't get subjected through stuff such as manual data entry, plugin installation, and coding. Instead, it starts an in-built wizard which guides you as create a connection bridge.
On the other hand, the final data transfer procedure depends on the count of entities involved. Ordinarily, an eCommerce website would last a couple of hours, whereas a store with around 5,000 objects out to last under 60 minutes.
Meanwhile, should you get stuck, Cart2Cart has a responsive customer support team on standby. You can count on them since they work round clock-24/7.
How to Migrate Magento to WooCommerce
Step #1: Install WordPress
The assumption at this stage is that you've got yourself a high-performance WordPress hosting package from a reliable web host.
If not, you sure want to spend a couple of minutes going through comprehensive guides.
As soon as you've secured a robust WordPress hosting service and bought an ideal perk, proceed to launch WordPress through the admin control panel.
Step #2: Install WooCommerce
Because the WordPress system comes without WooCommerce, you'll have to install it to continue. So, head straight to WordPress Plugin area, click "Add New" and search for the WooCommerce plugin.
When you get hold of it, click "Install Now", and then activate appropriately by tapping "Activate Plugin". You've now got yourself a WooCommerce based online store, and it's we intend migrating your current Magento store.
Step #3: Install the Cart2Cart Plugin
As already established, comes as a pre-built easy-to-use WordPress plugin, From WordPress admin panel, you can directly install Cart2Cart, using the same as procedure as the WooCommerce Plugin.
Also checkout Magento1 To Magento2 Data Migration Guide
Proceed to "Plugins" menu tab, click "Add New", and then search for the Cart2Cart plugin. Once you have found it, click "Install Now" to integrate Cart2Cart with your WordPress account free of charge.
But get this right, installation won't complete unless you activate the plugin by clicking on "Activate Plugin". Cart2Cart will then fix itself along with other menu items.
Step #4: Create a New Cart2Cart Account
Once Cart2Cart fully integrates with the WordPress system, you can align it for migration. Here, for one, you need to create the account to use for migrating website files between the two platforms.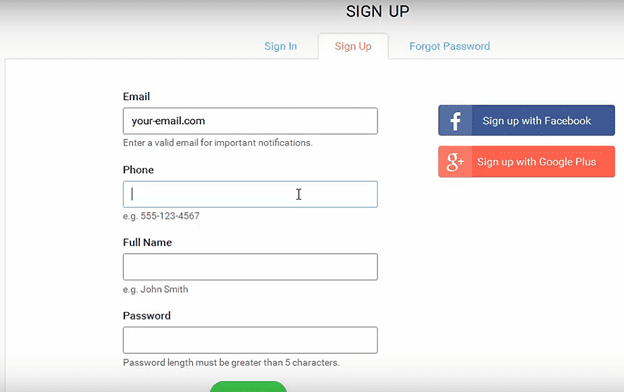 So, from your WordPress admin panel, proceed to the Cart2Cart menu item. The first thing here, create an account that requires you to key-in your details. Alternatively, just sign in with your Facebook/Google credentials.
Cart2Cart then redirects you to its account dashboard. It's here you'll conduct the entire migration process.
Step #5: Configure Your Magento Source Store & Corresponding Connection Bridge
As for actual migration, Cart2Cart needs you first to point it towards your current Magento eCommerce store, and then create a connection with the target WooCommerce store.
To pull it off, proceed to the Source Cart field and choose Magento. On the next field, type the domain of your website as the source store.
Cart2Cart then provides options for setting up the Connection Bridge between your Magento source store and WooCommerce.
And should you opt to download the Connection Bridge, Cart2Cart provide in the form of a zip file.
So, go ahead and download it, then extract the folder onto your local storage (PC storage); this way, you form a secure gateway for migrating and exchanging store data.

You'll notice, however, that the Connection Bridge only functions when embedded onto your Magento store's root folder. With the hang of a typical FTP Manager workings, it gets easier embedding the Connection Bridge.
To continue, therefore, open your store's FTP panel on a separate browser window. Move to the store's root folder, copy the extracted "Bridge2Cart" folder found in the local storage, and then directly paste it onto the root folder of your store.
Upon completion, head back to the Cart2Cart window to ascertain whether the bridge is functional. Simply click on the "Check Connection" button found next to the Connection Bridge download link.
Now, in case the manual process of configuring the Connection Bridge seems inconvenient, you can have the Cart2Cart system create one for you by uploading the folder automatically.
Also, you'll have to provide Cart2Cart your FTP/SFTP info and then specify your root folder's path.
All things taken to account, I'd urge you to stick to the manual approach, as it's simple, chic, and quite swift.
Step #6: Specify Your WooCommerce Target Store & Configure Its Connection Bridge
Once through with ascertaining the Magento store entities, your WooCommerce follows up next, and you can wager on the procedure being almost the same.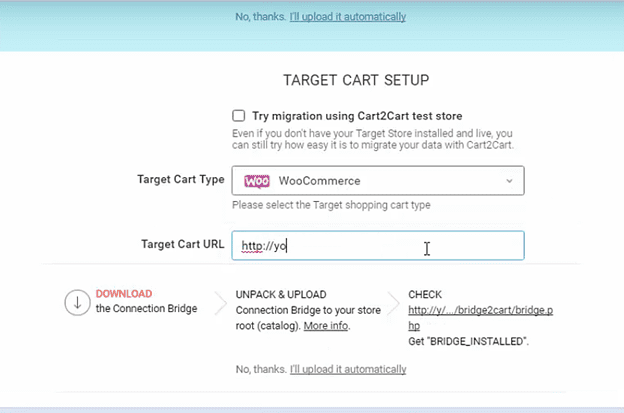 On the top field, choose WooCommerce as the Target Cart, and enter its specific URL as Target Store.
We can now go ahead to configure a WooCommerce Connection Bridge that mirrors the Magento one.
And just as you did with the latter, download the Connection Bridge file, then extract the "Bridge2Cart", folder into a separate spot within the local storage (PC storage).
Subsequently, open a new browser window with which to access your WooCommerce store's FTP client. Use the FTP client to search the system and find the root folder of your Target website, it's here the extracted Connection Bridge folder goes.
So, proceed to copy-paste the extracted folder onto the root folder, confirm first the validity before checking for connection.
But again, should the manual process fail to work for you, Cart2Cart provides an automatic option to set up a Connection Bridge. Simply enter your FTP/SFTP particulars and then get going.
It's worth pointing out at this stage the possibility of running a demo migration using a Cart2Cart test store. You want to check it out, in case your Target store isn't ready yet.
Step #7: Choose the eCommerce Entities You Want Migrating
eCommerce store owners usually move their sites together with their corresponding elements. Nothing gets left behind.
Also, Cart2Cart can migrate all of your store entities along with corresponding data variables without changing anything. It offers you the option of picking elements you want to be transferred, just in case you need to leave out some of the entities.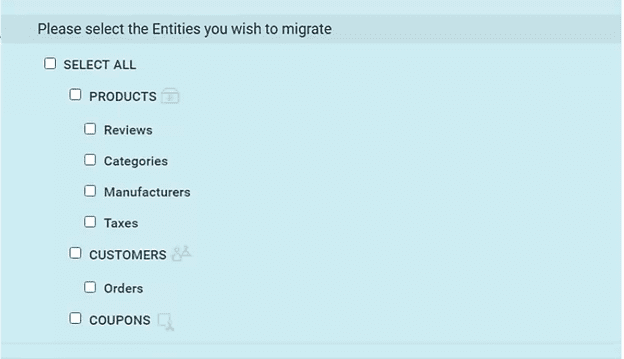 Whatever it is you settle on, Cart2Cart needs you to confirm the options before you continue. Sure, you need to analyze all the entities keenly, and then select by their checkboxes the one you'd like migrated.
Some of the fundamental entities include Products, product categories, customers, customer reviews, and orders.
Step #8: Pick Your Ideal Migration Options
You find a host of other migration setting just below the elements selection area. It's here you outline the nitty-gritty of how you'd wish your migration to proceed.
You could, for example, opt to move the accompanying entities like SEO URLs & 301 redirects, both of which are specifically useful in preserving all your webpage links down to the last detail. Thus, you get to keep your current SEO framework.
Also, you can mirror your current Magento language, Customer groups, and Order statuses onto resultant WooCommerce store elements.
A word of caution. You sure want to limit your selections, more so when working on a budget. The majority of additional options, similar to standard add-ons, get price separately. Otherwise, if you don't tread with caution, your cumulative migration could hit a dramatic rise.
Step #9: Test Running a Demo Migration (Free)
As already established, Cart2Cart offers a free demo migration, which serves as a last measure to assuage the doubting store owners.
Not bad, not bad at all, I must agree. Also, isn't it just fascinating that it conducts a real migration with your online store as the focus?
Don't get excited just yet, relax. It won't execute a complete migration. But instead, move only a few of your online store components. Sufficing just to prove Cart2Cart delivers its promise.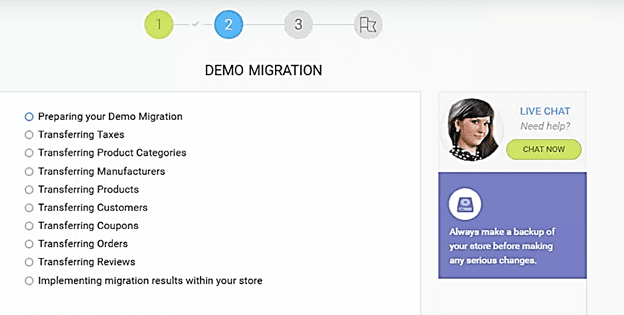 The procedure is an optional option, meaning, you get to skip it at will if you intend to leap right into the full migration process.
But again, it's always good to test the waters, and you also want to get a good sense of how your resultant WooCommerce store will appear upon migration process completion.
Furthermore, a free demo only last about 30 minutes, it's worth your while, especially with the hindsight that an actual migration usually takes several hours.
Step #10: The Full Migration
After assessing thoroughly free demo migration results, and all checks, you can proceed with the full migration procedure.
Yet again, don't go rushing. Count-check all your migration options one more time. Then review all your elements to make sure all the principal components have been included.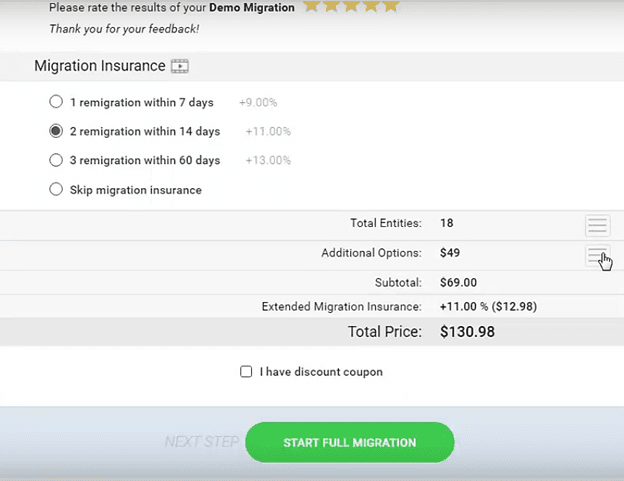 If all checks, you can proceed with payment of applicable migration fees, after which the system will let you begin the full migration mode.
Click on the full migration button; Cart2Cart picks up from here; While using the Connection Bridge as the primary data exchange point, it systematically copies data from the Magento source folder to the
WooCommerce target folder.
Generally, the entire process lasts a couple of hours, and perhaps more protracted, that's if you handle a large Magento-based online store. The time interval is subject to the size of data you migrate from Magento to WooCommerce.
Read Also:
Eventually, Cart2Cart, through an email, alerts you asap when the process completes. You can check out your resultant fully-functional WooCommerce-based store, and proceed to sell right away.
Summary
And so, that's how you smoothly migrate your store from Magento to WooCommerce. Fast, accurate, affordable, and most importantly, dependable enough to import your data with zero downtime.
On the whole, Cart2Cart does a pretty impressive job.
Let's face it, Magento and WooCommerce have never been the same. Though they have a few similarities between them, the two sites are notably different from features, the framework to source codes. And yet, Cart2Cart has somewhat forged an all-encompassing-connection bridge for mapping data from one platform to another.
Under the spot-light of these trends, I can't wait to see what Cart2Cart has up its sleeves in the next couple of years.
Meanwhile, the ball now is your court as you try to profiteer from your resultant WooCommerce.
Small Request
Did you enjoy this post? Kindly share it with your friends. Especially, the ones you believe really need this information.
Sharing this information with others can make a huge difference. You may ask why?
Well, the truth is, my main aim is to provide the best information pertaining to drop shipping for both beginners and experienced dropshippers.
And I plan to continue doing so for as long as I can.
I would also like to thank those who support the work I do through reading my content and sharing.
Trust me, when you take your time and share it will help a lot not only for me, but also other people who may really be in need of this information.
Here are some great suggestions:
Pin it
Share it on another blog
Share on Facebook (Share it with friends and even on Facebook groups)
Tweet it
Stumble it
This will only take a few seconds of your time and I would really appreciate.
I appreciate you a lot. Thank you!
Join my Shopify dropshipping group mastermind and follow my blog to learn more about Shopify tips, dropshipping guides, dropshipping tricks and checklists, and e-commerce in general.
If you enjoyed and learned something from this post, you can get updates from me, free of charge!
I send out email newsletters about new posts published on the blog, tips, and tricks to help you grow your dropshipping business, as well as new YouTube videos to give you more insights about the e-commerce market, and much more.
Click The Image To Join My Facebook Mastermind Group