How To Start AliExpress Dropshipping With Dsers App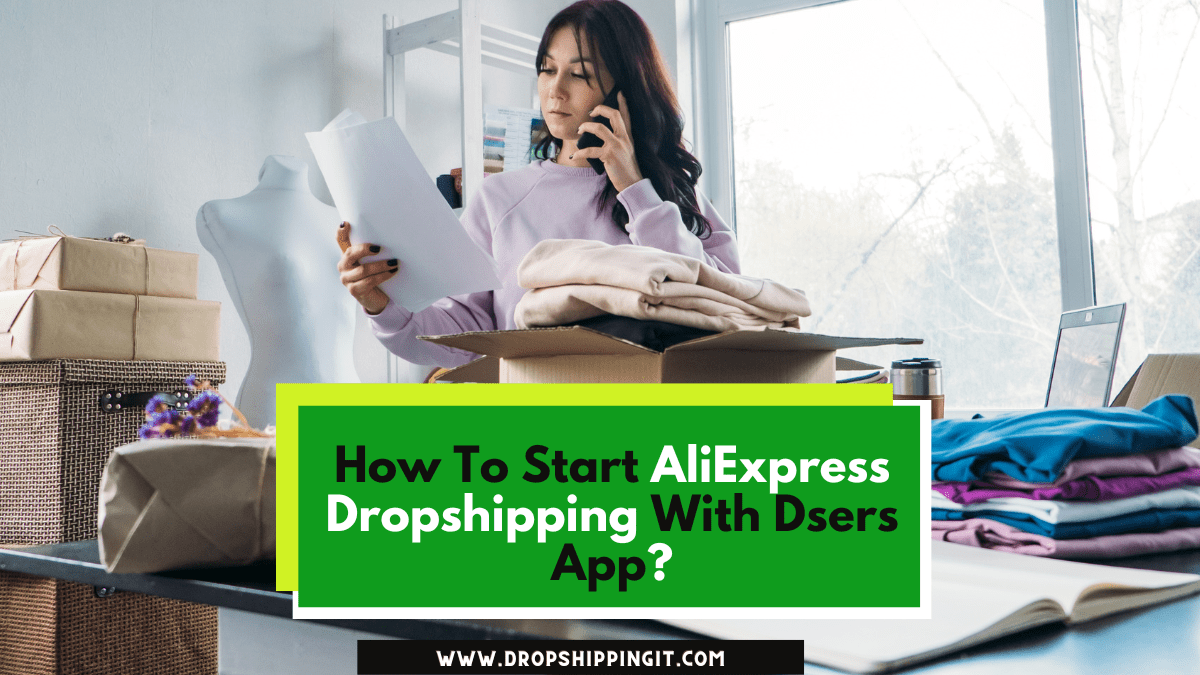 Aliexpress Dropshipping is an excellent way to start an e-commerce business where one doesn't have to worry about inventory or shipping.
It is as simple as offering a product for sale on your website and emailing your supplier to ship it on your behalf when you receive an order.
While starting a dropshipping business is an excellent way to set up an e-commerce business, digging online to find a reliable supplier can be difficult.
However, with Dsers, you can find millions of products you can drop as AliExpress products.
Table of Contents
What is AliExpress?
AliExpress is a massive marketplace with various products providing opportunities for consumers to select from the range.
Because most AliExpress sellers are overseas manufacturers, their prices are very competitive.
AliExpress offers products ranging from women's clothing and jewelry to electronics and home accessories. The site also features daily flash deals and special promotions.
AliExpress provides customers with an easy, secure, fast online shopping experience through its user-friendly website and mobile app.
Customers can enjoy free shipping on many items and easy returns and refunds for unsatisfied orders.
Additionally, the site has a rating system that allows customers to rate merchants based on their experiences with the store.
It makes it easier for consumers to select which stores they want to buy from.
AliExpress also protects buyers, allowing customers to open disputes if necessary to receive refunds or replacements for defective products.
Overall, AliExpress provides consumers with a great variety of online shopping options.
With its competitive prices and secure buying environment, customers can rest assured that they will get the best products at the lowest prices.
As such, AliExpress is an ideal online marketplace for shoppers looking for quality goods with great value.
The shopping experience is further enhanced by its rewards program, which offers exclusive discounts and promotions to loyal customers.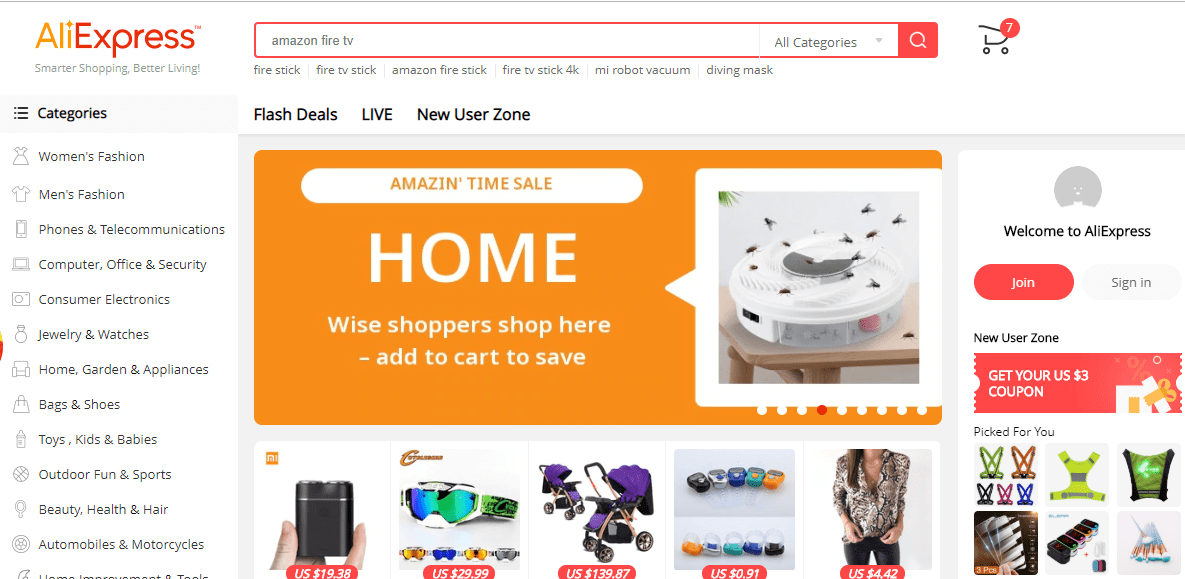 AliExpress makes it easy to find products to sell in your store without taking on nerves about inventory or shipping.
Add the products you want to sell from AliExpress to your store, set a price with a quote, and when you receive an order, you pay for that product at wholesale cost, and the AliExpress seller sends the orders directly to your customer.
Benefits of Aliexpress dropshipping
Even though AliExpress can present itself as an online seller, several sellers on AliExpress understand their customers are resellers and are interested in dropshipping because, with AliExpress, dropshipping is relatively easy. There are no costs or fees in advance, so that you can try out products without a significant financial effort.
Many AliExpress sellers have existing product photos that you can use in your store, and basic product descriptions are also available. However, when selling a primary product, consider the importance of being differentiated by positioning and how to polish the small details; it is usually worth investing in better photos and handwritten product descriptions.
At last, dropshipping with AliExpress is as easy as ordering the product on AliExpress after getting an order and entering the customer's address.
Below, we will explain in more detail what we need to look for in a product and seller and how we can position ourselves for success, but frankly, it is simple enough to describe what I described above. Dropshipping via AliExpress is a great way to sell online once everything is set up.
Reasons to buy from your store instead: one can buy the same products on AliExpress:
Using dropshipping from AliExpress, your competitive advantage is not your price or unique products. However, it may be the competitive advantage that will reach and serve your customers faster and better than your current competition; in other words, the help of marketing, activities, and support will enhance your profits.
Good marketing alone is a competitive advantage. Marketing is how you help customers find, evaluate, and purchase your product; it is intended to improve a customer's experience with your store and generate income. Marketing is the overarching activity you seek to build a brand, such as creating useful and entertaining content.
Lastly, customer support is an important distinguishing factor, especially if your current competition offers a matt service or a frustrating shopping experience. You can significantly improve your service level by quickly through helpline/customer support and making it a top priority to help consumers fully solve their problems when buying at your store.
How do you set up your AliExpress dropshipping store?
As we now understand how AliExpress can help you source products as a dropshipper and why it is important to position your store correctly, we will continue to set up your store.
Choosing which dropshipping products to sell:
The first part of setting up your store is to select a niche or the selection of products you will sell. If you don't know where to start, start with the product categories that AliExpress has and start offering options based on what interests you most or what you would find most confident.
Once you have a clear niche, you can choose a few products you want to resell in your store. For instance, we have chosen trainers or jogging shoes as my store niche.


As with many categories on AliExpress, there is a huge selection of products. It can be overwhelming and lead to a headache if you do not select a quality product from a reliable supplier.
Although it is not perfect, I have developed a list of criteria for choosing a product. There is no science, but it has helped me select reliable sellers.
Here are a few things I look for when selecting a product on AliExpress for drop ship:
Avoid Branding or presenting Fake Products:
I skip products with any existing brand name to prevent me from counterfeiting and accidentally reselling.
Since you are not an authorized reseller unless you establish a legal partnership with the brand in question, the risk of selling a product with another person's logo is not ethically, legally, or morally acceptable. Yes, this may ultimately limit your choices.
Still, it also saves you many problems, so stick to product categories where a recognizable logo is unimportant, such as electronic accessories or clothing.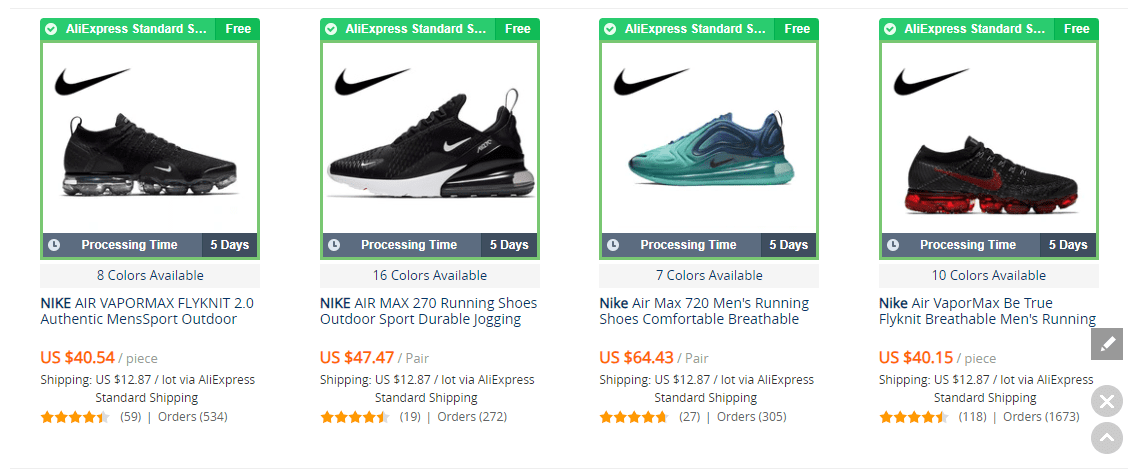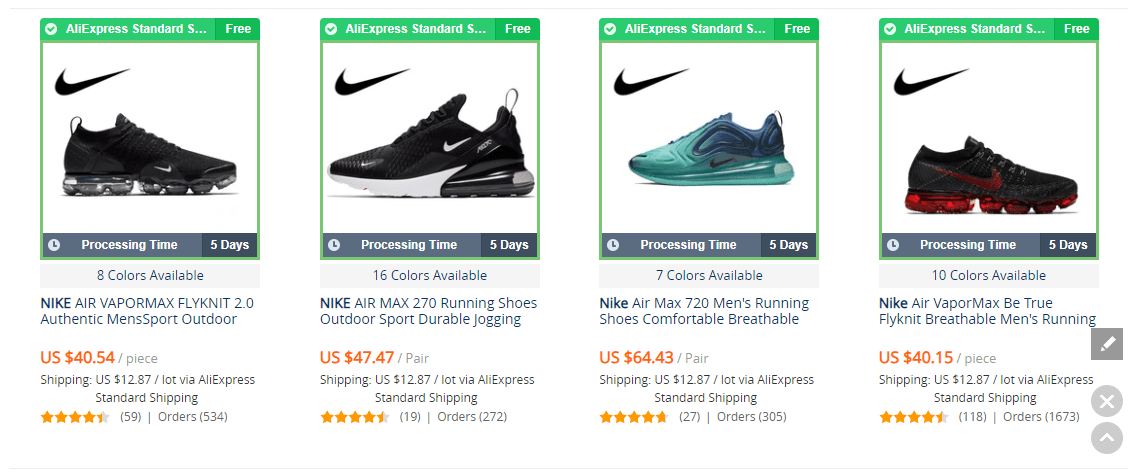 ePacket delivery with Free Shipping:
Where possible, I focus on reselling products that offer free ePacket shipping. Because most products on AliExpress come from China or Hong Kong, ePacket delivery is the most economical and one of the fastest options for sending small goods to the United States.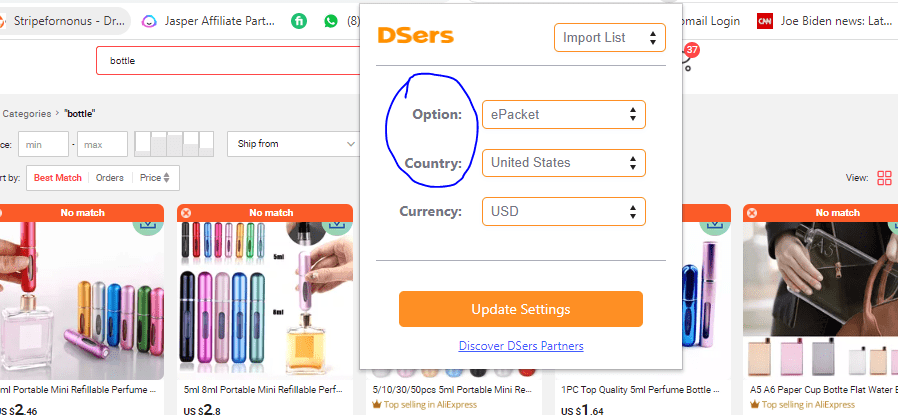 It is important to note that even if a seller sends ePacket, it's not free; I'd rather choose a seller who offers it than a seller who doesn't. It is the most cost-effective and reliable shipping option to get products from China to America and Europe.
Look for Orders Exceeding 300:
A product with many orders tells me a few things. First, there is a demand for the product. Secondly, it tells me that the supplier is more reliable than average because the number of orders means there are probably a few recurring purchases.
Sometimes, I sort products by most orders when searching for a new product.


Look for Products Ranking with more than 4.5 stars:
I also want to ensure that the products I intend to sell have a high product rating (more than 4.5 stars) and that the seller usually has positive feedback.
Products having high margin potential and low price:
Depending on the product I want to sell, I like to buy products within a price range of $ 1- $ 20. This gives me more room to spend on marketing dollars to get customers because these products can be priced at $ 20- $ 50 or more.
For example, I can find running shoes on AliExpress for around $ 20 and sell them for $ 50, leaving me with a 60% profit margin before processing my marketing costs.
Lots of great, unbranded photos/images of products:
Do your due diligence to ensure that the photos come from your manufacturer and are not taken online at another store. If you quickly search on Google, you can see if the product photos are from a real brand, a seller, or the manufacturer himself.
Supportive and good communicative seller:
Don't be afraid to ask the seller questions before you place an order with them. A good, reliable seller answers all your questions quickly. If a seller doesn't respond to messages, there might be something fishy in it
Addition of Products in your Store
After setting up your Shopify store and considering a product category and supplier, it's time to add products to your store.
This step is important to describe in detail because it is not as easy as using the images and descriptions from the AliExpress list and placing them on your website.
Instead, if you want to position your store for success, there are a few things that you should consider.
Presenting with own product descriptions:
Copywriters do not write the product descriptions for many of the products on AliExpress or fully explain the benefits of the products.
Your unique content will better serve your business in the long run and help you better convert visitors on your product pages to customers.
Finally, you avoid duplicate content risks if you write an original copy on all store pages. You can write killer product descriptions using AI like Jasper.
Information on Delivery Times to the customers:
It is a good idea to include on the product page (or elsewhere in your store) that your customers may have to wait up to 20 days before their order arrives, depending on the supplier. Because most suppliers on AliExpress are in China, shipping times may be longer than average.
Use an app to track orders.
With longer shipping times than most people are used to, you can receive emails from customers asking where their purchase is. Use an order tracking app in the Shopify App Store to inform your customers of their purchases' status.
Offer Free Shipping
Competitive shipping costs can become one of the advantages or cause of fewer orders, so I strongly recommend offering free shipping to your customers by using the free/low shipping costs that many AliExpress sellers offer.
Pricing products the right way:
Consider pricing your products at around twice the cost. Shooting with a 50% margin makes running the business worthwhile and covers necessary expenses such as marketing and support.
Add products to your store with the Dsers dropshipping app. Instead of manually adding AliExpress products to your website, you can use the Dsers dropshipping app to quickly add products to your store.
Techniques to use AliExpress to dropship:
So you have received your first order? What must you do now, as your store is full of products ready to sell and ship?
This will prompt in your mind, but you need not worry because, as you read below, you will be clear at the end.
Dropshipping with AliExpress works similarly to any regular dropshipper. When you receive an order, buy the item on AliExpress and enter your customer's name and shipping address. The seller of AliExpress takes care of the rest.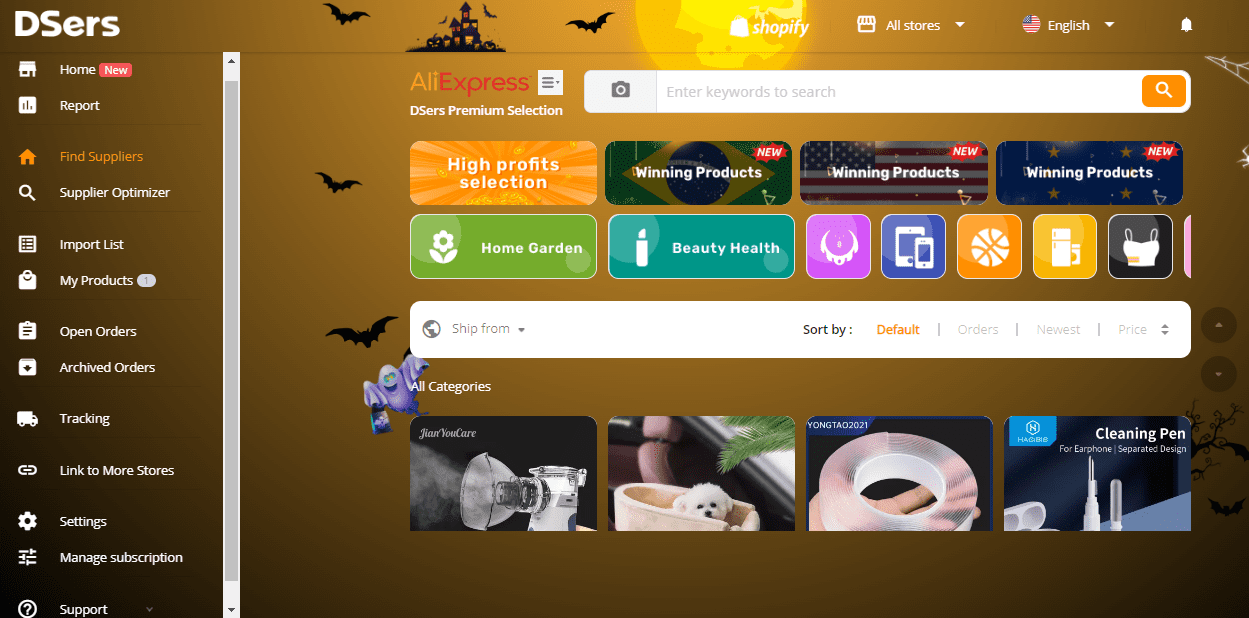 If you want to do this manually, it may be a good idea to have a worksheet on hand with a list of all the products on your site, the amount for which you are selling them, the amount they cost on AliExpress, and a link to the Listing of AliExpress.
This way, each time you receive an order, it will be easier to find the supplier on AliExpress and track price changes.
Alternatively, you can use the Dsers dropshipping app, which can handle all this for you, making it easy to purchase orders on AliExpress and observe price changes. This approach is not only easier, it also saves you a lot of time, your most valuable resource.
This allows you to grow without worrying about manually ordering dozens of (or more) products on AliExpress.
How does it work? It is as simple as having the Dsers dropshipping app installed in your Shopify store, reviewing your orders in the Dsers dropshipping app, and clicking on Request product next to each pending order. From there, Dsers does the rest.
Buy the AliExpress product for you and insert the details of your client.
Dsers will even inform you when a supplier on AliExpress has changed its price or has run out and will suggest other suppliers.
Furthermore, Dsers can be a control panel for your AliExpress shipping company, allowing you to track all your orders and monitor the status of deliveries.
Read Also:
To place an order on AliExpress, it is a good idea for the seller to know that you are making the direct shipment. This way, the supplier will not include any invoice or promotion in the package sent to his client. You can leave a message for the seller at the end of the purchase.
I recommend leaving a simple message like: "We are sending shipments; no promotions or invoices, please!" Dsers can do this for you when you purchase on AliExpress.
As mentioned earlier, try to select the shipping of electronic packages if the supplier is in China and if it is available as a shipping option. Many providers will offer this shipping option for free.
Dsers allows you to automatically choose to send electronic packages in the payment process for all orders on AliExpress.
Depending on the processing time of your vendor, you will receive an email shortly informing you that your order has been shipped.
Go to your Shopify administrator and complete that order. Be sure to enter the tracking number, too.
While using Dsers, you will automatically fulfill the order, including the tracking number, and your customer will know that your order has been shipped. Feel free to skip the previous step if you are using the Dsers app.
So now it's just waiting for your customers to receive your order. When the order arrives, AliExpress will send you an email requesting confirmation that the order was received.
Wait a while for the client to communicate with you if there is a problem with the product or delivery. In this way, you can raise the problem to the supplier through AliExpress, encourage it to correct it, and, hopefully, solve the problem for future orders.
How do we handle refunds and policing returns?
Returns are not offered by some AliExpress suppliers. Therefore, you must process the return and refunds in one or more ways.
If there is a problem with the order placed by the customer in your store, this is usually because the order has never arrived or your customer is not satisfied with the purchase.
In the first case, an order that has never arrived, you must ask about a problem with your AliExpress supplier.
Contact your supplier to resolve the issue or use AliExpress Customer Protection.
If your customer is not satisfied with the product, which could be usually expected, what they received was not what they expected.
I suggest you make a refund and see if there are any changes to your marketing feedback (in many cases, the customer may not have fully understood what he or she ordered).
If the product is damaged, ask your customer to take photos and send these photos to the Aliexpress salesperson and continue from there.
Conclusion
How do you expand your AliExpress dropshipping business? After making the first few sales, you must analyze how to grow your dropshipping business and earn more money.
Eventually, you start to find out who the reliable and quality suppliers are and who are not; therefore, you should consider building relationships with the reliable ones.
This will provide an opportunity to get better prices and prioritize order processing. It's a norm we have noticed that most suppliers on AliExpress use Skype.
If you often order from the same seller, it's a good idea to ask them for their Skype username to develop a business relationship.
Once you have demonstrated that you can generate repeat sales with some sellers, you can place your logo on products or include custom invoices and brand attachments in shipping packages.
Did you learn something new in this Definitive Guide To Dropshipping With AliExpress using the new Oberlo alternative Dsers app?
Kindly share your thoughts below.
Small Request
Kindly share it with your friends. Especially the ones you believe need this information. Sign Up Now and Get your first 3 months for only $1 monthly.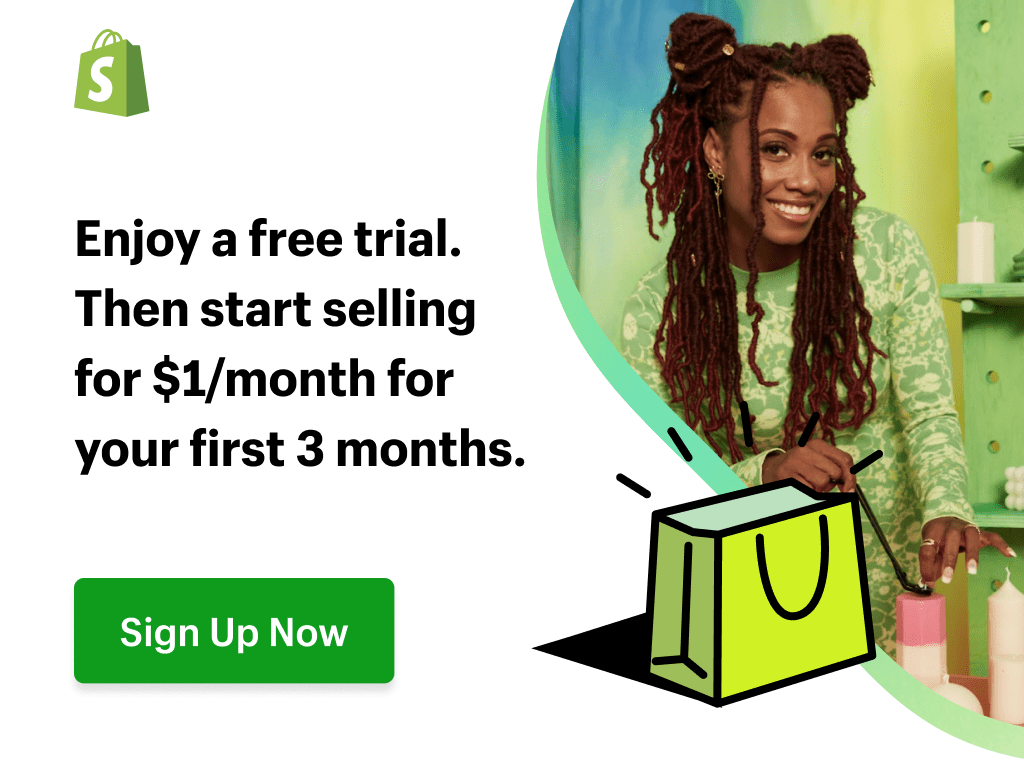 Sharing this information with others can make a huge difference. You may ask why.
Well, the truth is, my main aim is to provide the best information about drop shipping for both beginners and experienced dropshippers.
And I plan to continue doing so for as long as I can.
I would also like to thank those who support my work by reading and sharing my content.
Trust me, when you take your time and share, it will greatly help me and others needing this information.
Here are some great suggestions:
Pin it
Share it on another blog.
Share on Facebook (Share it with friends and even on Facebook groups)
Tweet it
Stumble it
This will only take a few seconds of your time, and I would appreciate it.
I appreciate you a lot. Thank you!
Join my Shopify dropshipping group mastermind and follow my blog to learn more about Shopify tips, dropshipping guides, tricks and checklists, and e-commerce in general.
If you enjoyed and learned something from this post, you can get me updates for free!
I send out email newsletters about new posts published on the blog, tips and tricks to help you grow your dropshipping business, new YouTube videos to give you more insights about the e-commerce market, and much more.
If you enjoyed reading this, you could as well join my Facebook group. Thank you for reading how to make money dropshipping online from the comfort of your home.
Click here to Join My Facebook Mastermind Group