10 Examples Of Shopify Competitors To Consider Today
This writes up on Top Shopify competitors appreciates that since its debut in 2006, Shopify has genuinely achieved some phenomenal feats.
As among the fastest-growing Saas service for online businesses, Shopify has had many entrepreneur's heads rolling.
Shopify is no ordinary eCommerce platform as it empowers you to monitor your digital store's performance, digital campaigns, upgrade your eCommerce solutions, and raking in high conversions.
Indeed, Shopify stands apart as one of the prominent eCommerce site products, but that doesn't make it a straight-jacket, a one size fits all solution.
It's an era of the fast-changing digital landscape, in which brands perpetually transform and adapt to cater to customers' needs.
Shopify's legacy, simplicity, and convenience appeal to some businesses that need something different.
In 2018, the global digital buyers online hit 1.8 billion-mark, the backdrop of this digital selling growth has seen a tremendous increase in the number of software providers offering open-source technology, advanced features, and more.
Herein is your ultimate guide of top Shopify competitors in 2021.
Picking Your Shopify Alternatives
Given the diversity of the marketplace, picking the apt eCommerce for your store proves an uphill task.
Shopify's competition comes in a variety of forms from free services that support large eCommerce systems with shopping cart features and payment gateway built-in to services that particularly small businesses.
In the absence of a straight-jacket strategy for choosing the right software, there're a couple of cues you ought to have up your sleeves in your selection of popular eCommerce platforms.
For example:
Type: Shopify, as a platform, comes in different styles from hosted services to open-source solutions, can adapt to your store.
Support: Whichever eCommerce software you settled on, customer service is a critical pillar to consider. You have to ensure customers have the means to contact the company.
Size: Is the eCommerce software intended for a brand with a team of experts to run the store, or is ti designed to support startups or small businesses?
Payment processing: Are there transaction fees to look-into? Does the eCommerce solution support the payment gateways you need?
Pricing: The cost of your eCommerce is subject to some factors, including but not limited to many functionalities you get. You get a free plan for beginners with some companies.
Plugins & extras: Is ti possible to add features to your eCommerce experience? For instance, can you access marketing and inventory management tools? Can the service assists with social media and search engine optimization?
Simplicity: Simplicity may call for drag-and-drop designing tools, guides, and video tutorials to help with getting started.
Come up with a list of considerations and features that align your set objectives, factoring in aspects like backend functionality and budget. With that sorted, you can proceed to find the best Shopify alternatives in the market.
Shopify competitors for Large Businesses
Compared to small businesses, large organizations require a different set of features for their eCommerce site.
For your large corporation, your needs transcend the basic shopping cart and payment gateways.
Instead, you'd want functionality that permits calculation of long-distance deliveries, or you get to swiftly and conveniently convert currencies for your international customers.
Of course, some eCommerce alternatives best-suit large businesses than others. As regards solutions, our top picks for big companies entail Magento, Square Online Store, or BigCommerce.
Shopify competitors for Large Businesses #1: Magento
In contention for the best Shopify competitors is Magento. It's worth mentioning that Magento once reigned as the ultimate software solution on which you'd create an active online store, that's until BigCommerce and Shopify happened.
In the history of online selling, Magento, as an open-source, stands out as a reputable Saas option.
As a consequence of productive performance, remarkable security, and unlimited product uploads, Magento eCommerce solution offers businesses an incredible shopping experience.
And as a family member of the extensive Adobe Commerce cloud experience, with Magento experience, you sure get all the privileges of global ecosystem merchants, developers, and partners to grow your business.
Much as Magento software comparatively costs more today, large businesses can leverage this eCommerce solution's benefits such as marketplace support, business intelligence, and order management.
With one of the largest marketplace in the industry, Magento gives access to everything from CRM systems such as WordPress to leading EPR systems.
Shopify competitors for Large Businesses #2: BigCommerce
BigCommerce makes for an industry top software solution entailing all a business would need to build an efficient online store.
With $29.95/month, you get access to a standard plan whose functionality ranges from discounts, 24/7 live support, coupons, POS systems, single-page checkout page, et cetera.
By offering unique selection out-of-the-box solutions, BigCommerce contrasts its competition in the marketplace; also, it's ideal for B2B eCommerce.
BigCommerce has the edge over other Shopify alternatives in creating a complete experience as it banks a lot less on apps and plugins.
BigCommerce has since released a plugin for WordPress sites, thereby enabling brands to ramp up their sales strategy via a content-first and blogging setup.
There's an element often regarded as headless Commerce, and it involves using BigCommerce solely for the checkout process. In that way, businesses via one of the world's most popular CMS systems get to build and maintain their websites.
The features you get commensurate your spending on BigCommerce, the features you'd get range from backend market tools, unlimited product listings, abandoned cart saving & recovery as well as zero transaction fees.
Shopify competitors for Small Businesses
Ok, perhaps you're looking for a Shopify alternative for an up and comping company.
Perhaps you've just begun brainstorming the potential of blogging and selling online, and you focus on finding the most cost-effective way of profiteering your digital presence.
That be the case, then in building your eCommerce store, it's likely your attention will lean towards flexibility, ease-of-use, and budget-oriented.
Newsflash!
There are plenty of great tools for selection. The following count for our top picks.
Shopify competitorss for Small Businesses #1: 3dcart
For a pricing model resembling Shopify's, small businesses get to access 3dcar's host of exceptional features.
3dcart is another useful software that is particularly appealing to small businesses looking to access add-ons and additional services-affiliate marketing and dropshipping support.
With 3dcart, you get a fully hosted eCommerce solution. Put it another way; you won't have to spend as much time working on the backend since the complex aspects get handled on your behalf.
Though 3dcart offers various perks, best-suiting different customers, all the pricing programs grant access to fantastic customer support, hundreds of payment gateways options, and unlimited product listings.
Also, 3dcart lend small businesses the privilege of conveniently combining storefront with sales and marketing tactics. For instance, you get to integrate the store with Facebook, Google analytics, Amazon, and MailChimp for email marketing. In this way, you turn up new avenues to spike conversions.
Shopify competitors for Small Businesses #2: Volusion
Get this, Volusion just makes for the holy grail, that's if you want a remarkable platform to build your online business, but you fall short of additional bucks to splash.
The service's pricing model mirrors that of Shopify, starting at around $15/month for the basement packages.
Also, just as you'd get with Shopify, Volusion offers you access to a bunch of incredible backend customization, entailing responsive theme options for your shop.
Although Volusion's history predates that of Shopify, it's yet to gain much traction since the brand fashions itself the best cloak for SMBs. In contrast, Shopify strives to be everything for all businesses.
One significant set back with Volusion is that you won't get as much community akin Shopify's. Though as a hosted service, Volusion relieves you off the stresses of building your website that involves aspects secure checkout pages, maintenance among others.
Shopify competitors for Small Businesses #3: Weebly
Among Shopify top challengers, Weebly count as out-box-solution. The service ranks among the most user-friendly for companies looking to get started online. Also, Weebly helps launch your store quickly and conveniently.
With the free trial, you have the freedom to tweak the drag-and-drop builder.
Comparatively, Weebly comes slightly cheaper than Shopify's basic plan, and that comes in handy if you are tight on money because you get to save the much-needed cash.
Though Weebly is one of the low-cost solutions in the market, it doesn't compromise on customization options. You get to modify your themes, backend images, your font, et cetera.
Of the Shopify alternatives in the market, Weebly, of course, doesn't cut as the most advanced software because it falls short of a couple of eCommerce features. But it more than satiates most small businesses.
Shopify competitors for Small Businesses #4: WooCommerce
Perhaps you already run a WordPress site, or you contemplate using WordPress to launch your business, then it's likely you've heard about WooCommerce.
WordPress websites have a leading eCommerce solution in WooCommerce. Alongside other add-ons, even with limited coding know-ho, WooCommerce empowers sellers to monetize their stores.
For an open-source, WooCommerce stands tall among Shopify alternatives, empowering the merchants to edit, customize, and modify their code. Developers onboard your small business team means tweaking various aspects of your platform's capacities.
You do not get the same customization with Shopify or other hosted platforms, although WooCommerce/s open nature translates to added responsibility for website hosting, security, and compliance.
WooCommerce provides access to a massive community from where you get assistance with building and maintaining your shop. Additionally, you get add-ons on shipping and tax management.
And WooCommerce syncs well with other WordPress plugins from SEO management to Google analytics.
Shopify competitors for Small Businesses #5: Wix
Wix made it to this list of Shopify alternatives. Akin to Shopify, Wix, as a website building service, is-hosted. In other words, you are relieved of managing your backend security and compliance.
Wix helps with building custom websites owing to its convenient drag-and-drop builder.
With Wix, you get to free access an SSL certificate so long you remain Wix brand customer.
Among the Shopify alternatives, Wix packs a variety of handy features at an affordable rate, although every US purchase incurs transaction fees like 2.9%+$0.30. The good thing is that Wix integrates with some prominent payment solutions like Pay Pal and Stripe.
Small Businesses #6: Big Cartel
Several reasons set Big Cartel apart, chief among them has to do with the platform's resourcefulness. With this solution, businesses get a selection of everyday product packages.
Also, Big Cartel has a free plan for companies selling fewer than five products, and a custom plan for selling less than 300 products.
Big Cartel makes for the perfect option for unique small businesses in search of tailor-made store solutions. The service best-suit creative entrepreneurs like fashion enthusiasts and artists.
With Big Cartel, the business gets access to custom themes they'd use to sell just about anything. Moreover, the solution gives the freedom to customize the store's look and feel.
With access to a selection of user-friendly tools, Big Cartel help businesses manage web store. With access to the backend, you can manage orders, run product promotion, and using any device; you can check-in on your store in real-time. Also, you get to check your site's performance.
Small Businesses #7: Squarespace
Similar in style to Shopify, Squarespace counts among the leading global in web designing. Even with limited technical skills, anyone gets the benefits of Squarespace's swiftness and convenience.
Among the several small businesses, Shopify cuts as the natural go-to given its access to an array of plugins to ramp up your performance as well as its sleek and convenient way of building an eCommerce store.
Despite that, Squarespace's best cutting edge has to do with the solution making it easy to drag and drop your website into place. Any newbie can create a spectacular site.
Additionally, you get access to advanced features such as marketing tools, abandoned cart recovery, and analytics.
Squarespace perfectly blends content management software with a shopping cart. The platform's free trial enables you to evaluate the benefits before committing to a platform.
Free Shopify competitors
In this section, we'll look into some of the top Shopify competitors you may want to weigh up in building your brand with minimal initial costs.
In case your small business runs on a tight budget that you can't finance both an eCommerce website and aspects like transaction fees, marketing expenses, and shipping rates, you may need to opt for a free alternative to Shopify.
It's highly probable free alternative software solutions lack some of the high-level features that would come with other competition. The free alternatives, however, offer no assurance as regards payments of things like specialist assistance, premium tools on the app store, and your website hosting.
All in all, free alternatives to Shopify can be a big leap from selling products on eBay.
Top on our list of free software alternatives is the Prestashop and Square Online Store POS.
#1: Square Online Store
Square Online Store is another alternative to Shopify. It's a powerful store building solution that comes with Square Online Store POS system.
You can build a business website using Square Online Store for free, given the exceptional themes and various customization options.
But you'd have to use order fulfillment and POS from Square.
As an alternative to Shopify, Square Online Store, in particular, comes in handy for businesses selling both online and 0n-person. Square is big on giving access to a selection of tools for in-person selling.
The software automatically syncs online items, orders, and inventory management.
In case you are already employing the Square portfolio as a selling strategy, then the service makes for a great choice of tools.
Free as it may be, there are undoubtedly some Square store's expenses you'd need to consider. For example, you'll have to pay 2.5% for each transaction, and also, you'll need to foot other costs like security strategies, specialist service, and your hosting.
Free Shopify competitors #2: Prestashop
Small businesses looking for excellent alternatives to Shopify will have a remarkable open-source in Prestashop.
The software solution helps people from all walks to open their online store asap. Prestashop has all that a business needs to tap into the eCommerce landscape.
The platform offers access to an array of themes, thus enabling you to customize your store, ramp up business growth, and monitor your sales stats.
Read Also:
Like WooCommerce, Prestashop equally reaps the benefits from an active and dedicated community of developers. Newsflash, businesses don't have to run on WordPress to make the most out of Prestashop.
Companies on any CMS system get access to the service.
Although the software offers unlimited access to its internal code, you'd need to set up your hosting, security, and compliance requisites.
Whereas the software is free to access, you'd need to consider some costs associated with running the store. That calls for the necessity to possess the skills or the competence of using an open-source platform efficiently.
Shopify vs. competitors: What's the comparison-like?
One size fits-all-solution is not bankable as regards picking the ultimate eCommerce solution online. Shopify stands tall among the most popular software solutions in the eCommerce market; nonetheless, there are plenty of other alternative tools for selection.
The specific features you'd expect from an eCommerce solution forms a critical pillar to which investment you make. For instance, a business selling fewer than 100 products, Wix makes for an ideal Shopify alternative.
Conversely, for large businesses requiring lots of customization and specialist features, then BigCommerce qualifies as an ideal given its flexibility. The software can provide a one-stop-shop for online sales.
Which eCommerce tool is Ideal?
Picking the ultimate eCommerce may involve conducting thorough research, including scouring the internet, for example.
Several of the eCommerce tools we've highlighted in this post, for instance, have free trials, thus, letting you test the backend performance and drag-and-drop functionality before committing money.
Testing before buying tools assist in making informed and confident decisions.
Equally, it's crucial to have a framework in place to help with zeroing in on your options. For instance, your plan can outline whether it's the customization options that come with open-source service you want or is it hosting service you want so that you don't fuss over security and hosting providers.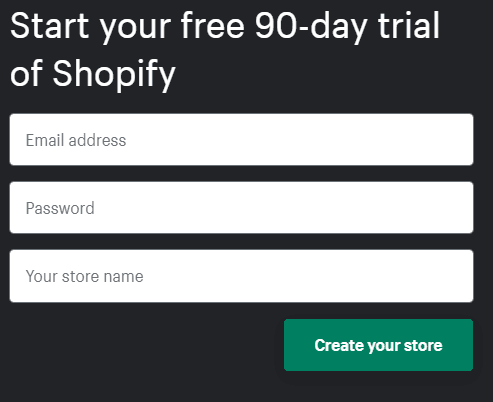 Are you looking for an eCommerce service with abroad selection of payment options or shipping solutions, or one whose primary website builder with limited customization features more than suffice?
A better grasp of your business and how you'd want to sell can only make it more comfortable picking the Shopify alternative that best-suit your brand.
Small Request
Did you enjoy this post? Kindly share it with your friends. Especially, the ones you believe really need this information.
Sharing this information with others can make a huge difference. You may ask why?
Well, the truth is, my main aim is to provide the best information pertaining to drop shipping for both beginners and experienced dropshippers.
And I plan to continue doing so for as long as I can.
I would also like to thank those who support the work I do through reading my content and sharing.
Trust me, when you take your time and share it will help a lot not only for me, but also other people who may really be in need of this information.
Here are some great suggestions:
Pin it
Share it on another blog
Share on Facebook (Share it with friends and even on Facebook groups)
Tweet it
Stumble it
This will only take a few seconds of your time and I would really appreciate.
I appreciate you a lot. Thank you!
Join my Shopify dropshipping group mastermind and follow my blog to learn more about Shopify tips, dropshipping guides, dropshipping tricks and checklists, and e-commerce in general.
If you enjoyed and learned something from this post, you can get updates from me, free of charge!
I send out email newsletters about new posts published on the blog, tips, and tricks to help you grow your dropshipping business, as well as new YouTube videos to give you more insights about the e-commerce market, and much more.
Click The Image To Join My Facebook Mastermind Group